Working In These Times
Monday Oct 1, 2012 11:05 am
Janitors Strike Averted As SEIU and New England Contractors Reach Early Morning Deal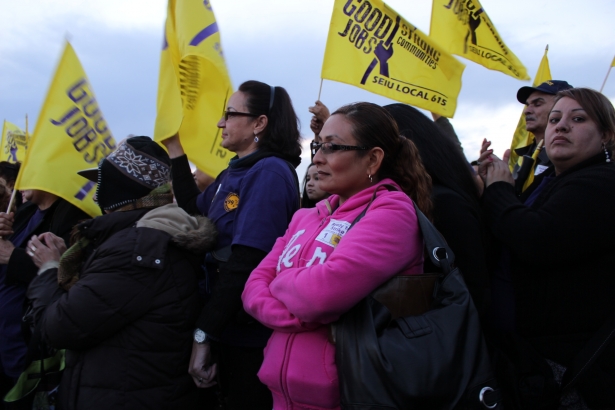 At 2 a.m. this morning, the union for many New England janitors announced that a tentative agreement had been reached on a new contract for 14,000 workers. The deal came just after the midnight expiration of the current contract, averting a strike that could have begun this morning. It resolves the latest showdown between the Service Employees International Union (SEIU) and the janitorial contractors hired by major corporations.
In an e-mailed statement, SEIU spokeswoman Renee Asher called the deal "good for workers, good for the industry and good for New England." SEIU plans to announce further information about the tentative agreement this afternoon. Reached over e-mail, Matt Ellis, a spokesperson for Maintenance Contractors of New England (MCNE), the association which represents the janitorial contractors in negotiations, said, "We are pleased that a tentative agreement has been reached and there will be no interruption of services."
SEIU Local 615 represents 14,000 janitors in Massachusetts, Rhode Island and New Hampshire, most of them in and around Boston. For decades, they've had a multi-employer union contract with janitorial-contracting companies, whose clients currently include Fidelity Investments, the pharmaceutical company Novartis, and Dunkin Donuts, a chain partially owned by Bain Capital and other private equity firms. The New England janitors last went on strike for four weeks in 2002. Their counterparts in Houston settled a four-week strike two months ago.
The tentative agreement, which is subject to approval by members, follows a weekend of marathon negotiations and a week of strike preparations. Workers authorized a strike on September 22; SEIU says the standing voice vote by 1,000 members was unanimous. On Thursday, pro-union community activists attended a civil disobedience training. Massachusetts state Treasurer Steven Grossman and Auxiliary Bishop Robert Hennessey of the Boston Archdiocese addressed a vigil last night, which included a blessing of the janitors' brooms.
In an interview on Friday, Josè Reina, a janitor for 12 years, expressed confidence the union was ready to strike if necessary: "At the beginning of all of this, I could tell that my co-workers had some fear. But now there isn't any." (Reina, a member of the janitors' bargaining committee, spoke to Working In These Times in Spanish.)
In this round of negotiations, Local 615 sought to raise wages and to extend health insurance to more workers by increasing the number of full-time positions. Under the now-expired contract, insurance was only provided to janitors who worked at least 29 hours a week. Seventy-one percent of workers are currently classified as part-time. Reina, who works 27.5 hours a week, is among them. Without insurance from his janitorial job or his morning job cleaning horse stalls at a race track, Reina says he goes without doctors' visits: "When I get sick, I go to the pharmacy. I buy medicine that maybe somebody told me will make me feel better."
In a statement last Wednesday, MCNE charged that "the union's proposed terms would result in layoffs of thousands of part-time employees who rely on good paying jobs that currently pay $15.95 an hour." The contractors' association wrote that, "For many employees, part time works fits with their lifestyle, with another member in the family who has a full time job." It warned that SEIU's proposal to create more full-time jobs would force management to lay off half of the current part-time workforce in greater New England.
Reina responded that the contractors were currently "taking advantage of all of us part-timers" by forcing them to complete full-time workloads within part-time hours. By the end of his five-and-a-half-hour shift, said Reina, "it feels as though I'd worked eight hours." Because janitors are currently overworked, he said, longer shifts for some workers should not mean mass layoffs for others.
Prior to this morning's deal, MCNE had also argued that the current contract, and an earlier offer to SEIU, compared favorably to contracts the union had recently settled elsewhere. In its Wednesday statement, the contractors' association said that among SEIU janitors' contracts, New England currently offers the third-highest wage rate and is tied for the second-highest employer health benefits contribution. In Houston, workers ratified an agreement that included raises of 25 cents a year and the maintenance of employee access to an employer-paid health clinic. Last week, MCNE said its offer would raise wages by $1.25 per year and employer healthcare contributions by 25% over five years; it said it "supports gradual transition to full-time positions as economic and work locations allow."
Before the deal, SEIU literature had charged that the industry had made "promises" in the past "to create more full-time jobs," but years later, the "vast majority is only offered part-time work and earn as little as $56 a day, forcing them to work two or three jobs." According to SEIU, a half-time janitor's income under the expired contract is $1,458 above the federal poverty guideline for a family of two, and almost $500 below the average monthly rent in downtown Boston. SEIU cited the example of cities like Pittsburgh and Portland, which it said offer more full-time janitor work despite office rental rates roughly half those in Boston.
SEIU also alleged that, as members prepared for a strike, management illegally intimidated workers. As in Houston, SEIU had filed Unfair Labor Practice charges against contractors with the National Labor Relations Board. Reina said on Friday that he had heard from "a lot" of workers who had "been told that if they go on strike, they can't count on keeping their jobs." When workers wear stickers supporting a potential strike, he added, "they're told if the manager of the building sees you with that, you're going to be fired."
Two days before the deal was reached, Reina said that at times in negotiations, "we felt humiliated, because they weren't taking us seriously. We felt insulted – their first proposal was a 10 cent an hour raise…that just sounded like a joke."
Reina, who began working as a janitor soon after immigrating from El Salvador, is supporting three sons who still live there. "We're not asking for excessive things," he said. "We're asking for things we think are necessary."