Thursday, May 9, 2013, 11:58 am
In Wake of West, Texas Explosion, Safety Advocates Recommend Harsher Fines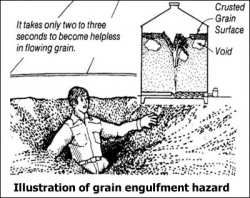 "My happiness was taken away in a matter of seconds," says Adrianna Martinez of the death of her husband, Orestes Martinez, in a workplace safety accident four years ago. "My family and I are broken. Losing my husband, my best friend, my love has left an empty space in my heart."
Orestes Martinez, a construction worker in Houston, was killed on the job. Martinez and two other workers were moving a two-ton lead door by hand because no lift devices were available. The door fell and crushed Martinez.
OSHA found that Martinez's employer, J.T. Vaughn Enterprises, Inc., had committed two serious safety violations that led to Orestes Martinez's death. But OSHA fined the company only $10,000. On appeal, an administrative judge dismissed one of the violations and reduced the fine to $3,500.
Such small fines are all too common, according to a new report released by the non-profit National Council for Occupational Safety and Health (COSH), entitled 2013: Preventable Deaths: The Tragedy of Workplace Fatalities. The report shows that the average fine for serious safety violations under federal OSHA law is a mere $1,680 dollars. After factoring in OSHA's severely limited resources--under its current budget OSHA would need 129 years to inspect every workplace in the country--many employers are willing to take the risk that they may have to pay small fines, as in the case of Orestes Martinez's death.
Workplace safety advocates say that such low fines do not serve as a deterrent, but instead make violating safety laws merely the cost of doing business.
"Someone put a price tag on my husband," says Adriana Martinez. "They choose to cut corners and put profits ahead of my husband's life. What hurts the most is that his death was preventable."
It's also highly unlikely that employers will see jail time for safety violations that result in the death of a worker. Since 1970, some 360,000 workers have been killed on the job, and yet only 84 employers have been criminally prosecuted under the federal Occupational Safety and Health Act. The maximum penalty for committing a safety violation that results in the death of a worker is six months in jail and a fine of up to $10,000, so most of the time, prosecutors do not bother to pursue them in criminal court.
Given the light penalties, workplace safety advocates there is little incentive for employers to follow the science of workplace safety, which they claim could prevent the majority of deaths from workplace accidents, which totalled 4,693 in 2011, or 13 deaths a day.
"These deaths were largely preventable, simply by following proven safety practices and complying with OSHA standards," said Tom O'Connor, executive director of National COSH. "But as companies decry regulations and emphasize profits over safety, workers pay the ultimate price."
Advocates are hoping that following the West, Texas explosion, which in 1985--the last time it was inspected--was fined $30 for safety violations, may lead to a renewed focus on workplace safety will help them increase fines and penalties. For Adriana Martinez, that hope is what keeps her going.
"Every day I have to fight a battle between giving up and working to ensure that this doesn't happen again to another family," says Adrianna Martinez. "We need better laws in Houston, in Texas, and in the US and to prevent on-the-job injuries. Everyone deserves a peace of mind that their husbands, fathers, sons, mothers, daughters or wives will return home after going to work."
This piece was partially underwritten by a grant from LaborMail to support Mike Elk's labor reporting.
Support Progressive Journalism
Donations from readers like you make up a full third of our annual income—that's how critical our end-of-year fundraising drives are. If you want to continue to read independent, progressive journalism in 2019 and beyond, we hope you'll consider chipping in whatever you can today.
For a limited time, anyone who makes a donation of $5 or more to In These Times will get a free copy of Verso's best-selling 2019 Radical Diary and Weekly Planner.

Mike Elk
Mike Elk wrote for In These Times and its labor blog, Working In These Times, from 2010 to 2014. He is currently a labor reporter at Politico.
View Comments