Sunday, May 26, 2013, 2:02 pm
Giants Fans Bring Their Own Lunches To Support Concessions Workers' Strike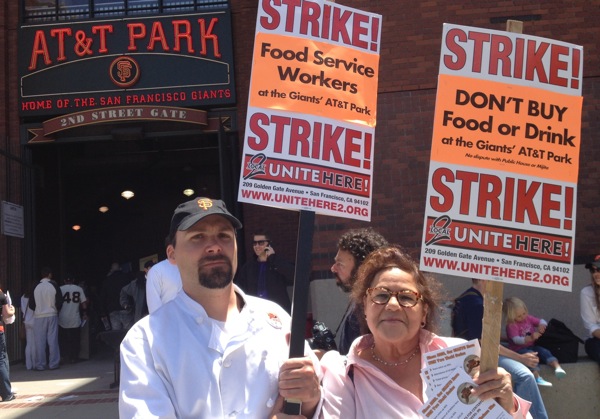 After three years without a contract, and on one of the busiest weekends of the season, hundreds of concessions workers at the San Francisco Giants' ballpark staged a one-day strike. As baseball fans arrived on Saturday afternoon to watch the Giants take on the Colorado Rockies, strikers asked them not to buy food and drink inside the stadium.
Normally Patricia Ramirez would have been inside the ballpark cooking for fans, but on Saturday, she was outside handing them flyers and urging, "No hot dogs, no garlic fries, please don't buy the food." By first pitch at 1pm, her voice was getting hoarse.
"I've been chanting quite a bit," she explained. "I think before evening time, I might not have a voice." It is the first time the 65-year-old Ramirez has taken part in a strike, and she said she was "pumped up" by support from the fans.
There were high fives for the strikers outside the ballpark. Some fans showed off lunches they'd brought along to avoid buying food inside the stadium. Others who hadn't heard about the strike until they arrived headed off to buy food and drink elsewhere.
"I'm totally against the management for not giving more money to the concessions workers," said longtime Giants fan Andy Schoenwetter. "They've gotten so much money in the last few years, and not giving some of it back to the workers is absolutely outrageous." He said he wouldn't be spending any money on food inside the stadium.
Negotiations between Unite Here Local 2 and concessions contractor Centerplate broke down over a week ago with both sides accusing the other of foul play. Last week, Centerplate filed a lawsuit against the union, claiming that it had broken labor law. On Saturday, workers accused the company of "stalling."
Not every Giants fan was a fan of the strike. One season ticket holder said she didn't "have much empathy for the workers … they have a pretty good thing going on." She had received an email from the Giants ahead of the game warning that there would be delays.
Centerplate spokesperson Sam Singer told In These Times that the strike was "unfortunate" and "possibly illegal." The decision to strike on Memorial Day Weekend, he said, was a "slap in the face of our nation's military. ... Local 2 has insulted the servicemen and servicewomen and veterans."
After 97 percent of its more than 750 members voted on May 11 to authorize a strike, the union did not publicly announce the date of the strike until 4a.m. on Saturday. Despite the short notice, Singer said the company had been prepared for the strike and that things were "running quite smoothly" inside the ballpark. But concessions workers who crossed the picket line told a different story. Beer stand workers on one of the concourses said it had been "crazy." One, who didn't want to give her name, said "It's been way busier than normal; we've had people waiting in lines longer than 20 minutes."
According to Local 2, almost all of the union members joined the strike, and the company bussed in agency workers from all over the state to cover the empty stations. One non-union worker said that crossing the picket lines had been "kind of scary."
Indeed, strikers expressed frustration with those who did decide to work. "How are they going to sleep tonight when they know we're out here fighting for them to get a pay raise and they chickened out?" asked Anthony Wendlberger, a cook.
A number of the replacement workers inside AT&T Park were unpaid members of nonprofit organizations, according to Bob Contreras, who was serving food and drink to benefit Day3 Church in San Joaquin. "We all volunteer," he explained while on a break during the seventh inning, "and all the proceeds go to our church, for ministry."
It's not unusual for non-profit volunteers to work at AT&T Park for free, in order to raise money for their organizations, but Mike Casey, president of Local 2, says that they're being used to undermine paid workers. "It's a real scam," says Casey. "They [Centerplate] make huge savings, they don't pay wages, don't pay healthcare, don't pay pensions, they don't have to do any of the contractual requirements that they have to do for a worker."
Standing beneath the stadium's "Wall of Fame," Wendlberger said the average Local 2 worker makes about $11,000 during the six-month-long season. The workers have not received a raise since 2009; Centerplate has offered a $0.25 hourly wage increase for 2013. "That's honestly not much," Wendlberger says. "The cost of living's gone up, gas prices have gone up, foods gone up, everything's gone up for us except pay."
Like many workers, Wendlberger, who has two daughters, is also concerned about threats to his healthcare coverage. He says Centerplate is proposing to raise the number of games that employees will have to work in order to be covered, putting health insurance out of reach of most workers, including him. He drives two hours from his home near Sacramento to work at the San Francisco stadium. "I really come to work for the healthcare for my girls," he says. While the workers' dispute is not directly with the Giants, he urged the baseball franchise to "step up to the plate" and put pressure on their contractor to come to an agreement.
Casey notes that although Major League Baseball has become a multimillion dollar industry, ballpark workers around the country regularly make close to minimum wage. "They should participate in the wealth that's created—that's what this is all about," he says.
On the field, Angel Pagán won the game for the Giants in spectacular fashion with a walk-off home run in the tenth inning. Outside the park, concessions workers said they are confident that their walk off will bring them a similar victory. "We know we're going to win," said concession manager Zenaida Cruz, indicating the crowd of strikers around her. "We are very strong."
George Lavender
George Lavender is an award-winning radio and print journalist based in Los Angeles. Follow him on Twitter @GeorgeLavender.
View Comments