Working In These Times
Wednesday Jun 19, 2013 5:36 pm
Labor Protestors Arrested at Giants Game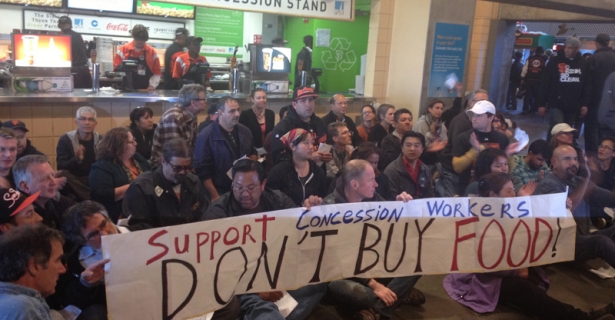 "No justice, no garlic fries!" That was the message Unite Here Local 2 members and their supporters wanted to send to the San Francisco Giants on Tuesday as they sat down and blocked access to a food stand inside AT&T Park, while hundreds of people took part in a demonstration outside the stadium. Ten of the indoor protestors were arrested. The demonstration comes three weeks after a day-long strike by concessions workers at the park who are seeking a new contract.
As Giants fans were still arriving at the stadium to watch their team face off against the San Diego Padres, more than 40 people lined up in front of the popular Gilroy Garlic Fries stand and sat down. Among them was 68-year-old Aurolyn Rush, a hotel worker. "We're here to support the concession workers who haven't had a raise since 2009," said Rush. Apart from a pay raise, workers at the ballpark are fighting to retain their healthcare coverage, and want their job security guaranteed if the Giants change to a different contractor. Rush said that she, like the concessions workers, hadn't had a raise since 2009. For her, the issue was the same: "Greedy bosses!"
Workers from the ballpark did not take part in the blockade. Some were surprised it was happening, but many said they appreciated the support from fellow union members and community organizations. Corinne DiGiacomo watched the protest from behind the wine stand where she works. "I think it's wonderful," she said. "It's for the people and it's for a positive result. We want a contract. We haven't had one for 3 years." She said negotiations with Centerplate, the company that runs the concessions stands, have been "frustrating."
Union officials say that the concessions contractor has "dug in" on key issues, including healthcare. "We've been negotiating with Centerplate for a long time now," said Nischit Hegde, a spokesperson for Unite Here Local 2, which represents the concessions workers. "They didn't listen to the workers across the negotiating table, they didn't listen to workers when they voted 97 percent to go on strike, they didn't listen to them when 750 did go on strike. So this is yet another way to get the ear of management and have them take these workers seriously."
Centerplate spokesperson Sam Singer called the protest "unfortunate" and said the union "continues to engage in stunts instead of taking meaningful steps to negotiate a labor agreement for our employees and their members." Calling the union members who supported the protest "shills," Singer said that the union was not negotiating in good faith, and insisted that the company "will meet any day, any time" with the union. Two negotiation sessions are scheduled for July.
While the crowd at AT&T park joined in the traditional singing of "Take Me Out To The Ballgame," fans like Gary Petrini said they wouldn't be buying peanuts and crackerjacks—or any other food—while the contract dispute continued. "We all have to stand up for working people," said Petrini. "I support them because I'm working class, and I've been priced out of living in this city. We've got to take care of the people who do the work." His companion, Angela Wills, agreed. "I think they should get what they want because they work hard every day," she said. She said boycotting food and drink wouldn't be difficult. "People will still get to eat," she shrugged. "Just not garlic fries tonight," Petrini added with a grin.
Not everyone shared that sentiment. On a normal game day, Gilroy's would have been one of the most popular stands in the park, and on Tuesday many fans were left wondering why they couldn't buy garlic fries. "This is awful," said Chris Childers. "I want food." A few fans even tried to push through the sit-in before being ushered away by Giants security. After an hour, some began lining up to buy food at a side entrance.
In the game's second inning, with the Giants leading the Padres on the field, San Francisco police warned protesters that they faced arrest if they remained. Most left voluntarily, but ten people stayed and were arrested. Among them was Tim Miller, a Local 2 member who works in a San Francisco hotel. "The workers here deserve a decent contract," he said, as his wrists were tied. "It's their fight and therefore it's our fight as well."
There was applause from supporters as Miller and the others were led away by police, but some fans were happy to see them leave. "Good riddance!" called out Jeff Gideon, a Padres fan visiting from San Diego. He said that the protest had spoiled his game. "It's annoying," he said. "They're disturbing paying guests from actually watching the game. It makes me want to buy garlic fries, instead of the opposite." But others said that with the high price of food and drink, the workers were entitled to a raise and benefits. "The Giants have won two World Series, their beer prices are $10.25—everything has gone up in this park except these workers wages," said Michael Floyd, who called the protest "very awesome."
All of those arrested were cited for misdemeanor trespass and released. Among them was Alex Tom, executive director the Chinese Progressive Association. He said support from community groups like his was important in putting pressure on the company. "Centerplate has made a lot of money off the backs of these workers," he said outside the ballpark after being released, "and it's time for them to give back."