Wednesday, Jul 29, 2009, 7:30 am
Labor Dept. Fails the Wage Theft Test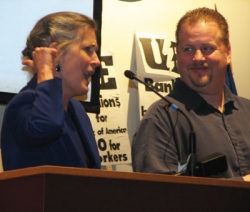 Children are supposedly the U.S. Labor Department's top priority when it comes to protecting vulnerable workers.
But that didn't seem to be the case when the department's Wage and Hour Division got an anonymous telephone call saying that children were putting in long hours during school days on heavy equipment at a California meat packer.
Four months after the agency got the tip, nothing had happened. The agency hadn't even begun to look into it.
Worse yet, the tip didn't even show up on the government's database.
Luckily, however, no lives were involved. The anonymous tip came from a Government Accountability Office (GAO) investigator, taking part in an intensive test of the division's ability to do its job and protect workers.
The test's result? The agency flunked badly. So badly that it revealed a horrifying disregard for lives at risk, and for struggling victims of employers who steal their measly few dollars.
In its report released in March, the GAO said it found cases that took over a year for the Wage and Hour Division to investigate, cases dropped solely on the word of the company, and cases closed when the company didn't answer its calls. And there was plenty more wrong with the agency.
In terms of promptness, you could count on your neighborhood pizza delivery guy to do a better job.
Reading the GAO's report is important if you want to understand the significance of the Wage Theft Protection Act, which was introduced into the House last week and sponsored by U.S. Reps. George Miller (D-Calif.) and Lynn Woolsey (D-Calif.).
It won't solve all of the problems discovered by the GAO. But it will protect workers when employers drag out investigations, and when the government fails to do its job in a timely manner. The proposed law would lift the statute of limitations so workers do not lose the money owed them because the government probe wasn't completed in time.
If you read Wage Theft in America, an excellent and enraging examination of the problem by Kim Bobo, head of Interfaith Worker Justice, you realize the vast sprawl of this thievery.
From accounts of workers slaving away in shady sweatshops, to hundreds recruited to clean up after public massive disasters, Bobo continues in her work beyond the book to publicize the endless thievery from those least able to defend themselves.
Workers, who cannot afford to lose a penny, suffer when underpaid or not paid at all. When employers do not pay taxes for their workers, communities, the states and Washington suffer as well.
And those who steal from workers' pockets steal from them in other ways as well.

Stephen Franklin
Stephen Franklin, former labor and workplace reporter for the Chicago Tribune, was until recently the ethnic media project director with Public Narrative in Chicago. He is the author of Three Strikes: Labor's Heartland Losses and What They Mean for Working Americans (2002), and has reported throughout the United States and the Middle East. He can be reached via e-mail at freedomwrites@hotmail.com.
View Comments