Saturday, Aug 22, 2009, 12:59 pm
ACLU Sues 'Sheriff Joe' for Racial Profiling, Worksite Detentions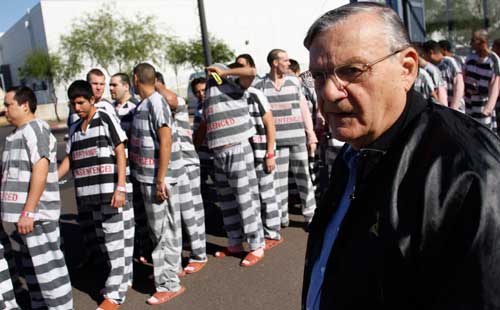 Maricopa County Sheriff Joe Arpaio and several of his deputies are facing a lawsuit claiming they illegally arrested, transported and detained a U.S. citizen and a permanent legal resident at a worksite in Phoenix, Ariz., where deputies were conducting an immigration raid.

The American Civil Liberties Union and the ACLU of Arizona filed the suit August 19 on behalf of Julian Mora, 66, and his son Julio, 19.

The incident took place on February 11, when Julio Mora was driving his dad to work. According to the suit, just 100 yards from where the elder Mora worked at landscaping business Handyman Maintenance, Inc. (HMI), a Maricopa County Sheriff's Office vehicle cut in front of pick-up truck on a busy public road, forcing Mora to slam on his brakes. Another MCSO SUV flanked the truck.

Two deputies ordered the father and son to get out. They were frisked and restrained with tight plastic zip-tie handcuffs and taken to Mora's workplace, the site of the raid. The two joined over 100 others who were corralled into an area that was said to resemble a heavily guarded armed camp with men wearing masks and carrying semi-automatic rifles.

"Their situation was extremely unique. One of the most egregious aspects to the Moras [case] is the fact that they were not on the worksite. They were stopped and racially profiled during a routine traffic stop, then brought to the worksite. That makes it particularly more problematic and harder for the county to justify," said Alessandra Soler Meetze, executive director of the Arizona ACLU.

The suit, filed in U.S. District Court for the District of Arizona, challenges the Maricopa County Sheriff's Office (MCSO) deputies with violating the U.S. Constitution's Fourth and the Fourteenth Amendments – which guarantee equal protection and freedom from unreasonable search and seizures and unlawful discrimination on the basis of race, ethnicity and/or national origin. (For an In These TImes feature story on Sheriff Arpaio and his actions, go here.)

The suit also cites several violations of Arizona's state constitution. The suit is one of the first of its kind to challenge Arapaio's attempts to enforce the Legal Arizona Workers Act by raiding local businesses to find people suspected of identity theft and fraud. The act, also known as the employer-sanctions law, went into effect in 2008.

The ACLU-Arizona reports that Maricopa County sheriff deputies have stepped up local immigration enforcement raids targeting sites with predominantly Latino workers. So far no employers have been convicted for employer-sanctions violations.

During their detention at HMI, the elder Mora, who is diabetic and has difficulty controlling his bladder, was denied the use of the bathroom to the point of almost urinating on himself and was finally taken outside to a parking lot to relieve himself; both men were denied food and water.

It should be noted that Mora is a legal permanent resident and has been for 30 years. His son is a U.S. citizen, born and raised in Arizona. That apparently didn't matter to deputies when they pulled the two over. Despite providing identification, the Moras were taken to the detention area.

"They thought it was a routine traffic stop. They had no idea why they were being taken or where they were they were being taken to," said Soler Meetze.

"We were treated like criminals and never told why. I was very scared. I never thought something like this would happen to me. Now I know it can happen to anyone, citizens too," said Julio Mora.

Since Arizona's employer sanctions law and the federal 287(g) program have been put in place, deputies can now question and arrest workers for alleged violations of federal immigration law. 287(g) program gives local law enforcement the powers of federal agents when they enter into agreements with Homeland Security's Immigration and Customs Enforcement.
The program has been widely criticized for increasing the use of racial profiling and targeting immigrants for arrest who are not suspected of a crime. In January, the Government Accountability Office released a critical report stating the program needed better controls and more clarity.

Earlier this year Julio Mora gave witness testimony about his ordeal in a joint federal subcommittee hearing April 2 on the implication 287(g) on civil rights.

"To this day, I don't know why the officers stopped us out of all the cars on the road. Maybe it was because of the Campesina radio station sticker on our bumper or maybe it's because my dad was wearing his Mexican tejana [hat] and they thought we were illegal. But they never bothered to ask us," stated the Julio Mora.
Other defendants named in the suit are Ray Jones, a captain with the MCSO and Commander of the Enforcement Support Division; Lt. Joe Sousa, who also heads the Human Smuggling Unit with the Enforcement Support division; and four unnamed deputies.
Said Mora towards the end of his federal testimony April 2:
My dad says he's always tried to protect me from these kinds of things, but that day I saw a man begging an officer not to deport him, offering him some candy as a bribe. It opened my eyes to what is happening in Arizona. Most of the people in my neighborhood, they are just trying to get by and make a better life for their kids. The police are supposed to keep us safe, but they are arresting us instead of the real criminals. I still think of that day sometimes when I have to go to the bathroom. And I still think of the guy with the candy. They took away our pride – my dad's, this man's, and mine.
In a related story, a suit filed by the ACLU on behalf of immigrants who have been detained for more than six months without receiving bond hearings can go forward as a class action. The civil rights agency received approval today from a federal appeals court in California.
Representing the immigrants are the ACLU of Southern California, the ACLU, the Stanford Law School Immigrants' Rights Clinic and the law firm of Sidley Austin LLP. The suit was originally filed in May 2007 on behalf of Alejandro Rodriguez, a Mexican immigrant who was held for more than three years without ever receiving a bond hearing.
---
Help In These Times Continue Publishing
Progressive journalism is needed now more than ever, and In These Times needs you.
Like many nonprofits, we expect In These Times to struggle financially as a result of this crisis. But in a moment like this, we can't afford to scale back or be silent, not when so much is at stake. If it is within your means, please consider making an emergency donation to help fund our coverage during this critical time.
Rose Arrieta
Rose Arrieta was born and raised in Los Angeles. She has worked in print, broadcast and radio, both mainstream and community oriented—including being a former editor of the Bay Area's independent community bilingual biweekly El Tecolote. She currently lives in San Francisco, where she is a freelance journalist writing for a variety of outlets on social justice issues.
View Comments