Working In These Times
Friday Aug 28, 2009 10:30 am
Canadian Steel Workers Take on Global Mining Giant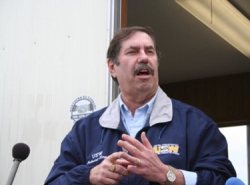 A subsidiary of the world's second-largest mining company is defying about 3,000 striking United Steel Workers union members at its mines in Sudbury, Ontario, by bringing 1,200 non-union employees back to work—and adding new non-union hires to re-open a mine that had closed in June because of low nickel prices.

In March, Vale Inco, part of the Brazilian giant mining company Vale, announced the cutting of 900 full-time jobs because of low nickel prices.

Nickel's most common use is as an alloy in steel, so demand for the metal plummeted as the worldwide construction market ground to a near-halt during the economic crisis. The Sudbury mines contain nickel, cobalt and copper.

The Steel Workers went on strike on July 13, protesting concessions demanded by the company, including privatization of benefits that would gut their guaranteed pension, changes in seniority rights and a cap on the "nickel bonus." This bonus is a form of profit-sharing that lets workers profit when nickel prices are high, a promise which made the union agree to lower overall wages.
Workers note that even with currently low nickel prices, the company is still profitable and knows prices will inevitably rise again. They say the company is basically using the economic crisis as an excuse to break the union and destroy a payment system which will let workers profit once prices pick up. A former company executive has anonymously said as much.

"I think this is all a ploy to use the world events right now to knock us down a few pegs," a Vale Inco worker told the Real News Network. "We might have had a slow quarter but they made $4 billion in the past few years, they could have floated us a little bit."

Toronto-based Inco was bought at auction in 2006 by the Brazilian Companhia Vale do Rio Doce, the world's largest iron ore producer, for almost $20 billion. Brazilian president Luiz Inacio Lula da Silva has spoken in support of the Canadian workers and threatened to use governmental leverage to punish the company, which was actually owned by the Brazilian government until 1997.

Hundreds of union workers at the company's mines in Voisey's Bay, Labrador and Port Colborne, Ontario also went on strike starting August 1. The Steel Workers in 2006 formed an alliance between miners in Brazil, Canada, Indonesia, Mozambique, New Caledonia, Australia, Germany, Peru, Sweden and South Africa, meaning extensive international support for the union in its current campaign.

Inco and its predecessors (including International Nickel) have been operating in Sudbury for more than a century. Queen Elizabeth descended into one of the nickel mines in 1939, the first woman to do so. Her daughter Queen Elizabeth II visited the mine 20 years later.

The current Vale Inco Sudbury operations are among the largest metal operations in the world, with six mines, a mill, refinery and smelter. Sudbury is a town of about 157,000 surrounded by forest, 400 kilometers north of Toronto. Vale Inco is the major employer, with about 4,700 employees.

Vale has operations across the globe including in the United Kingdom, Brazil, the South Pacific French territory of New Caldonia, Guatemala and Indonesia, among others. The company bills itself as socially responsible, building health clinics and other amenities for rural communities and promoting the recycling of nickel.

Steel Workers international president Leo Gerard, a former Inco worker, scoffs at this image, telling the Real News Network (see video below) that the company has already alienated the town of Sudbury, and warning the strike could get violent if the company continues to demand workers make major sacrifices while the company reels in profits.

"They're going to have to understand that if they want to mine and process this resource, they'll have to do it under mutually acceptable terms, not under unilaterally imposed terms," he said.