Wednesday, Sep 16, 2009, 12:42 pm
NYT Puff Piece on Wisc. 'Recovery' Ignores Mass Unemployment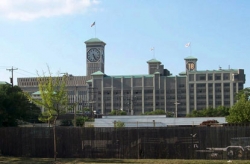 The New York Times, despite its liberal reputation, only rarely extends its liberalism to cover the plight of workers or corporate off-shoring of jobs.
For some reason, much of the worst economic reporting seems to afflict Times coverage of my home state of Wisconsin. When it comes to covering the state's industrial workers, Times' reporters seem to be zombies channeling the spirit of the late Milton Friedman.
The latest case: a Sept. 13 frontpage story headlined "In Wisconsin, Early Signs of An Industrial Rebound." The story breathlessly recounts a positive development at a Rockwell Automation plant located in the affluent Milwaukee suburb of Mequon:

At the Rockwell Automation factory here, something encouraging happened recently that might be a portent of national economic recovery: managers reinstated a shift, hiring a dozen workers.
Astonishing! Hiring a whole dozen workers now merits a front-page article in the New York Times!
Admittedly, Goodman does add a bit more substance: "Last week, the Federal Reserve found signs of "modest improvement" in manufacturing. That reinforced the direction of a widely watched manufacturing index tracked by the Institute for Supply Management, which surged into positive territory last month for the first time in a year and a half."
The Times story adds some qualifiers, calling for caution about the signs of a rebound, but these warnings are dedidedly a much-subordinated part of the story.
What makes this report so absurdly myopic is the dismal situation facing workers in the rest of Rockwell, the nearby city of Milwaukee, and factory towns around the state.
There is no mention that Rockwell, and its predecessor Allen-Bradley, slashed the unionized workforce at the fortress-like plant in Milwaukee's south side from roughly 5,500 in the late 1970s to fewer than 400. Many of those jobs have been shipped off to low-wage, high-repression countries like Mexico and the Dominican Republic.
The big story ought to be how Rockwell has so radically hollowed out its unionized workforce, which makes family-supporting wages and benefits. Not the fact a dozen workers were hired back into the company's workforce.
Adjusting the lens to encompass the city of Milwaukee, official unemployment in Milwaukee now stands at 12.2%, the highest in a quarter-century. Among African-American males aged 16 to 24, Milwaukee's jobless rate stands at 64.5 %.
Overall, the city's unemployment rate among African-American males is the second highest in the nation, trailing only Buffalo, according to UW-Milwaukee economist Marc Levine.
Milwaukee's official unemployment rate is softened a bit by the proliferation of jobs in services in recent decades, but family income in the city is just 41% of the surrounding "collar counties" of Waukesha, Washington, and Ozaukee, according to another study by Levine.
Expanding the view to the factory towns within 75 miles of Milwaukee, one sees cities that seem destined for permanent impoverishment now that they have lost their largest employers. As medium-sized factory towns, they will never evolve into centers of finance, insurance, real estate, and support services, because Chicago and Milwaukee have already claimed those roles. Nor are they likely to attract high-tech industries.
Kenosha had just witnessed the last 850 auto jobs in the state being moved, with federal bailout funds, to a new Chrysler-Fiat plant in Saltillo, Mexico, despite a firm agreement with the United Auto Workers committing the engine jobs to Kenosha. The company move, announced in early May, has helped to fuel a jobless rate of 12.1%.
But this development apparently pales in significance next to Rockwell hiring 12 people.
Previous Times coverage of Kenosha has displayed an equal level of ignorance on the effect of plant closings on workers. Following Chrysler moving 5,500 auto jobs out of Kenosha in 1988, the Times quoted a local development official. The story's subhead stated, "After years of boom and bust, 'the community has taken control."
The possibility that the loss of 5,500 jobs signaled precisely the opposite conclusion—that the community's fate was in the hands of a distant corporation increasingly shifting jobs to low-wage Mexico without regard to Kenosha's plight—was not given voice by any sources the Times chose to interview.
Meanwhile, the Times story on the purported recovery in Wisconsin neglected to mention Beloit, which has never recovered from the loss of the Beloit Corporation several years ago due to stunning levels of mismanagement, Beloit has been devastated by unemployment that has been above 17% for much of the year and hit 17.6% in July.
Meanwhile, my hometown of Racine—the subject of a glowing Times story three years ago about its efforts to re-invent itself as a hip artists' colony—is wracked by 17.1% unemployment.
The Times' stunning premise that the museum and 12 art galleries could significantly fill in the economic Grand Canyon left by the destruction of well over 14,000 family-supporting factory jobs since 1980 went unchallenged by any sourced quoted in the article. Racine, Kenosha, and Milwaukee had already lost 41% of their manufacturing jobs long before the latest severe recession hit.
In response to corporate decisions to de-industrialize the area, workers must abandon what the Times dismissively called their "ritual antagonism to business"—a slap at my hometown's long history of class-conscious unionism—and instead reinvent themselves through retraining as "cashiers, nurses' aides, human resource professionals and engineers."
But even those jobs are in short supply right now, with few signs of recovery in sight.

For Racine, the main growth industry seems to be the construction of a new $29 million jail that will contain about four times as many prisoners as the present facility built in 1980. A 125-year-old factory—razed after the new owners moved the jobs to China—has been replaced by a juvenile offenders facility.
The Times story labeled Racine "a Global Village." But like other surrounding factory towns, it stands more like a haunted victim of Global Pillage.
So perhaps the most apt description of Racine is empty factories and full jails. But don't expect to find the Times highlighting such depressing news when they can find an entire dozen new hires in one town to demonstrate the vitality of the "free market."

Roger Bybee
Roger Bybee is a Milwaukee-based freelance writer and University of Illinois visiting professor in Labor Education. Roger's work has appeared in numerous national publications, including Z magazine, Dollars & Sense, The Progressive, Progressive Populist, Huffington Post, The American Prospect, Yes! and Foreign Policy in Focus. More of his work can be found at zcommunications.org/zspace/rogerdbybee.
View Comments