Monday, Sep 21, 2009, 9:42 am
Navajo Nation Pushes for Green Jobs on Mother Earth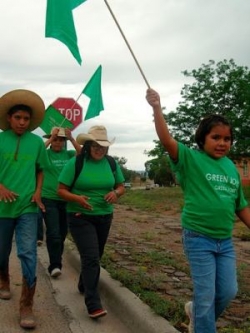 The resignation of former White House green jobs advisor Van Jones, a longtime racial and environmental justice activist, may be a small triumph for the right, but plenty of other folks continue to humbly carry the green jobs banner, with or without a figurehead in the West Wing.
Today, one of the continent's oldest communities is at the vanguard of the movement to bridge the Beltway and the grassroots. In July, Navajo Nation lawmakers passed the Navajo Green Commission Act—the first green jobs initiative in Indian Country. (See video below.)
Under the plan approved by the Navajo Nation Council and sent on to President Joe Shirley, the commission, which will include representatives from the youth and NGO communities, will marshal public and private resources to develop green jobs projects that support local workers and enterprises.
According to the Navajo Green Jobs website, the initiative aims to generate "well-paid jobs created by sustainable businesses and/or industries that are low- or non-polluting," including:
Community renewable energy projects.
Green manufacturing, such as wool mills.
Energy efficiency projects, such as weatherizing homes, sustainable water projects.
Local business ventures, such as weavers' co-ops and green construction firms.
Traditional agriculture, such as farmers markets and community gardens.
Green job training programs, such as workforce development, green contractors and public service projects
Also in the pipeline is a Navajo Green Economy Fund, which will provide sustained financing for the green jobs projects.
These initiatives offer small rays of hope in a community at the crossroads of environmental and economic devastation. Though rich in natural resources, the Navajo Nation has been ravaged by mutually reinforcing ills of poverty, segregation and environmental plunder by the mining and energy industries.

Recently, Navajo activists and other environmental groups banded together to defend local communities against plans to build another massive coal-fired power plant.

The Green Jobs Commission won't overturn the economics of the country's addicition to dirty fuels (just as a Beltway green jobs czar couldn't singlehandedly bring green economies to scale nationwide). But it's a potential watershed in the community's effort to achieve real economic and ecological self-determination. By creating political framework for green commerce, the initiative could become a model system for channeling good intentions into reality.

The Black Mesa Water Coalition, which has campaigned against destructive coal operations in Hopi and Navajo communities, has helped put youth activists at the forefront of the Navajo green jobs initiative.

In an interview with Racewire.org, Nikke Alex, a youth activist with the Coalition, explained the connection between green jobs and the challenges facing her generation:
Right now, unemployment on the reservation is at 44%. There's nothing for young people. The only ones working are college graduates. There are no jobs. That's why I'm pushing for the green jobs act because of two reasons: (a) these jobs aren't coal mining and (b) they're safe for the Mother Earth. ...

The (green jobs) legislation will help bring back jobs and keep monies in the reservation.
Yet with the economic landscape of Indian Country still embedded with fossil fuel interests, homegrown green jobs are a baby step on a precarious new terrain.
The evolving Navajo green movement could be a bellwether in the ongoing debate over what kinds of green development will truly benefit native communities. The Nation's nascent green sectors should prompt sustained activism to hold developers accountable and uphold indigenous political and cultural sovereignty.
Dean Suagee, an attorney and member of the Cherokee Nation, recently commented in Indian Country Today:
The peoples of Indian country and Native Alaska need to benefit from the low-carbon economy, and have access to green jobs and business opportunities in energy efficiency and renewable energy. America needs Native traditional ecological knowledge in fashioning adaptation programs.
The new commission's most enduring achievement may be the other forces it sets in motion. More Navajo youth may start to envision a future on the reservation, building a green economy from the ground up. There can be no green power without community empowerment—and right now, that energy is emanating from young people who know the struggle isn't just in Washington, but right at home.

Michelle Chen
Michelle Chen is a contributing writer at In These Times and The Nation, a contributing editor at Dissent and a co-producer of the "Belabored" podcast. She studies history at the CUNY Graduate Center. She tweets at @meeshellchen.
View Comments