Saturday, Sep 26, 2009, 9:26 am
Michael Moore Shows Scrappy Union Some Love in 'Capitalism'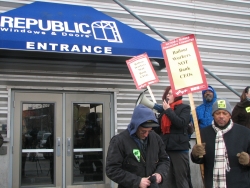 CHICAGO—Michael Moore's new movie, Capitalism: A Love Story, is an infuriating, somewhat terrifying and hilarious look at life and politics in the USA.
It includes the creepy revelation that your employer may well hold a "Dead Peasants" life insurance policy on you, making you worth more to your boss dead than alive.
It also deatils the uncomfortable possibility that your airline pilot is earning less than $20,000 a year, holding down a second job or collecting food stamps— making him or her more bleary-eyed or bitter than you'd want to think about thousands of feet in the air.
But the movie also includes two exhilarating, even tear-jerking high points.

One of them is the Republic Windows and Doors factory occupation in Chicago last December, where unionized workers took over the plant after getting three days notice that it would close. They ultimately convinced Bank of America to extend the severance and vacation pay due them in what was heralded as a labor victory worldwide.
At a Chicago sneak preview September 25 with UE Local 1110 members and their supporters as special guests, the crowd's cheers showed that almost 10 months later, the Republic struggle still has plenty of power to inspire and serve as an antidote to the heartless, cut-throat capitalism otherwise on display in the movie.
Moore's camera crew was the only media allowed inside the factory for the duration of the six-day occupation. The buzzing energy inside is a warm contrast to the bleak aerial shots of the factory from the outside, blanketed in ice and snow below a heavy gray sky.
UE organizer Leah Fried, worker Melvin "Ricky" Maclin and others describe the heady, exhilarating atmosphere where it seemed anything was possible, including running the business themselves as a workers co-op. (As it turned out, the factory was purchased by Serious Materials, a green building components company, which has signed a contract with the union and promised to hire everyone back.)
In the movie, Fried tells Moore how thinking about running the company themselves is such a foreign idea to people raised in the United States. But the movie highlights how this is not such a wacky concept, showcasing cheery workers at an employee-managed-and-owned Wisconsin robotics company and factories in Germany, where workers have a true voice and vote in how companies are run.
The other high-point of Capitalism is the tale of a Miami family who, along with feisty community supporters, broke back into their foreclosed home and refused to leave. Confronted with outraged, heartbroken youngsters and defiant neighbors, the sheriffs and bank agent soon backed off and the family was allowed to stay.
Moore's movie opens nationwide October 2 in 1,000 theaters, his biggest opening yet. He told the crowd that this will be his last movie if he doesn't see the inspiration and anger evident in the theater carry out into the streets.
"I'm not a trained monkey just doing this for your amusement," he said. "You can't leave it up to a Barack Obama or a Michael Moore or a Leah Fried."
He didn't need to tell the UE workers, who have an ongoing campaign against Wells Fargo bank among other things, and are gearing up for three days of protests during a banking convention in October.
UE Local 1110 president Armando Robles assured Moore that he would be making more movies. "We'll have more occupations, and you'll have more jobs to do," he said.
Kari Lydersen
Kari Lydersen is a Chicago-based reporter, author and journalism instructor, leading the Social Justice & Investigative specialization in the graduate program at Northwestern University. She is the author of Mayor 1%: Rahm Emanuel and the Rise of Chicago's 99%.
View Comments