Friday, Oct 2, 2009, 9:30 am
How to Stop Leaks of Jobs—and CO2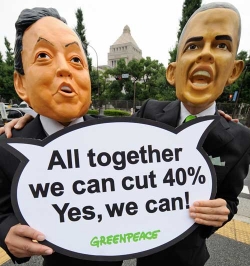 What happens if the United States imposes a higher price on carbon-based energy—such as through the cap-and-trade legislation that passed the House in June and was introduced in the Senate this week—and a trading partner, like China, does not?
For carbon-intensive industries, like steel, it could shift some production to China (or India, or elsewhere), since production costs would be lower. And that would eliminate some jobs of steelworkers and workers whose employment indirectly relies on the steel industry and its payrolls or purchases.
But if the work shifts to a country like China, whose steel industry uses more than twice as much carbon per ton of steel, the global emission of greenhouse gases also goes up, undermining the intent of the legislation aimed at slowing climate change.
What's the solution?
A group of manufacturing advocates and environmentalists, including the Steelworkers Union, the Sierra Club, the Alliance for American Manufacturing and a bloc of Democratic senators led by Ohio's Sherrod Brown, insist that any climate change and energy law must include fees imposed on manufactured goods from countries with weak carbon restraints to level the playing field for global trade.
"If we don't have sufficient border mechanisms, we'll have both job leakage and carbon leakage," Steelworkers Union president Leo Gerard says.
At least four million jobs, including 1.2 million directly involved in the industries emitting the most carbon dioxide, would be vulnerable without some border charges, according to a new report by Robert Scott, chief international economist at the Economic Policy Institute think tank.
With just a $10-per-ton difference in carbon taxes or their equivalent, as many as 40 percent of those jobs could be lost—and carbon emissions would likely increase as well.
States such as Texas, California, Ohio and Florida would likely lose the most jobs, but proportionately, the hardest hit states would be Wyoming, South Carolina, Louisiana and West Virginia. Jobs would be lost everywhere, not just in the industrial or extractive energy states.
Despite free-trader objections, World Trade Organization rules permit such a border adjustment charge, and European governments in countries such as France and Germany have proposed similar compensatory strategies.
The House-passed American Clean Energy and Security Act includes border fees, which could be assessed based on average industry carbon content on products from countries without comparable carbon restraints. But Gerard thinks they should kick in earlier, and Brown wants to make them more automatic and less open to administration discretion.
China and other developing countries have argued they need more flexibility in reducing carbon. The border fee would give them flexibility but not at the expense of fair trade or environmental subsidies that undermine global climate change action. It also would give negotiators at the December climate change talks in Copenhagen more leverage.
Given the strong Republican opposition to cap-and-trade, Senate Democratic leaders will need Brown's bloc of ten Senate supporters. "There will be no climate change bill without border adjustments," Brown says.

David Moberg
David Moberg, a senior editor of In These Times, has been on the staff of the magazine since it began publishing in 1976. Before joining In These Times, he completed his work for a Ph.D. in anthropology at the University of Chicago and worked for Newsweek. He has received fellowships from the John D. and Catherine T. MacArthur Foundation and the Nation Institute for research on the new global economy. He can be reached at davidmoberg@inthesetimes.com.
View Comments