Sunday, Oct 11, 2009, 9:01 am
New Approach, Same Targets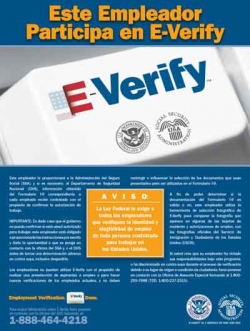 The outlook for workers who don't have their papers in order is as fierce as ever—only the tactics have changed.
There may be fewer workplace raids since President Obama took office, but now some workers who don't have their paperwork in order are facing forced firings through the E-Verify program.
This past week, the Department of Homeland Security 'formally' issued a final rule rescinding the social security 'no match' rule. The proposed policy would have required employers--under threat of prosecution--to terminate workers who have discrepancies in their Social Security records.
The AFL-CIO, American Civil Liberties Union and National Immigration Law Center filed suit against the DHS in 2007 shortly after the Bush administration proposed the 'no match' change to 'put teeth' into the 1986 Immigration Reform and Control Act (IRCA).
The labor and civil rights coalition challenged the no-match policy and said it would have put workers with valid papers and social security numbers at risk of losing their jobs and cause discrimination against workers who look or sound "foreign."
The no-match letter itself was not part of the lawsuit. "We sued over the letter DHS was going to put in with the no-match letter," said Anna Avendaño, associate general counsel and director of immigration program at AFL-CIO.
"We actually think the no-match letter should be terminated. It is not serving the intended purpose of fixing records. It is not effective, it is being misused," said Tyler Moran, federal policy director for National Immigration Law Center in Los Angeles.
Richard Trumka, president of the AFL-CIO called the government's rescission of the rule a "real victory for workers. The 'no match' program was a flawed and ineffective immigration enforcement tool that would have hurt U.S. citizens and other authorized workers."
But the DHS ruling is far from a great 'victory' for workers. Just ask the 1,800 workers fired from American Apparel last week after their work records were audited through the federal "E-Verify" program by the Immigration and Customs Enforcement (ICE) agency.
"We think E-Verify is an equally flawed program and should not be expanded until its limitations are addressed," Moran said. [See last month's post by Working ITT's Michelle Chen]
As of September, federal contractors and subcontractors (about 170,000 companies) are now required to use E-Verify. The U.S. Chamber of Commerce filed suit in December challenging the program, but a House-Senate conference committee this week voted to extend the program for three years.
For non-federal employers, the use of the system to check employment eligibility against I-9 forms is voluntary. There are over 444 million records in the Social Security Administration database. (Right now, ICE is auditing the records of 652 companies.)
The Department of Homeland Security said in a study that for every million workers denied eligibility through the E-Verify database, 4,000 workers would lose their jobs due to errors.
President Obama has promised comprehensive immigration reform, but E-Verify is just a switch in tactics from raiding worksites to pressuring employers.
---
Help In These Times Continue Publishing
Progressive journalism is needed now more than ever, and In These Times needs you.
Like many nonprofits, we expect In These Times to struggle financially as a result of this crisis. But in a moment like this, we can't afford to scale back or be silent, not when so much is at stake. If it is within your means, please consider making an emergency donation to help fund our coverage during this critical time.
Rose Arrieta
Rose Arrieta was born and raised in Los Angeles. She has worked in print, broadcast and radio, both mainstream and community oriented—including being a former editor of the Bay Area's independent community bilingual biweekly El Tecolote. She currently lives in San Francisco, where she is a freelance journalist writing for a variety of outlets on social justice issues.
View Comments