Monday, Oct 26, 2009, 12:50 pm
Trumka Sets AFL-CIO Standard for 'Real' Health Reform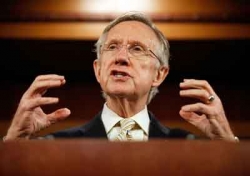 As Congress haltingly moves toward approval of some version of health care reform legislation, AFL-CIO President Richard Trumka warned today that "we cannot be in favor of reform for reform's sake. This is the moment to make it real. The fight now is about what reform looks like."

Trunka—elected president of the labor federation last month—insists reform has to include a "robust public option" and provisions that employers pay their fair share (whether as health insurance or payments to the government), as well as not to include any tax on insurance benefits.

But he would not go as far in his insistence on these three principles as AFSCME (public workers) president Gerald McEntee did last week in threatening to oppose legislation that taxes workers' benefits.
"I don't think we're going to have to face that," Trumka said Monday during a press conference. "We'll see when we get to that time if it's close enough."
Indeed, he said it would be "fine" to tax Goldman Sachs executive plans. But many so-called "Cadillac" healthcare plans offer normal coverage but just cost more for various reasons, such as an older workforce, more dangerous working conditions, a high-cost state, or a small employer with one very ill employee.

If the legislation includes a public option to control prices, Trumka argued, the government will need to tax less to provide subsidies, which in any case could be more fairly provided through a surtax on rich people who most benefitted from Bush tax cuts.

Trumka was ambiguously critical of proposals to give states the right to opt out of offering a public option, but he is strongly opposed to Sen. Ron Wyden's (D-Ore.) proposal to let individuals opt out of group plans to buy their own insurance.

The AFL-CIO plans a national day of calls to legislators, along with leafleting and other actions, one week from Thursday (Nov. 5).




David Moberg
David Moberg, a senior editor of In These Times, has been on the staff of the magazine since it began publishing in 1976. Before joining In These Times, he completed his work for a Ph.D. in anthropology at the University of Chicago and worked for Newsweek. He has received fellowships from the John D. and Catherine T. MacArthur Foundation and the Nation Institute for research on the new global economy. He can be reached at [email protected]
View Comments