Monday, Nov 2, 2009, 2:19 pm
Ralph Nader Defends His Super-Rich Utopia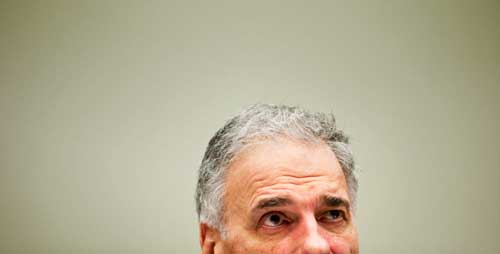 BOSTON—After hearing Ralph Nader discuss his new book, Only the Super-Rich Can Save Us, at a public event here Friday night, a man expressed the concern many Nader supporters felt upon reading the book's title.
Only the rich? A book about billionaires giving their time and money to charity? From "America's first citizen"? Has Ralph Nader lost his faith in grassroots organizing and activism?
Not at all, the perennial third-party presidential candidate replied. Only the Super-Rich Can Save Us is a utopian fantasy, not an ideological surrender. Its characters are real-life people (usually billionaires) powerful enough to enact large-scale social change.
Click here to read the rest of this article.
---
Help In These Times Continue Publishing
Progressive journalism is needed now more than ever, and In These Times needs you.
Like many nonprofits, we expect In These Times to struggle financially as a result of this crisis. But in a moment like this, we can't afford to scale back or be silent, not when so much is at stake. If it is within your means, please consider making an emergency donation to help fund our coverage during this critical time.

Pete Redington
Pete Redington lives in western Massachusetts, where he writes about sports, the outdoors and economic justice. Read more about him at affluentangst.wordpress.com.
View Comments