Tuesday, Nov 17, 2009, 2:45 am
After Release, Former Prisoners Robbed of Opportunity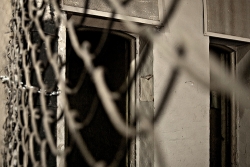 Millions of Americans know how tough it is to break out of unemployment. Few can imagine how hard it is to get back to work after living behind bars.

They don't get much airtime in Beltway debates on job creation, but a significant swath of the unemployed population comes from the estimated 700,000 people released from state and federal prisons annually, plus millions cycling through local jails.
Roughly one percent of the population is tied to the country's burgeoning prison system, though this is not the one percent that lawmakers particularly care about. They represent distressed, underserved communities; millions of them have been restricted from voting; and America has gradually become sensitized to seeing Black and Brown faces behind bars--a sad fixture of our race and class hierarchy.
Long after they're done serving their time, economic and legal structures conspire to continue punishing the formerly incarcerated. A past conviction could lead to legal barriers to certain occupations, while stigma creates subtler employment obstacles. Many return to communities plagued by deep poverty, often saddled with mental illness and drug addiction, lacking job skills and cut off from family and friends.

A policy paper by the Brookings Institution's Hamilton Project outlines the catch-22 of imprisonment:
After returning home, ex-prisoners are out of work about half the time, earn on average around $9,000 a year, and experience virtually no growth in earn­ings. Prison time itself may impede successful reintegration into society; studies show that incarceration is associated with reduced earnings and employment rates, and increased rates of divorce and separation.
But fiscal crisis has forced lawmakers to rethink prisons, simply because the cost of incarcerating so many people just isn't sustainable. Some states seek to reduce their incarceration rates through far cheaper alternatives, including sentencing reforms and reentry programs aimed at reducing recidivism.
The success of these policy shifts, however, depends on whether the communities on the receiving end have the capacity to absorb former prisoners into the economic and social fabric.

Social service experts see decent jobs as a critical anchor for people trying to stabilize after release, particularly when combined with housing support, education and drug treatment.

Yet in recent years, according to Brookings, disinvestment in social services and economic decline have made it even harder for the formerly imprisoned to survive on the outside:
Despite the acute human capital deficits of prisoners, participa­tion in work and education programs has declined from 44 percent in 1991 to 25 percent in 2004.... Adding to the challenge of prisoner re­entry, the labor market for low-skilled men has de­teriorated. Earnings among men with only a high school education have stagnated and joblessness among young non-college-educated blacks remains persistently high.
Lawmakers are now starting to recognize the moral and economic crisis of over-incarceration. Both the House and Senate recently passed legislation to expand funding for reentry programming, emphasizing grants to state programs that help former prisoners move toward self-sufficiency.

Many communities are experimenting with innovative, holistic reentry programs. The Urban Institute's Transition from Jail to Community initiative, now being piloted at several demonstration sites, brings together the mental health, law enforcement, and workforce development communities to develop "targeted intervention strategies."
One project cited by the Institute as a model reentry program, the New York-based Center for Employment Opportunities, steers people from Rikers Island onto an intensive path to independence:
Staff from CEO's Jail to Work Program meet individuals at the moment of release and transport them directly to their transitional work site. CEO offers employment training classes and works to find individuals permanent employment in areas that match their interests and skills. Immediate placement in temporary employment quickly offers a paycheck, structures individuals' time, and boosts their morale while preparing them for long-term employment.
In Oakland, Indianapolis, and Missouri, grassroots organizations have set up training programs to link formerly incarcerated people to green-collar jobs, recasting people with criminal pasts as environmental stewards.
Still, it takes more than good intentions to move from the prison-industrial complex to a more just economy. Pressured by a court mandate, California has pledged to reduce its prison population. At the same time, however, Michael Rothfeld at the LA Times reported recently that the state has moved to slash funds for "substance-abuse treatment, vocational training and educational programs"—that is, precisely those resources that help prisoners "handle anger, build self-esteem and search for the roots of their decisions to commit crimes, the better to avoid repeating them."

The Obama administration says it plans to put millions of citizens to work. But some of the most disenfranchised Americans will be left behind, unless policymakers acknowledge them not just as a social liability, but as members of the labor force. When formerly incarcerated people are robbed of that second chance, the economy loses a vital human asset and leaves struggling communities to pay the price.
---
Help In These Times Continue Publishing
Progressive journalism is needed now more than ever, and In These Times needs you.
Like many nonprofits, we expect In These Times to struggle financially as a result of this crisis. But in a moment like this, we can't afford to scale back or be silent, not when so much is at stake. If it is within your means, please consider making an emergency donation to help fund our coverage during this critical time.

Michelle Chen
Michelle Chen is a historian based in New York City, a contributing writer at In These Times and The Nation, a contributing editor at Dissent and a co-producer of the Belabored podcast. She tweets at @meeshellchen.
View Comments