Tuesday, Dec 15, 2009, 7:19 am
SEIU: Obama Workplace Immigration Enforcement Flawed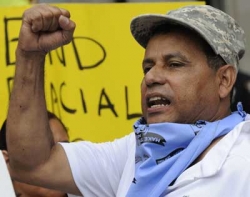 Last summer ABM Industries Incorporated, a big national building maintenance firm, began delivering letters to its janitors in Minneapolis and St. Paul demanding that they produce documents—such as Social Security cards, immigration papers or other identification—or be fired.
The company's investigation, which eventually led to the firing of 1,200 workers–three times as many workers as involved in the notorious Postville, Iowa, meatpacking plant raid by the Bush administration, was prompted by an Immigration and Customs Enforcement (ICE) audit of ABM's records of employee immigration status, or I-9 forms.
The Department of Homeland Security has recently decided to escalate such audits of immigration status. But the Service Employees International Union (SEIU) is pressing the department to reconsider, arguing that the audits are deeply flawed and ineffective.
The union's Executive Vice-President Eliseo Medina urges the Obama administration instead to push for comprehensive immigration reform, rather than punitive and unproductive enforcement strategies. With regard to workplace enforcement of immigration laws, Medina says DHS should work with the Department of Labor to focus on generally bad employers who exploit undocumented immigrants and lower labor standards for citizens and documented workers as well.
SEIU, which represented the Twin Cities ABM workers, says that many legal immigrants and citizens also lose their jobs in ICE audits. The audits, like the highly criticized and now-suspended Social Security "no match" letters, rely on flawed federal databases, the union says.
ICE conducted 600 audits last year, 654 this year, and has announced plans for1,000 more. But even though DHS invited employers to a conference on immigration law enforcement, no unions were involved. "DHS is not particularly interested in entering a conversation with unions and worker advocates," Medina says.
Medina calls the audits a "losing game of musical chairs," since nearly all the employees who lose their jobs stay in the U.S., often finding a worse job with a less scrupulous employer. There is no change in the number of undocumented immigrants in the workforce.
"SEIU is not saying, 'Don't enforce the law,'" Medina says. "We're saying, 'Enforce the law in a way that can work." He proposes that DHS should work with the Labor Department to target employers who violate wage and hour laws as well as immigration laws.
The Obama administration has greatly reduced factory raids and rescinded "no match" regulations, but also intensified controversial cooperation with local police to enforce immigration laws, says SEIU immigration director Joshua Bernstein.
"I don't think it's accurate to say they're cracking down more than the Bush administration," he says. "I-9 is a more active front. In most cases thy are following or moderating Bush."
But happy as he is that raids have virtually ended, Medina sees the I-9 audits as the other side of the same coin. "My belief is they're trying to look tough," Medina says, "but this is not about being tough, but solving problems."

David Moberg
David Moberg, a senior editor of In These Times, has been on the staff of the magazine since it began publishing in 1976. Before joining In These Times, he completed his work for a Ph.D. in anthropology at the University of Chicago and worked for Newsweek. He has received fellowships from the John D. and Catherine T. MacArthur Foundation and the Nation Institute for research on the new global economy. He can be reached at [email protected]
View Comments