Friday, Dec 25, 2009, 8:01 am
'Revolutionary Lemonade Stand' Makes Labor Struggles Fashionable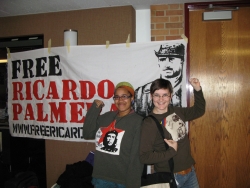 During the ultimately victorious SK Hand Tools strike by Teamsters in Chicago, SK workers at rallies and protests could be identified by their custom arm bands.
When union clerical workers at the University of Illinois at Chicago were forced to speed up the number of calls they made each day, they sported attractive desk signs quietly informing bosses and the public they were on an intentional slow-down.
And after the famous Republic Windows struggle last December, miniature Republic Windows workers with popsicle stick picket signs popped up in Christmas stockings and gift boxes around Chicago and beyond.
These are just a few of the creations of Revolutionary Lemonade Stand, a DIY gifts and crafts operation run single-handedly by Chicago activist and artist Stephanie Weiner, affiliated with the labor organization Fight Back!
Weiner sees her goods—a wide range of products including baby T-shirts, hoodies, bags, lawn signs, notebooks, jewelry—as playing multiple roles in specific workplace struggles and larger social justice campaigns.
She noted that in small towns, where people may keep their politics or sympathies under cover, wearing a Che shirt or carrying a trendy bag that says "Capitalism got us into this pickle"—with a big green pickle—is akin to "coming out" as a politically conscious person.
"To be able to say it to others in that way is a basic stage in political development," she said. "I've heard from so many people whose daily conversations changed after they started wearing the shirt or carrying the bag."
Weiner spends long hours for very little profit hand-sewing, silk-screening and constructing her products on her kitchen table. One of the benefits of her DIY home-made approach is she can respond quickly to the events of the day, "giving activists the tools they need" as new situations develop.
She thought of the SK Hand Tools arm bands before a Labor Day parade. The strikers had much union and community support, and she figured it would be nice for marchers to know who the actual strikers were. The bands were in the color of the factory—white and green—and featured imagery from an early 1900s children's Bread and Roses parade in New York.
Historical parallels are common—during mandatory "registrations" by Arab Americans shortly after 9-11, she created tags to go around coat buttons based on ones worn by Japanese Americans in internment camps.
Necklaces are adorned with small bottles of dirt from places of contemporary and historical struggle – Chicago's Haymarket, Cuba, the Palestinian West Bank, New Orleans after Hurricane Katrina, and Benton Harbor, Mich., site of race riots in recent years. She got the idea from Chicago's Tribune Tower, whose walls are embedded with stones from famous places. "I've become a dirt archivist," she said.
Weiner tables at almost all labor and activist gatherings in the region, and notes that her affiliation with Fight Back! helps her spread her work far and wide. Though she has always been artistic and an activist, Revolutionary Lemonade Stand took off after her participation on an arts committee during a youth festival in Venezuela several years ago.
"I feel like I've had the incredible privilege of watching things I've made show up at demonstrations all over," Weiner said. "I would never be as relevant if I wasn't connected to a political structure. You have to swim in the activist waters to know the water conditions."
---

In These Times has been selected to participate in NewsMatch—the largest grassroots fundraising campaign for nonprofit news organizations.
For a limited time, when you make a tax-deductible donation to support our reporting, it will be matched dollar-for-dollar by the NewsMatch fund, doubling your impact.
Kari Lydersen
Kari Lydersen is a Chicago-based reporter, author and journalism instructor, leading the Social Justice & Investigative specialization in the graduate program at Northwestern University. She is the author of Mayor 1%: Rahm Emanuel and the Rise of Chicago's 99%.
View Comments