Friday, Feb 5, 2010, 7:55 am
Obama's Double Talk on Exports and Jobs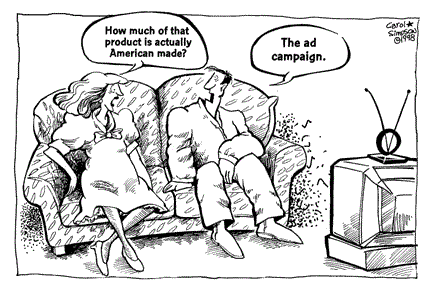 Of all the promises studding Obama's State of the Union Address, two claims stuck out: 1) we can double exports in five years, and 2) we'll get two million jobs from that.

Putting millions of Americans to work while countering the flood of cheap imports flooding our malls and garages? Is the so-called National Export Initiative a pie-in-the-sky talking point, or something workers can bank on after a generation of seeing good jobs dry up in their communities?
To trade watchdogs, Obama's export plans, coupled with his promotion of more free trade agreements, are clouded with caveats.
Economists on the left and the right say a program to ramp up exports must first and foremost entail a comprehensive readjustment of currency values to restrain China from capitalizing on an undervalued yuan. So Secretary of Commerce Gary Locke has said that Washington will push "a rules-based trading system" in which "the privilege of free and fair access to our domestic market" is granted on a mutual basis.
It sounds like Obama is taking dictation from the U.S. Chamber of Commerce. The group's "American Free Enterprise" campaign touts market-based measures to promote growth, like easing tax codes for businesses, opposing regulation of carbon under the Environmental Protection Agency, and, oh yes, ramming through Bush-era free-trade deals that have been held up amid deep concerns over labor and public interest protections.
The Chamber argues that the resistance to the pending Colombia and Korea Free Trade Agreement has cost domestic jobs. Fair-trade groups don't buy that. They've criticized the pending new trade agreements as a repetition of the bankrupt model of NAFTA, which encourages the degradation of labor and gives multinationals greater power to offshore jobs.
Curbing the trade deficit means both growing exports and reining in imports. The advocacy coalition Citizens Trade Campaign notes that if imports grow at a faster rate than exports, the country would still continue to hemorrhage jobs even if it sends more goods to foreign markets. "It's a lot like saying I'm going to double my exercise to lose weight, but then increasing calories fourfold, so you're still falling behind," said Director Andrew Gussert.
Robert Scott of the labor-oriented think tank Economic Policy Institute tells ITT that narrowing the gaping, and poltically charged, U.S.-China trade gap is "the only way we're going to create net new jobs." But that means not just churning out exports but "dampening the growth of imports" as well as reinvigorating domestic industries.
As for the five-year time frame, Public Citizen's research has found only one recent instance in which there was a gross doubling of exports was 1969 to 1974 (it so happens that during that time, Nixon imposed a surcharge on imports to deal with an international currency crisis).

Dean Baker of the Center for Economic and Policy Research tells ITT that currency revaluation should be seen as a two-way deal:
It is hard for me to believe that if [Obama] insisted that China raise the value of its currency and indicated that the U.S. was prepared to have an official exchange rate with a lower valued dollar (e.g. 5 yuan to the dollar instead of the Chinese rate of 7 yuan to the dollar), that China would not be willing to go along with a higher-valued yuan.
Despite criticisms of other countries playing tricks with trade rules, Dean adds, "The value of the dollar will have far more impact on exports than yelling about unfair trade practices."
Fair trade advocates have pressured Obama to depart from the status quo under Bush and include labor, environmental and human rights protections in future trade pacts. Public Citizen Global Trade Watch Director Lori Wallach says that while Obama's address highlighted working with the WTO and heeding corporate interests, she was "surprised that... he did not repeat his campaign commitments to create the new American trade policy about which many Americans still have high expectations."

Activists are still expecting Obama to enact a more progressive trade policy. In contrast to the Chamber's scheme for deregulation, the Economic Policy Institute starts with public jobs programs and infrastructure investment. On the trade front, Scott says that beyond dealing with exchange rates, exporting countries like China will in the long run have to cultivate domestic demand, in large part through improving economic conditions for workers.
To that end, Scott says, trade can help or hurt U.S. jobs, but isn't necessarily an instrument for advancing social equity:
We need to work with the [International Labor Organization] to improve labor rights enforcement as a human right. And I think we can have incentives to do that with development aid, but not with trade. The linkage between trade and improvements in foreign policy goals is what got us into trouble in the first place.
Stoking anxieties over everything from Google censorship to the Dalai Lama, U.S.-China trade tensions reveal the messiness of mingling politics, trade, domestic economic goals. Pivoting between rivalry and partnership, Obama's address last week spoke to the wishes of big business. It's now up to labor and fair-trade advocates to speak for themselves.
---

Michelle Chen
Michelle Chen is a contributing writer at In These Times and The Nation, a contributing editor at Dissent and a co-producer of the "Belabored" podcast. She studies history at the CUNY Graduate Center. She tweets at @meeshellchen.
View Comments