Thursday, Feb 11, 2010, 12:36 pm
Enough is Enough: Janitors Hold One-Day Safeway Stoppage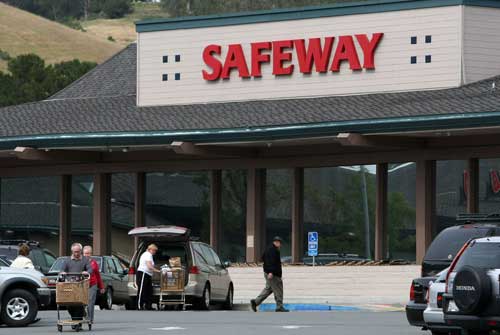 Contractors for grocery chain have proposed right to unilaterally take janitors off pension plan without notice
Dozens of janitors from Santa Rosa to Salinas held a one-day work stoppage at 55 Safeway supermarkets in Northern California on Wednesday, February 10.
Alleged intimidation, threats of firing and proposals to reduce pay and benefits motivated the action. Contractors for Safeway are proposing to include language in the contract that would give them the right to take janitors off their pension plan, without notice,
As I've reported on before, contract negotiations between SEIU United Service Workers West, Local 1877 and Safeway's janitorial services contractors (ABM, Crystal, Premier and AMS) have been ongoing since October 2009. Local 1877 represents 450 janitors at Northern California Safeway supermarkets.
The four Safeway contractors want to increase the waiting period before a new worker is eligible for healthcare benefits; eliminate dental coverage, and lower the start pay to $8.60 per hour— just 60 cents above the state's minimum wage. Workers are currently paid $10.24/hour. Contractors are also proposing small increases of 10 cents a year
Safeway is the country's third largest supermarket chain, with an estimated $44.8 billion in annual sales and consistent profits.
"The contractors say Safeway is not supporting them and Safeway says the same and they keep passing the buck to each other so they can both escape responsibility for the workers," said Rachele Huennekens, an SEIU spokesperson.
"I walked out because Safeway's janitorial contractors are not working with us to negotiate a contract which will remedy unsafe and unhealthy conditions in the stores, and help us support and build a life for our families," Safeway worker Leodegario Acevedo said.
Also at issue is health and safety. Safeway contractors are refusing to supply "green cleaning" products to their workers, who use toxic industrial strength cleaning agents that are causing serious health problems as well as posing a risk to consumers.
So far contractors and Safeway officials have not been willing to budge on the issue. Each say the responsibility falls on the shoulders of the other party.
"It's insulting to sit at the bargaining table with Safeway's contractors, and hear them say that Safeway won't give them the money to increase our poverty wages, maintain our healthcare benefits, safeguard our safety and health, and protect their own customers," said Neri Macuixtle, a janitor in Salinas and member of the Bargaining Committee.
More bargaining talks are planned between the union and Safeway contractors.
---
Help In These Times Continue Publishing
Progressive journalism is needed now more than ever, and In These Times needs you.
Like many nonprofits, we expect In These Times to struggle financially as a result of this crisis. But in a moment like this, we can't afford to scale back or be silent, not when so much is at stake. If it is within your means, please consider making an emergency donation to help fund our coverage during this critical time.
Rose Arrieta
Rose Arrieta was born and raised in Los Angeles. She has worked in print, broadcast and radio, both mainstream and community oriented—including being a former editor of the Bay Area's independent community bilingual biweekly El Tecolote. She currently lives in San Francisco, where she is a freelance journalist writing for a variety of outlets on social justice issues.
View Comments