Thursday, Apr 1, 2010, 2:41 pm
Labor Dept.'s New 'Sheriff' Offers Overdue Help to Wage-Theft Victims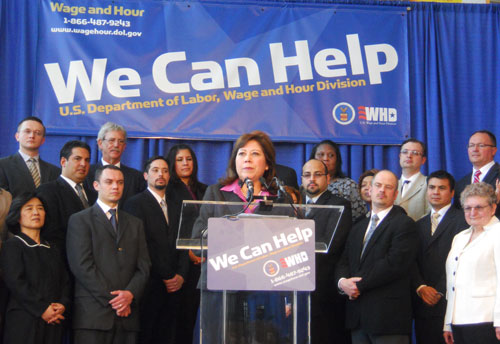 CHICAGO—A new Labor Department campaign is long overdue for the millions of U.S. workers struggling to be paid their fair share.

On Thursday, Secretary of Labor Hilda Solis—trying to make good on her standing promise to be "the new sheriff in town"—unveiled a national campaign to combat wage theft and hold employers accountable at the University of Illinois's Chicago campus.
Noting the building in which she spoke was built on the original site of Jane Addam's Hull House settlement, where FDR's high-achieving Labor Secretary Frances Perkins once worked, Solis invoked history and reiterated the labor department's commitment to ending the country's wage theft epidemic, which each year robs workers of billions.
"I have a message for those employers who break this nation's labor laws and prey on vulnerable workers: It ends today," she said. (Video below.)
The new "We Can Help" campaign is essentially a public-relations effort to remind exploited workers—particularly those working in construction, hotels/motels, the food service industry and home healthcare—that the labor department exists to protect workers, not employers.
That's a huge shift from the Bush years of last decade, when the department's enforcement efforts were decimated and Labor Secretary Elaine Chao actually opposed efforts to raise the minimum wage. Last year, the Government Accountability Office reported that the department routinely dropped complaints after receiving assurances from employers, and that half of the fake complaints it called into the Department of Labor's Wage and Hour Division weren't even recorded.

But Thursday, there was a palpable sense of alliance between Solis and labor and community organizations like Interfaith Workers Justice, Arise Chicago, and Chicago Workers' Collaborative, whose members were present for the press conference, and approved the new campaign with cheers. U.S. representatives Jan Schakowsky, Bobby Rush and Danny Davis also attended.

"This sheriff believes that workplace enforcement is not only our responsibility, but it is our moral obligation," Solis said, noting that she has increased enforcement staff in all of the labor department's agencies, including 250 new field investigators for the Wage and Hour Division. "If someone is stealing your wages, you can and should call the Department of Labor," she said.
The Labor Department's budget is back to its 2001 pre-Bush level, Solis noted, and a total of 949 investigators now represent the division, which is spearheading the new campaign. "We Can Help" is a bilingual campaign, with TV and radio public service announcements (including one featuring actor Jimmy Smit) ready for broadcast. The goal is to help connect workers, whether documented or undocumented, to the department's resources and personnel to file complaints and receive assistance—and ultimately, stolen wages.

But Solis did say that even a "replenished and re-energized" Wage and Hour Division doesn't have the capacity to go after ever single complaint. That's why the Labor Department seeks to partner with labor and religious organizations around the country, she said, organizations that can offer workers advice and steer them to investigators.

Ana Guajardo, executive director of Centro De Trabajadores Unidos, an immigrant workers' project based in South Chicago, says she's pleased the labor department wants to partner with groups like her own. "But what I'm more interested in finding out is, how is the enforcement going to take place?" she said. "How is the department of labor going to make sure that the workers receive the actual pay after they make a determination?"

Adam Kader, director of ARISE Chicago Worker Center, believes a community-partnership model can work to direct limited government resources to problem areas. "We can complement efforts," Kader said Thursday. [The Labor Department] brings the actual law, we bring the community pressure and the moral voice to combat wage theft and other wage and hour violations.

"I think [Solis] is serious about it. How hopeful am I that this can make a difference? That depends on how many resources are being put to this. Clearly there's a lot of promotion being done, and this is just the beginning."

Solis clearly recognized that she has only begun to repair the damage inflicted on the labor department during the Bush years, and combat an epidemic that, according to Kim Bobo's 2008 book Wage Theft in America, affects millions of workers each year.

But she and the other Labor Department officials who spoke didn't mention strengthening the fines employers face for stealing wages from workers, fines that are notoriously easy for chronic abusers to build into their business model.

"If all the laws are actually implemented, that would be a tremendous step forward," Kader said. "Would we be satisfied? No way."
---
Help In These Times Continue Publishing
Progressive journalism is needed now more than ever, and In These Times needs you.
Like many nonprofits, we expect In These Times to struggle financially as a result of this crisis. But in a moment like this, we can't afford to scale back or be silent, not when so much is at stake. If it is within your means, please consider making an emergency donation to help fund our coverage during this critical time.
View Comments