Friday, May 21, 2010, 1:58 pm
Global Trade Watch: Don't Believe the Free-Trade Hype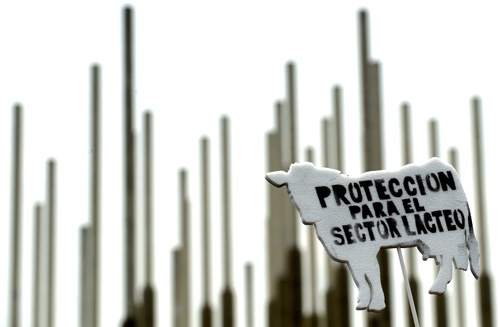 New Chamber of Commerce report repeats familiar fictions, says nonprofit
Despite warning signs including human-rights violations, economic distress and displacement related to the Central American Free Trade Agreement, on May 18 European Union and Central American countries signed a free-trade agreement (FTA). (As Akito Yoshikane outlined on this blog Wednesday, the deal went through with little input from unions or impacted indigenous and rural communities.)

European countries also resumed long-stalled talks with the Latin American countries of Mercosur, though there is still much opposition from governments and grassroots groups on both sides.

All this means that Europe, rather than the U.S., is leading the push for free trade worldwide at the moment, as proposed U.S. free trade deals with Panama, Colombia and South Korea stall due to concerns over human-rights violations abroad and domestic job losses. So the U.S. Chamber of Commerce – surely encouraged by the prospect of an EU-Central America deal—is fighting back against the decline of public and political enthusiasm for free trade in the U.S.
During their "first annual State of World Trade" address last Friday, the Chamber issued a report saying the U.S.'s free trade agreements have created 5.4 million American jobs. The report also says trade with countries under such agreements tripled compared to non-FTA countries last year.
But Global Trade Watch, an affiliate of the consumer advocacy nonprofit Public Citizen, begs to differ, pointing out significant flaws in the Chamber's methodology:
The Chamber study incorrectly groups together years. For example, it calculates 'average annual growth of U.S. merchandise exports to FTA partner countries' in the three years prior to the FTA, and then since implementation.

The problem? These FTAs were implemented in different years, under different global economic conditions. To calculate an 'average of average' that groups together Israel (FTA implemented in 1985), with Dominican Republic (FTA implemented 2007) is to compare apples and oranges.
For an honest analysis, Global Trade Watch says, one must compare growth of trade in the three years following a given trade agreement with trade growth between the U.S. and other non-agreement countries during those same three years. With this analysis, the group says:
Thirteen out of 16 FTA countries (including Canada, Mexico, Jordan, Singapore, Australia, El Salvador, Guatemala, Honduras, Nicaragua, the Dominican Republic, Costa Rica, Oman, and Peru) did not beat the non-FTA rate even in their first three years after implementation – when we might expect the greatest gains.
A fair analysis, Global Trade Watch says, actually shows that U.S. trade with countries without free-trade agreements increased about 50 percent more than with NAFTA partners Canada and Mexico.
In other words, says Global Trade Watch research director Todd Tucker, U.S. free trade agreements have been a "dismal failure," and have caused our deficit with these countries and especially NAFTA partners Canada and Mexico to grow exponentially thanks to a loss in U.S. manufacturing capacity and competitiveness.

In other words, a free-trade agreement may create jobs, at least temporarily, in factories in Mexico, El Salvador or the like. But that undermines U.S. manufacturing, causing long-lasting damage to U.S. jobs and production even as the jobs in the developing countries often turn out to be transitory, rife with worker abuses and linked to displacement and civic turmoil.

Free trade agreement provisions that allow companies to sue governments for lost revenue when their plans are blocked by public outcry or environmental regulations can also be devastating to developing countries and even the U.S.
Take the situation in El Salvador, where a lawsuit by the Pacific Rim mining company over the government's refusal to green light a proposed gold mine could potentially drain the country's treasury.

While many Americans may not know or care what goes on in rural Central American mining towns or maquila sectors, freedom-loving Americans certainly don't take kindly to the idea that free-trade agreements can mean jobs will go to other countries and foreign companies can tell governments what to do.

Global Trade Watch director Lori Wallach wrote that:
I suspect that more Americans are likely to believe reports of UFO sightings than Chamber of Commerce claims about trade agreements creating millions of jobs for them, given many Americans have personally experienced the damage wrought by the job-killing trade deals pushed by the Chamber on behalf of their serial-offshoring multinational corporate members.
Kari Lydersen
Kari Lydersen, an In These Times contributing editor, is a Chicago-based reporter, author and journalism professor at Medill at Northwestern University, where she is fellowship director of the Social Justice News Nexus. Her work has appeared in the New York Times, the Washington Post, the Chicago Reader and The Progressive, among other publications. Her books include Mayor 1%: Rahm Emanuel and the Rise of Chicago's 99 Percent., Shoot an Iraqi: Art, Life and Resistance Under the Gun and Revolt on Goose Island: The Chicago Factory Takeover, and What it Says About the Economic Crisis.
View Comments