Friday, Jun 18, 2010, 4:05 am
Black Shirt Friday Commemorates Railroad Worker Deaths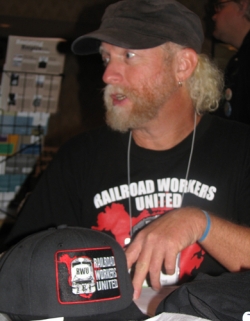 Railroad workers around the country are wearing black today in a grim commemoration of the family members who will not be able to celebrate Father's Day with loved ones killed in railroad accidents in recent years.
The group Railroad Workers United (RWU) has counted at least 20 railroad workers killed since Mother's Day 2009, when Jared Boehlke died in a one-man accident in the Selkirk rail yard in upstate New York, one of many accidents which the group says are caused by automation and other cost-cutting measures in the industry
The group, made up of members of various rail unions nationwide, says:
Despite far fewer trains moving with fewer employees, the number of rail workers on-the-job fatalities has dramatically increased since the onset of the recession. High profile fatalities &ndash such as passenger train accident victims or soldiers killed in war &ndash make headline news, while on-the-job deaths of working people usually go unnoticed.
The most recent death happened just two weeks ago in a New Jersey train yard. "Hostler" Greg Kastner, 63, was struck and killed by a wayward locomotive June 1 at 3:30 am when a locomotive's brakes malfunctioned.
On April 28, a veteran worker was electrocuted on a live third rail after slipping during track repairs on the elevated commuter line in Queens. And just five days earlier, RWU members were gathered in Detroit for their bi-annual convention and the Labor Notes conference when they heard about the death of Chicago rail yard worker Melinda Carter. (See my previous blog here.)
On April 3, Union Pacific veteran Roberto Ramirez died in northern California when his company pickup was struck by a locomotive. He'd worked for the railroad for three decades. A week earlier, conductor Jeff Heitzmann was killed in a North Dakota derailment. Two weeks before that, locomotive engineer Andrew Monheim was killed in a collision and derailment near Pittsburgh. He worked for Union Railroad, a subsidiary of US Steel. A train fire in Alabama, derailments in a Minneapolis rail yard and workers hit while fixing tracks were among the incidents causing fatalities. Several workers were also hit by trains in the course of doing their jobs.
RWU members say that automation and staff cuts implemented to save money have made workers much more vulnerable to being hit by trains or otherwise harmed. Locomotives are often operating without a conductor at all, unbeknownst to many people.
The RWU is calling for "Black Shirt Friday" to become a tradition akin to a Railroad Workers Memorial Day, and they are asking all railroad (and other) unions to adopt and promote the idea -- "a time for all railroad workers to mourn for the dead…and fight like hell for living."

In a statement, RWU co-chair Jon Flanders said:
If dangerous working conditions and hazards are not eliminated, if workers are fatigued as a result of overwork, if schedules are unpredictable and work hours long, injuries and accidents are bound to occur.
Support Progressive Journalism
Donations from readers like you make up a full third of our annual income—that's how critical our end-of-year fundraising drives are. If you want to continue to read independent, progressive journalism in 2019 and beyond, we hope you'll consider chipping in whatever you can today.
For a limited time, anyone who makes a donation of $5 or more to In These Times will get a free copy of Verso's best-selling 2019 Radical Diary and Weekly Planner.
Kari Lydersen
Kari Lydersen, an In These Times contributing editor, is a Chicago-based reporter, author and journalism professor at Medill at Northwestern University, where she is fellowship director of the Social Justice News Nexus. Her work has appeared in the New York Times, the Washington Post, the Chicago Reader and The Progressive, among other publications. Her books include Mayor 1%: Rahm Emanuel and the Rise of Chicago's 99 Percent., Shoot an Iraqi: Art, Life and Resistance Under the Gun and Revolt on Goose Island: The Chicago Factory Takeover, and What it Says About the Economic Crisis.
View Comments