Wednesday, Jun 23, 2010, 8:01 am
Global Labor Congress Pushes Back Against 'Austerity'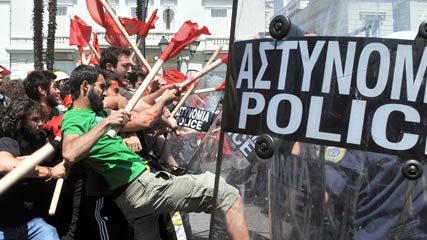 Workers of the world are united... in pain. In Europe, the sovereign debt panic has hit labor with scathing "austerity measures." On both sides of the Atlantic, unions are threatened with massive layoffs and deep cuts to public services. And struggling labor activists around the world face brutality and authoritarian crackdowns.
Nonetheless, the International Trade Union Confederation kicked off its Second World Congress in Vancouver this week with strained optimism, under the slogan, "from the crisis to global justice."
The delegates, who represent more than 300 affiliated groups with some 176 million members worldwide, will advance an agenda based on labor and human rights and sustainable economic development. But looming over the ambitious program is a war of attrition, against politicians who believe that the best way to stabilize an economy is to undermine the economic security of the most vulnerable.
As Greece, Spain, Britain and other countries move to slash social programs, the International Trade Union Confederation (ITUC) warns that emerging austerity budgets will only deepen the crisis. The ITUC Congress Theme Report predicts that "the post crisis situation for workers looks likely to be still worse than the one existing before.... Not only would labour be the primary victim of the crisis itself; it would also be called upon to foot the bill for pulling out of it."
Ambet Yuson, general secretary of Building and Wood Workers International, told In These Times that fiscal belt tightening ignores the role of labor as part of the solution:
Austerity programs do not bring people into work. We don't want a "recovery" that consists of growth in gross domestic product but without strong growth in employment. We need to get employment rates to better levels than prior to the recession, and we want employment policies and labour practices that provide Decent Work.
Paying for the mess

While the chaotic protests in Greece and Spain symbolize a grassroots revolt against austerity, Global Unions, a multi-sector labor coalition, seeks a unified labor response that is both deliberate and forceful.
"The removal of support systems, threats to jobs growth, and suppression of wages will slow recovery," said Dick Blin of the International Federation of Chemical, Energy, Mine and General Workers' Unions (ICEM). "What is needed is re-regulation of markets, a global financial transactions tax, and other taxes based on ability to pay."

A comprehensive financial transaction tax to curb wild markets is one of the main proposed reforms on the ITUC's agenda. According to the Congress report, "such a tax would have the double advantage of placing a reasonable burden of the costs of the crisis on those responsible for causing it and well able to bear it, while at the same time generating resources on a scale needed for eventual fiscal consolidation" or to fund international aid commitments.
The delegates will also flesh out labor's green-economic development plans. The report acknowledges that the consensus surrounding the "just transition" concept "needs to acquire greater detail, more rigour and real political commitment," especially in industries that depend heavily on dirty fuels.
In a ten-point declaration issued to the G8 and G20 countries last week, the ICEM, the International Metalworkers' Federation and the International Textile, Garment and Leather Workers Federation, called on "the people who caused this mess to pay to clean it up." Some of the major points on the coalition's blueprint include:
Respect fundamental workers' and trade union rights as set out in the [International Labour Organization] Core Labour Standards; to be included in all bilateral and multilateral agreements on trade and investments along with effective enforcement mechanisms;
Create jobs that meet the ILO definition of "decent work". We recognize that industrial change is happening, but challenge the legal and political rules that allow precarious work to flourish;
Reach an ambitious, fair, and binding, agreement on greenhouse gases at COP16 in Mexico;
and Ensure that funds in the Copenhagen Green Climate Fund earmarked as part of the Copenhagen Accord are available to trade unions for vocational and educational purposes as part of the broader principle of Just Transition.

Common Ground Under Crisis
Public Services International, which today celebrates World Public Services Day, has emphasized the role of the public sector and social services in fostering economic recovery for all workers. PSI General Secretary Peter Waldorff told ITT that the silver lining of the crisis has been a growing sense of solidarity:
[M]aybe for first time in history, you will see public and private sector trade unions standing side by side in the call for education for all, adequate social care and health care, access to water and energy, public transportation, and so on. And this is really historical.
Still, the broad banner of sustainability may draw together embattled unions, but it's unlikely to win over policymakers seeking easy political remedies for fiscal malaise. So labor leaders hope that at the negotiating table, they can at least spread out the pain more fairly. While workers may not be able to beat back budget cuts, if labor stakeholders are fully engaged in negotiations, Waldorff said, "you have a totally different situation than if a government unilaterally goes through a process in the parliament, and comes out with a result that people get extremely angry [about]."
There may be many critics on the left who see no room for compromise for labor on harsh austerity programs. But Blin argued that if governments insist on imposing draconian policies on labor, unions will be justified in pushing back. "We now endorse methods of heat, meaning mass mobilisations of workers and manifestations to drive our message home," he told In These Times. "Thus, light in our ideas, heat in the streets."
Yuson noted that in response to draconian budget policies, "In many countries, trade unions went on the street" and European unions were planning a day of mass action on September 29. "This might be a language governments will understand."

Whether Europe's austerity hawks understand the message or not, the trade unions have voiced an alternative recovery plan that foregrounds the workers at the core of the global economy. Despite the political marginalization of labor, the ITUC Congress gives unions a platform to prove that even if they're shut out of the official agenda, they're fully capable of making their own.
---
Support Independent Journalism
In These Times has been selected to participate in NewsMatch 2018—the largest grassroots fundraising campaign for nonprofit news organizations.
For a limited time, when you make a tax-deductible donation to support our reporting, it will be matched dollar-for-dollar by the NewsMatch fund, doubling your impact.

Michelle Chen
Michelle Chen is a contributing writer at In These Times and The Nation, a contributing editor at Dissent and a co-producer of the "Belabored" podcast. She studies history at the CUNY Graduate Center. She tweets at @meeshellchen.
View Comments