Tuesday, Sep 14, 2010, 12:43 pm
Was the Mott's Strike 'Victory' Really a Victory?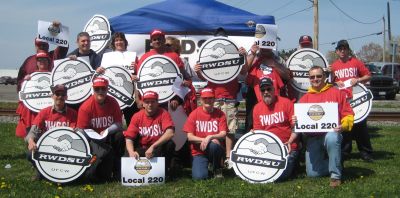 While organized labor spends close to $100 million to propel Democrats to victory in November, members of the Retail, Wholesale, Department Store Union/UFCW (RWDSU/UFCW) Local 220 on Monday won perhaps labor's most important victory of the fall.
The Mott's applesauce plant workers went on strike in Williamson, N.Y., on May 23, after Mott's parent company, the Dr. Pepper Snapple Group, demanded what amounted to a $3,000 per year wage cut for every worker across the board, as well as cuts in pension and healthcare. Companies and unions across the country were watching the Mott Applesauce Strike as a sign of bargaining trends to come. So Monday's settlement is being seen as a "victory" because it stopped profitable companies from demanding wage cuts.
But was the "victory" at Mott's really a victory? For the first time, Mott's workers were forced to accept a two-tier employee structure—a system that breaks union solidarity over the long run by pitting new hires against older employees. Under the new system, new hires will not have guaranteed pension plans like current workers, but instead have riskier 401(k) plans. Likewise, the company will decrease its matching payments to all retirement plans as well as force employees to pay healthcare contributions of 20 percent.
As Stephen Franklin reported on this website last week, Snapple argued that because the average worker in the Williamson area was making $14 an hour, while Mott's workers were averaging $21 an hour, Mott's workers should accept wage cuts because the local area contained so many workers who would work for less. Mott's demanded this despite boasting one of its best annual profits on record last year—$550 million, up from $312 million the year before.
As Stuart Appelbaum, president of the Retail, Wholesale and Department Store Union (RWDSU), an affiliate of the United Food and Commercial Workers union, said, "This is the first time a very profitable company has come to us and asked for concessions, and I've been with the union for 23 years."
Yes, the new agreement does "restore" wage levels for current employees. But it also freezes them for three years.
One has to wonder how much of a victory this truly is for labor. At a time when Mott's overall profits are increasing, workers wages' should be increasing. By threatening massive wage cuts, Dr. Pepper Snapple Group was able to force the union to accept small benefit concessions and a two-tier employee system that saves Dr Pepper Snapple money.
The fact that a corporation was able to force these concessions on workers while making record profits is a testament to the weakened state of organized labor, and the desperation of American workers.
---

In These Times has been selected to participate in NewsMatch—the largest grassroots fundraising campaign for nonprofit news organizations.
For a limited time, when you make a tax-deductible donation to support our reporting, it will be matched dollar-for-dollar by the NewsMatch fund, doubling your impact.

Mike Elk
Mike Elk wrote for In These Times and its labor blog, Working In These Times, from 2010 to 2014. He is currently a labor reporter at Politico.
View Comments