Wednesday, Oct 20, 2010, 1:04 pm
UAW Members Protest Two-Tier Wages at GM Plant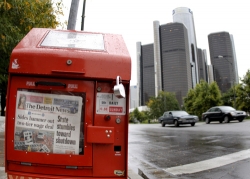 Some fear the wage structure could drive down wages elsewhere
Roughly 100 United Automobile Worker members held a protest at their union's Detroit headquarters this past weekend to express disapproval over a new two-tier wage system at a nearby General Motors plant.

Union workers and retirees came in from three nearby states on Saturday to picket against plans to employ lower-wage hires at the General Motors' Orion Assembly Center, located about 40 miles north of Detroit. The move is part of GM's larger effort to phase out tier-one employees at the plant who earn the traditional $28 an-hour-wage.

Now, many of the workers with less seniority face the decision this week to either remain on a waiting list for any future openings there or transfer to an Ohio plant with current wages in tact. The protests signal a growing disconnect with the union leadership and rank-and-file members who say the potential for more rollbacks aren't in line with their interests.


The change to a two-tier system is a stark contrast to a union that helped bolster middle-class wages in the manufacturing sector for past several decades. Local union workers have recently taken issue over concessions granted by UAW national leaders at the currently shuttered Orion plant. Production is scheduled to resume next August for small cars like the Buick Verano and Chevy compact cars.

Although GM intends to hire more than 1,300 workers, the UAW and the automaker have agreed to run the facility with 40 percent of the workers earning half the hourly wages ($14) of their tier-one counterparts. That brings the annual salary down to $30,000 from $58,000 earned during the previous contract, according to Reuters.

The remaining 60 percent of workers at the Orion plant will be able to earn their traditional wages and job offers would be based on seniority. Roughly 700 of the 1,150 unionized Orion workers who were laid off could potentially return to the factory with wages and benefits. But those down on the seniority list face difficult decisions about their future.

Many less-experienced workers were informed by Local 5960 on Monday that they have the option to transfer to Lordstown, Ohio, about 350 miles away. Or if they choose to remain at Orion, they will return with second-tier wages and full benefits.

GM says that the lower pay is necessary to stay competitive and profitable in the small car market after the automaker received $50 billion in federal funding as part of their bankruptcy restructuring. The concessions were also part of a deal to keep the jobs from going abroad, aided with $770 million in state tax incentives.

Mike Dunn, chairman of the local union, explained the agreement in a video webcast on their Web site. He said the UAW considered several staffing proposals by GM and came to the two-tiered agreement to keep the plant open with union workers.

"The object of Orion was to become an all tier-two plant as long as it was small car," he said. "Now that could take 20 years. That was the agreement when we filed under COA [Collective Operating Agreement] that this plant would be going to tier two, but it wasn't going to go overnight."

GM maintains that the contract language is specific to the Orion plant but there are fears the two-tier system may spread to other facilities in the future. UAW members were also surprised by the announcement and angry about the transparency process. The workers were unable to vote on the proposal.

"They didn't tell us anything until the very last minute," said union member Nick Waun to the Agence France-Presse. "Workers have the right to vote on pay cuts."

Some of the optimism for possibly gaining back the concessions after UAW President Bob King was elected has apparently dwindled. The union is scheduled to discuss contracts with GM next year. But in an interview with Agence France-Presse, UAW member Kevin Kasper made clear the frustration of many of the union's workers: "If we can't get rid of two tiers here, we're all in trouble," he said.
Support Progressive Journalism
Donations from readers like you make up a full third of our annual income—that's how critical our end-of-year fundraising drives are. If you want to continue to read independent, progressive journalism in 2019 and beyond, we hope you'll consider chipping in whatever you can today.
For a limited time, anyone who makes a donation of $5 or more to In These Times will get a free copy of Verso's best-selling 2019 Radical Diary and Weekly Planner.
View Comments