Working In These Times
Thursday Nov 18, 2010 2:37 pm
With Help From Friends, Unpaid Worker Demands Car Wash Clean Up Its Act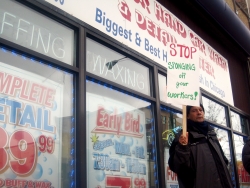 CHICAGO—Luis Perez says he was a 15-year-old in Mexico when he first stood up to his boss for unpaid wages. Decades later and a few months after leaving his job at Superior Car Wash on Chicago's north side, he stood up to his boss one more time.

As part of the National Day of Action Against Wage Theft, members of the interfaith labor group Arise Chicago and other workers' rights organizations, marched to the car wash and joined Perez in demanding $5,000 in unpaid wages.

Perez's $5,000 is just a small part of the $7.3 million dollars employers skim off their workers' paychecks each week in Cook County, according to a report from the University of Illinois at Chicago (PDF link). Perez also claims he worked 12-hour days at the car wash, sometimes for seven days in a row—a violation of the Illinois One Day Rest in Seven Act.
"The abuse is so flagrant it's a pretty easy story to tell. It's standard industry practice," says Jacob Lesniewski, an organizer with Arise Chicago.
Workers currently employed at the car wash back up Perez's complaints that they are overworked and underpaid. These workers, however, who scrub down luxury cars in a chilly garage for $4 an hour, are without recourse in a sector that relies on immigrants and typically pays under the table.
"People are willing to put up with more abuse like wage theft on the job because it's better to have a job than be unemployed in this economy" says Danny Postel, an organizer for the national day of action.
Increasingly, car wash workers are organizing against wage theft and the environmental hazards that are common in their field. In Los Angeles, immigrants are leading an unlikely but vibrant effort to unionize Southern California's car wash's.

Perez, for his part, arrived at his former workplace accompanied by a Polish Catholic priest and a Methodist reverend along with more than 30 Chicagoans from various labor groups. In tow was a giant sponge for an employer activists say needs to clean up his act. The delegation was invited inside to wait for the car wash's owner, Amer Fakourhi.
Fakourhi had declined to negotiate the matter during previous phone calls and reportedly yelled at Perez when he raised the matter of being owed $5,000 the day he left the job. Fakourhi denies owing Perez anything, and said Thursday that the man had "robbed him without a gun." (He has said he can prove this, but could not provide any documentation to Arise Chicago.)

When Fakourhi arrived, Perez was joined by Arise Chicago's Adam Kader and the two clergy in negotiating a resolution. The activists waited for more than an hour in the car wash's waiting room before Perez returned with a $1,000 check, many thanks for his supporters, and a handshake for his former boss—who promptly called him a liar and told him to get lost.

It was a partial victory—more than Perez ever expected—and he wanted it to serve as an example for other workers. "To all the workers who are here," Perez later explained, "you have to do this because they are only a boss. With a boss, you always confront them if you are not being treated fairly."