Monday, Apr 18, 2011, 1:34 pm
Unions Join Protests Against Aggressive Immigration Enforcement in Michigan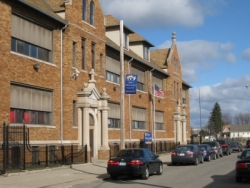 On Friday in Detroit, union leaders joined immigrants rights and other community representatives meeting with Immigration and Customs Enforcement (ICE) Assistant Secretary John Morton about increasing complaints of abusive conduct by ICE agents.
Two weeks earlier, ICE agents had surrounded a Detroit public charter elementary school where immigrant parents were dropping off their kids, and detained at least two parents.Though agency officials later stated their own procedures had likely been violated, the next week, agents also targeted another Detroit school.
Today (Monday) at 6 p.m., the United Auto Workers (UAW) hall in Dearborn will host a rally denouncing ICE's conduct at the school and other recent incidents, including the strip search of a mother in front of her son while in detention in Battle Creek, Mich.
"When she complained, agents told her 'You're lucky we don't just shoot you in the head,'" says a blog advertising the event. Congressmen Luis Gutierrez, John Conyers and Hansen Clarke will attend the rally. (A suburb of Detroit, Dearborn is home to many Middle Eastern and other immigrants).
A press release from Detroit groups says:
Over the recent months, the Detroit ICE office has exhibited a pattern of civil rights infringements, internal policy violations, and violations of law. This has ranged from surrounding elementary schools and scaring parents and children to illegal searches of homes.

Even after ICE issued a statement last week, admitting that it broke its own policies by intimidating and tormenting families at Hope of Detroit Academy, ICE officers were spotted at another elementary school.
Morton has also been meeting with community leaders and elected officials about the agency's embattled Secure Communities program, which purports to target undocumented immigrants with criminal records but has actually resulted in scores of immigrants with no criminal convictions and only minor misdemeanors being put into deportation proceedings.
Since February, different groups have released portions of a massive cachet of internal ICE documents obtained through FOIAs by the National Day Laborer Organizing Network along with the Benjamin Cardozo Law School and Center for Constitutional Rights.
The documents show how ICE officials strategized to aggressively implement the Secure Communities program despite opposition from law enforcement, elected officials and community leaders in many parts of the country.
The Illinois Coalition for Immigrant and Refugee Rights (ICIRR) released documents showing how ICE tried to implement the program in Cook County, which includes Chicago, despite city and county sanctuary ordinances that would likely prohibit it; and despite the opposition of elected leaders.
The participation of unions in protests against Secure Communities and other alleged abuses by ICE is an important acknowledgement that rather than "stealing jobs," undocumented immigrants are an integral part of the American workforce and economy, and many are union members.
The Detroit meeting with Morton included leaders from the AFL-CIO, UAW and the Service Employees International union. The leaders made a series of demands of Morton:
1.) Pursuant to ICE's own guidelines, "Field Guidance on Enforcement Actions or Investigative Activities At or Near Sensitive Locations," we demand to know who authorized enforcement actions at schools, if anyone, and why.

2.) We demand that ICE immediately respect their own policy, and end all enforcement activities near schools, churches, mosques, community centers and health clinics, and ends warrant-less searches and raids of homes.

3.) We demand that the officers involved in Thursday's incident here at Hope Elementary School be identified and disciplined.

4.) We demand that officers involved in the warrant-less search of Rogelio Perez's home be identified and disciplined.

5.) We demand that Detroit Field Office Director Rebecca Adducci submit a "Civil Rights Plan" to the community that specifically addresses how problems like this will be prevented from occurring in the future.

6.) We demand an internal investigation into recent ICE practices with accountability for those responsible, up to and including the discipline, transfer or removal of responsible parties.
Kari Lydersen
Kari Lydersen, an In These Times contributing editor, is a Chicago-based reporter, author and journalism professor at Medill at Northwestern University, where she is fellowship director of the Social Justice News Nexus. Her work has appeared in the New York Times, the Washington Post, the Chicago Reader and The Progressive, among other publications. Her books include Mayor 1%: Rahm Emanuel and the Rise of Chicago's 99 Percent., Shoot an Iraqi: Art, Life and Resistance Under the Gun and Revolt on Goose Island: The Chicago Factory Takeover, and What it Says About the Economic Crisis.
View Comments