Working In These Times
Friday May 6, 2011 10:00 am
Chipotle Workers Under New Scrutiny by the Feds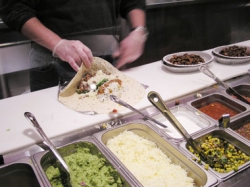 Denver-based Chipotle Mexican Grill is once again facing close scrutiny from the Immigration and Customs Enforcement (ICE). We told you about Chipotle earlier this year when the company fired 450 workers in Minnesota—more than one third of its workforce—after a probe by immigration authorities.
This week, federal agents questioned employees at more than two dozen Chipotle restaurants in Los Angeles, Atlanta, Minnesota, and Washington, D.C., as part of a probe into the chain's hiring practices in several states. Chipotle employs about 26,500 workers.
Robert Luskin, Chipotle's outside counsel and a partner at Patton Boggs in Washington, told Reuters: "We've got nothing to hide. We're absolutely convinced that nobody did anything wrong."
ICE spokeswoman Cori Bassett told the Denver Post that as a matter of policy, ICE doesn't comment on ongoing investigations.
The Wall Street Journal reports the Chipotle has been one of the most prominent high-profile employers to be investigated under President Obama's immigration policy of cracking down on employers.
The intensified scrutiny of employers is having a severe economic impact on undocumented workers, not to mention the businesses. Immigrants, whether undocumented or not, make-up about a quarter of workers in the restaurant and food services industry. A 2009 report by the Pew Hispanic Center estimated that about 12 percent of the workforce in food preparation and food serving in 2008 was undocumented.
In February, Chipotle began using E-Verify at all its 1,100 restaurants. E-Verify is an electronic database that verifies the eligibility of workers to work in the U.S.
UC Berkeley hunger strikers enter Day 10
And now for something slightly different. Six students continue a hunger strike at UC Berkeley where they are protesting the consolidation of Ethnic Studies with African American studies, and Gender and Women studies departments.
The result is staff reductions and the demotion of full-time faculty to half time. Last semester Ethnic Studies lost two positions and now will eliminate 2.5 full-time equivalent staff positions.
A dozen students began their strike on April 26. The consolidation of the departments takes place under the "Operational Excellence," an effort by UC Berkeley to cut costs and streamline bureaucracy. The consolidation of the three departments would save $500,000 in staff costs.
This is not just for us," Veronica Rivas, one of the hunger strikers, said on KPFA's Morning Mix. "Today it's ethnic studies, African-American studies and women gender studies. Tomorrow it's toxicology or its economics."

On April 26, the students and their supporters sent a letter to university officials to outline four demands: re-instate staff positions eliminated under Operation Excellence, end the current process of Operation Excellence, publicly support ACR 34—an Assembly resolution that would formally recognize the work of Ethnic Studies departments statewide—and publicly acknowledge the unfulfilled promise to create a Third World College at the university.

Administrators responded in a letter, "Our hope is to understand one another better, given that we have the same ultimate goals for equity and inclusion. This hope also applies to questions about the particular structure of ethnic and related studies and their place in the academic organization."