Wednesday, May 25, 2011, 10:42 am
Did Housekeeper's Union Membership Allow Her to Speak Out Against Strauss-Kahn?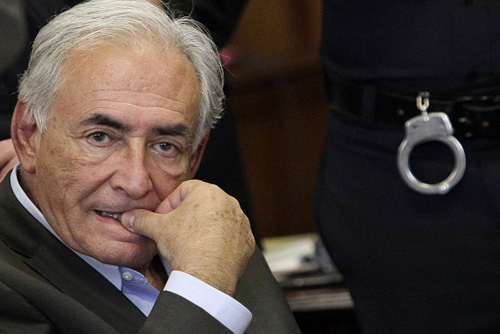 Dominique Strauss-Kahn's arrest has not only upended the geopolitical world. It has also shed light on the seedy undercurrents of the hotel industry.

Hotel workers, many of whom are immigrant women, have long remained mum about their own tales of sexual assault for fear of losing their jobs, especially in a business that emphasizes servility and discretion. But the 32-year-old housekeeper from Guinea that spoke out against the now ex-chief of the International Monetary Fund didn't have to worry about such reprisals, thanks in part to protections afforded from her union membership.

The workers at the Sofitel Hotel, where the alleged rape occured, are represented by the New York Hotel and Motel Trades Council. And as Adele M. Stan points out for Alternet, the housekeeper could not be fired for coming forward due to the union's contract with the hotel.
The housekeeper, a single mother who legally immigrated to the United States just several years ago, spoke out against Strauss-Kahn, who held one of the most powerful political positions in the world before his resignation.
The labor provisions in her union contract – such as job security and grievance channels – provide safeguards to address workplace issues that compromise a safe environment. It also facilitates accountability from not only the patrons, but management, as recent reports have shown that some hotels have tried to sweep illicit incidents under the rug in the past, even leveraging a worker's immigration status.
Meanwhile, Strauss-Kahn currently remains on house arrest in New York and awaits trial on charges of rape and sexual abuse. The 62-year-old French national has maintained his innocence and says the encounter was consensual.

The strong local presence of unions has allowed hotel workers to enjoy far more rights than others in the industry. New York City hotel workers are the most unionized in the world, with a membership rate of 75 percent, according to the New York Hotel and Motel Trades Council, which represents more than 300,000 non-managerial members. But in the United States, overall union membership in the hotel industry is just 8 percent, according to the Department of Labor.

In a business where accommodating the customer is paramount, many of the workers are hesitant to report incidents, fearing they will be fired for causing trouble, or that the hotel will simply believe the patron's account instead of the worker. In the wake of the Strauss-Kahn's arrest, the New York hotel union describes the current state of the industry in an editorial on their website:
[The workers] can be disciplined or penalized, or fired or simply denied work, without cause, at any time. Those non-union workers who happen also to be undocumented immigrants – a large proportion of the total workforce in the U.S. hospitality industry – live almost entirely without the protection of law.

For these reasons, employers generally feel free to mistreat employees, to cheat them, to disregard their safety, to rob them of their dignity, and to violate even the few pitiful legal rights that exist in theory, knowing they can do so with impunity. So, employees in this industry, throughout the world, are normally too afraid to complain about anything.
The incident has put a spotlight on the nature of housekeeping, which is usually the most physically demanding in the hotel business. Housekeepers clean anywhere from 10 to 14 rooms a day, folding, scrubbing, vacuuming, and emptying trash. And on top of the labor, there is the added dimension of cleaning a room alone. Workers in the industry have come out with their own accounts of sexual assault, ranging from indecent exposure, explicit comments, and more, suggesting these incidents are more common than previously thought or reported.

In response to the heightened attention, New York lawmakers have introduced legislation to provide "personal security buttons" to hotel workers. But it's easy to forget that unions and collective bargaining were also just as important in providing safeguards, even as these rights are subject to increasing rollbacks across the country.
---
Help In These Times Continue Publishing
Progressive journalism is needed now more than ever, and In These Times needs you.
Like many nonprofits, we expect In These Times to struggle financially as a result of this crisis. But in a moment like this, we can't afford to scale back or be silent, not when so much is at stake. If it is within your means, please consider making an emergency donation to help fund our coverage during this critical time.
View Comments