Tuesday, Sep 30, 2014, 3:44 pm · By Kevin Solari
The number of union members in New Orleans's tourism industry is set to double. The hospitality and gaming union Unite Here and Teamsters Local 270 are in contract negotiations with Harrah's Hotel and Casino after winning a card check election among 900 hotel and food workers.
Monday, Sep 29, 2014, 6:17 pm · By Micah Uetricht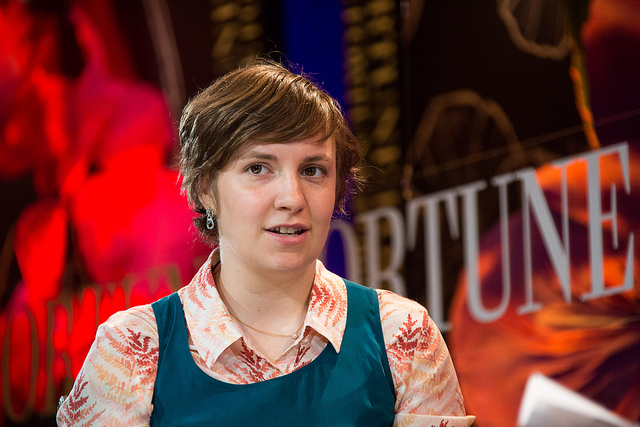 Lena Dunham is the creator of GIRLS, and her character on the show, Hannah, considers herself the voice of a generation—a generation which, its spokesperson surely already knows, is underemployed, overeducated, crushed with debt, and generally in need of some work. Work that pays, in particular.
So it was a bit strange that a recent New York Times piece revealed that Dunham was about to hire several performers to work for her, and she wasn't going to pay them. The article mentioned in passing that for Dunham's upcoming tour for her new book, Not That Kind of Girl (for which she was paid an advance of $3.7 million), she opened up auditions for the tour. Dunham received over 600 submissions, from a wide cast of characters that included a "sand artist, a ukulele player, a cappella singers, gymnasts, performance artists and stand-up comics, even some exceptionally charismatic babies."
The Times described the event as "more like a roving Burning Man festival than a sober, meet-the-author literary event." Which is a pretty apt description, since no money exchanges hands at Burning Man, and Lena Dunham was not planning on exchanging any money with her performers.
Gawker's Hamilton Nolan zeroed in on four words in the piece: "performing free of charge." As in, the performers opening up for Dunham would not be paid.
Why did someone who just got paid $3.7 million for a book think it was okay not to pay people performing for working during a tour dedicated to selling that book? After the negative attention reached a fever pitch, late this afternoon, Dunham wisely reversed her decision and agreed to pay the openers.
In the grand scheme of things, Dunham's initial refusal to pay performers represents a drop in the bucket of wages stolen from workers around the country. For example, the Economic Policy Institute has estimated that $19 billion is stolen from workers in overtime alone annually. But these are bleak times for American workers, particularly those of Dunham's generation. In this case, a few performers won't be settling just for "exposure" and "prestige" on Dunham's upcoming book tour, and that's a good thing.
Friday, Sep 26, 2014, 10:58 am · By Avi Asher-Schapiro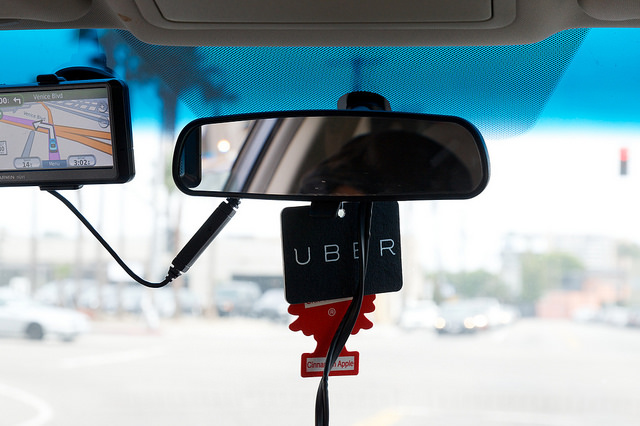 First published at Jacobin.
Kazi drives a Toyota Prius for Uber in Los Angeles. He hates it.
He barely makes minimum wage, and his back hurts after long shifts. But every time a passenger asks what it's like working for Uber, he lies: "It's like owning my own business; I love it."
Kazi lies because his job depends on it. After passengers finish a ride, Uber asks them to rate their driver on a scale from one to five stars. Drivers with an average below 4.7 can be deactivated — tech-speak for fired.
Gabriele Lopez, an LA Uber driver, also lies. "We just sit there and smile, and tell everyone that the job's awesome, because that's what they want to hear," said Lopez, who's been driving for UberX, the company's low-end car service, since it launched last summer.
In fact, if you ask Uber drivers off the clock what they think of the company, it often gets ugly fast. "Uber's like an exploiting pimp," said Arman, an Uber driver in LA who asked me to withhold his last name out of fear of retribution. "Uber takes 20 percent of my earnings, and they treat me like shit — they cut prices whenever they want. They can deactivate me whenever they feel like it, and if I complain, they tell me to fuck off."
In LA, San Francisco, Seattle, and New York, tension between drivers and management has bubbled over in recent months. And even though Uber's business model discourages collective action (each worker is technically in competition with each other), some drivers are banding together.
Uber drivers in LA, the largest ride-sharing market in the country, helddozens of protests over the summer to oppose rate cuts. Late last month, drivers working with Teamsters Local 986 launched the California App-based Drivers Association (CADA), a sort of Uber drivers union. Uber workers in Seattle have staged their own protests and have formed the Seattle Ride-Share Drivers Association. Just last week in New York City, drivers for the luxury UberBlack service threatened to strike and successfully reversed a company decision that would have forced them to pick up cheaper and less lucrative UberX rides. On Monday, drivers protested again.
"We want the company to understand that we are not just ants," Joseph DeWolf, a member of CADA's leadership council, told me at the Teamsters Union hall in El Monte, California. "What we want is a living wage, an open channel of communication with the company, and basic respect." DeWolf said CADA is signing up members, collecting dues, and plans to strike in LA if Uber refuses to come to the negotiating table.
It won't be easy. Drivers are going up against a burgeoning goliath valued at around $18 billion. The company just hired David Plouffe, who managed Barack Obama's presidential campaigns; it's active in 130 cities; and if company executives are to be believed, it doubles its revenue every six months.
Uber makes that money by relying on a network of thousands of drivers who are not technically employees of the company, but rather independent contractors — the company calls them "driver-partners" — who receive a percentage of its fares.
From the very beginning, Uber attracted drivers with a bait-and-switch. Take the company's launch in LA: In May 2013, Uber charged customers a fare of $2.75 per mile (with an additional 60¢ per minute under eleven mph). Drivers got to keep 80 percent of the fare. Working full time, drivers could make a living wage: between 15 and $20 an hour.
Drivers rushed to sign up, and thousands leased and bought cars just to work for Uber — especially immigrants and low-income people desperate for a well-paying job in a terrible economy. But over the last year, the company has faced stiff competition from its arch-rival, Lyft. To raise demand and push Lyft out of the LA market, Uber has cut UberX fares nearly in half: to $1.10 per mile, plus 21¢ a minute.
Uber drivers have no say in the pricing, yet they must carry their own insurance and foot the bill for gas and repairs — a cost of 56¢ per mile, according to IRS estimates. With Uber's new pricing model, drivers are forced to work under razor-thin margins. Arman, for instance, made about $20 an hour just a year ago. And now? Some days he doesn't even break minimum wage.
His experience is quite common among LA Uber drivers I spoke to. For many, driving for Uber has become a nightmare. Arman often works up to seventeen hours a day to bring home what he used to make in an eight-hour shift. When he emailed Uber to complain about his plummeting pay, he said the company blew him off. Uber's attitude is that drivers are free to stop working if they are dissatisfied, but for drivers like Arman who've invested serious money in their cars, quitting isn't an option.
"These drivers are very vulnerable if they do not band together." Dan McKibbin, the Teamsters' West Coast organizer, told me. "Right now they have no one to protect them."
The company wouldn't speak to me about CADA, the Teamsters, or how it deals with driver grievances. But it seems to brush off everyone else too. Earlier this summer, when CADA leader DeWolf met with William Barnes, Uber's LA director, Barnes allegedly laughed in his face.
As DeWolf recounted, when he told Barnes that drivers planned to organize with the Teamsters, Barnes responded, "Uber would never negotiate with any group that claims to represent drivers."
Uber repeatedly ignored my request for comment on this exchange. Instead, the company issued a statement accusing the Teamsters of trying to "line their coffers" with new Uber-driving members.
Uber claims there's no need for a union; it instead asks drivers to trust that the company acts in their best interest. Uber refused to show me complete data detailing average hourly compensation for drivers. It does claim, however, that UberX drivers are making more money now than before this summer's price cuts.
"The average fares per hour for a Los Angeles UberX driver-partner in the last four weeks were 21.4% higher than the December 2013 weekly average," Uber spokesperson Eva Behrend told me. "And drivers on average have seen fares per hour increase 28% from where they were in May of this year."
I couldn't find a single driver who is making more money with the lower rates.
What's clear is that for Uber drivers to get by, they're going to have to take on more rides per shift. Uber implicitly concedes as much: "With price cuts, trips per hour for partner-drivers have increased with higher demand," Behrend said.
So while drivers make less per fare, Uber suggests they recoup losses by just driving more miles. That may make sense for an Uber analyst crunching the numbers in Silicon Valley, but for drivers, more miles means hustling to cram as many runs into a shift as possible to make the small margins worthwhile.
"These days, I won't even stop to take a shit, I just drive — sometimes for up to fifteen hours a day," a driver named Dan told me after pulling an all-nighter bringing drunk people home from bars. "It's humiliating."
Lower rates also means they pay more out of their own pockets for gas, and their cars depreciate in value faster because they're driving extra miles.
Meanwhile, Uber acts as if it's doing drivers a favor by offering them work in the first place. Uber CEO Travis Kalanick, who loves giving inspirational talks about innovation, often claims that Uber helps people "become small business owners." But working long shifts and forking over 20 percent of fares to a group of Silicon Valley app-engineers doesn't really count as owning a small business.
"They think we are a bunch of losers who can't find better jobs," DeWolf said. "That's why they treat us like robots — like we are replaceable."
Uber, of course, disputes this characterization. "Uber succeeds when our partner-drivers succeed," Behrend said.
But that is just empty spin: drivers aren't partners — they are laborers exploited by their company. They have no say in business decisions and can be fired at any time. Instead of paying its employees a wage, Uber just pockets a portion of their earnings. Drivers take all the risks and front all the costs — the car, the gas, the insurance — yet it is executives and investors who get rich.
Uber is part of a new wave of corporations that make up what's called the "sharing economy." The premise is seductive in its simplicity: people have skills, and customers want services. Silicon Valley plays matchmaker, churning out apps that pair workers with work. Now, anyone can rent out an apartment with AirBnB, become a cabbie through Uber, or clean houses using Homejoy.
But under the guise of innovation and progress, companies are stripping away worker protections, pushing down wages, and flouting government regulations. At its core, the sharing economy is a scheme to shift risk from companies to workers, discourage labor organizing, and ensure that capitalists can reap huge profits with low fixed costs.
There's nothing innovative or new about this business model. Uber is just capitalism, in its most naked form.
In These Times is proud to feature content from Jacobin, a print quarterly that offers socialist perspectives on politics and economics. Support Jacobin and buy a subscription for just $19.
Thursday, Sep 25, 2014, 9:02 am · By Kate Jenkins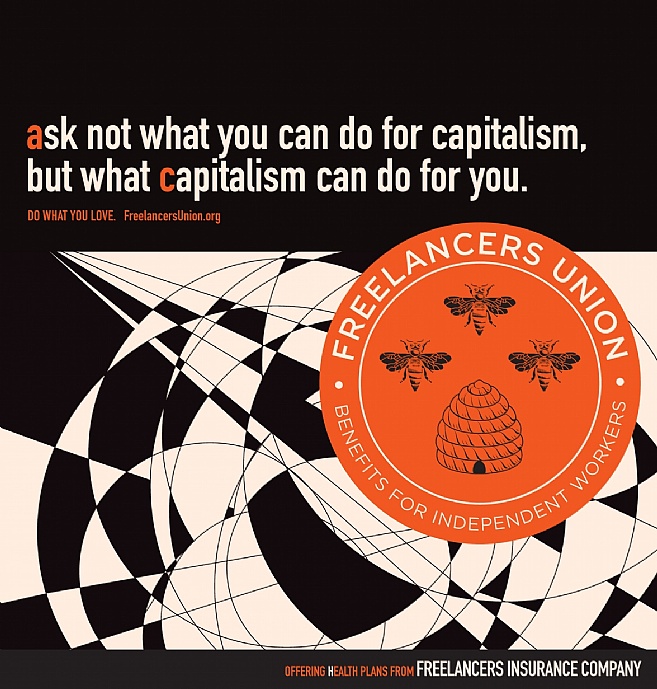 Early this month, the Freelancers Union released the results of an Edelman study which found that an astounding 34 percent of the U.S. workforce is now comprised of "freelancers."
In considering the results of the co-commissioned study, the Freelancers Union was in an oddly celebratory mood:
But this is more than an economic change. It's a cultural and social shift on par with the Industrial Revolution. Just as the move from an agrarian to an industrial society had dramatic effects on social structures around civil rights, workforce participation, and even democracy itself, so too will this shift to a more independent workforce have major impacts on how Americans conceive of and organize their lives, their communities, and their economic power.
This and countless other studies make it hard to contest the notion that the "end of jobs" is indeed nigh, and few would argue with the Freelancers Union's assertion that this major labor shift will have a massive social impact. But whether we should happily embrace this shift is still up for debate.
Wednesday, Sep 24, 2014, 10:43 am · By David Moberg
With their day-long strike a week ago and ratification of a new union contract on Sunday, workers at a Hammond, Indiana, auto parts plant may have dealt a blow to a divisive concession that has proven a scourge to many unions in recent years—"two-tier" wage systems.
Under these two-tier systems, new workers start at hourly rates far below longtime workers and have scheduled pay progressions that will never match the veterans' pay (nor usually their benefits, especially pensions). For example, under the old contract at the Hammond plant, Lear paid new workers as little as $11 an hour, rising to a maximum of $16 an hour, while veterans made $19.97 an hour doing the same work.
Thursday, Sep 18, 2014, 12:22 pm · By Bruce Vail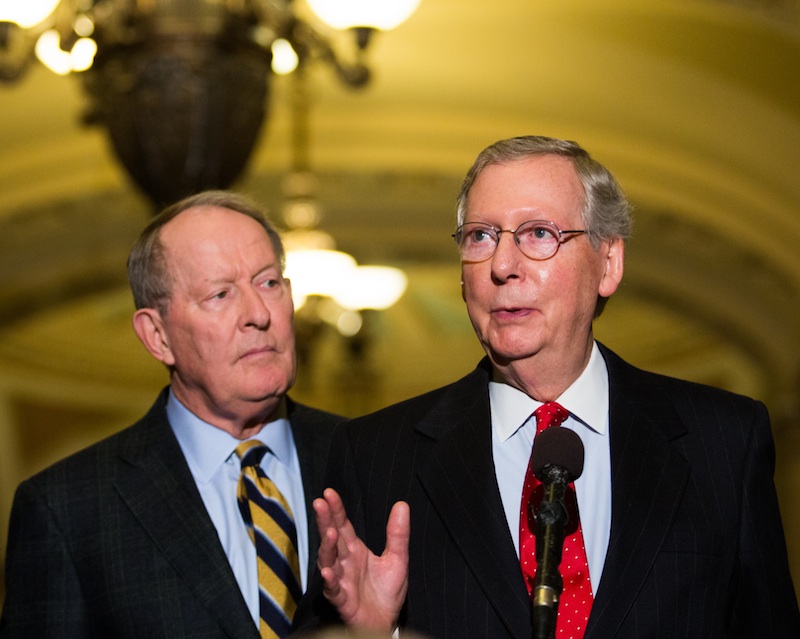 This week, Republican Senators introduced a bill they call the "The National Labor Relations Board Reform Act." Its chances of passage are very slim, but that's beside the point: The GOP wants to emphasize its displeasure with President Barack Obama's appointments of labor-friendly board members who thwart businesses' attempts to keep unions out of their workplaces.
The key feature of the bill would neuter the board (already too weak by many standards) by mandating that it be made up of three Republicans and three Democrats—a prescription apparently designed to ensure permanent partisan gridlock. It would also restrict the authority of the board's chief prosecutor and cut the operating budget of the agency if cases weren't decided in a timely manner. Larry Cohen, President of the Communications Workers of America (CWA), remarks that the bill would mean "the NLRB just can't do anything any more—and that's exactly what they [Republicans] want."
Thursday, Sep 18, 2014, 11:14 am · By David Moberg
Twenty-two years ago, Janet Elston and a few other passenger service agents at American Airlines decided that they needed a union. This week, they finally got it, winning an overwhelming vote to join the Communications Workers of America from 14,500 agents working for American and its new merger partner, US Airways.
"It's going to be a high-five day at the airport," she says.
With that vote, the labor movement also scored one of its largest victories in decades among a workforce primarily located in the South and Southwest, where resistance to unions by employers and reticence to join by many employees has been high. Roughly three-fourths of the merged company's ethnically diverse, primarily female service agents live in Texas, Florida, North Carolina or Arizona.
The victory, Communications Workers of America (CWA) president Larry Cohen says, primarily results from the "relentless" effort by the workers at the airline. "The lesson here is, 'Never stop,'" he says.
Monday, Sep 15, 2014, 5:10 pm · By Kari Lydersen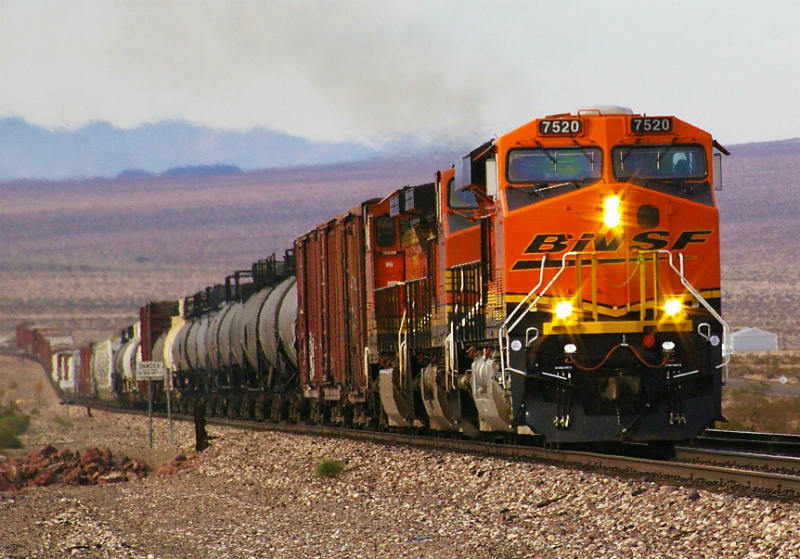 Railroad workers scored a victory last week in a years-long battle over the introduction of single-person crews on freight trains, a move that railroad workers say is a recipe for disaster. On September 10, a unit of the International Association of Sheet Metal, Air and Rail Transportation Workers (SMART) union announced that members had voted down a proposed contract which would have allowed the railroad company BNSF to run more than half its trains with just one worker on board.
BNSF and other railroad companies assert that automation and modern controls on tracks mean freight trains can be safely and efficiently operated by only one engineer, a change that would essentially eliminate the position of the conductor.
Railroad workers, however, say that having only one person on trains that are often more than a mile long is a safety risk for workers and communities alike, especially as more and more trains are involved in carrying explosive crude oil cross-country. The introduction of single-person crews would further a longstanding push by industry to reduce the number of workers needed to operate trains; currently most freight trains have a conductor and an engineer, but in decades past crews of three to five people were common. An industry shift to single-person crews would likely mean significant job losses, and significant savings for railroads on labor costs.
Friday, Sep 12, 2014, 1:08 pm · By Bruce Vail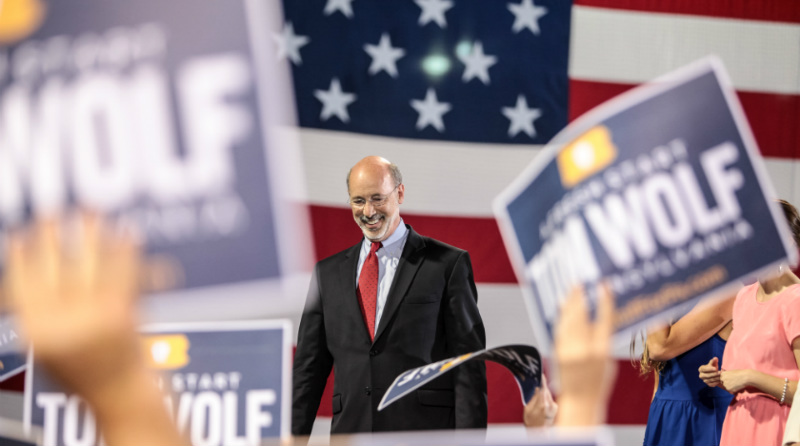 Just in time for Labor Day, a new election poll last week brought good news for Pennsylvania unions. The latest data from the Pittsburgh-based Robert Morris University Polling Institute shows Tom Wolf, a pro-labor Democrat running for governor of Pennsylvania this November, trouncing the conservative Republican incumbent by more than 30 points. If the poll proves predictive come Election Day, Wolf's win would be a historic one, defying the trend of near-automatic reelection of incumbent governors, and ushering in a huge victory for the state's unions.
The poll, released September 2, shows Democratic candidate Tom Wolf leading Republican Gov. Thomas W. Corbett by 55.8 to 24.7 percent. Though Pennsylvania labor leaders caution that the enormous lead indicated by this poll is an outlier, other polls have also indicated that Wolf has a powerful lead over the unpopular Corbett. So powerful, in fact, that National Journal Political Editor Josh Kraushaar titled a recent commentary on Corbett, "Dead Man Walking."
Wednesday, Sep 10, 2014, 1:56 pm · By Bruce Vail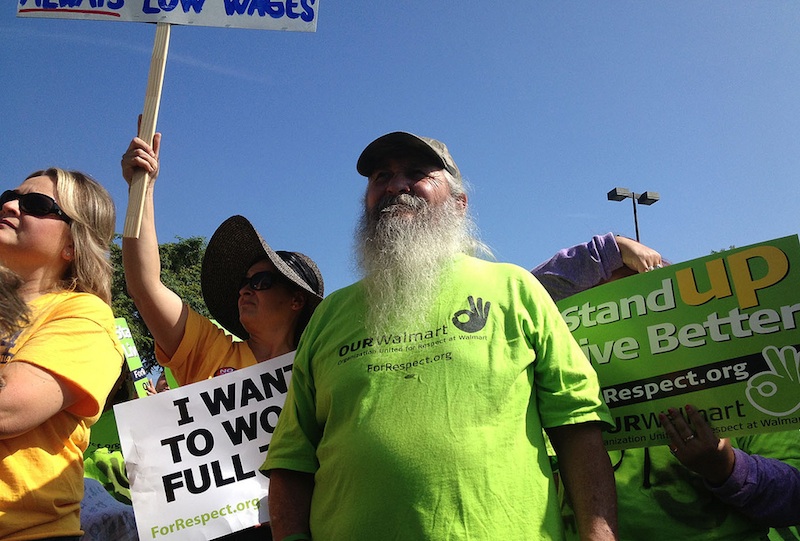 In 1964, the Freedom Summer campaign for voting rights in Mississippi appealed to college students to confront one of the great social justice issues of the age. Fifty years later, labor activists challenging the corporate power of Walmart called on the same spirit to lead a small group of students off campuses and into the fight for economic justice on behalf of the giant company's low-paid workers. Organizers of the effort, dubbed the "Summer for Respect" hope the program will help inspire a new generation of student labor activism and deepen the links between labor unions and academia.
Adam Reich, the Columbia University professor who led this summer's student-labor initiative, says the Summer for Respect differed from the historic 1964 effort in a number of ways. The program took 20 undergraduate students from several different colleges and inserted them into active OUR Walmart campaigns in different parts of the country. Student participated in daily organizing efforts, but one of the program's primary goals was to combine students' campaign work with the academic goal of documenting the lives of the Walmart workers, and spreading that information to a wider audience. The students compiled an oral history archive and related materials for use by other workers, activists, students, and historians, explains Reich.