Working In These Times
Friday, May 24, 2013 • 12:16 pm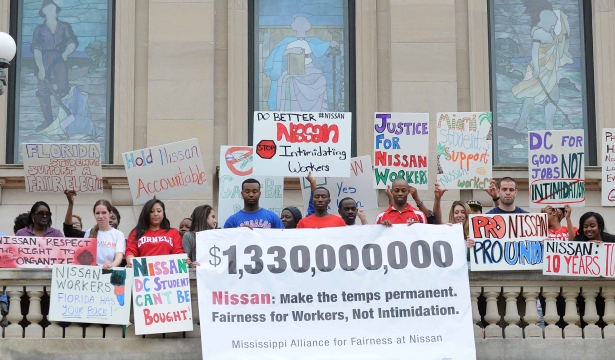 Thirteen years after Japan-based automaker Nissan chose the small, impoverished community of Canton, Miss., as the site of a new auto-assembly plant, a just-released study shows that the company is failing to deliver on its promise of high-wage job creation in Mississippi—while at the same time draining the state of revenue used to pay for a massive package of subsidies.
According to a study released on Friday by the Washington, D.C.-based research group Good Jobs First, the citizens of Mississippi—which ranks dead last among U.S. states in median household income—are bestowing an estimated $1.33 billion in subsidies on Nissan over a 30-year period for the privilege of hosting the factory.
MORE »
0 comments ·
Friday, May 24, 2013 • 7:00 am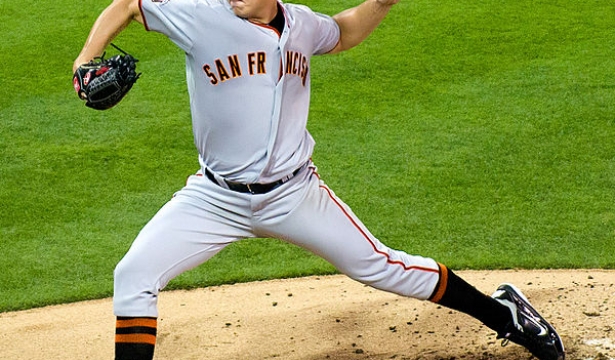 Baseball may be America's pastime, but concessions workers in the San Francisco Giants' ballpark say it's past time for a new contract. After negotiations last week, officials with Unite Here Local 2, which represents the workers, said little progress was being made on the bigger "sticking points" and that no new negotiations are scheduled. Workers at AT&T Park have already voted to strike for up to five game days if Centerplate, the company that operates the concession stands at AT&T Park, can't agree to a contract with their union.
"This is a clear message that we're sending to Centerplate and the Giants," says Billie Feliciano, a long-time worker at the park. "We're serious."
The Giants have home games scheduled on May 24, May 25, May 26, May 29 and May 30.
MORE »
0 comments ·
Wednesday, May 22, 2013 • 7:57 pm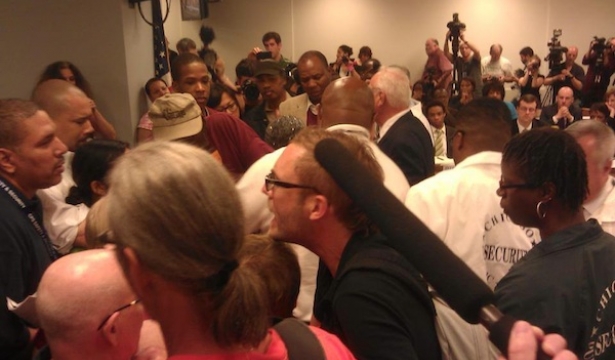 At times, the meeting of the Board of Education of Chicago Public Schools (CPS) on Wednesday took on the air of a mass mock trial; at others, it seemed like a public execution. On the dock were 53 elementary schools and one high school charged with underutilization of space and underperformance. The prosecutor—CPS superintendent Barbara Byrd-Bennett—charged that those crimes led to an even more grave offense: unbalancing the budget. The proposed punishment? Off with their heads, or rather, shut their doors and merge them with other schools in the largest single closing of urban public schools in U.S. history.
MORE »
3 comments ·
Wednesday, May 22, 2013 • 7:34 pm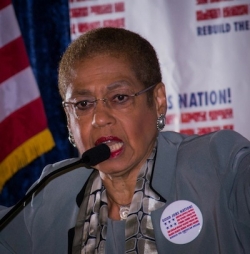 "I work at Quick Pita in the food court of the Ronald Reagan Building. I work nearly 12 hours every day serving lunch to the thousands of people who work in the building. But I am not here to tell you how hard I work. I am here to tell you that my employer does not follow the law," testified Antonio Vanegas before a hearing of the Congressional Progressive Caucus yesterday.
Vanegas is one of 100,000 low-wage workers in the Washington, DC area, according to Good Jobs Nation, many of whom are employed by federal contractors or in federally owned buildings like Union Station, the Smithsonian National Air and Space Museum, and the Ronald Reagan Building. He and about 100 of his colleagues went on a one-day strike yesterday in order to draw attention to their low pay. Despite provisions in the federal Service Contract Act stating that federal contract workers like Antonio Vanegas should make at least the local prevailing wage, up until a few weeks ago Vanegas was making $6.50 an hour–less than the federal minimum wage of $7.25 and well below the D.C. minimum wage of $8.25. Additionally, Vanegas works 60 hours a week, but claims he receives no overtime pay for hours he works past 40, in violation of the Federal Labor Standards Act.
"There are many workers in the food court who are like me, who don't make enough to pay the rent, put food on our tables and take care of our families," said Vanegas in his testimony. "That's why I'm here and why so many workers like me are on strike today. We want the federal government to be a good landlord and rent prime retail space to employers who follow the law. We want the government to lead by example and guarantee that all workers who do work on behalf of the federal government earn a legal and living wage."
MORE »
5 comments ·
Wednesday, May 22, 2013 • 3:15 pm
A time-honored tactic of conservative lawmakers is to "starve the beast"by defunding government programs. In the case of food stamps—the quintessential whipping boy for budget hawks—they're going a step further by trying to starve actual people.
The House of Representatives and Senate have proposed the United States "tighten our belts" by slashing billions of dollars from poor people's food budgets. The main mechanism for shrinking the Supplemental Nutrition Assistance Program (SNAP) funding is the removal of "categorical eligibility." Basically, most states have used this policy to streamline enrollment: Families are made eligible for food stamps based on their receipt of other benefits, such as housing or childcare subsidies. That often means broadening eligibility for working-poor families or those with overall household income or savings that exceeds regular, stricter thresholds for qualifying for food stamps.
MORE »
3 comments ·
Tuesday, May 21, 2013 • 4:00 pm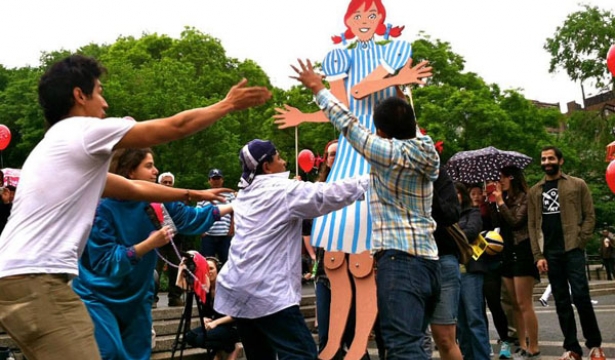 While rain pattered gently on the concrete steps of Manhattan's Union Square last Saturday, a group of workers were giving the assembled crowd a tour of the sun-scorched fields of Florida's tomato farms. The performers had turned the urban square into a stage for a street theater performance, depicting backbreaking labor and tussles with industry goons emblazoned with corporate food brand logos.
By dramatizing a farm scene amid the bustle of Greenwich Village, Chelsea and the surrounding neighborhoods, the activists of the Coalition of Immokalee Workers highlighted the connection between farmworkers' daily struggles and the villain of the drama: Wendy's restaurants, which are the primary target of the group's Fair Food campaign for decent labor standards in an industry built on modern-day serfdom.
The Union Square rally–featuring a brass band adorned with Wendy's trademark red pigtails and tomato-shaped placards proclaiming "Justice" and "Derechos" for farmworkers–was part of a nationwide series of Fair Food demonstrations that are helping bridge the conceptual gap between food consumerism and farm labor, a sector replete with poverty wages and brutally exploitative conditions in the fields. The Coalition has been campaigning for months to push Wendy's and the Florida supermarket giant Publix to sign a Fair Food agreement like the agreements brands like Chipotle and Trader Joe's have already signed.
MORE »
0 comments ·
Sunday, May 19, 2013 • 6:00 pm
The Bureau of Alcohol, Tobacco, Firearms and Explosives and 27 other government agencies held a press conference on Thursday about their investigation into what sparked the West, Texas explosion. They have ruled out all but three possible causes: a short circuit in the complex's 120-volt electrical system, a golf cart on site or an intentionally set fire. The investigation will continued.
Daniel Horowitz of the U.S. Chemical Safety Board said, "This is the worst amount of damage to a community the Chemical Safety Board has ever seen. We simply can't have explosions like this happen again."
MORE »
0 comments ·
Friday, May 17, 2013 • 5:45 pm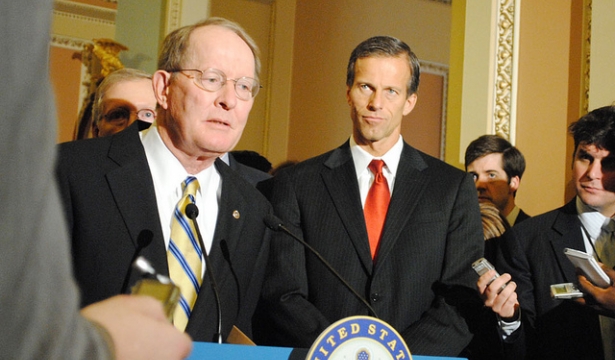 WASHINGTON, D.C.–A partisan political standoff in the U.S. Senate threatens to close down the National Labor Relations Board (NLRB) in August, further eroding workers' rights and weakening the ability of unions to organize new members, according to several Democratic Party leaders who spoke at a Senate hearing this week.
Although the stand-off has been simmering for years, it takes on special urgency now because failure by the Senate to confirm new nominees for the board would paralyze the panel in August, said Sen. Tom Harkin (D-Iowa), chair of Health, Education, Labor, and Pensions (HELP) Committee. That's because the current NLRB chair's term of office will expire then, leaving the board without the three-person quorum legally required to conduct any further business.
MORE »
2 comments ·
Thursday, May 16, 2013 • 4:23 pm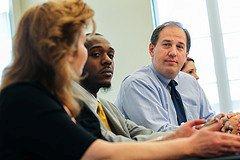 BALTIMORE—With one minimum wage hike proposal after another languishing in Congress, some advocates may have given up hope of an increase anytime soon. But Acting Labor Secretary Seth Harris is not discouraged.
Harris, who has been the interim head of the Department of Labor since Hilda Solis's resignation in January, has taken the agency on the road in favor of a wage raise. He traveled to Baltimore this week to meet with low-wage workers and promote President Barack Obama's State of the Union proposal to lift the federal minimum from $7.25 to $9.00 an hour. The president's plan would also automatically link future increases to inflation, as a way of preventing the gradual erosion of purchasing power that has plagued low-wage workers since the 1980s, Harris says.
The labor department's promotional tour has hit some 23 cities since the February 12 State of the Union address, with more to come. The effort has been largely overshadowed, however, by the March 18 nomination of Thomas Perez as the new secretary of labor and a confirmation fight that is still underway in the U.S. Senate. Nevertheless, Harris says he is pressing forward because "there is a lot of hunger out there" to see the wage increased.
MORE »
1 comments ·
Wednesday, May 15, 2013 • 8:25 pm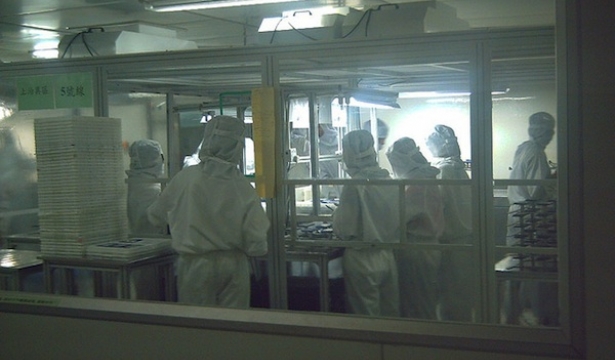 With a workforce of more than one million, the electronics giant Foxconn has enough workers in its Chinese factories to fill a small country. So it's fitting that the company has vowed to make its manufacturing kingdom a bit more democratic by encouraging union elections.
But although the company announced its push for union democracy in February, a subsequent study by academics in Hong Kong and mainland China reveals that many workers don't even know whether they're in a union, and many others don't have a clear idea of what their union does or how it works. And that actually makes perfect sense, since China's unions are ill-defined, bureaucratized institutions—politically ineffective by design.
MORE »
0 comments ·