Friday, Nov 21, 2014, 2:00 pm · By Samantha Winslow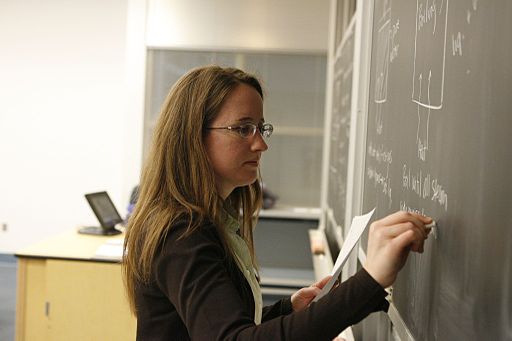 In my five years organizing with non-union health care workers who wanted to join the union, job security was always one of their top issues.
Firings were arbitrary, they said. Evaluations were based on favoritism. Experienced employees were fired just because they were more expensive.
So it always surprises me to hear regular people repeat the smears against teachers' job security. They're parroting the message of those trying to weaken one of the largest remaining sectors of unionized workers in this country.
When it comes to teachers' right to job security, you have to look at why management wants to get rid of it—if you want to tell fact from fiction. A few common myths:
Wednesday, Nov 19, 2014, 2:30 pm · By Rachel Luban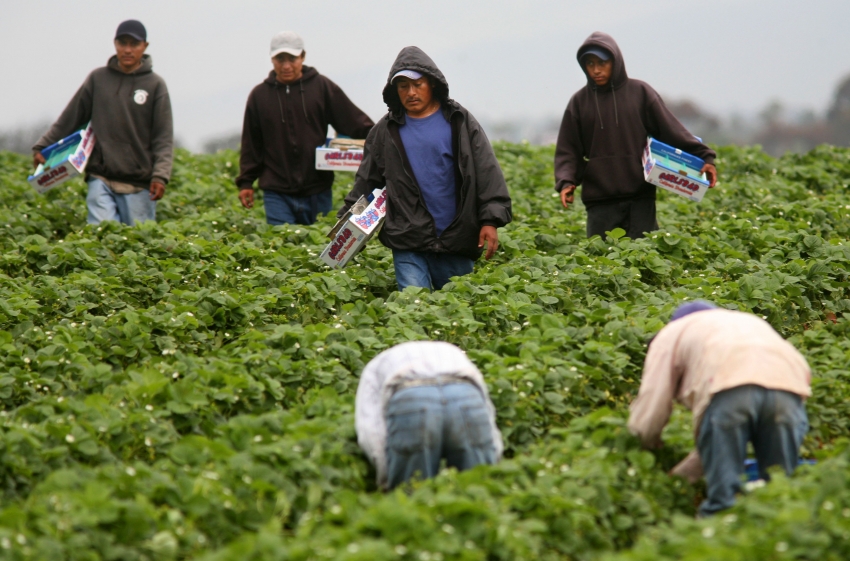 The plight of migrant workers in the United Arab Emirates has made news for the second time this year.
First there was the New York Times story on the inhumane treatment and near–indentured servitude of construction workers at New York University's campus in Abu Dhabi. Then last month, Human Rights Watch published a report on the horrifying abuses migrant domestic workers suffer in the U.A.E..
A slew of articles in recent weeks relayed the report's findings: women's being raped and physically abused by their employers, forced to work long hours with no breaks or overtime pay, denied access to food and medical care, and underpaid or even not paid at all. Some of the abuses "amounted to forced labor or trafficking."
The chief culprit for the abuses is what's known as the "kafala system." The HRW report describes the system as follows:
In the U.A.E., as elsewhere in the region, the kafala system ties migrant workers to individual employers who act as their visa sponsors, and restricts migrant workers' abilities to change employers. The system gives employers great power over employees because it entitles them to revoke sponsorship at will. This automatically removes the right of a worker to remain in the U.A.E. and triggers repatriation procedures.
The kafala system and domestic workers' exclusion from protections under labor law work in tandem to make these women extremely vulnerable to abuse.
But the similar plight of migrant workers under United States guestworker programs has not garnered such attention. None of these articles mention that the US has its own version of the kafala system.
Tuesday, Nov 18, 2014, 6:04 pm · By Dan Clawson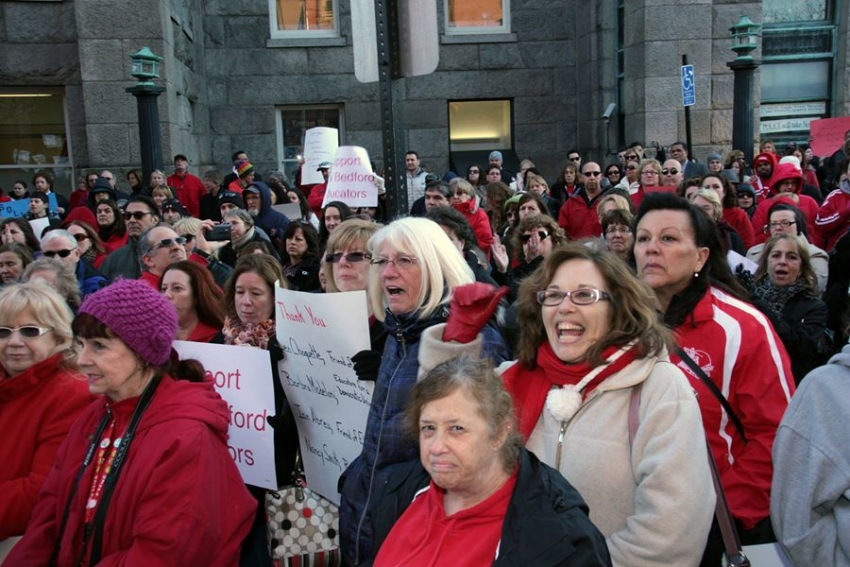 First published at Jacobin.
To the casual observer, Massachusetts may seem like an unlikely place to open up a new front in the assault on teachers. The state has the highest test scores in the nation, and just this year the National Education Association named its chief executive "America's Greatest Education Governor."
But on October 20, the Massachusetts Department of Elementary and Secondary Education (DESE) unveiled a draconian proposal that would tie teacher performance, narrowly defined, to teacher licensing. Thousands of educators knew an unmitigated attack when they saw one, and responded accordingly.
Late last week, after a massive backlash organized by the Massachusetts Teachers Association — under the leadership of Barbara Madeloni, the recently elected president of the 113,000 member union — the proposal was withdrawn. The victory should serve as a reminder that a mobilized rank-and-file and implacable leadership can defeat attacks on public school educators. Backroom deals don't get the goods. And because the proposal will likely appear in other states, teachers around the country should take note.
Tuesday, Nov 18, 2014, 5:54 pm · By Will Craft
After a harsh anti-union campaign and a failed union vote, some workers at the Volkswagen factory in Chattanooga, Tennessee will finally be allowed to be represented by a union—more than one, if they so choose.
Volkswagen recently introduced a new policy that allows allows a variety of unions different tiers of representational rights based on the percentage of the workforce that sign up to become members of the union, the New York Times reported last week. The unions will have different representational responsibilities based on how many employees are members of the union. And, as the Detroit Free Press reports, because the company policies now allow for workers to be represented by multiple unions, the United Auto Workers (UAW) are not the only union vying to represent Chattanooga Volkswagen workers: another organization called the American Council of Employees is also hoping to sign up workers.
Tuesday, Nov 18, 2014, 3:21 pm · By Bruce Vail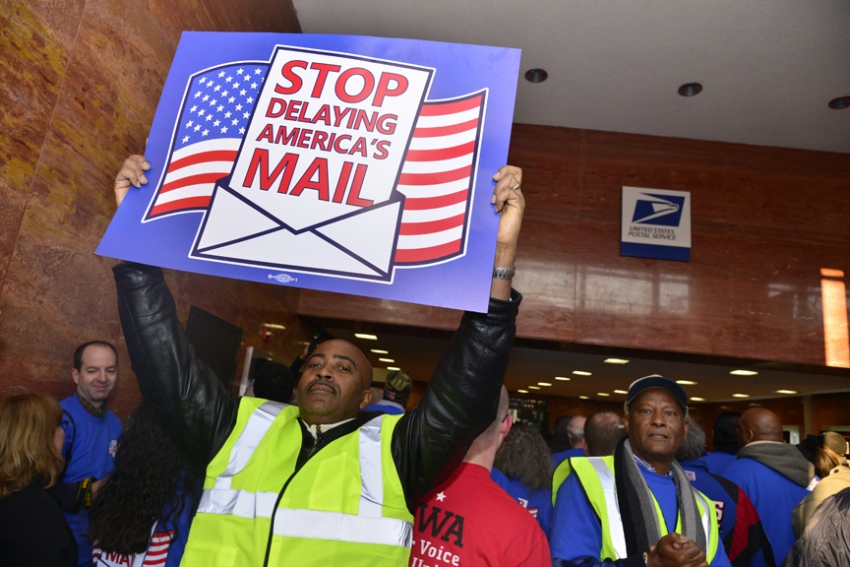 Union workers at the U.S. Postal Service staged one of their largest national demonstrations to date November 14, protesting fresh job cuts and continuing efforts to privatize some post office operations.
With rallies at more than 150 locations nationwide, the American Postal Workers Union (APWU) called for a cancellation of plans to close 82 mail processing centers early next year and the reversal of broader privatization efforts that eliminate good union jobs.
The flash point of the demonstrations was in Washington, D.C., where some 250 union members and supporters led by APWU President Mark Dimondstein sought to enter the public meeting of the USPS Board of Governors. The demonstrators were denied entrance, but they kept up a loud demonstration at the entrance to the USPS headquarters to make their anger known to the Board members inside, according to union spokesperson Sally Davidow. Protesting in solidarity with APWU were representatives of several other unions, and Sen. Jon Tester (D-Montana) and Rep. Eleanor Holmes Norton (D-D.C.) gave supporting speeches.
Tuesday, Nov 18, 2014, 1:12 pm · By Adeshina Emmanuel, The Chicago Reporter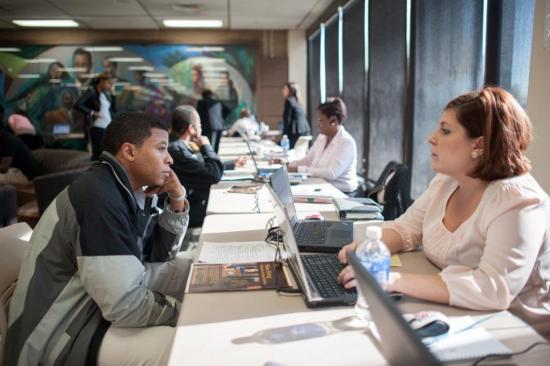 With 25 percent of its African-American residents jobless, Chicago has the highest black unemployment rate among the nation's five most populous cities. Chicago's rate is higher than Philadelphia's 19 percent, Los Angeles' 18 percent, Houston's 15 percent and New York City's 14 percent, based on 2013 U.S. Census figures.
Why?
Tuesday, Nov 18, 2014, 1:03 pm · By David Moberg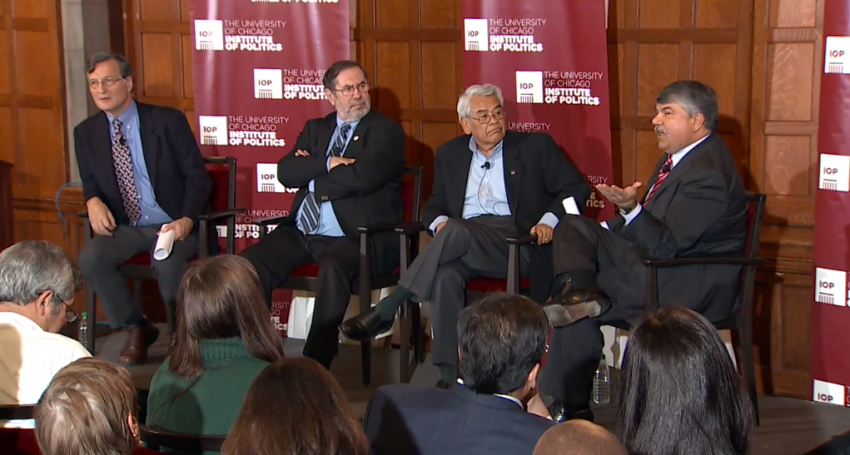 Three labor leaders walked into a bar.
Okay, it wasn't a bar. It was a slightly stuffy faculty club at the University of Chicago.
Three union leaders were invited to the university's Quadrangle Club by David Axelrod, a former top campaign and White House advisor to President Barack Obama. Aiming to expand students' political education by exposing them to seasoned practitioners, Axelrod founded the Institute of Politics at the University of Chicago after he left Washington.
On Thursday night, current IOP fellow Eliseo Medina, a former United Farmworkers Union organizer and former vice-president of the Service Employees International Union (SEIU), joined AFL-CIO president Richard Trumka and Steelworkers Union president Leo Gerard to answer questions posed by New York Times labor reporter Steven Greenhouse, in an event titled "Whither the Movement?" Given the recent Democratic electoral losses and labor's lack of traction on most of its major tasks, the outlook from the Quad Club convivium was surprisingly upbeat (an assessment Trumka also gave the day after the midterms).
Monday, Nov 17, 2014, 3:30 pm · By Eric Fink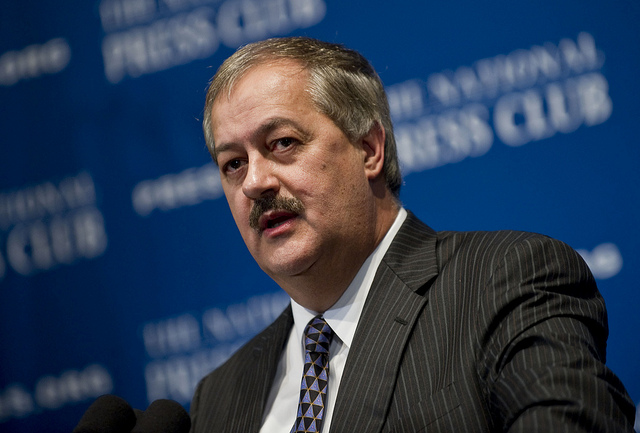 A federal grand jury last week indicted former Massey Energy CEO Donald Blankenship on charges stemming from the April 2010 explosion at Massey's Upper Big Branch ("UBB") mine, which killed 29 miners. Blankenship faces two counts of conspiracy based on his role in a pattern of widespread mine safety and health violations at UBB and two counts of securities fraud based on public statements by the company following the explosion.
If convicted, Blankenship could face up to 31 years in prison.
The indictment recounts the dismal safety record at UBB. MSHA inspectors issued 835 citations in the 27 months leading up to the explosion. Fifty-nine of these citations resulted in orders to shut down the mine, an extreme remedy imposed in cases of immediate and severe hazard.
The most common violations involved accumulations of coal dust, inadequate ventilation to disperse methane gas and deficient water sprays—conditions that substantially increased the risk of explosion and fire. The indictment also explains how UBB personnel sought to avoid detection of unsafe conditions. When MSHA personnel would arrive at the mine for unannounced inspections, company guards would send warnings to mine supervisors, who in turn "would direct miners to quickly cover up violations."
Blankenship closely monitored operations at UBB, receiving daily reports on MSHA violations and estimated fines, and production updates every thirty minutes for the mine's longwall section and every two hours for other sections. He repeatedly ordered subordinates to cut back on construction and maintenance of ventilations and other safety features in order to focus on increasing coal production.
Blankenship's single-minded focus on meeting aggressive production quotas and his refusal to devote adequate personnel and time to safety compliance, created the conditions that resulted in the deadly explosion.
The securities fraud charges are based on a shareholder statement and press release that Massey issued in an effort to stem a nearly 17 percent drop in the company's share price immediately following the explosion. Blankenship—whose own holdings of Massey stock took a nearly $3 million hit, according to the indictment—personally reviewed and approved both the shareholder statement and press release.
Denying that non-compliance with safety standards led to the disaster, the company insisted, "We do not condone any violation of MSHA regulations, and we strive to be in compliance with all regulations at all times." Citing Blankenship's knowledge of and complicity in the widespread and persistent MSHA violations at UBB and other Massey mines, the indictment contends that these assurances were knowingly false and misleading and were made for the purpose of deceiving investors in Massey stock.
The securities charges are significant because they carry much stiffer penalties—up to 25 years imprisonment and up to $5 million in fines—than the MSHA violations, for which the maximum sentence is six years. Clearly, the law places a much lesser value on workers' lives than investment capital.
In response to the indictment, an attorney for Blankenship suggested that his vociferous criticism of mine safety and environmental regulators is the real motivation for the prosecution. Just a few hours before the indictment was released, Blankenship tweeted a jab at Assistant Secretary of Labor Joe Main.
The coal industry knows Main is not qualified to head MSHA. Lardieri takes Main to task. See MAIN at http://t.co/0MUSoZ2t3D

— Don Blankenship (@DonBlankenship) November 13, 2014
This case will be an important test of MSHA's competence—and of Blankenship's bravado.
Monday, Nov 17, 2014, 2:18 pm · By Moshe Z. Marvit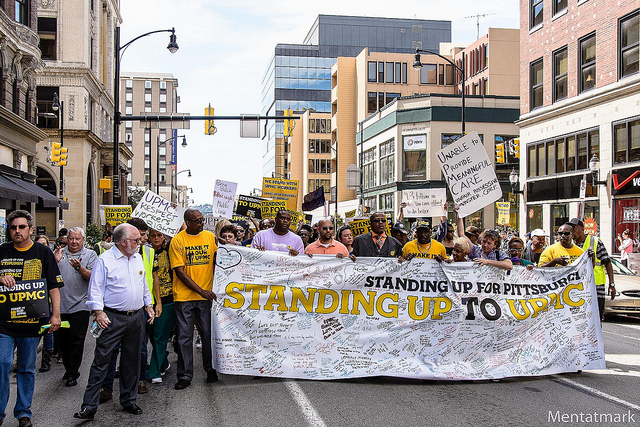 If you'd like a sense of what a boss's campaign to try to destroy a union looks like in the 21st century, take a look at a recent NLRB decision against the University of Pittsburgh Medical Center (UPMC).
Monday, Nov 17, 2014, 1:08 pm · By Jordan McCurdy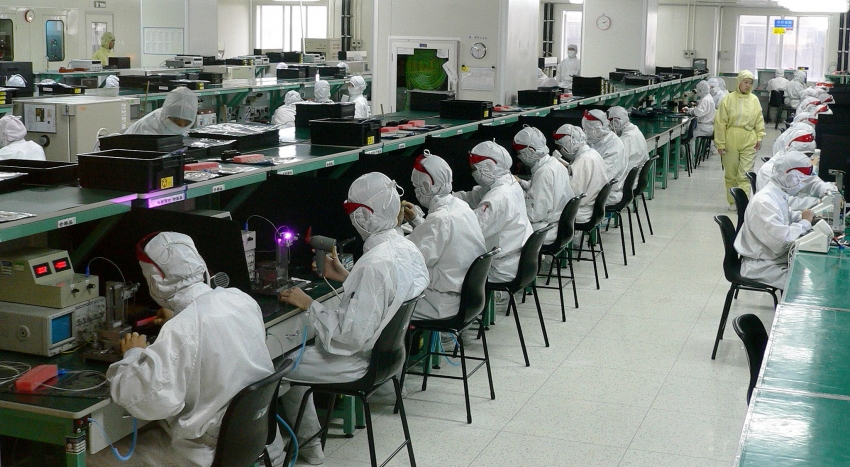 In late September, 24-year-old Xu Lizhi killed himself by jumping out of a dormitory window at a factory in Shenzhen, China. Foxconn, his employer, is the electronics manufacturing company that engineers the world's majority of Apple iPhones.
With 18 attempted suicides in the last five years, this is no new story for Foxconn. Xu, however, a regular poetry contributor to Foxconn People (Foxconn's internal newspaper), silently documented his reflections on life on the assembly line. Following his death, fellow factory workers collected these poems to be published in the Shenzhen News.