Tuesday, May 12, 2015, 10:32 am · By Leo Gerard, United Steelworkers President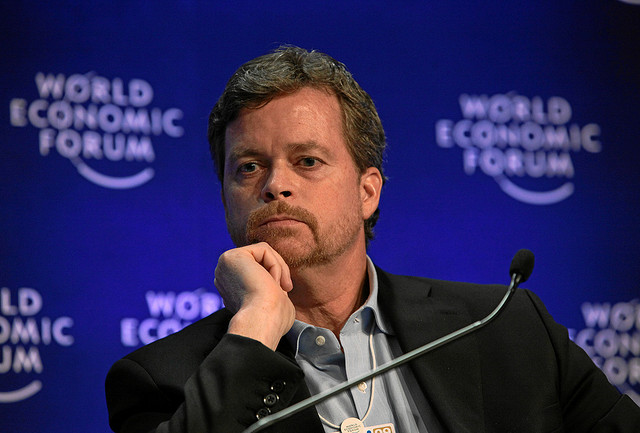 America is in an abusive relationship with trade-obsessed politicians and corporations.
Despite their long history of battering the U.S. middle class with bad trade deal after bad trade deal, these lawmakers and CEOs contend workers should believe that their new proposal, the Trans-Pacific Partnership (TPP), will be different. President Obama and the CEO of Nike, a company that doesn't manufacture one shoe in the United States, got together in Oregon on Friday to urge Americans to fall once again for a trade deal.
The trade fanatics say everything will be different under the TPP—even though it is based on deals like the North American Free Trade Agreement (NAFTA) that lured American factories across the border, destroyed good-paying jobs and devastated communities. They plead: "Just come back for one more deal and see how great it will be this time!" And, like all batterers, they say: "Sorry about the terrible past; trust me about the future."
This is trade abuse.
Monday, May 11, 2015, 3:30 pm · By Leah Fried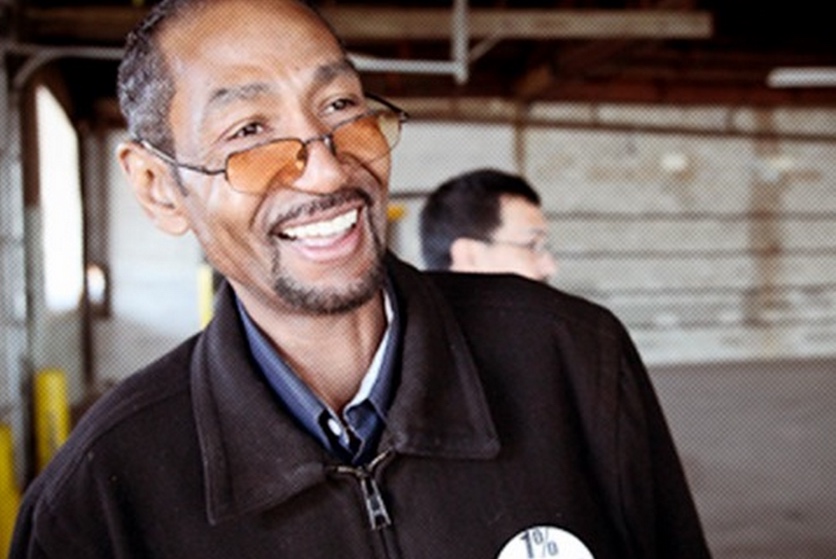 Melvin "Ricky" Maurice Maclin, Vice President of United Electrical Workers Local 1110, leader of the historic six-day factory occupation of Republic Windows and Doors in December 2008 and founding member of New Era Windows Cooperative, died on May 5, after being diagnosed with stage four pancreatic cancer in early April. He was 61 years old and died surrounded by family in his Chicago home. The steady stream of visitors was a testament to the impact he had on so many lives and our movement for justice.
"This is a huge loss for me and for our movement," said his good friend, Local 1110 President Armando Robles, who was also a leader in the Republic occupation. "He leaves a huge hole in our lives. He was a great friend and a brother in struggle."
Monday, May 11, 2015, 12:21 pm · By Mark Brenner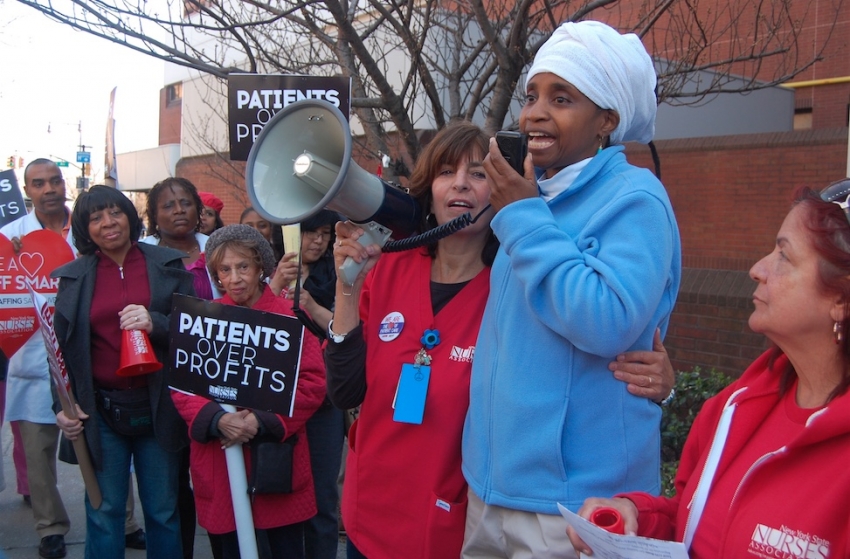 This post first appeared at Labor Notes.
Thousands of nurses at 12 hospitals poured into the streets of New York City April 16 to protest staffing shortages they say put patients at risk.
"We used to see 250 patients a day in our E.R.," said Nancy Hagans, a nurse at Maimonides Medical Center. "But then two hospitals in Brooklyn closed and now we're seeing 400 a day, with the same number of nurses. How can we be the advocates we took an oath to be?"
The informational pickets were the latest salvo in negotiations with the city's largest private hospitals. Next the New York State Nurses Association entered a month of intense federal mediation with three hospital systems.
Voting for strike authorization could begin as soon as mid-May.
Friday, May 8, 2015, 12:41 pm · By Dave Woo
Teachers and staff at Chicago's Urban Prep Academies and North Lawndale College Prep (NLCP) announced in February that they are seeking to form a union in the face of low teacher retention due to low pay and lack of resources and support for teachers and staff. If Urban Prep and NLCP's unions are recognized, it would mean nearly one in four Chicago charter schools would be unionized. Leaders in the movement believe unionizing can deliver better compensation, clearer expectations and the security of due process for teachers. Here, Urban Prep teacher Dave Woo argues that unionization can also "shine a light into the dark unknown crevices of charter school management."
Friday, May 8, 2015, 11:37 am · By Rachel Luban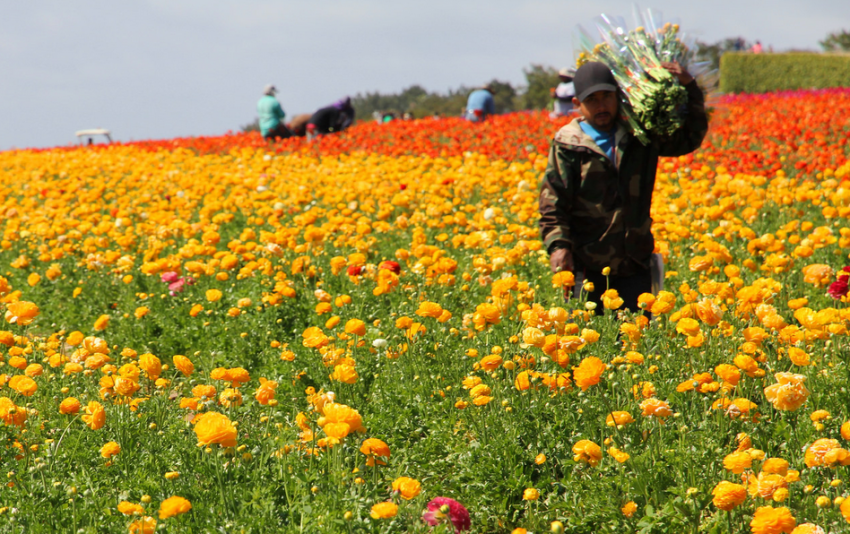 After nearly two months of suspense, the Department of Labor (DOL) and the Department of Homeland Security (DHS) have issued two new rules for the H-2B guestworker program. Worker advocates are praising the rules for establishing badly-needed protections for guestworkers and U.S. workers alike, while industries that rely on H-2B workers call the new rules "flawed."
Thursday, May 7, 2015, 6:12 pm · By Mario Vasquez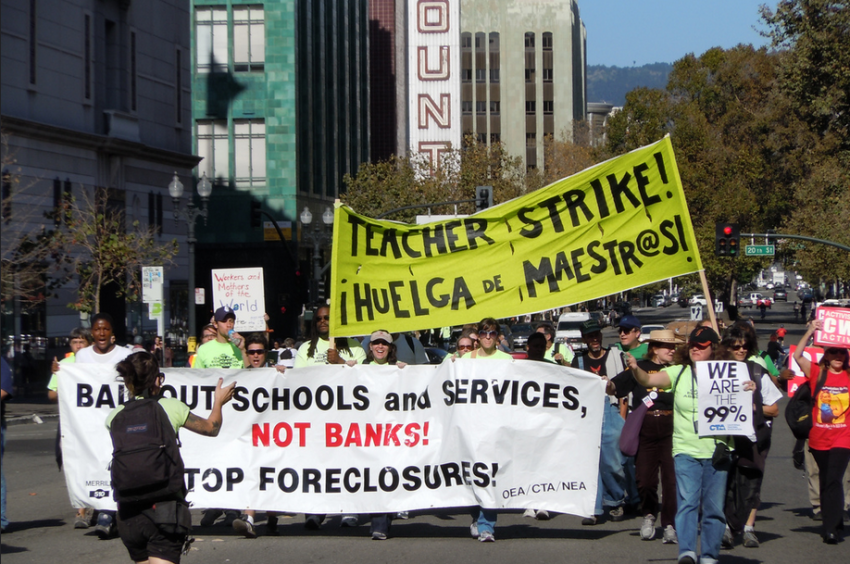 Public school teachers with the Oakland Education Association (OEA) voted last week to authorize strike action if the union's executive board cannot come to an agreement with the Oakland Unified School District (OUSD) in its year-long bargaining for a new contract.
Thursday, May 7, 2015, 5:21 pm · By Arielle Zionts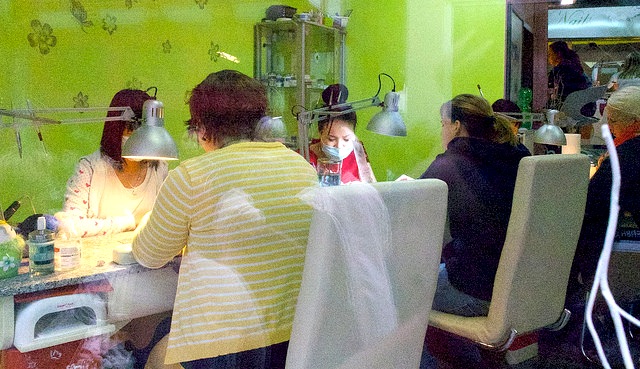 After investigating 150 nail salons over 13 months, New York Times reporter Sarah Maslin Nir found that "manicurists are routinely underpaid and exploited, and endure ethnic discrimination and other abuse." The findings are presented in a long-form multimedia story and offered in English, Spanish, Korean and Chinese.
Nir followed manicurists who, after leaving their cramped living arrangements, hop into vans that shuttle them to nail salons in the city and even into different states. When they first begin work, many are forced to pay a training fee of around $100-$200, sometimes more. Many remain unpaid during an "apprenticeship period" until they can prove they are skilled enough to deserve payment, but this payment is usually below minimum wage.
Twenty-one-year-old Jing Ren's story illustrates this process. She paid $100 in a training fee, then worked three months without pay before earning a wage of less than $3 an hour.
Wednesday, May 6, 2015, 6:09 pm · By Yana Kunichoff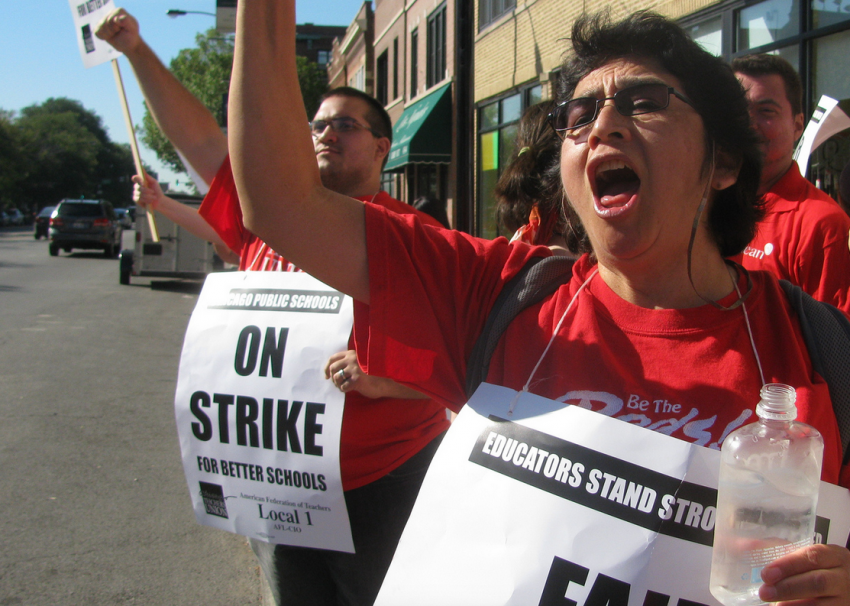 The Chicago Teachers Union announced Wednesday evening it would be filing an unfair labor practice charge against the Chicago Board of Education, the latest development in tense negotiations to form a new contract before the current one expires on June 30th.
The suit alleges that the board has bargained in bad faith by refusing coming to agreement on anything but minor technical issues in the six months of both formal and informal meetings, and has put forward proposals the CTU considers extreme.
One particular board demand that angered the union was a proposal that union members pay the pension contributions currently paid by CPS, which the union says would amount to a 7 percent pay cut.
"We are insulted by the refusal to extend the contract with a 3 percent raise. We are beyond insulted by the board's proposal to decrease our pay by 7 percent. And the board has rejected our education-based programs," said CTU President Karen Lewis during a press conference. "We are organizing and we will show our displeasure. We feel that this is reactionary and retaliatory. CPS is broke on purpose."
Wednesday, May 6, 2015, 12:59 pm · By Arielle Zionts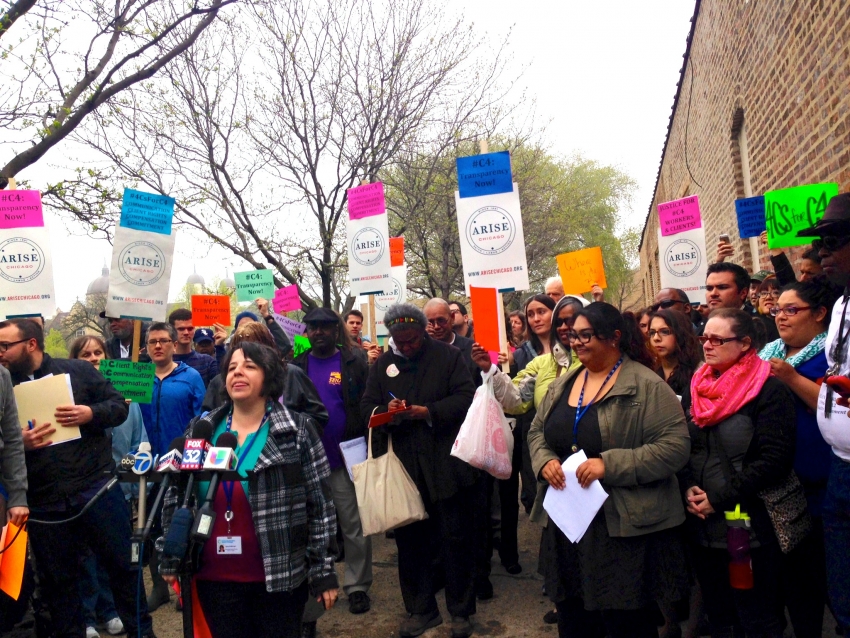 Mental health activist N'Dana Carter says that in 2011, when Chicago Mayor Rahm Emanuel announced that half of the city's mental health clinics would close, he pointed to the Community Counseling Centers of Chicago (C4) as an alternative resource. But now, C4 is shutting its doors—leaving clinic staff without paychecks and clients unsure about where to receive mental health services.
On April 23, C4 staff received an email from CEO Eileen Durkin with the subject line "Sad news about C4." The email said the agency would close by May 31 due to financial difficulties caused by a transition to a new electronic health record (EHR) system. The Affordable Care Act (ACA) required all Medicare eligible professionals to adopt EHRs by 2015.
"We don't really understand how that could account for shutting down an entire agency that's 30-plus years old with 300-plus employees in six months," therapist Anna Goldberger said.
Yesterday, around 100 people—including C4 staff and patients, activists with the Mental Health Movement, Arise Chicago and SEIU Local 73 members—rallied outside C4's headquarters on Clark Street in the Uptown neighborhood. They called for a way to keep the clinics open—or at the very least, transparency in the crafting of a transition plan for over 300 staff who will lose their jobs and over 10,000 patients who will need to find new therapists and psychiatrists.
"We need to know what happened, why it happened and what's going to happen now," explained therapist Maya Joseph-Brooks.
At the rally, staff and clients testified to the closing's effects on employees, patients and the entire city. Kelly Goodwin is a graduate student at the University of Chicago School of Social Service Administration who works at a C4 center. She says the impending closure has already meant a loss of two-thirds of her income in the lead-up to the closure and doesn't know how she is going to pay her rent.
"I just think about [what's going to happen to] our clients and I start crying and then I start thinking about myself and I start crying," Goodwin said.
Wednesday, May 6, 2015, 12:43 pm · By Sonia Singh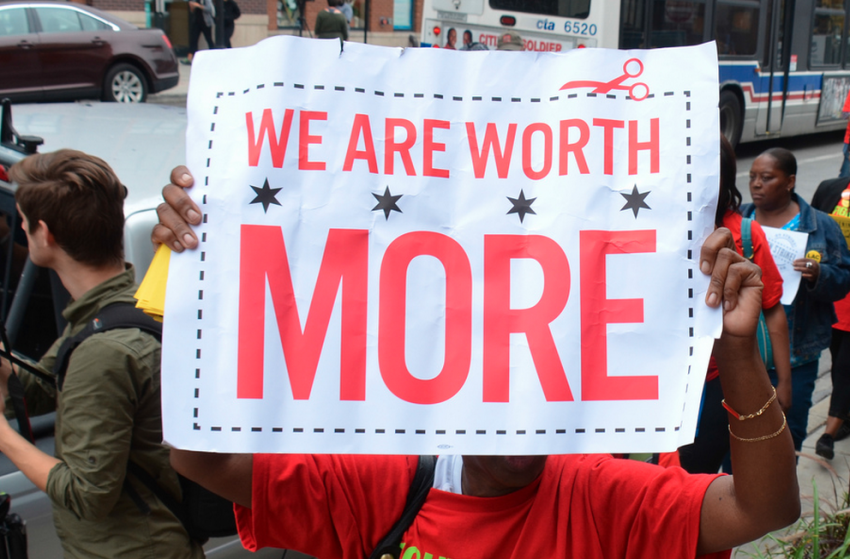 This post first appeared at Labor Notes.
Who's earning less than $15? As the Fight for 15 continues to build momentum, a new report from the National Employment Law Project, "The Growing Movement for $15," highlights widespread low wages in the U.S.
The report paints a picture of low-wage work and union density across six diverse industries, from fast food to auto manufacturing.
According to the report, 42 percent of U.S. workers earn less than $15 an hour. More than half of African-Americans and 60 percent of Latinos make less than this figure. And 46.6 percent of those earning less than $15 are older than 35.