Monday, Jan 23, 2017, 5:38 pm · By Peter Cole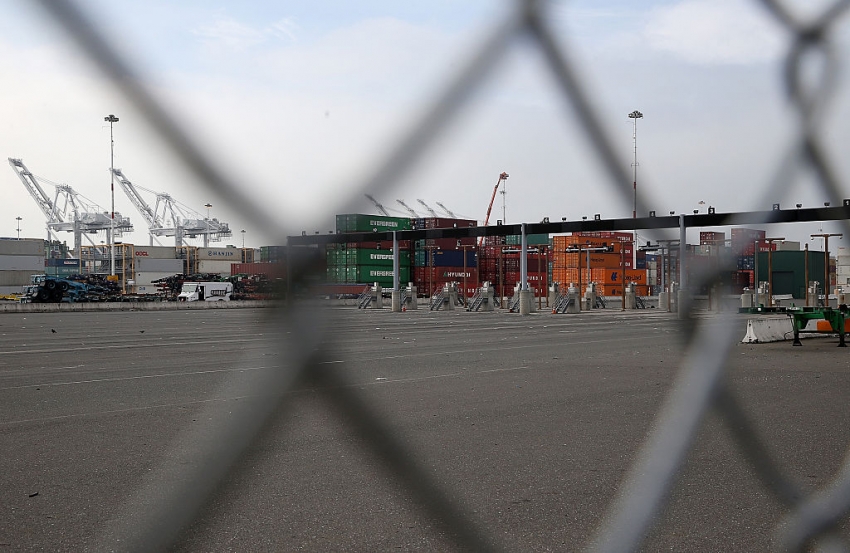 On the day of Donald Trump's inauguration, many Americans wrung their hands. Some took to social media to express their discontent while others protested. But, perhaps, the most dramatic and important action was taken by dockworkers in Oakland, California: They stopped working. Their strike demonstrated the potential power ordinary people have on the job, when organized.
Longshore workers, who load and unload cargo ships, chose not to report to their hiring hall. As a result, "Oakland International Container Terminal, the largest container facility at the Northern California port, was shut down Friday," according to the Journal of Commerce. It also reported that all other Oakland container terminals were essentially shut down, too.
Crucially, these workers did not first come together to protest Trump. They belong to the International Longshore and Warehouse Union (ILWU), one of the strongest and most militant unions left in the United States.
Friday, Jan 20, 2017, 7:29 pm · By Hubert Adjei-Kontoh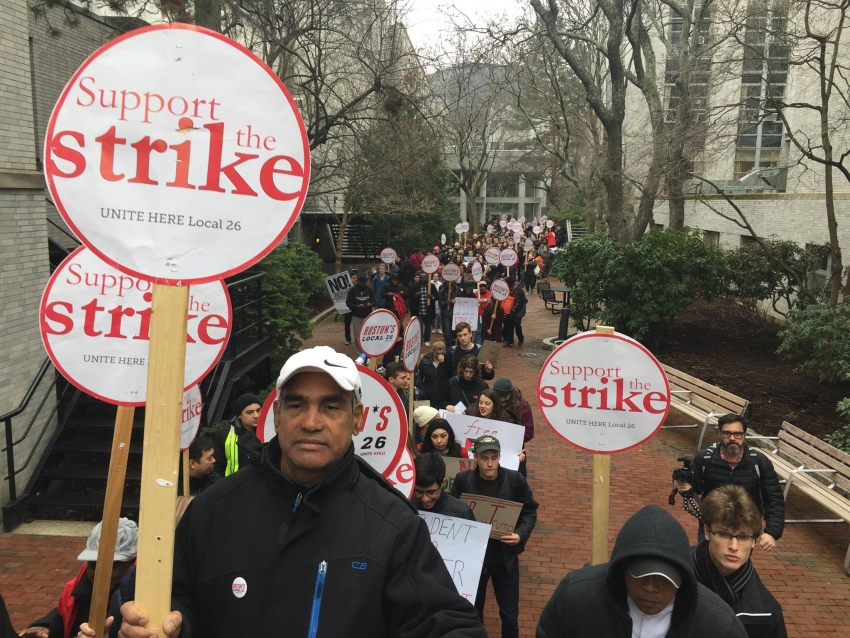 Workers across the country walked off their jobs and staged actions Friday to protest the inauguration of one of the most anti-worker presidents in modern history, Donald Trump.
As he was being sworn in around midday, dining hall workers at Northeastern University walked out. The 1-day strike was planned with support from students, some of whom walked with workers in a sign of solidarity. The group marched for two miles along the Boston Common.
"Having the support of the students allowed the workers to feel protected and supported. We showed that we are committed to making sure that immigrant families can stay together," said Tiffany Ten Eyck, an organizer for UNITE HERE Local 26, which represents workers at Northeastern.
Friday, Jan 20, 2017, 2:27 pm · By Dean Baker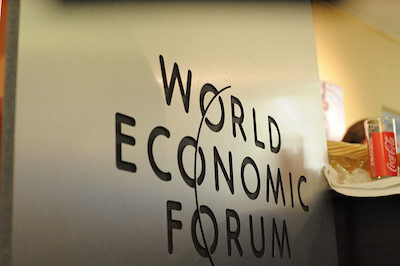 This article was originally posted by Portside.
The New York Times had an article on the annual meeting of the world's super-rich at Davos, Switzerland. It refers to Davos Man as "an economic elite who built unheard-of fortunes on the seemingly high-minded notions of free trade, low taxes and low regulation that they championed." While Davos Man may like to be described this way, it is not an accurate description.
Davos Man is actually totally supportive of protectionism that redistributes income upward. In particular, Davos Man supports stronger and longer patent and copyright protection. These forms of protection raise the price of protected items by factors of tens or hundreds, making them equivalent to tariffs of several thousand percent or even tens of thousands of percent. In the case of prescription drugs, these protections force us to spend more than $430 billion a year (2.3 percent of GDP) on drugs that would likely cost one tenth of this amount if they were sold in a free market. (Yes, we need alternative mechanisms to finance the development of new drugs. These are discussed in my free book Rigged: How Globalization and the Rules of the Modern Economy Were Structured to Make the Rich Richer.)
Thursday, Jan 19, 2017, 12:24 pm · By Jay Youngdahl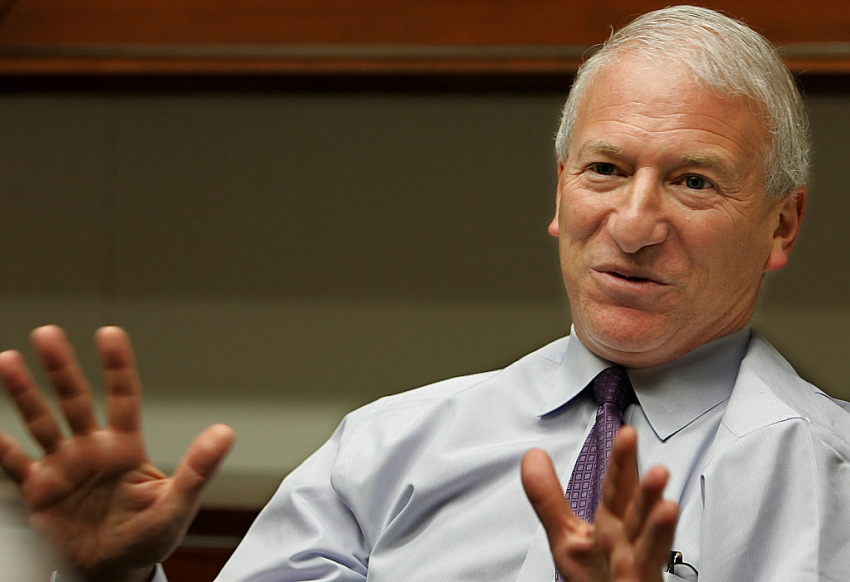 Prescriptions to address what's ailing workers and their unions continue to come fast and furious—and they are getting weird. Fantasy advice is coming from tenured academics, foundation-supported labor activists and corporate shills leveraging their former union positions.
The latest entry in this peculiar sweepstakes comes from an old acquaintance, the mercurial Andy Stern. Stern, the former president of the Service Employees International Union (SEIU), now works for gig economy "platform" companies and is lobbying for a New York law to refuse employee protections for workers at Handy and other such companies. He recently penned an article in National Affairs, along with right-wing think tanker Eli Lehrer of the R Street Institute.
Stern has been talking about the future of the labor movement for years, with a dazzling variety of solutions and approaches. Remember his claim, and $14 million of SEIU money, that call centers were essential to "high-quality member representation?" Now Stern and Lehrer argue that unions can survive financially by selling representation to non-union workers. A thorough reading of their piece, however, reminds us that Stern's inconsistency remains consistent.
Wednesday, Jan 18, 2017, 12:29 pm · By Bruce Vail
Members of one of the largest labor unions for post office workers are celebrating the success of a three-year campaign to roll back a commercial alliance between the U.S. Postal Service (USPS) and office supplies retailer Staples that threatened a major advance in the privatization of the national mail system. Coming just before the accession of Donald Trump to the White House, the victory marks one of the most successful corporate campaigns by any labor union during the Obama era.
The success also marks the rejuvenation of the American Postal Workers Union (APWU) under the leadership of Mark Dimondstein. First elected as president in 2013, Dimondstein promised union members a more aggressive attack on USPS privatization initiatives and a more progressive union overall. He delivered on those promises with the Staples campaign, and stood out in 2016 as one of the few union leaders to back insurgent Bernie Sanders' campaign for the White House.
Wednesday, Jan 18, 2017, 11:25 am · By Sara Ryan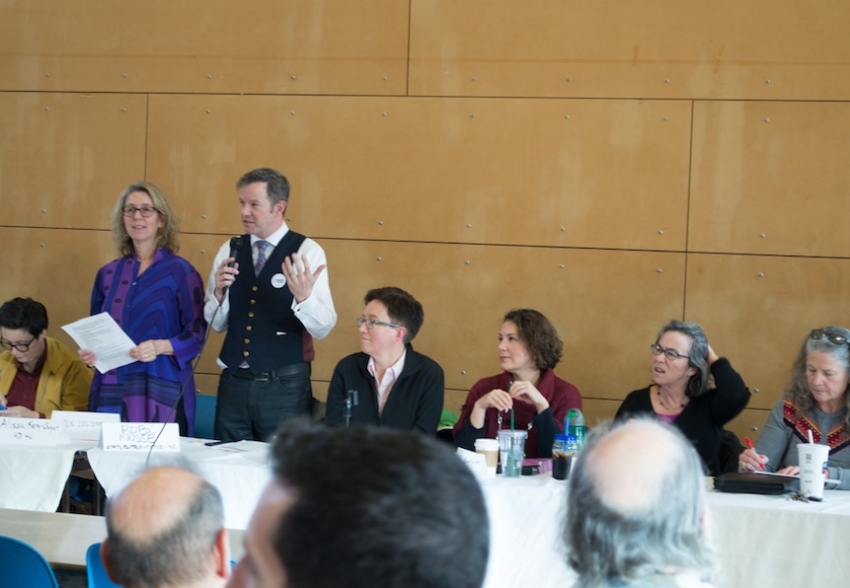 This article was first posted by Labor Notes.
Election night 2016 was bittersweet for me. I spent most of the day with Oregon legislative candidate Teresa Alonso Leon, a Service Employees (SEIU) member.
Alonso Leon worked for the state as a high school equivalency and GED administrator, helping students find their paths to careers, college, and job skills training programs. I had helped to recruit and train her through the Oregon Labor Candidate School, which offers union members the training and support to run for public office.
She was running for legislature to fight for a better public education system, one that supports teachers and classified employees. She herself did not complete high school, but went on to get her GED and master's in public administration—so she knows firsthand how strong schools and great educators can help immigrants like her.
And she won, just about at the same time that Secretary Hillary Clinton conceded to Donald Trump. There were tears of joy and pain, all mixed together.
Tuesday, Jan 17, 2017, 11:09 am · By Sarah Jaffe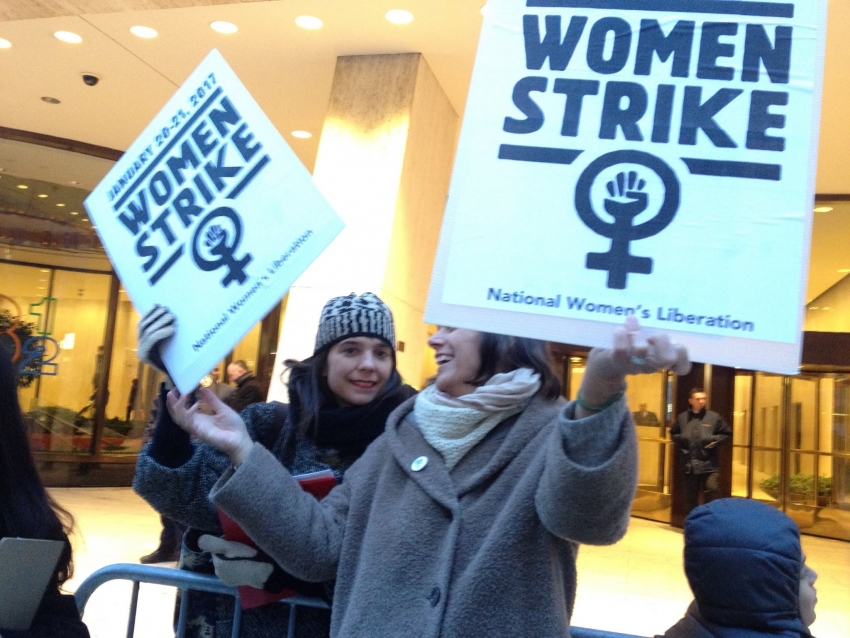 Welcome to Interviews for Resistance. In this series, we talk with organizers, troublemakers, and thinkers who are working both to challenge the Donald Trump administration and the circumstances that created it. It can be easy to despair, to feel like trends toward inequality are impossible to stop, to give in to fear over increased racist, sexist and xenophobic violence. But around the country, people are doing the hard work of fighting back and coming together to plan for what comes next. This series will introduce you to some of them.
As the inauguration of Trump and the Women's March on Washington (and its sister marches around the country) fast approach, one women's group has called for an action beyond simply marching. Erin Mahoney of National Women's Liberation explains.
Friday, Jan 13, 2017, 1:45 pm · By Kate Aronoff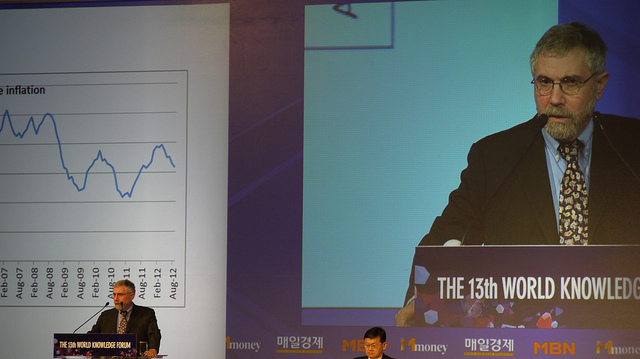 Paul Krugman is worried. Republicans, it seems—after decades of hemming and hawing—have stopped pretending to care about deficits and are preparing to go all-in on a spending-heavy agenda. As a former Senate Republican said recently, concerns about ballooning budgets have "sort of disappeared from the radar." A few years ago, this would have been welcome news to Krugman, who made arguments in support of deficit spending until very recently. But no more.
"Running big deficits is no longer harmless, let alone desirable," he warns. His logic here is two-fold. As the country was recovering from the recession, growing the deficit was a necessary measure to let the economy pick itself back up, per traditional Keynesian doctrine. Today, though, "full employment has been more or less restored," Krugman writes, as evidenced by slightly higher wages and the fact that more workers are quitting their jobs in a show of new-found bargaining power. Deficits—as the title of his recent op-ed reads—"matter again."
Amidst such prosperity, Krugman argues, "government borrowing once again competes with the private sector for a limited amount of money. This means that deficit spending no longer provides much if any economic boost, because it drives up interest rates and 'crowds out' private investment."
To some economists, that's nonsense. "Deficits absolutely matter, always and everywhere," says Pavlina Tcherneva, "but not in the way that people think." Tcherneva is director of Bard College's economics program and a leading scholar of something known as Modern Monetary Theory (MMT).
Friday, Jan 13, 2017, 11:05 am · By Liza Featherstone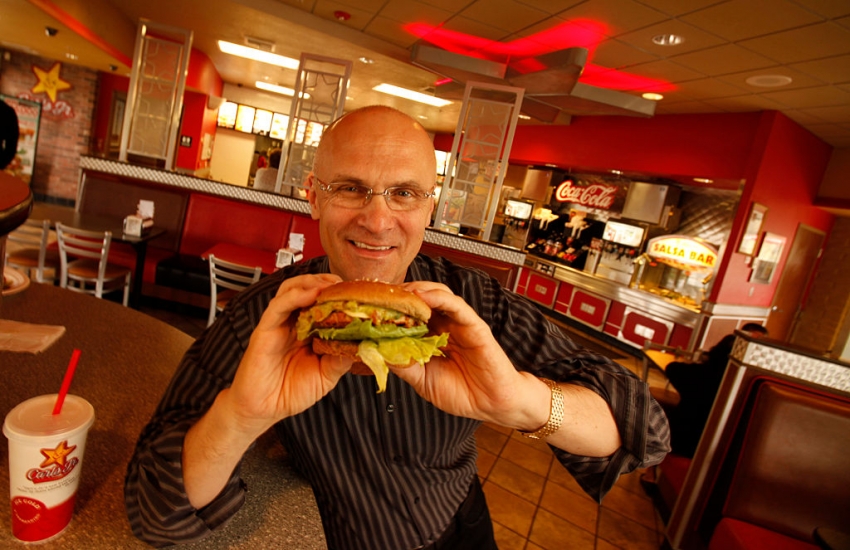 Andrew Puzder, Donald Trump's nominee for labor secretary, is uniquely unqualified for that job. As secretary, he'd be charged with enforcing health and safety, overtime and other labor laws. But as CEO of CKE Restaurants, the parent company of Hardee's and Carl's Jr., he's made his considerable fortune from violating these very same laws, according to a report by the Restaurant Opportunities Centers (ROC) United released this week.
ROC, which advocates for restaurant workers nationwide, surveyed 564 CKE workers, 76 percent of them women. In discussing the results of the survey, it's important to note that while ROC surveyed a large number of workers, the respondents are people who chose to fill out a survey distributed by a workers' rights organization, which they learned about through their social media networks. Still, ROC reported "unprecedented" interest in the survey among workers at CKE and their eagerness to be part of the study, and the experiences they reported, are striking reminders that by tapping Puzder, Trump has made clear that his administration will be a dystopian nightmare for U.S. workers.
Wednesday, Jan 11, 2017, 3:34 pm · By Shaun Richman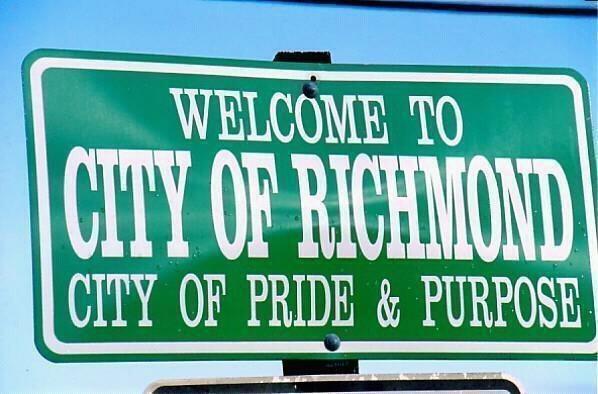 Rebel cities have long been laboratories for progressive policy experimentation. Specifically, the small Bay Area city of Richmond, California has stood out for its boldness. It's now the subject of a new book by Steve Early, Refinery Town: Big Oil, Big Money, and the Remaking of an American City, set to be released next Tuesday by Beacon Press.
A long-time labor activist and frequent writer for In These Times, Early moved to Richmond five years ago. After "thirty-two Boston-area winters," the placid weather was more of a draw than the city's vibrant urban reform movement, Early writes. But, naturally, he soon got involved and began taking notes, eventually producing a lively read—an intimate, warts-and-all look at how a small band of activists fought for and won a slightly better world at home. His book is a ray of hope for anyone wondering how to survive, and possibly even thrive, under Donald Trump and a hostile, Republican Congress.