Monday, Feb 24, 2014, 5:00 pm · By Stephen Franklin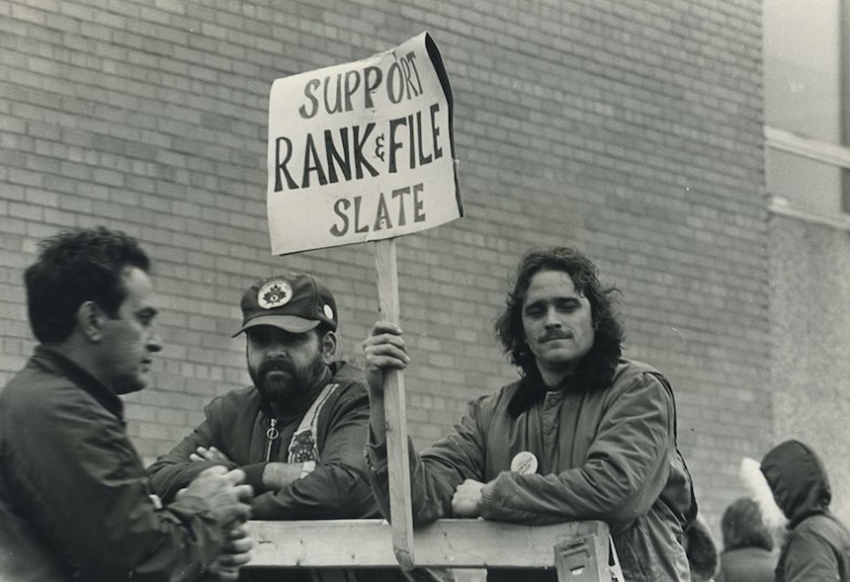 Teamsters officials had already fired Pete Camarata from his job with the union local. They'd heaped threats on his fellow dissidents, even frightening some away from meetings. And at the Teamsters convention in Las Vegas in June 1976, then-President Frank Fitzsimmons had warned the delegates present that anyone grumbling about reforming the union should, as he put it, "Go to hell."
But Pete Camarata had a spine that wouldn't bend.
The next day at the convention, before voting began for Fitzsimmon's re-election, the 30-year-old dockworker from a Detroit trucking company stood up to condemn the Teamsters leaders' hefty salaries, to call for a ban on union officials who took bribes from employers, and to oppose Fitzsimmons' presidency.
Monday, Feb 24, 2014, 3:15 pm · By David Moberg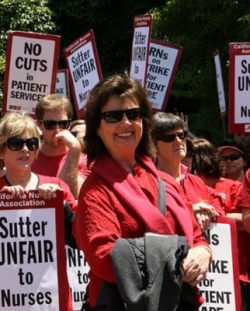 The labor movement has a new driving message for its legislative, educational and political work that should resonate with most American workers, especially those who have the least: Your pay is too damn low!
AFL-CIO president Richard Trumka put it less colloquially this week than the New York gubernatorial candidate who once ran on a single message: "Rent is too damn high." Organized labor will put "a laser focus on raising wages," Trumka told reporters in Houston at the start of the winter quarterly meeting of the federation's executive council.
Whatever the words, the case for action is strong. Wages have stagnated for all but the rich for more than a decade and fallen for low-wage workers, according to the Economic Policy Institute, a leading research institution on labor markets. Adjusting for inflation over the past four years, hourly wages for workers in the bottom 30 percent have fallen an average of 68 cents an hour.
Those trends, mirrored by the top 1 percent capturing 95 percent of all the new income growth following the end of the Great Recession, explain why inequality is growing, according to University of California, Berkeley economist Emmanuel Saez.
Monday, Feb 24, 2014, 12:56 pm · By Katie Ashmore and Monica Kamen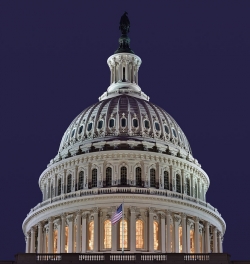 In December lawmakers in Washington, D.C. and two neighboring Maryland counties voted to raise the minimum wage to $11.50 per hour in all three jurisdictions.
It was a regional cooperation unprecedented in this country. Too often, minimum wage increases are defeated when opponents argue that businesses will flee across city or state lines.
In D.C., the increase was indexed to the Consumer Price Index, so the minimum wage will increase every year. The same day, the D.C. City Council also voted to strengthen its paid sick leave law to ensure that all workers are covered and the law is better enforced. And raising wages in Montgomery and Prince George's Counties gave a boost to the red-hot fight for a higher statewide minimum in Maryland.
In short, December saw the biggest wins in recent memory for workers in the D.C. metro area. Though the bills moved quickly, the groundwork for victory had been laid long before—through fights we lost.
After the D.C. mayor vetoed last year's effort to force big-box retailers like Walmart to pay a living wage, organizers responded by thinking bigger, not smaller.
We set our sights on a citywide minimum wage hike. We flipped the opposition's message so the momentum from the lost campaign would work in our favor. And we jumped on a chance to pitch our umbrella wider, joining forces with groups that had been pushing for paid sick days in D.C. and for minimum wage boosts in the nearby Maryland counties.
Friday, Feb 21, 2014, 3:34 pm · By Michelle Chen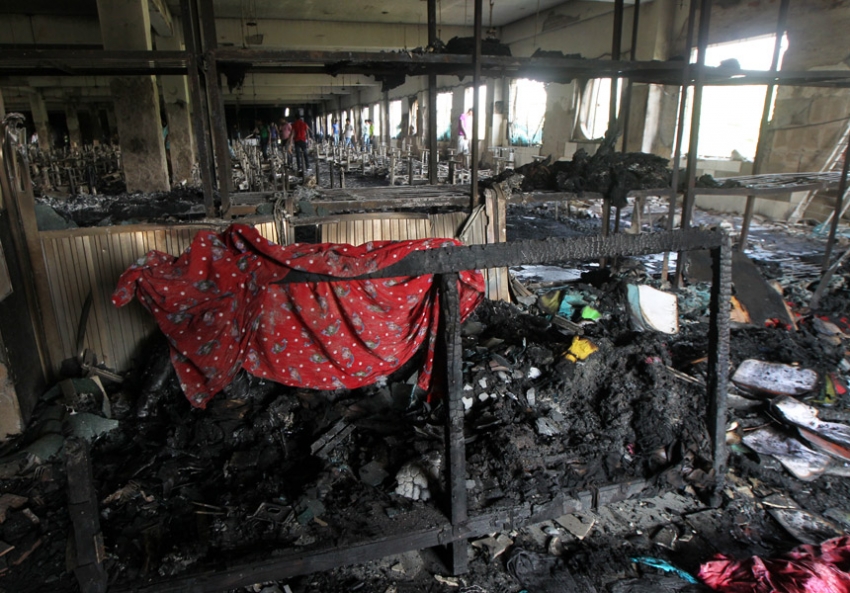 A six-foot gash in the wall; charred corpses strewn amid the rubble of a collapsed building; families mourning nameless civilian casualties. Such tragic scenes are historically associated with the aftermath of military aggression, but these days, they also reflect a different kind of military assault—on labor rights. In Bangladesh, Uncle Sam is making the world less secure for workers, one sweatshirt at a time.
The U.S. military is notorious for being an ethically challenged institution, tainted by corruption and innumerable human rights violations at home and abroad. Now, a watchdog group says the military's clothing businesses are aiding and abetting massive labor exploitation overseas.
As we reported in January, major branches of the armed forces run an extensive apparel manufacturing network that contracts with U.S. firms and overseas factories through its procurement system—business deals with private companies to produce military-branded goods, such as Marines-logo sportswear. These patriotic-themed fashions are then sold through military-run retail outlets known as exchanges, which operate as mostly self-funded businesses and are therefore considered outside of the standard Defense Department budget (though, as a Pentagon operation, they are also taxpayer-supported).
These exchanges have established basic labor codes for contracted overseas producers, covering issues such as child labor, wages, hours, collective bargaining rights and safety. But as research by the International Labor Rights Forum (ILRF) shows, the military has displayed malign neglect when it comes to enforcing those codes, particularly in the garment manufacturing hotbed of Bangladesh, where sweatshops are rife.
Friday, Feb 21, 2014, 11:40 am · By Mike Elk

After the United Auto Workers' union election loss at the Volkswagen plant in Chattanooga, Tenn., last Friday, many in organized labor have pointed to outside interference as key to the union's 43-vote shortfall. Of the various groups that tried to persuade workers to reject unionization, one stood out because it was run by a former union organizer: a group called Be Your Own Best Advocate (BYOBA).
Now, In These Times has learned that the Minnesota-based consultant behind BYOBA, Rhys Ledger, left the International Brotherhood of Teamsters in April of 2013 after two of his bosses were suspended for allegedly embezzling funds. Although Ledger was not charged with any wrongdoing, Teamsters officials say the circumstances of his leaving undermine his credibility as a former union organizer, which Ledger has used to lend clout to his criticisms of unions.
On its website, BYOBA describes itself as "a consultant to independent, autonomous workgroups that exercise complete self-determination in managing their affairs. Unlike unions that centralize power and siphon dues to sustain large bureaucracies, BYOBA leaves the decision-making and the resources with individual workgroups to use as they see fit." In other words, BYOBA believes that workers should advocate for themselves without the involvement of a formal union.
A week before the UAW's February 12-14 union election at Volkswagen Chattanooga, BYOBA made its presence known on social media. Pro-UAW Volkswagen workers Byron Spencer and Wayne Cliett say they would frequently encounter a BYOBA-sponsored Facebook post blasting the UAW. "How ready would you be to contribute another $10 a month to the UAW PAC after union dues are raised to 2.5% of your pay?" the post read.
Thursday, Feb 20, 2014, 7:04 pm · By Julia Wong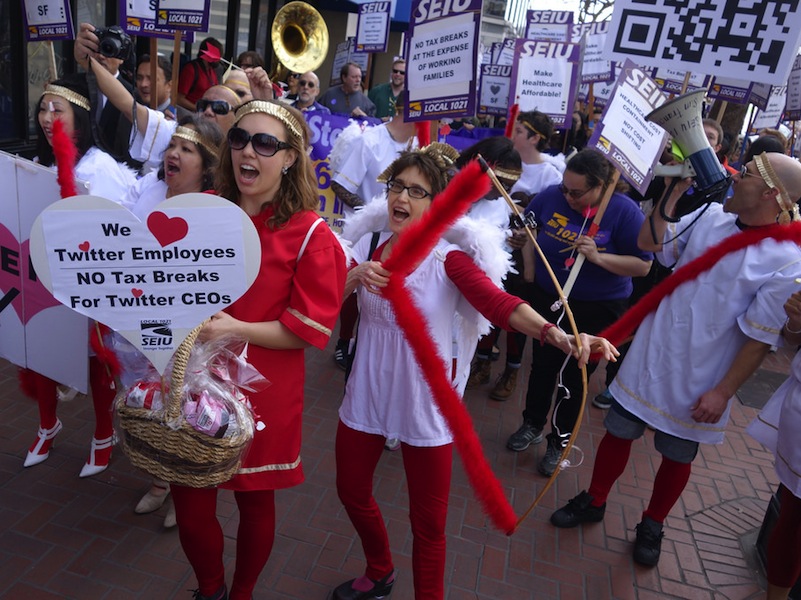 Last Wednesday, more than 400 San Francisco city employees—many dressed as Cupid with wings and golden headdresses—marched from the city's Department of Human Resources to Twitter headquarters a few blocks away. The protesters were members of Service Employees International Union Local 1021, which is currently negotiating with the city over contracts covering more than 13,000 workers. As the workers chanted, "Twitter, you're no good. Pay your taxes like you should," they left a Valentine of sorts on the company's doorstep at Ninth and Market streets.
"We, the undersigned, the workers and residents of San Francisco, ask that Twitter and other corporations do the right thing and end their tax breaks and sweetheart deals," read the protesters' card.
Like the private buses that transport tech workers from San Francisco to corporate campuses in Silicon Valley, Twitter's headquarters have become a symbol of gentrification and displacement for housing activists and community organizations in the city. On Nov. 7, 2013—the same day the company held its Initial Public Offering on the New York Stock Exchange—local groups held a #ThrownOutByTwitter day of protest in downtown San Francisco to draw attention to what they see as the tech industry's contribution to the city's growing class divide. San Francisco should be trying to advocate for all its residents, activists feel—not just the ones with startup funding.
Now, the SEIU, the largest public sector union in San Francisco, is taking renewed aim at Twitter over the major tax break it received from City Hall in 2011.
Thursday, Feb 20, 2014, 2:17 pm · By David Moberg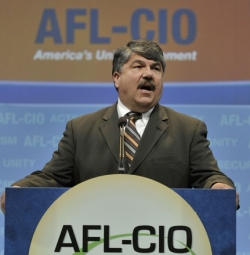 Balmy Houston would have been a nice setting for leaders of the American labor movement to throw a much-needed victory party. But just before the start of the winter meeting of the executive council of the AFL-CIO—the federation to which most American unions belong—labor suffered an unexpected defeat when a clear majority of workers at the Volkswagen plant in Chattanooga, Tenn. voted against joining the United Auto Workers (UAW) union.
The loss squelched any celebration in Houston, which had been chosen for the first time as a meeting place in order to symbolize the need to organize the South, according to AFL-CIO president Richard Trumka. The federation convention last September urged all unions to make long-term commitments to serious organizing in the South, a recurring theme in American labor union strategic debates.
Despite the Volkswagen setback, organizing—especially in the South—remains a priority. Without more members, acting with common purpose, the labor movement's power will decline even further. Also, unions recognize their duty to organize workers in the South, whose rock-bottom unionization rates—below 5 percent in many Southern states, as opposed to 11.3 percent nationwide—are coupled with lower living standards and fewer rights at work than comparable American workers in other regions (except the Great Plains). And the weakness of unions in the South restricts advances of workers in other regions, as businesses move or threaten to move South to take advantage of low wages, tax giveaways and an anti-union climate.
Although unions can point to recent organizing successes in the South—such as state and federal government workers, airline employees, nurses, mobile telephone technicians and teachers—no foreign-owned vehicle-assembly plant in the region is unionized. Organizing the Chattanooga Volkswagen plant would have marked a major inroad for labor.
Thursday, Feb 20, 2014, 12:44 pm · By Sarah Jaffe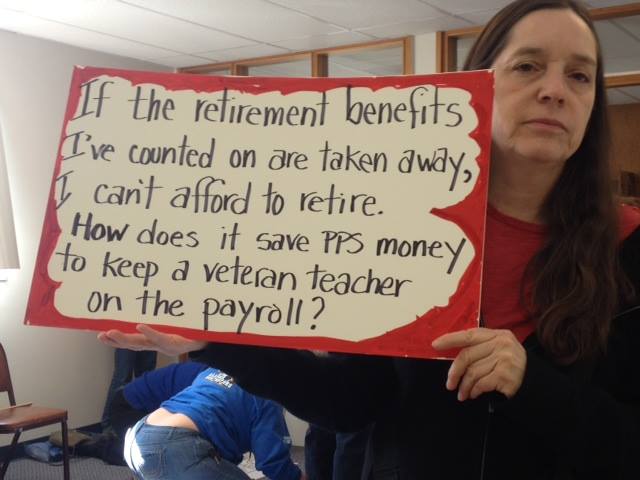 Back in 2003, the Portland Association of Teachers avoided a strike by agreeing to work for free. Their contract included ten days of unpaid work in order to help keep the school year at 171 days, as long as new taxes covered the other 14 officials wanted to cut.
This year, though details are not yet public, the 2,900-member Oregon teachers union appears to have brought about a much more favorable deal in its latest round of negotiations with Portland Public Schools, averting a planned strike just a day-and-a-half in advance.
A marathon mediation session—nearly 24 hours, according to reports—led to a tentative agreement on Tuesday between the union and the school district that averted Thursday morning's walkout. Teachers and the school board still need to vote to ratify the agreement.
"I think teachers right now are feeling hopeful, but we don't really know what we're dealing with," Portland teacher Elizabeth Thiel told In These Times on Tuesday, February 18, as news of the deal was breaking. "We trust our bargaining team wouldn't agree to something unless it was good, but we haven't seen any of the details."
Wednesday, Feb 19, 2014, 3:10 pm · By Rebecca Burns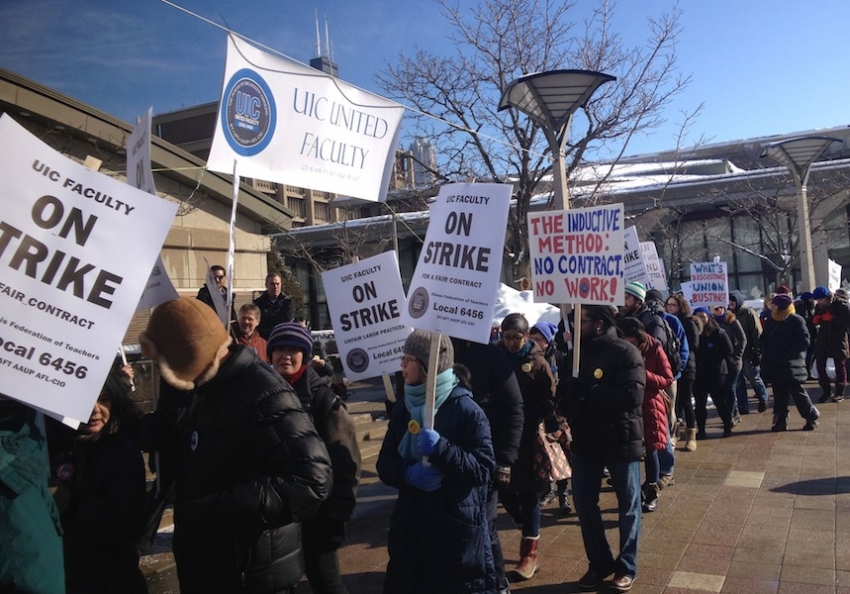 As a tenured professor at the University of Illinois-Chicago (UIC), Josh Radinsky never expected to participate in a strike—or to see so many of his colleagues ready to do the same. "I've never seen anything like it. It's like a ghost town today," Radinsky marveled as he and a group of colleagues picketed outside an empty academic building yesterday morning.
Tuesday marked the start of an unprecedented two-day walkout staged by UIC United Faculty (UICUF), the union that represents more than 1,100 tenure-track and non-tenure-track faculty members at the state university. Strikes by university professors are a rare occurrence: The first of its kind at UIC, the faculty strike is also one of only a handful at U.S. colleges and universities during the past five years. Since gaining recognition in 2012, though, UICUF has been locked in a stalemate with university administrators over its first contract. In December, faculty members voted overwhelmingly to authorize a strike if progress wasn't made at the negotiating table.
This week, the union made good on its threat: Faculty members walked out of their offices on Tuesday morning, fanning out into picket lines across campus.
Though the sight of picketing professors may be novel, it's become increasingly evident to many that the union and administration were coming to loggerheads. As Radinsky, who's taught for 14 years in the university's College of Education, says about the strike, "This needed to happen—I think it's about time."
Wednesday, Feb 19, 2014, 11:00 am · By Sarah Jaffe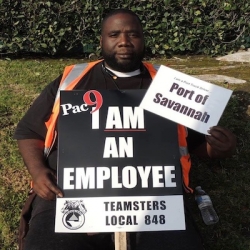 "Everyone that's involved in container hauling is making money," says Albert Dantes, a port truck driver at the Port of Savannah, Georgia. Everyone, that is, but Dantes and his colleagues, who spoke to me after an organizing meeting just off the highway on which they haul the goods that come in and out of the fourth-largest container port in the country.
The port brings in close to $16 billion per year, but the drivers only see a tiny bit of that money. This is in large part because they're "misclassified" as independent contractors, driver Gerald Spaulding says—which lets the bosses at the various port trucking companies push off operating costs onto the drivers. These may include gas, repairs and the lease or payment for the truck itself. "All the expenses come out of your pocket," says Dantes, noting that the gas cost alone per load is usually about half of what the driver is paid for the load. "If you lose a tire, you pay for it. [And] you just ran for free."
A new report, The Big Rig Overhaul: Restoring Middle Class Jobs at America's Ports Through Labor Law Enforcement, published by the National Employment Law Project, Change to Win Strategic Organizing Center and the Los Angeles Alliance for a New Economy, backs up what the drivers are saying. It estimates that some 49,000 of the country's 75,000 port truckers are wrongly classified as independent contractors, and it calculates that that misclassification costs state and federal governments more than $563 million in lost tax revenue, and costs drivers in the state of California alone between $787 to $998 million in stolen wages.