Thursday, Aug 7, 2014, 2:40 pm · By Crystal Stella Becceril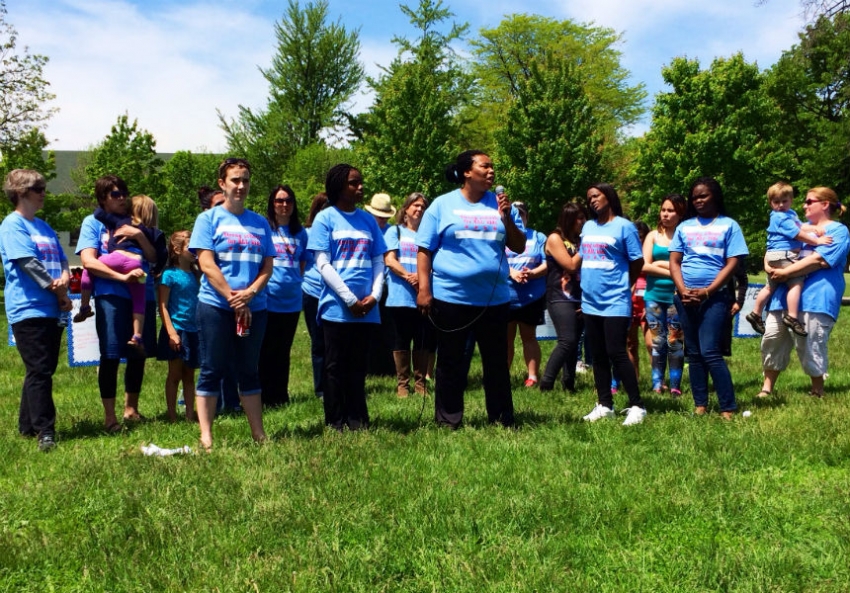 Last August, as the summer break came to an end, Chicago parent Rousemary Vega was devastated. Three months prior, the city had voted to close a record-high 50 public schools, including Lafayette Elementary in Humboldt Park, where her children had been students. Upon receiving the letter from Chicago Public Schools that their school would be shuttered at the end of the 2012-2013 school year, the Vega family began organizing to overturn that decision. However, despite their efforts—including their occupation of Lafayette on June 19, 2013—and the community's pleas, the Board moved forward with the closure, displacing 570 students in the process.
Vega says she'd never before contemplated the possibility that her kids' education could be put on the line.
"I was just a working mom with four kids, not worried about their school closing," she explains to In These Times as she wipes away tears. "I just never thought that could be possible because I thought education was sacred. ... So for them to close schools, to close our doors—it was unbelievable to me."
Shocked as she was, Vega refused to be defeated by Lafayette's shuttering. At the start of the 2013-2014 school year, she began reaching out to other mothers who were ready and willing to fight back against the Board of Education's decisions. Within a few months of Lafayette's closure, the advocacy group BAM—or "Bad Ass Moms" was formed.
Tuesday, Aug 5, 2014, 1:30 pm · By Matthew Cunningham-Cook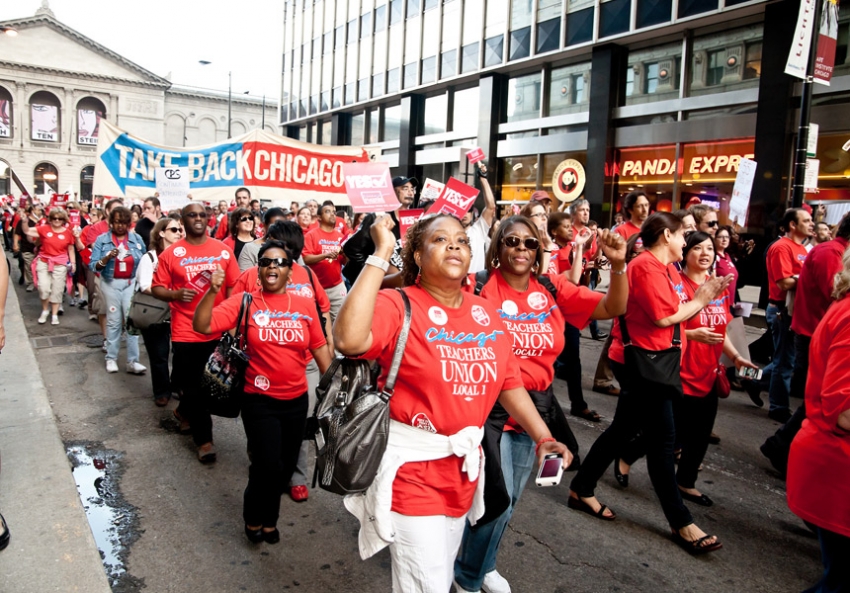 During Andrew Cuomo's tenure as attorney general of New York, he noted, "In New York, the biggest pool of money is the state pension fund." This is true with public pension funds across the nation—and Wall Street firms have leaped to take advantage of the bounty, often in unsavory ways. Over the last five years, the Securities and Exchange Commission (SEC) has routinely unearthed "pay-to-play" scandals, in which overseers of pension funds make investment choices based on personal gain.
In most cases, politicians control the investment-making decisions at pension funds. A select few, however, are controlled by their members—meaning they could invest in projects for the public good on Main Street rather than private investment funds on Wall Street. One such fund is the Chicago Teachers' Pension Fund (CTPF), a nearly $10 billion pool charged with assuring the retirement security of tens of thousands of education professionals. Despite a Board composed of 12 member-elected trustees, however, Wall Street still has its hands in the kitty. Here are six ways America's biggest investment firms have the potential to sink Chicago teachers—and just how the CTPF board can stop that from happening.
Tuesday, Aug 5, 2014, 10:24 am · By Julia Wong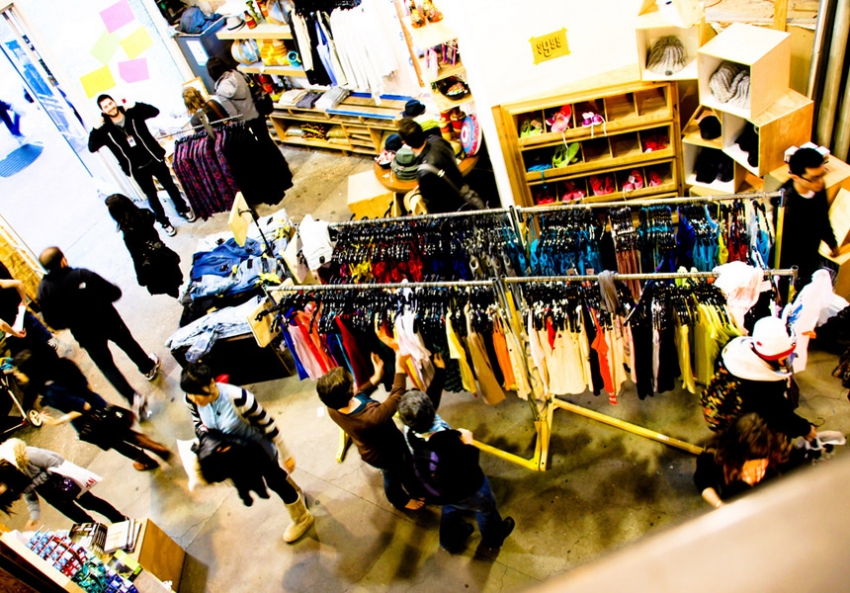 In April 2011, Jessy Lancaster, then 28, was hired as a part-time cashier for the discount clothing store Ross Dress for Less in San Francisco. At the time, the city's hourly minimum wage was $9.92 an hour; in one of the most expensive areas of the country, Lancaster wanted to work as many hours as possible. Unfortunately, even making herself available six days out of the week—including Saturday and Sunday—wasn't enough.
"It didn't make a difference," Lancaster says. Most weeks, she would be scheduled for 12 to 20 hours, despite telling a manager that she was willing and able to do more. "It was piecemeal," she says. "I would usually work four to six hour shifts. Four hours here. Four hours there."
As someone who wanted to work 40 hours a week but was unable to do so, Lancaster was what San Francisco Supervisor Eric Mar calls an "involuntarily part-time worker." The lack of sufficient hours doesn't just force such individuals to struggle to pay their bills; the unpredictability of work schedules makes it difficult to plan the rest of one's life. Lancaster says she never knew if she was going to be working first thing in the morning or late at night. For workers with family caretaking responsibilities or health concerns, this can make scheduling childcare or medical appointments almost impossible. It also creates difficulties for people trying to work more than one job or attend classes.
Monday, Aug 4, 2014, 5:00 pm · By Julian Gonzalez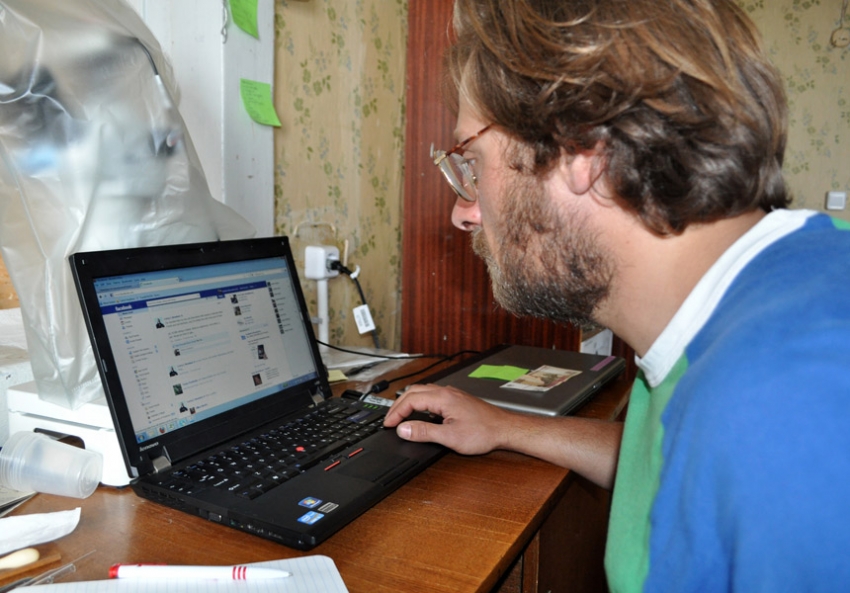 Workers are using Facebook to talk to each other about what happens on the job and in the union, and some are even using it to organize for change.
Walmart workers trade advice and stories on the "Organization United for Respect" page, which has 47,000 "likes." Boeing Machinists opposed to a proposed contract linked up through "Rosie's Machinists 751." And many union reformers set up Facebook pages when they are running for office.
Those are the success stories. But if you read the tabloids, you've probably seen some horror stories, too: teachers fired for Facebook posts that criticize their students, restaurant workers fired for posts that insult low-tipping customers.
Here we'll examine the do's and don'ts by looking at two cases where posts were legally protected—and one where they weren't.
Monday, Aug 4, 2014, 8:00 am · By H Kapp-Klote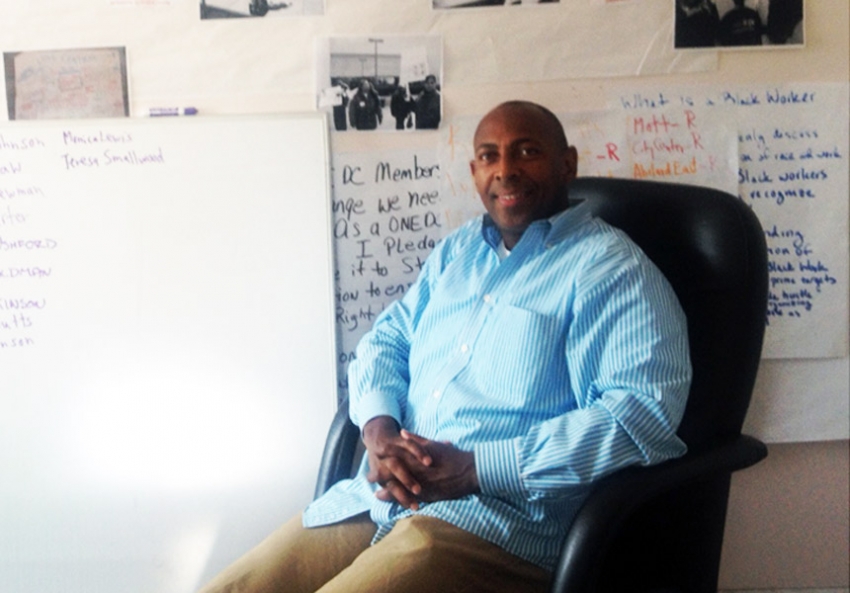 For three years in the early 1970s, journalist Studs Terkel gathered stories from a variety of American workers. He then compiled them into Working, an oral-history collection that went on to become a classic. Four decades after its publication, Working is more relevant than ever. Terkel, who regularly contributed to In These Times, once wrote, "I know the good fight—the fight for democracy, for civil rights, for the rights of workers has a future, for these values will live on in the pages of In These Times." In honor of that sentiment and of Working's 40th anniversary, ITT writers have invited a broad range of American workers to describe what they do, in their own words. More "Working at 40" stories can be found here.
Bill Talcott, the organizer Terkel interviewed, described his job as "trying to change this country" and as "bring[ing] people together who are put down by the system." Talcott loved his career so much, in fact, that he hoped to end his life in a state-run nursing home, "organizing people to fight 'em because they're not running it right."
Dominic Moulden, an organizer with the community group ONE DC, shares Talcott's passion for making change. Founded in 1997, ONE DC's work centers on popular education, neighborhood organizing and alternative economic development projects; its website explains that it "envisions the nation's capital as a place where low-income, poor and immigrant communities are organized, educated and trained to take action to create and preserve social and economic equity." This interview has been edited and abridged.
Thursday, Jul 31, 2014, 3:41 pm · By Bruce Vail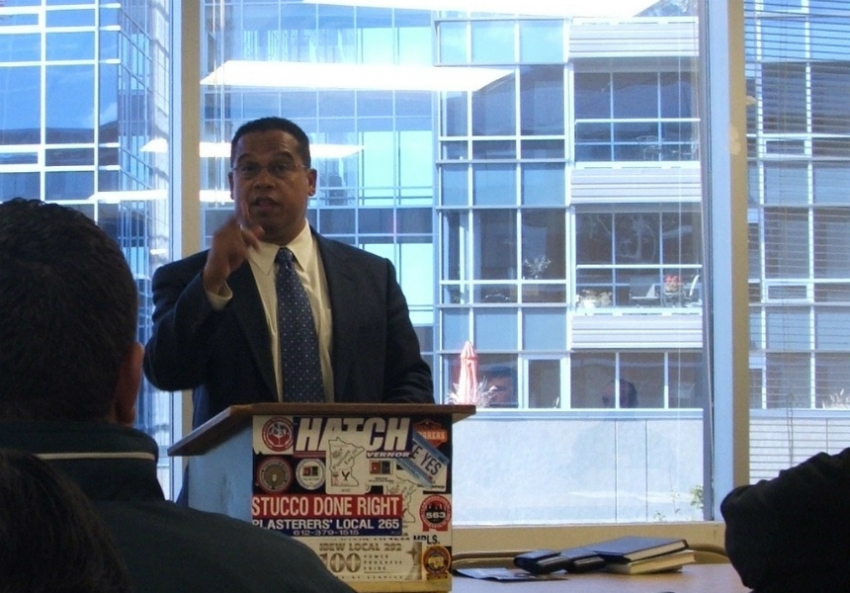 On Wednesday, a handful of Democratic Party lawmakers introduced a bill to turn the slogan "Labor Rights are Civil Rights" into the law of the land. While admitting the proposed legislation has little chance of passage in the current anti-labor environment, supporters say they hope shifting political winds may favor the bill sometime in the future.
A civil right is any right enshrined in the Constitution or legislation, such as freedom of assembly or freedom of the press. The new measure would affirm that labor rights are equally fundamental.
Titled the "Employee Empowerment Act," the bill is short and simple. It would add a single paragraph to the 1935 National Labor Relations Act giving workers the right to sue employers in federal court for labor law violations, in the same way that individuals are allowed to bring lawsuits under the Civil Rights Act of 1964. Under current law, workers must bring such complaints to the National Labor Relations Board (NLRB), which is often criticized for being very slow to act and offering wronged workers little in the way of compensation.
The bill's introduction was announced yesterday at a press conference on the Capitol Hill lawn headlined by three of the most pro-labor members of the House of Representatives: Rep. Keith Ellison (D-Minn.), Rep. John Lewis (D-Ga.) and Rep. Jerrold Nadler (D-N.Y).
Thursday, Jul 31, 2014, 3:07 pm · By Amien Essif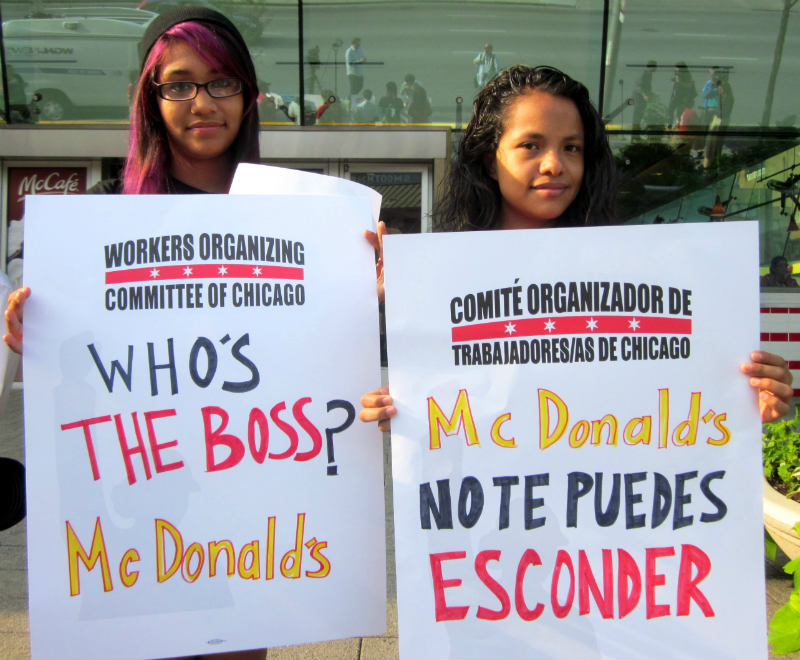 On Thursday morning, about 15 Chicago McDonald's employees rallied in front of the city's monumental downtown location, chanting, "Hey, corporate, you can't hide, we can see your greedy side!"
It's not the first time demonstrators associated with the two year-old fast-food workers' movement have crowded the sidewalk outside the Rock N Roll McDonald's—once the chain's busiest location in America—calling for a $15 an hour minimum wage and the right to unionize without retaliation from their employer. This time, though, they're here to celebrate rather than protest.

The cause for excitement? On Tuesday, the National Labor Relations Board's general counsel Richard Griffin determined that McDonald's can be treated as a "joint employer" at its franchises—which could make the corporation partly accountable for the labor practices of its franchisees.
"This is huge news," says Nazly Damasio, a spokesperson for the Fight for 15 campaign, which organized today's demonstration with support from the Service Employees International Union (SEIU). "This is something that workers have known all along, that [McDonald's is] responsible for the poverty wages and the poor working conditions in their stores. ...It's very exciting. It re-energizes us in the fight."
Thursday, Jul 31, 2014, 12:15 pm · By Kari Lydersen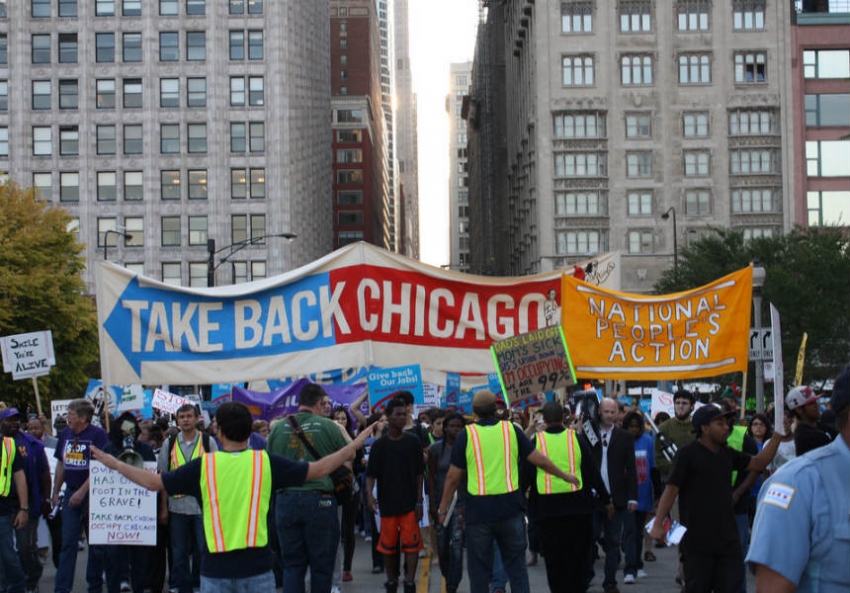 In theory, Chicago's City Council should represent the interests of the locals who elected them. In practice, though, prominent community leaders say the Council is more like a dog on a leash—and Mayor Rahm Emanuel holds the other end.
"Our city is sold piece-by-piece to private interests. Our communities, they don't get parks, playgrounds, services or the jobs we need. Because all the money is flowing to greedy downtown corporations. And people don't even know it's happening."
So say Rousemary Vega, a well-known parent activist from the Humboldt Park neighborhood, and Brandon Johnson, an organizer with the Chicago Teachers Union, in a short video that launched the project and website Take Back Chicago in July. In their narration, trading phrases back and forth like quick punches, Vega and Johnson take the mayor and the City Council to task for prioritizing big business over average communities—and for slashing funding to libraries, mental health clinics and other city services in the process.
The video, which depicts Chicago's City Council as Mayor Emanuel's loyal canine companion—literally—was just the first step in the advocacy group Grassroots Illinois Action (GIA)'s new campaign to challenge aldermen on their politics. As the campaign season leading up to the February 2015 mayoral and City Council elections heats up, GIA is beseeching locals to become better educated about the records and loyalties of their aldermen—Chicago's term for members of City Council—and to contribute to the Take Back Chicago project that will help them do so.
Wednesday, Jul 30, 2014, 6:04 pm · By David Moberg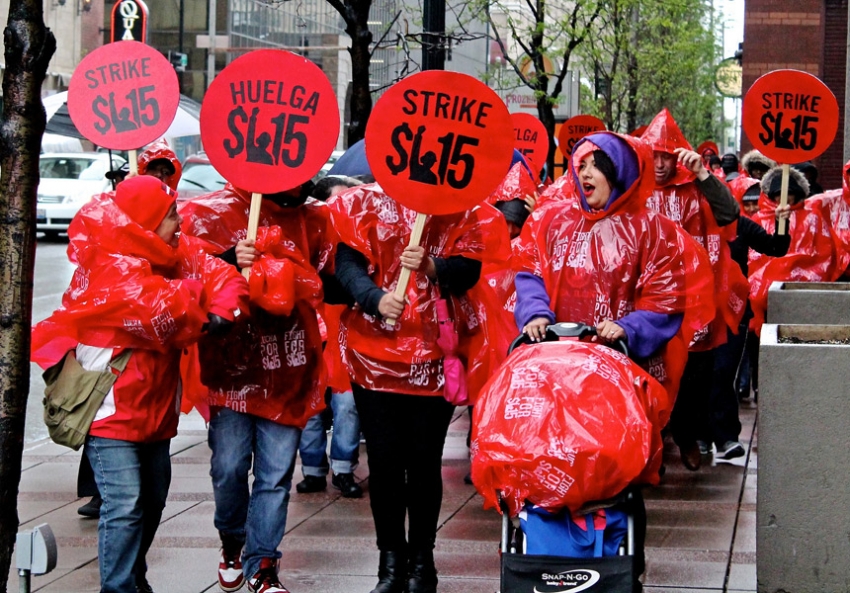 More than 1,300 fast-food workers gathered in Chicago last weekend to strategize ways to win a $15 an hour minimum wage and the right to form a union without harassment by their employer. Yesterday, the National Labor Relations Board's general counsel issued a ruling that could greatly help those workers and their peers form a union—if the courts do not reverse it.
The counsel, Richard Griffin, ruled that McDonald's could be considered a co-employer alongside the franchisee who licenses the right to run a restaurant under McDonald's corporate guidelines. Companies like McDonald's have long argued that the franchisees alone are the employers, making them responsible for any resistance to worker organizing, policies on pay, and other personnel practices. According to David Weil, a former economics professor at Boston University and author of The Fissured Workplace, this strategy allows the corporation to profit at the expense of staff and franchisees—and to exercise power without being held responsible for what happens to workers.
If the ruling stands, workers will have stronger legal grounds for pressuring McDonald's to remain neutral—and, in turn, keep franchisees neutral—on allowing workers to decide on a large scale whether they want a union. It could also hold McDonald's liable for management decisions made at standalone restaurants around the country.
The NLRB decision gave a boost to the actions taken last weekend, when hundreds of fast-food workers arrived in Chicago for the first-ever Fight for 15 convention. They had traveled from metropolitan areas all over the country to affirm the movement's two goals: a $15 hourly minimum wage and the right to form a union without retaliation. And over the course of Friday evening and Saturday, they hammered out a strategy for the future that includes expanded organizing, increased focus on corporate operations and acts of civil disobedience.
Wednesday, Jul 30, 2014, 4:24 pm · By Ethan Corey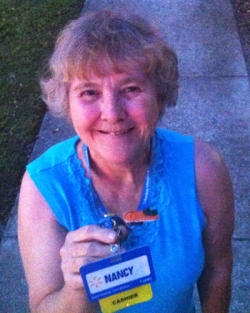 According to the Bureau of Labor Statistics, nearly half of part-time workers aged 26 to 32 receive their schedules with less than a week's notice—and their hours often vary dramatically. Such instability can be exhausting for employees, who must frequently try to fit childcare, school medical appointments or second jobs around uncertain routines and inconsistent paychecks. Still, many companies seem disinclined to make changes on their own, particularly in lower-paying industries: A July 2014 study from the University of Chicago found that 90 percent of fast-food employees reported work-hour fluctuations in the past month.
Lawmakers, however, are finally taking notice. Last week, Representatives George Miller (D-Calif.) and Rosa DeLauro (D-Conn.) introduced the Schedules That Work Act, which seeks to encourage employers to give employees steadier hours by imposing minor penalties for unpredictable schedules. Under the bill, employers would have to pay staff for an extra hour of work if they provide them with less than 24 hours' notice of a shift. The bill also guarantees four hours' pay minimum on any day an employee is scheduled to work for at least four hours, even if they are sent home early. Although Reps. Miller and DeLauro expect opposition from business leaders and Congressional Republicans, they hope the bill will raise awareness of the plight of part-time workers. Senators Elizabeth Warren (D-Mass.) and Tom Harkin (D-Iowa) have sponsored Senate versions of the same bill.
Nancy Reynolds, 67, knows firsthand how helpful such a bill could be. Reynolds has worked full-time in manufacturing, security and as a truck-stop fuel clerk, but she tells In These Times her part-time position as a Walmart cashier in Florida is one of the most demanding she's ever held. Despite only scheduling her for 22 hours a week, Reynolds says Walmart requires her to be available at all hours for four days a week, and often changes her timetable less than a day in advance without giving her any notice. Reynolds says her constantly shifting routine leaves her little opportunity for a life outside Walmart, even disrupting her ability to treat her diabetes.
In These Times got in touch with Reynolds to discuss her job at Walmart, and why it's so important for workers to have hours they can count on. This interview has been abridged and edited.