Friday, Apr 7, 2017, 5:48 pm · By Bruce Vail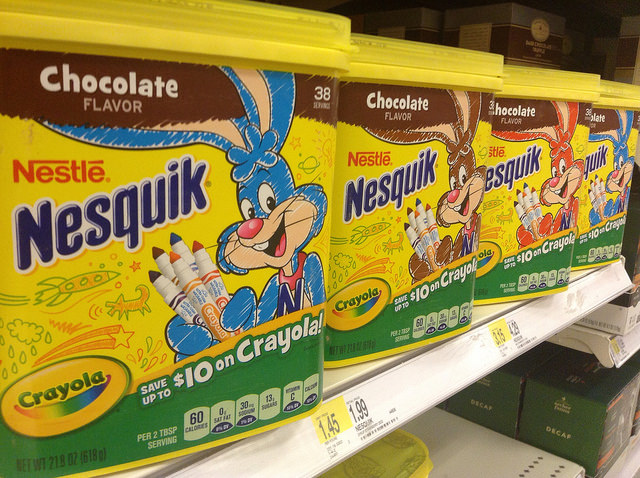 Your Nesquik may now be shipped by union workers, thanks to a powder-thin union election at a distribution center just south of Atlanta.
Workers at Nestlé's facility in McDonough, Georgia, voted 49-46 Wednesday in favor of representation by the Retail, Wholesale and Department Store Union (RWDSU), said labor organizer Greg Scandrett. The campaign was tough, so the victory is sweet.
"They [Nestlé] fought this from Day 1. They brought in people from HR from all around the country," Scandrett said.
He expects negotiations around a first contract will be difficult.
Friday, Apr 7, 2017, 3:23 pm · By Dan DiMaggio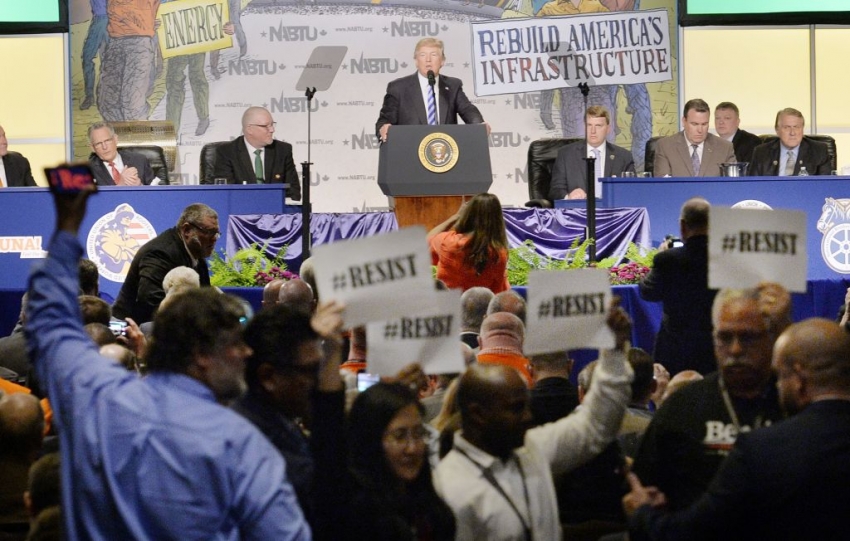 This article was first posted by Labor Notes.
When they heard President Donald Trump would address the Building Trades national legislative conference, activists from Electrical Workers (IBEW) Local 569 knew they had to do something.
"We couldn't let him come and speak to us and just sit there," said William Stedham, a "workaday Joe" and executive board member of the San Diego-based local. "If we hadn't, everyone would think that the Building Trades was on board with him 100 percent, and we're not."
Thursday, Apr 6, 2017, 2:04 pm · By Moshe Z. Marvit
An appeals court ruled in support of LGBT rights this week, reversing decades of interpretation that largely allowed companies to discriminate against workers on the basis of sexual orientation.
In their groundbreaking decision, nine of 12 judges in an en banc panel of the Seventh Circuit Court of Appeals said that gay and lesbian workers are protected under Title VII. The Hively v. Ivy Tech Community College decision marks a major break from an interpretation that excluded sexual orientation, except in instances where one could make an argument of gender nonconformity. That meant that, previously, in order for workers to prove discrimination under Title VII, they had to allege that they were being discriminated against because they were not acting according to the stereotype associated with their gender.
Wednesday, Apr 5, 2017, 12:49 pm · By Kali Holloway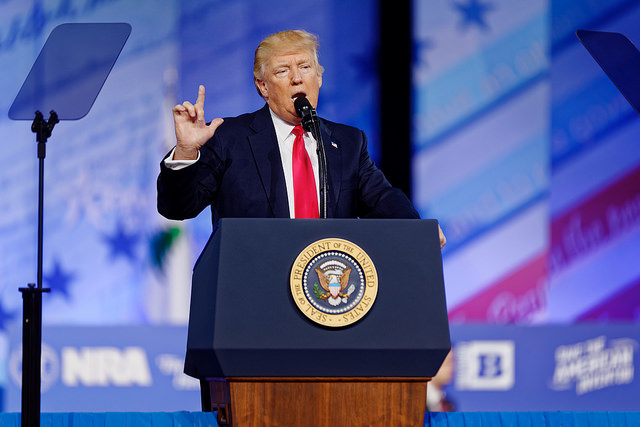 This article was first posted by AlterNet.
Again and again on the campaign trail, Donald Trump made promises he couldn't keep, playing on the ignorance of his base and revealing his own glaring misunderstanding of policy. The GOP candidate repeatedly vowed to strongarm companies into keeping jobs at home instead of sending them to Mexico, renegotiate NAFTA and impose stiff import taxes on foreign goods. It was a message that appealed widely to Trump supporters, blending the illusion of economic hope with the rubric of "America First" nationalism.
Tuesday, Apr 4, 2017, 10:08 pm · By Maha Ahmed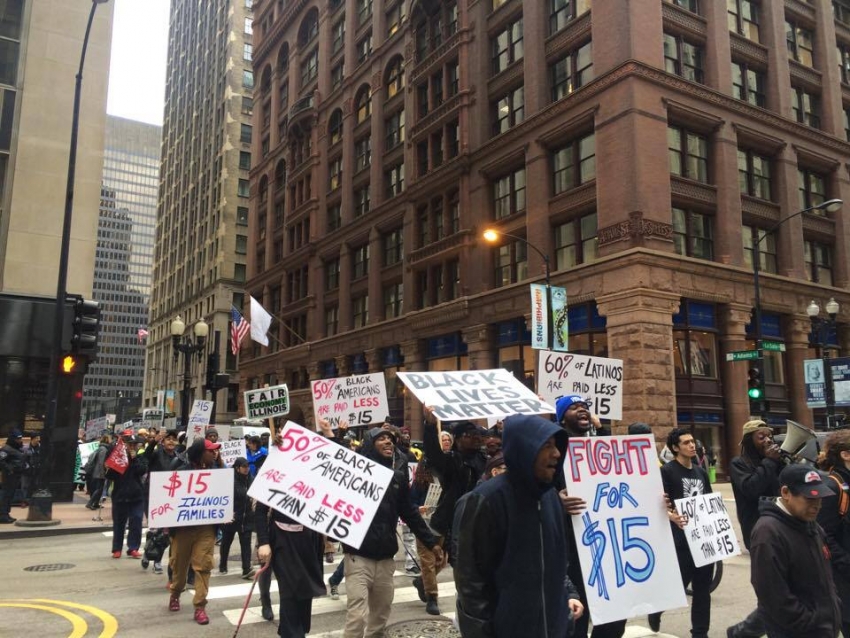 "Today, we are still fighting for King's dream," Parrish Thomas, a father and fast-food worker, told a crowd at Chicago's Federal Plaza.
He and dozens of others gathered Tuesday on the 49th anniversary of the assassination of Martin Luther King, Jr. as part of a nationwide day of action to fight for King's vision of racial and economic justice. The protests, which took place in some two dozen cities, were put together by the Movement for Black Lives and the Fight for $15 campaign—two of the nation's most powerful political movements—and mark the groups' first national joint action.
Tuesday, Apr 4, 2017, 12:07 pm · By Rachel Miller and Robert Ramaswamy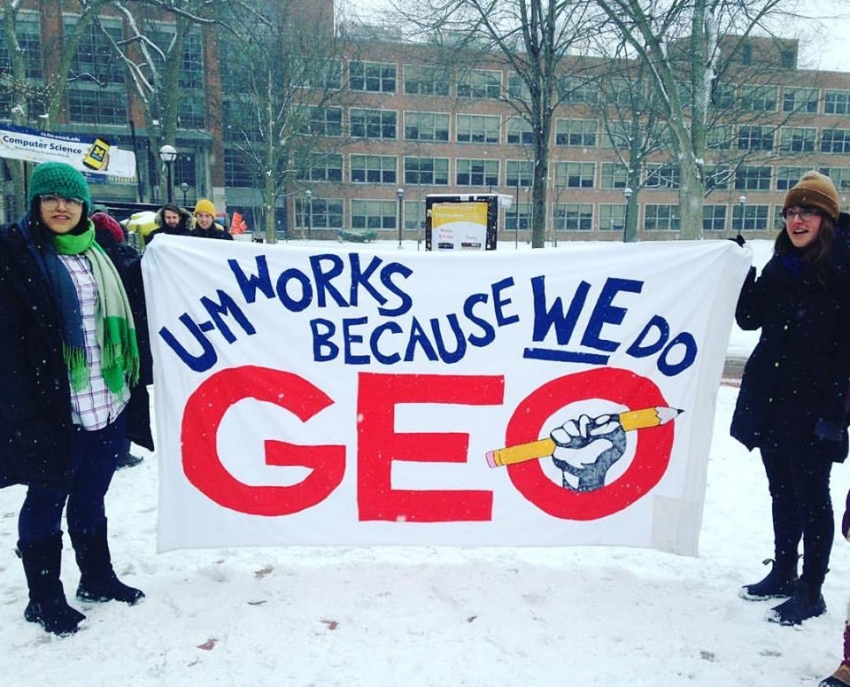 Several weeks ago, as a March blizzard descended on Ann Arbor, we were two of some 150 graduate student workers at the University of Michigan who rallied together to walk their bargaining team to its fifth month of contract campaign negotiations. Their spirits lifted by chants and signs, the volunteer negotiators continued to argue a platform generated by the members of the Graduate Employees' Organization (GEO), Local 3550 of the American Federation of Teachers, which is the union that represents graduate student instructors and staff assistants at the University of Michigan (UM). GEO is one of the nation's oldest graduate student unions, but in this year's contract negotiations, we are asking for something new: dedicated positions and fair compensation for "diversity workers" that will bring structural change to the university.
Thursday, Mar 30, 2017, 12:51 pm · By Cynthia Phinney, Peter Kellman and Julius Getman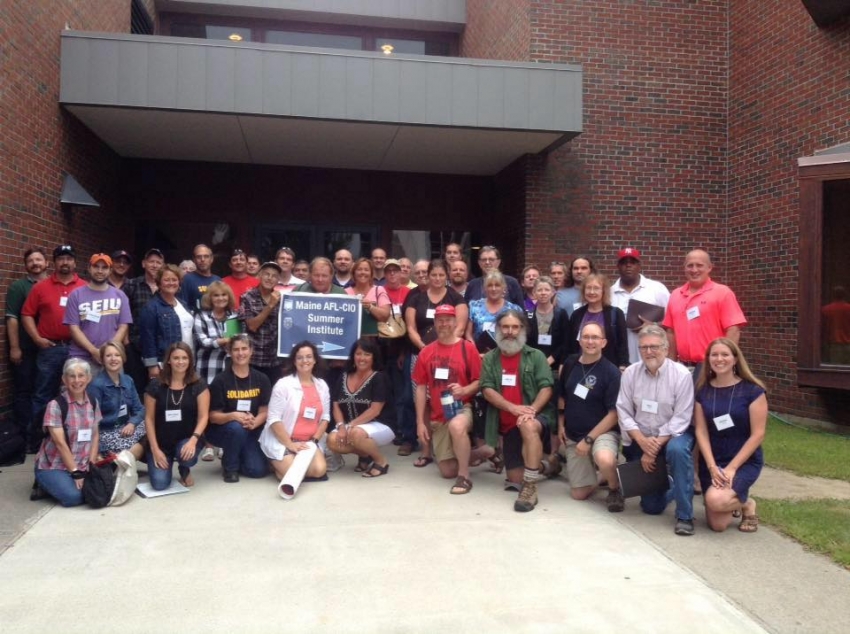 Progressives are finally energized. Millions of young people became politically active through the presidential campaign of Bernie Sanders and several million more joined the women-led solidarity marches of the inaugural weekend. Many of the recently activated are seeking to channel their enthusiasm into effective political resistance. These are heartening developments. But it is far too early to declare victory over those who seek to make America great by returning it to a less tolerant, less progressive past.
A dismayingly large share of the white working class, including union members that once supported liberal candidates and causes, remains supportive of President Donald Trump and his agenda. Only when liberals recognize the importance of labor, and when a progressive labor movement returns to its historic roots, will the battle against right-wing demagogues and zealots be won.
What we are calling for is an active alliance between progressives and organized labor. For progressives and intellectuals, organized labor has much to offer: a rich history, seasoned leaders and, most significantly, an immediate connection to workers. For organized labor, the potential of such an alliance is equally significant. It can renew the commitment to social and political change, reminding workers and their leaders that unions are far more than just vehicles for economic gain.
Thursday, Mar 30, 2017, 11:45 am · By Joe Allen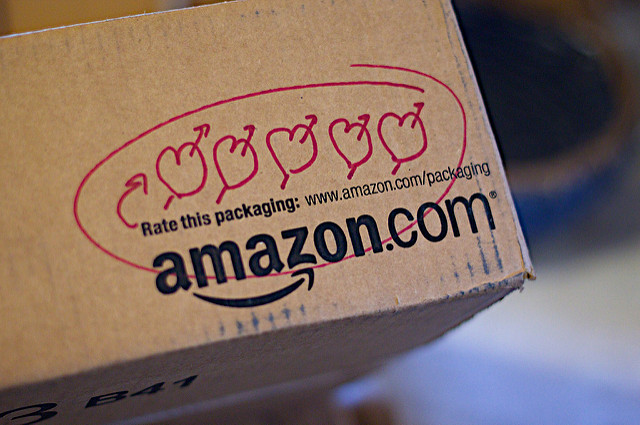 This article was first posted by Jacobin.
The modern economy revolves around the sprawling logistics industry. Nothing demonstrates this more clearly than the current situation at Amazon and UPS. If Amazon makes good on its recent pledge, it will add another 100,000 workers to its U.S. workforce by 2018, making it one of the country's largest—and one of the largest nonunion—employers.
The U.S. labor movement faces several existential threats right now, but Amazon's is a special kind. The company's breakneck expansion has revolutionized the logistics industry. Its impact is most deeply felt at United Parcel Service (UPS), the country's largest private-sector, unionized employer, with nearly 250,000 of its workers represented by the Teamsters.
UPS already lashes the Teamsters with the threat of Amazon undercutting the union's gains to justify the miserable wages paid to part-timers, impossible productivity demands, and the subcontracting of union work to non-union contractors. It will no doubt use the competition from Amazon to demand further concessions from the Teamsters during the next round of contract negotiations.
Teamsters United (TU), the reform challengers in last year's union election that nearly toppled the scandal-ridden and unpopular incumbent Teamster General President Teamsters James P. Hoffa, recently announced the launch of a new UPS contract campaign. Fred Zuckerman, TU's candidate for general president, told supporters, we "are going to have to fight for ourselves."
Such a campaign has the potential to take on the package giant, but it can also serve as a beacon for future activists among Amazon's rapidly expanding workforce. And if socialists in the United States can develop an industrial organizing strategy, we can play an important role in helping to organize some of the most powerful workers in this country.
Wednesday, Mar 29, 2017, 4:39 pm · By Kate Aronoff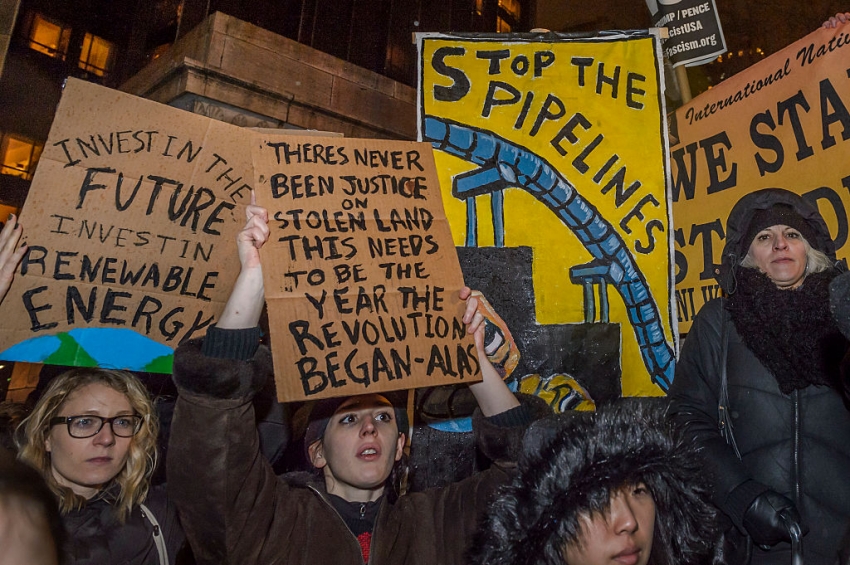 There's a right and a wrong way to debunk the right-wing myth about jobs and the environment. As a refresher, here are the basics of that myth: Jobs in the extractive industry are an invaluable engine of job creation and a key driver of economic growth. People concerned about the environment want to kill projects, like the Keystone XL and Dakota Access pipelines, that would provide jobs and help stimulate the economy.
If you're reading this, you probably already know that argument is wrong. Jobs in the U.S. clean energy industry—itself a very small sector—outnumber jobs in the fossil fuel industry 5 to 1, according to a recent report from the Department of Energy. What's more, renewable energy has the potential to create millions of jobs in the future, which would make that type of employment dwarf even the bloated jobs figures the White House cites in defense of fossil fuels.
But here's how not to dispel fossil fuel industry talking points: noting the disparity between part-time and full-time construction jobs. Since the Keystone XL's permit was approved by the State Department last Friday, a number of outlets—including those with a specifically environmentalist bent—re-upped a statistic that made the rounds before the project was squashed back in 2015, stating that the project will create just 35 permanent jobs. The State Department estimates that the Keystone XL pipeline will create some 42,000 direct and indirect jobs, 50 of which will be permanent. Fifteen of the 50 jobs are temporary contracts, leaving just 35 people with ongoing jobs maintaining the pipeline. This line of argument contends the fact that so few of these positions are permanent means that Trump's jobs argument is an elaborate rouse.
Here's the problem: All construction jobs are temporary. When you construct something, it is eventually built. Workers in the building trades might work on several projects in a given year, and part of what building trades unions do is set up the people they represent with projects.
Tuesday, Mar 28, 2017, 2:41 pm · By Bruce Vail
BALTIMORE – Baltimore Mayor Catherine Pugh dealt a shattering blow to the Fight for $15 campaign, vetoing a new minimum wage law passed overwhelmingly by the City Council just last week.
The effect was amplified as it quickly became clear that Pugh, a Democrat, had succeeded in lining up the votes necessary to prevent a threatened council override of her veto. Despite the fact that the minimum wage bill passed the council with the support of 12 of its 15 members—enough to override a veto—the solidarity of the pro-Fight for $15 members disintegrated under pressure. According to reports, several supporters of the higher minimum wage switched sides and are now pledging to sustain the mayor's veto.
Pugh's action represents a reversal from a promise she made during last year's mayoral campaign to sign a $15 minimum wage bill if passed by the council. That reversal is engendering bitterness from some minimum wage proponents.
"Catherine Pugh not only went back on this promise, but it tells us that everything she said (during the campaign) is in question," says Charly Carter, executive director of the pro-labor Maryland Working Families.