Tuesday, Oct 13, 2015, 2:34 pm · By Michael Gould-Wartofsky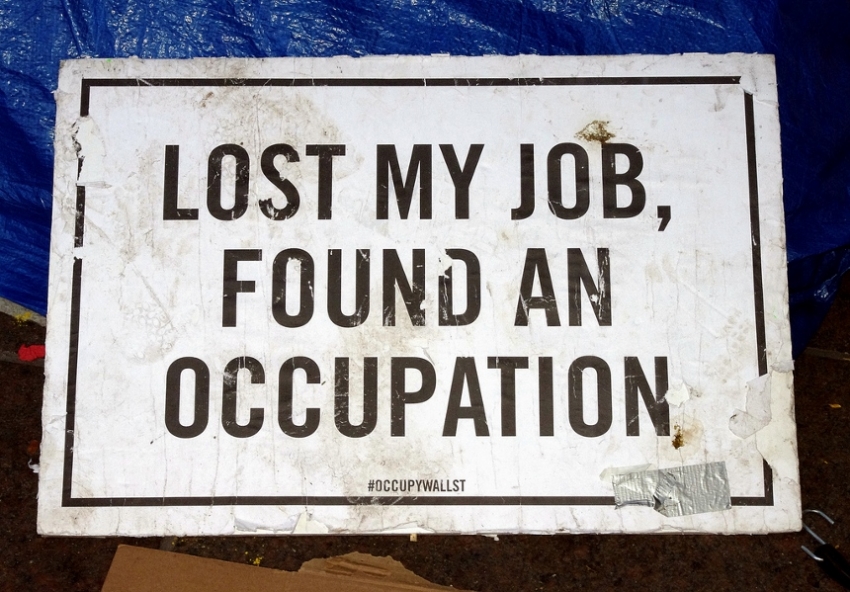 This is an excerpt from Michael A. Gould-Wartofsky's book The Occupiers: The Making of the 99 Percent Movement.
The 99 Percent movement was made, not only by occupying squares and getting arrested for it, but also by building bridges with the nation's embattled labor movement. It was the Occupy-labor insurgency that would help the movement pave a pathway from the political margins to the mainstream.
Since the financial crisis, millions of union workers had been targeted for cutbacks, layoffs, wage freezes, and furloughs. New York City employees had not seen a raise since 2009. Education workers had been faced with mass layoffs, school closures and bruising budget cuts. In the private sector, the concessions demanded were even more extreme. Verizon had sought to squeeze higher health care premiums and a pension freeze out of its workforce, triggering a fifteen-day, 45,000-strong strike against the telecom giant. But by the fall of 2011, organized labor had little to show for its trouble.
While the unions had sat out the initial phase of the occupation, some of the occupiers had set out to win them over. More than a few had union members in their families or in their networks of friends. Others had histories of student-labor activism or graduate student unionism. Still others had ties to white-collar unions like the Writers Guild of America East and the Professional Staff Congress, or to dissident tendencies within the teachers and teamsters unions. Together, they had formed the Labor Outreach Committee, sending "flying squads" across the city to support local union fights.
Tuesday, Oct 13, 2015, 1:23 pm · By Branko Marcetic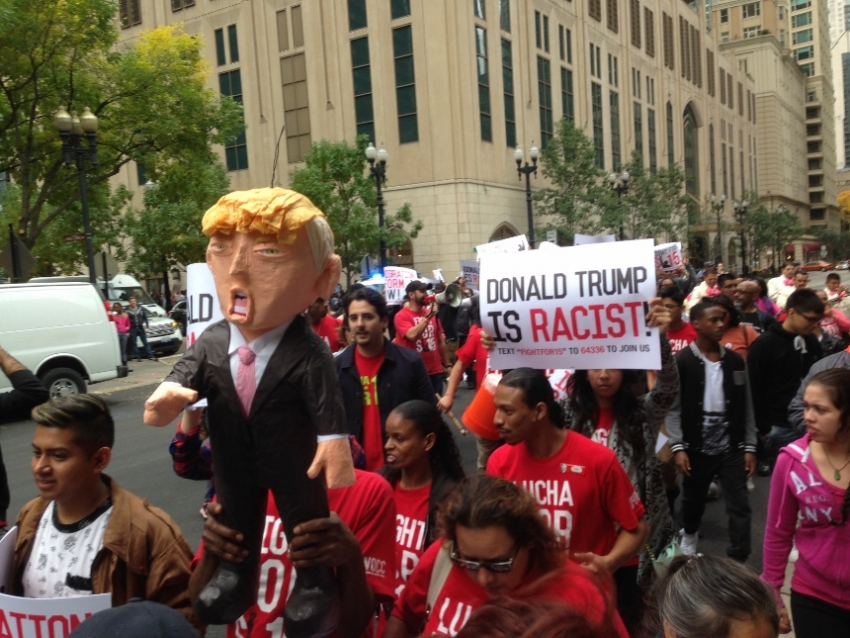 Two months ago, on a Chicago architectural boat tour, my tour guide joked to the audience while floating past the Trump International Hotel and Tower in downtown Chicago that they were looking at a building owned by the future president of the United States. His words were met with howls of laughter. Now, Donald Trump leads the Republican presidential field by a wide margin, and his candidacy is no longer a laughing matter.
Perhaps this is partly what animated more than 200 workers, students and activists who rallied on Monday at a carpenters union hall in downtown Chicago to protest what they say is overt racism and xenophobia in Trump's campaign, as well as to call for immigration reform.
Saturday, Oct 10, 2015, 3:19 pm · By Kari Lydersen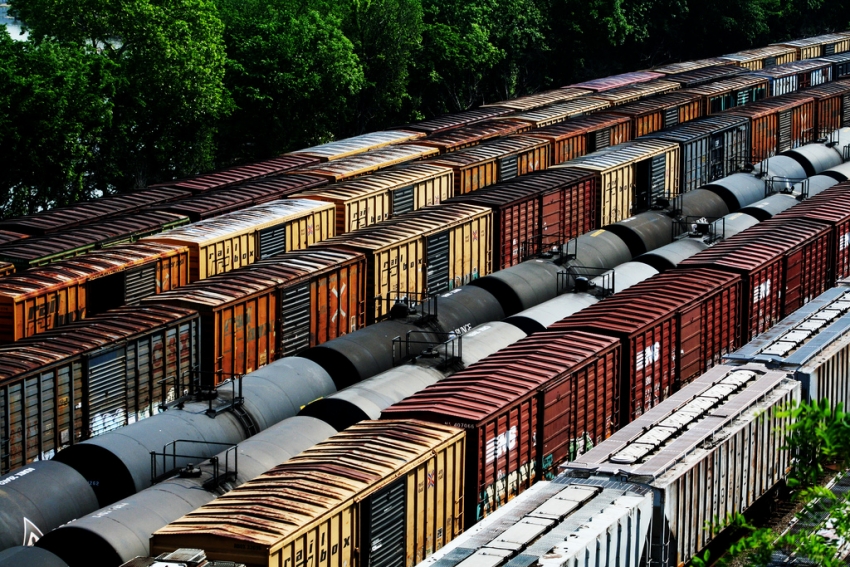 CHICAGO—Railroad workers from around the country and Chicago residents stood on an overpass on a recent bright September Sunday, watching a seemingly endless line of black tanker cars pass on the railroad tracks below. The train was likely carrying crude oil from the Bakken shale in North Dakota, judging by the red hazard placards on the cars and widely documented trends in crude oil shipment.
Chicagoans have become increasingly worried about oil trains carrying the highly explosive Bakken crude through the city, a major transport hub on the way to East Coast refineries. A conference hosted by the progressive labor group Railroad Workers United in Chicago Sept. 19 brought together railroad workers and local residents and train buffs to discuss how railroad workers' safety and labor rights issues dovetail with safety and environmental concerns for the larger public.
Thursday, Oct 8, 2015, 4:05 pm · By Bruce Vail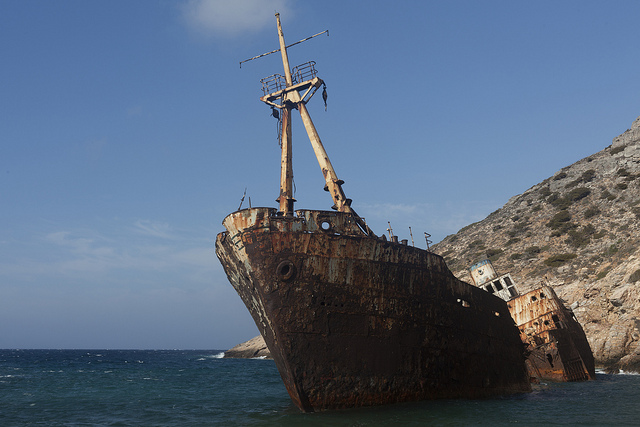 Search and rescue teams officially gave up hope yesterday after a failed five-day effort to locate 33 cargo ship workers lost at sea in the waters near the Bahamas. The sailors and other shipboard workers are presumed dead in the wreck of the U.S.-flagged commercial vessel El Faro, which disappeared October 1 in the high winds and heavy seas of Hurricane Joaquin.
The last voyage of the El Faro has already taken on the air of maritime mystery. U.S. Coast Guard teams were not only unable to locate any survivors, but are not even sure about the current location of the ship. U.S. Coast Guard Captain Mark Fedor stated officials believe it sank near its last reported position about 35 miles northeast of Crooked Island, the Bahamas, but the precise location has yet to be identified.
Among the lost seafarers are 28 members of the regular crew, all American citizens, and five Polish nationals, who had been hired as a temporary "riding gang" to do special maintenance work. They departed Jacksonville, Florida, September 29 for a regularly scheduled voyage to San Juan, Puerto Rico.
Another mystery has already been suggested by some family and friends of the crew: Were the deaths preventable?
Thursday, Oct 8, 2015, 1:23 pm · By David Moberg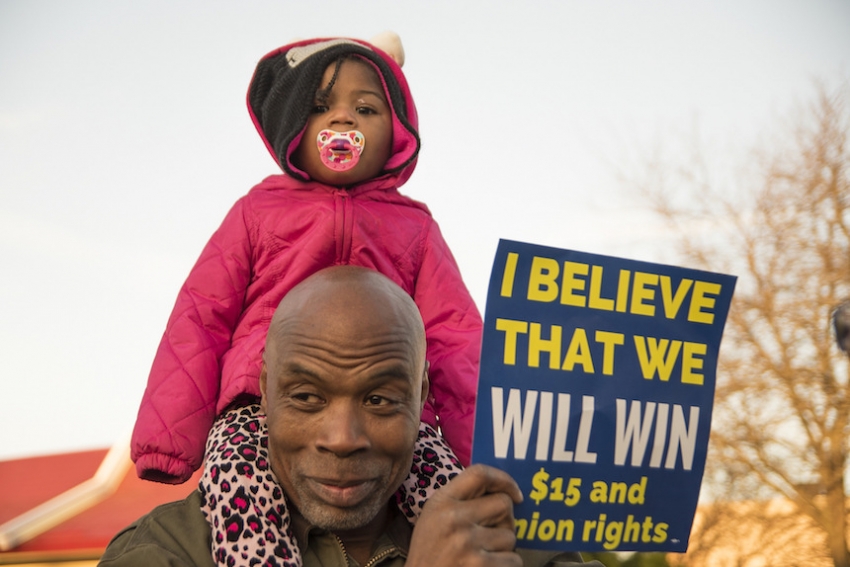 It's a safe bet that most working people would like a pay raise. They are also often reluctant to ask for one, let alone demand a doubling of their hourly rates.
Low-wage Americans—the 42 percent of workers making less than $15 an hour—know all too well that they don't just want more; they need more simply to survive at the lowliest version of the American standard of living. Increasingly, they are pressing their demands more forcefully, possibly inventing a new form of unionism as they persevere, organizers suggest.
This week, as the White House entertains a discussion of "worker voice," there is new evidence from public opinion polls, legislative proposals, public testimony and activity from Congress to city halls that the fight to empower and properly pay the workers in low-wage service jobs continues to grow.
Tuesday, Oct 6, 2015, 3:42 pm · By Mario Vasquez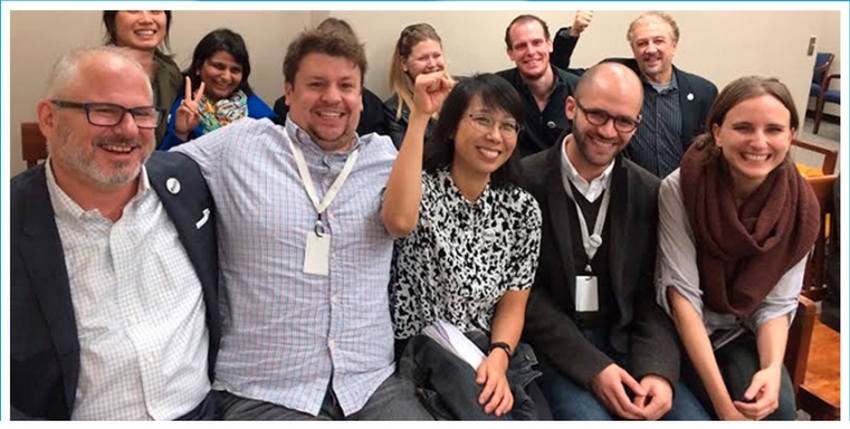 The unionization of digital media continues—now at Al Jazeera America (AJAM), after the National Labor Relations Board confirmed this morning that the news publication's digital workers voted 32-5 in favor of union representation under the NewsGuild of New York, an affiliate of the Communications Workers of America (CWA).
Tuesday, Oct 6, 2015, 1:32 pm · By Leo Gerard, United Steelworkers President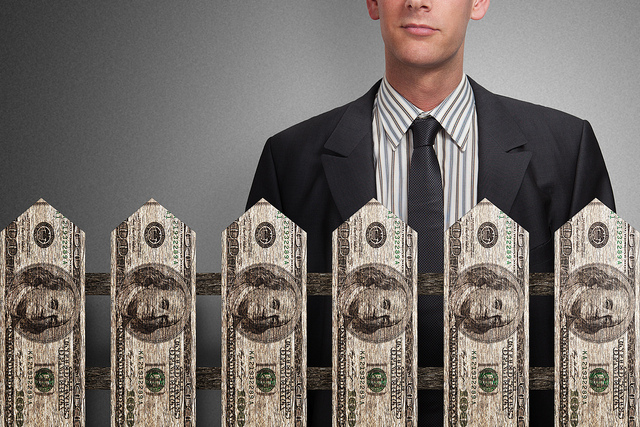 Republicans and the rich guys who imposed on American workers 35 years of stagnant wages now offer a prescription for easing this pain.
Their solution for robber-baron-level income inequality is not the obvious: Give workers raises. They don't want to increase the minimum wage, which would eventually push up pay for everyone else as well. They don't intend to provide paid sick leave or decent pensions or fewer unstable contract jobs. They have no intention of strengthening unions so workers can collectively bargain for better wages and working conditions.
Instead of any of those straightforward measures, rich guys and corporate-owned Republicans assert that the solution is more free stuff for corporations! The government, they say, should provide that free stuff. The government, the very organization they deride and despise and denounce as incompetent and deserving of nothing but cutting and shrinking and destroying! Yes, they actually contend that very same government should take the taxes paid by workers and give that money to corporations to improve worker wages and working conditions!
Monday, Oct 5, 2015, 6:19 pm · By Bruce Vail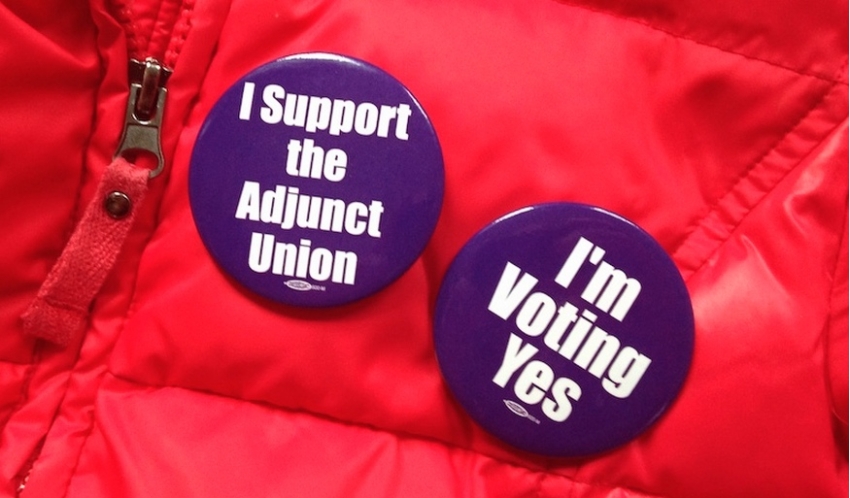 The national movement to unionize part-time faculty at U.S. colleges and universities has secured an initial beachhead in the Baltimore area with ratification of a first contract between Service Employees International Union Local 500 and the Maryland Institute College of Art (MICA). Voting on the ratification concluded in mid-September and a formal signing ceremony for the pact is set for October 8, labor representatives report.
It's the first union contract for any bargaining unit of part-time faculty, or adjuncts, in the city's greater metropolitan area, where thousands of such workers are employed at about a dozen similar private and public educational institutions. The overwhelming ratification vote of 91-7 came following a protracted contract negotiation initiated when a union organizing drive won collective bargaining rights for about 300 MICA adjuncts in April of last year.
Monday, Oct 5, 2015, 5:52 pm · By David Moberg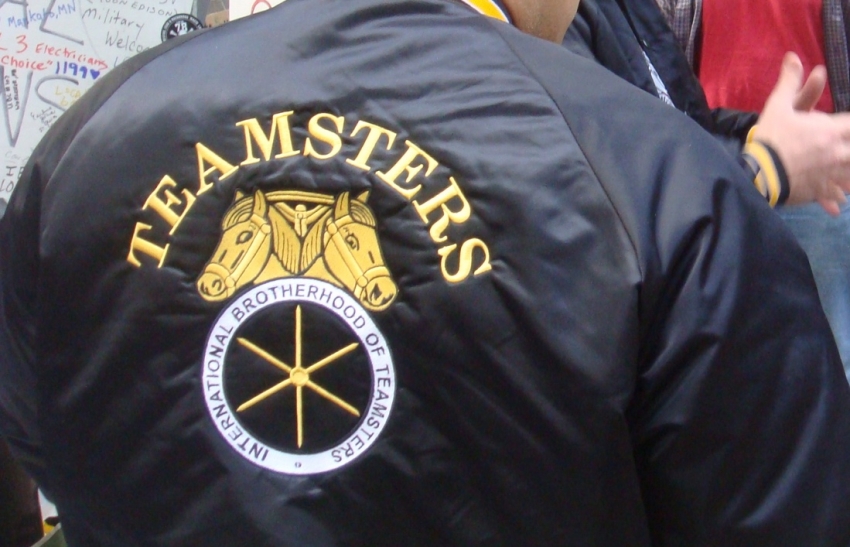 For several months, many current and retired truck drivers have feared receiving a letter in the mail that could be "devastating," in the words of Teamsters union vice-president John Murphy. Finally, last Friday, the Central States Pension Fund sent those dreaded letters to 407,000 workers and retirees, mainly Teamsters employed by hundreds of trucking-related companies with roots in the Midwest, South and East.
Each individualized letter told them in detail whether the fund will now cut their promised pension payments—and, if so, by how much.
Monday, Oct 5, 2015, 4:56 pm · By Branko Marcetic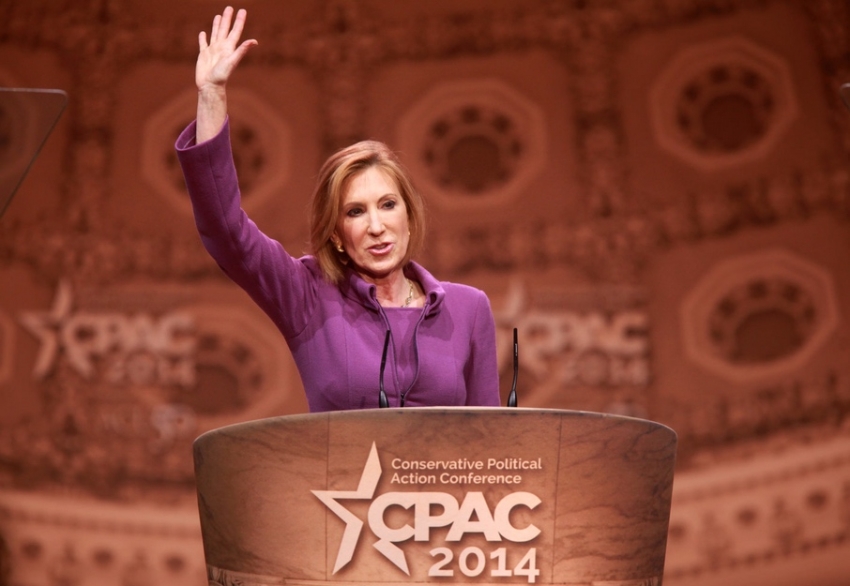 Carly Fiorina's presidential campaign is running largely on the back of her highly dubious business record as CEO of HP. While Fiorina claims to have single-handedly turned the company around, others say she was a stubborn and irresponsible leader who couldn't handle criticism and fired tens of thousands of people.
Turns out, however, that Fiorina might have even more in common with your least favorite boss—she also didn't pay her employees.