Thursday, Dec 24, 2015, 4:59 am · By Leo Gerard, United Steelworkers President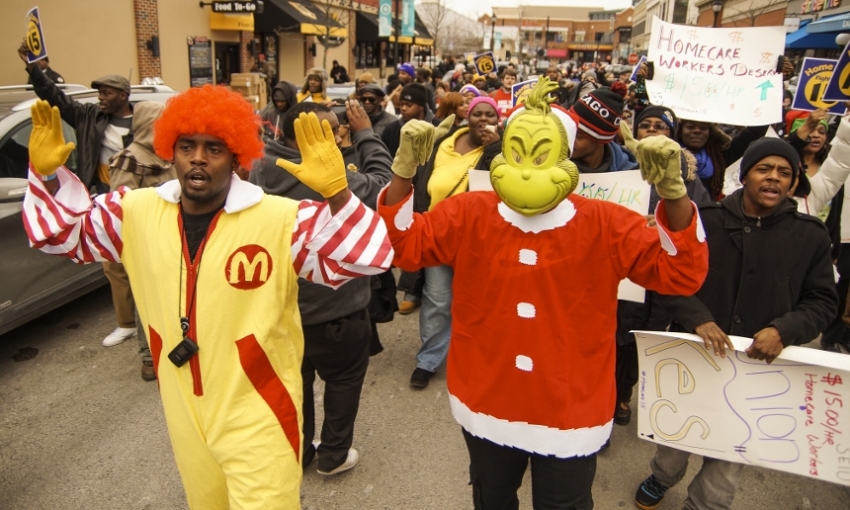 The spirit of the season is generosity. Eight toys for Hanukkah. A partridge in a pear tree and 11 other quirky presents. Black Friday. Cyber Monday. Giving Tuesday.
It's the thought that counts. And the thought is good-hearted. That's why the season works so well.
To keep it all rolling happily along, however, workers need to earn enough money so that they can afford gifts and charitable donations. With wages stagnant for decades, that's increasingly difficult.
In keeping with the figgy-pudding and potato latke traditions of the holidays, here's a recipe for delivering joy to workers so that they can spread holiday merriment:
Wednesday, Dec 23, 2015, 3:13 pm · By Abigail Savitch-Lew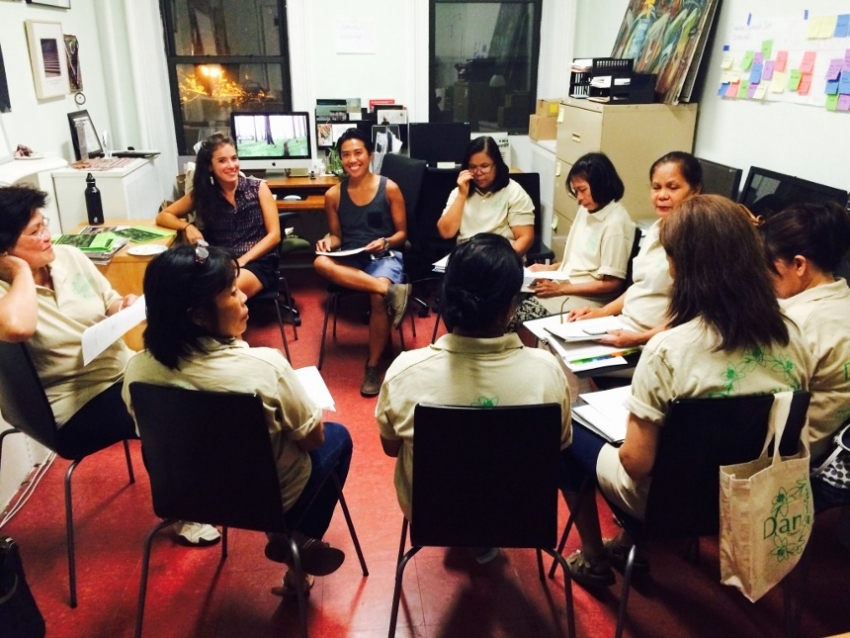 This article originally appeared in YES! Magazine.
In 2013, Judith Daluz was a nanny making $650 a week, waiting for her four children to arrive from the Philippines. With her hard-earned savings, she had started paying $1,500 a month for a one-bedroom apartment in the New York borough of Queens that she hoped would be big enough for all of them. She hadn't seen her children in years.
In 2006, Daluz had been trafficked to the United States as a domestic worker. Now, as a free, documented worker, she was able to bring her children to live with her—but worried about how she would support them.
Wednesday, Dec 23, 2015, 11:55 am · By s.e. smith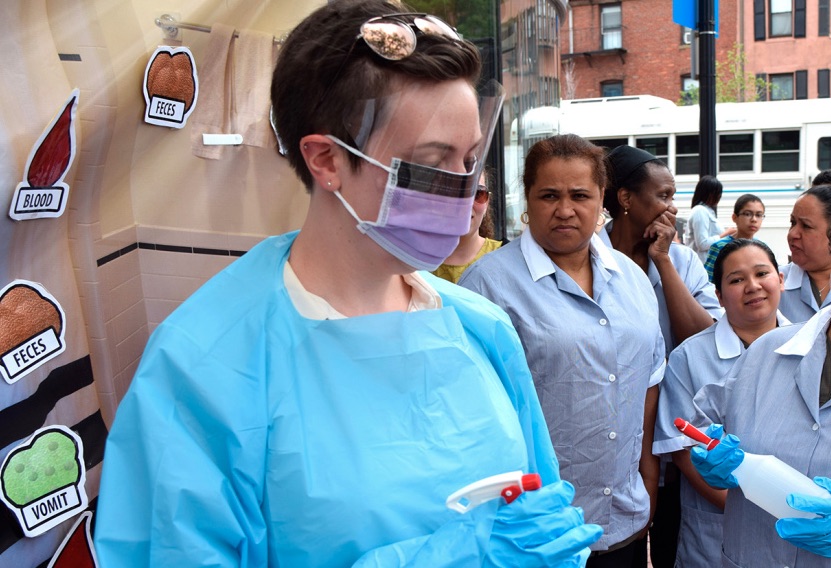 Boston is a city of hospitals, hosting some of the finest medical treatment facilities in the world for those seeking specialty care. Outpatients or those newly discharged, along with their families, need somewhere to stay, and that place is often a hotel — increasingly, a "hospital hotel," one of a growing number of hotel properties that advertise directly to hospital consumers.
For the hospitality industry, such facilities are a boon, with a steady supply of customers to counteract off-season drops in guest numbers. For workers, though, it's a different story, as hotel employees can encounter hazardous working conditions as a result of coming into contact with sick patients, and the debris they leave behind.
Wednesday, Dec 23, 2015, 6:00 am · By Jon Shelton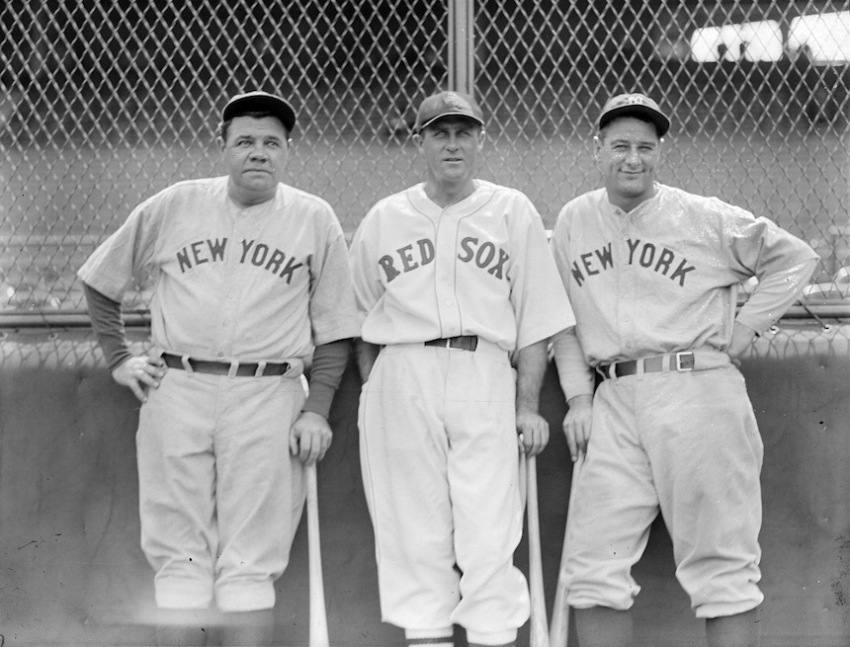 As every fan of Major League Baseball knows, we've officially entered "hot stove season." The hot stove is the time between the end of the World Series and the beginning of the next year's spring training. For devout baseball fans like me, it is an excruciating time of year because there is no action. Over the past generation, however, hot stove time has become a lot more interesting than it used to be. That's because of the advent of "free agency."
Monday, Dec 21, 2015, 11:17 am · By Branko Marcetic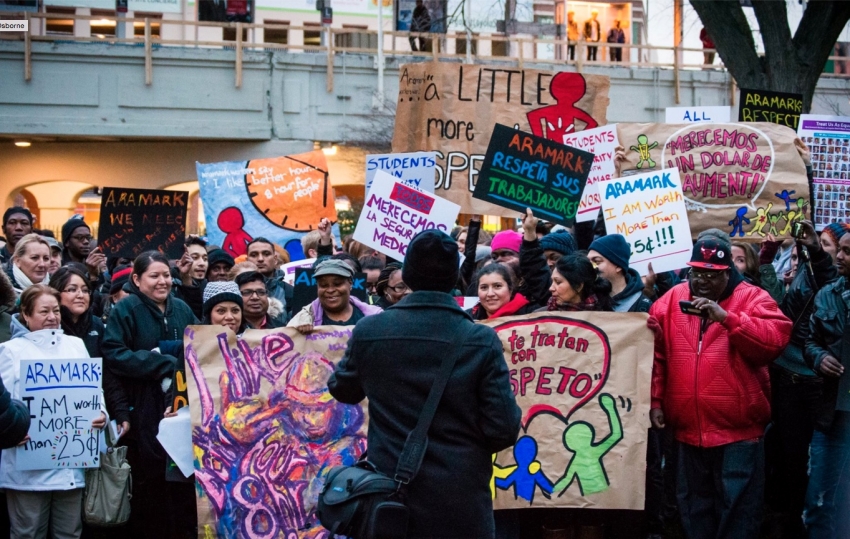 This piece has been updated with comments from Loyola's administration since its initial publication.
The "Jesuit Education" provided to students by Chicago's Loyola University has five characteristics. One, the school's website proudly states, is a "values-based leadership" that focuses on "personal integrity, ethical behavior in business and in all professions, and the appropriate balance between justice and fairness."
Yet four of the university's students say they are being punished for trying to push Loyola to live up to this credo. In recent months, Loyola students and workers have been waging a campaign for campus workers to receive a living wage, and for the administration to roll back what student activists say is a draconian demonstration policy, which requires students to request and receive approval from the Office of the Dean of Students for any on-campus protest not being held on the campus's Damen North Lawn three days prior. (A moratorium on several sections of that policy was recently declared by the university, though it isn't clear how long that moratorium wil be in effect.)
The four students—along with their student government, a sponsoring organization of the protest—are being charged with harassment of a staff member and disrupting the operations of a facility after participating in a protest with on-campus food service workers. Officially handed down on December 18, the charges were preceded by a lengthy period of limbo where the students were threatened with charges, but not officially charged, two of the student organizers of the protests told In These Times. If found guilty, they could be put on probation.
Thursday, Dec 17, 2015, 6:14 pm · By Toby Chow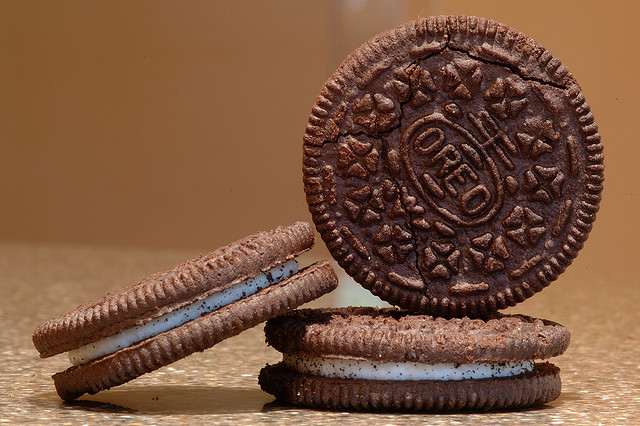 In a widely shared In These Times article from earlier this year, Marilyn Katz laments the news that Nabisco is closing down some of its production lines in Chicago and replacing them with new facilities in Mexico. Six hundred Chicago workers are losing their jobs as a result. Katz calls for a boycott of Oreos in protest of this "offshoring."
This article went viral among progressives, with many declaring they would join the boycott. But progressives are not alone. In an interview not long after Katz's article, Donald Trump also condemned Nabisco for moving manufacturing to Mexico and taking jobs away from Chicago workers. He, too, swears off of Oreos.
Thursday, Dec 17, 2015, 3:04 pm · By Steve Payne
Almost two months ago, I received an email from my international union, the Communications Workers of America (CWA), with a poll asking which candidate the CWA should support for president.
As a Sanders supporter, I was skeptical that CWA might endorse a democratic socialist calling for a political revolution. I filled out the poll and over the next couple of months I discussed it with my co-workers at the University of Memphis, several of whom also filled it out.
I was pleasantly surprised when on December 17 I saw that the CWA had decided to follow the lead of rank-and-file workers and endorse Bernie Sanders for president. The CWA endorsement came after an online poll of tens of thousands of members and worksite meetings showed a decisive majority of members supported Sanders.
Wednesday, Dec 16, 2015, 12:49 pm · By Leo Gerard, United Steelworkers President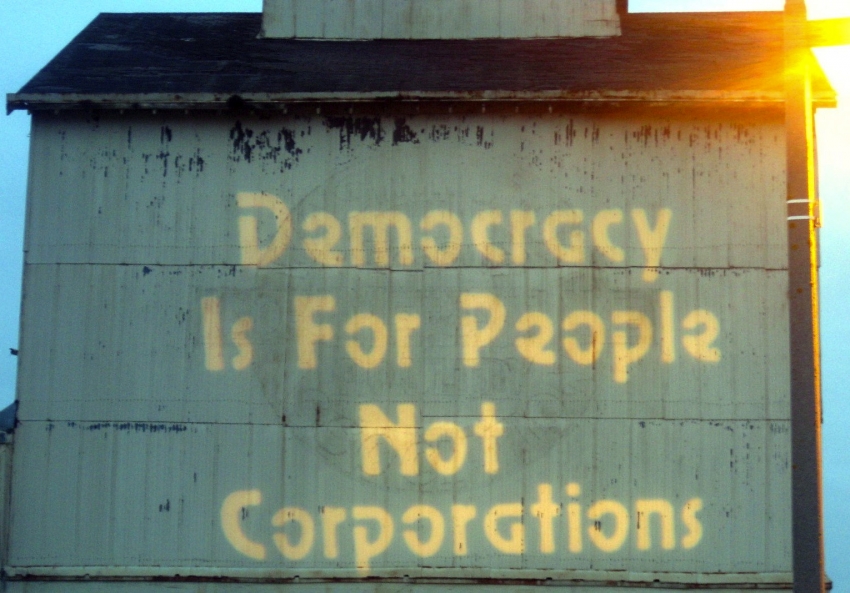 This post first appeared on USW.org.
Middle America is smoldering. For too long, average citizens worked harder and produced more, yet corporations cut pay and benefits, off-shored community-sustaining factories, killed family-supporting jobs and crushed opportunity.
GOP presidential candidate Donald Trump stokes that fire by urging Americans to blame anyone but corporations and corporate honchos like himself. one-percenter Trump and his fellow GOP candidates exhort average Americans to hate and fear Muslims, Syrian refugees, Black Lives Matter activists and undocumented immigrants.
This is a divisionary tactic. The intent is to split workers into small sub-groups so they lose strength in numbers. And it's a diversionary tactic. The ungodly wealthy like Trump, who have taken for themselves all the economic gains from increased worker productivity, finger someone other than one-percenters as the culprit for middle-class wage stagnation and provoke workers to fight among themselves.
Tuesday, Dec 15, 2015, 4:12 pm · By Elizabeth Grossman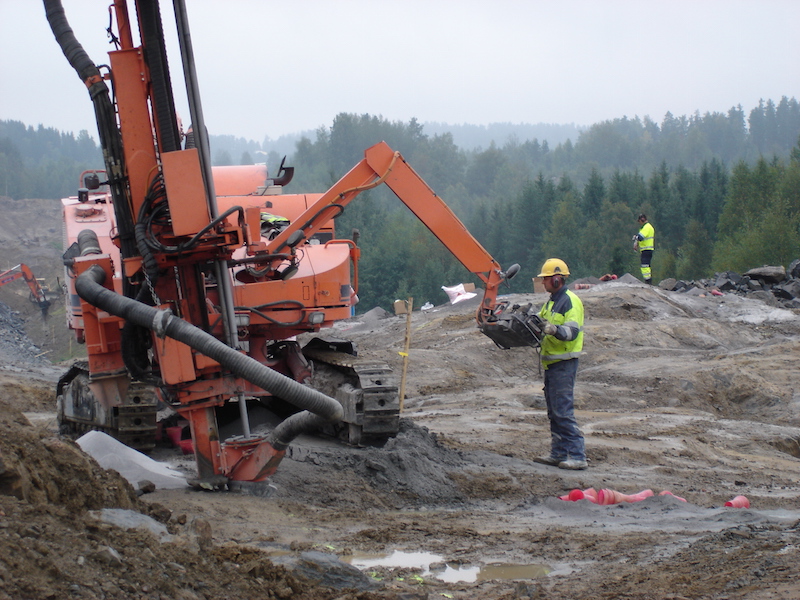 For the first time in 45 years, the U.S. Occupational Health and Safety Administration (OSHA) is poised to increase safety standards for worker exposure to the silica dust that can cause deadly and incurable lung disease. A rule that would cut in half the amount of silica dust to which most workers could be exposed—and limit levels further for construction and maritime workers—is expected to be finalized in February.
Tuesday, Dec 15, 2015, 3:43 pm · By Lauren Gurley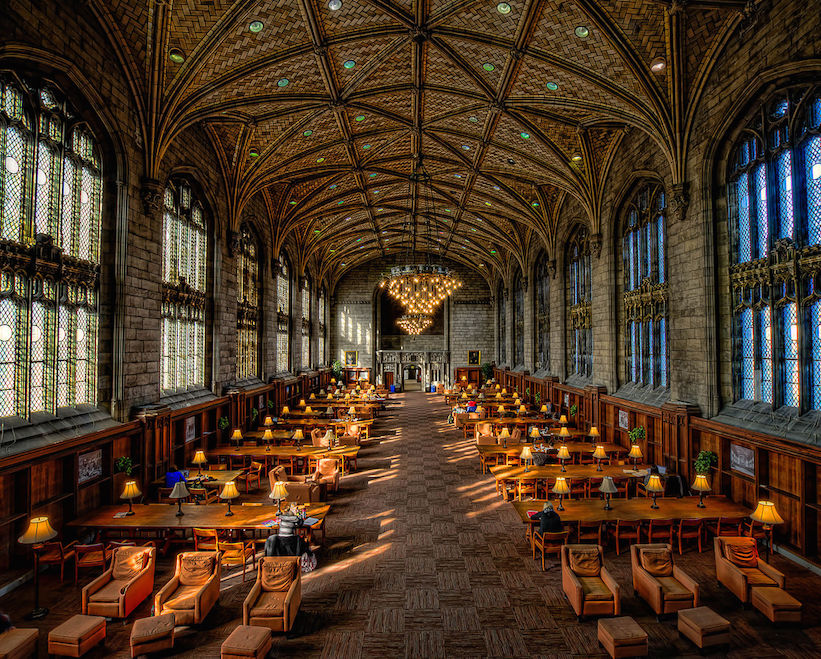 In a landslide election, University of Chicago non-tenure track faculty voted to form a union last week—becoming the first faculty to unionize in the Faculty Forward Chicago movement that has seen growing support at universities across the city.
On December 9, contingent faculty, largely representing the Humanities Division, voted 96-22 in favor of a bargaining unit that will be represented by Service Employees International Union's Local 73.