Friday, Oct 17, 2014, 6:34 pm · By Jordan McCurdy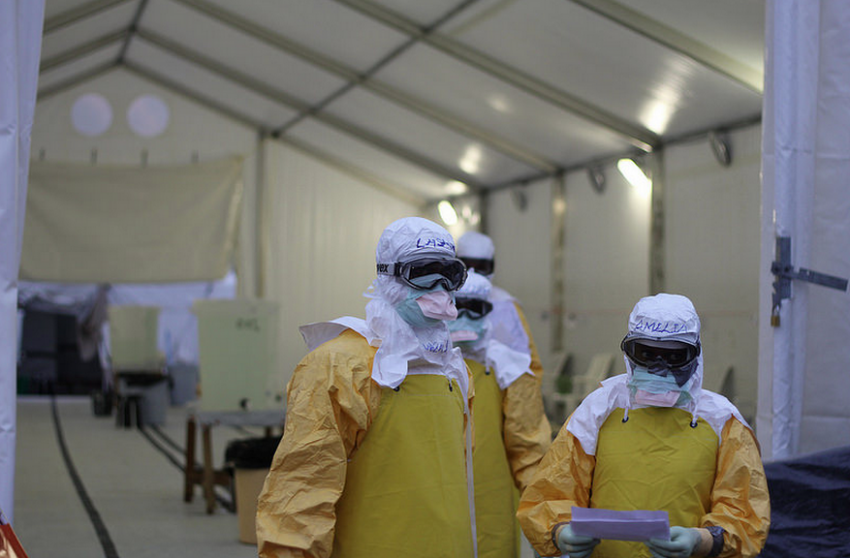 On Tuesday, National Nurses United (NNU) released a statement criticizing disease protocols at Texas Health Presbyterian in Dallas—the same hospital where Thomas Eric Duncan died of Ebola and where two of Duncan's nurses, Nina Pham and Amber Vinson, contracted the disease.
This outbreak, according to Dr. Tom Friedman, head of the Centers for Disease Control and Prevention, resulted from a breach in protocol and could have been prevented.
Friedman's statement infuriated nurses from Texas Health Presbyterian, according to the union, prompting RNs to contact the NNU in order to anonymously call attention to the hospital's inept training and general preparation regarding Ebola protocol. Union officials read the nurses' statement on Tuesday, outlining the alleged flaws and absence of procedures on the day Duncan was admitted to the emergency room with severe symptoms.
Friday, Oct 17, 2014, 1:35 pm · By Marina Fang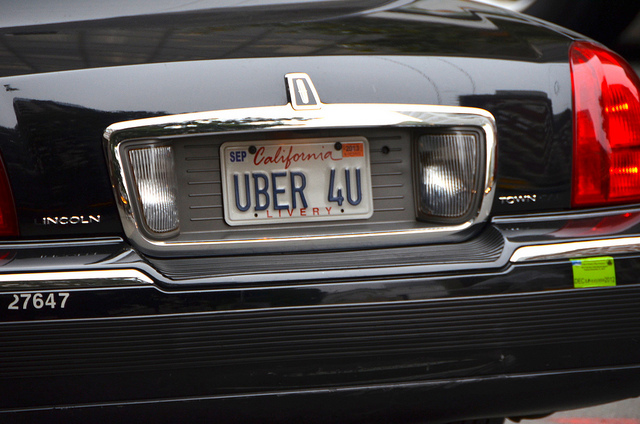 An Uber driver was briefly fired by the company on Thursday for tweeting a semi-critical comment about the company before a social media firestorm that may have helped convince the company to bring him back.
As reported by Gawker, Christopher Ortiz received an email from a company operations manager informing him that his account was "permanently deactivated due to hateful statements regarding Uber through Social Media."
Friday, Oct 17, 2014, 7:00 am · By Cole Stangler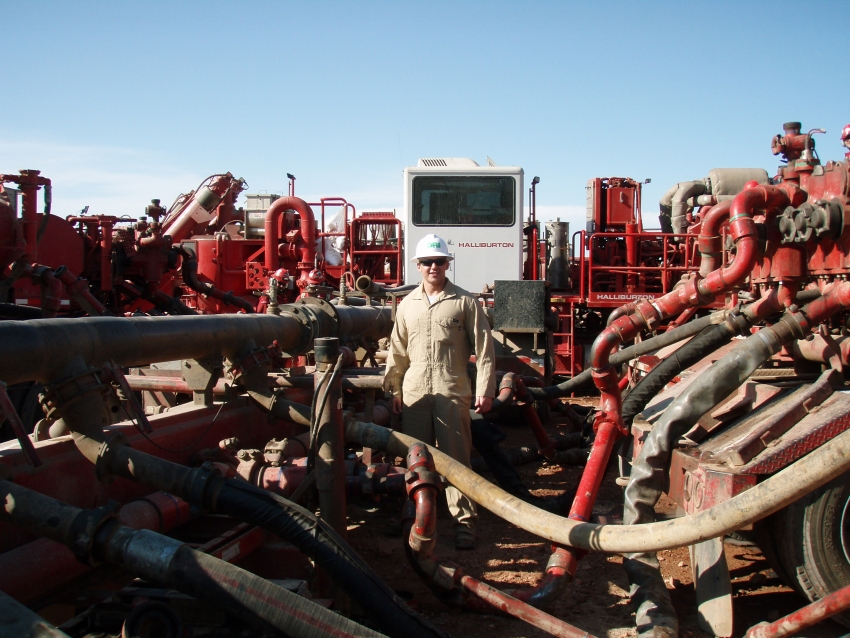 In its quest for jobs, the Building and Construction Trades Department (BCTD) of the AFL-CIO hasn't shied away from taking on environmentalists and progressives. The latest flashpoint is fracking, the controversial drilling practice propelling the nation's fossil fuel energy boom.
On this issue, public tolerance is waning, but the trades unions aren't backing down.
Thursday, Oct 16, 2014, 3:00 pm · By Zaid Jilani, Alternet
Reprinted with permission from AlterNet.
Walmart is a wildly successful company. Its "corporate fact sheet" online boasts that for "the fiscal year ended January 31, 2014, Walmart increased net sales by 1.6% to $473.1 billion and returned $12.8 billion to shareholders through dividends and share repurchases. Walmart ranked first on the 2014 Fortune 500 list of "the world's largest companies by revenue."
Yet despite the retail behemoth's growing financial prosperity, which greatly benefits the company's shareholders, executives and especially the Walton family, the company has now decided that poverty wages are not bad enough for its employees. It will also cut their benefits. Walmart just announced that it will both be cutting health care coverage altogether for 30,000 part-time employees (about 2 percent of its workforce) while increasing the premiums paid by its other employees. The size of the premium increases is significant—biweekly premiums for its lowest-cost employee plans will rise 19 percent from $3.50 to $21.90.
Walmart's latest move on health care is just the latest in its crusade to build a business empire based on cheap labor, one where even full-time workers need food stamps to survive. It is notorious for suppressing employee rights, going as far as to shut down entire stores that have unionized. In 2013, a Congressional report estimated that Walmart's failure to provide decent wages and benefits could cost taxpayers as much as $900,000 per store thanks to government provision of food stamps and other aid. Chances are that number will increase now.
Thanks to all this, the Waltons, the Walmart heirs, have more wealth than the bottom 40 percent of Americans—estimated at $102.7 billion in 2012.
Thursday, Oct 16, 2014, 1:15 pm · By Marina Fang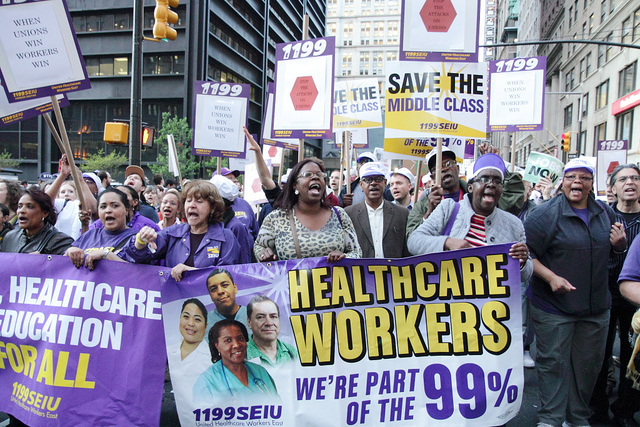 A prominent progressive union in New York is throwing its support behind a few influential Republican state senators.
According to the New York Post, 1199SEIU United Health Care Workers East donated $6,500 to State Sen. Dean Skelos, who leads the Republican majority in the state legislature. In addition, it either endorsed or contributed money to three other Republican state senators, one of whom heads New York's Senate Republican Campaign Committee.
The health care workers union is also working to try to turn the GOP-controlled State Senate Democratic in November's elections—a goal that seems at odds with donating money to four Republican state legislators.
Wednesday, Oct 15, 2014, 3:10 pm · By Leo Gerard, United Steelworkers President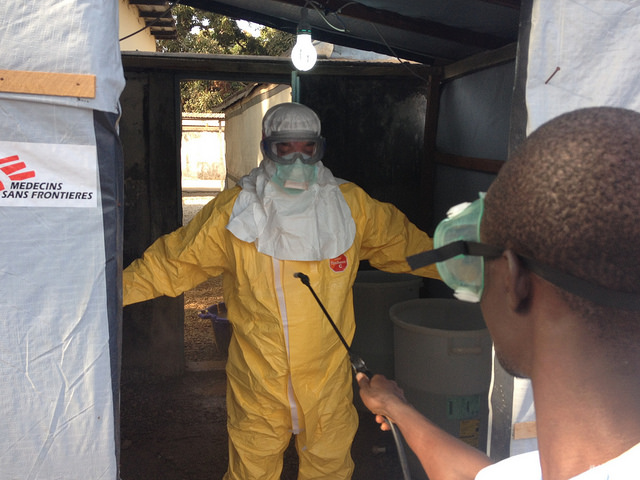 Republicans have adopted a Halloween-themed campaign strategy that they hope will incite voters to run screaming from Democrats.
The GOP message: Americans should be very, very afraid because the homeland is under attack from ghouls and goblins manifest as Ebola and ISIS. Republicans even threaten boogeymen in the form of ISIS suicide agents strapping themselves with Ebola virus vests and sneaking across the southern U.S. border.
This embrace of Halloween tricks is not surprising from the party pushing voter suppression while masquerading as a democracy-loving founding father. The GOP is warning Americans that they should be scared witless of impending government disintegration because a guy with a knife got into the White House. This "caution" comes from the political party that favors government disintegration. Republicans have, after all, repeatedly shut down government and announced their intention to drown it in a bathtub. Republicans want America to summon the GOP to save the day, like it's the political version of Ghostbusters. Most Americans, though, see right through the GOP, like it's a gooey glob of ectoplasm.
Wednesday, Oct 15, 2014, 1:30 pm · By Rebecca Burns
For three years in the early 1970s, journalist Studs Terkel gathered stories from a variety of American workers. He then compiled them into Working, an oral-history collection that went on to become a classic. Four decades after its publication, Working is more relevant than ever. Terkel, who regularly contributed to In These Times, once wrote, "I know the good fight—the fight for democracy, for civil rights, for the rights of workers—has a future, for these values will live on in the pages of In These Times." In honor of that sentiment and of Working's 40th anniversary, ITT writers have invited a broad range of American workers to describe what they do, in their own words. More "Working at 40" stories can be found here.
In the 1970s, communications professor Jack Hunter told Studs Terkel that his was an "invisible industry." "Since the Second World War," Hunter explained, "We've had phenomenal growth. There are seven-thousand-plus strong teachers in this discipline." The centrality of communication and persuasion to human society meant that "communications specialists do have a sense of power," said Hunter. He was "high on the work."
Forty years later, Maria (a pseudonym), who until recently taught English composition classes at a Texas community college, similarly describes her work as invisible. But she does not have the same sense of power—as an adjunct professor, she says that she is treated as disposable, even though her work teaching incoming students communication skills is still just as crucial. Maria says that drastic changes have occurred in higher education since Hunter's day—most notably, tenure-track faculty now constitute just 24 percent of the higher education workforce, according to the American Association of University Professors.
Before I started as an adjunct, I was in publishing for 20-odd years. A long time ago, I was getting my Ph.D, and I had finished everything but my dissertation. I had gone out for a job, and I was in the final group out of three hundred applicants, but I was pregnant at the time and they didn't pick me. So I went into publishing. But I always loved teaching, and when my kids grew up, I knew I wanted to go back into it.
Wednesday, Oct 15, 2014, 10:44 am · By Michael Arria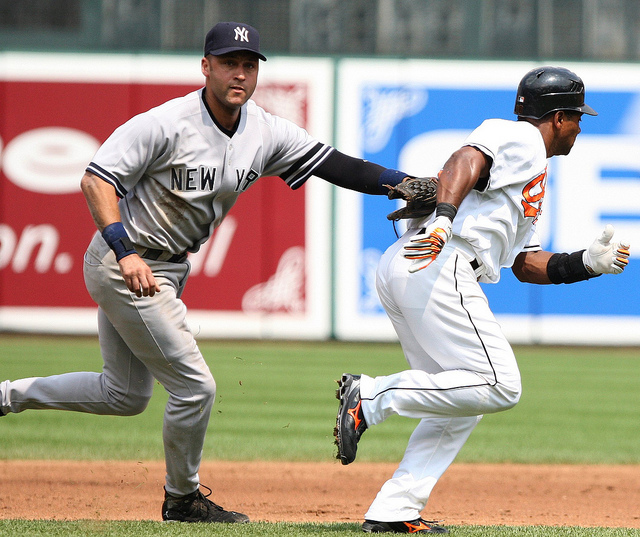 With Yankee shortstop Derek Jeter's retirement, the end of the Kansas City Royals' lengthy playoff drought, and the yearly shift to the playoffs, Major League Baseball has seen an increase in national coverage lately, despite the NFL's numerous scandals swallowing up the bulk of most sports segments. The uptick in attention stands in contrast to the more commonly-held perception that baseball's popularity and cultural impact are dwindling.
The key numbers in assessing the MLB's economic fortunes are its television revenues: according to an anonymous source who spoke to Forbes at the end of 2013, professional baseball took in between $8-$8.5 billion last year. In the last 18 years, the league's gross revenue has increased by around 264 percent. The average MLB team is now worth around $811 million, a 9 percent increase from last year.
Tuesday, Oct 14, 2014, 4:30 pm · By Will Craft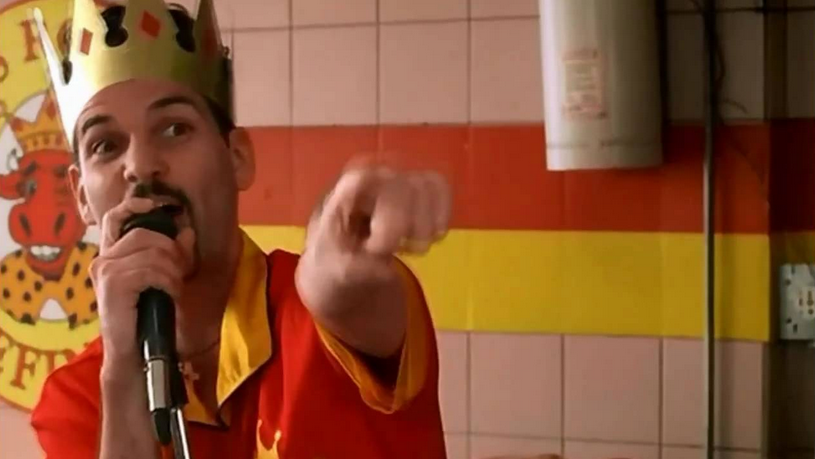 Fast food worker is often considered the archetypal crappy, dead-end job. But along with its low pay and less-than-stimulating working conditions, the industry has traditionally been a place where a fed-up worker could exit and re-enter with relative ease.
Not so at Jimmy John's. The fast-food sandwich restaurant is trying to prevent workers from finding other jobs in the industry after they leave the company.
Tuesday, Oct 14, 2014, 1:14 pm · By Arun Gupta
I was pleased to learn in late September of Politico's plans to launch a labor reporting desk—I am of a "more the merrier" mindset when it comes to journalism, especially on a topic so underreported as labor.
Politico apparently sees money to be made in labor journalism, even as this vital beat fades in newsrooms across the country. According to the Huffington Post, "Politico's market research suggested that stakeholders in government, lobbying and Fortune 500 companies were looking for the 'nitty-gritty' details of labor policy." "Labor and Workplace Policy" will join Politico's portfolio of 13 other "Pro Verticals," paywall-protected sections that cover single topics like education, transportation, technology and the military. Subscriptions to the verticals can run into the thousands of dollars, the HuffPost says.