Saturday, Apr 26, 2014, 12:47 pm · By Yana Kunichoff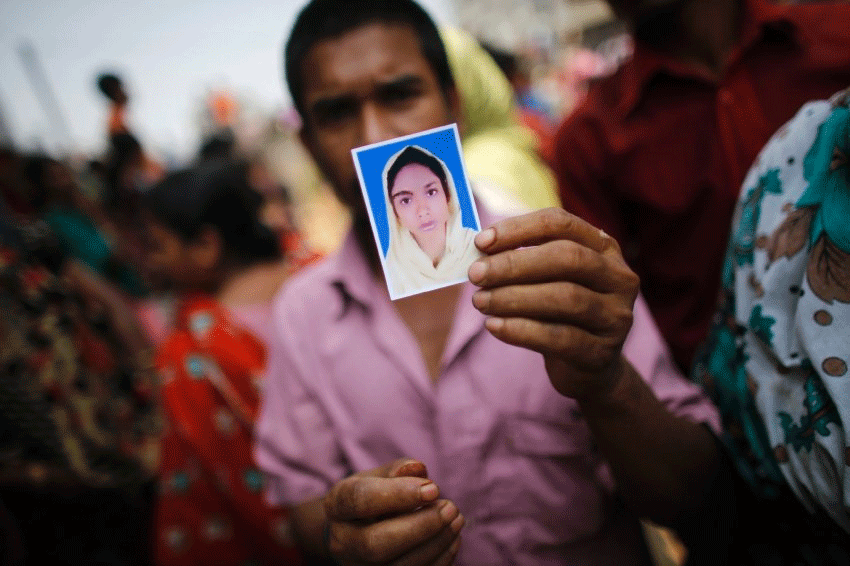 On the one-year anniversary of the deadly collapse of Rana Plaza, an eight-story factory in Bangladesh—one small component of the multi-billion dollar global garment industry—labor groups around the world are taking to the streets, chanting "never again." In Bangladesh, family members of the over 1,100 garment workers killed joined former workers and protesters outside the site of the collapse, while activists in London formed a human chain on the city's busiest shopping street to urge local retailers to be more transparent about working conditions in their supply chains.
In the year since the collapse, advocates say they have successfully shifted the conversation about responsibility for factory production conditions to the multinational corporations themselves—such as Benetton and Nordstrom, both of which had tags found in the Rana Plaza wreckage. The groups have also begun to facilitate a dialogue around the ways in which corporations profit from low wages and corner-cutting on safety for the production of the cheap, fashionable clothes they peddle.
Friday, Apr 25, 2014, 6:30 pm · By Alex Lubben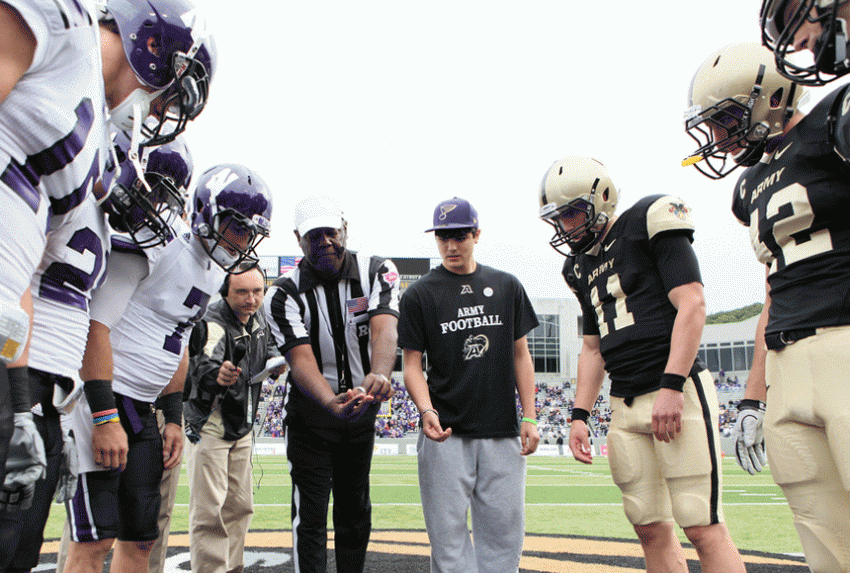 The Northwestern football team's union drive has garnered national press attention since Kain Colter announced that he and the Wildcats would seek representation from a players union in January. And the media aren't the only ones paying attention—college sports' "powers that be" are also taking notice.
On the eve of Northwestern's union vote, which took place this morning, the NCAA expanded meal coverage for all athletes in what seemed to be an attempt to curry favor with players. Now, both scholarship athletes and walk-on players are entitled to receive unlimited meals and snacks; only athletes on full scholarship had previously been provided three meals a day or a food stipend.
But the impact of the Northwestern Wildcats' imminent union vote is being felt far beyond the NCAA. Legislators in Ohio inserted a terse clause in the budget they passed last week stipulating that college athletes in their state cannot be considered university employees. Meanwhile, Connecticut legislators have come out on social media—largely in response to a widely publicized comment made by UConn basketball star Shabazz Napier that he sometimes goes to bed "starving" while playing for the school's Huskies—pledging to help athletes at their state schools organize.
Friday, Apr 25, 2014, 12:34 pm · By Bruce Vail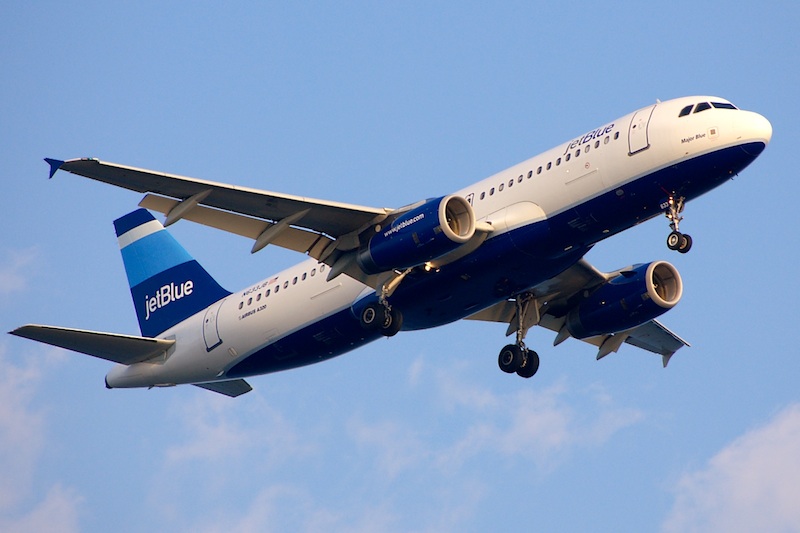 A union organizing campaign among some 2,500 pilots at JetBlue Airways won a big victory this week after the votes were counted in an election that will bring in the Air Line Pilots Association union (ALPA) to represent the JetBlue aviation workers.
The final vote was 1,734 in favor of ALPA, 56 write-ins for other unions and 639 opposed to unionization, for a pro-union total of 74 percent, according to the union. Turnout was unusually high, says one union organizer, with more than 95 percent of the 2,543 eligible pilots taking part in the National Mediation Board-supervised election.
But the vote also represented a broader victory for organized labor, because it is the first time a union has won an election at JetBlue since the growing company began operations in 2000.
Thursday, Apr 24, 2014, 6:20 pm · By Kari Lydersen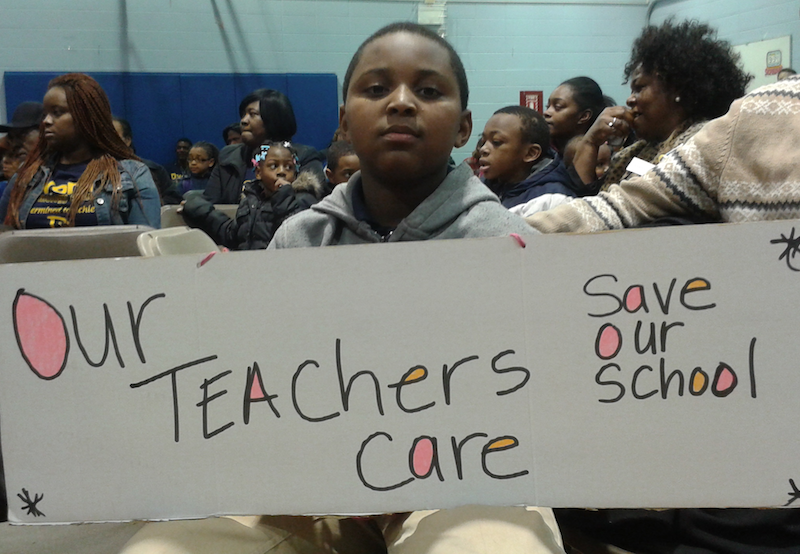 The Chicago Board of Education's vote on Wednesday to convert three public elementary schools into "turnaround schools" run by the non-profit Academy for Urban School Leadership (AUSL) was no surprise to most parents and teachers.
The board has consistently voted to close schools or turn them over to private management—laying off most of the staff in the process—despite overwhelming opposition, anxiety and outrage expressed in heartfelt testimony by parents, teachers, students and elected officials at scores of public meetings.
While the concept of turnaround schools was first instituted under former Mayor Richard M. Daley, critics see the use of turnarounds as a signature of Mayor Rahm Emanuel and his aggressive privatization agenda. Parents and experts framed the recent vote as part of a larger trend wherein Emanuel, who appoints the school board, has disregarded public opinion to push through his privatization plans. The mayor has met more resistance from the teachers union and parents, however, than he may have expected. He was widely seen as "losing" the standoff with the teachers union that culminated in their seven-day strike in 2012 and a new contract for the teachers. Schools CEO Jean-Claude Brizard, a prominent proponent of charter schools and privatization, resigned in the wake of the strike.
Even before the April 23 meeting, the board members should have been well aware that public sentiment stood firmly against "turning around" McNair Elementary, Gresham Elementary and Dvorak Technology Academy, all of which are in predominantly African-American neighborhoods. During public meetings at each school in recent weeks, community members berated AUSL officials, calling them "traitors" to the Black community, and pleaded with them to save the jobs of the principals and teachers. The tenor of these meetings echoed scores of hearings held about the plan to close almost 50 public schools in 2013. It was evident this month that to many parents and students, being "turned around" is nearly equivalent to being closed. While the school remains open after a turnaround, students and parents said that without the teachers and staff that they have grown to know and love, the school isn't the same.
Thursday, Apr 24, 2014, 12:13 pm · By Spencer Woodman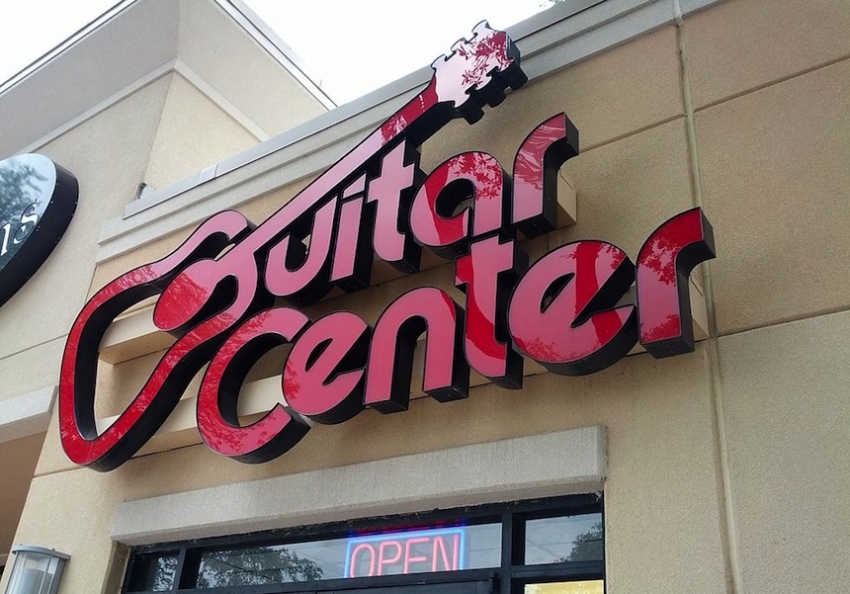 After a year of fierce opposition to a union campaign seeking a fairer pay structure for workers, In These Times has learned that the private equity-owned retailer Guitar Center plans to implement a radical shift in the way it compensates its workers: It will replace its much-reviled sales commission system with a far more straightforward protocol of hourly pay. Guitar Center, the country's largest retailer of musical instruments, says that the shift will not only clarify payment for its more than five thousand sales associates, but also includes a commitment that every single Guitar Center employee will earn above minimum wage beginning this September.
The Retail, Wholesale and Department Store Union (RWDSU) calls the policy shift a major victory for its organizing effort, focusing on Guitar Center stores. The union believes that the company is seeking to appease frustrated workers in order to keep more of its stores away from union organizers.
After Bain Capital acquired Guitar Center in 2007, workers began complaining of declining standards, including lower commissions from one year to the next. Since last May, employees at three Guitar Center stores around the country voted in favor of union representation with RWDSU.
The union's efforts met fierce opposition from Guitar Center management, which insists that its workers would be better off without the involvement of labor groups. The union also accused Bain Capital of deploying excessive aggression, even illegal tactics, in its past efforts to thwart union organizing. In one successful Chicago union drive employees accused Guitar Center management of threatening to shutter their entire store if the union won, an potential violation of federal labor law. Guitar Center rejected the claim, and intimated that the union had disabled one of its supporters' vehicles on the day of the union vote.
Thursday, Apr 17, 2014, 4:29 pm · By Rebecca Burns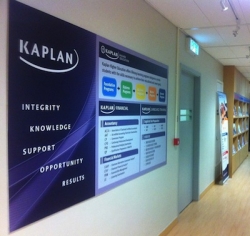 Teachers at three Manhattan-based English language schools run by Kaplan, Inc. have won their first union contract with the corporation, breaking new ground in efforts to organize the booming for-profit education sector. In 2012, teachers at the three Kaplan International Center New York (KICNY) facilities became the first employees of private English as a Second Language (ESL) schools in the United States to unionize, but they have struggled since to settle a collective bargaining agreement. On Wednesday, they voted to adopt a contract that includes wage increases and greater workplace protections.
For-profit education "is an industry that's notorious for low pay and no or few benefits," says Bill O'Meara, president of the Newspaper Guild of New York, which represents the New York Kaplan teachers. "This initial contract is an important achievement in their working lives."
In a statement sent to In These Times via e-mail, a Kaplan spokesperson said: "We believe that the two-year agreement ratified yesterday by the New York Newspaper Guild, covering approximately 65 teachers working at Kaplan's three New York City ESL schools, is balanced and reasonable. It offers wage and benefit improvements to the teachers in New York. And it provides these Kaplan International Centers with the continued flexibility to operate their business in a way that best serves the interests of its students and will enable KIC to continue to provide jobs in the competitive New York ESL marketplace."
The New York City teachers who voted to unionize in 2012 were the first Kaplan employees in the United States to do so. Paul Hlava, an English teacher at KIC's Soho campus, says this quickly produced a ripple effect: Kaplan ESL instructors across the country received raises in what the union believes was an attempt to dissuade other schools from organizing. Meanwhile, says Hlava, the New York teachers were "stonewalled" as they fought for these same improvements for themselves.
Wednesday, Apr 16, 2014, 10:45 am · By Roger Bybee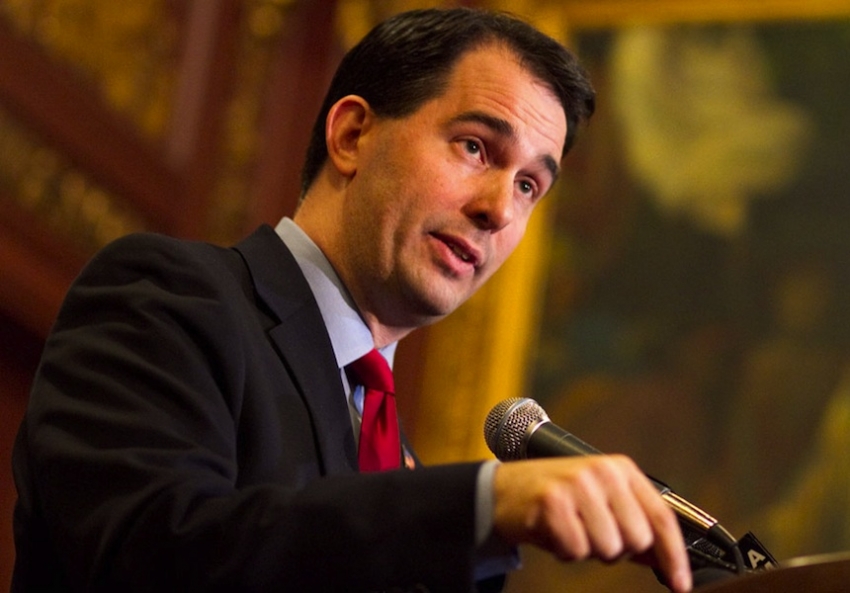 Three years ago, Wisconsin Gov. Scott Walker first dropped what he called a "bomb," one that suddenly and swiftly decimated the union rights of public employees. Walker's legislation, Act 10, ignited outrage from unions and their allies, fueling a massive effort to recall the governor, which came to fruition with a recall vote in June 2012.
Walker prevailed in the recall, but the process left behind a resentful segment of the public. Today, the fight against Walker and his anti-worker policies is picking up steam with an electoral challenge from Democratic businesswoman Mary Burke, and a labor campaign to support Burke and highlight Wisconsin workers' lagging wages.
Surprisingly, the relatively unknown Burke—who opposes Walker on nearly every issue—matched the incumbent governor 45 percent to 45 percent among likely voters in a recent survey by the right-leaning Rasmussen polling group announced March 12. A March 26 Marquette University poll was not quite as encouraging, showing a 48 percent to 41 percent lead for Walker over Burke, though it underscored that Burke has made inroads even before becoming well-known around the state (and releasing her economic program countering Walker's). And given Walker's gubernatorial record, there will be plenty for Burke to criticize him on in the impending campaign season.
Wednesday, Apr 16, 2014, 10:10 am · By Kari Lydersen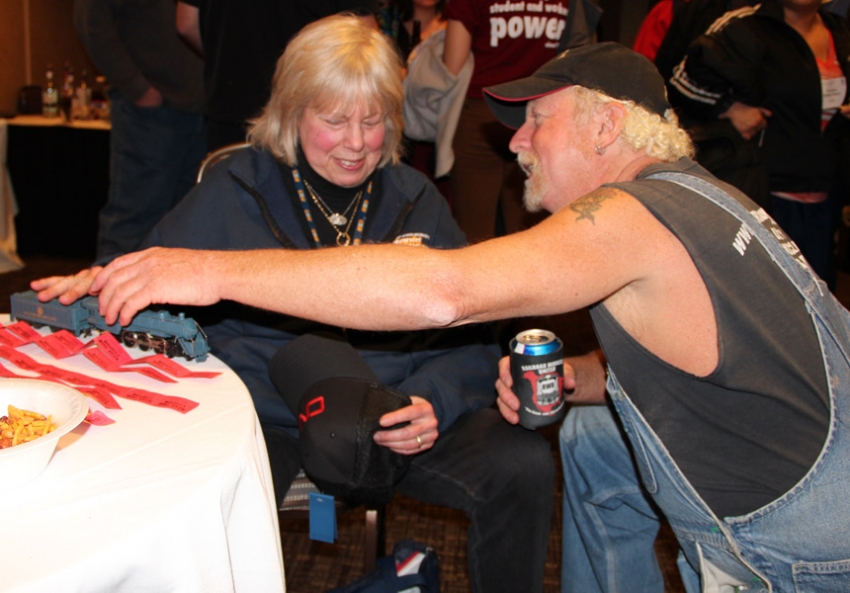 Chicago is known as the place where the nation's railroads meet. And last weekend, the city also became the meeting spot for about 40 of the country's most progressive and activism-driven railroad union workers when it hosted the biennial conference of Railroad Workers United (RWU), an independent labor organization founded in 2008 that includes members of the major rail unions, Industrial Workers of the World (IWW) and other labor groups. Their gathering dovetailed with the Labor Notes conference, which brings together activist trade unionists from around the world every two years.
Those converging in Chicago for the RWU conference included locomotive engineers, rail yard workers, people who build trains and employees of contractors that service locomotives. They represent a small wedge of activism and solidarity-building in an industry that, while crucial to the country's economic well-being and one of the cleanest freight transport options, is also notorious for retaliation against workers who agitate for better conditions or speak out about injuries and safety hazards.
Monday, Apr 14, 2014, 4:20 pm · By Bruce Vail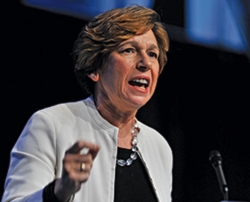 On the eve of the Jewish high holy days of Passover, union leaders and Jewish labor activists in Philadelphia and beyond are ramping up efforts to defeat a plan by one of the area's small private religious schools to bust its teachers union. Both groups are outraged at the school's implicit claim that there's a conflict between Judaism and workers' rights.
The issue erupted late last month when the board of the Perelman Jewish Day School notified the school's roughly 60 teachers that it would no longer negotiate with their long-established labor union. Instead, the board proclaimed, each teacher must make individual arrangements with the school administrators for the conditions of future employment. The union busting was justified, the Perelman teachers were told, as a measure to advance the religious objectives of the K-5 school, and was legally supported by court rulings reaching all the way to the Supreme Court. The school was likely referring to the high court's 1979 ruling in NLRB v Catholic Bishop of Chicago that religious schools were exempt from some labor law.
"Everybody feels that we were disrespected, and undermined" by the school board decision, says Lisa Richman, president of the Perelman Jewish Day School Faculty Association Local 3578, a unit of the American Federation of Teachers (AFT). "Everybody [on the faculty] is petrified, or scared, or angry," she says.
Monday, Apr 14, 2014, 3:50 pm · By Sarah Jaffe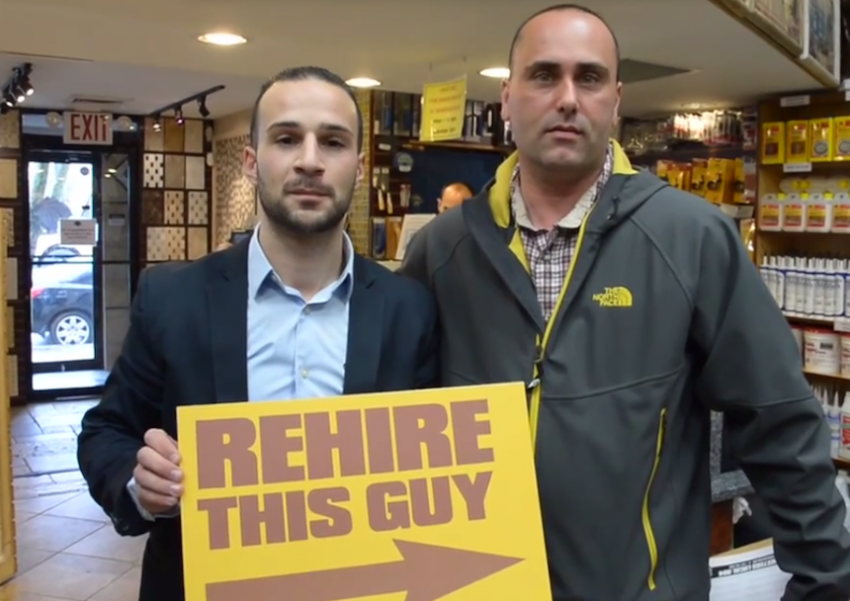 Two hundred and fifty UPS drivers, clad in their brown uniforms, rallying in a Queens parking lot, must have been quite a sight. Not very many people got to see it, however. The 90-minute work stoppage outside the Maspeth, Queens, UPS facility on February 26 was a spontaneous protest against the firing, allegedly without due process, of one of their colleagues, Jairo Reyes.
On March 26, UPS retaliated by beginning to give all 250 notices that they'd be terminated—but the company did not fire the workers all at once. According to the Teamsters, UPS fired 20 drivers on March 31 and kept the rest waiting for the axe to fall while their replacements were trained.
Nearly two months later, all 250, including Reyes, will be headed back to work, their terminations reduced to ten-day suspensions. Driver Steven Curcio, who says he was one of the first to be fired, credits the support of the community, elected officials and particularly his own customers.
Tim Sylvester, president of Teamsters Local 804, the union that represents the Queens drivers, said, "The drivers delivered their message to UPS about unfair treatment. Now every one of them will be back delivering packages."