Tuesday, Aug 13, 2013, 1:29 pm · By Samantha Winslow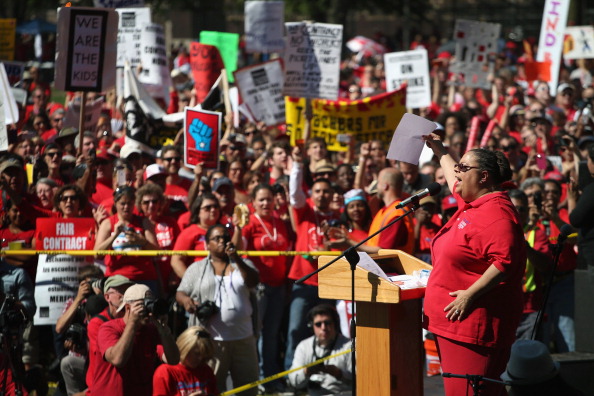 Reprinted with permission from Labor Notes.
Teachers from across the U.S. gathered in Chicago over the weekend to share strategies for strengthening their unions to battle the seemingly never-ending attacks on public education.
A conference for social justice unionism, the host organizers called it. They were from the Chicago Teachers Union's Caucus of Rank and File Educators (CORE). Many teachers see the group, which won office in 2010 and led last fall's nine-day strike, as a model.
Monday, Aug 12, 2013, 2:03 pm · By Mike Elk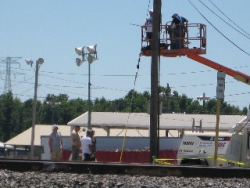 At a time of year when many workers are taking family vacations, uranium workers at Honeywell's plant in Metropolis, Ill. won't have that option. On July 27, the company announced a vacation freeze. United Steelworkers Local 7-669, which represents workers at the plant, claims that the decision is just another salvo in a three-year-long battle by Honeywell to bust the union.
Friday, Aug 9, 2013, 6:24 pm · By Matthew Blake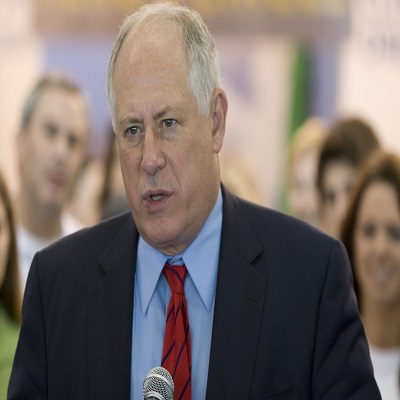 Illinois Gov. Pat Quinn, a Democrat, has promised to issue an administrative order within the next two weeks "banning the box" on applications for state government jobs. Applicants with criminal histories will no longer have to check a box disclosing that they have been convicted of, or pled guilty to, a crime.
The announcement is a victory for the Worker's Center for Racial Justice, which organized hundreds of ex-offenders to send postcards to Quinn's office asking for ban the box legislation. The center was founded in 2012 as the first labor center in Chicago to focus on African Americans and made "banning the box" the centerpiece of its first-year efforts.
Friday, Aug 9, 2013, 4:57 pm · By Mike Elk
A New York Times exposé shows that middlemen between U.S. retailers and Bangladeshi factories worsen work conditions by driving down prices. From the Times:
As the world's largest sourcing and logistics company, Li & Fung plays matchmaker between poor countries' factories and affluent countries' vendors, finding the lowest-cost workers, haggling over prices and handling the logistics for roughly a third of the retailers found in the typical American shopping mall, including Sears, Macy's, JCPenney and Kohl's.

Based in Hong Kong, the merchandiser owns no clothing factories, no sewing machines and no fabric mills. Its chief asset is the 15,000 suppliers in over 60 countries that make up a network so sprawling that an order for 500,000 bubble skirts that once took six months from drawing board to store shelf now takes six weeks at a sliver of the price.

That scale gives Li & Fung tremendous clout. "They are considered the Walmart of purchasing," said Edward Hertzman, publisher of Sourcing Journal.

But in pioneering and perfecting the global hunt for ways to produce clothing more quickly and cheaply, Li & Fung, which had $20 billion in revenue last year, has been described by critics as the garment industry's "sweatshop locator."
Thursday, Aug 8, 2013, 6:59 pm · By Kari Lydersen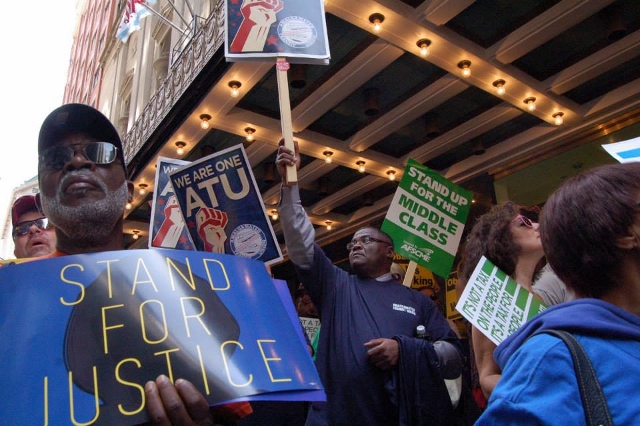 This week, the American Legislative Exchange Council (ALEC) is holding its 40th annual conference at the Palmer House Hilton in downtown Chicago, where state legislators and representatives of some of the world's most powerful companies have come together to discuss policy issues from the environment to education to labor—with the underlying goals of increasing privatization, curbing organized labor and limiting the federal government.
At conferences like the one going on in Chicago, which began on Wednesday and will continue through Friday, ALEC members vote on adopting model legislation that legislators then introduce in statehouses around the country. That legislation includes bills that pre-empt living wage ordinances, promote "school choice," ban local and state-level environmental protections, and generally promote privatization and corporate profits while pushing to reduce the size of government.
While at one time ALEC flew under the radar, with little public awareness of its operations or members, in recent years a wide coalition of labor, independent media, environmental and civil rights groups—including In These Times—have exposed ALEC's machinations and pressured legislators and corporations to break their ties with the group. In Chicago, conference attendees were met by thousands of protesters from a wide range of unions, community and watchdog groups, including the Chicago Teachers Union, the Illinois Hunger Coalition and the community-labor coalition Stand Up! Chicago.
Thursday, Aug 8, 2013, 2:29 pm · By Michelle Chen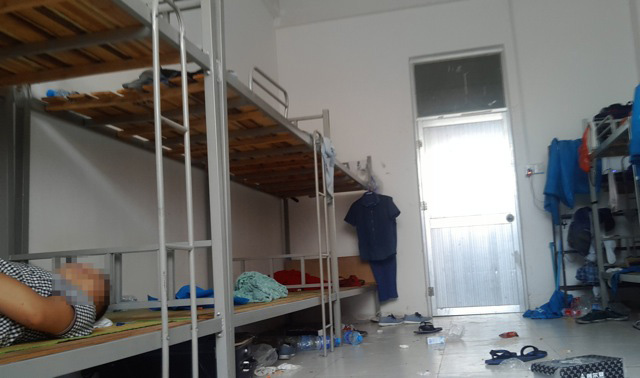 Apple's growth and reputation for innovation have long been built on the shaky foundation of rock-bottom wages and poor labor conditions in Chinese factories. Now, a new investigation by the New York-based advocacy group China Labor Watch has further revealed the abuses, including wage violations and chemical exposures, at the warped core of Apple's corporate empire. The report focused on Apple supplier the Pegatron Group, which has become a major producer of an upcoming new model for a scaled-back "cheap iPhone" for lower-end markets.
Wednesday, Aug 7, 2013, 5:50 pm · By Sarah Jaffe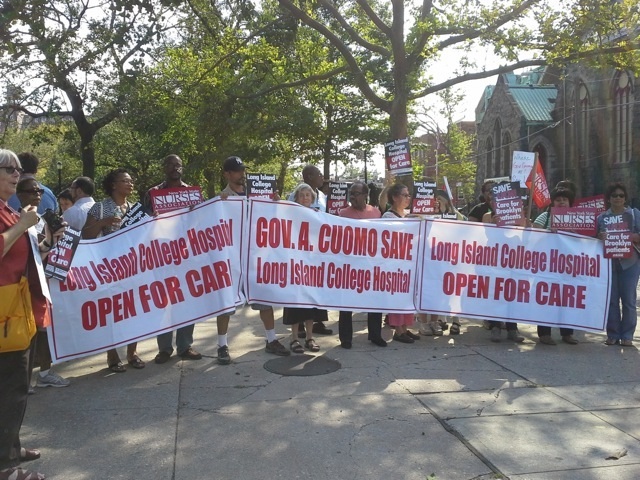 The emergency room at Methodist Hospital in Park Slope, Brooklyn was crowded when we got there at 5:30 PM on Tuesday evening. We were the third-place team in a race to different Brooklyn hospitals staged by the New York State Nurses Association to dramatize the need to save two facilities in danger of closing. When we arrived, Methodist Hospital nurses were too busy to talk to our group about the ER's patient load, but the man at the desk said they'd been busier since Long Island College Hospital (LICH) started diverting ambulances at the end of June.
LICH, which serves serve Red Hook, Brooklyn Heights, Cobble Hill and Downtown Brooklyn, has been on the verge of closing for months, while NYSNA, 1199 SEIU, LICH doctors and community members fight to keep it open.
Wednesday, Aug 7, 2013, 1:15 pm · By Kari Lydersen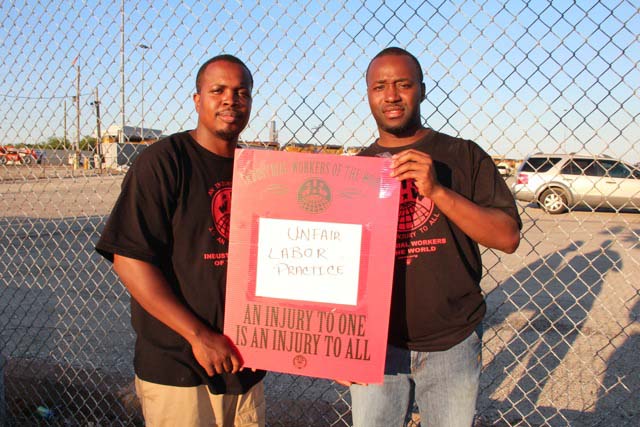 Eric Vazquez started working for Mobile Rail Solutions, a family-owned company that services locomotives in Chicago-area rail yards, a month and a half ago. He quickly came to feel the job was hazardous. In the course of his workday, he said, he was supposed to climb a tower more than 10 feet high to release thousands of pounds of sand into his truck, without a safety harness or a respirator to protect his lungs.
Nor, he says, was he provided sturdy gloves or other protective gear for dealing with human waste while cleaning out septic systems. "They didn't give us hepatitis or tetanus shots," he said. "I have a 1-month-old. I definitely don't want to bring that home to my little man."
Tuesday, Aug 6, 2013, 5:25 pm · By Mike Elk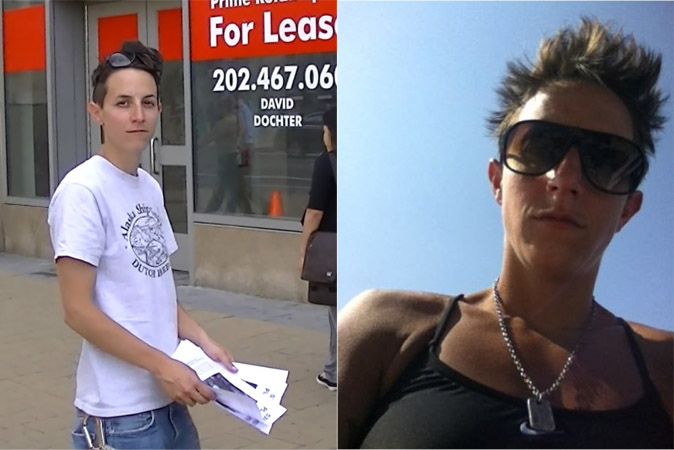 Rumors have flown for many years that DC police routinely infiltrate and spy on the frequent protests in the nation's Capitol. But until now, activists have never been able to identify a specific undercover cop at a protest. Now, after months of piecing together evidence, attorneys Jeffrey Light and Sean Canavan working with United Students Against Sweatshop (USAS) have confirmed that under an assumed name, Metro police officer Nicole Rizzi has participated in USAS protests against companies doing business in Bangladesh who refuse to sign the Accord on Fire and Building Safety in Bangladesh following the death of as many as 1,129 workers in the Rana Plaza factory collapse.
USAS and its lawyers have numerous pieces of evidence placing Rizzi at protests under a pseudonym. District of Columbia Public Employee Information List records obtained by In These Times confirm that Rizzi has been on the DC Metropolitan Police Department (MPD) force since December of 2003.
USAS filed suit on Monday against the District of Columbia seeking an injunction to stop police from spying on the group's activities.
The story of how Rizzi was uncovered reads like a mix of "Gossip Girl" and "The Wire." Activists pieced her identity together from her obsessive posting to social media sites, including Twitter, Tumblr, Instagram, Facebook, Wordpress and Yfrog.
Lacy MacAuley, an activist and media manager for the Institute for Policy Studies, has suspected for the past several years that a protester named "Missy" was an undercover cop. "Missy" seemed to be at every protest, but no one knew her. However, MacAuley had no way of proving her suspicions.
Monday, Aug 5, 2013, 5:30 pm · By Roger Bybee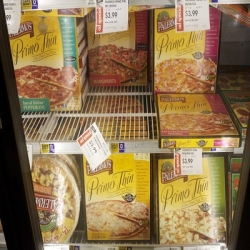 The 14-month-long strike at Palermo's Pizza in Milwaukee produced a small slice of justice this week for the Mexican immigrant workers who have been fighting for higher wages, safer conditions and a union voice at the frozen-pizza maker.
Last Tuesday, Palermo's finally agreed to comply with a finding by the National Labor Relations Board and re-hire eight workers with back pay, which will cost the pizza chain tens of thousands of dollars. The eight had been illegally fired for trying to unionize, the NLRB ruled.
Palermo's has also agreed to post a notice announcing that the firm will no longer violate federal labor law. "This agreement confirms that Palermo's used threats, intimidation, surveillance, discrimination, and retaliation to deny the freedom to choose a union voice," says Raul de la Torre, an organizing committee member of the Palermo's Workers Union. Fully 75 percent of the workers signed cards seeking union recognition prior to the strike, but Palermo's management responded only with threats and other illegal tactics.
But Palermo's decision to comply with the NLRB ruling does not reflect a softening of the intransigence that has driven about 125 workers, almost all immigrants from Mexico, out on strike for over a year. Palermo's has refused for months to even engage in bargaining, said spokesperson Brian Rothgery of the United Steelworkers (USW) union, which has been assisting the Palermo's strikers since they walked out on June 1, 2012.