Tuesday, Nov 10, 2015, 3:03 pm · By Elizabeth Grossman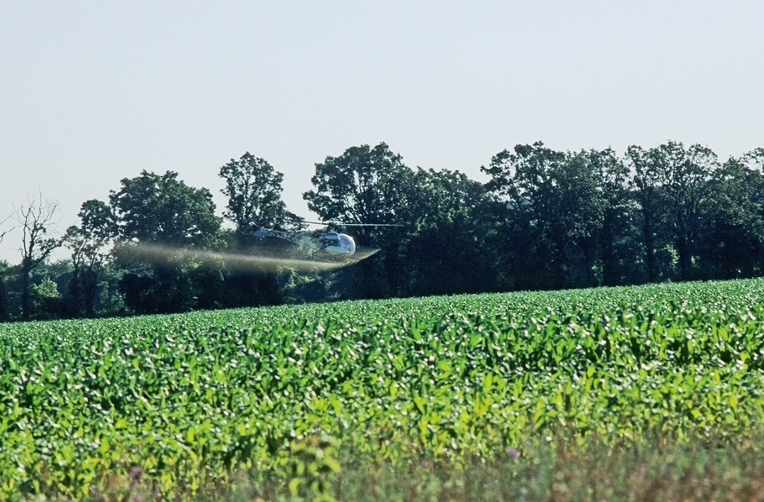 In a remarkably rare move, the U.S. Environmental Protection Agency (EPA) is proposing to withdraw its approval for all agricultural uses of a widely used pesticide, chlorpyrifos.
First approved in 1965, chlorpyrifos belongs to a class of pesticides known as organophosphates—a type of chemical developed as a nerve agent prior to World War II—that kills insects by affecting their nervous systems. It's used on dozens of crops, including citrus, grapes, almonds, corn, apples, broccoli, onions, strawberries, walnuts, soybeans and alfalfa. Although use has decreased since the 1990s, about 6 million pounds of chlorpyrifos were used across the U.S. in 2012, about a quarter of that in California alone. Chlorpyrifos is one of the pesticides most frequently cited in pesticide poisonings of agricultural workers.
The EPA's proposal was timed to respond to a court-ordered deadline prompted by a 2007 petition from the Natural Resources Defense Council (NRDC) and Pesticide Action Network North America asking the EPA to ban chlorpyrifos. The EPA announced its intention to issue such a proposed rule in June but wanted to do so by April 2016. The 9th Circuit court rejected this timeline and ordered the EPA to act by October 31, 2015. The EPA says it intends to issue a final rule on chlorpyrifos by December 2016. Earthjustice, which filed the advocacy groups' petitions with the EPA, is asking the 9th Circuit court to make this deadline legally binding.
"We've been pushing for this for many years," Farmworker Justice occupational and environmental health director Virginia Ruiz told In These Times. This, she said, "is definitely a big deal."
Tuesday, Nov 10, 2015, 1:19 pm · By Mario Vasquez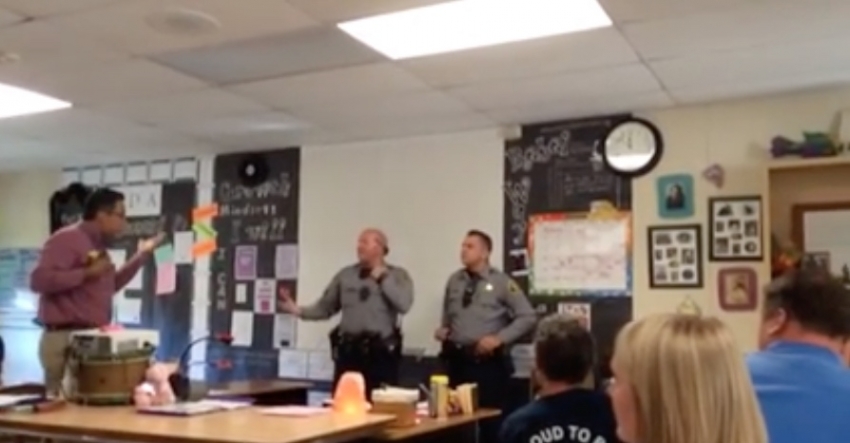 In a video widely circulated on social media, Alameda County sheriff's deputies can be seen interrupting a lunchtime union meeting held at San Lorenzo High on October 20 for local teachers in the midst of a contract bargaining dispute with their employer, the San Lorenzo Unified School District (SLUSD). The deputies, there at the request of a vice principal, entered the classroom where the meeting was being held and asked a California Teachers Association (CTA) representative leading the meeting to leave campus.
The next day, October 21, CTA filed an unfair labor practice charge with the Public Employees Relations Board against SLUSD, arguing that the school district had violated California state labor law. Guillermo Durgin, the CTA staff organizer speaking with the deputies in the video, told In These Times, "By trying to keep me out of the classroom, and then trying to interrupt our union meeting, the district is essentially intimidating and preventing members from communicating with their exclusive bargaining representative about the impasse that had been declared."
Tuesday, Nov 10, 2015, 12:52 pm · By Leo Gerard, United Steelworkers President
This post first appeared on USW.org.
Americans who once earned family-supporting wages working in factories, foundries and mills across this country began destroying themselves at a shocking rate five years after implementation of the North American Free Trade Agreement (NAFTA).
That's because such deals—schemes exactly like the proposed Trans-Pacific Partnership (TPP) trade agreement released last week—encouraged corporations to offshore manufacturing, decimating decent American jobs and the lives of decent American workers.
Tuesday, Nov 10, 2015, 11:56 am · By Alex Lubben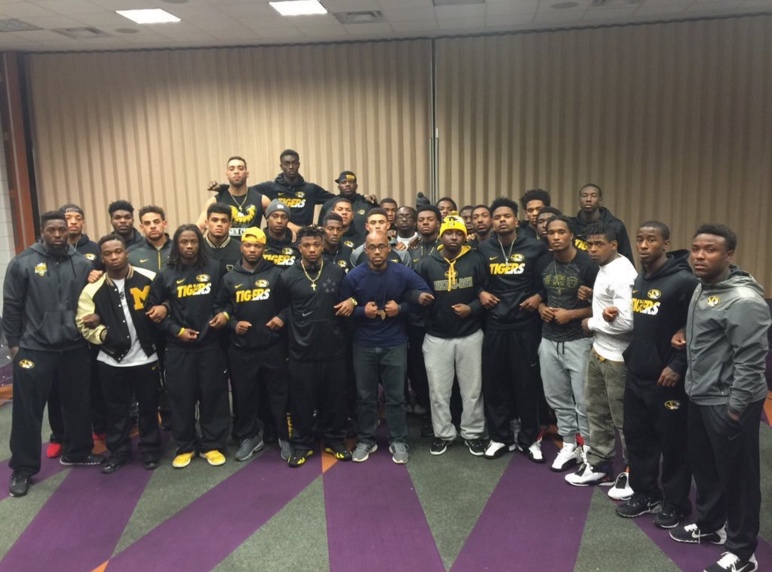 Tim Wolfe, the University of Missouri System president, has resigned amidst controversies on campus, primarily relating to visible racist incidents that students say the campus administration failed to meaningfully address. R. Bowen Loftin, the chancellor of the flagship campus in Columbia, announced that he would resign at the end of this year.
In a resignation announcement yesterday morning, Wolfe lamented the terms of his resignation: "This is not—I repeat, not—the way change should come about. Change comes from listening, learning, caring and conversation. We have to respect each other enough to stop yelling at each other and start listening, and quit intimidating each other through either our role or whatever means we decide to use."
But Tim Wolfe never changed anything. This is exactly how social change comes about, and student and faculty activists across the country can use what's happened at Mizzou as a blueprint.
Thursday, Nov 5, 2015, 11:06 am · By Mario Vasquez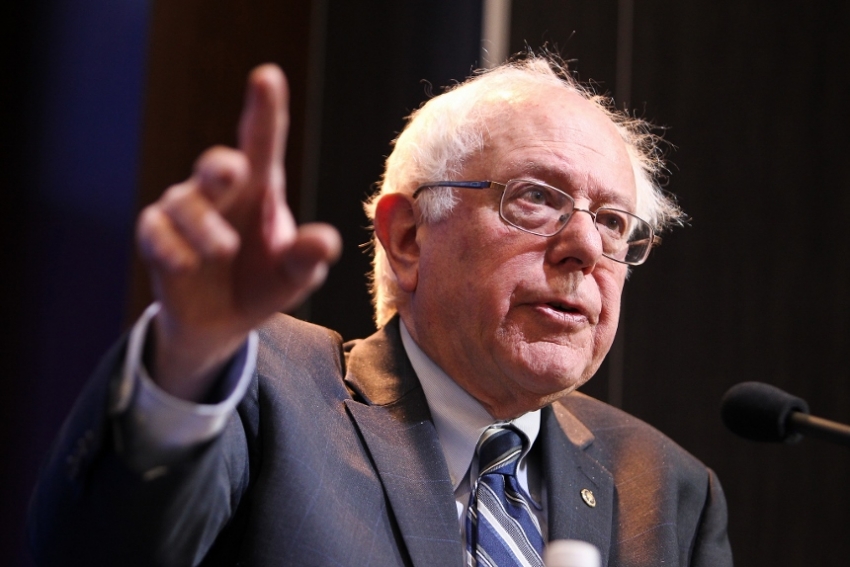 The grassroots network for union members aiming to secure labor endorsements for Senator Bernie Sanders, Labor for Bernie, held a conference call to an audience of 1,600 people on Wednesday night.
This is the first Labor for Bernie conference call since early September, when prepared remarks made by Sen. Sanders garnered 26,000 listeners as their candidate outlined his pro-worker platform. Since that call, the National Education Association (NEA) and the American Federation of State, County, and Municipal Employees (AFSCME), the largest and third-largest unions in the country, respectively, have endorsed former Secretary of State Hillary Clinton. Call host Rand Wilson, a Labor for Bernie volunteer who is also the communications director for Service Employees International Union (SEIU) Local 888, mentioned this in the call.
"Some people on tonight's call know that your union may have already made the endorsement for the other candidate," says Wilson. "But regardless of any endorsement, the most important work right now is to keep building support for Sanders in your union at the local level." Recently, numerous locals in the first-primary state of New Hampshire have endorsed Sanders, taking heed to what Wilson describes because of the candidates' long history of pro-labor action.
Wednesday, Nov 4, 2015, 3:34 pm · By Shaun Richman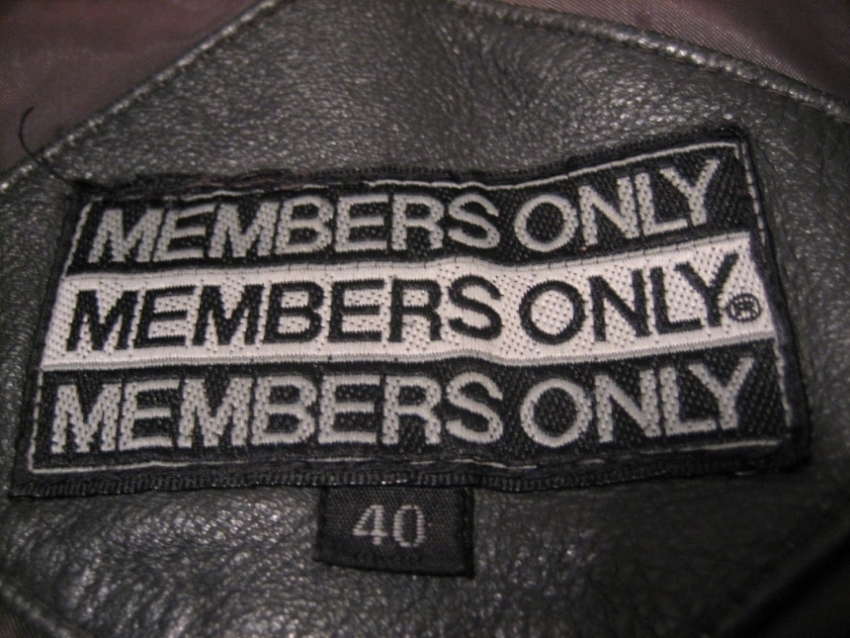 Unions have taken some hard hits in recent years, with even greater existential threats on the horizon. Labor must consider alternative forms of organization if they want to survive. But unions should watch out for unintended consequences of those new forms of organizing.
In their report for the Century Foundation, Moshe Marvit and Leigh Anne Schriever highlight case studies in "members-only" organizing, where unions cannot reach majority status for legal certification but maintain a workplace organization made up of a minority of workers that presses issue campaigns against the boss. Charles J. Morris, in his 2005 book The Blue Eagle at Work, reminds us that in its first few years, the National Labor Relations Board (NLRB) used to certify minority unions as the bargaining agent for that union's members only, and that such a mechanism still exists (although the modern Board has dodged efforts to get a ruling to respond to Morris' assertion). Some unions in "right to work" states are contemplating "members-only" certifications as a solution to the "free rider" problem, that workers can choose to opt out of joining (and paying dues to) a union, but the union is still legally compelled to represent them. "You want the contract? Join the union," goes the simplistic (albeit attractive) logic.
Wednesday, Nov 4, 2015, 3:25 pm · By Bruce Vail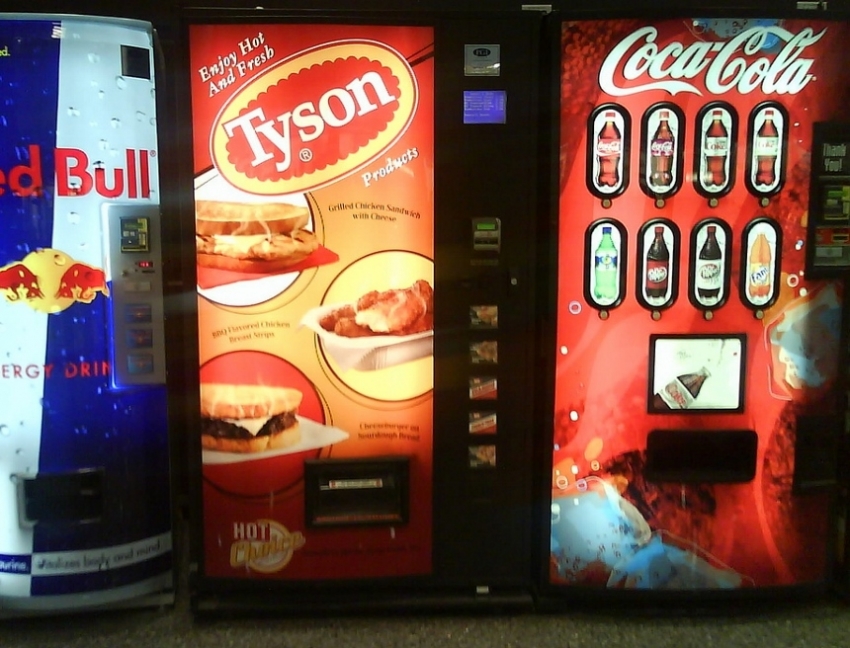 One of the world's most prominent hunger-fighting organizations has launched a publicity campaign aimed at improving wages and workplace safety in U.S. chicken processing plants.
Oxfam kicked off the campaign with a report released October 26 that details substandard wages and benefits, unsafe working conditions, and a culture of hostility to labor rights for the estimated 250,000 workers employed in chicken plants. Titled "Lives on the Line: The Human Cost of Cheap Chicken," the report was produced in consultation with the United Food & Commercial Workers (UFCW) union, National Council of La Raza, the Southern Poverty Law Center and worker centers such as the Northwest Arkansas Workers' Justice Center.
Minor Sinclair, director of Oxfam America's domestic program, believes the strategy has already had an impact. Three days before the report's release, the country's largest poultry company, Tyson Foods—which knew the report was coming—announced it would be raising the base wage to $10 (from $8 or $9) at some of its chicken plants.
Wednesday, Oct 28, 2015, 4:24 pm · By Jeff Smith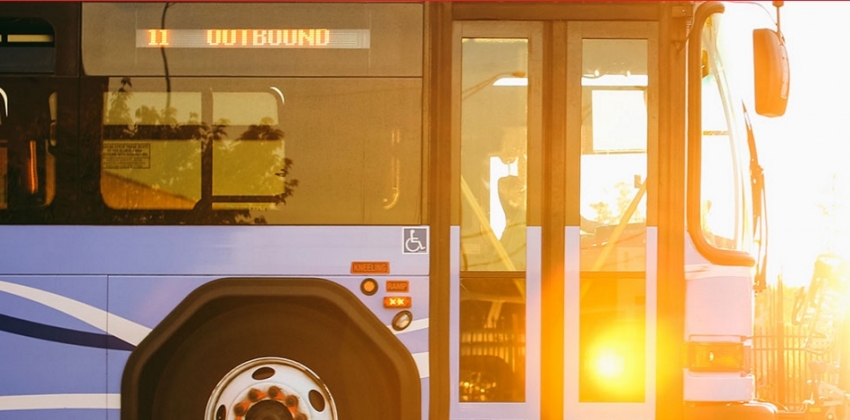 In recent years, Grand Rapids, Michigan has gained a reputation as a leader in environmental sustainability, with numerous LEED-certified buildings, an increased number of bicycle paths and an improved public bus system with new routes and more frequent stops after voters approved a recent transit millage.
In 2013, Grand Rapids was named the city with the best mid-size transportation system in the country, according to the American Public Transportation Association. Last year, The Rapid, as the city's bus system is known, finished an upgraded bus garage facility that also garnered LEED certification status.
Pretty impressive. But for the drivers behind the wheel of this top-of-the-line fleet, not all is well: Grand Rapids bus drivers are without a signed union contract, because city officials want to cut their pension funds. One Rapid board member has called the current pension system a "terrible plan" and claims the board wants to "do better" for drivers, the board claims the pension fund is $2.6 million in the red. The drivers disagree.
Wednesday, Oct 28, 2015, 11:53 am · By Moshe Z. Marvit
This week, the adjunct professors at Duquesne University's English Department received some unexpected news: there would be no classes for them. As a result, all but one of them will not be returning after they file this semester's grades in six weeks. The one adjunct remaining will have one class, and he was only allowed to keep his class because he is involved with a freshman program called "learning communities."
The adjunct faculty at the College of Liberal Arts at Duquesne University have been seeking recognition of their union since they voted for the United Steelworkers in the summer of 2012. (Full disclosure: I am an adjunct at the Duquesne University School of Law, which is not part of the bargaining unit.) After initially signing an election stipulation and agreeing to abide by the outcomes of the NLRB election, Duquesne University quickly and inexplicably changed tacks.
Wednesday, Oct 28, 2015, 6:06 am · By Brian Joseph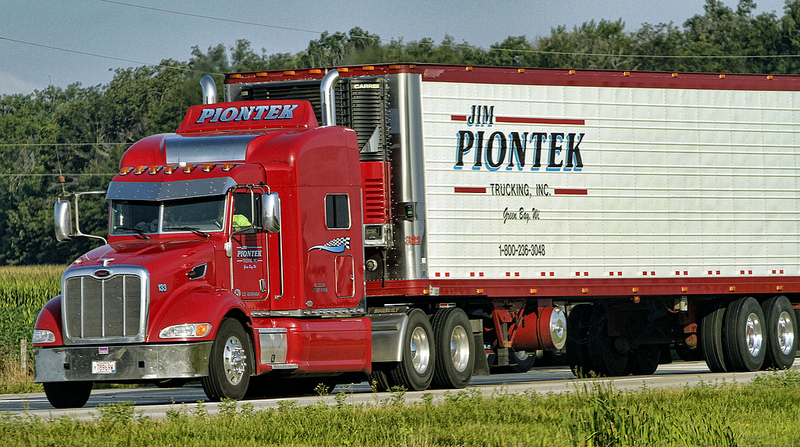 This story first appeared at FairWarning.
Big rig crashes kill nearly 4,000 Americans each year and injure more than 85,000. Since 2009, fatalities involving large trucks have increased 17 percent. Injuries have gone up 28 percent.
Given these numbers, you might expect Congress to be agitating for tighter controls on big rigs. In fact, many members are pushing for the opposite—looser restrictions on the trucking industry and its drivers.
The proposals represent a wish list of the trucking industry, including allowing significantly longer and heavier trucks, and younger drivers. The industry spends heavily on lobbying and campaign contributions, giving largely to Republicans, who control both the House and Senate.