Saturday, Jan 4, 2014, 1:11 pm · By Michelle Chen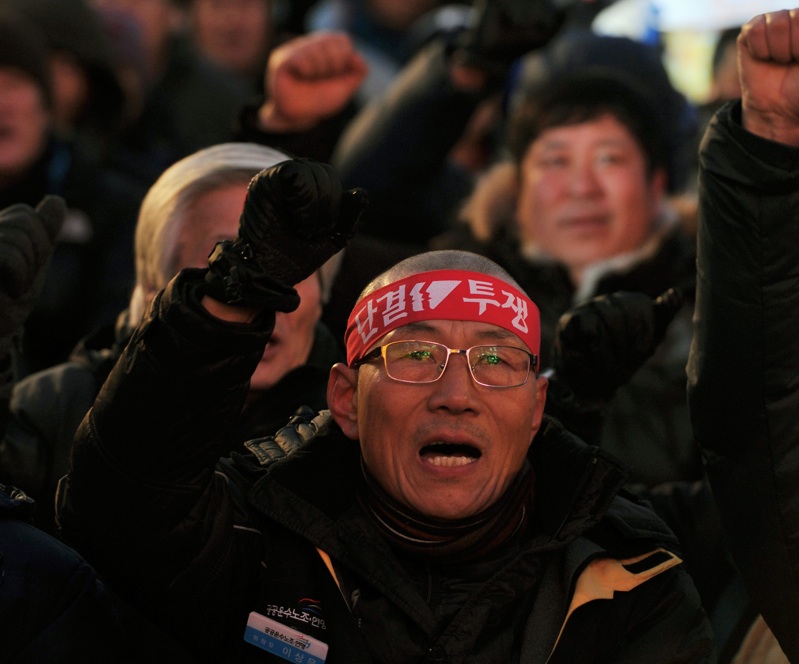 South Korea may best be known for slick electronics and saccharine pop tunes, but less of that stereotypical effervescence was present in Seoul in December. Instead, the streets were filled with throngs of angry union workers, facing down riot police in a show of defiance against a government plan that they say would lead to layoffs and privatization.
On December 28, workers staged a one-day general strike that capped about three weeks of intense smaller protests involving thousands of workers and activists and causing sharp service reductions. The establishment of a parliamentary committee to resolve the railway dispute has paused the demonstrations for now. But unions, who see the fight as a broader labor struggle beyond the rail issue, are not giving up and have vowed to keep protesting. On Friday, they demanded the president's resignation.
Friday, Jan 3, 2014, 12:05 pm · By Michelle Chen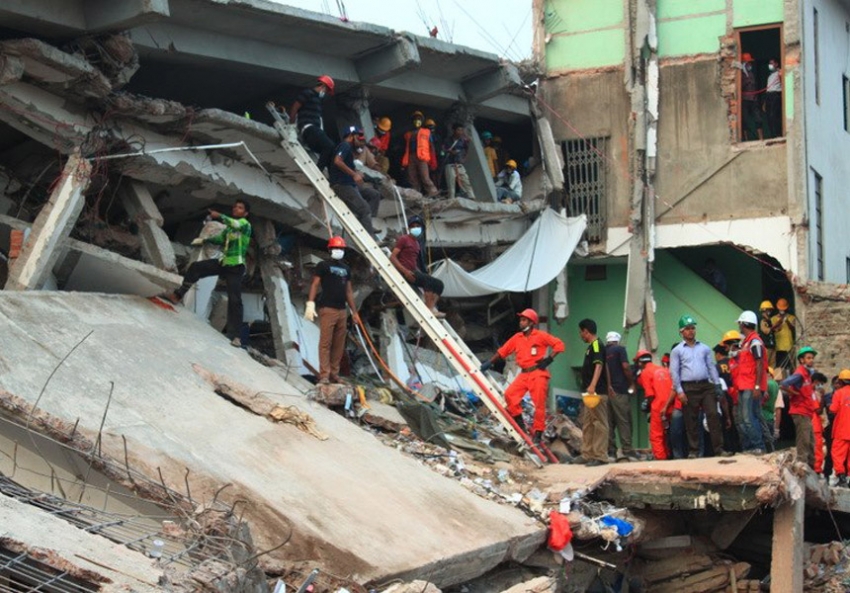 The collapse of the Rana Plaza factory complex in Bangladesh last April exposed the cruel link between abusive Global South factories and the Western brands they supply. But while consumers may have been shocked to learn of the Gap or Benetton's latest designs strewn amid the wreckage of "death trap" factories, they might have missed another bit of debris: the label of the U.S. government. In fact, much of the clothing churned out by overseas sweatshops is custom-made for Uncle Sam.
In an extensive investigative report, New York Times details how the federal government's contracts with overseas factories to make uniforms and other apparel are connected to egregious human rights violations, including child labor and union suppression.
Wednesday, Jan 1, 2014, 12:54 pm · By Amien Essif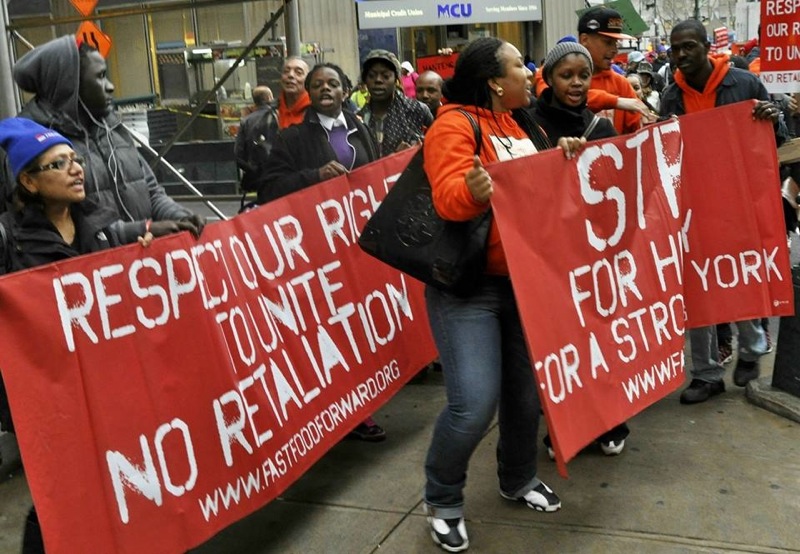 What marks a good year for labor? Certainly 2012 didn't end well, with union-dense Michigan becoming the latest "right-to-work" state in a blow to workers' collective bargaining rights. By that measure, 2013 came out ahead: This year, no state legislature passed such a law. (And while Kentucky Republican Sens. Mitch McConnell and Rand Paul did try to tack a federal right-to-work amendment onto the Employee Non-Discrimination Act, the bill went forward without it.)
But besides having dodged more right-to-work bullets, did labor have a good year in 2013? Yes, says veteran labor reporter Stephen Franklin, formerly of the Chicago Tribune, in an email to Working In These Times:
It wasn't one event but a number of events—demonstrations, rallies, press gatherings—that marked an unprecedented surge in organizing at the bottom of the wage ladder in 2013. The drive to organize fast food workers, car washers, retail workers is unparalleled in the last 70 years of the American labor movement, and a testament to workers' still vital desire to lead better lives despite all the obstacles they face.
In other words, this year saw an upsurgence of low-wage workers fighting for—and at times, advancing—their rights to dignity and justice at their jobs. Workers at airports, fast-food establishments, car washes, Walmarts and college campuses across the country led the charge, testing new tactics in the struggle to win better jobs for low-wage America. Below, we list 10 of the most significant achievements.
Monday, Dec 30, 2013, 4:00 pm · By Brentin Mock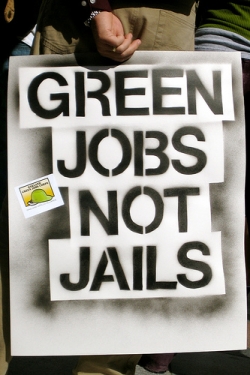 The southeastern U.S. is pre-1990s South Africa, and the brand of apartheid practiced here is of the energy variety. This is how environmental justice scholar Robert Bullard called it two years ago, and a new report by the NAACP pretty much confirms it.
Clocking in at over 500 pages, the civil rights organization's report, "Just Energy Policies: Reducing Pollution and Creating Jobs," reads like an update of Van Jones's 2008 book, The Green Collar Economy, showing how far the nation has come—and failed to come—in advancing clean energy.
The NAACP's report hinges on the idea that the more that states invest in clean energy and implement diverse and localized hiring practices, the more people of color will benefit in terms of income, employment and health. Clean energy, in other words, can help create a more just society.
You're not tracking? Consider that, according to the American Association of Blacks in Energy, African Americans spent $41 billion on energy in 2009, but they only held 1.1 percent of the energy jobs and gained .01 percent of energy sector profits. Meanwhile, the U.S. Bureau of Labor Statistics says there will be 661,000 green construction jobs at the end of this year, and an additional 7.9 million jobs created in other professions supported by green industries.
Perhaps this is why Jacqueline Patterson, the NAACP's climate justice director and lead author of the new report, said on a conference call yesterday that the "production of energy is a clear civil rights issue."
Monday, Dec 30, 2013, 3:12 pm · By Angela Caputo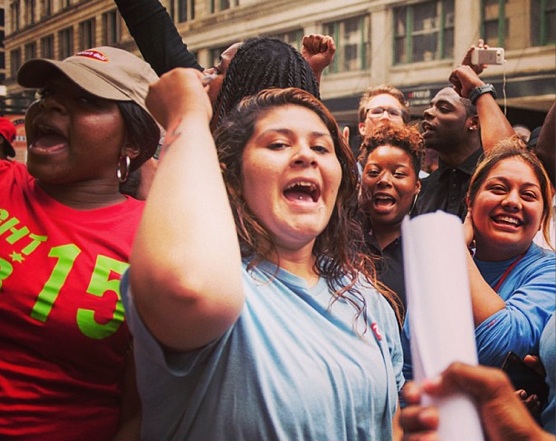 Reprinted with permission from The Chicago Reporter.
For years now, lawmakers in both Chicago and the Illinois legislature have been going back and forth over whether they should raise the floor on wages.
Few disagree that to keep a roof over your head and food in your mouth, a job that pays minimum wage, $8.25 an hour, just isn't going to cut it. But each time a proposal in introduced, the prevailing question ends up being less about people living hand-to-mouth and more about whether businesses can afford to pay higher wages.
Not even cajoling from the governor or the president has brought change, at least not yet.
Now some Chicago labor activists are appealing to a new audience for support: voters.
Tuesday, Dec 24, 2013, 6:00 am · By Kathleen Jercich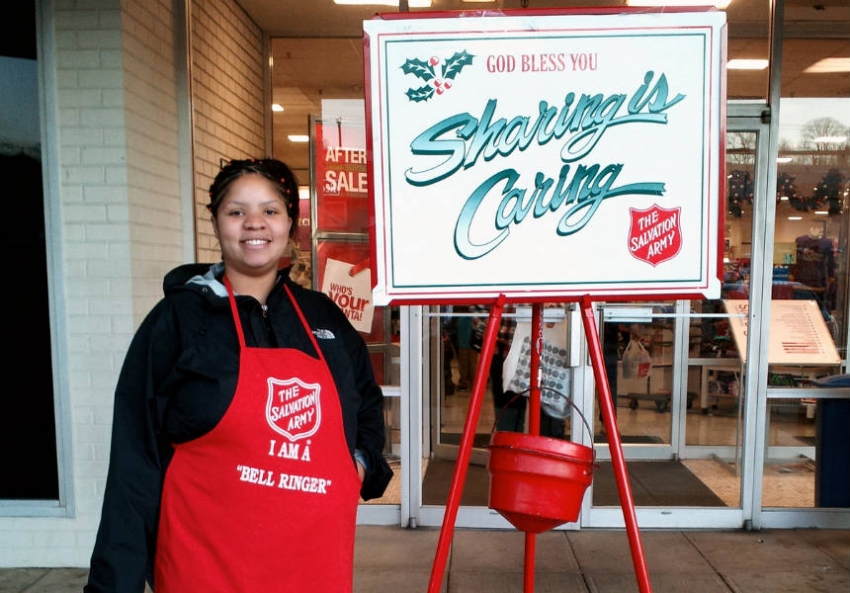 When the weather dips below freezing in Chicago, most of the city's residents do their level best to stay indoors as much as possible. But there's one group of people who continue to stand outside, braving biting winds and bone-chilling temperatures to ring bells asking for donations: the roughly 2,000 Salvation Army "bell ringers."
According to Major Greg Thompson, general secretary for the Salvation Army Metropolitan Division, Chicago's "red kettle campaign" brought in $2.4 million last year during the weeks between Thanksgiving and Christmas. Salvation Army depends on that money for its charity work, which includes youth tutoring, residences for low-income adults, meals for the needy elderly and prayer meetings. In some locations, Thompson says, kettle campaigns have supplemented up to 40 percent of the next year's programming. That's a lot of pressure, especially in shortened holiday seasons like this one.
Since the Salvation Army first began collecting donations in kettles in the late 1800s, the organization has relied on volunteers to do the bulk of its bell ringing. As it has grown, however, it offers some bell ringers a minimum wage in return for standing in the freezing weather. Chicago's Metropolitan Division no longer acts under the assumption that it will have a set number of volunteers, says Thompson—rather, just like a retail employer anticipating a seasonal rush, it hires a flood of minimum-wage workers for the holiday season. (But if volunteers become available, they will pre-empt paid employees for the position.)
Monday, Dec 23, 2013, 3:34 pm · By Jeff Schuhrke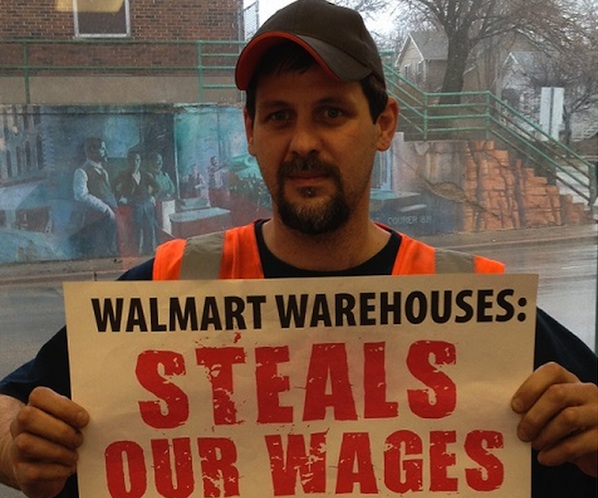 Workers in Walmart's vast fulfillment network who say they have been treated illegally at work have gotten some good news for the holidays. Last Monday, just days after a Walmart contractor agreed to pay out $4.7 million for alleged wage theft to more than 500 warehouse workers in southern California, the National Labor Relations Board (NLRB) secured a settlement over illegal retaliation against employees at the retail giant's distribution center in Elwood, Ill.
Nine workers affiliated with Warehouse Workers for Justice (WWJ)—a Joliet, Ill.-based workers center backed by the United Electrical, Radio and Machine Workers of America (UE)—who alleged they were fired for workplace organizing will receive a combined total of $52,381 in back pay, according to WWJ.
"It came at a good time," says Mike Compton, one of the fired workers. "All nine of us needed it. Some of us were getting in pretty tight spots."
Monday, Dec 23, 2013, 2:13 pm · By Mike Elk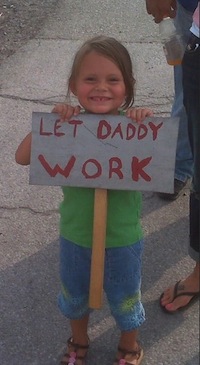 For the past several Christmases, workers at Honeywell's uranium plant in Metropolis, Ill., have had little to celebrate. Most of the workers at the plant have spent the best part of four years in a series of labor struggles with the company: first a tense 13-month lockout ending in 2011, then post-lockout disputes in which the union alleged that the company failed to abide by the new contract, and then, in July of 2012, a yearlong shuttering of the plant that led to temporary layoffs of almost the entire union workforce.
This holiday season, however, the workers are finally getting something to cheer about—all of their jobs back, two days before Christmas.
Friday, Dec 20, 2013, 6:30 pm · By Michelle Chen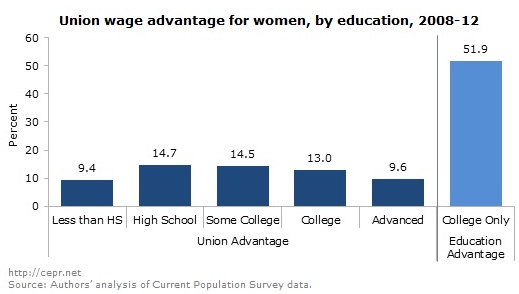 Back in the days before modern feminism, a young woman looking for work might typically be advised, politely, to "learn a trade," with the implication that she wasn't bound for college or an elite career, but a humbler job as, say, a secretary or seamstress. Such a phrase might sound condescending today. Yet working in a trade might still be sound career goal for a woman, if she gets the right kind of job—in a union.
According to a new paper on women and unionization by progressive think tank the Center for Economic and Policy Research (CEPR), "Even after controlling for factors such as age, race, industry, educational attainment and state of residence, the data show a substantial boost in pay and benefits for female workers in unions relative to their non-union counterparts. The effect is particularly strong for women with lower levels of formal education."
In other words, all other things being equal, unions are good for working women, yielding higher wages and better job benefits. Specifically, "unionized women workers on average make 12.9 percent more than their non-union counterparts, are 36.8 percent more likely to have employer-provided health insurance and 53.4 percent more likely to have participated in an employer-sponsored retirement plan."
Friday, Dec 20, 2013, 5:16 pm · By Bruce Vail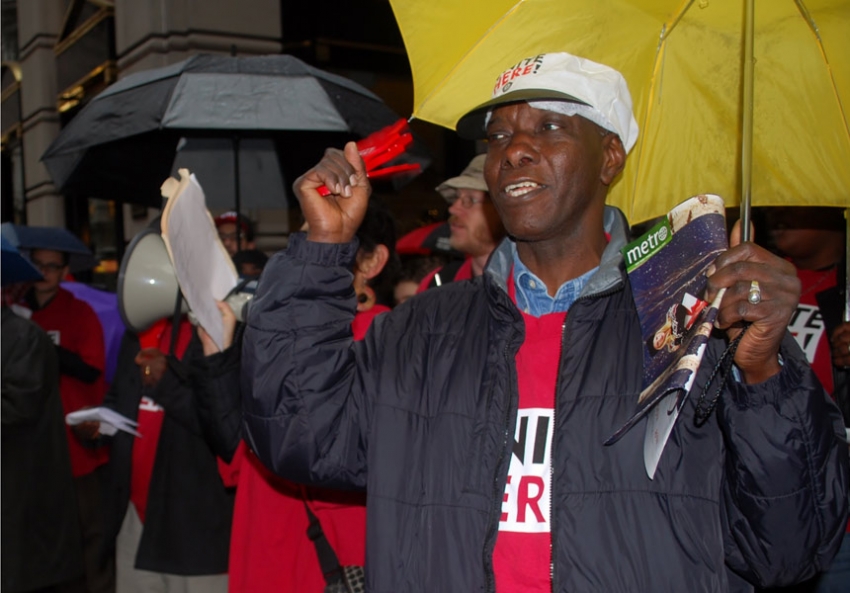 During President Barack Obama's December 4 speech about income inequality to the Center for American Progress, he named "airport workers" among the many Americans who struggle with low wages and long hours. It's unlikely that Obama was aiming his shout-out at union campaigners at Baltimore-Washington International Thurgood Marshall Airport (BWI)—but given their recent flurry of activity, maybe he should have been.
At BWI, Unite Here, which represents hospitality workers throughout the United States and Canada, is ramping up its organizing campaign to a critical stage. The campaign focuses on food and service workers in the airport, most of whom would easily match Obama's description of Americans who "work their tails off" at poverty level wages.
Yaseen Abdul-Malik is one of those BWI workers. Now 28, he was first recruited by the Baltimore-based Unite Here Local 7 two years ago, when organizing at BWI was largely clandestine. Now, he's become a public face for airport employees—and he says he's trying to "break the shackles of fear" that hold many of them back from demanding the better wages and working conditions they deserve.