Saturday, Sep 14, 2013, 12:17 pm · By Sarah Jaffe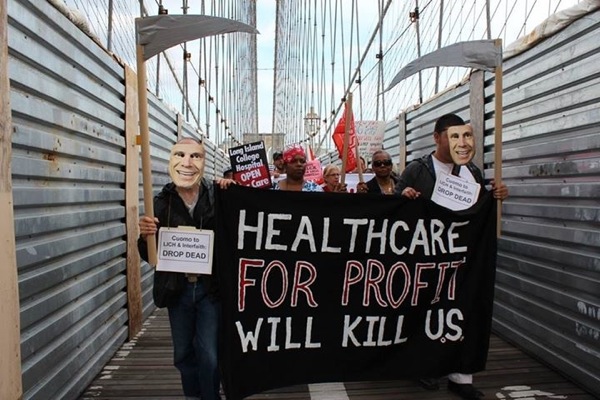 The momentum in the fight to save Brooklyn's hospitals seems to have shifted decidedly to the side of the community, not the bosses.
Not only did the fight over the hospitals prove central to the mayoral primary, helping sweep Bill de Blasio from the back of the pack to near-certain Democratic nominee and overall favorite; not only did a judge step in last month to side with nurses in declaring that SUNY Downstate had no right to close Long Island College Hospital (LICH); but now, another judge has issued a sweeping ruling in favor of the nurses that may have consequences for other embattled institutions.
Friday, Sep 13, 2013, 12:50 pm · By Bruce Vail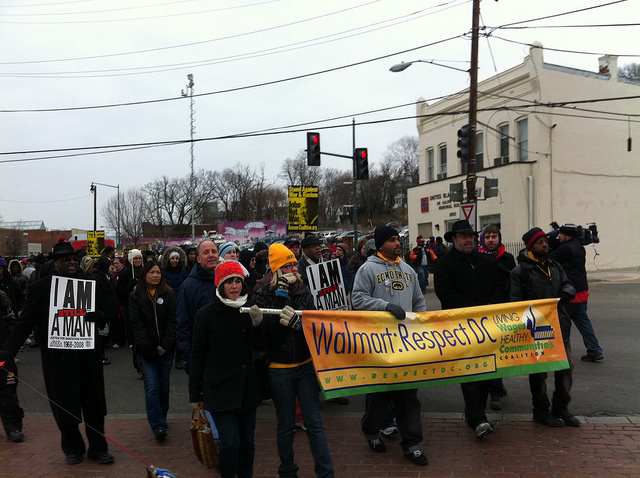 District of Columbia Mayor Vincent Gray disappointed labor supporters Thursday when he vetoed a bill that would have boosted the minimum wage for some retail workers at a time when Wal-Mart is moving forward with a major expansion in the nation's capital.
The bill, carefully targeted at workers hired at six new stores planned by Wal-Mart inside the D.C. city limits, would have established a minimum wage of $12.50 an hour, a sharp increase from the current minimum of $8.50. Called the "Large Retailer Accountability Act" (LRAA), the bill passed the City Council July 10 by an eight-to-five vote.
Supporters of the bill are not giving up, however, and have already begun a campaign to override the veto, says Mike Wilson, a spokesperson for Respect DC, an ad-hoc coalition of labor unions and other groups opposed to Wal-Mart's expansion into D.C. Under local rules, an override requires the votes of nine City Council members, so LRAA proponents are now focusing on changing the vote of a single Council member, he says.
Thursday, Sep 12, 2013, 6:01 pm · By Micah Uetricht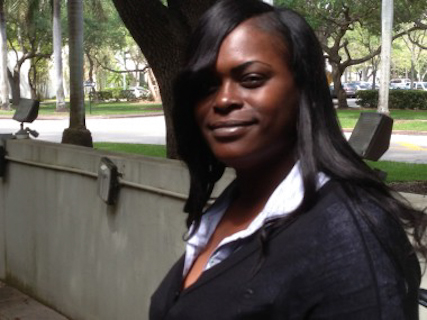 Food-service workers at the University of Miami walked off the job today during the noontime rush hour, accusing the university's food service subcontractor, Chartwells', of bargaining in bad faith.
A yearlong organizing campaign culminated in 321 cafeteria workers joining the Service Employees (SEIU) Local 32BJ in May. In negotiating their first union contract, workers are attempting to bring their wages above the poverty level. Eric Brakken, director of SEIU 32BJ Florida, says with the university's breaks in winter and summer, many workers "make less than $10,000 a year."
Workers say, however, that the company is refusing to offer raises above 20 cents per hour. By contrast, organizers say the university's janitors received 35-cent-per-hour raises earlier this month after voting to strike in late August.
"We have people who have been here for ten years who make less than 10 dollars" per hour, says Betty Asbury, a line server in the cafeteria who makes $9.58 after three years. She says around 15 workers, the majority of the shift, struck today.
Thursday, Sep 12, 2013, 1:34 pm · By Michelle Chen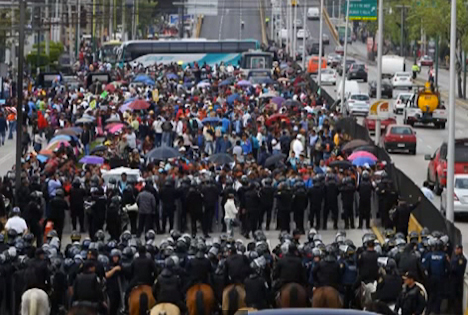 In Mexico City, school teachers are meting out some serious discipline to a government gone awry.
For the past several weeks, the metropolis has pulsed with a labor insurrection. There have been fierce union-led rallies, clashes with police, and mass demonstrations that have paralyzed the city, climaxing with an estimated 12,000 teachers storming the streets on Wednesday. The catalyst is Mexico's new education reform legislation, championed by President Enrique Peña Nieto and his PRI party, which teachers union activists blast as a thinly veiled attack on organized labor.
After lawmakers overwhelmingly voted to implement the reforms last week, demonstrations flared across the capital, blocking traffic and drawing crowds around the French, Spanish and U.S. embassies. The National Education Workers Coordinating Committee (CNTE), a radical union faction representing a third of Mexico's public school teachers, has mobilized tens of thousands of protesters. The conflict is now widely seen as as a principle test of Peña Nieto's political strength, symbolizing the class and ideological tensions between Nieto's center-right PRI party and Mexico's embattled leftist movements.
Wednesday, Sep 11, 2013, 12:20 pm · By Michelle Chen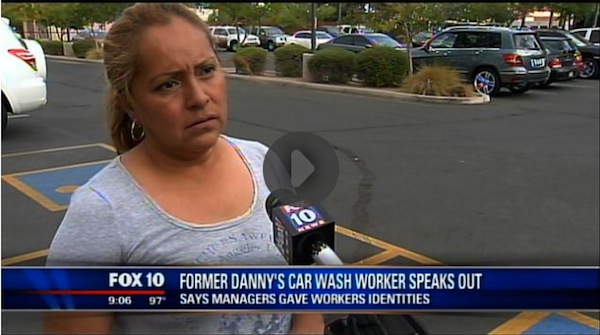 After months of partisan squabbling over immigration reform on Capitol Hill, the legislative discussion may again be sidelined as lawmakers take on debates on war and the deficit. But for many immigrant workers, the clock is ticking.
For one group of workers in Phoenix, each new day in the U.S. feels like it might be the last. Federal agents raided their employer, Danny's Family Car Wash, in Phoenix last month, rounding up more than 200 workers. Some remain in detention, and all were left jobless and deeply shaken, fearing that at any minute they might be swept up into the Obama administration's record surge of deportations, now approaching two million "removals" during his tenure.
Tuesday, Sep 10, 2013, 11:37 am · By Mike Elk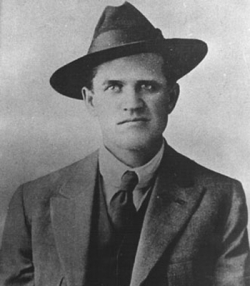 In June of 1917, 168 workers died in the Speculator mine disaster in Butte, Montana—many from asphyxiation. That July, legendary Industrial Workers of the World (IWW) union organizer Frank Little arrived in Butte to help organize a recognized union and lead a strike against the owner of the mine, Anaconda Copper Company. A month later, Little was found lynched above Butte's train tracks with a note on his chest that said, "First and last warning."
Little was buried later that month in Butte in a ceremony attended by more than 2,000 copper miners. His tombstone read, "Slain by Capitalist Interests for Organizing and Inspiring His Fellow Men."
Over the years Little's tombstone fell into disrepair—until 2008, when Mike Boysza, then a member of the now-defunct of Butte Area Carpenters Local 112, and a number of local union activists decided to repair the tomb site. They wanted to create a permanent reminder for all trade unionists of the tough fights of the past.
"I think it is important to know where your struggles came from," says Boysza. "The reason you get the wages you get, the reason you get the benefits you get, is because somebody else struggled."
Monday, Sep 9, 2013, 4:49 pm · By Jeff Schuhrke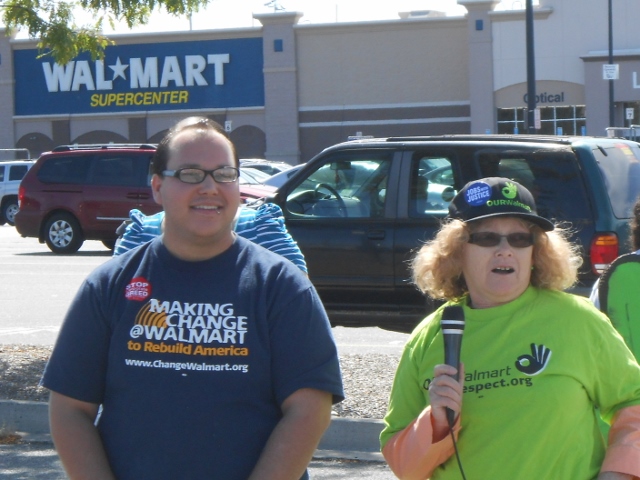 Late last week, OUR Walmart—a union-backed organization of store associates calling for improved working conditions, health benefits, and a minimum $13-an-hour wage—staged its largest protests since Black Friday. Demonstrations in 15 cities drew several thousand people, and about 100 were arrested.
In addition to OUR Walmart's core demands, the protesters turned out to insist that Wal-Mart rescind the verbal and written warnings issued to some 60 OUR Walmart members who were part of a prolonged strike this June and reinstate 20 strikers who were fired.
Among the striking workers who were disciplined—or "coached," as Wal-Mart euphemistically calls it—was 63-year-old Aubretia "Windy" Edick, a cashier at a Wal-Mart Supercenter in the Western Massachusetts town of Chicopee. "They gave me a verbal warning. They told me that the strike wasn't legal. They told me if I was absent again I would be fired," Edick says. Outside the Chicopee Wal-Mart last Friday, approximately 100 people assembled to protest the store's alleged retaliation against Edick.
Monday, Sep 9, 2013, 2:14 pm · By Bruce Vail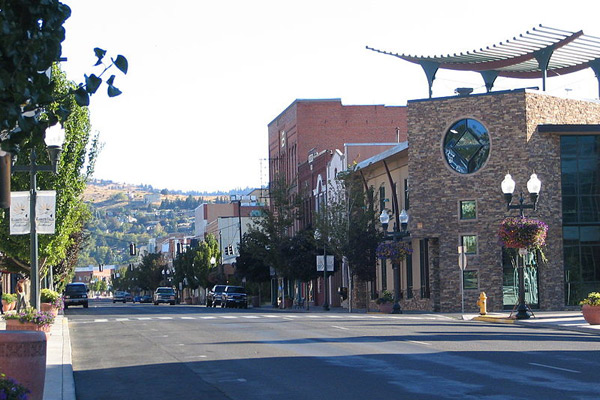 One of the most ambitious new union drives in the country is gathering momentum from its starting point in the Pacific Northwest. The International Association of Machinists & Aerospace Workers (IAM) has launched a campaign to organize thousands of industrial workers employed by a leading multinational manufacturer of doors, windows and wood millwork.
IAM is embarking a long-term effort to unionize some 5,600 workers at 23 North American plants run by Jeld-Wen, an international company with additional factories in Europe and Asia. The union's interest was raised after being approached by pro-union workers anxious to establish higher wages and safer working conditions, particularly at plants in Chiloquin and Klamath Falls, Ore., says Bill Street of IAM.
The campaign kicked off in February when union organizers began leafleting at five widely separated plants in Oregon, Washington and California. Organizing outposts were established at about the same time in 13 other states and two Canadian provinces, says Street.
The effort is unusual in its size and scope. Organizing new members at IAM typically involves much smaller bargaining units on a single site, or small number of sites. It's an ambitous undertaking for the 720,000-member union, which is risking significant resources in a environment where many organizing drives fail.
Sunday, Sep 8, 2013, 6:35 pm · By Rose Arrieta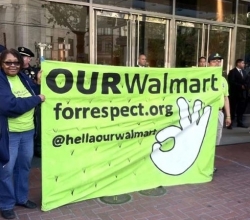 SAN FRANCISCO—With Bob Marley's "Get Up, Stand Up For Your Rights" blasting in the background, about 150 loud and raucous Wal-Mart workers and local union supporters marched down Market Street in downtown San Francisco on Thursday toward the Four Seasons hotel, where Wal-Mart board of director member and Yahoo! CEO Marissa Mayer lives in a penthouse apartment. When they arrived, they held a dance party with a message: Raise the wages and improve conditions for some of the nations lowest paid workers.
In addition to their own action, workers joined another earlier in the day at SF City Hall where immigrant-rights groups were rallying in support of a Due Process Ordinance to stop police collaboration with Immigration & Customs Enforcement.
"I think that we're all in the same boat," former Wal-Mart worker Jeanette Pendleton told ITT. "Once we start unifying and getting the solidarity going then things can happen. We can't stay separate and expect things to happen for each individual. We've got to come together."
Wednesday, Sep 4, 2013, 6:00 pm · By Sarah Jaffe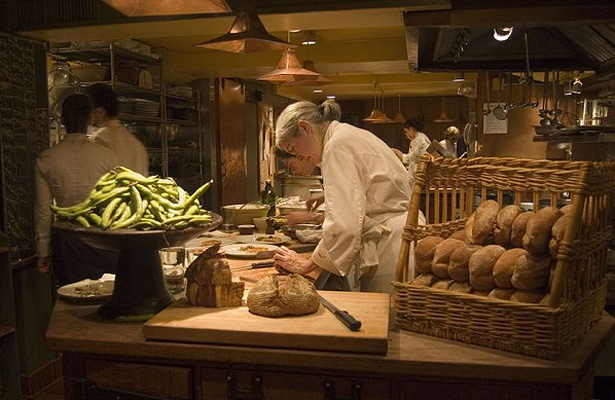 Tipping is falling out of fashion—at least if you believe a new article in the New York Times. According to Pete Wells of the paper's Dining and Wine section, the practice is "irrational, outdated, ineffective, confusing, prone to abuse and sometimes discriminatory." And some fancy restaurants, it seems, are looking to get rid of it.
We've covered the many, many problems with tipping here at Working In These Times, from the ease (and creativity) of wage theft to the low pay rates it enables. Recently, I wrote about the fight launched by the Restaurant Opportunities Center-New York (ROC-NY) to raise the minimum wage for tipped workers to the same level as the regular state minimum wage, which would allow tipped employees to be able to rely on at least a guaranteed income when they go into work. But those of us who support workers in the restaurant industry face a complicated conundrum: Though we universally acknowledge tipping to be problematic, the odds of restaurants paying servers a comparable wage if tips are eliminated seem pretty slim without some major changes in law and practice.