Friday, Oct 24, 2014, 11:30 am · By Will Craft
Are Jimmy John's non-compete clauses so absurdly restrictive that they're actually illegal? House Democrats are looking into it, as they plan to request a federal investigation from the Labor Department and Federal Trade Commission into the punitive measures of the fast-food sandwich chain's employee contracts, the Huffington Post reports.
Thursday, Oct 23, 2014, 9:30 am · By Kevin Solari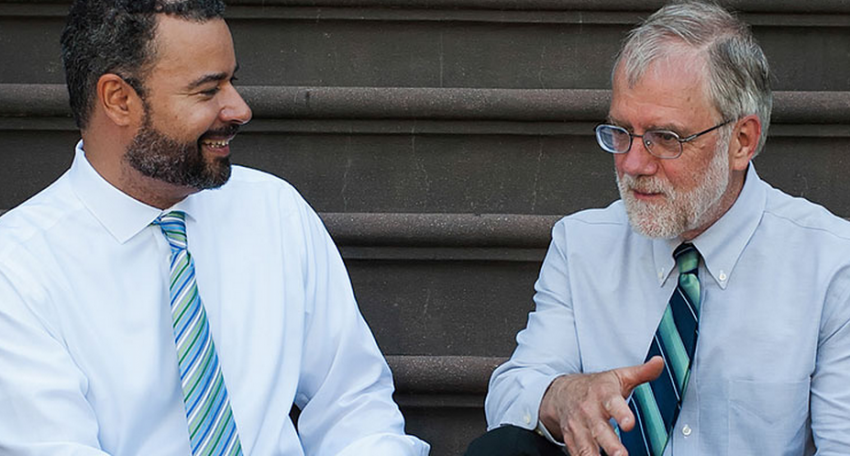 New York's incumbent Gov. Andrew Cuomo may be the poster child for the Democratic Party's rightward shift in recent years. After much handwringing among progressives in the state about his campaign for reelection and Cuomo's effectively neutralizing the Working Families Party, those who can't stomach voting for the incumbent governor seem to have been left with one choice: voting for the Green Party's Howie Hawkins.
While Hawkins's campaign, like any third party run in the US, is clearly a longshot, he has also amassed an incredible amount of support from one of the Democratic Party's most historically solid constituencies: teachers unions.
Wednesday, Oct 22, 2014, 4:54 pm · By Rebecca Burns
Silicon Valley types often wax lyrical about the way that the app-based "sharing economy" disrupts existing business models and create new forms of social relations. When tech magnates extol "disruption," of course, they likely aren't talking about the sort caused by labor actions.
But on October 22, tech-giant Uber got a taste of its own disruptive medicine when drivers in at least five cities who work on the ridesharing platform turned off their apps and stopped picking up passengers, in protest of what they say are unjust working conditions and a dwindling share in the company's profits. Some drivers are calling this action the first strike in the "sharing economy," a sector known for its aversion to labor organizing.
Wednesday, Oct 22, 2014, 1:10 pm · By Diane Krauthamer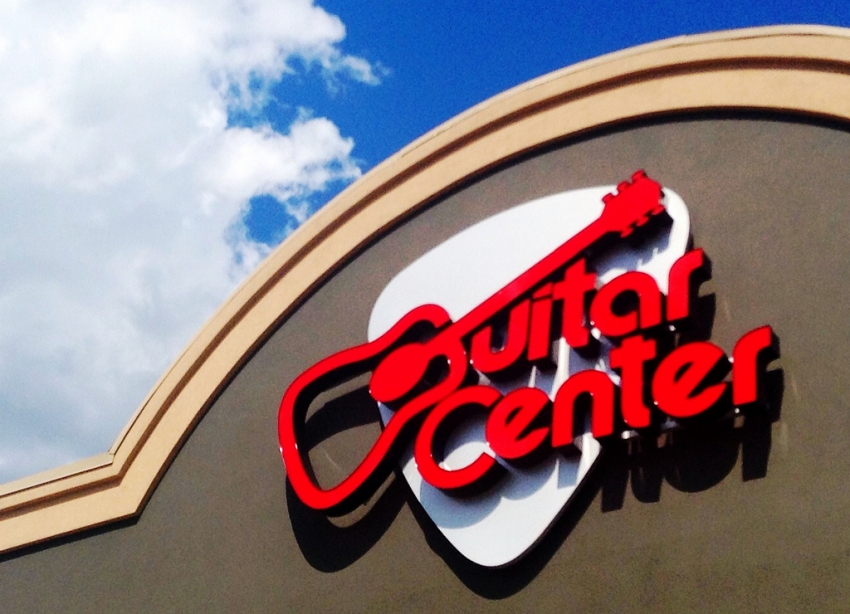 Guitar Center store workers are fighting for fair wages and improved conditions at stores around the country. The company has responded with a fierce anti-union campaign.
"We love music and our jobs. But many of us barely make more than minimum wage," said Jeff Loehrke, Guitar Center drum department manager in Chicago.
The Retail Workers Union (RWDSU) won elections at three Guitar Center stores last year, in New York City in May, Chicago in August and Las Vegas in November. But workers at the three unionized stores are still struggling for a contract.
Over the past year, the union and Guitar Center have had several bargaining sessions in each city. Management is dragging its feet in all three.
Wednesday, Oct 22, 2014, 11:02 am · By Miles Kampf-Lassin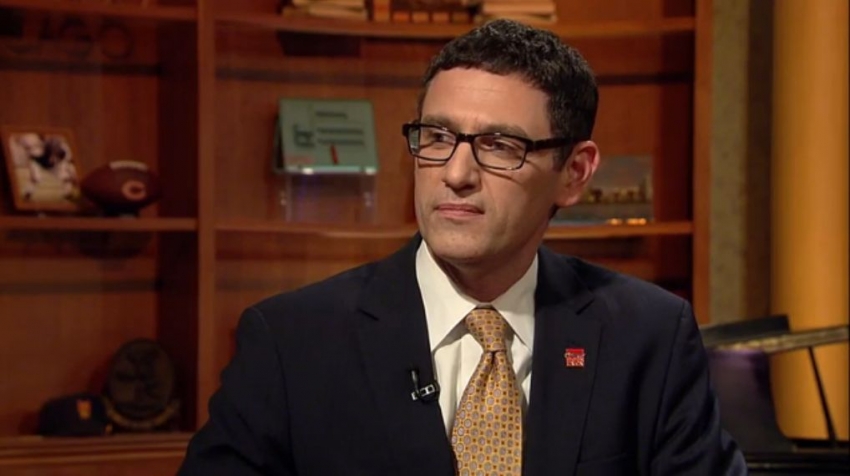 It may not seem very long ago that Chicago teachers were turning city streets into a sea of red shirts as they rallied for a fair contract during the 2012 strike. But new contract talks—and the possibility of another strike—are just around the corner. And this time the Chicago Teachers Union (CTU) has a new interim leader—CTU Vice President Jesse Sharkey, who is stepping in while Karen Lewis recovers from a serious illness.
Lewis' health issues have sidelined her from the upcoming mayoral race in the city, in which she was expected to make a progressive, populist challenge to Rahm Emanuel. But they have also elevated Sharkey during a critical juncture for the CTU: While still reeling from the closure of 50 schools last year, public education in Chicago is facing steep budget cuts and a major lack of resources, all as teachers prepare for another round of contract negotiations with the current contract expiring at the end of this school year.
Tuesday, Oct 21, 2014, 2:30 pm · By Leo Gerard, United Steelworkers President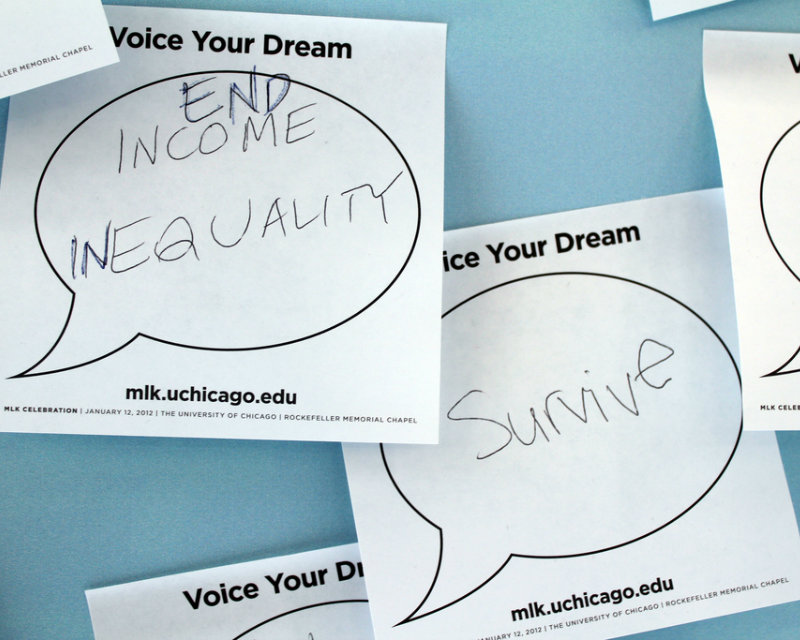 Income inequality is killing the economy. Retailers, bankers and Democrats agree on that. Really.
It's only Republicans who continue to insist that income inequality is great, so no one, least of all them, should make any effort to constrict the abyss between America's struggling 99 percent and Americans who indulge themselves in $475,000 bottles of House of Creed Bespoke perfume.
Now that Wall Street and Main Street have endorsed Democratic economic principals to reduce inequality for the sake of the economy, voting Nov. 4 is easy. Vote Democrat. That's the party both bankers and retailers say has the solution to economic revival.
Admittedly, this is all a little hard to believe after Republicans have diligently depicted themselves as business and bank huggers for so long.
Turns out, though, that's a sad, one-sided relationship. Bankers and retailers aren't returning the love when it comes to economic policy. They've recognized the enemy to their bottom lines, and it is the rising costs and stagnant wages borne by workers since the dawn of the recession.
And both bankers and retailers want action. They want incomes, consumer confidence and purchases all to rise, triggering business profits to do the same. They've discovered that extra personal jets, mega yachts and $475,000 perfume purchased by the one percent have failed to stimulate the economy.
What's essential to revival is more buying by the hulking mass of everybody else. That's what Wall Street firms have said in recent reports. And that's what the Center for American Progress, a think tank that supports middle-out economics, found in an analysis of the financial statements of 65 of the nation's top retailers.
Here, for example, is what Morgan Stanley economists had to say last month in their report Inequality and Consumption:
"So, despite the roughly $25 trillion increase in wealth since the recovery from the financial crisis began, consumer spending remains anemic. Top income earners have benefited from wealth increases but middle and low income consumers continue to face structural liquidity constraints and unimpressive wage growth. To lift all boats, further increases in residential wealth and accelerating wage growth are needed."
In other words, the prescription to cure consumer spending anemia is raises for workers. Remember, it is Republicans who have blocked raising the federal minimum wage from its poverty-level $7.25 an hour, with some party darlings, such as Michele Bachmann, a former candidate for the GOP presidential nomination, contending that the minimum wage should be abolished because no wage is too low.
Then there's the August report from rating agency Standard & Poor's titled: How Increasing Income Inequality Is Dampening U.S. Economic Growth, And Possible Ways To Change The Tide. It says:
"The challenge now is to find a path toward more sustainable growth, an essential part of which, in our view, is pulling more Americans out of poverty and bolstering the purchasing power of the middle class. A rising tide lifts all boats…but a lifeboat carrying a few, surrounded by many treading water, risks capsizing."
Apparently, Wall Street economists love boat metaphors.
To haul the many out of the water and into a more stable economic ship, S&P suggests this:
"That said, some degree of rebalancing – along with spending in the areas of education, health care, and infrastructure, for example – could help bring under control an income gap that, at its current level, threatens the stability of an economy still struggling to recover."
Remember, it is Republicans across the country that have cut spending on education and refused to expand Medicaid under the Affordable Care Act.
It is Republicans in Congress who have repeatedly stomped on attempts by Democrats to stimulate the economy by spending on desperately needed repairs to infrastructure—that is facilities such as roads, bridges, public buildings and sewers. Numerous economists have pointed out that the cost of borrowing for these job-creating projects is so low right now that the loans are virtually free.
Wall Street and Main Street have had their disputes since the Great Recession. But they agree that for the good of the country's economy, incomes must rise for the majority. In a report issued earlier this month, the Center for American Progress (CAP) documented retailers' belief that stagnant wages are damaging business. It's called Retailer Revelations: Why America's Struggling Middle Class has Businesses Scared.
CAP tabulated the risks to business stability that the nation's top retailers reported to the Securities and Exchange Commission. CAP found that 88 percent said weak consumer spending imperils stock prices, and 68 percent said consumers' flat or falling incomes threaten business profits.
The CAP report lists large retailer (Kohl's and Sears) after large retailer (Best Buy and J.C. Penney) suffering faltering sales. It quotes Container Store CEO Kip Tindell saying, "Consistent with so many of our fellow retailers, we are experiencing a retail funk."
CAP explains the funk, "The fortunes of the retail sector and the middle class are inherently linked – when family incomes fail to rise, when the cost of living increases, or when workers cannot find jobs, retailers' sales decline."
Some retailers have taken action themselves. Earlier this year, for example, Gap Inc. and IKEA announced plans to raise their workers' wages to at least $10 an hour. Costco increased wages by $1.50 an hour during the recession, so workers start at $11.50 an hour.
CEO Craig Jelinek explained: "I just think people need to make a living wage with health benefits. It also puts more money back into the economy and creates a healthier country. It's really that simple." Costco's stock prices have tripled since 2009.
Still, not every retailer is going to raise wages voluntarily. The world's largest, Walmart, for example, just cut its workers' health benefits. That's where government steps in. For the good of struggling Americans and the ailing economy, government can order employers to pay a living wage. To create jobs and stimulate the economy, government can invest in infrastructure. As during the Great Depression, a government of the people, by the people, for the people can act for the benefit of the majority of the people.
Republicans oppose that. They prefer the failed trickle-down economics that sunk the middle class. So on November 4, vote to ship them home. Retailers, bankers and workers across America will thank you.
Monday, Oct 20, 2014, 5:05 pm · By Will Craft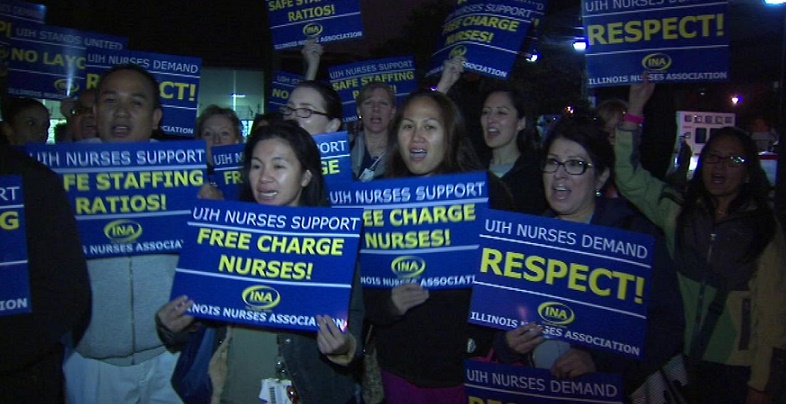 Update: The hospital and the nurses reached a tentative agreement late Monday night, unanimously approved by the nurses' bargaining committee, and the strike was averted. The contract is still subject to ratification by the union's members.
More than 1,000 nurses at the University of Illinois Hospital and Health Sciences System (UI Health) will continue as planned with a one-day strike tomorrow, following a failed attempt by the hospital to prevent almost one-third of the strikers from walking off the job.
In a series of strike votes in early October, the nurses, represented by the Illinois Nurses Association (INA), approved a one-day strike for October 21 by an overwhelming majority of 609 to 38. The union and the hospital have been locking horns during negotiations of the nurses' contract, which was set to expire in August but has been extended until the end of October. The strike vote was taken in response to proposals made by the hospital that the union says would endanger patient safety and nurses' working conditions.
Friday, Oct 17, 2014, 6:34 pm · By Jordan McCurdy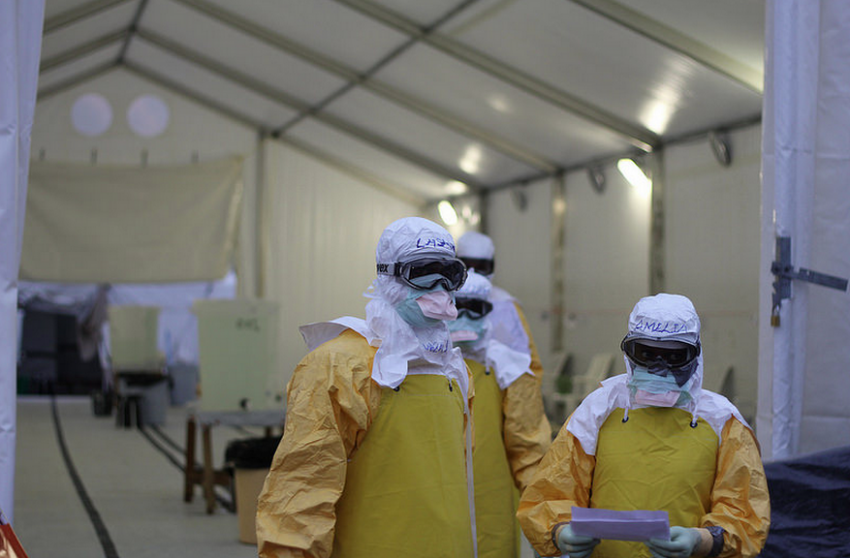 On Tuesday, National Nurses United (NNU) released a statement criticizing disease protocols at Texas Health Presbyterian in Dallas—the same hospital where Thomas Eric Duncan died of Ebola and where two of Duncan's nurses, Nina Pham and Amber Vinson, contracted the disease.
This outbreak, according to Dr. Tom Friedman, head of the Centers for Disease Control and Prevention, resulted from a breach in protocol and could have been prevented.
Friedman's statement infuriated nurses from Texas Health Presbyterian, according to the union, prompting RNs to contact the NNU in order to anonymously call attention to the hospital's inept training and general preparation regarding Ebola protocol. Union officials read the nurses' statement on Tuesday, outlining the alleged flaws and absence of procedures on the day Duncan was admitted to the emergency room with severe symptoms.
Friday, Oct 17, 2014, 1:35 pm · By Marina Fang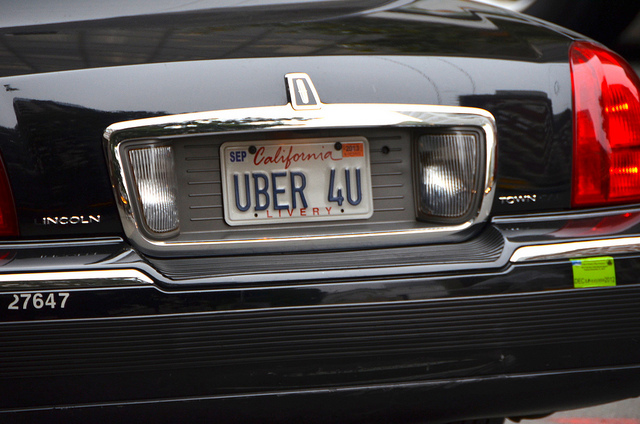 An Uber driver was briefly fired by the company on Thursday for tweeting a semi-critical comment about the company before a social media firestorm that may have helped convince the company to bring him back.
As reported by Gawker, Christopher Ortiz received an email from a company operations manager informing him that his account was "permanently deactivated due to hateful statements regarding Uber through Social Media."
Friday, Oct 17, 2014, 7:00 am · By Cole Stangler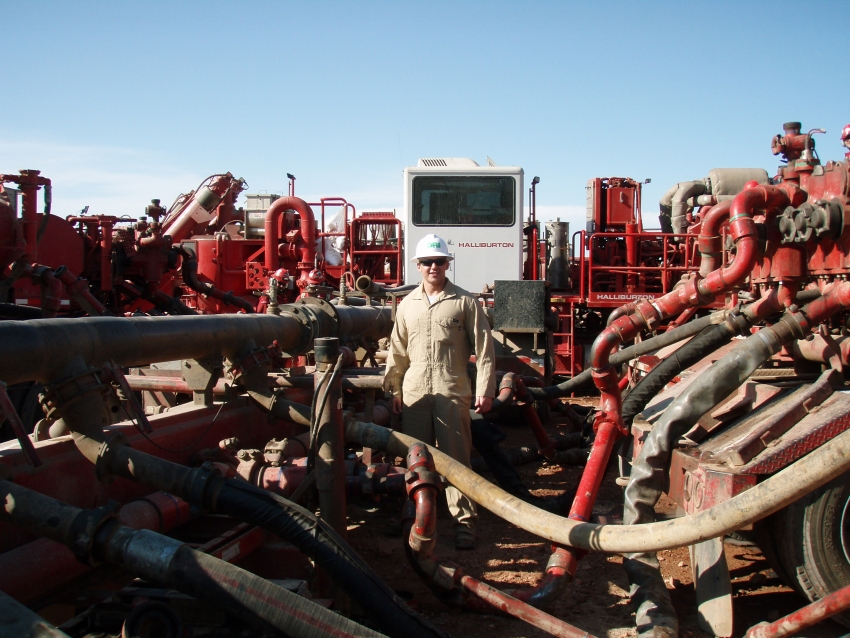 In its quest for jobs, the Building and Construction Trades Department (BCTD) of the AFL-CIO hasn't shied away from taking on environmentalists and progressives. The latest flashpoint is fracking, the controversial drilling practice propelling the nation's fossil fuel energy boom.
On this issue, public tolerance is waning, but the trades unions aren't backing down.