Wednesday, May 6, 2015, 12:59 pm · By Arielle Zionts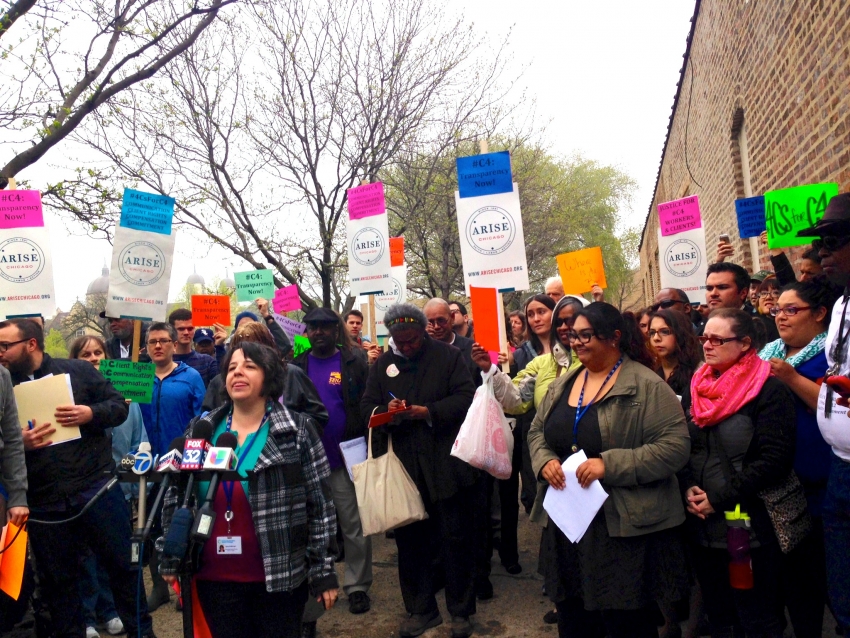 Mental health activist N'Dana Carter says that in 2011, when Chicago Mayor Rahm Emanuel announced that half of the city's mental health clinics would close, he pointed to the Community Counseling Centers of Chicago (C4) as an alternative resource. But now, C4 is shutting its doors—leaving clinic staff without paychecks and clients unsure about where to receive mental health services.
On April 23, C4 staff received an email from CEO Eileen Durkin with the subject line "Sad news about C4." The email said the agency would close by May 31 due to financial difficulties caused by a transition to a new electronic health record (EHR) system. The Affordable Care Act (ACA) required all Medicare eligible professionals to adopt EHRs by 2015.
"We don't really understand how that could account for shutting down an entire agency that's 30-plus years old with 300-plus employees in six months," therapist Anna Goldberger said.
Yesterday, around 100 people—including C4 staff and patients, activists with the Mental Health Movement, Arise Chicago and SEIU Local 73 members—rallied outside C4's headquarters on Clark Street in the Uptown neighborhood. They called for a way to keep the clinics open—or at the very least, transparency in the crafting of a transition plan for over 300 staff who will lose their jobs and over 10,000 patients who will need to find new therapists and psychiatrists.
"We need to know what happened, why it happened and what's going to happen now," explained therapist Maya Joseph-Brooks.
At the rally, staff and clients testified to the closing's effects on employees, patients and the entire city. Kelly Goodwin is a graduate student at the University of Chicago School of Social Service Administration who works at a C4 center. She says the impending closure has already meant a loss of two-thirds of her income in the lead-up to the closure and doesn't know how she is going to pay her rent.
"I just think about [what's going to happen to] our clients and I start crying and then I start thinking about myself and I start crying," Goodwin said.
Wednesday, May 6, 2015, 12:43 pm · By Sonia Singh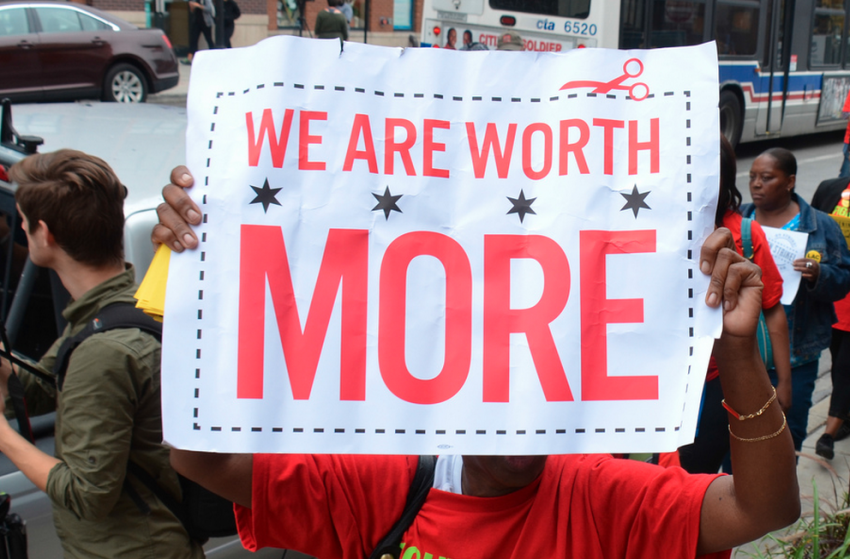 This post first appeared at Labor Notes.
Who's earning less than $15? As the Fight for 15 continues to build momentum, a new report from the National Employment Law Project, "The Growing Movement for $15," highlights widespread low wages in the U.S.
The report paints a picture of low-wage work and union density across six diverse industries, from fast food to auto manufacturing.
According to the report, 42 percent of U.S. workers earn less than $15 an hour. More than half of African-Americans and 60 percent of Latinos make less than this figure. And 46.6 percent of those earning less than $15 are older than 35.
Tuesday, May 5, 2015, 3:50 pm · By Bruce Vail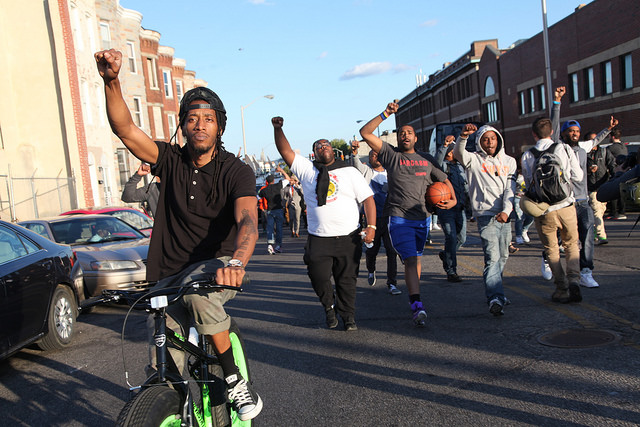 With the city's nightly curfew cancelled and some 4,000 National Guard troops and extra police beginning to withdraw in the wake of the protests and riots that marked the the death of Freddie Gray, Baltimore appears to be returning to normal. But "normal" in Baltimore is part of the problem for workers and low-income residents, according to labor and community leaders, and now is a good time to address some of the economic issues underlying the unrest that brought national and international attention to the city over the last two weeks.
"Now that the charges are out" against police officers accused of criminality in the death of 25-year-old Freddie Gray, the conversation should turn to "the lack of good jobs" for young African-Americans like Gray, says Jermaine Jones, business manager for Laborers International Union Local 710.
Monday, May 4, 2015, 5:49 pm · By Rachel Luban
Tufts University students launched a hunger strike and took over a quad next to the Medford/Somerville campus's main administrative building Sunday to protest planned layoffs of 35 janitors. Five undergraduates joined the "indefinite" hunger strike as a show of solidarity with the janitors, 17 percent of whom are slated to lose their jobs. Dozens more students set up tents on a quad they plan to occupy day and night until the cuts are halted.
Monday, May 4, 2015, 4:23 pm · By Bruce Vail
"What's good for General Motors is good for America," GM President Charles Wilson once reportedly said offhand in 1953, when the giant automaker was near the height of its corporate power. Wilson's sentiment would be ridiculed in the years that followed, but the symbolic importance of the company to the U.S. industrial economy was re-emphasized as recently as 2012, when Vice President Joe Biden bragged about the successes of the Obama-Biden administration with the unofficial re-election slogan "Bin Laden is dead and GM is alive."
Biden's boasting about the 2009 government rescue of the bankrupt GM served as an informal starting point in Detroit March 24-25, when some 900 leaders of the United Auto Workers met for the union's 2015 Special Bargaining Convention. At the top of the agenda was discussion of a strategy for collective bargaining with GM and other large automakers—the first such contract negotiation since the so-called "Detroit Three" auto companies recovered from the spectacular financial collapse of 2008.
Monday, May 4, 2015, 1:28 pm · By Kevin Solari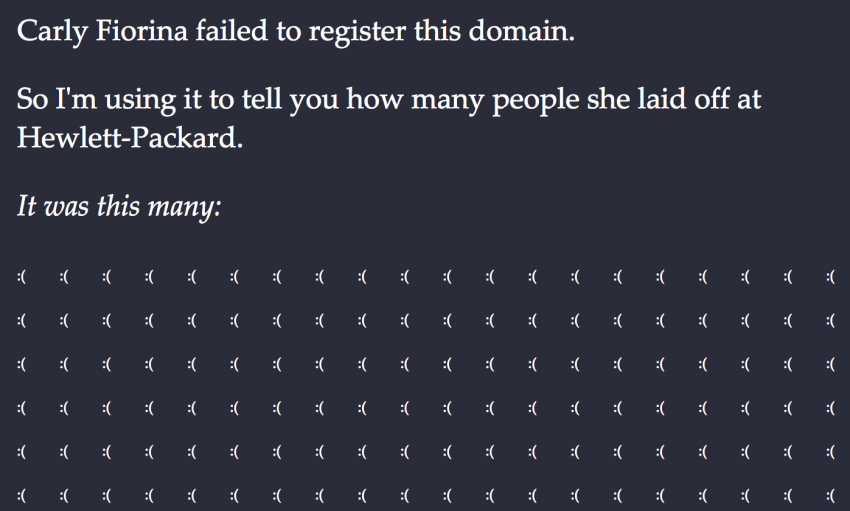 No sooner had Carly Fiorina announced her bid for the Republican nomination for president this morning that she faced an incredible trolling from some anonymous denizen of the Internet. Fiorina and her campaign neglected to register CarlyFiorina.org, and the site has become a soapbox highlighting her tragic tenure as CEO of Hewlett-Packard.
The website is simple, saying "Carly Fiorina failed to register this domain. So I'm using it to tell you how many people she laid off at Hewlett-Packard. It was this many:" followed by 30,000 :( emoji.
Friday, May 1, 2015, 1:48 pm · By David Goodner
While the labor movement is in some of its more dire straits in over a century, 2015 is also shaping up to be a big year for unions. The "Fight for $15" strikes held in over 200 cities on April 15 indicate that a mass movement for worker justice may be on the verge of exploding, one that blends the best of organized labor, community organizing, Occupy Wall Street and #BlackLivesMatter. Oil workers, truck drivers, and dockworkers also went on widely publicized, confrontational strikes this year, and LA teachers at both public and charter schools are preparing to take action on the job, as are graduate students at the University of Washington and several other campuses.
Today, May 1, a Bay Area local of the International Longshore and Warehouse Union shut down its ports to protest the racism and police brutality against black and brown people, providing a classic example of what "social movement unionism" looks like in practice.
Unions are also fighting hard to block looming pension cuts and derail fast track for the Trans-Pacific Partnership trade agreement. But labor's "Right to Work" defeat in Wisconsin in March was a huge setback, while the results of the April 7 Chicago mayor's race were mixed, at best. Taken as a whole, the small upsurge in labor unrest in recent months has not been enough to slow down, much less stop and reverse, the steep historical decline of the trade union movement.
Given all this, labor needs to take serious stock of the current populist moment, analyze which strategies are actually working and which are not, and start to consider what it's really going to take to change course and rebuild a fighting workers movement from the ground up. Dumping hundreds of millions of dollars down the rabbit-hole of Democratic Party electoral politics during the next presidential election cycle is unlikely to get the job done.
Thursday, Apr 30, 2015, 6:20 pm · By Peter Cole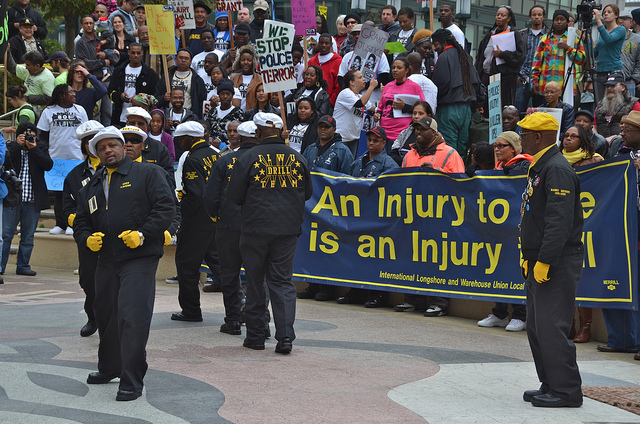 Earlier this month, a video of a white police officer shooting and killing a black man, Walter Scott, fleeing and clearly posing no danger to the cop in North Charleston, South Carolina—like multiple recent videos of unarmed black men being killed by police—went viral. What few know is that his brother is a member of a predominantly black labor union in Charleston—in a state far better known for trying to secede from the Union than organizing one. This union has declared it will protest racist police brutality on May 1, May Day, and called for others to join the protest with actions of their own.
The San Francisco Bay Area longshore union voted to stop work at all Bay Area ports in solidarity. In a sad testament to the ubiquity of such shootings around the country, the walkoff was planned before the police killing of Freddie Gray in Baltimore. But the timing couldn't be better to demonstrate the power of organized labor to forcefully intervene in policy discussions.
Wednesday, Apr 29, 2015, 10:42 pm · By Miriam Shestack
Early Tuesday, National Nurses United (NNU) announced that its 1,500 members at the University of Chicago Medical Center (UCMC) would not go on strike as planned. The union called for a one-day strike set for April 30, following nearly eight months of negotiations and a strike authorization vote on January 29, when 95% of membership voted in favor of authorizing a strike; now, the union is claiming victory in its negotiations with the medical center.
Jan Rodolfo, lead negotiator and Midwest Director of NNU has stated that she "feels wonderful about the outcome, as do nurses. … We accomplished many of our objectives" in negotiations.
Wednesday, Apr 29, 2015, 1:27 pm · By Moshe Z. Marvit
April Bain is a high school math teacher in Los Angeles, and a dues-paying member of her union, Los Angeles Teachers United. She has benefited from this membership, and indeed claims that "everybody has a horror story of a teacher that needed their union." She describes a personal experience of conflict with her principal in which having a union behind her made her feel safe. "You felt safe. You kind of felt like, okay, we can do what's right here and we'll be protected," she has stated.
However, Bain has decided that she does not want to contribute to any of the union's political activities of her union. Bain doesn't specify which of the union's expenditures she specifically disagrees with, but previous objectors to such spending have cited union support or opposition for political candidates, support or opposition for ballot initiatives, support for causes important to the membership, and the like. Though Bain can register as an objector and get a refund of all fees not germane to its representational duties while still being covered under any collective bargaining agreement with the employer, she does not want to exercise that right because she knows that membership has benefits.