Monday, Jun 6, 2016, 7:38 pm · By Branko Marcetic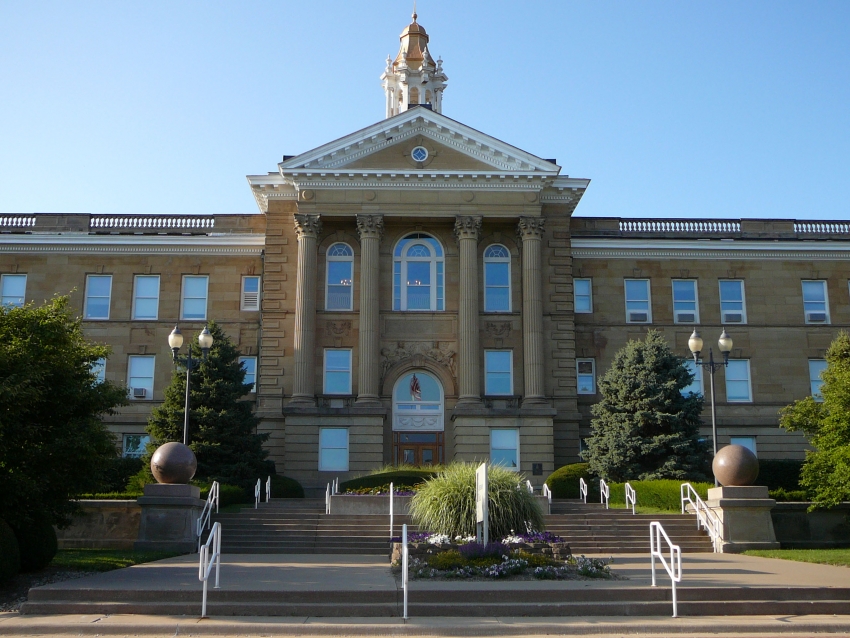 When David Cochran arrived at John A. Logan College (JALC) in 2001 to teach history, the first thing he noticed was the quality of the faculty at the Carterville, Illinois community college. He remembered reading a 1999 study published in an issue of Rolling Stone that ranked the small institution in the top 10 of community colleges nationally. The 7,000 student-strong school punched well above its weight, and in his view, the faculty was the chief reason why.
Fifteen years later, the very aspect Cochran viewed as the backbone of the institution was the first thing on the chopping block when JALC needed to cut costs. This past March, squeezed by the ongoing budget crisis in Illinois, the college's board of trustees voted to lay off 55 employees, eliminating entire disciplines and services from the school's curriculum.
The 55 employees, which include Cochran, consisted of 15 non-teaching professionals, five teamsters and 35 full-time faculty members—more than a third of the college's 91 faculty members.
"These were tenured faculty members, some of whom had been there for 23 years," says Gary Caldwell, who has taught psychology at the college for 42 years. JALC declined to comment on this story.
Monday, Jun 6, 2016, 1:06 pm · By Seth Kershner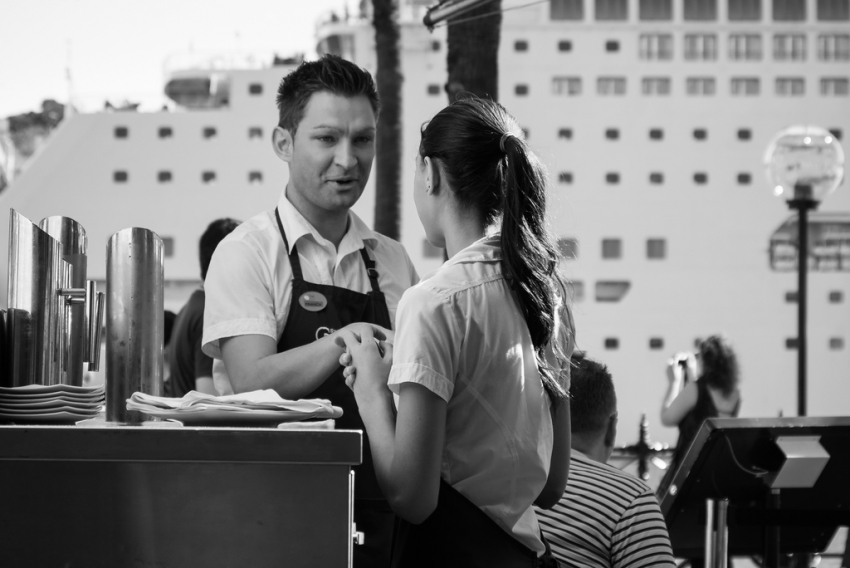 Over 14 million Americans work in the restaurant industry, making it the nation's second-largest private sector employer. But it is the worst place to work by many measures: 90 percent of restaurant workers in the U.S. don't have access to health care or paid sick days, and according to the Bureau of Labor Statistics seven of the 10 worst-paying jobs are in food services. The 3.7 million employees in the fast food sector constitute the lowest-paid workers in the entire U.S. economy. These workers earn an average hourly wage of approximately $9 an hour, or somewhere south of $19,000 per year for those lucky few with full-time jobs.
Not that full service restaurants are any better. In 18 states, wait staff, bussers and hosts receive the "tipped minimum wage" of $2.13 an hour. The idea is that customers' tips will bump these workers' hourly pay up to the federal minimum of $7.25 and beyond. Still, the tipping system makes the restaurant industry an outlier in the U.S.—indeed in the world's—economy. As Saru Jayaraman, co-founder of the Restaurant Opportunities Center (ROC) said in a 2014 interview with Bill Moyers: "This is the only industry on earth that has gotten away with saying we practically shouldn't pay our workers at all—customers should do that."
Long accustomed to using the term "slave wages" in the rhetorical sense, Jayaraman told In These Times that the term can be taken literally as well. "I had no idea until I started doing historical research that in fact these are slave wages—they originated in slavery," she said. The custom of tipping began in feudal Europe and eventually made its way to America in the late 19th century. Railroads were experiencing a massive expansion following the end of the Civil War, and employers like the Pullman Train Company recruited workers from among the large class of newly freed slaves. These workers relied entirely on tips from travelers until they won a base wage after becoming organized through the Brotherhood of Sleeping Car Porters. Restaurant workers, Jayaraman explains, were not so lucky and have remained dependent on the tipped wage—even as countries throughout Europe gradually abandoned the tradition of tipping.
The tipping system falls especially hard on women, who account for more than 70 percent of restaurant servers and more than 60 percent of all tipped occupations nationwide. Bereft of a stable base wage, tipped female workers are dependent on their customers' largesse and are thus put in a position where they have to tolerate sexual harassment in order to support their families. Not surprisingly, the restaurant industry has the highest rate of sexual harassment claims in the U.S. economy; ROC's own research indicates that around 90 percent of women tipped restaurant workers experience sexual harassment on the job.
Jayaraman sums up the evolution of the tipping system this way: "We've gone from a world in which you've got black slaves working for nothing at the mercy of their landowners to a world in which you've got a largely women of color workforce again working for nothing at the mercy of customers who objectify them and put them in a very vulnerable position."
In response to ROC's advocacy efforts, the NRA has maintained that the majority of restaurants "operate on razor thin profit margins" and that "drastic increases to the minimum wage" would hurt small businesses. There are two problems with this line of reasoning. The first is the facts. As Jayaraman points out, the average profit margin for U.S. restaurants of any size—around four to five percent—seems small until you realize that it compares quite favorably to the wildly successful retail giant, Walmart, which has a 2.6 percent profit margin. Second, this counter-argument seems to endorse the morally suspect idea that their industry's survival depends on not paying their own workers' wages. (Which, Jayaraman says, sounds an awful lot like antebellum arguments used by the cotton industry to defend slavery).
While they share the same acronym as the gun rights organization, the restaurant industry's lobbying group is less well-known in this country. But it is no less powerful. According to the Center for Media and Democracy, the NRA takes credit for blocking higher wage laws in more than a dozen states. The lobbying group also pushed back against ROC with a coordinated public relations campaign—funding a defamatory website, ROCExposed.com, and hiring two full-time staffers who bird-dogged Jayaraman at her speaking engagements around the country.
In Jayaraman's telling, the 2014 publication of the Glass Floor, a ROC report on sexual harassment in the restaurant industry, shamed the industry and forced a rethink in the NRA's strategy. The most visible change included installing new, female leadership at the lobbying group and phasing out ROCExposed.com. Jayaraman believes these changes came about because the NRA knew the old tactics would have "played into this horribly misogynistic picture of the industry that ROC was painting."
To demonstrate how the restaurant industry is at a "fork in the road," Jayaraman's new book, Forked: A New Standard for American Dining, examines the labor practices of "high road" and "low road" employers. To be considered "high road," restaurants must meet criteria such as offering paid sick leave and a wage of at least $10/hour for non-tipped employees. Major national chains such as Chipotle, In-N-Out Burger, and Peet's Coffee and Tea make the list, and are a point of pride for Jayaraman. "I'm increasingly seeing that the high road for the first time ever is visible, viable, high-profile and trendy—which has always been our goal from the very beginning," she said. Through the ROC-affiliated RAISE, an association of 200 restaurant industry leaders who are on the "high road" to profitability, top restaurant chains like Blue Bottle Coffee and food world luminaries like restaurateur Danny Meyer are promoting sustainable business practices that are good both for customers and workers. For Jayaraman, RAISE represents "the greatest rift in the restaurant industry that we've ever seen in 15 years of organizing."
While ROC's advocacy efforts on the minimum wage, tipping and worker organizing have benefited countless workers by helping to pass state- and local-level legislation, some skeptics wonder whether ROC should be doing more to organize restaurant workers into labor unions. (Just 1.8 percent of all restaurant workers are currently represented by a union). Veteran labor organizer Steve Early, in a piece for CounterPunch, found it "strange" that ROC does not include formal collective bargaining among its "recipes for change" in the restaurant industry. Strange, Early adds, because "unionization is a far more effective mechanism for taming management misbehavior, on a day-to-day basis, than any hard-to-enforce restaurateur pledge to engage in 'sustainable business practices.'"
Where does ROC stand on the union question? "We fight for better wages and working conditions for workers," Jayaraman says, "respect on the job and dignity, power and voice. We do that maybe differently from the way people use the word union but we are essentially fighting for a lot of the things that I think unions originally stood for."
More to Early's point, Jayaraman emphasizes that ROC organizing has indeed won court-enforceable agreements with employers, winning back $8 million in lost tips and wages for workers. The bottom line, she emphasizes, is that given the size of this industry, the best way to regulate restaurants won't be through unionization but through policy changes to ensure better wages and working conditions.
Back in 1954, when the industry was much smaller and before the rise of chain restaurants, more than a quarter of all employees in eating and drinking establishments were unionized. With restaurants now the second-largest industry in the U.S.—one in two Americans have worked at an eating establishment in their lifetimes—the organizing environment has radically changed.
Still one could make the case that restaurant workers are low-hanging fruit for the labor movement. Through the SEIU's involvement in the Fight for 15 protests—workers' consciousness has been raised and leaders cultivated; a 2015 poll by the National Employment Law Project shows that 72 percent of workers making less than $15 approve of labor unions.
"The question for me is not about how to increase the share of unionized workers," Jayaraman counters. "It's about how to increase the share of organized workers." She acknowledges that the two concepts share a lot in common, but that ultimately it is not productive to focus on naming the type of organizing you're doing.
If unions are not necessarily the answer, then how to get to a place where there are more workers organized for voice, dignity and respect on the job? "It's going to take a combination of things," she says, starting with doing something about the tipped wage. "We have to be able to counter-balance the voice and power of the NRA, and their biggest source of power is the fact that they don't have to pay their own workers."
Through its One Fair Wage campaign, ROC will be working with its chapters across the country to pass legislation to require restaurants to pay all its employees at least the regular minimum wage. This campaign got an early boost last fall, when the New York Times editorial board called for the elimination of the tipped minimum wage.
"For so many years, even the labor movement and advocates told us we were being too ambitious in fighting to get up to just 60 or 70 percent of the federal minimum wage for tipped workers," Jayaraman recalls. "And now we're in a world where we're saying we'll accept nothing less than a 100 percent of the federal minimum and get rid of a separate subminimum wage for tipped workers altogether." There's a lesson here, she says, for organizers and labor groups: be bold, be ambitious. "It's not about what we can achieve or what's politically feasible. It's starting from what we actually want and need and building a movement around that."
Monday, Jun 6, 2016, 11:59 am · By Dan DiMaggio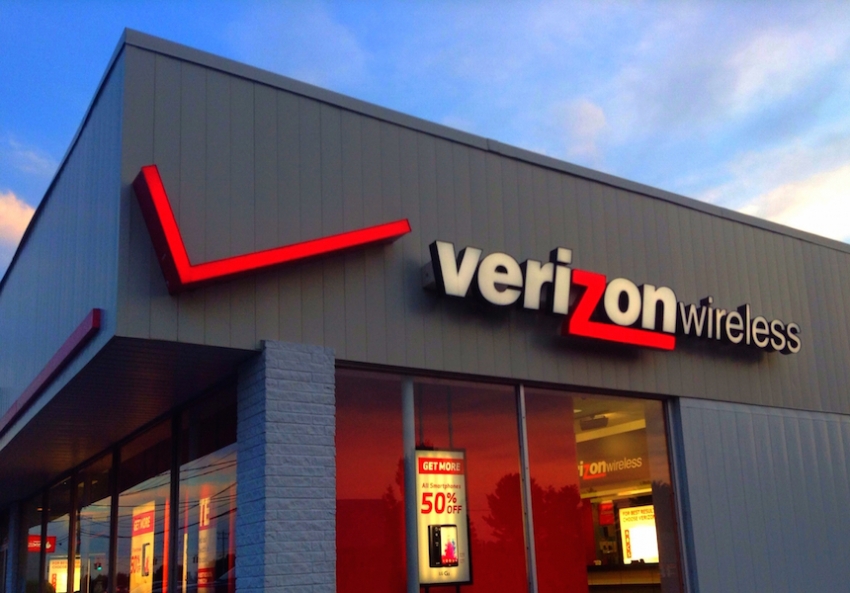 This piece first appeared at Labor Notes.
Thirty-nine thousand Verizon strikers returned to work June 1 with their heads held high, after a 45-day strike in which they beat back company demands for concessions on job security and flexibility, won 1,300 additional union jobs, and achieved a first contract at seven Verizon Wireless stores.
"Walking into work the first day back chanting 'one day longer, one day stronger' was the best morning I've ever had at Verizon," said Pam Galpern, a field tech and mobilizer with Communication Workers Local 1101. "There was such a tremendous feeling of accomplishment. People were smiling and happy. It was like a complete 180 degree difference from before the strike."
The CWA and Electrical Workers (IBEW) won a 10.5 percent wage increase over four years, increased contributions to their pensions, protections against outsourcing of call center jobs, and a reversal of the sub-contracting of some pole work.
Verizon will also eliminate the hated Quality Assurance Review system, an effort to micromanage the workday. Managers would bring techs in for two- to three-hour interrogations about their daily activities and dish out 30-day unpaid suspensions. In the months leading up to the strike, QAR infuriated technicians in New York City.
On top of this on-the-job harassment campaign, Verizon provoked the strike by proposing to shut down U.S. call centers, outsource work to low-wage locations abroad, cap pension contributions at 30 years, and drastically expand its ability to send employees on assignments far from home.
This was despite the unions' granting $200 million in concessions on health care benefits—before the strike. These concessions, which include higher premiums, deductibles, and out-of-pocket expenses, remain in the new contract, though the wage increases will help soften their impact.
"The company could have done this two months ago," said network tech Pat Fahy of IBEW Local 827 in New Jersey. "They could have done it [when the contract expired] in August … and we would have taken it."
Instead, he said, "they forced us to work without a contract for eight months and to be on strike for almost two months. Many of us have resentment two miles long."
"I'll never forget what this company tried to do to me and my family," said Ray Ragucci, a Queens FiOS tech and member of CWA Local 1106. "It didn't have to be like this. They chose to do this. They're very greedy."
Stuck It Out
Secretary of Labor Thomas Perez helped facilitate the deal, intervening in mid-May to restart negotiations between the unions and Verizon.
But the real battle was won on picket lines from Massachusetts to Virginia. Strikers picketed daily outside Wireless stores, and hounded scabs and company executives wherever they went.
And they didn't waver, even when the company cut off their health insurance on May 1. "The company didn't think we would last two weeks—especially with the health care," said Ragucci.
Though this strike was the fourth or fifth for many Verizon workers—nearly all have been with the company for over 15 years—it was the first time since 1989 that the company cut strikers' health insurance.
"I didn't know if our membership was going to be able to handle this," said Ragucci. "In my head, I thought people might cross."
Instead, "I think it really pissed people off," Ragucci said. "And being that our lines stood strong, everybody took a positive attitude, and felt like we're going to win this thing."
"There were stages of fear, optimism, depression, anxiety, a swelling of pride," said FiOS tech Dennis Dunn, a chief steward with CWA Local 1108 on Long Island, describing his feelings six weeks in. "I have never been more proud to be a union member—despite the fact that I am financially in ruins."
Dunn said not a single member of Local 1108 had crossed the picket line. "Our members, they really get it," he said. "It's not because we want to be rich. We started here with the impression that it was a career. It used to be a great career at the phone company, and we want to maintain that."
Still Got It
The risk going into the strike was that the workers might not have much leverage, given the company's growing focus on its wireless division. Verizon seemed willing to walk away from much of its traditional wireline business.
But the strike showed that telecom workers still wield real power. The company was so behind on FiOS installations that new customers were told they would have to wait until July or August for service.
That information was revealed to the union by call center employees in the Philippines, who also said they were fielding a lot of calls to disconnect service because of the scabs' lack of professionalism. (A delegation of U.S. Verizon workers visited the Philippines in May, after call center workers there reached out to CWA through Facebook.)
"The very same managers that ride us, that are constantly on us about our productivity every time we blink," Dunn said, "they have no clue how to do our job. It's comical."
Strikers followed managers and scabs around and picketed the poles, manholes, and buildings where they're working. Safety violations were rampant, they said—and even put the public at risk. Pictures and videos circulated widely on Facebook.
One financial analyst predicted the strike would cut Verizon's profits this year by $200 million. Another reduced a wireline revenue forecast for the company by $826 million, thanks to the rapid decline in FiOS installations due to the strike.
Before the strike began, Verizon was pulling in $1.8 billion a month in profit. "There was no reason for this strike, because we weren't asking for anything more," Dunn said. "Why do you need to take anything from us when you make this much money? In the end, it's all about just breaking the union."
"It's been a rollercoaster," said Rich Corrigan, a field tech and steward with CWA Local 1101 in Manhattan, during the strike. "They're just turning around and saying, 'You're not worth what you were worth last contract.'"
Still, after months of "corporate bullying" via harsh disciplinary policies leading up to the strike, Corrigan said, "getting out onto the picket line was a relief."
Strikers' spirits were also buoyed by public support. The highlight for Corrigan was day one, when 150 union members got front-row seats for a Bernie Sanders speech in New York's Washington Square Park. "We were greeted at that rally like conquering heroes," he said. "The sense that I got was, 'Thank God somebody's doing something.'"
"The public support was overwhelming," Dunn said. "You don't feel like you're alone. We had bagels delivered almost daily on the picket line, pizza from other unions, contributions from retirees… It helps when you don't have people driving by yelling, 'Get a job! Go back to work!'"
Scab Wakeup Calls
Instead of dispatching its scab field technicians from its regular garages and central offices, the unions say, Verizon used hotels. The scabs in Manhattan drove rented vans and other unmarked vehicles.
"The amount of money they spent in suspending their operations, renting out hotel rooms, renting out dispatch locations, renting out Enterprise vans—it was a slap in the face," said Al Russo, a CWA Local 1101 vice president.
"It's astounding that a company of this size, with this reputation, was dispatching a scab workforce throughout Manhattan as an underground operation in order to avoid mobile picketers," said Galpern.
In response, a number of CWA and IBEW locals organized "scab wakeup calls" outside hotels where workers were being dispatched.
These rowdy pickets got several hotels to kick out Verizon's dispatch operation. But they also got the locals hit with restraining orders in New York City and Boston, on the grounds that the tactic counts as a secondary boycott.
Undeterred, CWA and IBEW locals found other ways to keep the heat on Verizon. Five hundred strikers protested CFO Fran Shammo at an investor conference in New York. Eight hundred greeted CEO Lowell McAdam at a conference in Boston.
Verizon Wireless retail store employees, on strike for the first time at six stores in Brooklyn and one in Everett, Massachusetts, toured the picket lines.
The unions sent a delegation to Verizon's shareholder meeting in Albuquerque, where 15 strikers and supporters were arrested in an act of civil disobedience outside. And 250 strikers from Local 1101 appeared on Good Morning America, wearing red and holding union signs.
It also helped that the strike started in the midst of the New York primary. Vocal support from Senator Bernie Sanders drew media attention and helped frame the strike as a clear fight against corporate greed.
'They're Behind Us'
By the end, members may have been tired, but their resolve never flagged.
"We'd like to get back to work as soon as possible," said Local 1101 steward Kim Marshall in the final week. "But we sacrificed this long, and if they keep demanding expensive givebacks, we'll be out for as long as it takes."
The day before the agreement was announced, 200 strikers greeted a Verizon executive outside a tech conference at New York University. In upstate New York, there were plans for a big protest outside the board meeting and convocation ceremonies at Cornell University, where McAdam is a trustee.
And health care unions were planning a June 1 day of action to draw attention to the one-month anniversary of Verizon cutting off health benefits. June 2 was to be another national day of action.
In the last week of the strike, CWA Local 1102 began leafletting outside the Staten Island Ferry. Members collected several hundred petitions from commuters who pledged to cancel their service if Verizon didn't agree to a contract by June 10, and not to buy new Verizon products until the strike ended.
"People that get up every day and get on that boat to go to work, they know what it's like to struggle," said steward Christine Cannavale. "They're behind us."
The union was also buoyed by the growing number of groups "adopting" Verizon Wireless stores for weekly pickets. "Every day, unions and community groups were approaching us to adopt a store," Galpern said. "Individual passersby were stopping by picket lines every day bringing pizza, water, coffee, asking what else they can do."
"Corporate Giants Can Be Beat'
Verizon, meanwhile, kept adding insult to injury. The company mailed workers a letter explaining how to scab and FedEx-ed them a copy of its "last, best, and final offer."
"In the last 22 or 23 years, since I've been with this company, I've never seen such an effort to try to break the union," said Chuck Simpson, a customer service rep and president of CWA Local 2204 in Virginia. "Upper management coming to the picket lines and telling us something totally different than what the bargaining committee was saying, spreading rumors that replacement workers would be permanent …"
In response, Local 1108 held a "Burning the Bullsh!t" rally. "We brought all the scab letters and the final proposals and we did this big barrel barnfire," said Dunn. "We had so much stuff, I had to burn the rest the next day at the union hall."
For Fahy, the worsened health plan is the deal's main downside. "If you use the health care, you're going to pay a lot," he said. "We need national health care—and the unions should really get in front of that one. Health care is a loser. It's going to keep sucking value out of our contracts."
Still, he said, "in this climate that we're living in, just standing up and holding your ground against a company making $1.8 billion a month is a victory."
Ragucci hopes other workers will be inspired by the Verizon example. "I think us doing what we did just lays the groundwork for other unions to say, 'You know what? No.' These corporate giants can be beat if we fight them."
Thursday, Jun 2, 2016, 12:57 pm · By Kevin Prosen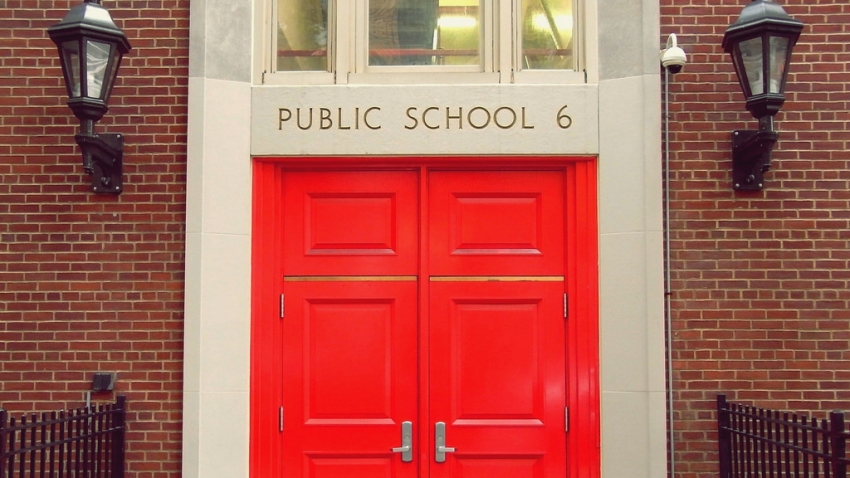 Elections in the New York City's United Federation of Teachers (UFT) have revealed a growing challenge to the union leadership from rank-and-file teachers demanding a more militant stance against corporate education reform. Union president Michael Mulgrew was re-elected with 76 percent of the vote.
But the dissident union group Movement of Rank-and-File Educators (MORE), of which I am a member, earned our first seats on the union's executive board since forming in 2012—an important foothold for an emerging rank-and-file challenger.
Thursday, Jun 2, 2016, 11:38 am · By Spencer Woodman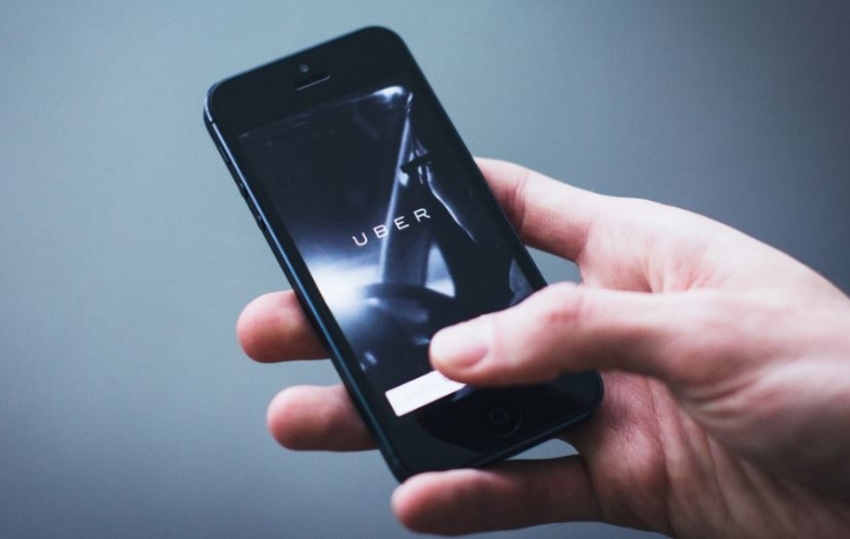 Don Creery had been driving for Uber in Seattle for several months when in May 2014 the clutch wore out on his Kia Soul. A former music teacher, Creery had enjoyed his work for Uber and said he made enough to live comfortably. So, anticipating much more driving in the future, he took out a $10,000 loan to purchase a brand new Soul with an automatic transmission—a smart investment, he judged, for his career as an Uber driver.
"I never go into debt," Creery told me, "but this seemed totally logical."
Initially, everything went according to plan. But soon, Uber would cut the rates it charges customers for rides, effectively slashing the wages of its drivers. The move triggered protests and caused Creery to suddenly second-guess the wisdom of his choice to take out the loan.
"It all of a sudden went from being a good decision to being a bad one," Creery says. "Before that rate cut, it was a middle-class job as far as money goes, and now it's not. It's a lower-class job or in some instances a desperate-class job.
Thursday, May 26, 2016, 4:28 pm · By Elizabeth Grossman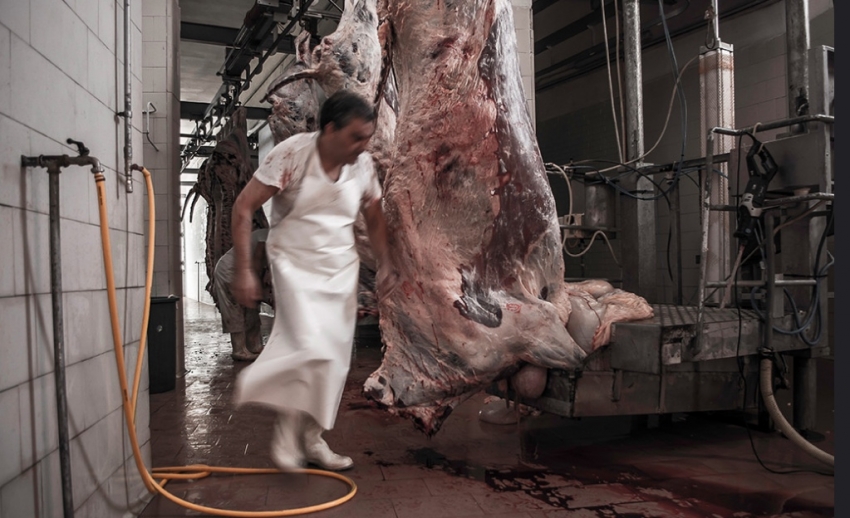 The meat and poultry industry remains exceptionally dangerous, despite a decline in reported injuries and illnesses over the past 10 years, according to a new Government Accountability Office (GAO) report. Further, says the report, the injury and illness rates reflected in Department of Labor numbers are significantly underreported. As a result, these figures do not fully represent what is actually happening within this industry that employs about 526,000—including many recent immigrants and noncitizens. The report also found evidence of workers being denied proper medical treatment on the job and that they often fail to report injuries for fear it will cost them their jobs.
Wednesday, May 25, 2016, 6:53 pm · By David Bacon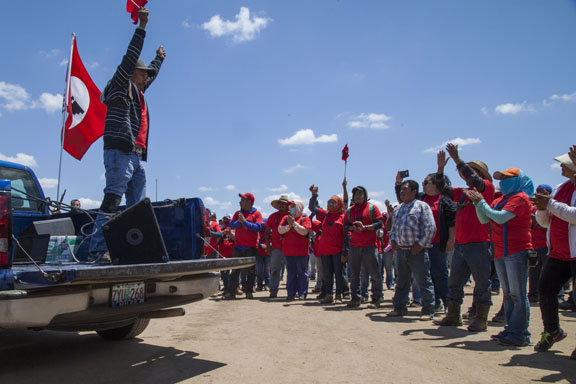 Sometimes they call themselves chapulines.
It's a Oaxacan inside joke. Chapulines are small insects, like grasshoppers. When they're toasted with lime and garlic, they're a delicacy that's as much a part of Oaxacan indigenous culture as mezcal or big tlayuda tortillas.
One worker standing in line in the edge of a San Joaquin Valley blueberry field laughed at the name. "We're very humble, like chapulines, and there are a lot of us, like we're all piled up together on a plate." Another reason he liked the similarity was the color: a plate of chapulines is reddish brown. Pointing down the line of workers, he gestured: "Look at all the t-shirts."
Hundreds of workers had lined up in two long rows in the pre-dawn darkness, ready to vote in a union election last Saturday morning. So many were wearing red t-shirts emblazoned with the black eagle of the United Farm Workers that the few people without them stood out conspicuously.
As the sun came up, the lines slowly moved toward the ballot boxes, and workers began to vote.
By 11:00 a.m., it was over. Blueberry pickers in their red t-shirts poured out of the rows of bushes, and then gathered in a semicircle to watch an agent of the Agricultural Labor Relations Board make the count.
As he announced it, 347 to 68 in favor of the union, the cheering started. The chapulines had won.
Wednesday, May 25, 2016, 4:52 pm · By Bruce Vail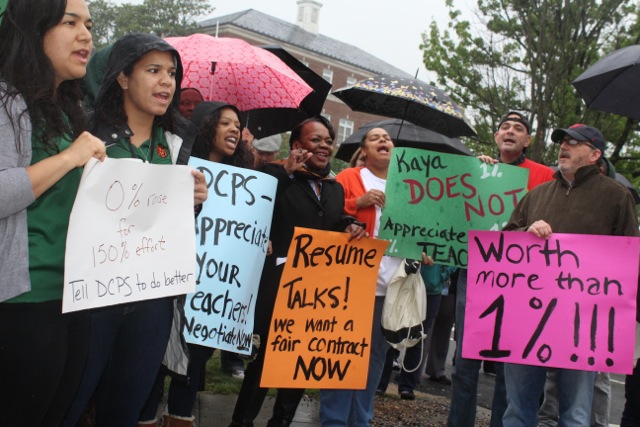 It's been five years since self-styled education reformer Michelle Rhee left her job as head of the District of Columbia Public Schools under a cloud of bitterness and controversy, but she is still throwing shade over the Washington city school system.
Rhee's open hostility to unions was a hallmark of her tenure in D.C. and of her subsequent career as an executive of the education reform group StudentsFirst. That hostility continues to darken relations between city officials and the teachers union, labor advocates say.
Monday, May 23, 2016, 4:52 pm · By Jeremy Brecher and Todd Vachon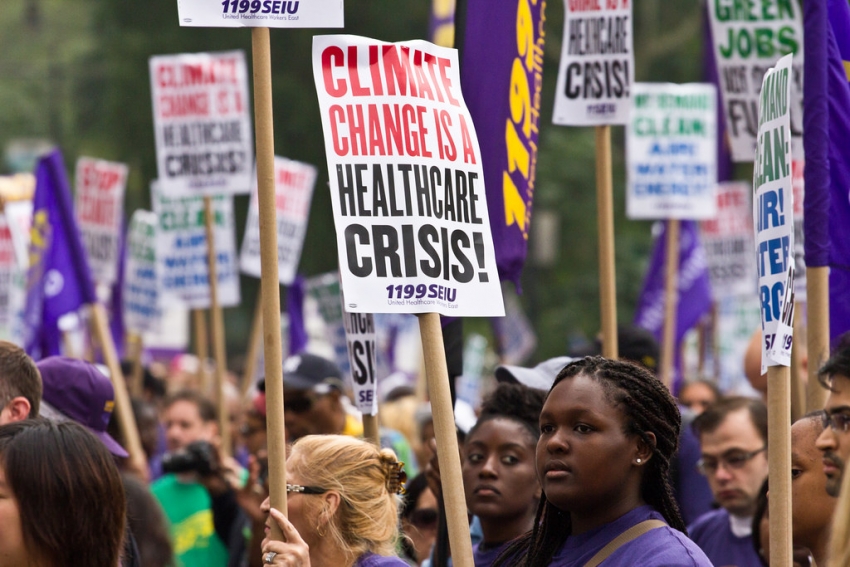 Union workers attacking environmentalists—it has become a trope of our time. But what do union members actually think about the environment?
In a study soon to be published in Labor Studies Journal, we report our findings on workers attitudes and behaviors regarding a variety of environmental issues. In particular, we examine the attitudes and behaviors of unionized workers to see how they may differ from the non-union respondents. The results might surprise those whose images of worker attitudes come only from the mainstream media.
Looking at data from national surveys, we find that union members are on average more likely than the general population to display pro-environmental attitudes and behaviors.
Monday, May 23, 2016, 4:40 pm · By Elizabeth Mahony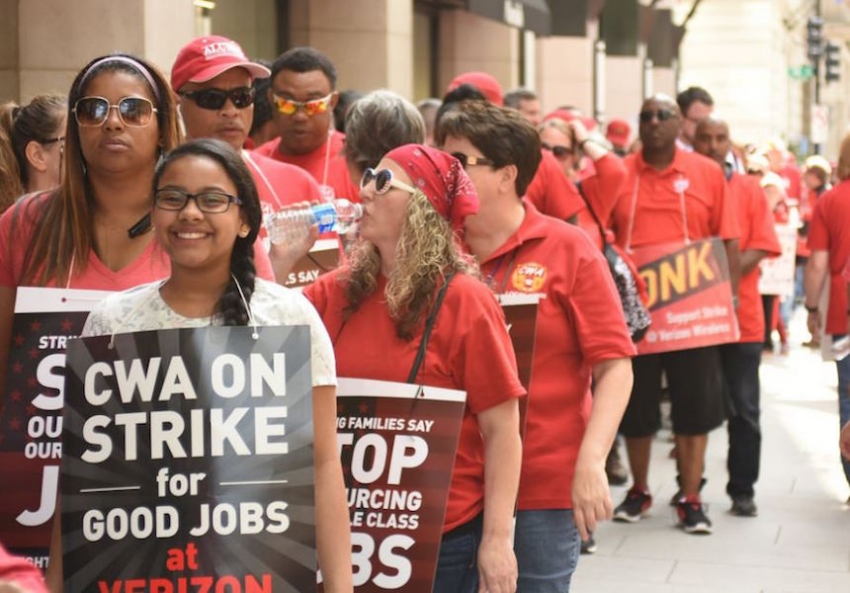 This piece first appeared at Jacobin.
On Tuesday, news broke that Verizon would return to the bargaining table with the Communications Workers of America (CWA) and the International Brotherhood of Electrical Workers (IBEW). The renewed negotiations could bring to a close the largest US strike in five years, which has seen nearly forty thousand workers—mostly landline technicians but also some call-center and retail employees—walk out for more than a month.
At stake are the potential outsourcing of call-center jobs to the Philippines and Mexico, the implementation of forced overtime, the assignment of employees to other cities for months at a time, and the increased use of non-union contractors.
But beyond specific contract issues, the strike is drawing out the distinct paths forward for a labor movement that faces a strategic fork in the road.