Thursday, May 25, 2017, 4:47 pm · By Samantha Winslow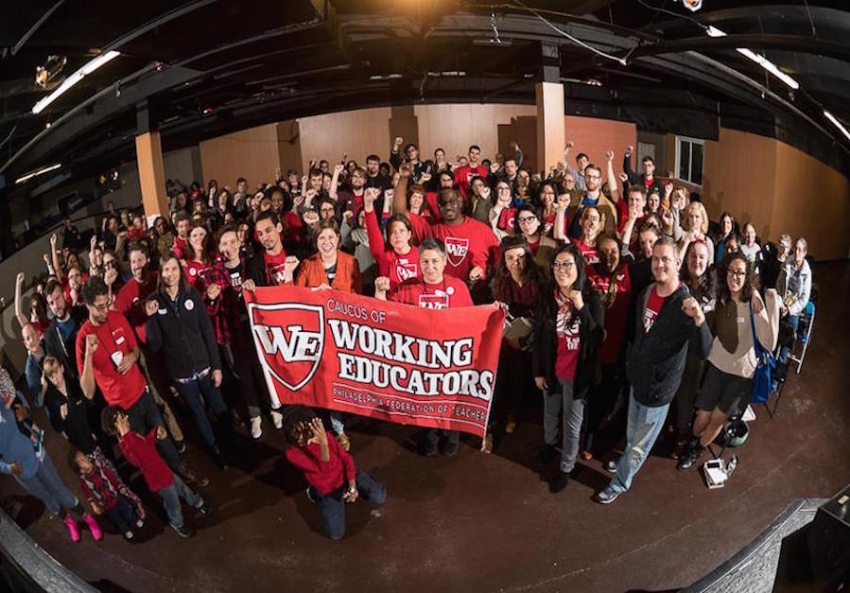 This article was first posted by Labor Notes.
Teachers and their unions turned out for May Day this year in St. Paul, Minneapolis, Oakland, Los Angeles, Milwaukee, Chicago, and Seattle. They held teach-ins at schools and pickets outside, and joined citywide demonstrations in solidarity with immigrant communities.
Philadelphia teachers wanted to show solidarity with the day's themes—but also make a statement to the city about their own contract struggle. They've gone four years without a contract and five years without a raise. They've suffered school closings, freezes on steps and lanes in the pay scale, layoffs of school nurses and counselors, and the privatization of substitute teachers. The state-appointed school board even tried to cancel their contract, though it was rebuffed by the courts.
So, to create pressure on the district, a group of teachers organized their own protest. "We are finally taking some action, after five years of not doing much," said Tom Quinn, a teacher at the city's largest high school, where more than half of teachers took a "personal day" on May Day.
The 11,000-member Philadelphia Federation of Teachers didn't authorize the action. Instead it was a rank-and-file group, the three-year-old Caucus of Working Educators, that enlisted 400 teachers from 24 schools to call off from work and join a series of May Day activities. These included a 10 a.m. grade-in and rally at the school headquarters, joining the Day without an Immigrant march, and heading over to the official PFT union action at an elementary school.
The move certainly got the district's attention. It reported a high alert for absences and had to offer additional bonuses for substitutes on that day.
Thursday, May 25, 2017, 2:02 pm · By Jeff Schuhrke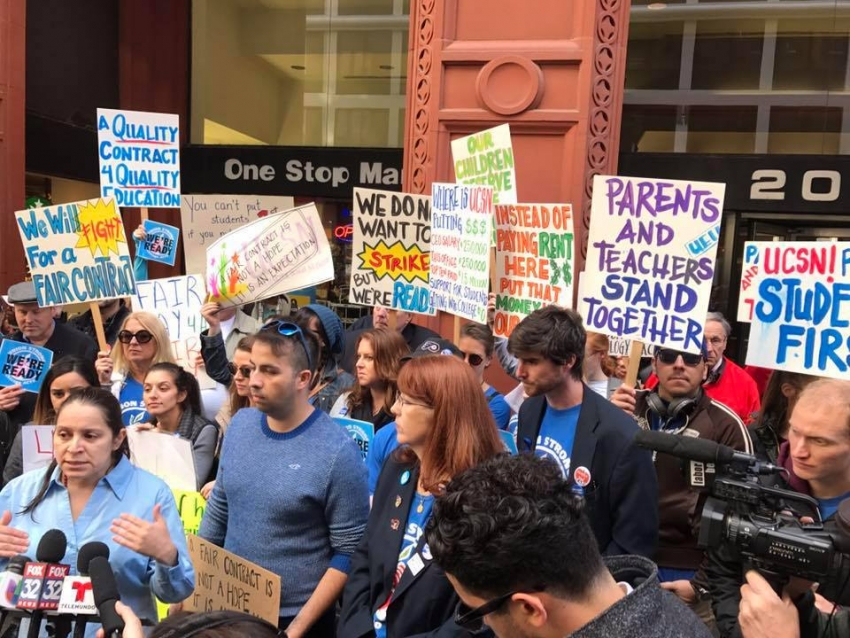 This story has been updated with news of the agreement.
For the third time in eight months, Chicago charter school teachers came within a hair's breadth of going on strike.
After a year of negotiations with management for their first contract since unionizing last spring, close to 50 teachers, paraprofessionals and teacher assistants at Passages Charter School narrowly avoided walking off the job Thursday morning after reaching a tentative agreement with management late Wednesday night. It would have been the first time teachers at a U.S. charter school ever went on strike.
Thursday, May 25, 2017, 11:57 am · By Sarah Jaffe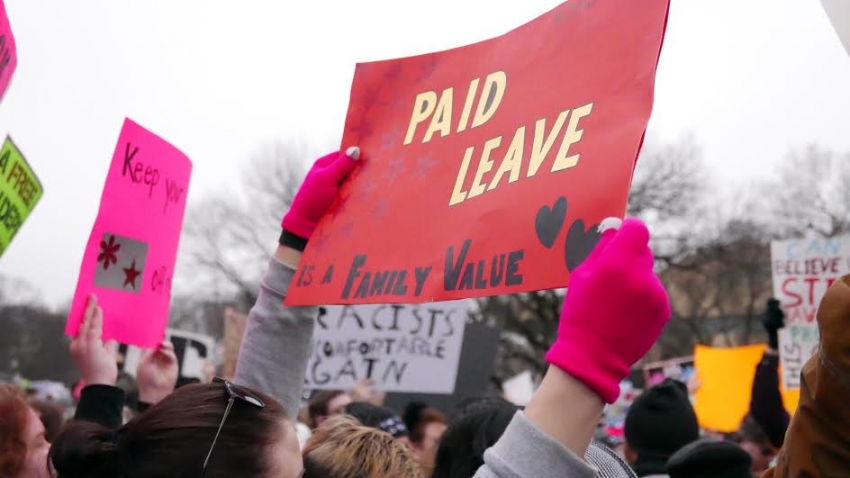 Welcome to Interviews for Resistance. Since election night 2016, the streets of the United States have rung with resistance. People all over the country have woken up with the conviction that they must do something to fight inequality in all its forms. But many are wondering what it is they can do. In this series, we'll be talking with experienced organizers, troublemakers and thinkers who have been doing the hard work of fighting for a long time. They'll be sharing their insights on what works, what doesn't, what's changed and what is still the same.
Ellen Bravo: I am Ellen Bravo. I am co-director of Family Values @ Work. We are a network of coalitions in 24 states winning paid sick days and paid family medical leave insurance.
Sarah Jaffe: Donald Trump's budget, if we can call it a budget, has some provisions that they are saying looks like paid leave. Can you talk about what is in those proposals and what, perhaps most notably, is not in them?
Ellen: I have been thinking a lot about shell games. In order to win a shell game, the person has to get your eyes on one shell while they are manipulating the others. That is what this budget is. They are hoping that by naming "paid leave" we won't notice that they are slashing and destroying everything from Medicaid to food stamps to childcare to disability payments, etc.
Secondly, the paid leave itself, they call it paid family leave, but of course it is paid parental leave. It doesn't deliver even for parents. The problem is it is relying on an unsustainable funding source, state unemployment insurance. They are already grossly underfunded and leave out large numbers of people. The states will get to set the eligibility and amount of payment for your benefit and it is only for six weeks. So too little time for too little money for too few people. It is going to be another shell game to say that the money will come from reducing fraud in unemployment insurance, which is greatly exaggerated as a problem. Essentially it will mean that states will have to cut unemployment benefits to laid off workers in order to have money for the parental leave and of course it's the same people. There will be someone who needs one and later the other or their partner. Then, they get to decide who qualifies. So, if you are an unmarried couple, same sex couple, adoptive parents, how do you get certified? Who gets to be considered legitimate?
Then, the vast majority of reasons people need leave isn't for a new child, it is for your own illness or for caring for a loved one. That, of course, isn't covered. This is a budget that delivers only to one group and that is the wealthiest corporations and the wealthiest individuals. It slams the rest of us and then tries to use this as a shell to make us think there is something in it for us, but when you look, not even very deep, you see that it is unworkable and it leaves out the essential elements of the program.
Wednesday, May 24, 2017, 4:01 pm · By Meaghan LaSala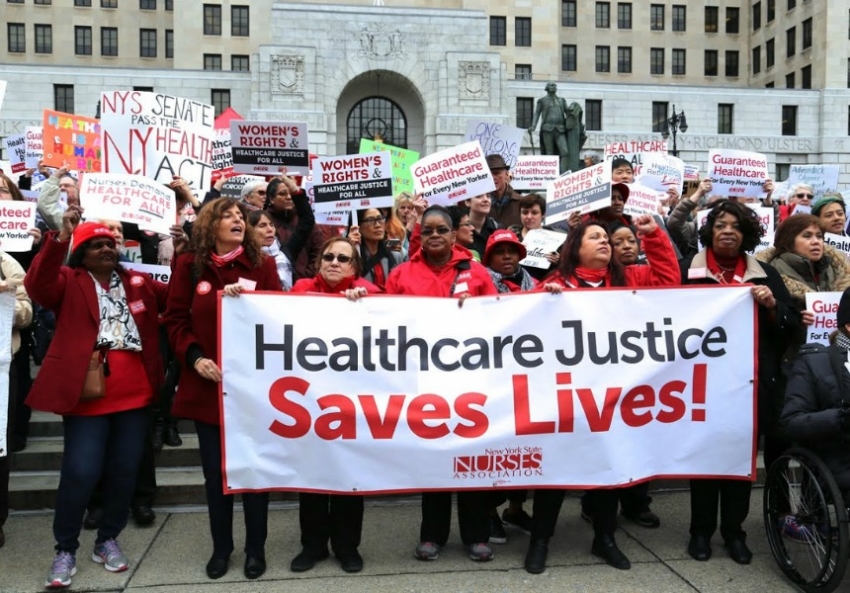 New figures from the Congressional Budget Office show that, if passed into law, the so-called "Trumpcare" bill would spike the number of people without health insurance by 23 million in 2026. While the GOP pushes deadly healthcare rollbacks in Washington, communities from Pennsylvania to Maine are ramping up their organizing for universal health care at the state level. New York and California are celebrating major progress in their campaigns for state-based, single-payer systems, setting the tone for grassroots campaigns sweeping the country.
The Healthy California Act and the New York Health Act would establish improved Medicare-for-all-style systems in each state, eliminating out-of-pocket costs and guaranteeing comprehensive care to all residents. The California bill won approval from the Senate Health Committee in late April, and the Appropriations Committee is expected to vote on Thursday. Meanwhile, the New York Health Act has sailed through the Assembly and now awaits action in the Senate.
Wednesday, May 24, 2017, 2:20 pm · By Stephen Franklin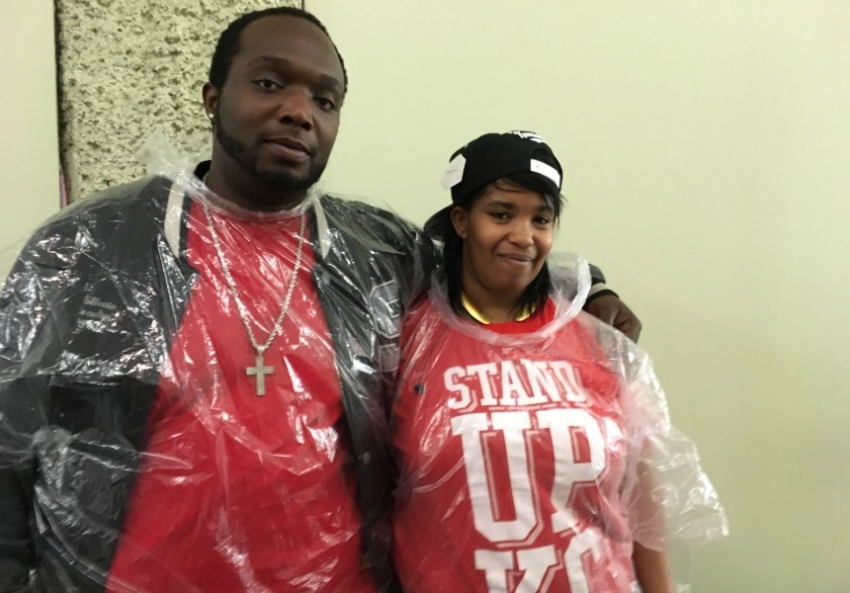 As the line of marchers grew and drummers and bands loudly revved up, Marcus Stone, an $8 an hour McDonald's cook, was pumped.
"I believe it is going to happen, if we fight hard enough," he said, covered in a thin plastic slicker because of a bone-chilling rain drenching downtown Chicago.
He took a nine-hour, all-night bus from Kansas City with his wife and four children, their seven-month-old included, to march Tuesday through crowded rush-hour streets in what the Fight for 15 movement called its largest-ever protest against the fast-food giant.
Friday, May 19, 2017, 3:12 pm · By David Bacon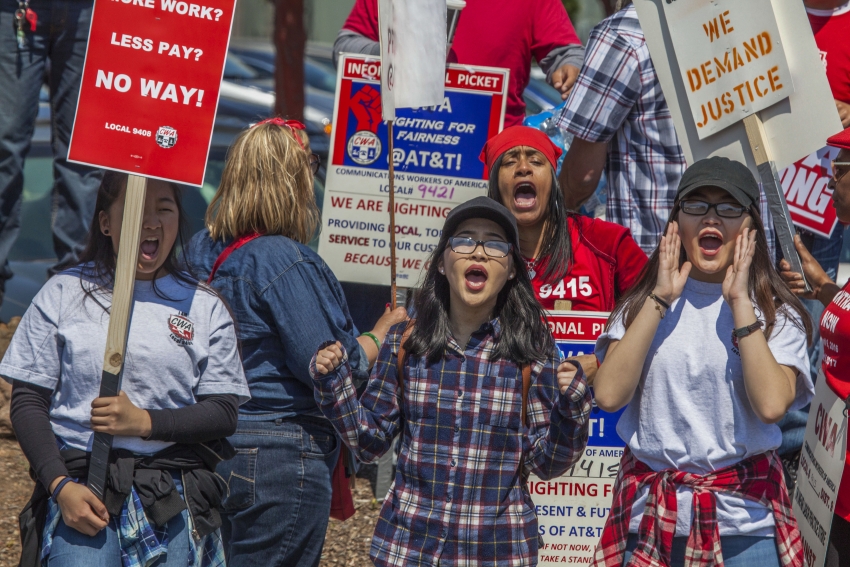 This story has been updated with the start of the strike.
Around 40,000 members of the Communications Workers of America (CWA) at AT&T walked off their jobs Friday, for a three-day strike, as pressure continues to mount on the corporation to settle fair contracts.
In California and Nevada, around 17,000 AT&T workers who provide phone, landline and cable services have been working without a contract for more than a year. Last year, they voted to authorize a strike with more than 95 percent support. And in February, an estimated 21,000 AT&T Mobility workers in 36 states voted to strike as well, with 93 percent in favor.
Workers had issued an ultimatum, giving company executives until 3 p.m. ET on Friday to present serious proposals. They didn't; the workers walked.
Friday, May 19, 2017, 1:24 pm · By Jeff Schuhrke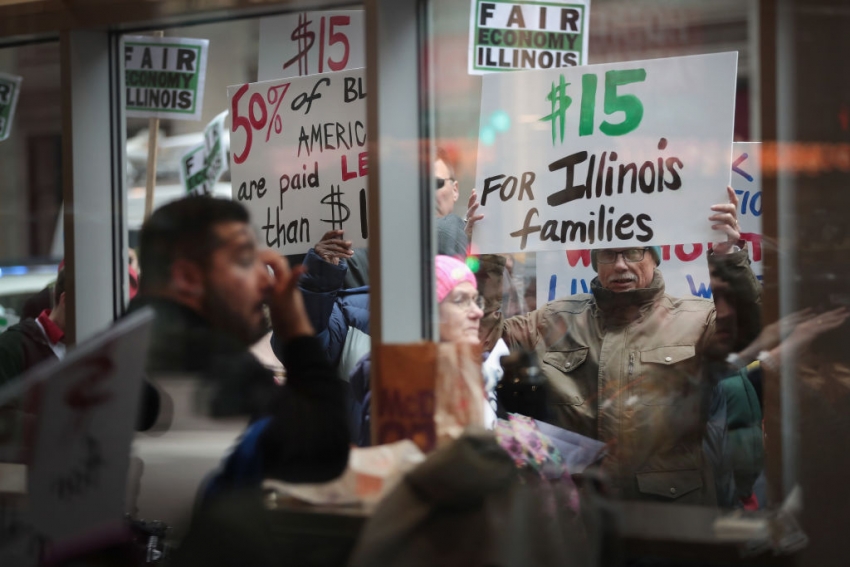 Illegal abuses in low-wage workplaces are largely going unreported by workers because of a realistic expectation their bosses will retaliate against them for speaking up, according to a new study released this week.
The report, Challenging the Business of Fear, was prepared by Raise the Floor Alliance, which is a coalition of Chicago worker centers, and the National Economic and Social Rights Initiative (NESRI). Surveys and interviews were conducted with nearly 300 Chicago-area workers from a variety of low-wage industries, including warehousing, manufacturing, food service and retail.
The study finds that among employees who dared to speak up about workplace injustices like unsafe conditions, wage theft, injuries, sexual harassment and discrimination, 58 percent experienced retaliation. Of workers who reported legal violations to regulatory agencies like the Illinois Department of Labor, Department of Human Rights, or the Occupational Safety and Health Administration, over 80 percent said their employer retaliated against them.
Sophia Zaman, executive director of Raise the Floor Alliance, said at a press conference Thursday that retaliation has become "so normalized, it's basically a way of doing business."
Thursday, May 18, 2017, 11:00 am · By Sarah Jaffe
Welcome to Interviews for Resistance. Since election night 2016, the streets of the United States have rung with resistance. People all over the country have woken up with the conviction that they must do something to fight inequality in all its forms. But many are wondering what it is they can do. In this series, we'll be talking with experienced organizers, troublemakers and thinkers who have been doing the hard work of fighting for a long time. They'll be sharing their insights on what works, what doesn't, what's changed and what is still the same.
Elijah Armstrong: I am Elijah Armstrong. I work with the National Education Association. I am an education organizer with the teachers' union.
Sarah Jaffe: This past week had some interesting moments on the education front. First off, I wanted to ask you about Betsy DeVos's visit to an historically black college and the welcome that she received, or didn't receive.
Elijah: I was extremely proud to see the students resist Betsy DeVos, despite the administration bringing her against their will and having her give a commencement speech instead of actually being there to dialogue about her constant destruction of education, primarily public education. So it was great to see the students stand up against that. I was really inspired by it. I was really happy to see that they didn't just allow her to come there and it be business as usual.
Wednesday, May 17, 2017, 12:56 pm · By Shaun Richman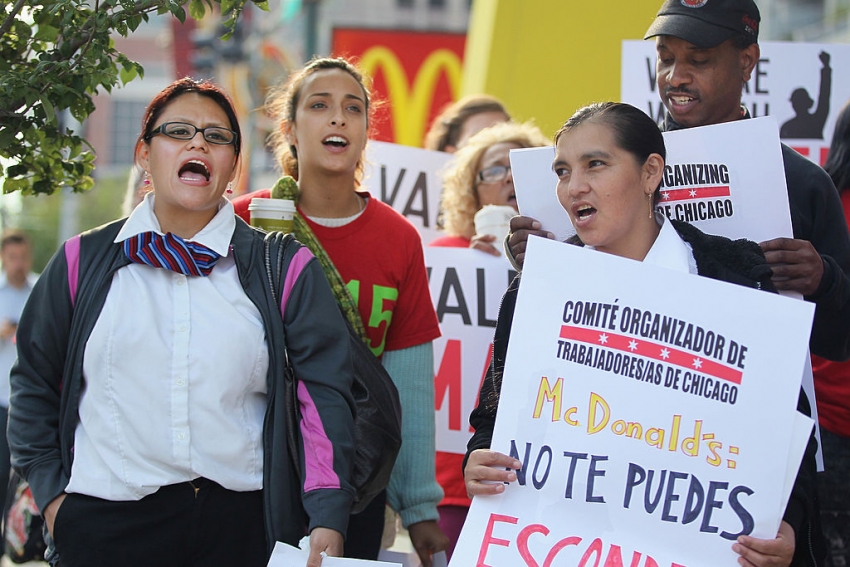 Here comes the anti-union crackdown.
According to a recent Bloomberg report, Donald Trump has submitted the names of two anti-union lawyers to the FBI for vetting. This is a precursor to nominating them to the National Labor Relations Board (NLRB) by June to cement a Republican majority that will reverse many of the pro-worker decisions and policies that the federal agency has advanced in recent years.
Marvin Kaplan works for the Occupational Safety and Health Review Commission. William Emanuel is a lawyer at the union-busting firm, Littler Mendelson. Either of these garden-variety union-haters could have been appointed by Jeb Bush, John Kasich or whatever bland man in a navy suit the Republicans might have nominated if the reality TV star hadn't bumbled his way into the GOP nomination and presidency.
On the potential chopping block are the board's expedited election rules, the organizing rights of graduate employees and workers at charter schools, the rights of subcontracted employees to join their coworkers in a union, the ability of unions to organize smaller units within a larger enterprise and the culpability of a parent company for a subsidiary's illegal behavior.
As inevitable as this right turn is for our nation's workers' rights board, so, too, should be our planned counterattack.
Tuesday, May 16, 2017, 11:06 am · By Chris Brooks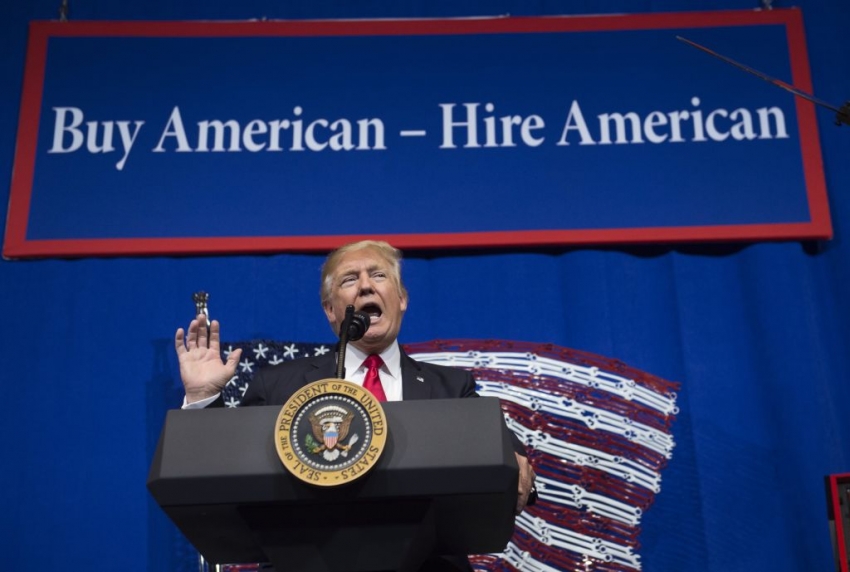 This article was first posted by Labor Notes.
Backed by a huge banner reading "Buy American—Hire American," President Trump declared in March that his administration would make the U.S. the "car capital of the world" again.
"For decades, I have raised the alarm over unfair foreign trade practices that have robbed communities of their wealth and robbed our people of their ability to provide for their families," Trump said. "They've stolen our jobs, they've stolen our companies, and our politicians sat back and watched, hopeless. Not anymore."
Who is "they"? Based on the president's previous comments, two safe guesses are Mexico and China. Since the inauguration he has been pushing to restrict trade and immigration. Meanwhile Auto Workers (UAW) President Dennis Williams has announced that his union will launch a new "Buy American" campaign.
U.S. history has seen at least three waves of "Buy American" fervor. Chris Brooks interviewed Dana Frank, history professor at the University of California, Santa Cruz, and author of Buy American: The Untold Story of Economic Nationalism, about the history and impact of these campaigns.