Monday, Apr 6, 2015, 3:59 pm · By Kari Lydersen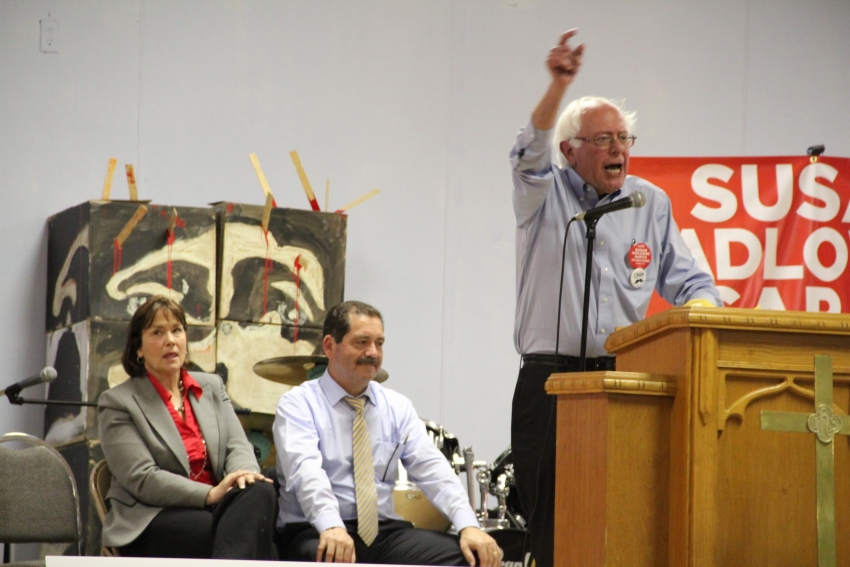 Underscoring the extent to which Chicago's April 7 election has taken on national symbolism, Senator Bernie Sanders (I-Vt.) visited a church on Chicago's Southeast Side on April 2 to call for a "political revolution" and rally behind mayoral hopeful Jesus "Chuy" Garcia and 10th ward City Council candidate Sue Sadlowski Garza.
Sanders told the wildly cheering crowd of several hundred Southeast Side residents that Garcia and Sadlowski Garza—a Chicago Teachers Union leader from a family of vaunted United Steelworkers activists—represent a break from the corporate-minded "oligarchy" that has ruled on municipal, state and federal levels.
Monday, Apr 6, 2015, 1:35 pm · By Julia Kann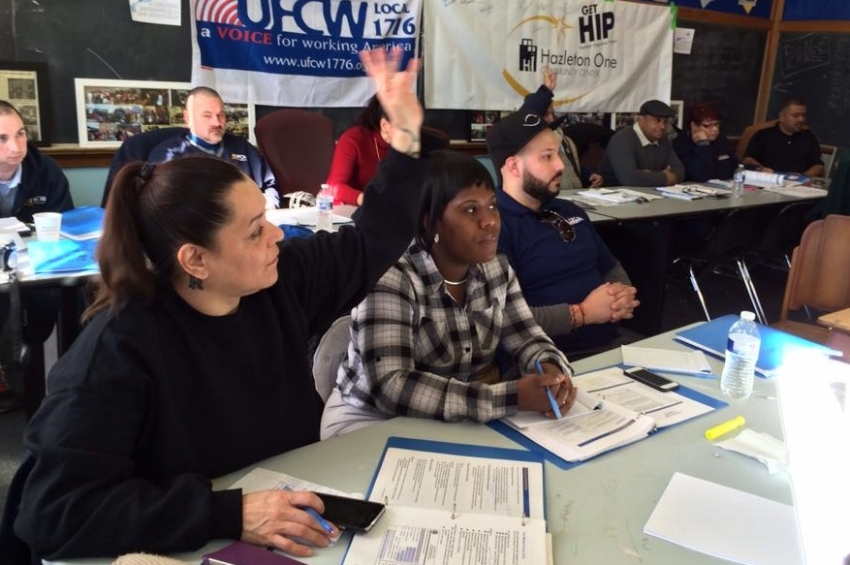 This article first appeared at Labor Notes.
Going beyond contracts and grievances, the United Food and Commercial Workers (UFCW) is serving its members in a new way: helping immigrants prepare to get legal authorization to work, under President Obama's recent executive order.
UFCW unveiled the national initiative in March. The union plans to train 100,000 members on eligibility requirements and help them gather the necessary documents to apply. About 700 members have been trained so far.
Obama's November order created a new immigration status, Deferred Action for Parental Accountability (DAPA), and expanded a recently created status, Deferred Action for Childhood Arrivals (DACA).
While DAPA and DACA won't lead to citizenship, they will grant legal permission to work—which can be "life-transforming," says UFCW Executive Vice President Esther Lopez.
Monday, Apr 6, 2015, 11:44 am · By Keely Mullen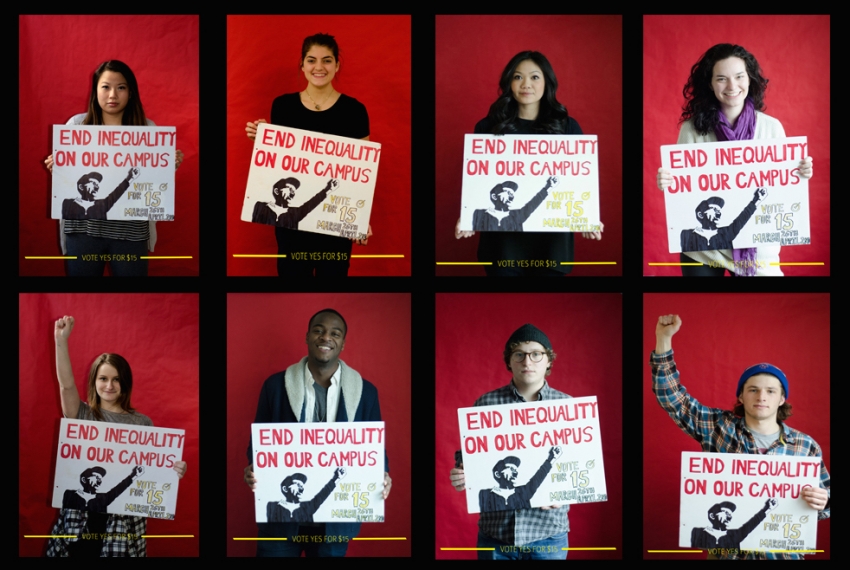 Since the mid-1990s, Boston's Northeastern University has undergone a complete makeover. What was once a blue-collar, majority-commuter university has now become known for its world-class educational programming and facilities.
The school's finances have grown at previously unimaginable rates. Between fiscal years 2008 and 2013, Northeastern experienced a 66 percent growth rate in donations, and though the administration holds its financial records very close to the chest, it's fair to assume that the school's endowment (which was $713.2 million in 2014) has grown tremendously. The university has become a prime example of America's corporatization of higher education.
Saturday, Apr 4, 2015, 1:16 pm · By David Moberg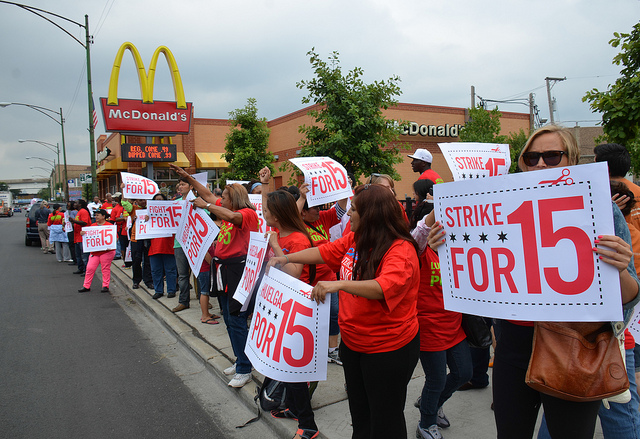 On April Fool's Day, McDonald's Corporation offered a pay increase next July to workers in the restaurants it owns in the United States.
The company, fighting to improve its battered image, may not have intended the move to be a joke. But in the end, many workers saw the welcome boost in pay and benefits as largely a fraud perpetrated on the public as well as on fast food workers. They say the timing indicated that McDonald's was trying to undercut a growing workers' movement that has called for a large-scale demonstration for $15 per hour wages and a union for all fast food workers on April 15.
Friday, Apr 3, 2015, 6:18 pm · By Micah Uetricht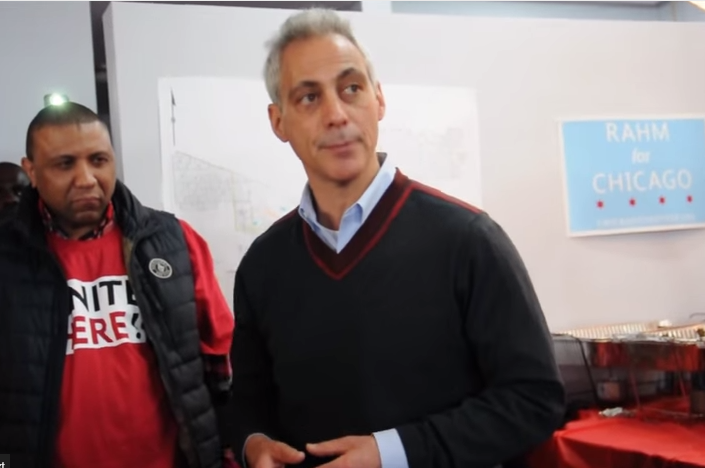 A group of former UNITE HERE staffers and volunteers from around the country released an open letter to the union today, rebuking Chicago's UNITE HERE Local 1 for its endorsement of Chicago Mayor Rahm Emanuel and questioning the union's commitment to progressive unionism.
"Local 1's endorsement of Rahm Emanuel for Mayor of Chicago ... is a betrayal of the cause of all workers and a black mark on UNITE HERE's legacy," the letter reads. As of Friday morning, the letter was signed by 41 people, almost all of whom listed the local or locals where they worked with the union.
Thursday, Apr 2, 2015, 11:47 am · By David Bacon
PANAMA CITY, PANAMA—You see a lot of parked taxis in the parking lot at the Panama Ports terminal here. But they're not waiting to give rides to longshore workers—dockworkers themselves are the drivers. Longshore wages in Panama are so low that after a shift driving a crane, a longshoreman has to put in another shift driving a taxi just to survive.
At Panama Ports, however, this situation has begun to change. A few weeks ago the union signed a new contract with raises totaling more than 27% over the next four years. One factor that made this agreement possible was support from a U.S. union, the International Longshore and Warehouse Union (ILWU). That agreement will have a big impact on the lives of longshoremen and their families.
In Panama they call longshore pay "hunger wages." Workers' families live below the government's own poverty line, and some families literally go hungry.
Wednesday, Apr 1, 2015, 12:17 pm · By David Moberg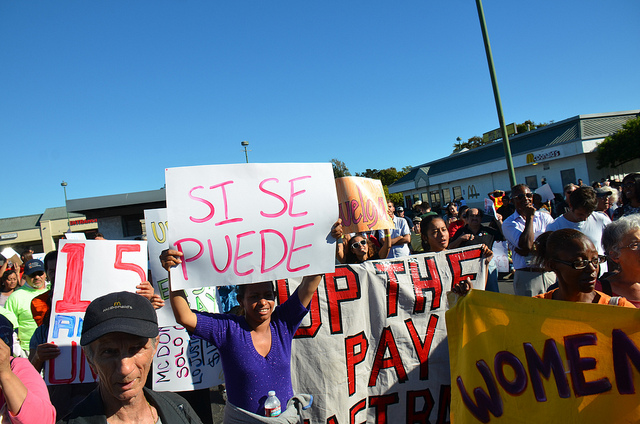 If Douglas Hunter succeeds with his plans on April 15, the public's attention this year may be diverted from grumbling about taxes to demanding higher wages for millions of low-income service workers—including many who earn so little at their jobs that they need public subsidies for a minimal standard of living.
Hunter, 53, is a leader nationally and in Chicago of the Fight for $15, an ambitious campaign that New York City fast food workers launched two-and-a-half years ago. But other cities picked up the call, then other occupations, from retail workers and childcare providers to adjunct professors. It has caught the imagination of the public as well and notched some notable victories, such as a $15 minimum wage in Seattle and Seatac in Washington state, as well as in San Francisco.
"We can't wait. Jewel isn't waiting. People's Gas isn't waiting," he says, referencing a Chicago grocery chain and natural gas utility, respectively. "We need higher wages to support our families. Many people thought we were crazy two years ago when we walked off our jobs in New York and demanded $15 an hour. They don't think we're crazy now."
Tuesday, Mar 31, 2015, 10:49 am · By Leo Gerard, United Steelworkers President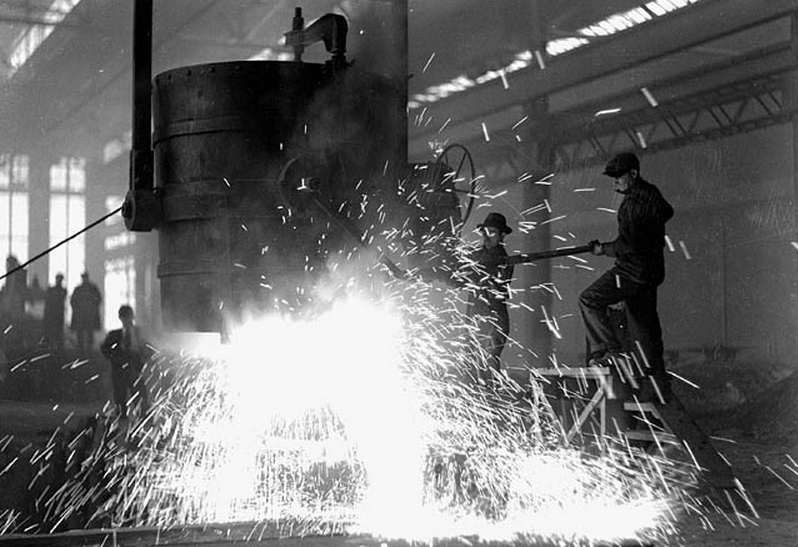 Sucker punched by massive, illegally subsidized imports, American steel producers laid off thousands of workers in bedrock communities from Ohio and Illinois to Texas and Alabama.
That's in just the past three months.
The families of furloughed workers are struggling to pay mortgage bills. The communities, losing tax dollars, are canceling needed road work. The companies are talking about the similarities between now and the 1990s when half of the nation's steel firms disappeared. Members of the Congressional Steel Caucus are worrying about the effect on national security if America can't make its own steel for guns and tanks.
Wednesday, Mar 25, 2015, 4:04 pm · By David Moberg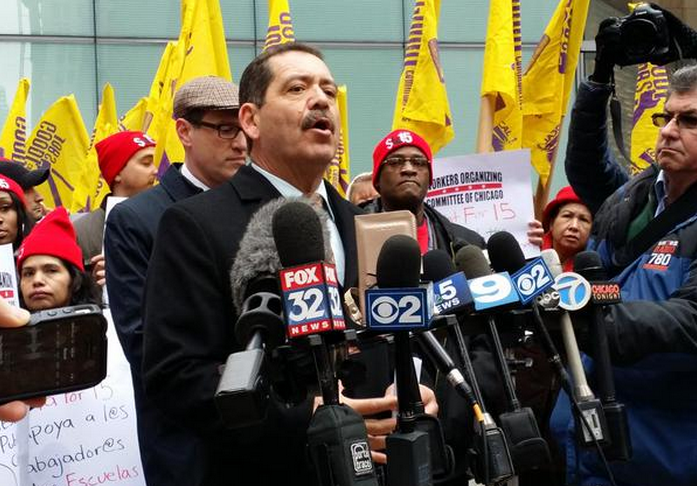 The Fight for 15 and the Chicago Teachers Union (CTU) have joined together to demand that Chicago Public Schools (CPS) employees should earn at least $15 an hour, including contract workers such as the janitors provided by Aramark in a controversial privatization of school sanitation that has provoked protests by public school principals.
At a press conference on Wednesday announcing CTU's demand, Chicago mayoral candidate Jesus "Chuy" Garcia pledged that he would support the $15 wage. "I stand here today as someone who understands the plight of thousands and thousands of Chicagoans in Chicago neighborhoods who need to increase their wages," said Garcia.
The CTU announced it would include a demand for all CPS employees to receive a $15 per hour minimum wage in their contract proposal to the Chicago Board of Education. The proposed language reads: "The CTU will require the BOARD to report which employees do not earn at least a $15/hour minimum wage and to then require that all CTU members must earn at least $15/hr. and that all CPS subcontractors must earn at least $15/hr. and/or that all CPS employees must earn at least $15/hr."
Tuesday, Mar 24, 2015, 1:33 pm · By Rachel Luban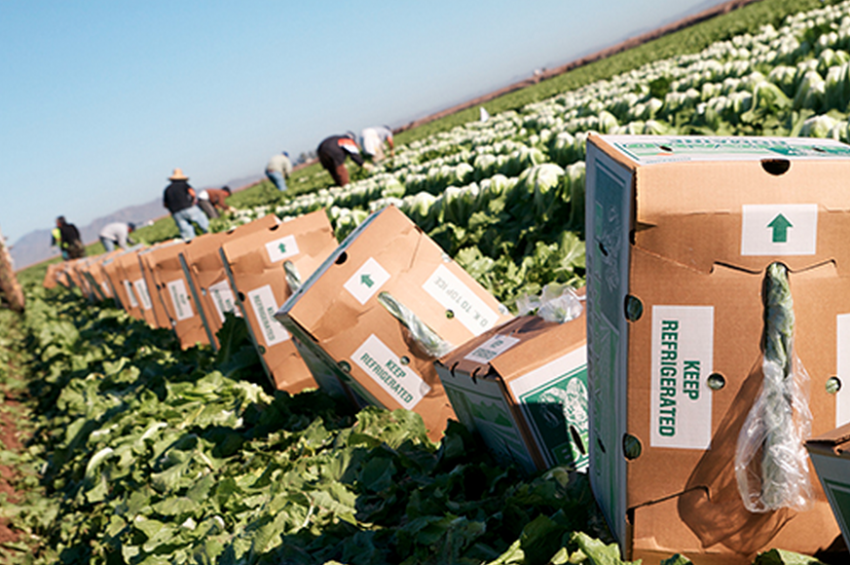 On March 18, the Department of Labor (DOL) announced it would resume processing applications for the H-2B guestworker program after a two-week suspension. The DOL abruptly halted processing H-2B applications earlier this month after a Florida federal district court ruling left the program without any formal regulations; the agency began processing applications again when the court granted its request to stay the ruling until April 15 to allow the guestworker program to continue. The announcement prompted a collective sigh of relief among employers and workers who depend on H-2B jobs.