Monday, Sep 19, 2016, 4:40 pm · By Jacob Denz
Unionization is surging among faculty, staff, and graduate student workers at public and private universities. In part, that's thanks to the United Auto Workers (UAW). The union has emerged as an essential ally in some of the most successful campus campaigns, including a recent National Labor Relations Board decision that said graduate student assistants at private universities have the right to unionize.
The relationship, however, between some graduate student activists and experienced leaders in the UAW has not always been easy. Achieving union recognition and strong contracts requires strategies and tactics that are different from those many students are familiar with.
Barry Eidlin's article on graduate student worker unionism, first published by Jacobin and re-printed by In These Times, illustrates the one-sidedness with which some self-proclaimed radical academics have caricatured the UAW. Eidlin presents a struggle between graduate student workers committed to "democracy," especially those affiliated with the Academic Workers for a Democratic Union (AWDU), and an otherwise monolithic UAW bureaucracy haunted by the ghost of Walter Reuther. This has been the basic narrative about the UAW that has emerged from AWDU caucuses at the University of Washington, New York University (NYU) and the University of California system, where Eidlin himself was a founding member of AWDU (though he failed to identify himself as such in the Jacobin piece).
Once every conflict between activist graduate students and other leaders in the UAW can be attributed to "Reutherism," there is no need to consider the facts of a given situation to know that the graduate students are in the right. Unfortunately, when the reality does not fit the image of shining young radicals democratizing an otherwise moribund union, AWDU supporters have had a tendency to resort to creative mythmaking and a distinct political "branding" strategy.
Saturday, Sep 17, 2016, 12:19 pm · By Kate Aronoff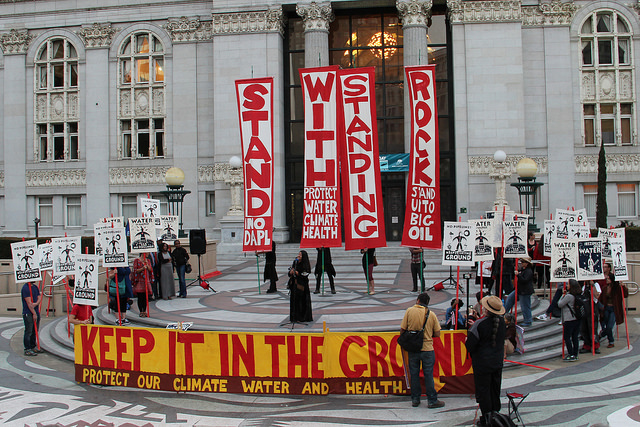 The American Federation of Labor and Congress of Industrial Organizations (AFL-CIO) came out this week in support of the Dakota Access Pipeline, the construction of which was delayed last week by an order from the Obama administration—a decision that itself stemmed from months of protests led by the Standing Rock Sioux.
In a statement, Richard Trumka, AFL-CIO president, said, "We believe that community involvement in decisions about constructing and locating pipelines is important and necessary, particularly in sensitive situations like those involving places of significance to Native Americas."
But it "is fundamentally unfair," he added, "to hold union members' livelihoods and their families' financial security hostage to endless delay. The Dakota Access Pipeline is providing over 4,500 high-quality, family supporting jobs.
"(Trying) to make climate policy by attacking individual construction projects is neither effective nor fair to the workers involved. The AFL-CIO calls on the Obama Administration to allow construction of the Dakota Access Pipeline to continue."
Friday, Sep 16, 2016, 3:10 pm · By Edna Bonhomme and Emily Drabinski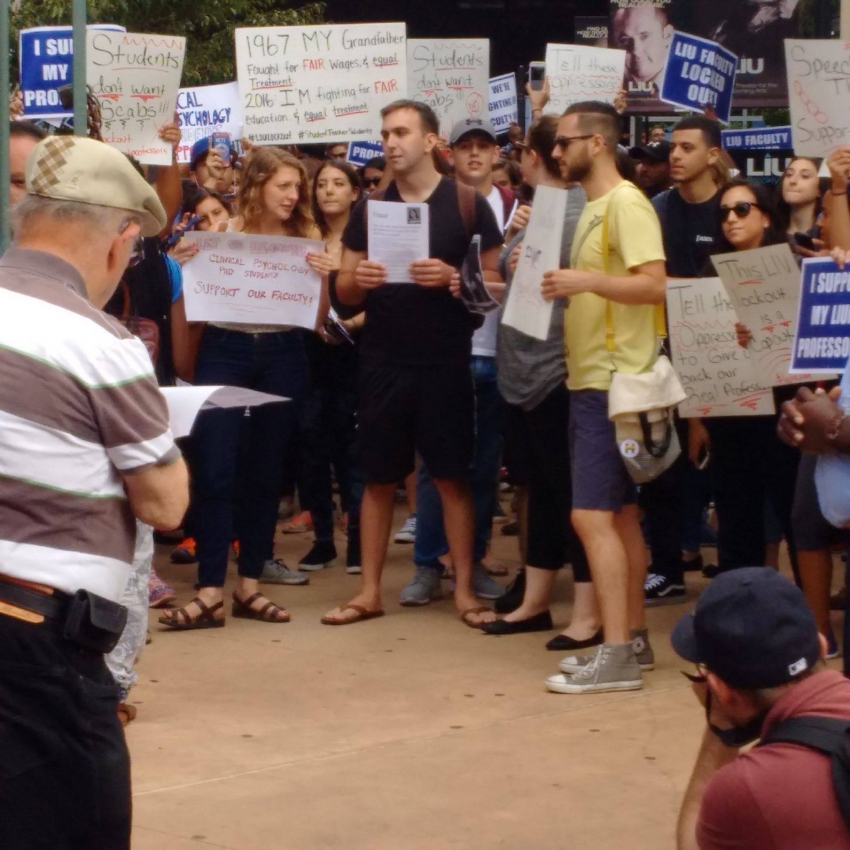 This article was first posted at Jacobin.
On August 31, the Long Island University Faculty Federation Union contract expired. Faculty and management began negotiations over a new contract, and on September 6, the faculty met to discuss a proposed agreement.
Faculty voted 226 to 10 not to accept the contract that was provided by the administration. Rather than renegotiate the agreement, however, management decided to lock out the university's four hundred professors.
Lockouts are often confused with strikes—under both, workers aren't working. But whereas strikes are offensive measures taken by workers against bosses, lockouts are a boss's tool used to break unions. Such was the case in this lockout.
The twelve-day lockout ended yesterday, with faculty and staff returning to class after students missed seven days of classes. The faculty refused to accept the concessionary contract the administration tried to force them to accept, leading the union to declare victory.
To discuss the lockout, the future of the union, and corporatization of higher education, Edna Bonhomme spoke with Emily Drabinski, library coordinator at LIU and secretary of the Long Island University Faculty Federation.
Friday, Sep 16, 2016, 1:11 pm · By Mario Vasquez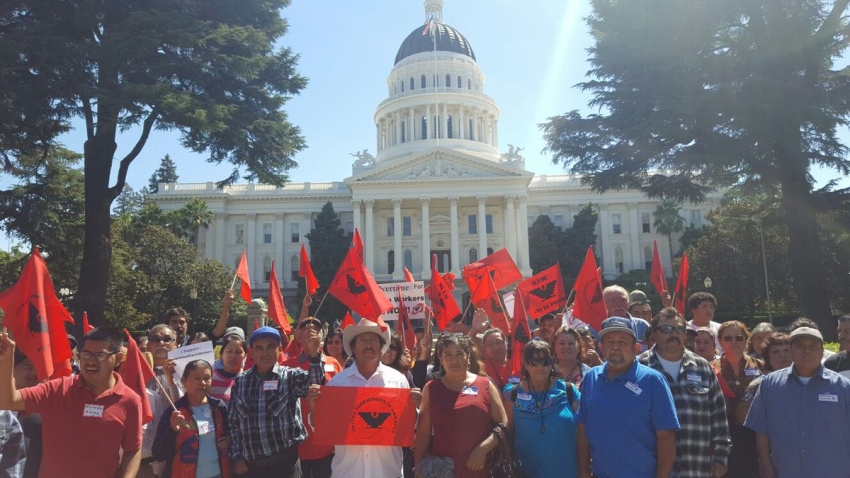 California just approved the strongest overtime pay legislation in the nation for farmworkers, long exempt from overtime standards mandated for most other occupations.
The legislation, known as AB 1066, was signed into law this week by Gov. Jerry Brown and will eventually result in time-and-a-half pay for farmworkers who work more than eight hours a day or 40 hours a week.
"This bill corrects 78 years of discrimination, not just in the state but in the country," says Juan Garcia, an internal coordinator with the United Farm Workers (UFW). "Most of the people that I've talked to here in Sonoma that have worked 30, sometimes 40 years—they've been waiting for something like this."
Wednesday, Sep 14, 2016, 12:25 pm · By Cole Stangler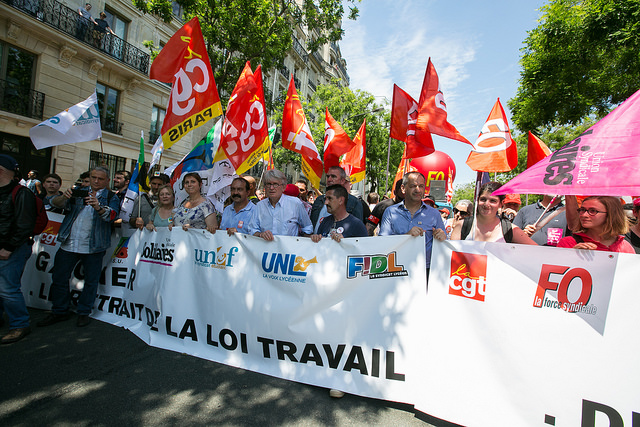 PARIS—France takes its summer vacation seriously: Families enjoy weeks of paid time off. Major cities empty out. Students go on break. This year, it's also when the ruling Socialist government approved a deeply unpopular and sweeping set of labor reforms—arguably, the most significant rollback of workers' rights since the nation's welfare state rose from the ashes of World War II.
From March to July, hundreds of thousands of workers, students, unionists and sympathizers protested against the so-called Loi Travail. With the country back from its collective break—and the hotly-contested law starting to take effect—rabble-rousers are ready to hit the streets again. This Thursday, opponents have called for another round of strikes and protests against the reforms, demanding the government withdraw the law.
"The objective is the same," says Eric Beynel, spokesman for Solidaires, one of several unions to endorse the latest round of protests. "We thought the law was bad before it was adopted. Just because it was adopted, moreover in a completely undemocratic way, doesn't mean we should stop the mobilization. It's only logical to continue."
Tuesday, Sep 13, 2016, 6:53 pm · By Shaun Richman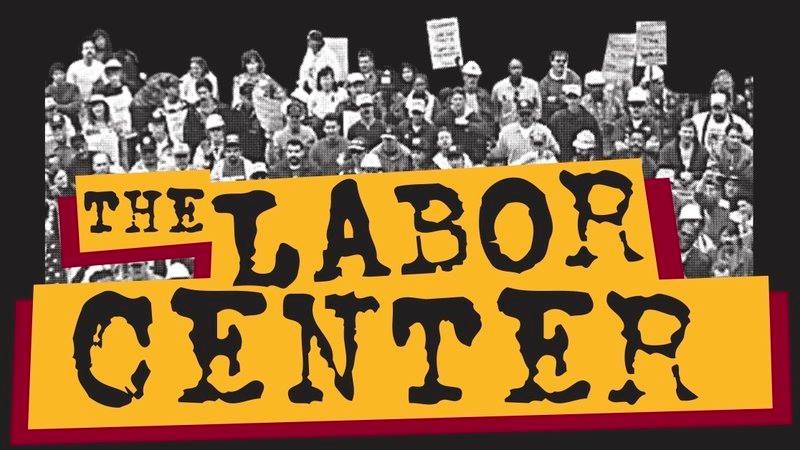 The Labor Center at the University of Massachusetts (UMass) at Amherst is in turmoil. Its director, Eve Weinbaum, says she was abruptly pushed out of the position. In an alarming e-mail to alumni, students and allies, she protested funding cuts to teaching assistants and part-time instructors and, more troublingly, threats to the "Labor Studies faculty's autonomy to make programmatic decisions and to designate a Director."
Founded in 1964, the Labor Center is one of about 30 labor centers around the country. Most are rooted in the extension programs of land grant public universities. In addition to its extension work—providing trainings for unions and worker centers—the Labor Center runs undergraduate and graduate degree programs in labor studies.
These days it is most renowned for its limited residency Union Leadership and Administration (ULA) program, in which union leaders, staff and rank-and-file activists meet for intense 10-day periods of instruction every summer and winter and can earn a graduate degree in three years if they keep up with readings and assignments from home (or in the field). As you might have guessed, I'm a proud alum of the program.
The response to Weinbaum's letter produced nearly 500 letters of protest in a few days, according to organizers for a Save the Labor Center campaign. Local union leaders, heads of other labor centers, alumni and current students also expressed alarm about the situation in a prominent article in The Boston Globe. According to Jeff Schuhrke, another UMass alum and writer for In These Times, an organizing committee of at least 30 alumni is holding regular conference calls to plan the next steps of the campaign. The upheaval there has many worried about the future of labor education at public universities nationwide. Changes in the way education programs are funded are setting off a kind of labor center "Hunger Games," where some programs grow while others die.
Monday, Sep 12, 2016, 3:09 pm · By Michael McCown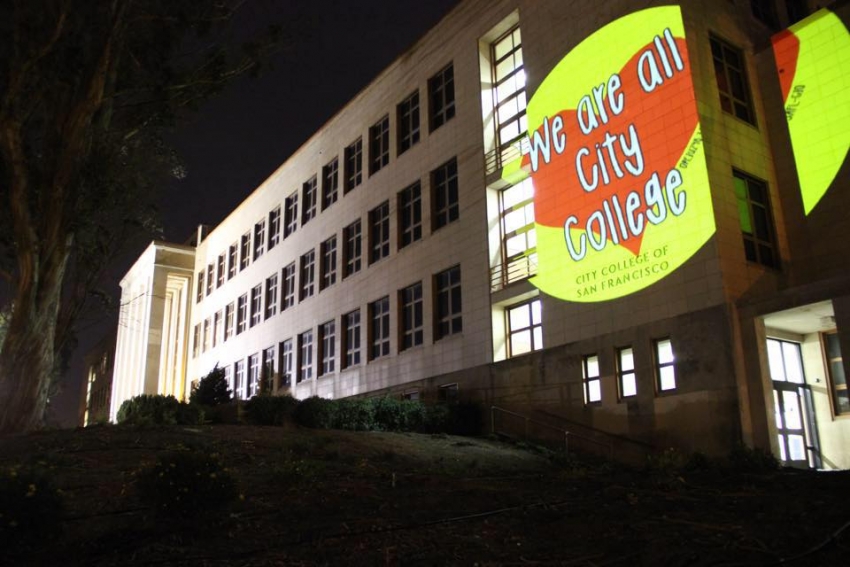 This article was first posted at Labor Notes.
For the first time in its 40-year history, the union of full- and part-time faculty at City College of San Francisco recently went on strike—and it worked.
Teachers (AFT) Local 2121 pulled off a one-day strike April 27, despite the administration's claim that the strike was illegal. By July, to head off another strike, the college agreed to a union contract with substantial raises. Faculty members had been working without one for a year.
Friday, Sep 9, 2016, 2:23 pm · By Theo Anderson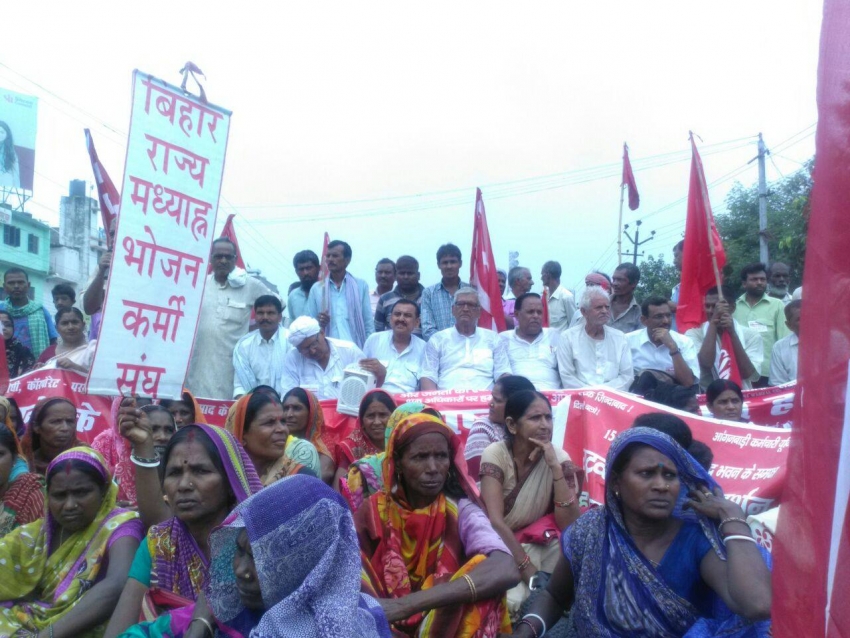 Trade unionists in India staged a nationwide strike last week that affected key sectors of the nation's economy, including transportation, healthcare, finance, energy, coal, steel, defense and education. Organizers reportedly claimed that more than 150 million people took part and that it cost the economy some $2.5 billion, making the strike the "world's largest."
Those numbers could not be independently confirmed, but this much is clear: Workers are angry at the Indian government and unwilling to accept its neoliberal economic agenda without a fight.
Friday, Sep 9, 2016, 12:42 pm · By Rebecca Nathanson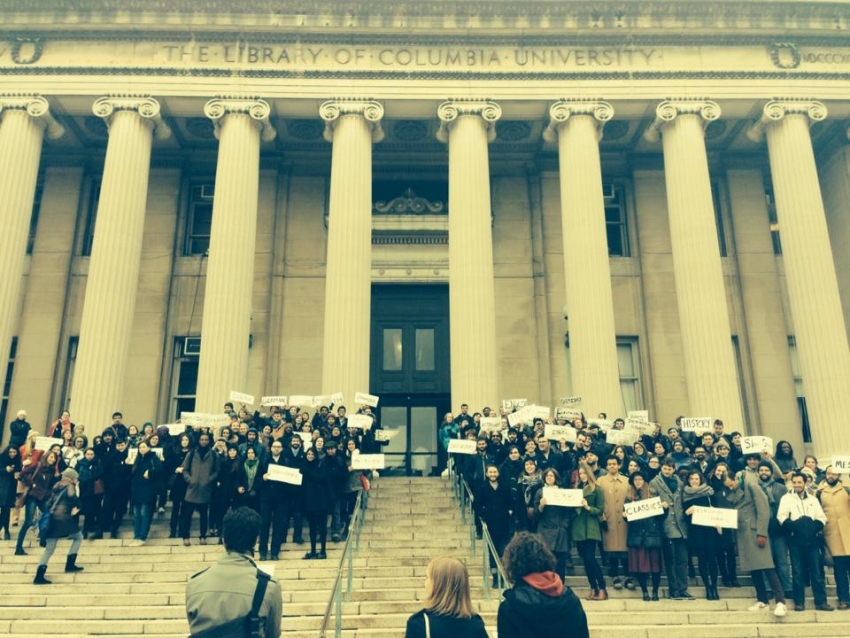 December 5 fell on a Friday in 2014; in New York City, the air was crisp. At Columbia University, about 200 graduate student-workers pulled on hats and scarves to gather on the imposing steps of Low Library, which houses the university president's office. While most stood in a block formation, holding signs declaring their department names, a small delegation went inside to deliver a letter to the president. It asked that he voluntarily recognize their union, the Graduate Workers of Columbia (GWC-UAW Local 2110), which a majority of graduate employees supported.
When the administration declined to reply, GWC and the United Auto Workers (UAW), with which it is affiliated, petitioned the National Labor Relations Board (NLRB) to certify their union. A complicated legal process ensued.
For more than a decade, the NLRB considered graduate employees to be students, not workers. As such, they did not have the same legal rights of most employees, including the right to organize. All that changed two weeks ago when the NLRB decision on the Columbia case finally came back, siding with the student-workers and their right to collective bargaining.
Thursday, Sep 8, 2016, 5:45 pm · By Anna Simonton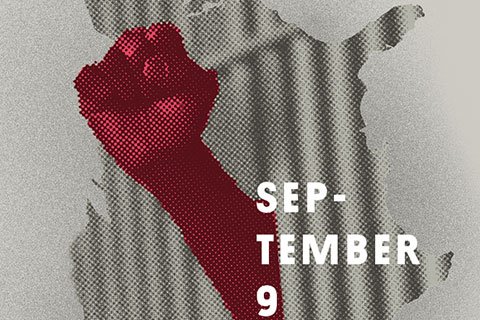 Forty-five years after the bloodiest prison riot in the United States, incarcerated people across the country plan to commemorate the Attica rebellion and peacefully protest prison conditions by bringing the multibillion-dollar prison economy to a grinding halt, in what may turn out to be one of the biggest prison strikes this nation has ever seen.
According to strike leaders, inmates from 40 prisons in 24 states have signed on to the plan. That information is not easily verifiable because those leaders are behind bars.
Using cell phones, Robert Earl Council Jr. (also known as Kinetik Justice), Melvin Ray and James Pleasant—all inmates in solitary confinement in Alabama—have coordinated what they're calling a National Day of Solidarity to End Prison Slavery. They say that on September 9, thousands of prisoners across the country will refuse to work. The duration of the strike may vary from prison to prison, but strike leaders in Alabama say they are prepared to maintain the protest until their demands for better working and living conditions––along with legal reforms––are met.