Tuesday, Sep 15, 2015, 1:49 pm · By Dan DiMaggio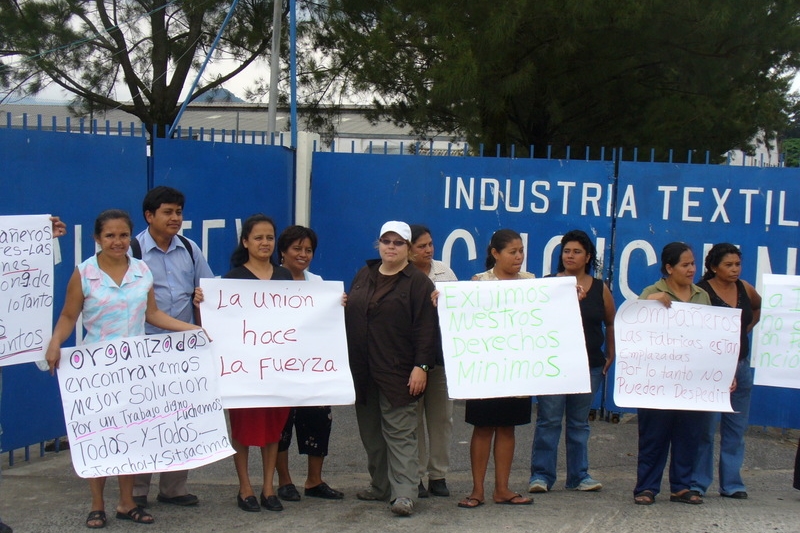 This piece first appeared in Labor Notes.
The first-ever labor case brought under a free-trade agreement is almost over—but it's taken years to bring just one case this far, and the potential penalty is a mere slap on the wrist. The next time a politician assures you a free-trade deal will raise labor standards overseas, here's your counterexample.
In December, an arbitration panel will issue its ruling on a complaint brought by the United States under the Central American Free Trade Agreement (CAFTA) against the Guatemalan government for failing to effectively enforce its labor laws.
Tuesday, Sep 15, 2015, 1:09 pm · By Leo Gerard, United Steelworkers President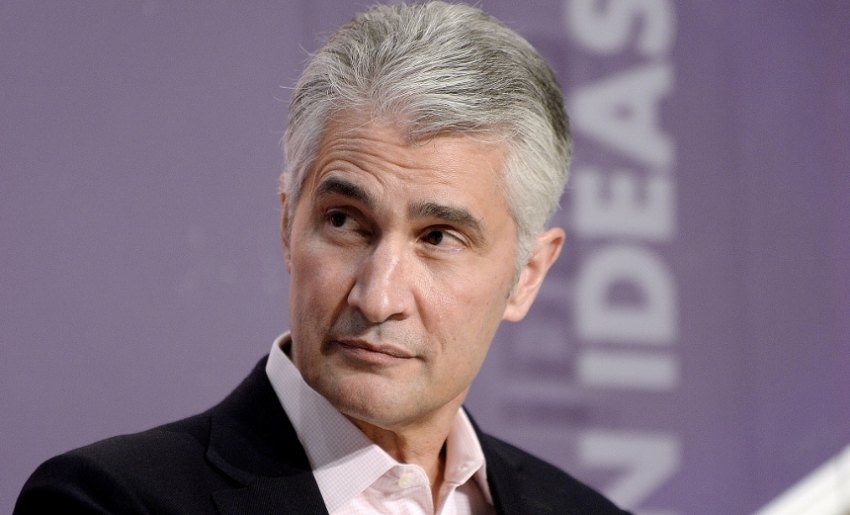 Jeff Smisek, the guy forced by scandal to resign last week as CEO of the world's fourth-largest airline, is a major reason American workers can't get a raise.
Smisek and his overpaid boardroom buddies nationwide have swindled American workers and American communities in a scam to amass wealth for themselves and well-heeled stockholders. They've extracted value from corporations and put it in their pockets and shareholders' purses almost to the complete exclusion of investing in their corporations to create new wealth and prosperity.
Friday, Sep 11, 2015, 11:28 am · By David Moberg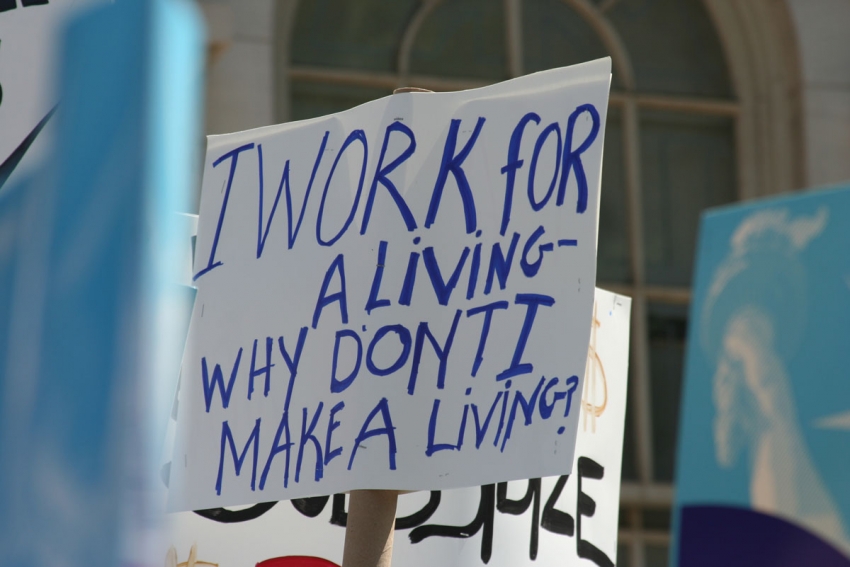 "Your pay is too damn low," presidential contender Bernie Sanders told union members who called in from around the country to hear from him on Tuesday night.
It's a message that has echoed from think tanks to politicians and leading academics and back to protesting workers in the street all week long. And bit by bit, the message is shaping public awareness that American workers earning less than $15 an hour—a bit over two-fifths of the workforce—are grossly underpaid. Now this goal, initially seen as utopian but made practical largely by the Fight for $15 movement—is producing significant results.
Friday, Sep 11, 2015, 10:53 am · By Dean Baker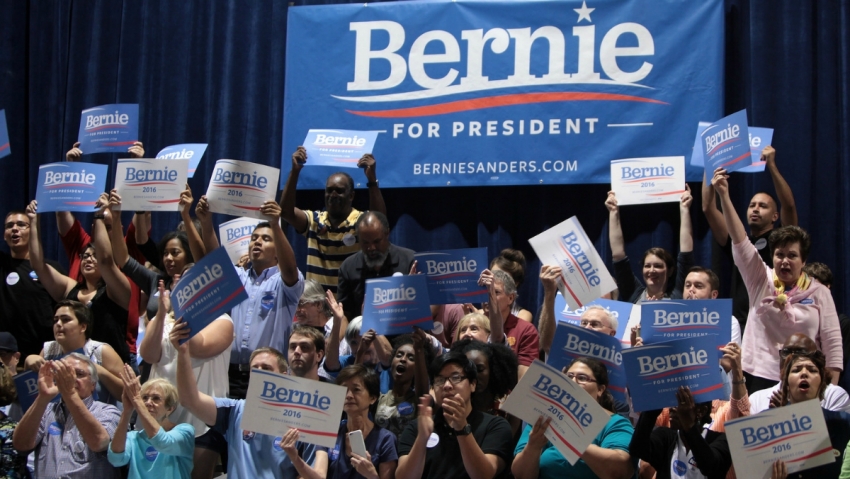 New York Times columnist David Brooks discussed the rise of Jeremy Corbyn on the Left in the Labour Party in the United Kingdom and Bernie Sanders on the Left in the United States, along with Donald Trump and Ben Carson on the Right. He argues that none of these people could conceivably win a national election. He therefore concludes that their support must stem from a psychological problem, which he identifies as "expressive individualism."
Thursday, Sep 10, 2015, 9:05 pm · By Mario Vasquez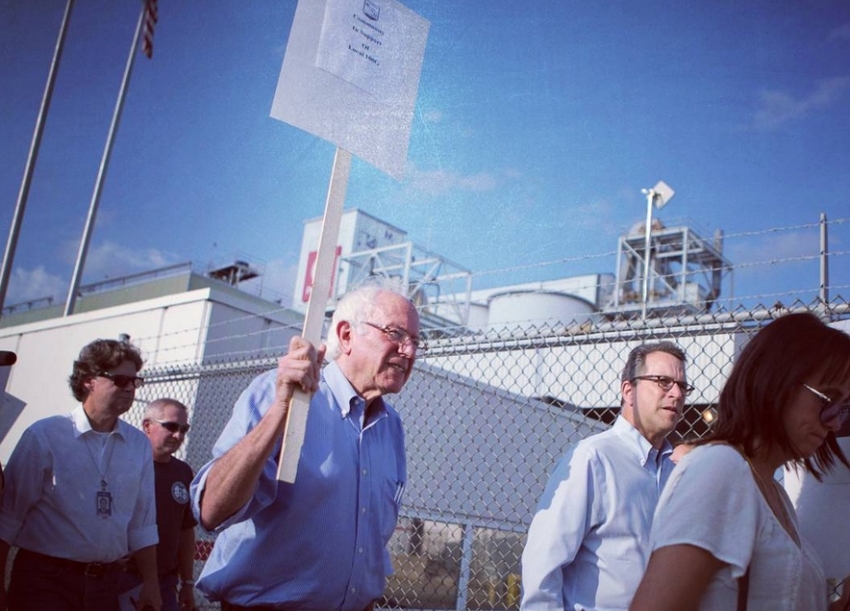 Senator Bernie Sanders hosted a national phone call Wednesday night focused on the labor movement in which organizers say 26,000 people participated. The campaign hopes to drum up support from union members as Sanders inches his way to front-runner status in the early Presidential primary and caucus elections of New Hampshire and Iowa.
Wednesday, Sep 9, 2015, 4:33 pm · By Joseph M. Schwartz
The Democratic primary candidacy of Senator Bernie Sanders (I-VT) for president of the United States provides progressive labor activists with a unique opportunity to enhance the independent political capacity of a besieged labor movement. Reflecting his political roots in the American socialist movement, Sanders is the most consistently pro-labor member of the United States Congress. Just this Friday he walked the picket line in Cedar Rapids, Iowa, where workers are protesting the anti-union practices of the new owners of Penford Products, a potato starch manufacture.
This past Labor Day, tens of thousands of labor activists and their allies participated in labor marches and picnics across the country in favor of Sanders' candidacy. But except for endorsements from several progressive local trade unions, the South Carolina Central Labor Council, and the militant 200,000 member National Nurses Union, most established labor leaders have been silent about the Sanders candidacy or have endorsed his establishment opponent, former Secretary of State Hillary Clinton. This despite Clinton's roots in the neoliberal wing of the Democratic Party, which is financially backed by Wall Street and has long fought to diminish labor's influence in the Democratic coalition.
Tuesday, Sep 8, 2015, 6:26 pm · By Mario Vasquez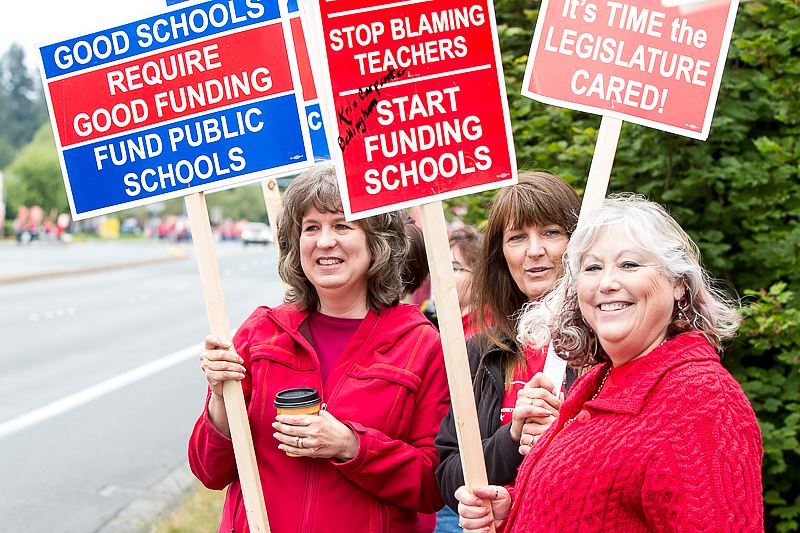 UPDATE: Seattle teachers did not come to a settlement with the school district last night, and teachers walked off the job this morning.
The Seattle Education Association, representing 5,000 teachers in Seattle Public Schools, voted to strike unanimously last Thursday, declaring that they will not be working the first day of school on September 9 if an agreement between the district and the union cannot be reached.
"There was incredible passion around the issues tonight," SEA Vice-President and bargaining team chair Phyllis Campano told In These Times after the unanimous vote. "It really, truly is about caring for our kids and what's right for our kids. We don't want to strike, but we feel that's our only option right now."
Tuesday, Sep 8, 2015, 11:07 am · By Leo Gerard, United Steelworkers President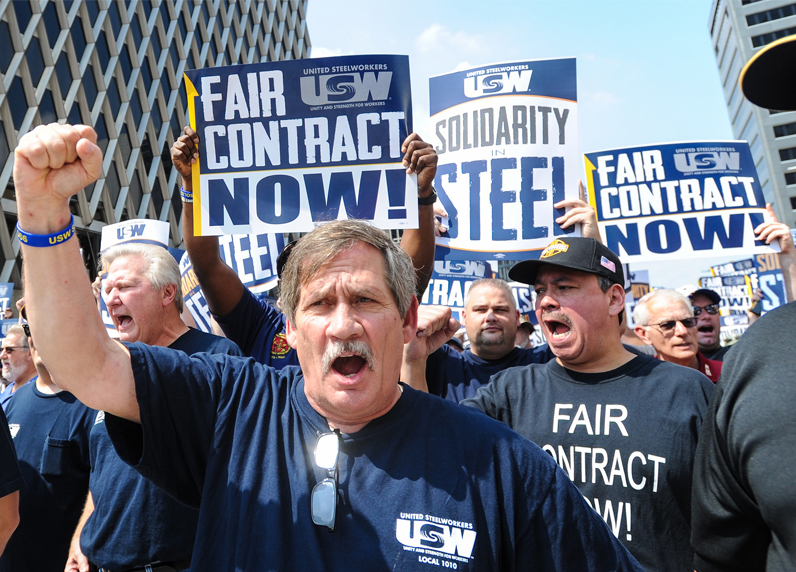 Instead of picnicking, Steelworkers in six states spent this Labor Day picketing the gates of a dozen Allegheny Technologies Inc. (ATI) specialty mills.
These 2,200 Steelworkers are not on strike. They never even took a strike vote to threaten a walkout.
ATI locked them out of their jobs.
ATI threw them out of the mills on Aug. 15 even though the Steelworkers clearly told the corporation that they were willing to work—that they wanted to work—while negotiating a new labor agreement.
A lockout like this is a weapon increasingly deployed by corporations to injure workers, families and communities. And corporations are doing it even as workers engage in significantly fewer strikes. The growing use of lockouts to force workers to accept corporate demands demonstrates that the already powerful—corporations—have secured even more might in their relationship with workers. Corporations' lopsided hold on power in the United States has suppressed labor unions and contributed significantly to wage stagnation and income inequality.
Tuesday, Sep 8, 2015, 10:35 am · By Dean Baker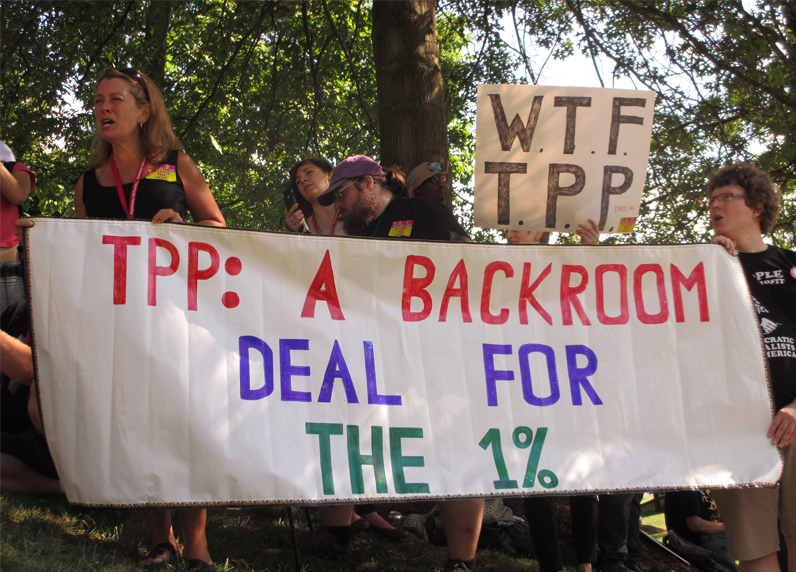 The Washington Post has established itself over many decades as a major mouthpiece of elite opinion. Its editorial pages argue strongly for the interests of the wealthy, with scarcely concealed contempt for people who have to work for a living. (They do support alms for the poor, hence they are OK with programs like food stamps and TANF.)
This attitude has been shown many times over the years, but perhaps never more clearly than in its editorial on the bailout of General Motors and Chrysler, where it fumed about auto workers who earned $56,650 a year. By contrast, it was an ardent supporter of the Wall Street bailout, which was largely about helping people who make this much money in a day.
In fact, the Post helped to conceal one of the major scams that was used to pass the bailout: the claim that the commercial paper market was shutting down. When people were saying that the economy was at the edge of collapse following the Lehman bankruptcy, the commercial paper market was the most immediate issue.
Monday, Sep 7, 2015, 11:07 am · By Bruce Vail
Just in time for Labor Day, the leading workers' rights agency within the U.S. government has a tip for the waitresses serving up beer and chicken wings at Hooters.
The tip from the National Labor Relations Board (NLRB) is not an extravagant one, nor is it exclusive to the wait staff at Hooters restaurants. Instead, it is a re-affirmation of the labor board's basic policy that employers cannot use mandatory arbitration agreements to limit the labor rights of employees.