Thursday, Sep 21, 2017, 2:25 pm · By Michael Arria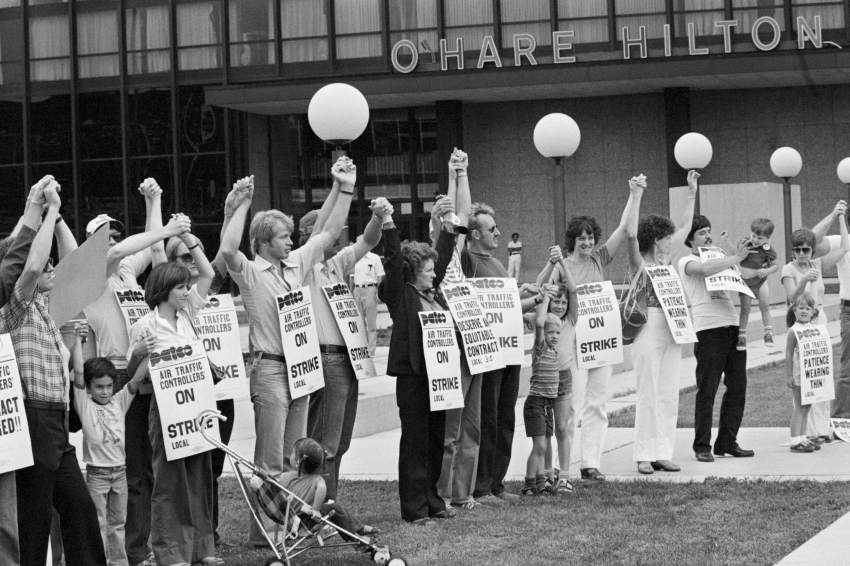 Former President Ronald Reagan had a long history of clashing with organized labor, but his most infamous moment came in 1981, when he busted the Professional Air Traffic Controllers Organization (PATCO) and fired more than 11,300 air traffic controllers who were on strike. This act weakened the power of U.S. unions and set the stage for an all-out assault on organizing rights.
Wednesday, Sep 20, 2017, 10:25 am · By Sarah Jaffe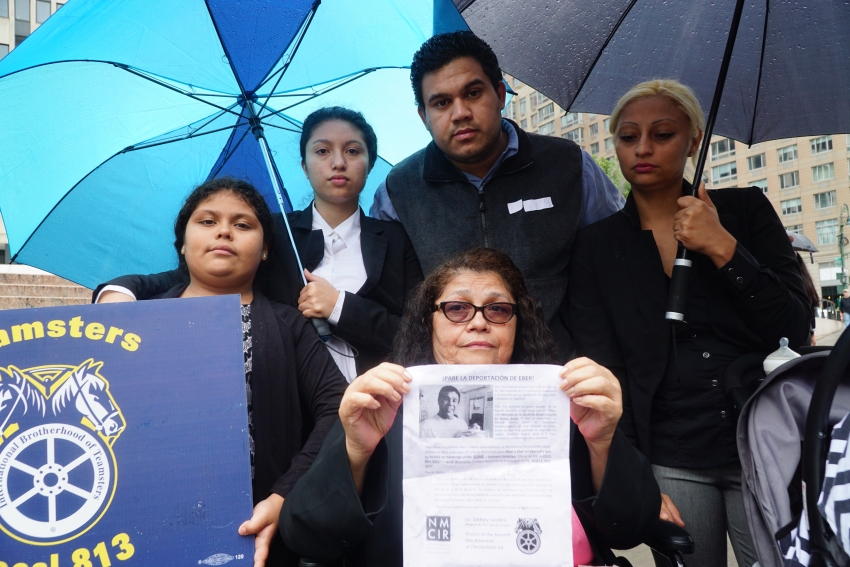 Welcome to Interviews for Resistance. We're now several months into the Trump administration, and activists have scored some important victories in those months. Yet there is always more to be done, and for many people, the question of where to focus and how to help remains. In this series, we talk with organizers, agitators and educators about how to resist and build a better world.
Friday, Sep 15, 2017, 5:31 pm · By Marilyn Katz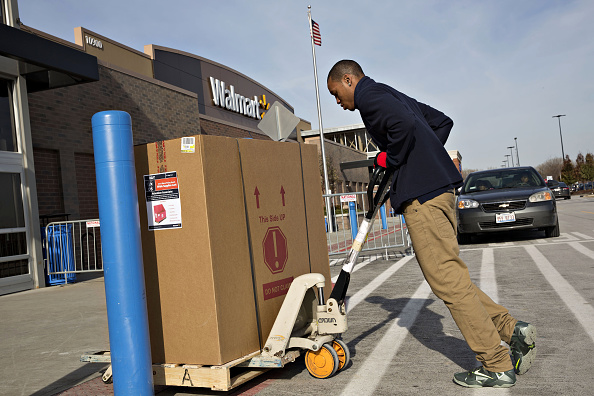 Anti-tax fever seems to be on the rise in Illinois, most recently in editorial and public comments about the Cook County Board of Commissioners' levy on sugary drinks. But those who've fretted about the penny-an-ounce tax—and all of us who didn't—might want to turn their attention and ire to a far-greater burden on Illinois taxpayers: Governor Bruce Rauner's veto of legislation that would raise the minimum wage to $15 an hour over the next five years.
What does that have to do with taxes? Plenty. Roughly 33 percent of people in Illinois live in or near poverty. Contrary to popular belief, people who make low wages are not the young or the so-called low-skilled. As of 2011, 94 percent of low-wage earners in the Chicago region were over 20 years old, and 57.4 percent were over 30, with one in six holding a college degree. Many work in the growing sectors of hospitality, healthcare, food service and retail.
Friday, Sep 15, 2017, 12:41 pm · By Shaun Richman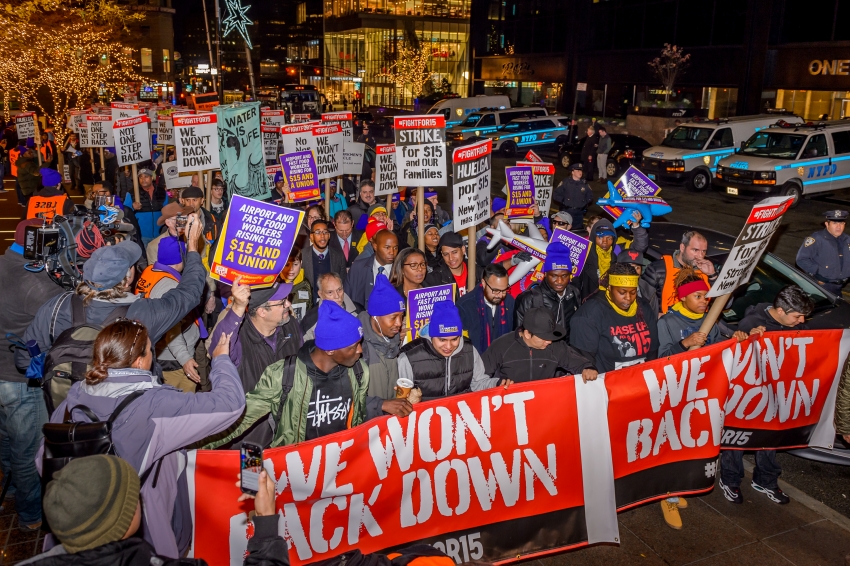 The vast right-wing network of Koch brother-funded "think tanks" is now plotting to finish off the public sector labor movement once and for all.
In a series of fundraising documents obtained by the Center for Media and Democracy of Madison, Wis., and published in the Guardian, the CEO of a cartel of 66 well-funded arch-conservative state capitol lobbying outfits promises funders a "once-in-a-lifetime chance to reverse the failed policies of the American left."
Tracie Sharp, the leader of the States Policy Network (SPN), goes on to explain that the pathway to permanent right-wing victory is to "defund and defang" unions that rely on the legal protections of state labor law.
Thursday, Sep 14, 2017, 5:07 pm · By Bruce Vail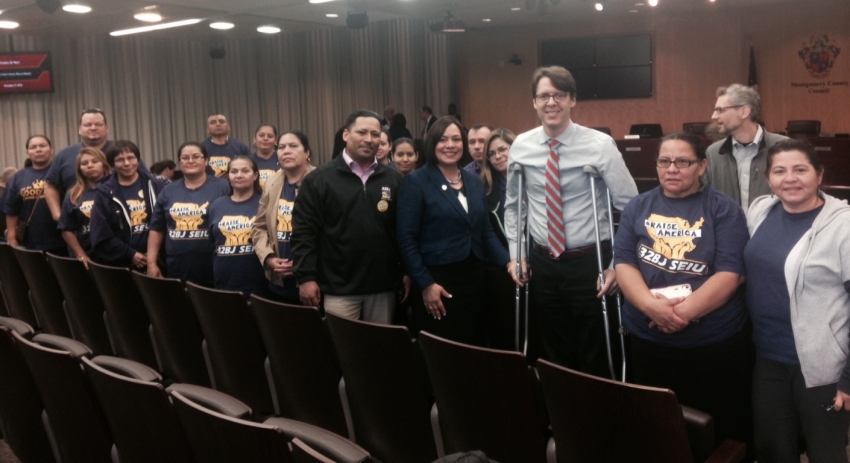 Undeterred by a stinging defeat earlier this year, a union-backed push for a $15-an-hour wage is back on in the Washington, D.C. suburbs—home to many of the senior civil servants, lobbyists and office workers that run key federal agencies.
Maryland's Montgomery County Council will begin considering a revised bill later this month to raise the minimum hourly wage from $11.50 to $15, and the outlook is hopeful, says Democratic Councilman Marc Elrich, the chief sponsor. "We are almost there," Elrich says. "I'm confident we'll make it this time."
Supporters have already lined up enough votes to pass it, Elrich says. The most powerful obstacle remains opposition from Democratic County Executive Ike Leggett, who vetoed a similar measure in January but has so far made no public decision on the new version of the bill introduced in July.
Thursday, Sep 14, 2017, 11:32 am · By Rafael Soriano and Débora Nunes
Brazil is facing a profound political and economic crisis since a coup d'etat overturned Dilma Roussef's government in March of 2016. The new government is unrolling austerity policies that are eroding working families' political gains by dismantling labor protections and social services and unleashing human rights abuses, including escalating assassinations of peasants and indigenous people. This political context—which shares characteristics with the U.S. climate under Donald Trump—is defined by a crisis of capitalism that resurfaced with the economic meltdown in the Global North that was initiated in 2008.
Monday, Sep 11, 2017, 11:50 am · By David Bacon
The "dreamers," young recipients of the Deferred Action for Childhood Arrivals (DACA) program—are the true children of the North American Free Trade Agreement (NAFTA). More than anyone, they have paid the price for the agreement. Yet they are the ones punished by the administration of President Donald Trump, as it takes away their legal status, ability to work and right to live in this country without fear of arrest or deportation. At the same time, those responsible for the fact they grew up in the United States walk away unpunished—and even better off.
Monday, Sep 11, 2017, 11:42 am · By Jeff Schuhrke
CHICAGO—Eight thousand workers at Chicago's two airports have scored a major victory in their two-year campaign for higher wages and a union.
On Wednesday, the City Council unanimously passed an ordinance requiring private contractors—who employ O'Hare and Midway's baggage handlers, cabin cleaners, wheelchair attendants, janitors, security officers, ticket collectors and de-icers—to abide by new labor standards in order to be licensed by the city. Most employees of airport contractors make low wages, receive few benefits and lack job security.
The ordinance will require contractors to pay a minimum wage of $13.45 starting July 1, 2018, well above Chicago's current minimum of $11 an hour. Though the Illinois General Assembly recently passed a bill that would have raised the state's minimum wage to $15 an hour, Republican Gov. Bruce Rauner vetoed it last month.
"I'm a single mom with three kids and two grandkids. This raise will help contribute to supporting my family," Darlene Navarro Montañez, an O'Hare janitor employed by the contractor Scrubs, told In These Times through an interpreter. "Eleven dollars an hour is just not enough."
"With the raise, besides helping my family more, I could put bigger payments into paying back my student debt," said Danny Rodriguez, a 24-year-old wheelchair attendant, security officer and shift lead at O'Hare.
Friday, Sep 8, 2017, 4:49 pm · By Sarah Conway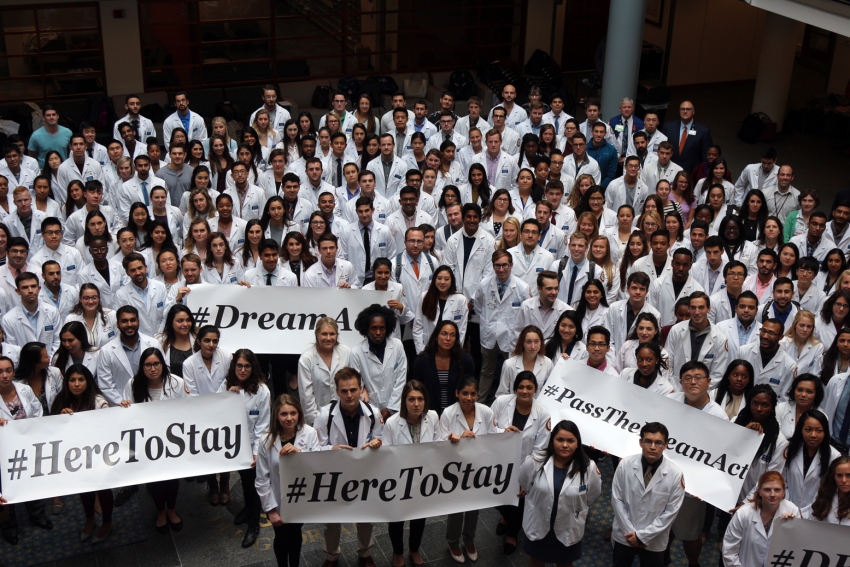 MAYWOOD, Ill..—Eleven miles west of downtown Chicago more than 300 medical school students and staff gathered at Loyola University Medical Center's suburban campus. Some in attendance held white banners with slogans that said "#DreamAct" and "#HereToStay."
Student organizers say they held the event to show solidarity and make a unified call for long lasting legislation to help their fellow students at the Stritch School of Medicine, which has about 32 medical students who entered the program with DACA status this year, says Mark G. Kuczewski, the chair of the Department of Medical Education at Stritch.
Thursday, Sep 7, 2017, 1:53 pm · By Michael Arria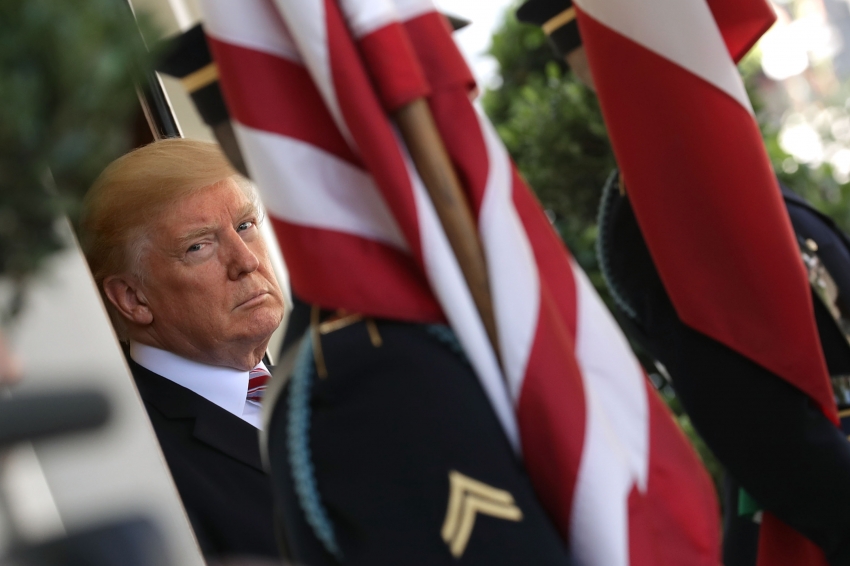 On September 5, the administration of Donald Trump formally announced that they won't try to save Obama's overtime rule, effectively killing a potential raise for millions of Americans. This disturbing development has largely slipped under the radar during a busy news week, marked by Trump's scrapping of the Deferred Action for Childhood Arrivals (DACA) program.
Twenty-one states and a number of business groups sued the Obama administration last September, after the Department of Labor (DOL) announced the new rule, accusing the former president of overreach.