Wednesday, Dec 14, 2016, 11:40 am · By David Moberg
President-elect Donald Trump is wasting no time laying waste to his campaign promise of standing up for working people.
This is no more evident than in who he picked to be labor secretary—Andrew Puzder, chief executive of CKE Restaurants, parent company of fast-food chains Carl's Jr. and Hardee's.
His nomination last week drew immediate fire.
"Mr. Puzder's long track record inspires deep skepticism," said AFL-CIO president Richard Trumka. "It's a track record that raises serious concerns about his qualifications to live up to the promises of the President-elect's campaign. Mr. Trump will never meet those promises by surrounding himself with people, like Mr. Puzder, whose values are completely out of step with America's workers."
Monday, Dec 12, 2016, 3:08 pm · By Bruce Vail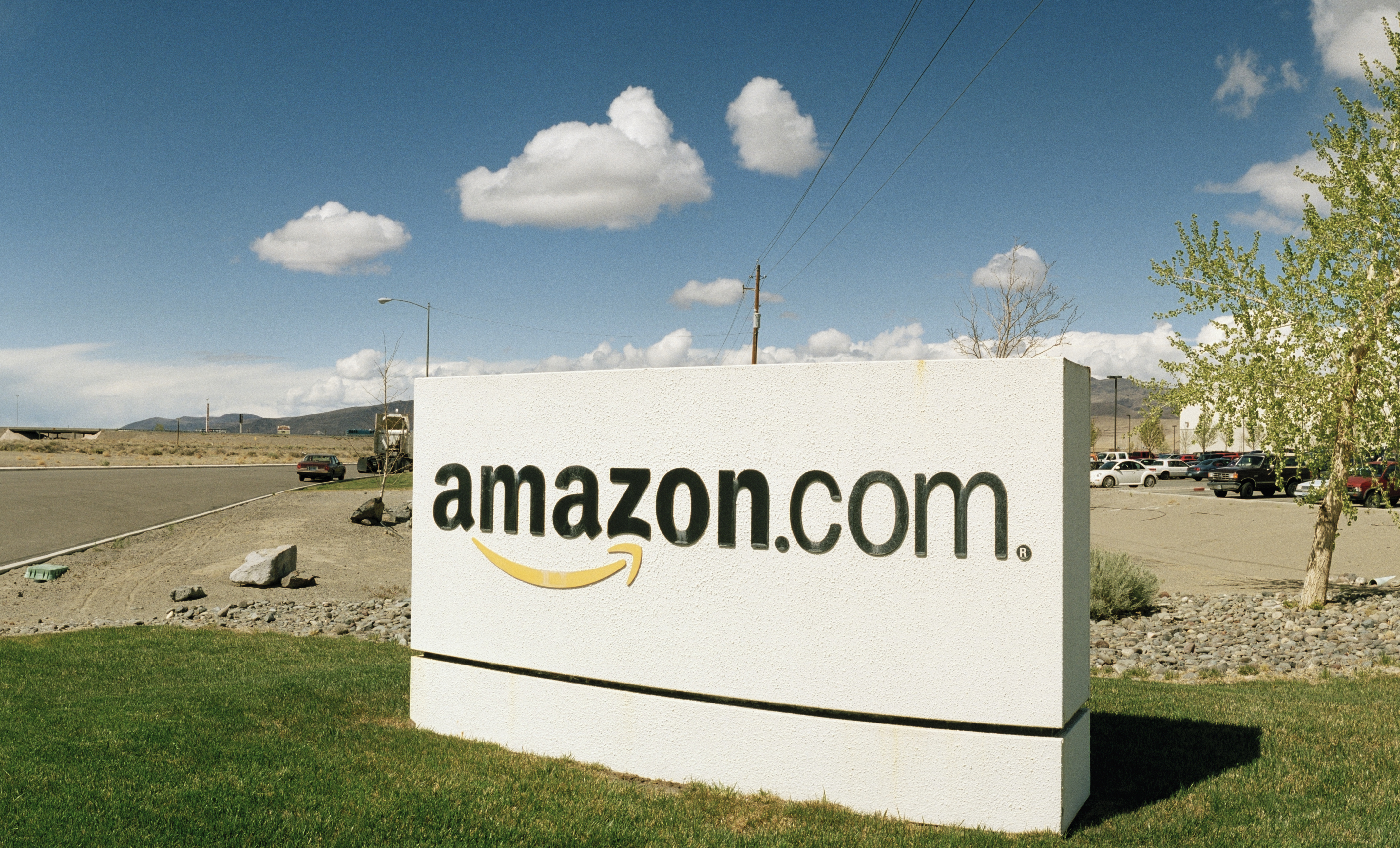 With wage and hour lawsuits becoming increasingly common across the country, there was little reason for the lawyers at Amazon.com's Seattle headquarters to be surprised when one landed on their doorstep recently. But they may have been concerned to learn that their newest legal adversary is "Sledgehammer Shannon" Liss-Riordan, a Boston attorney who gained legal fame by beating corporate giants like FedEx and Starbucks in just these kinds of contests.
The new lawsuit against Amazon is similar to one of Liss-Riordan's best known cases—a suit against FedEx that charged the company was misclassifying delivery drivers as independent contractors when the workers were, as a matter of law, regular employees. Liss-Riordan won that fight and, this year, FedEx announced that it would give up on a series of related legal fights and pay $240 million to some 12,000 drivers in 20 states.
Liss-Riordan took the fight to Amazon in a suit filed October 4 in the U.S. District Court for the Western District of Washington. It charges Amazon and Amazon Logistics Inc. with violating the minimum wage law in Seattle, state labor law in Washington and the federal Fair Labor Standards Act (FLSA).
Monday, Dec 12, 2016, 2:25 pm · By Sean Larson and Natasha Raheja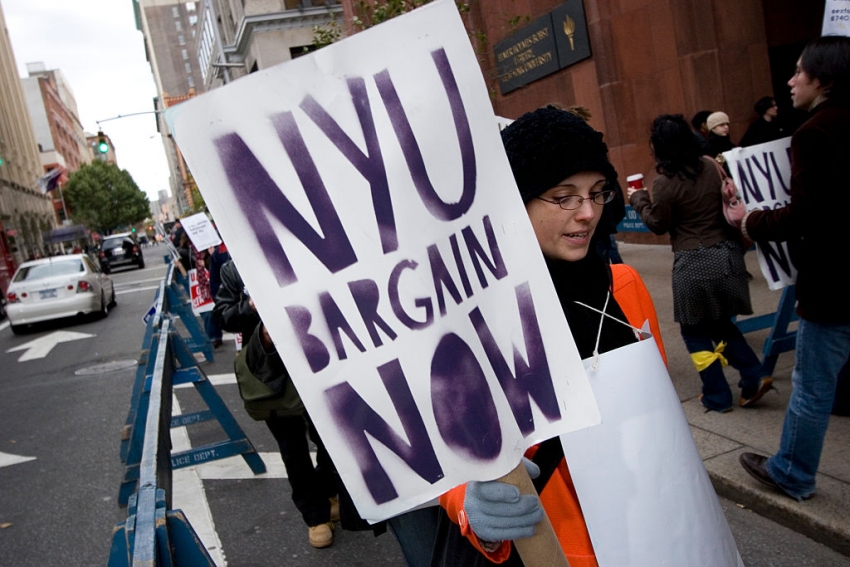 This article was first posted at Jacobin.
The union has come to dwell in higher education. As graduate employees face increasing precarity, rising workloads, and low job prospects, the opportunity to join the union movement is a source of immense pride and a beacon of hope. Under a Trump presidency, building rank-and-file power will be especially important in offering a way forward for graduate workers to stand up to corporate university administrations and to fight anti-labor legislation more broadly.
In the wake of the August NLRB ruling in favor of graduate workers' organizing rights, tens of thousands of graduate assistants are now organizing union campaigns in their university workplaces. The United Auto Workers (UAW) has been a major player in graduate unionization efforts of recent years, but its dominant organizing strategies have been subject to extensive critique by many grad workers organized within the Academic Workers for a Democratic Union (AWDU) caucus across the country.
Despite the origins of the UAW among dissidents in the radical labor upsurges of the 1930s, the vibrant history of the union has been marred by repeated suppression of reform movements within the union ranks by the Administration Caucus, the longtime ruling faction within the union. As the UAW has branched into higher education, this repressive legacy has manifested anew in attempts to discredit AWDU reform efforts.
The latest installation takes the form of a zealous defense of the methods and practices of UAW leadership by Jacob Denz in his article "We Are Workers: the Case Against Grad Student Exceptionalism in the UAW."
Friday, Dec 9, 2016, 4:04 pm · By Toni Gilpin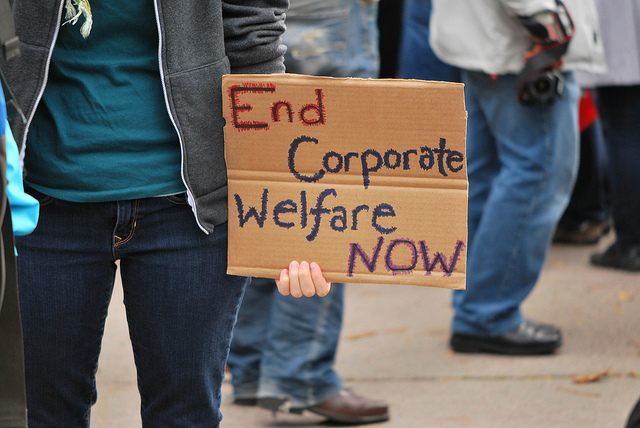 This article was first posted at Labor Notes.
President-elect Donald Trump achieved something extraordinary when he cut that recent deal with Carrier/United Technologies.
Not the jobs. I'm talking about the torrent of outrage he triggered regarding public subsidies for big business.
In exchange for retaining upwards of 800 jobs at its Indianapolis facility, Carrier will reportedly receive $7 million in tax credits from the state of Indiana. Trump has "set a dangerous precedent that companies can easily shake down taxpayers with the mere threat of outsourcing jobs," declared the Democratic National Committee. The press howled—"an awful idea," read a typical editorial. Even Sarah Palin called it "crony capitalism."
That is all true, but there's one problem: corporate welfare has been a bipartisan boondoggle for decades. That these tax giveaways have largely benefited hugely profitable companies like Carrier, at the expense of workers and their communities, has failed to garner much media scrutiny until now.
Wednesday, Dec 7, 2016, 12:32 pm · By David Moberg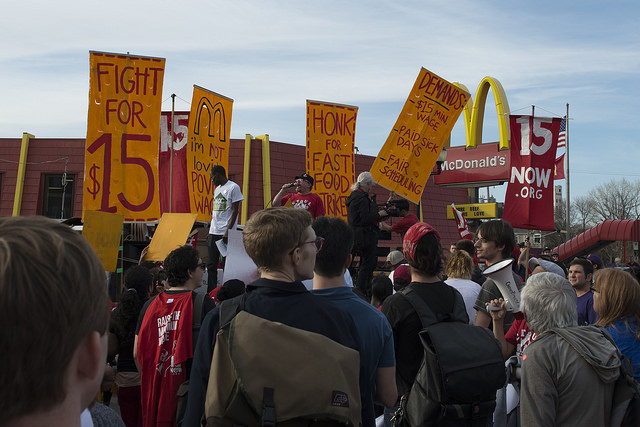 The recovery from the Great Recession has been long, slow and steady. But it has also contributed unexpectedly to an increase in involuntary part-time work, which needs new regulation to protect workers from abuse, according to a new study released this week by the Economic Policy Institute.
Author Lonnie Golden finds that voluntary part-time work has remained more or less stable since 2007, around the start of the recession. But involuntary part-time work has increased by about 18 times the rate of growth of all work, and five times faster than part-time work. Currently, some 6.4 million Americans who want full-time jobs are stuck working part-time hours, according to Golden.
Tuesday, Dec 6, 2016, 4:32 pm · By Joe Conason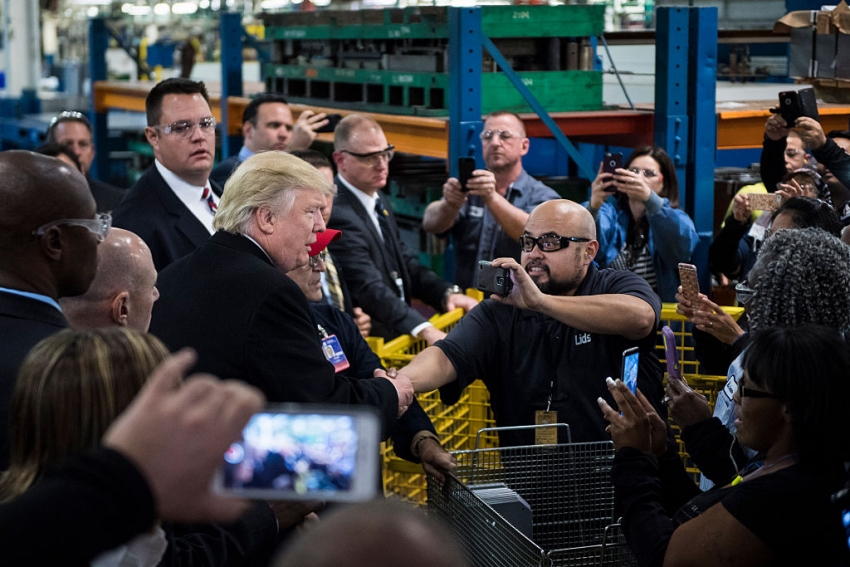 Within a day after Donald Trump's triumphal visit to Indiana, where he claimed credit for "saving" 800 jobs at a Carrier factory, the Department of Labor released its first monthly unemployment report since his election victory—and one of the last that will come out during the presidency of Barack Obama.
Together those events illustrated the contrast between a real strategy for economic growth and the dubious gambit of a Twitter addict.
Monday, Dec 5, 2016, 1:49 pm · By Joe Allen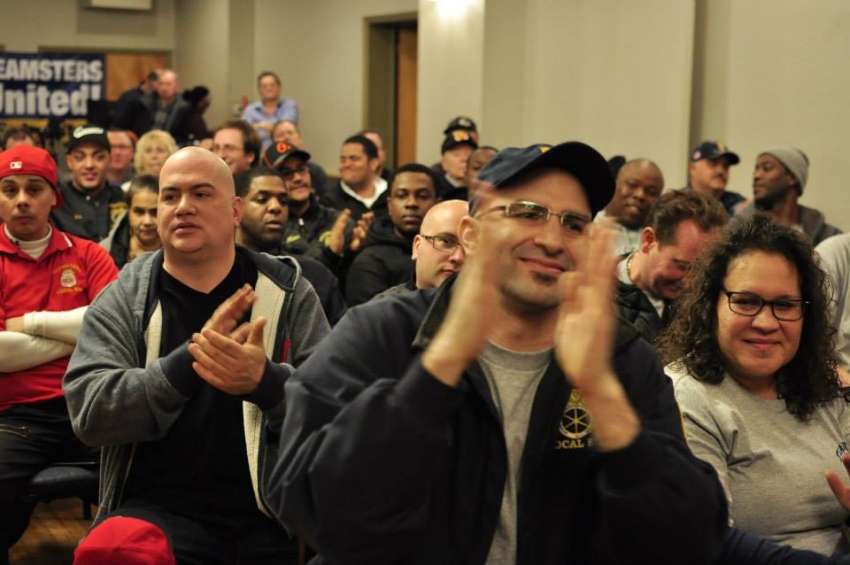 This article was first posted at Jacobin.
Teamster general president James P. Hoffa managed to hang onto power in the recent international Teamster election—but barely.
He was challenged for general president by Fred Zuckerman and the Teamsters United reform slate. Along with his running mate Tim Sylvester, the former president of New York Local 804, Zuckerman spent the last two years crisscrossing the country meeting with thousands of rank-and-file Teamsters infuriated by sell-out contracts, bankrupt pensions, and cascading corruption scandals.
Besides narrowly losing the election in the United States to Zuckerman by 709 votes, Hoffa lost his "home local" 614 in Pontiac, Michigan, and Detroit Local 299, led for decades by his father Jimmy Hoffa, Sr. Hoffa eked out a win by a mere six thousand votes out of 213,000 cast in the United States and Canada in the closest election in Teamsters' history.
Back in 1996, Teamsters reformer Ron Carey, the first rank-and-file elected leader of the union who battled and defeated Hoffa and his supporters across the country in a bruising reelection campaign, denounced Hoffa as "an empty suit and a front for the mob."
Today, he seems not to be wearing any clothes at all. The election results have torn to shreds the foundation of his political machine and may reduce him to a mere figurehead in the union.
Friday, Dec 2, 2016, 5:53 pm · By Steve Horn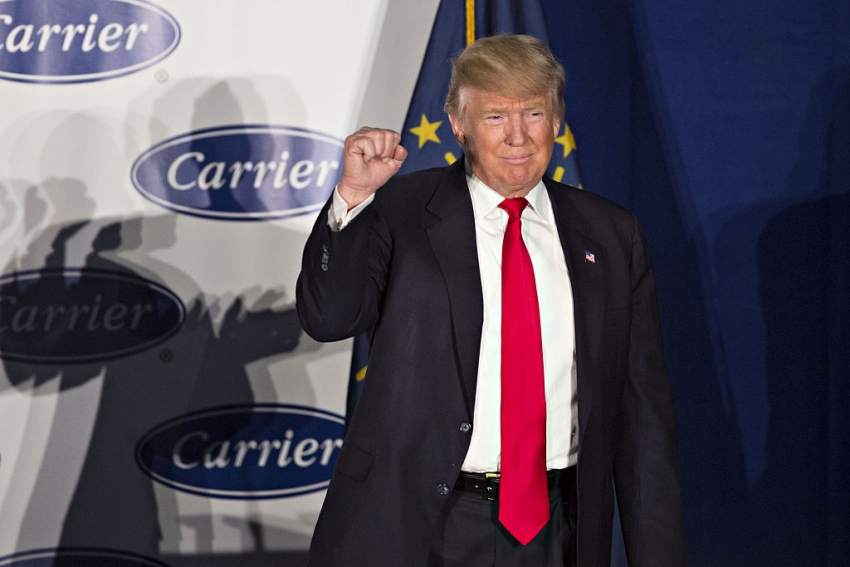 Indianapolis, Indiana—As one of their first orders of business, President-elect Donald Trump and Mike Pence, his vice president, helped strike a deal between the Indiana Economic Development Corporation (IEDC) and the Carrier Corporation to keep more than 1,000 jobs at Carrier's Indianapolis manufacturing plant.
The company had originally planned to send all but 300 research and headquarters jobs at the facility to Monterrey, Mexico, where workers reportedly earn $3 an hour. Carrier later decided to keep an additional 800 or so jobs in Indiana in exchange for a reported $7 million in tax breaks over 10 years.
Carrier was a frequent target of Trump during his presidential campaign, in which he promised to protect jobs and penalize companies for leaving the United States. After tweeting about a deal in the works with Carrier on Thanksgiving, Trump and Pence spent the next several days hashing out its parameters before the president-elect announced on Twitter on November 29 that they had reached an agreement. Trump took a victory lap at Carrier's plant in Indianapolis this week.
Thursday, Dec 1, 2016, 4:22 pm · By David Moberg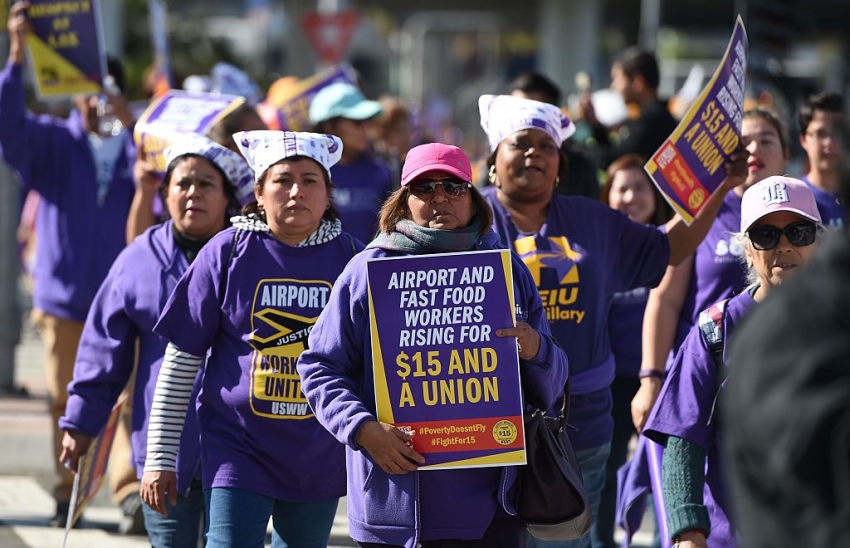 Chicago—The movement known as Fight for $15 started in New York City as a surprise one-day strike. The workers' demands then were simple and bold. They wanted a minimum wage of $15 an hour and the right to organize a union.
The workers who initiated the campaign could no longer tolerate lengthy debates over penny increases to the state, local and federal minimum wages. They called for more than double the federal minimum wage, which stood then—and now—at $7.25 an hour.
This was a dream that seemed not only aspirational but downright crazy when Fight for $15 first launched. And it was put forward by some of the workers with the greatest need—occupants of the virtually interchangeable jobs of the vast modern low-wage economy. These are the jobs that people take not just as a first job, but as the first of dozens of similar jobs in a career with little progress.
To mark its fourth anniversary this week, the Fight for $15 organization staged its largest and "most disruptive" national action to date, which included strikes, non-violent civil disobedience and actions at major airports like the Chicago O'Hare International Airport.
Even though it still has a long way to go, Fight for $15 had reason to celebrate.
Wednesday, Nov 30, 2016, 12:29 pm · By David Bacon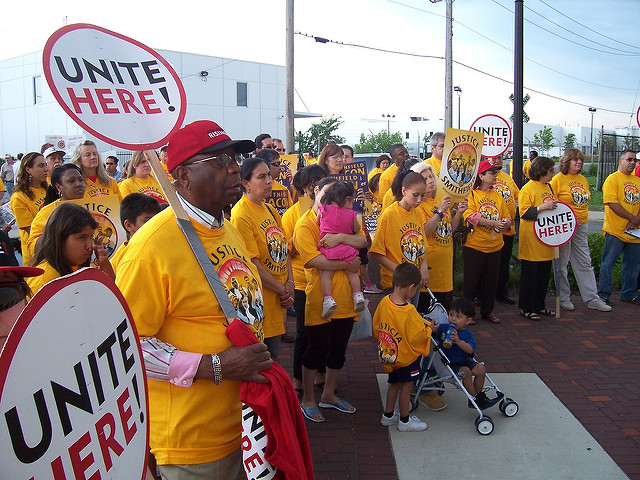 The following was written in response to a previous post.
It is clear in the article that its author, Buzz Malone, feels he is defending the interests of workers against employers. The article's thrust, however, calls for the enforcement of employer sanctions—punishing employers for hiring undocumented workers. I'm writing this letter because, with the election of Donald Trump on the most overtly anti-immigrant platform in decades, the proposals in this article present a greater danger than they would at any other time. In many ways they line up with the kind of immigration enforcement we can expect from the Trump administration.