Wednesday, Jan 7, 2015, 12:00 pm · By Kevin Solari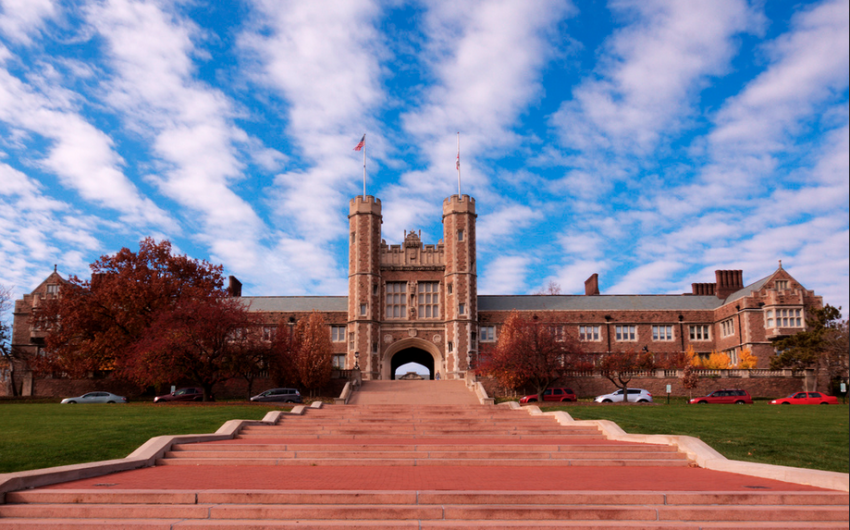 In St. Louis, adjunct faculty have won a victory for part-time faculty. On January 5, Washington University in St. Louis adjuncts announced they had voted 138 to 111 to join the Service Employees International Union (SEIU) Local 1.
Tuesday, Jan 6, 2015, 12:43 pm · By Leo Gerard, United Steelworkers President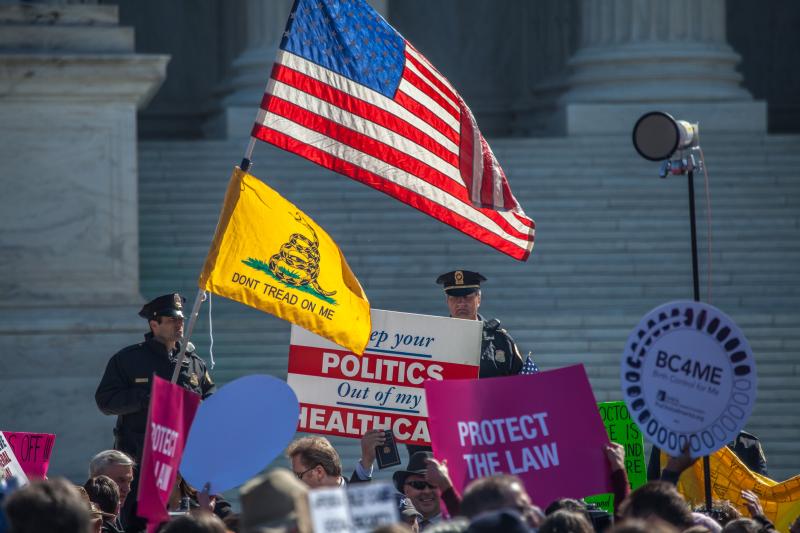 America just celebrated the season of giving with Hanukkah and Christmas presents, year-end charity donations and soup kitchen volunteering. It is a time when Americans demonstrate the generosity, caring and kindness that define them as a people.
Now, however, Americans may suffer the season of GOP taking. Republicans already insisted on taking away a key protection in the Dodd-Frank Wall Street Reform and Consumer Protection Act. Now they're intent on taking health insurance from millions of Americans who got it under the Affordable Care Act.
Tuesday, Jan 6, 2015, 11:53 am · By Sam Mitrani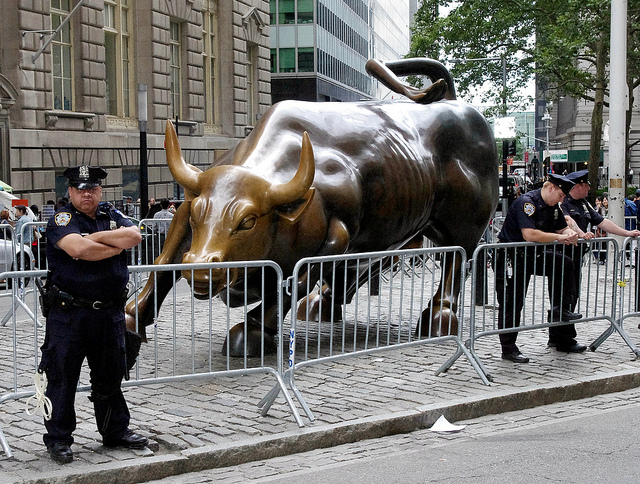 In most of the liberal discussions of the recent police killings of unarmed black men, there is an underlying assumption that the police are supposed to protect and serve the population. That is, after all, what they were created to do.
If only the normal, decent relations between the police and the community could be re-established, this problem could be resolved. Poor people in general are more likely to be the victims of crime than anyone else, this reasoning goes, and in that way, they are in more need than anyone else of police protection. Maybe there are a few bad apples, but if only the police weren't so racist, or didn't carry out policies like stop-and-frisk, or weren't so afraid of black people, or shot fewer unarmed men, they could function as a useful service that we all need.
Monday, Jan 5, 2015, 2:30 pm · By Julia Kann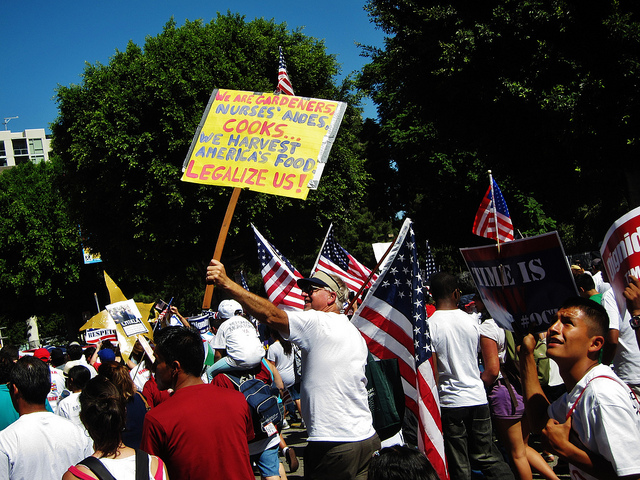 Responding to years of pressure from immigrant activists, President Obama took executive action on November 20 to provide relief for immigrants. Labor Notes interviewed two activists about the executive order and what's next in the fight for immigrant rights.
Arianna Salgado is a Chicago-based immigrant and education activist and member of the Immigrant Youth Justice League. Guillermo Perez is the President of the Pittsburgh Labor Council on Latin American Advancement (LCLAA), a member activist in the steelworkers union (USW) local 3657, and a member of the Labor Notes policy committee.
Friday, Jan 2, 2015, 5:43 pm · By Bruce Vail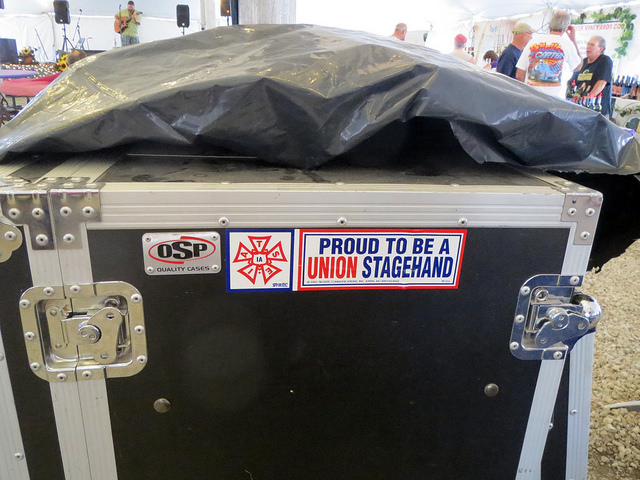 When singers like Beyoncé take the stage, thousands of eyes are glued to her and her alone. But behind the singer at every concert is an army of workers handling everything from lighting to exploding confetti cannons. And while those performances net entertainers and concert venues massive amounts of money, the backstage workers like the ones who made Beyoncé's live performance July 15 in Atlanta possible can't say the same. Those employees are now attempting to organize a union, hoping to reverse the trend of eroded wages and benefits for the stagehands and others who make these performances so profitable.
Friday, Jan 2, 2015, 4:32 pm · By Steve Payne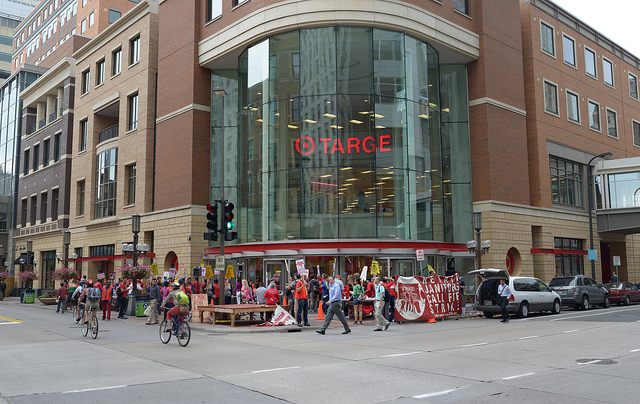 The last few years have seen significant labor unrest among the cleaning staff of Minneapolis and St. Paul, Minnesota's big box stores. Janitors cleaning these stores have leafleted, protested, marched, struck and even gone on hunger strike since 2010, when workers first began organizing with CTUL (the Center for Workers United in Struggle), a workers center in Minneapolis. At that time, most janitors earned around $7.25 an hour and say they faced pervasive wage theft. Today, they say, their rates are between $8.50 and $9.00 an hour, wage theft is rare, and working conditions have improved.
Now, the janitors are taking a step beyond their agitation through the workers center by trying to form a union.
Wednesday, Dec 31, 2014, 2:52 pm · By Yana Kunichoff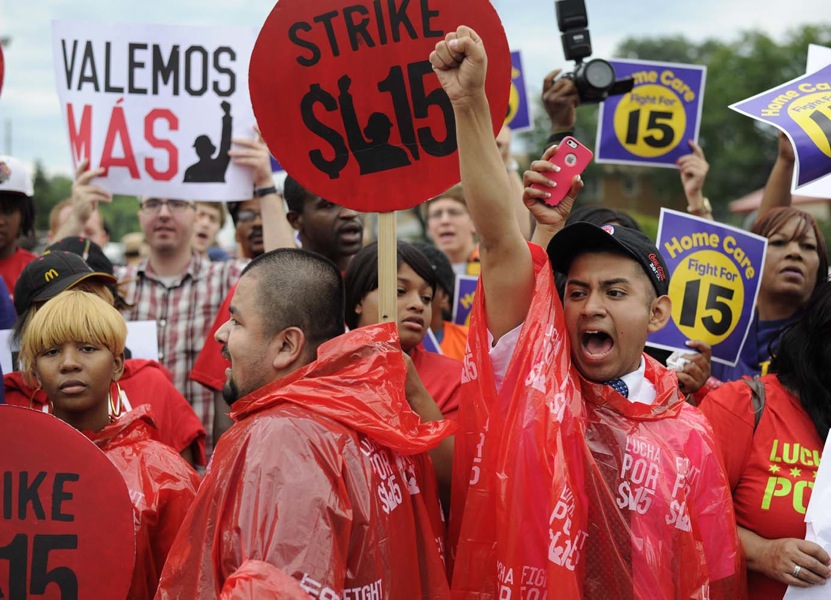 Like many immigrant families, that of Iris Sebastian (a pseudonym) has long played a precarious financial balancing game.
Her parents, Luis and Josefa, both crossed the border from Mexico in the mid-1990s. They met in the U.S. and settled down in Houston, where they had Iris, the oldest of four girls, soon after. Thus began the balancing game. As Luis and Josefa worked low-wage jobs in service or day labor to support themselves and their children, the family was in constant discussion about how to save a little here, a little there. Maybe that meant secondhand clothes or going without new school supplies. Or it could mean a few extra nights of work for Luis or Josefa at their second jobs as cooks.
Working two jobs and trading child care responsibilities sustained them through the boom of the 1990s and even the initial dip of the 2008 recession. From 2005 to 2013, both had steady cook jobs at a Burger King in the Montrose neighborhood of Houston.
That all changed in the fall of 2013. Luis had long suffered from diabetes, and fluid retention in his legs made it increasingly difficult to work on his feet all day, as his service jobs demanded. Eventually he had to severely cut down his working hours. The balancing act became more precarious.
As the oldest daughter, Iris, an 18-year-old high school junior, felt it was her responsibility to keep the family afloat.
Tuesday, Dec 30, 2014, 1:59 pm · By Amien Essif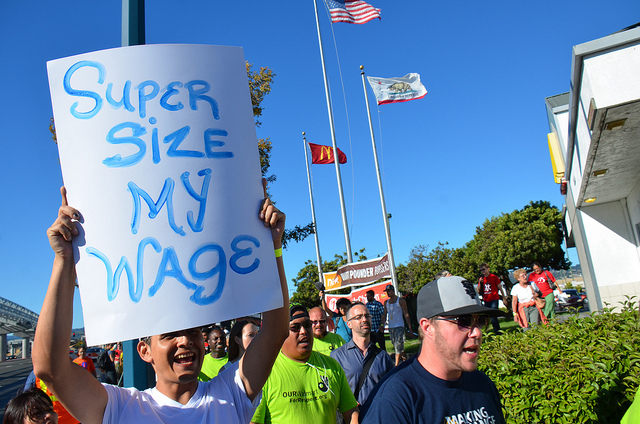 The mainstream press often files workers' stories between corporate gossip in the "business" or "money" sections. But the efforts of working people to organize for their common interests—as well as the efforts of the 1 percent to keep a lid on things—frequently made front-page news this year.
Much has been made of the incredibly hostile climate for labor over the past few decades. Yet this past year, workers still organized on shop floors, went out on strike, marched in the street and shuffled into courthouses to hold their employers accountable, and campaigned hard for those who earned (or, often enough, didn't earn) their vote. Legislators, meanwhile, tarried on with their anti-worker "right-to-work" laws, and union busters busted up unions. But if state legislatures and the U.S. Supreme Court were harsh on workers, the National Labor Relations Board (NLRB) was refreshingly helpful, passing down several rulings that made organizing easier and wage-theft harder.
Whether it was fast-food and retail workers demanding respect and better pay in record numbers, cities across the country raising their minimum wage under public pressure, or student athletes gaining recognition as employees of their universities, the labor movement has seen some important—and, at times, unexpected—victories this past year.
Monday, Dec 29, 2014, 10:00 am · By Mario Vasquez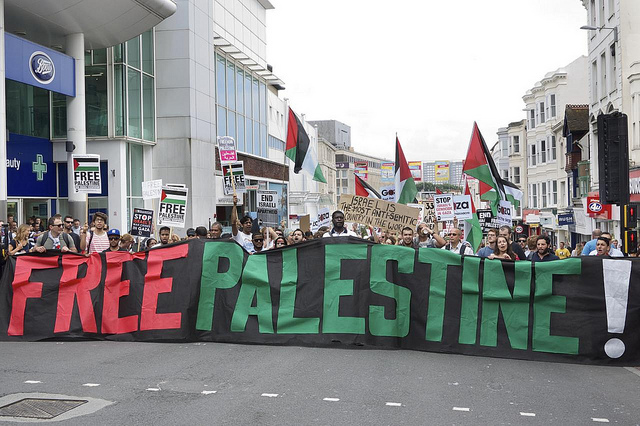 On December 4, United Auto Workers Local 2865, a union of 13,000 teaching assistants and student-workers at the University of California, became the first local of a major American union to pass a resolution by membership vote endorsing the global movement for Boycott, Divestment and Sanctions (BDS) against Israel. Voting results were released December 12 and mark an unprecedented moment for the BDS movement within the context of modern American labor activism.
Wednesday, Dec 24, 2014, 7:45 am · By Leo Gerard, United Steelworkers President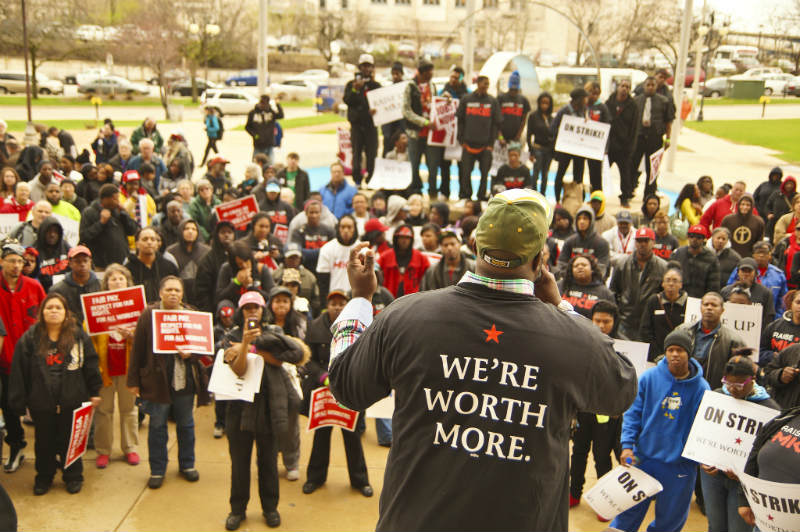 Earlier this month, in the sparsely populated Kentucky county that's home to Bowling Green, officials voted to convert the place into a right-to-work (for less) sinkhole.
The county officials did it at the bidding of big corporations. They certainly didn't do it for their Warren County constituents because employees in right-to-work (for less) states get smaller paychecks than those in states that support the right to unionize. They did it at the demand of the American Legislative Exchange Council (ALEC) and the Heritage Foundation, both of which are corporate owned and operated.
They did it despite the fact that there's no evidence they have any legal authority to create an anti-union bastion on the county level, which means they've subjected the residents of Warren County to substantial costs for a legal battle that Warren is likely to lose.