Friday, Feb 21, 2014, 11:40 am · By Mike Elk

After the United Auto Workers' union election loss at the Volkswagen plant in Chattanooga, Tenn., last Friday, many in organized labor have pointed to outside interference as key to the union's 43-vote shortfall. Of the various groups that tried to persuade workers to reject unionization, one stood out because it was run by a former union organizer: a group called Be Your Own Best Advocate (BYOBA).
Now, In These Times has learned that the Minnesota-based consultant behind BYOBA, Rhys Ledger, left the International Brotherhood of Teamsters in April of 2013 after two of his bosses were suspended for allegedly embezzling funds. Although Ledger was not charged with any wrongdoing, Teamsters officials say the circumstances of his leaving undermine his credibility as a former union organizer, which Ledger has used to lend clout to his criticisms of unions.
On its website, BYOBA describes itself as "a consultant to independent, autonomous workgroups that exercise complete self-determination in managing their affairs. Unlike unions that centralize power and siphon dues to sustain large bureaucracies, BYOBA leaves the decision-making and the resources with individual workgroups to use as they see fit." In other words, BYOBA believes that workers should advocate for themselves without the involvement of a formal union.
A week before the UAW's February 12-14 union election at Volkswagen Chattanooga, BYOBA made its presence known on social media. Pro-UAW Volkswagen workers Byron Spencer and Wayne Cliett say they would frequently encounter a BYOBA-sponsored Facebook post blasting the UAW. "How ready would you be to contribute another $10 a month to the UAW PAC after union dues are raised to 2.5% of your pay?" the post read.
Thursday, Feb 20, 2014, 7:04 pm · By Julia Wong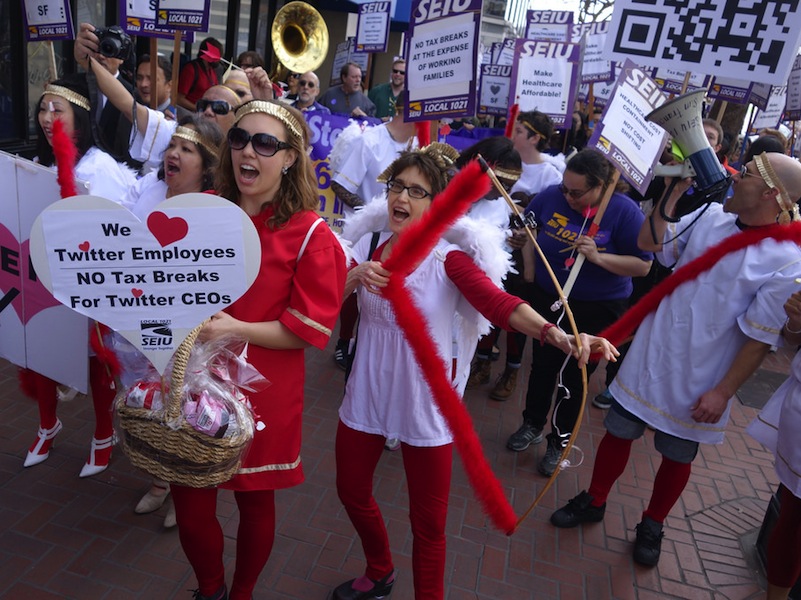 Last Wednesday, more than 400 San Francisco city employees—many dressed as Cupid with wings and golden headdresses—marched from the city's Department of Human Resources to Twitter headquarters a few blocks away. The protesters were members of Service Employees International Union Local 1021, which is currently negotiating with the city over contracts covering more than 13,000 workers. As the workers chanted, "Twitter, you're no good. Pay your taxes like you should," they left a Valentine of sorts on the company's doorstep at Ninth and Market streets.
"We, the undersigned, the workers and residents of San Francisco, ask that Twitter and other corporations do the right thing and end their tax breaks and sweetheart deals," read the protesters' card.
Like the private buses that transport tech workers from San Francisco to corporate campuses in Silicon Valley, Twitter's headquarters have become a symbol of gentrification and displacement for housing activists and community organizations in the city. On Nov. 7, 2013—the same day the company held its Initial Public Offering on the New York Stock Exchange—local groups held a #ThrownOutByTwitter day of protest in downtown San Francisco to draw attention to what they see as the tech industry's contribution to the city's growing class divide. San Francisco should be trying to advocate for all its residents, activists feel—not just the ones with startup funding.
Now, the SEIU, the largest public sector union in San Francisco, is taking renewed aim at Twitter over the major tax break it received from City Hall in 2011.
Thursday, Feb 20, 2014, 2:17 pm · By David Moberg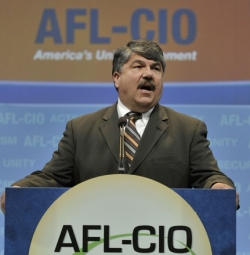 Balmy Houston would have been a nice setting for leaders of the American labor movement to throw a much-needed victory party. But just before the start of the winter meeting of the executive council of the AFL-CIO—the federation to which most American unions belong—labor suffered an unexpected defeat when a clear majority of workers at the Volkswagen plant in Chattanooga, Tenn. voted against joining the United Auto Workers (UAW) union.
The loss squelched any celebration in Houston, which had been chosen for the first time as a meeting place in order to symbolize the need to organize the South, according to AFL-CIO president Richard Trumka. The federation convention last September urged all unions to make long-term commitments to serious organizing in the South, a recurring theme in American labor union strategic debates.
Despite the Volkswagen setback, organizing—especially in the South—remains a priority. Without more members, acting with common purpose, the labor movement's power will decline even further. Also, unions recognize their duty to organize workers in the South, whose rock-bottom unionization rates—below 5 percent in many Southern states, as opposed to 11.3 percent nationwide—are coupled with lower living standards and fewer rights at work than comparable American workers in other regions (except the Great Plains). And the weakness of unions in the South restricts advances of workers in other regions, as businesses move or threaten to move South to take advantage of low wages, tax giveaways and an anti-union climate.
Although unions can point to recent organizing successes in the South—such as state and federal government workers, airline employees, nurses, mobile telephone technicians and teachers—no foreign-owned vehicle-assembly plant in the region is unionized. Organizing the Chattanooga Volkswagen plant would have marked a major inroad for labor.
Thursday, Feb 20, 2014, 12:44 pm · By Sarah Jaffe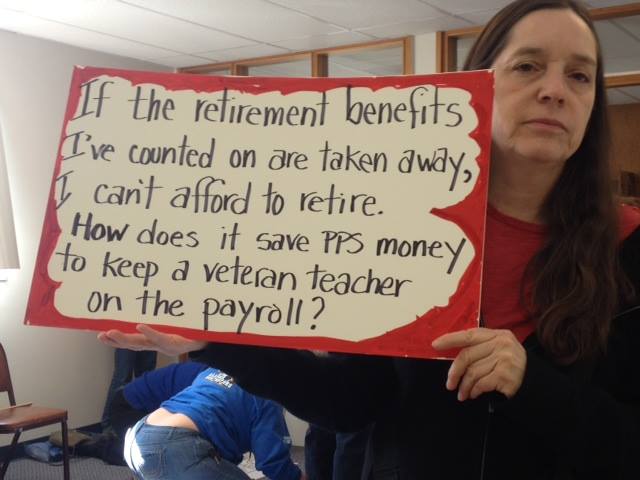 Back in 2003, the Portland Association of Teachers avoided a strike by agreeing to work for free. Their contract included ten days of unpaid work in order to help keep the school year at 171 days, as long as new taxes covered the other 14 officials wanted to cut.
This year, though details are not yet public, the 2,900-member Oregon teachers union appears to have brought about a much more favorable deal in its latest round of negotiations with Portland Public Schools, averting a planned strike just a day-and-a-half in advance.
A marathon mediation session—nearly 24 hours, according to reports—led to a tentative agreement on Tuesday between the union and the school district that averted Thursday morning's walkout. Teachers and the school board still need to vote to ratify the agreement.
"I think teachers right now are feeling hopeful, but we don't really know what we're dealing with," Portland teacher Elizabeth Thiel told In These Times on Tuesday, February 18, as news of the deal was breaking. "We trust our bargaining team wouldn't agree to something unless it was good, but we haven't seen any of the details."
Wednesday, Feb 19, 2014, 3:10 pm · By Rebecca Burns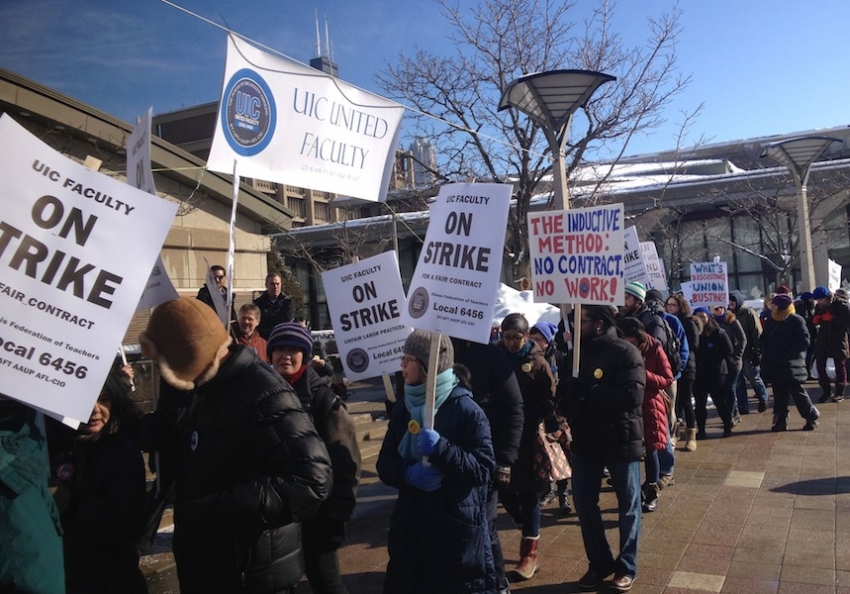 As a tenured professor at the University of Illinois-Chicago (UIC), Josh Radinsky never expected to participate in a strike—or to see so many of his colleagues ready to do the same. "I've never seen anything like it. It's like a ghost town today," Radinsky marveled as he and a group of colleagues picketed outside an empty academic building yesterday morning.
Tuesday marked the start of an unprecedented two-day walkout staged by UIC United Faculty (UICUF), the union that represents more than 1,100 tenure-track and non-tenure-track faculty members at the state university. Strikes by university professors are a rare occurrence: The first of its kind at UIC, the faculty strike is also one of only a handful at U.S. colleges and universities during the past five years. Since gaining recognition in 2012, though, UICUF has been locked in a stalemate with university administrators over its first contract. In December, faculty members voted overwhelmingly to authorize a strike if progress wasn't made at the negotiating table.
This week, the union made good on its threat: Faculty members walked out of their offices on Tuesday morning, fanning out into picket lines across campus.
Though the sight of picketing professors may be novel, it's become increasingly evident to many that the union and administration were coming to loggerheads. As Radinsky, who's taught for 14 years in the university's College of Education, says about the strike, "This needed to happen—I think it's about time."
Wednesday, Feb 19, 2014, 11:00 am · By Sarah Jaffe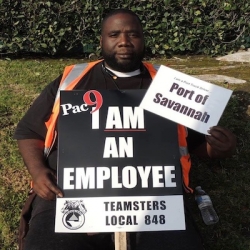 "Everyone that's involved in container hauling is making money," says Albert Dantes, a port truck driver at the Port of Savannah, Georgia. Everyone, that is, but Dantes and his colleagues, who spoke to me after an organizing meeting just off the highway on which they haul the goods that come in and out of the fourth-largest container port in the country.
The port brings in close to $16 billion per year, but the drivers only see a tiny bit of that money. This is in large part because they're "misclassified" as independent contractors, driver Gerald Spaulding says—which lets the bosses at the various port trucking companies push off operating costs onto the drivers. These may include gas, repairs and the lease or payment for the truck itself. "All the expenses come out of your pocket," says Dantes, noting that the gas cost alone per load is usually about half of what the driver is paid for the load. "If you lose a tire, you pay for it. [And] you just ran for free."
A new report, The Big Rig Overhaul: Restoring Middle Class Jobs at America's Ports Through Labor Law Enforcement, published by the National Employment Law Project, Change to Win Strategic Organizing Center and the Los Angeles Alliance for a New Economy, backs up what the drivers are saying. It estimates that some 49,000 of the country's 75,000 port truckers are wrongly classified as independent contractors, and it calculates that that misclassification costs state and federal governments more than $563 million in lost tax revenue, and costs drivers in the state of California alone between $787 to $998 million in stolen wages.
Tuesday, Feb 18, 2014, 1:14 pm · By Moshe Marvit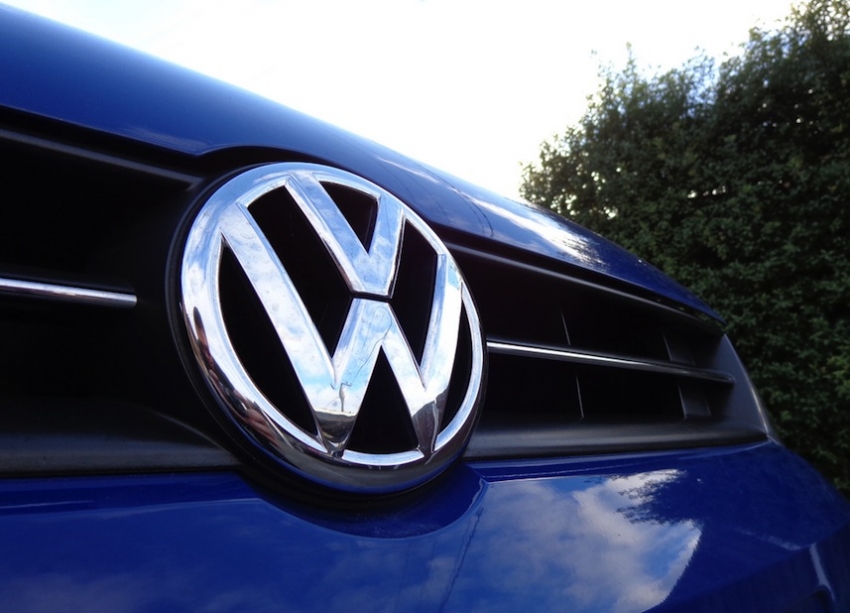 On Friday, the United Auto Workers (UAW) lost, by 86 votes, a closely watched election to represent Volkswagen workers in Chattanooga, Tenn. Not since Lyndon Johnson's 87-vote victory in the 1948 Senate primary race has there been so much attention paid to 80-odd votes in the South, nor so many people crying that a Southern election has been stolen. The UAW and many progressives are blaming the loss on anti-union statements by right-wing politicians in the days leading up to the vote.
Now, a debate is raging on what UAW's next legal and organizing steps should be in light of very public defeat. According to labor law experts, the UAW has several legal options available.
One is to ask the Nation Labor Relations Board (NLRB) to set aside the election results due to coercive outside interference. For instance, the UAW could point to a not-so-veiled threat by State Senator Bo Watson in a press conference two days before voting began. "Should the workers at Volkswagen choose to be represented by the United Auto Workers, then I believe any additional incentives from the citizens of the state of Tennessee for expansion or otherwise will have a very tough time passing the Tennessee Senate," Watson said. Three other prominent Republican politicians in the state—Tennessee House Majority Leader Gerald McCormick along with Jack Johnson and Mark Green, the chairman and vice-chairman, respectively, of the state Senate Commerce and Labor Committee—weighed in with warnings of the consequences to the community and state should the workers vote to unionize.
The most egregious comment, however, came from U.S. Sen. Bob Corker on the first day of the election. "I've had conversations today and based on those am assured that should the workers vote against the UAW, Volkswagen will announce in the coming weeks that it will manufacture its new mid-size SUV here in Chattanooga," said Corker. After Frank Fischer, the top executive at Volkswagen Chattanooga, countered that there was no connection between the union vote and VW's decision about where to build the new SUV Corker maintained that his information came from the real decision-makers and that it was "true and factual."
Monday, Feb 17, 2014, 11:00 am · By Holly L. Derr
According to the Congressional Budget Office, cuts to America's Supplemental Nutrition Assistance Program—more commonly known as food stamps—contained in the farm bill signed by President Obama last week will harm 850,000 American households. Around 1.7 million people in 15 states will lose an average of $90 a month in benefits. Though the cuts won't keep new people from enrolling, they will reduce payments to people who had previously been allowed to deduct their utility bills from their income.
Conservatives call this "closing a loophole." But in reality, it will reduce assistance for people whose incomes have not actually risen.
And it's not as if this help is easy to come by. Despite the image propagated by the Right of Uncle Sam eagerly handing out cash to anyone who wants it, the process through which one qualifies for assistance is Kafkaesque. It seems, in fact, designed to keep people out. As I go through the task of obtaining assistance in California, one of the states that will be affected by the cuts, I am amazed that anyone is able to navigate the system successfully at all.
Saturday, Feb 15, 2014, 5:53 pm · By Mike Elk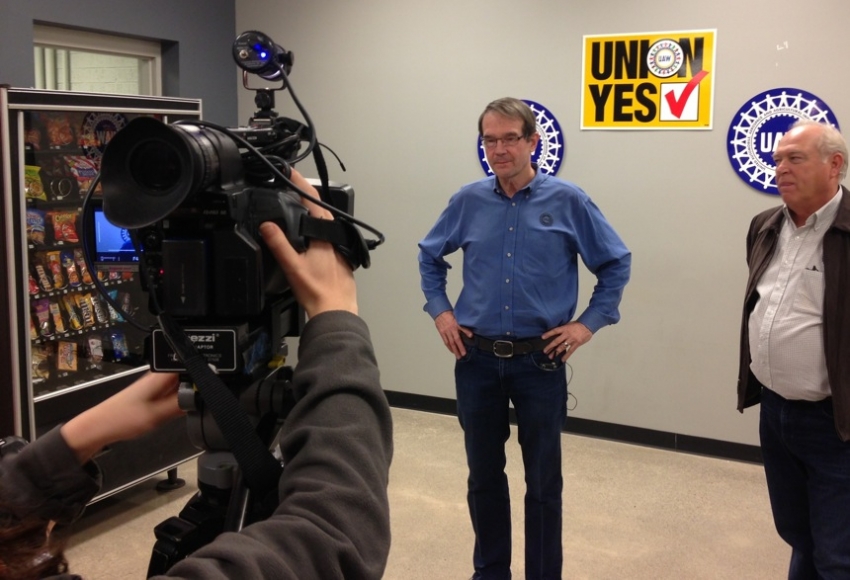 Workers and organizers cite outside interference, management collusion, union missteps, two-tier agreements and Neil Young
"I am excited," auto worker Justin King told me as he put on his cowboy boots to get ready for the victory party planned for late Friday night. At approximately 10 p.m., the United Auto Workers union and Volkswagen would announce the results of a three-day union election at the Volkswagen plant in Chattanooga, Tenn.
King had reason to be excited. For nearly three years he had campaigned to get the union into his plant. As one of the leaders of the drive, his sense was that the UAW had the support of the majority of the plant's 1,550 hourly workers. Unlike in most union drives, organizers didn't have to worry about the company threatening workers' job, because Volkwagen had agreed to remain neutral in the process, so King felt cautiously optimistic that the support would hold.
But Justin King never got to enjoy his victory party. An hour after we spoke, retired Circuit Court Judge Samuel H. Payne announced to a roomful of reporters assembled in a Volkswagen training facility that the UAW had lost the campaign, with 626 workers voting in favor of the union and 712 voting against. To the labor reporters, who had seen many union election results, it was jaw-dropping news. How could a union lose an unopposed campaign?
Volkswagen signed a 22-page neutrality agreement pledging not to interfere in the union election at the Chattanooga plant. The company even let the union onto the shop floor in early February to give a presentation on the merits of organizing.
It is impossible to say why each of those 712 workers voted against the union and what the UAW could have done differently to win them over one by one. However, In These Times' interviews with both pro-union and anti-union workers—as well as low-level Volkswagen supervisors, top UAW officials and community activists—point to a confluence of factors, including outside interference by GOP politicians and unsanctioned anti-union activity by low-level supervisors. Some questioned, too, whether missteps by the UAW and concerns about its prior bargaining agreements played a role.
Friday, Feb 14, 2014, 8:15 pm · By Kari Lydersen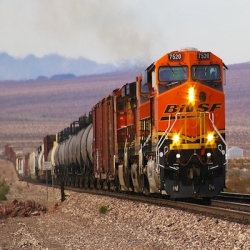 Hydraulic fracturing, or "fracking," has triggered an oil boom in North Dakota: The relatively new technology has made vast reserves of oil previously locked up in the state's Bakken shale formations accessible to drillers. However, there aren't enough pipelines in the region to transport this immense quantity of oil to other states to be refined into gasoline. So instead, companies have chosen to transport the highly flammable and toxic crude oil by railroad. This has led to some headline-grabbing disasters, including the explosion of a train carrying Bakken oil in Lac-Mégantic, Québec that killed 47 people in July 2013.
Because Bakken oil is more combustible and corrosive than traditional crude, the federal government has warned companies about the risks of shipping it by train. The industry has also been under public and Congressional pressure to develop new safety procedures.
In addition to instituting speed restrictions and rerouting trains around populated areas, railroad workers and their lawyers say the federal government should step up its efforts to combat what they call another serious threat to rail safety: the retaliation against whistleblowers by managers and executives in the industry.