Tuesday, Aug 2, 2016, 12:42 pm · By Sigmund Shen
I recently attended a memorial service for James Haughton, an alumnus of the City University of New York (CUNY). As founder of a group called Harlem Fight Back, Haughton was a central figure in the fight against racist hiring in the construction industry. One of the eulogists spoke about the first time he joined a Harlem Fight Back "shaping" crew, walking onto a job site to demand work for people of color from the community. The contractor claimed not to be hiring and quickly offered the delegation a payoff of $35,000, in cash, to go away. Shaken, crew members went asking for guidance from Haughton, who said simply, "Don't. Take. The Money."
The 27,000 members of CUNY's faculty and staff union, the Professional Staff Congress (PSC), should consider Haughton's advice before voting to ratify our first contract in years. (Voting opened last month and is set to end Wednesday.)
Monday, Aug 1, 2016, 5:59 pm · By Vic Vaiana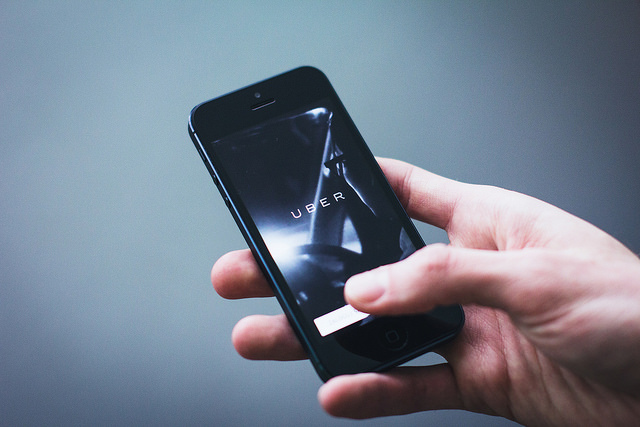 This article was first posted at Jacobin.
Yet again, an investigative report has found that Uber underpays its drivers. Using company-provided data and leaked documents, Buzzfeed found that drivers in Detroit, Houston, and Denver "earned less than an average of $13.25 an hour after expenses" and faced yearly expenses of roughly $3,000.
This doesn't mean drivers are better off working for a traditional taxi company. While Uber's burdensome cost-shifting has come to define Uberization, the company merely digitized the taxicab industry's already exploitative practices. The taxi medallion system, which requires drivers to pay their cab's medallion owner at the start of each shift, deserved to be "disrupted." But Uber's employees face serious costs and risks nonetheless.
Monday, Aug 1, 2016, 11:21 am · By Victoria Albert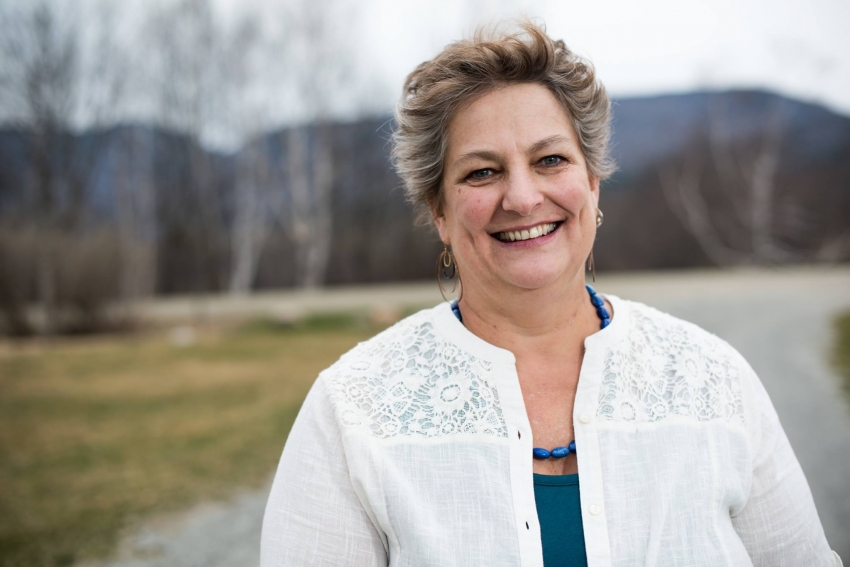 "I live with my husband and our small flock of quirky chickens on our off-the-grid homestead," reads Mari Cordes' campaign website.
But don't be fooled by her humble words; Cordes is a powerhouse.
As president of the 2,000-member Vermont Federation of Nurses and Health Professionals (VFNHP), Cordes successfully fought for paid sick leave, improved health care legislation, an end to insurance discrimination against transgendered patients and increased oversight of for-profit hospital buyouts, all while working 12-hour shifts as a cardiology RN.
In the wake of Bernie Sanders' groundbreaking progressive campaign, Cordes has set her sights on something even bigger—the Vermont House of Representatives.
Thursday, Jul 28, 2016, 5:04 pm · By Molly Knefel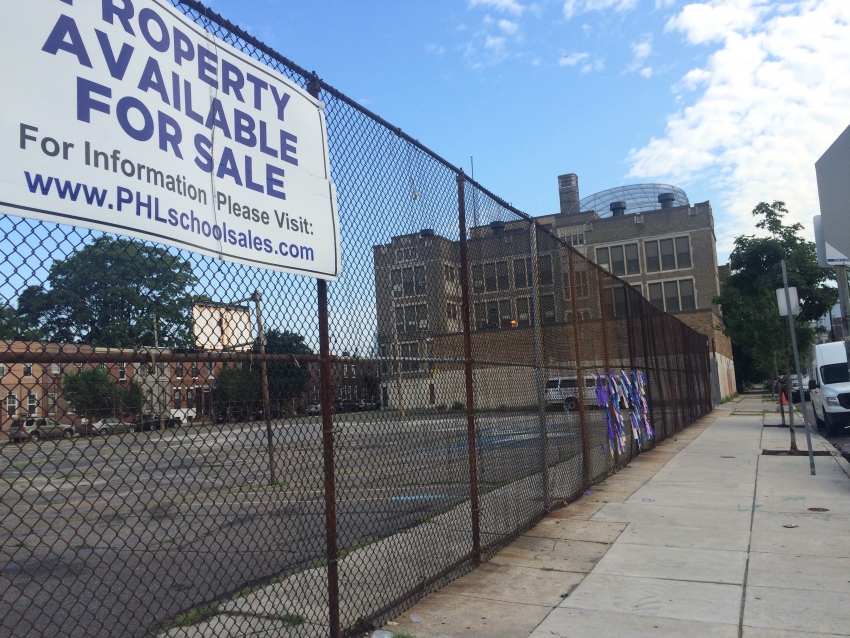 This week, Democrats descended upon the city of Philadelphia, attempting to present themselves as simultaneously progressive enough to be the party of racial, gender, and economic justice, but conservative enough to be welcoming to Republicans turned off by Donald Trump.
In a succinct illustration of some of the contradictions at play during the Democratic National Convention, vice presidential candidate Tim Kaine, the former governor of a Right-to-Work state, spoke proudly of his dad running a union shop. While K-12 public education hasn't played a prominent role in the primetime speeches this week, it's another thorny issue for a Democratic party struggling to appeal to unions while also advancing a neoliberal education reform agenda.
Thursday, Jul 28, 2016, 2:54 pm · By Bruce Vail
The Department of Labor this week confirmed persistent charges of labor abuses at the U.S. Senate dining room on Capitol Hill, ruling that workers there are owed more than a $1 million in back wages.
An investigation found that 674 workers are owed back wages of $1,008,302, and that the employers—food service contractor Restaurant Associates and labor subcontractor Personnel Plus—violated the Service Contract Act and the Fair Labor Standards Act.
Wednesday, Jul 27, 2016, 6:38 pm · By Alex Kane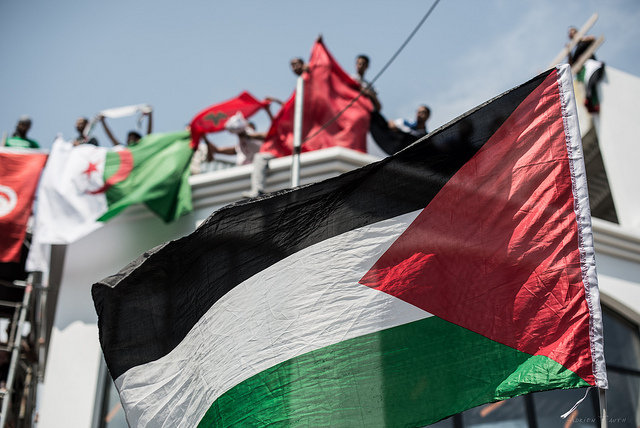 The National Labor Relations Board (NLRB) has upheld a decision to dismiss a complaint against the United Electrical, Radio, and Machine Workers of America (UE) for endorsing a boycott of Israel.
The move is a victory for advocates of the boycott, divestment and sanctions (BDS) movement, which targets Israel over alleged human rights abuses against Palestinians. Earlier this year, the NLRB ruled against Shurat HaDin, the Israeli legal center that brought the complaint seeking an injunction against UE's decision to endorse boycotting Israel. The latest decision was in response to an appeal filed by Shurat HaDin.
Wednesday, Jul 27, 2016, 11:30 am · By David Moberg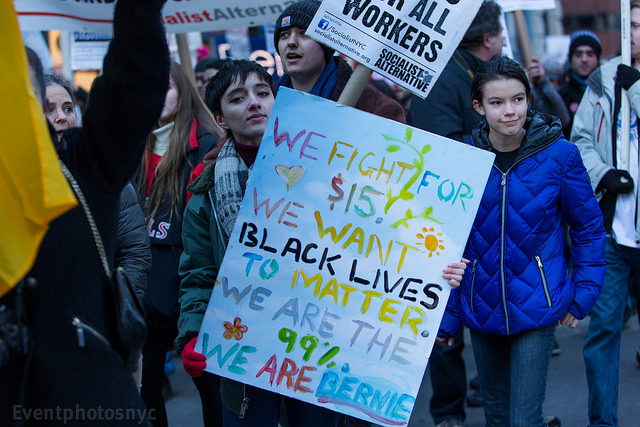 If the Democratic National Convention is not sufficiently amusing in its own right—following a week of Republicans wracked by self-centered dissent and absenteeism, plagiarism from Michelle Obama and the specter of Lucifer guiding Hillary Clinton—you can enliven the evenings with an educational game: What would these conventions be like if Bernie Sanders were the Democratic candidate?
That question may be especially instructive for union members and supporters who saw him as the most pro-labor major candidate in ages. Even if Sanders is never a presidential candidate again, what could labor political strategists learn from his campaign that might strengthen their hand in the next round?
Monday, Jul 25, 2016, 1:58 pm · By Tamara Draut
This post originally appeared at BillMoyers.com.
Thursday night, Trump spent considerable air time speaking (more like yelling) about how America's steel and coal workers have been ignored and sold-out for decades by both political parties. He promised to bring back those long-disappearing jobs and to put their needs front and center in his administration. As the daughter of a steel worker, I admit it was nice to finally hear someone talk about how the old industrial working class was robbed of their dignity and livelihood, with little regard for the devastation left behind.
Friday, Jul 22, 2016, 7:58 pm · By Adeshina Emmanuel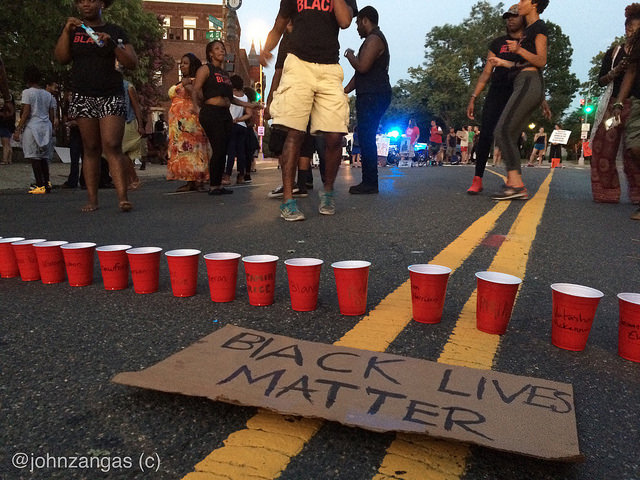 Activists in the movement for black lives are working to lift the veil on one of the most powerful influences in law enforcement: police unions.
The focus is no longer just on individual officers; it's on the institutions that protect and shield them. Organizers protested at the offices of two of the nation's largest police unions this week as part of a nationwide week of action under the banner #Freedomnow.
Protesting organized labor may seem like a surprising move for a radical group. "We're definitely pro-labor union," explains Black Youth Project 100 (BYP100) organizer Clarise McCants.
"But our message is that the Fraternal Order of Police (FOP) is not just like any union," she said. "They are a fraternity—and they are the most dangerous fraternity in America."
Thursday, Jul 21, 2016, 2:10 pm · By Bruce Vail
Bowing to the demands of thousands of angry Teamsters, the federal Government Accountability Office (GAO) has agreed to conduct an inquiry into the past investments of the Central States Pension Fund, the organization that manages the retirement benefits for more than 400,000 union members, both retired and active.
One goal of the inquiry is to determine whether Goldman Sachs and other investment advisors caused the Fund to lose money, endangering the future pensions of retired truck drivers and other Teamster union members.