Monday, Apr 4, 2016, 10:00 am · By Spencer Woodman
Last summer, with the backing of regional labor leaders and community groups, the city of Nashville approved an ordinance requiring large, municipally funded construction projects to devote 10 percent of their hiring to low-income residents. The ballot initiative, which also stipulated that 40 percent of such hires should reside in Nashville's Davidson County, came amid an historic surge in building projects in the city's downtown area.
Last year, the New York Times reported that more than $2 billion worth of construction projects that developers have initiated in the city are poised to reshape Nashville's skyline. The local hire ordinance, known as Amendment 3, sought to make sure that the city's poorest residents saw some benefit portions of the city's building boom by leveraging the Nashville's government's contracts with private businesses in an attempt to reduce local poverty, which stands at nearly 20 percent for adults and at roughly 30 percent for children in the Nashville area.
Yet within weeks of the ordinance passing into law, Republicans in the state legislature introduced a bill to roll back Nashville's new law and prevent other cities in the state from implementing anything like it.
Saturday, Apr 2, 2016, 4:35 pm · By Rebecca Burns and David Moberg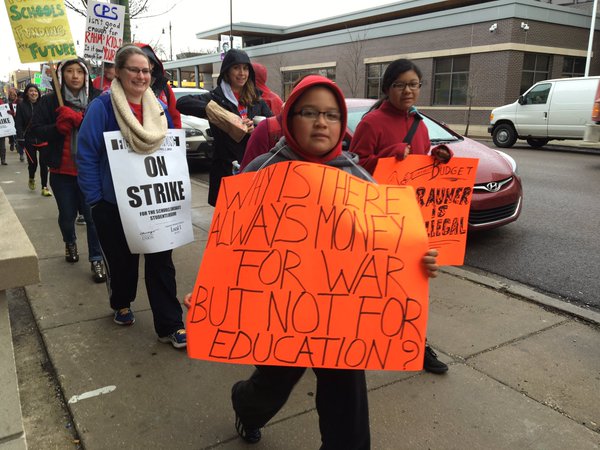 Even at 6:30 a.m., there was no lack of enthusiasm from teachers who were on strike at the Maria Saucedo Elementary School in Little Village yesterday morning. "We are here because we love our students and because we are out here setting an example, we are raising a whole new generation of activists," special education teacher Sarah Chambers yelled from a bullhorn.
The Chicago Teachers Union (CTU) officially walked out for the day over what they say is an unfair labor practice (ULP) amid contract negotiations with Chicago Public Schools (CPS): the unilateral decision by the district to stop giving steps and lanes pay increases (the former based on length of time served in the district, the latter the result of new credentials like master's degrees), in violation of their previous contract, which expired in June 2015 but still covers teachers.
It was thus a legal strike, the union argues—contrary to the views of CPS leadership.
But whatever the legal justification, the action was a rare move by a union in the United States (though more common in other countries)—a political strike aimed at the right-wing billionaire Republican Gov. Bruce Rauner over his refusal to raise needed revenue (or even reach agreement on a budget).
Thursday, Mar 31, 2016, 1:11 pm · By Branko Marcetic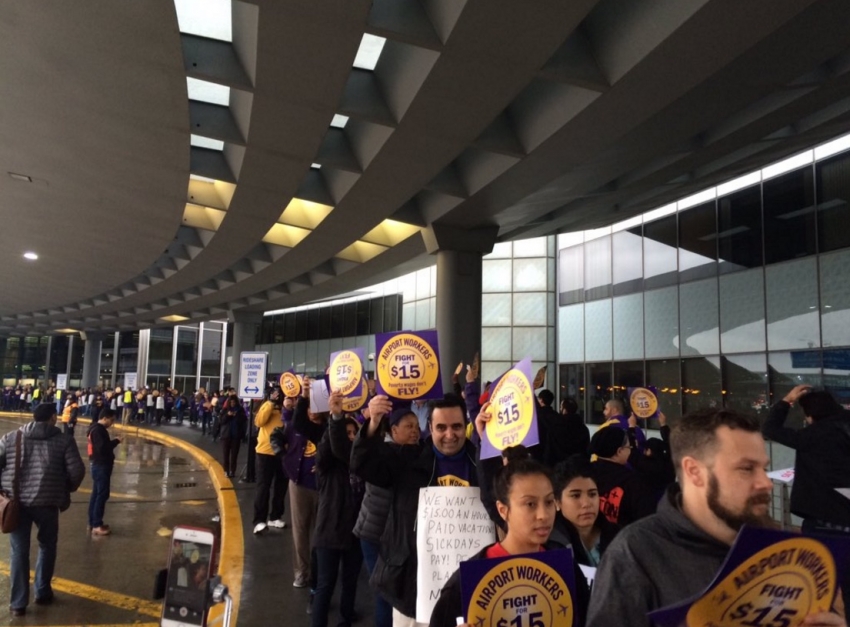 Early this morning, travelers strolled through the nearly empty terminals of Chicago's O'Hare Airport, the country's second busiest airport. Walking through its empty, sterile hallways, they likely had no idea that many of the people who help keep it clean, safe and running live on poverty wages—or that at that very moment, some of those same people were striking to end this state of affairs.
Nearly 100 O'Hare Airport workers, including baggage handlers, security officers, custodians and cabin cleaners, walked off the job late Wednesday night and Thursday morning, demanding higher wages, the right to unionize and better security training. The 24-hour strike is part of a nationwide campaign which included workers at eight other airports around the country going on strike.
Thursday, Mar 31, 2016, 10:21 am · By Micah Uetricht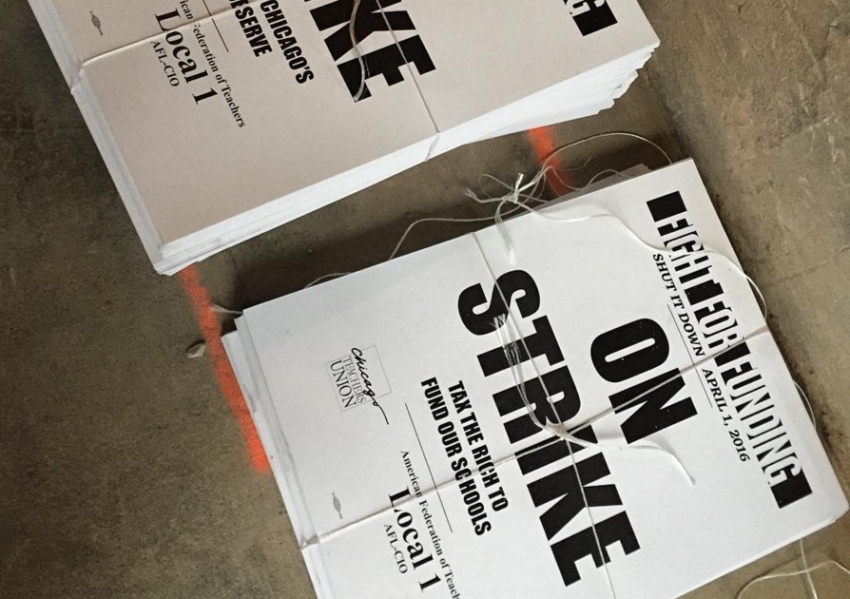 The Chicago Teachers Union is going on strike on Friday. But they aren't going alone.
The union struck in 2012, claiming to fight not just for themselves but for a broad social justice agenda in defense of public schools and all public services. Incredibly, they were victorious over Mayor Rahm Emanuel and the Chicago Public Schools, who wanted to further erode teachers' power in the schools and institute more free market-friendly reforms. At a time when the labor movement was in dire straits, the win was an inspiration to unionists around the country.
But since then, the union has suffered defeat after defeat: 49 school closures, round after round of layoffs, budget cuts teachers say have been devastating. And Illinois' new Republican governor, private equity mogul Bruce Rauner, has carried out a disastrous agenda of cuts and holding the state budget hostage unless legislators agree to major rollbacks of union rights.
So when teachers' contract expired this year and they were faced with more austerity demands, they again weighed striking. But this time they have joined other unions and community groups in calling for a citywide "general strike" on April 1, demanding not just a strong contract but new, "progressive" sources of revenue—taxing the city's financial district, for example, and ending the state's flat income tax—to fund public goods and services throughout the Chicago and Illinois. The CTU and the groups allied with them are looking to win not just a moral victory against austerity, but a tangible one.
The strike will only last a day, but it's the kind of mass political strike that rarely seen in American labor history. It's also one that isn't without risks; CPS has declared the strike illegal.
To discuss the strike and its implications, I spoke to Sarah Chambers, a special education teacher at Saucedo Elementary, a member of the CTU Executive Board, and a co-chair of the Caucus of Rank-and-File Educators.
Tuesday, Mar 29, 2016, 9:43 pm · By Alex Lubben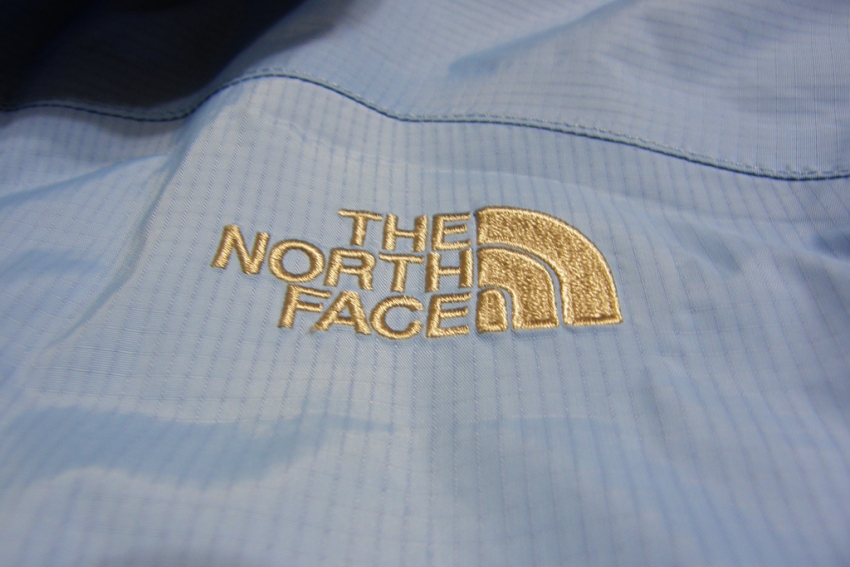 When Saudia Durrant approached the manager at an REI store in Manhattan earlier this month to explain that Polartec, the company that makes much of the fabric that REI uses in their products, was closing their flagship production facility in Lawrence, Massachusetts, the manager listened attentively.
"I let her know that we're there to represent the Polartec workers [in Lawrence] who are organizing to put pressure on Polartec to have a conversation about keeping Polartec in Lawrence, Massachusetts," Durant told In These Times.
Durrant, who works for UNITE HERE in New York, was one of over 100 union members, including a number of workers from the Lawrence plant, who approached management at REI stores in 21 cities across the country last Wednesday to draw attention to the closing of the historic textile mill.
Wednesday, Mar 23, 2016, 7:23 pm · By Bruce Vail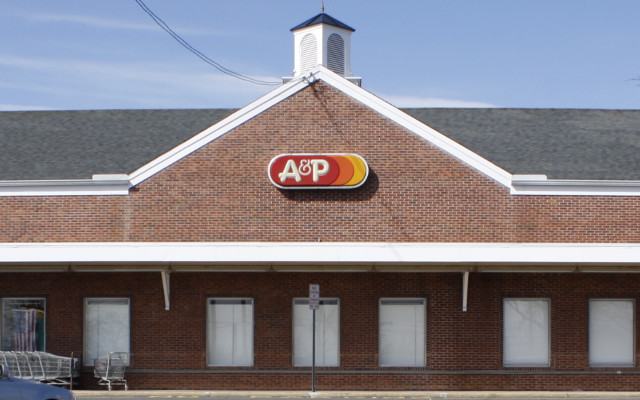 The bankruptcy and speedy sell-off of the A&P supermarket chain last year has revealed three pension plans covering more than 21,000 former employees as a financial train wreck, forcing a U.S. government agency to come to the rescue at the cost of about $288 million.
Tuesday, Mar 22, 2016, 1:30 pm · By Eric K. Arnold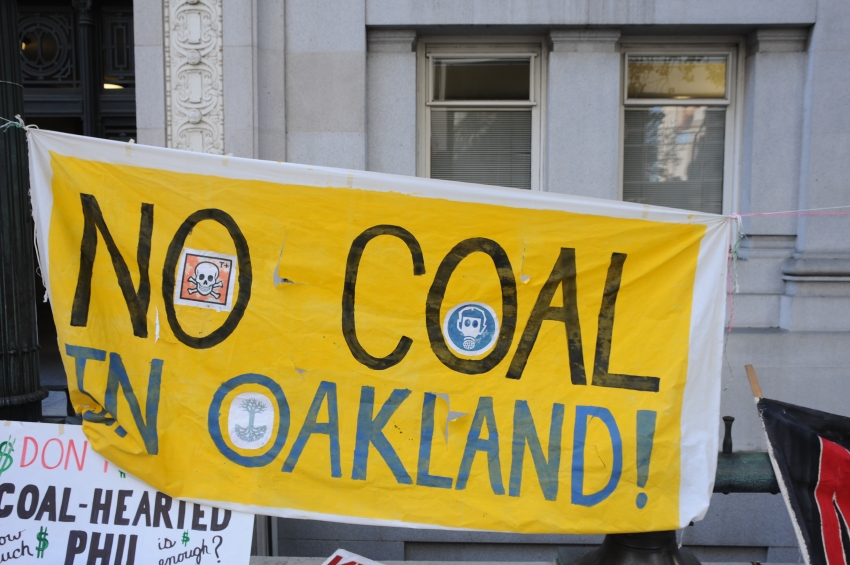 This post first appeared at RP&E.
Coal, once the staple of American industrial production, may be on its last legs. With domestic production showing a long-term decline, the fossil fuel's days appear to be numbered.
According to the most recent annual report of the U.S. Energy Information Administration (EIA), in 2013, U.S. coal production fell below two billion short tons for the first time in two decades; coal mining capacity decreased, as did the average number of coal mine employees, the average sales price of coal, and total U.S. coal stocks. In April of 2015, the EIA projected coal would hit a 28-year low, reflecting significant drops in domestic demand and exports. A report by the Carbon Tracker Initiative (CTI) noted that 26 domestic coal companies have recently gone into bankruptcy proceedings.
According to CTI, domestic energy generation has remained flat for the past decade but energy sources have shifted: coal and oil are down, but natural gas and renewable energy are up. America's largest coal producers are recording annual losses in the billions of dollars, while Chinese coal demand has slumped and new environmental regulations aimed at significantly reducing air pollution and increasing wind and solar consumption are being phased in by the Chinese government. Additionally, all federal coal leasing is currently under moratorium until a comprehensive review can be completed. As the Natural Resources Defense Council (NRDC) noted in its online magazine, OnEarth, "it would be difficult to overstate the industry's current distress."
This is scary news for the coal industry, yet a welcome announcement for environmentalists who have waged national campaigns against coal for decades. Coal producers' last hope, it would seem, is to increase coal's export capacity by transporting the black gunk through West Coast ports. But even there the pro-coal forces have met with unexpected resistance, as city after city in Oregon and Washington have mounted grassroots campaigns to deliver an emphatic message: "Say no to coal."
Tuesday, Mar 22, 2016, 1:06 pm · By Mario Vasquez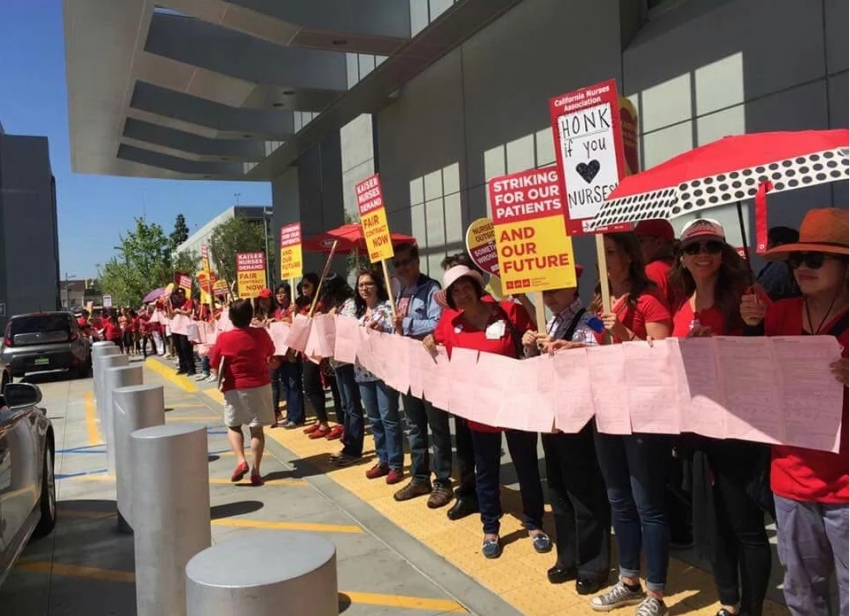 One thousand two hundred registered nurses with the California Nurses Association (CNA), an affiliate of the National Nurses United (NNU), went on a weeklong strike last Tuesday that ends today, in demand of a first contract settlement with their employers at the Kaiser Permanente Los Angeles Medical Center (LAMC). The CNA members say they want LAMC management agrees to a contract that fixes chronic understaffing that nurses argue is putting patients' lives at risk.
Monday, Mar 21, 2016, 5:29 am · By Shaun Richman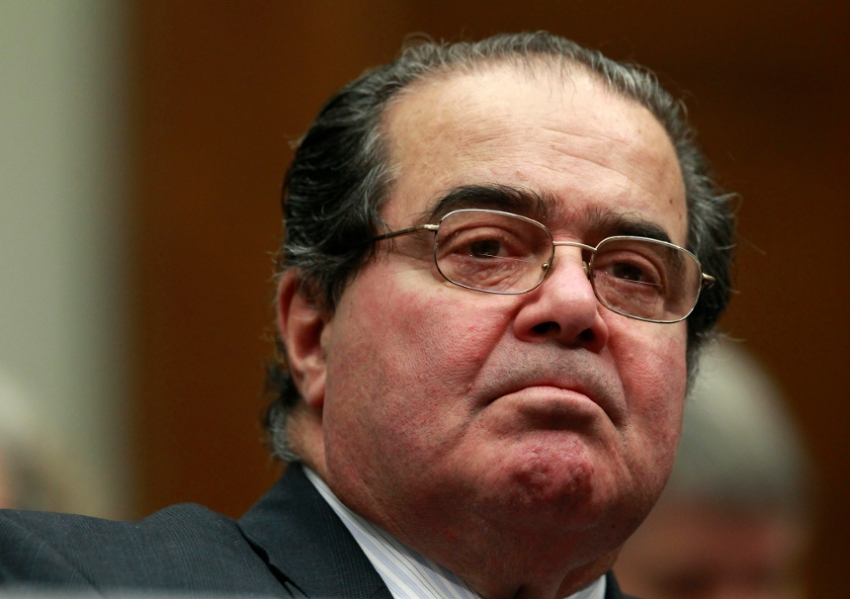 Unions that were bracing for a major defeat in Friedrichs v. CTA breathed a sigh of relief following the death of Supreme Court Justice Antonin Scalia. He was expected to be the decisive fifth vote against the California Teachers, and the outcome likely would have severely weakened American public sector unions. But Friedrichs likely died with Scalia.
More than a respite between anti-union attacks, this moment is an opportunity for a new judicial activism by the labor movement to win new rights and benefits and to match the planning and aggressiveness of the right-wing plot to kill unions.
Thursday, Mar 17, 2016, 11:46 am · By David Moberg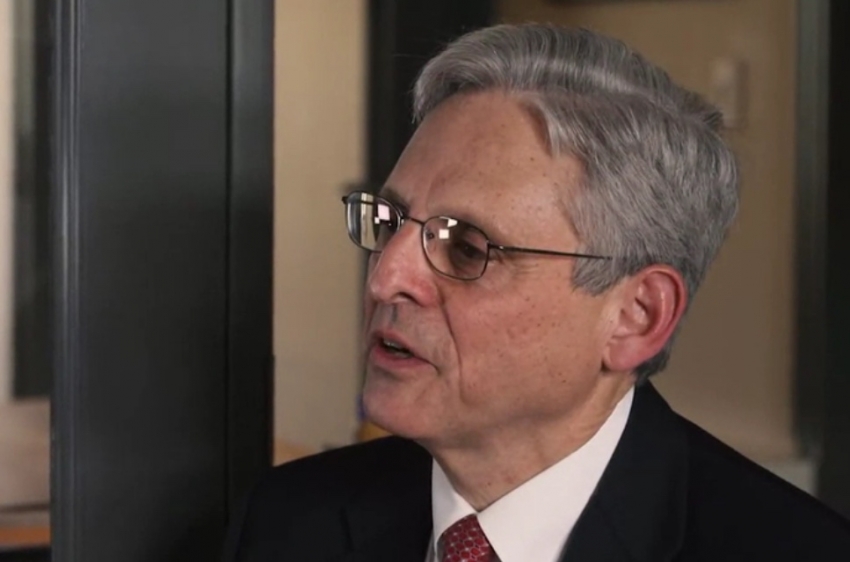 Despite hardline Senate Republican opposition to meeting with, let alone voting on, any potential replacement for recently deceased Supreme Court Justice Antonin Scalia, on Tuesday, President Obama nominated Chief Judge Merrick Garland of the U.S. Court of Appeals in Washington, D.C., to fill the vacancy left by Justice Antonin Scalia after his recent, unexpected death.
Garland is a highly qualified, well-respected judge, first appointed in 1997 by President Bill Clinton to the D.C. Circuit Court and confirmed by a vote of 76 to 23 in the Senate. Garland has been under consideration for a seat on the Supreme Court previously; he has a reputation for judicial restraint (quite unlike Scalia's highly ideological attempt to use the Supreme Court to re-write the nation's law).
It's hard to give him a clear political label, but Garland does not seem to be as progressive on workers' rights issues as Scalia was reactionary. In 2010 Tom Goldstein, publisher of SCOTUSblog, wrote that Garland was "essentially the model, neutral judge. He is acknowledged by all to be brilliant. His opinions avoid unnecessary, sweeping pronouncements." On criminal law (and cases involving Guantanamo detainees), Goldstein wrote, Garland leaned a bit conservative, on first amendment, environmental and "open government" issues, a bit liberal. One consistent thread seems to be deference towards regulatory agencies, letting them make decisions without the Supreme Court always second-guessing or rewriting the law.
That sentiment may be important for labor issues before the Supreme Court, which has frequently acted to restrain the National Labor Relations Board and crimp worker rights in decades past. Scalia's vote was crucial in the many 5-4 decisions by the Supreme Court that weakened rights and protections for American workers. His death, for example, seemed to have eliminated (for the moment) a likely 5-4 court decision in the Friedrichs case, which would have prevented public employee unions from charging non-members of the union a fee that paid for the benefits of union bargaining and grievance representation that union by law must provide.