Friday, Jul 14, 2017, 1:00 pm · By Michael Arria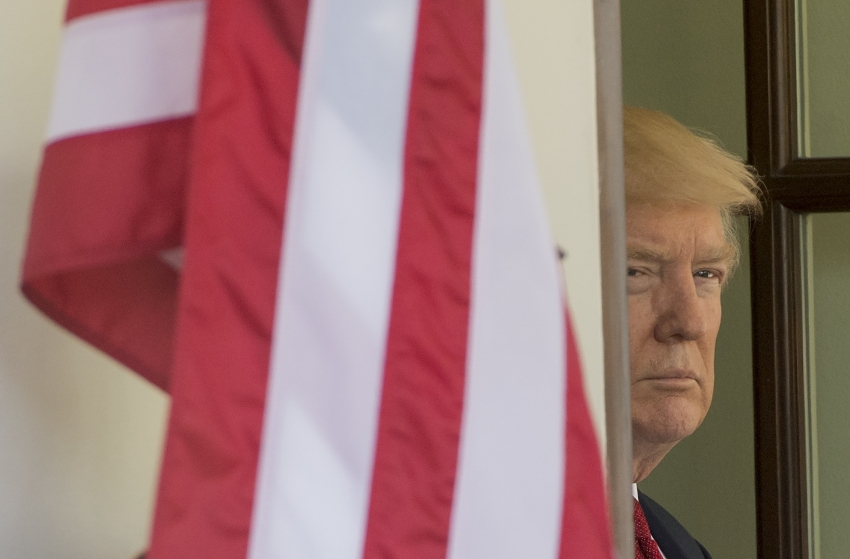 It might not get as much press coverage as other Donald Trump administration calamities, but the U.S. president is set to appoint a known union buster to the National Labor Relations Board (NLRB), push the body to a Republican majority and reverse Obama-era protections that rankle Big Business.
On July 13, the Senate Health, Education, Labor and Pensions (HELP) Committee held hearings on Trump's two NLRB selections and his deputy labor secretary pick. All three of these men are expected to be confirmed.
William Emanuel, one of Trump's NLRB appointees, is a management-side attorney and a member of the conservative Federalist Society. He is also a shareholder of Littler Mendelson, an infamous union busting firm that was most recently brought in by Long Island beer distributor Clare Rose to negotiate a contract full of pay cuts.
Thursday, Jul 13, 2017, 3:30 pm · By Bruce Vail
In a decision emblematic of the new climate of Trumpian governance, a federal appeals court in St. Louis ruled on July 3 that it is acceptable for the boss of a fast-food chain to fire workers for the sin of being "disloyal."
The U.S. Court of Appeals for the Eighth Circuit reversed a ruling issued by the Obama-era National Labor Relations Board (NLRB) in a case spawned by a labor organizing drive at the Jimmy John's fast-food chain. The court held that Miklin Enterprises, the owner of Jimmy John's franchises in Minneapolis, had the right to fire six pro-union advocates because they demonstrated "disloyalty" by distributing flyers in 2011 that implied the company was selling unsafe food contaminated by employees obliged to work while sick with the flu.
The organizers designed and distributed memes that showed images of identical Jimmy John's sandwiches. One was "made by a healthy Jimmy John's worker," the other by a "sick" worker. "Can't tell the different?" the poster continued. "That's too bad because Jimmy John's workers don't get paid sick days. Shoot, we can't even call in sick. We hope your immune system is ready because you're about to take the sandwich test."
Tuesday, Jul 11, 2017, 2:34 pm · By Jeff Abbott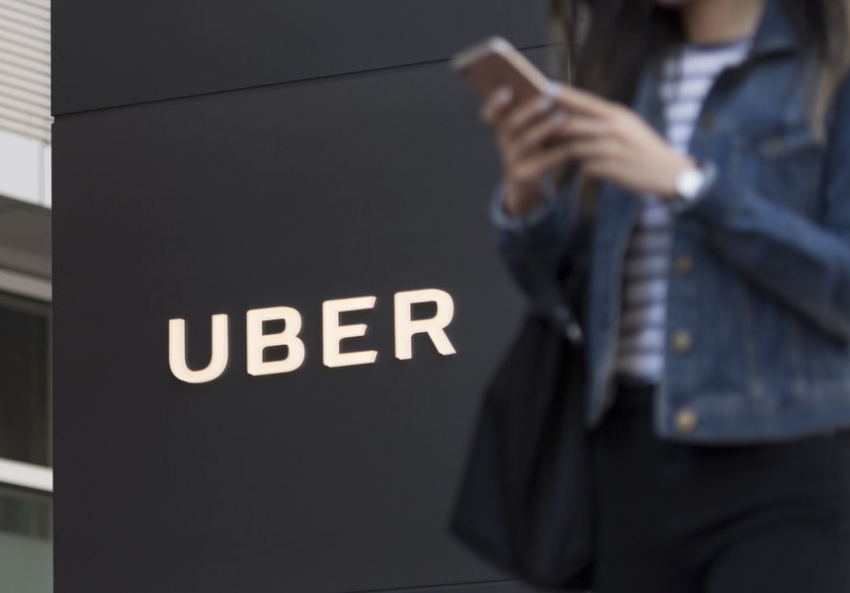 More than 1,000 taxi drivers took to the streets of Guatemala City on June 7 to protest the arrival of the ride-sharing app, Uber, to Guatemala. The workers blocked bus routes and shut down sections of the historic center of Guatemala City, before they drove to the municipal building to demand a dialogue.
"There really are not a lot of opportunities for work here in Guatemala, but I have the chance to work as a taxi driver," said Carlos Calel, a taxi cab driver in Guatemala City. "But Uber has arrived to our country, and they are taking our work by stealing our clientele with their lower prices, and they are not paying any taxes."
Uber began operating in Guatemala in December 2016. Since February, the taxi cab drivers of Guatemala have organized to protest the ride-sharing app. They are demanding that the municipality of Guatemala City terminate Uber's operations in Guatemala and put an end to moto-taxis and pirate taxis. They are also calling for lower fees for operations.
Monday, Jul 10, 2017, 2:58 pm · By Barry Eidlin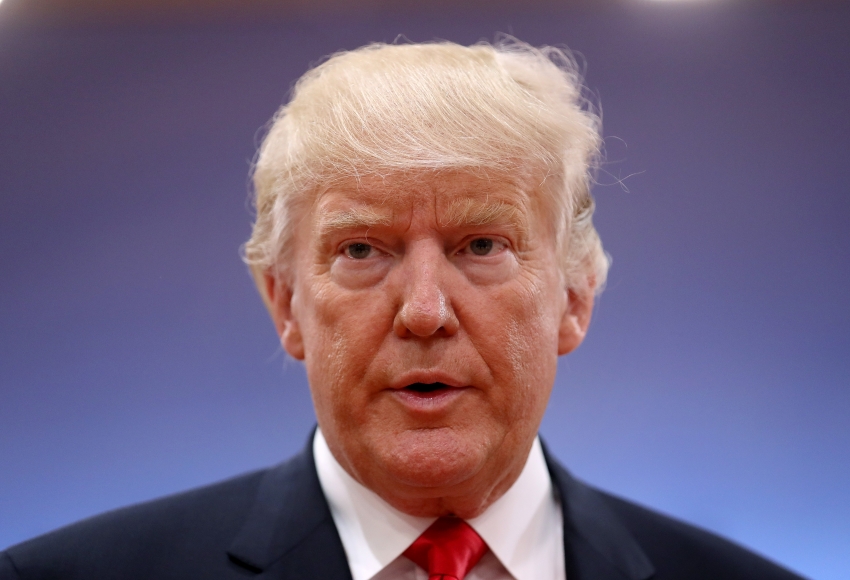 This article first appeared in Jacobin.
As nativist right-wing populism surges across the Global North amidst the exhaustion of social democracy and "Third Way" liberalism, the United States finds itself at the forefront. Elsewhere, right populist parties have led in the polls, as with the Front National in France and the PVV in the Netherlands, or played key roles in seismic political events, as with UKIP and Brexit. But so far, only in the US has the right populist wave captured a major political party and ridden it to power. The improbable election of Donald Trump reflects deep crises within the US political system, but also this broader crisis of modern liberalism.
The early months of the Trump administration have been chaotic, but one thing remains clear: despite Trump's rhetorical appeals to the working class, actual workers and unions have reason to be worried. His public pronouncements about bringing back coal and manufacturing jobs are based on pure sophistry, while his less public moves to gut labor regulations and workers' rights will hurt workers. Labor's dire situation predates Trump by decades, but it is likely that his accession to the Oval Office will further embolden labor's foes, much as Ronald Reagan's election did in the 1980s.
Friday, Jul 7, 2017, 3:45 pm · By Dan DiMaggio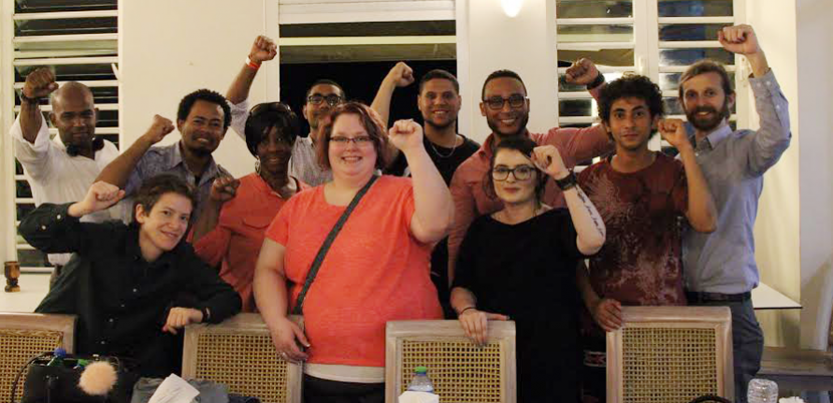 This article first appeared in Labor Notes.
One big issue in May's three-day strike by 38,000 AT&T workers was the company's offshoring of jobs. To shine a spotlight on the issue and strengthen international solidarity, a group of union members visited the Dominican Republic a couple of weeks before the strike to meet the call center workers on the other end of that offshoring.
According to the Communications Workers (CWA), AT&T has closed 30 U.S. call centers and downsized dozens of others since 2011, eliminating 12,000 jobs—nearly one-third of all its call center employees.
That work has been outsourced to El Salvador, Mexico, the Dominican Republic, and the Philippines. The workers in the Dominican Republic earn between $2.13 and $2.77 an hour. Employers dangle the prospect of supplementing those wages with incentive pay, but in reality the targets are nearly impossible to reach.
"When companies in the U.S. offshore jobs to countries like the Dominican Republic, they are not exporting job opportunities—they are exporting exploitation," says Hanoi Sosa, an organizer with FEDOTRAZONAS, a union in the Dominican Republic that includes call center workers. "They come here because they know they can deliver even lower labor conditions than in the U.S."
Wednesday, Jul 5, 2017, 11:35 am · By Sabeen Ahmed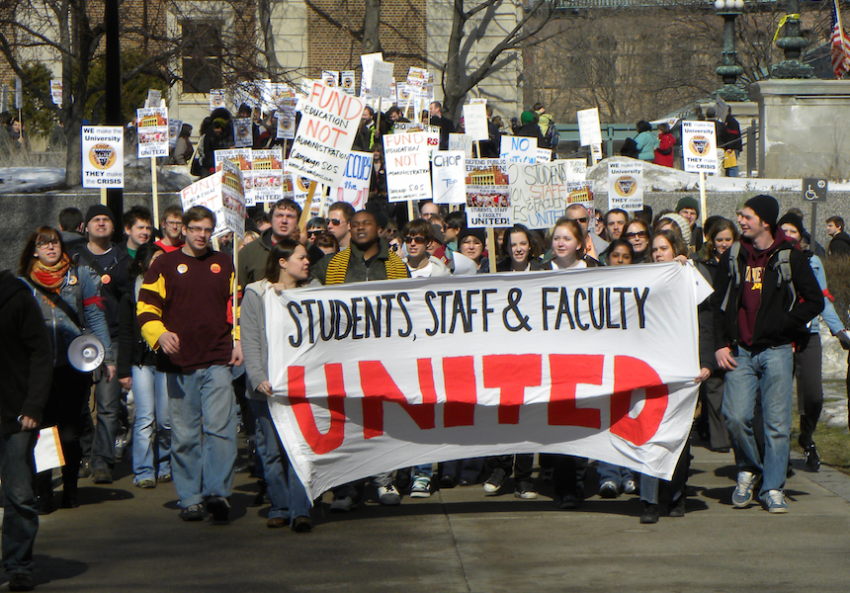 The exploitation of academic workers has simmered for decades. Now, buoyed by a National Labor Relations Board ruling that graduate employees at private universities have the right to unionize, a new generation is organizing unions across private universities—defying a wave of pushback from administrations. Some students win (Columbia, Loyola). Some withdraw (Duke). Some get caught in a limbo of university appeals (Yale).
But all of these efforts are integral to the U.S. labor movement, as graduate workers challenge their own exploitation and the neoliberal decimation of the higher-education institutions that employ them.
I'm a graduate worker at Vanderbilt University and a member of the committee organizing to unionize 1,200 graduate employees. I attend graduate school out of a passion for learning, writing and teaching young people. I came here to critique Western intellectual history by analyzing social, economic and political issues. These matters impact my life and the lives of loved ones; they are not academic hobbies or intellectual fancies. Even lecturing is no mere academic exercise: Higher education is what fosters democratic citizenship. It cultivates capacities for critical self-reflection, engagement in public discourse and thoughtful participation in a rapidly changing world. We need these pursuits now more than ever.
Friday, Jun 30, 2017, 12:56 pm · By Michael Arria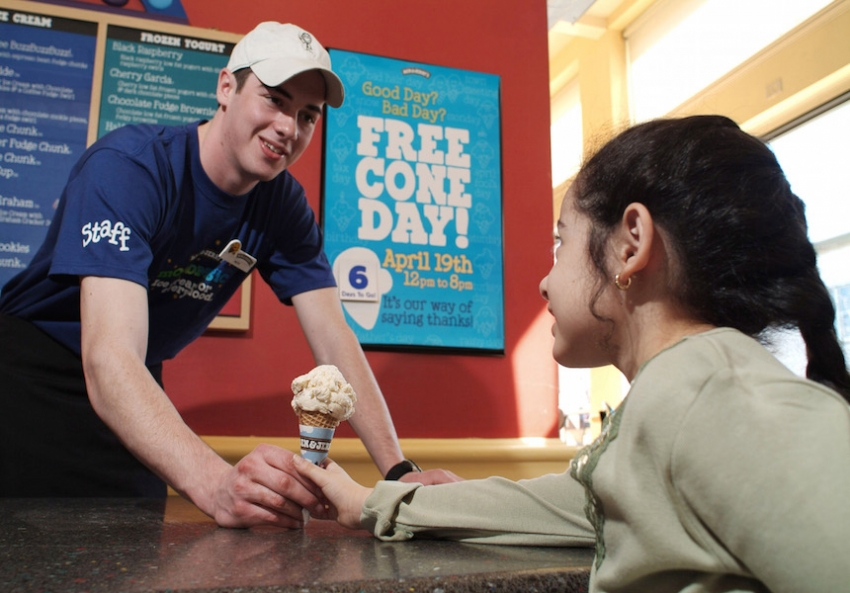 In December of 2009, a young farmworker named José Obeth Santiz Cruz was killed on the job in Fairfield, Vermont after his clothes got caught in a mechanized gutter scraper. Cruz's tragic death led to the creation of Migrant Justice, an organization demanding human rights for migrant farmworkers in the state.
Five years later, Migrant Justice approached Ben & Jerry's, the popular Vermont-based ice cream company, and invited them to join their 'Milk with Dignity' program, a movement of farmworkers and activists that calls on companies to put an end to rampant industry abuses. Despite Ben & Jerry's progressive reputation and stated commitment to social causes, the company has so far declined to formally sign on to a grassroots initiative led by some of the most exploited workers in the state.
Wednesday, Jun 28, 2017, 7:18 pm · By Bruce Vail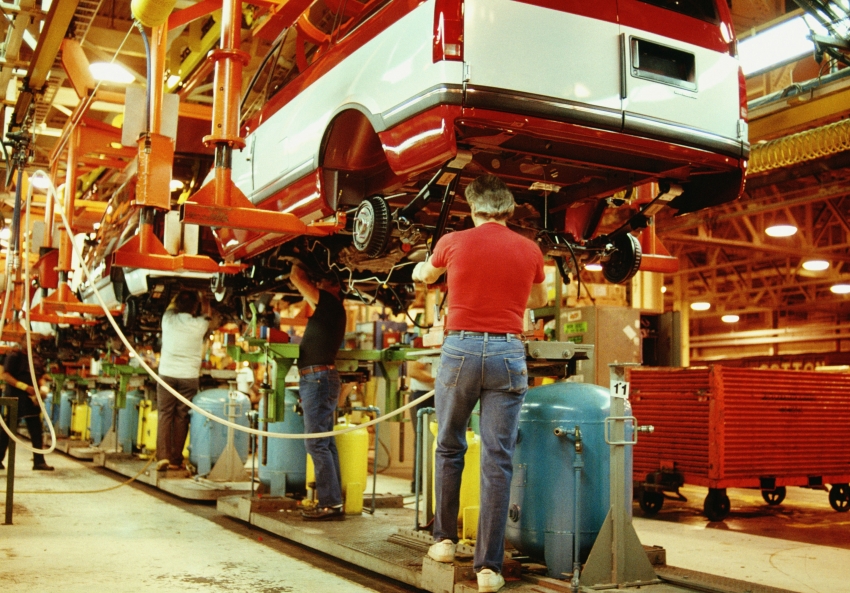 A long-term protest by workers charging mistreatment by General Motors in Colombia received a slap in the face from the administration of President Donald Trump this month when one of the protest leaders was denied entry into the United States.
Former GM autoworker Jorge Parra was preparing to visit the United States when the U.S. Ambassador to Colombia abruptly cancelled his visa just 20 hours before his flight was scheduled to depart, says Paige Shell-Spurling, an activist with the Portland, Oregon-based Central America Solidarity Committee. The cancellation has not been officially explained, she says, and supporters suspect retaliation for the aggressive protest tactics employed by the Colombians.
Parra was headed to the United States to continue his seven-year struggle to win better treatment for workers injured at the GM plant in the Colombian capital of Bogota. Parra charges that he was among several hundred employees who were unfairly dismissed at the GM Colomotores assembly plant—and then denied financial help in recovering from injuries sustained on the job.
Wednesday, Jun 28, 2017, 5:52 pm · By Ethan Earle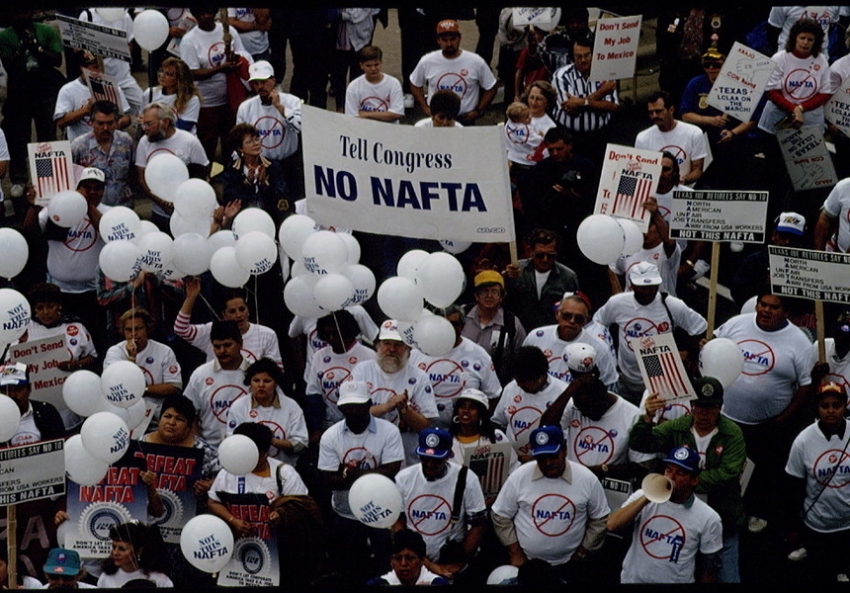 Many on the Left have been deeply critical of the North American Free Trade Agreement (NAFTA) since before it was fast-tracked into law by former President Bill Clinton in 1994. Now, President Donald Trump's current plan to renegotiate NAFTA is poised to make the massive trade deal even worse.
In late May, a loose coalition of civil society groups gathered in Mexico City to discuss this upcoming renegotiation. Participants included the AFL-CIO, Canadian Labour Congress and over one hundred other labor, environmental, and immigrant rights organizations from across Mexico, the United States and Canada.
The meeting produced a joint declaration opposing a Trump-led NAFTA renegotiation and marked the kickoff of the latest international campaign against free-trade deals that benefit corporations and political elites at the expense of workers, communities and our shared environment.
NAFTA's legacy is marred by lost jobs, lower wages, increased inequality and a litany of environmentally destructive practices. While the people who gathered in Mexico City have long opposed NAFTA for its pro-corporate bent, a consensus emerged that President Trump and his team are cooking up something even worse.
Two questions follow from this judgment: What can we do to stop Trump, and how can we use the moment to challenge the powerful interests that he represents?
Tuesday, Jun 27, 2017, 3:59 pm · By Ari Paul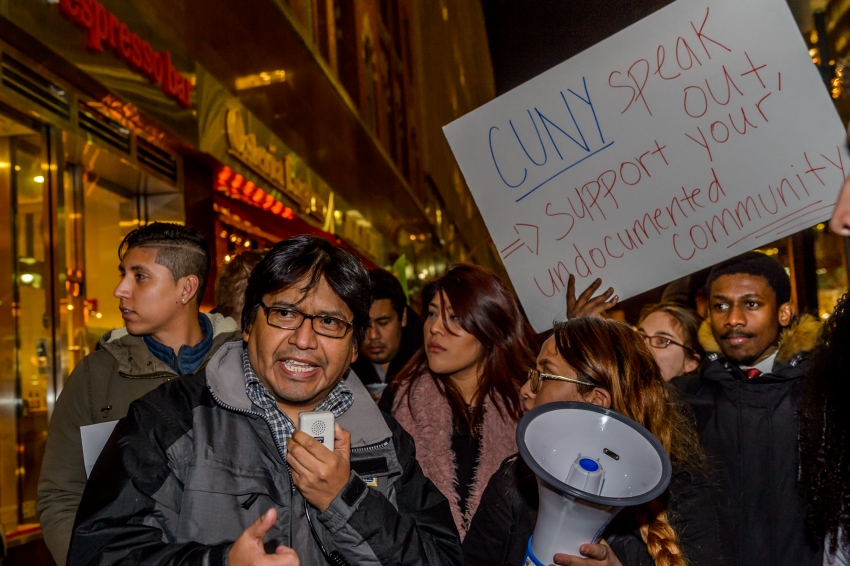 Higher education in the United States has long been subject to a right-wing smear campaign painting college campuses as incubators for dangerous radicalism. There is little doubt that the election of President Donald Trump, who ran a campaign with explicit anti-intellectual currents, has increased its ferocity.
In late May, Keeanga-Yamahtta Taylor, assistant professor of African-American Studies at Princeton University, was forced to cancel public speaking appearances after receiving a slew of death threats in response to her outspokenness on the issue of racism in America. Johnny Eric Williams, a tenured professor of sociology at Trinity College, was suspended and forced into hiding due to similar threats over an article on race he shared on his personal social media accounts. Essex County College adjunct instructor Lisa Durden lost her job for defending an all-black Memorial Day event on the show of conservative pundit Tucker Carlson. And Drexel University professor George Ciccariello-Maher has once again found himself the target of a right-wing campaign demanding his firing due to his controversial tweets, which have brought on an investigation into his social media activity by his employer.
These conditions present the perfect moment for the Left to redouble its commitment to defending higher education, both to show solidarity with the many liberals and leftists who make their lives in academia, and to protect the importance of the free exchange of ideas under our bottom-line-focused capitalist system.