Friday, Oct 10, 2014, 11:20 am · By Marina Fang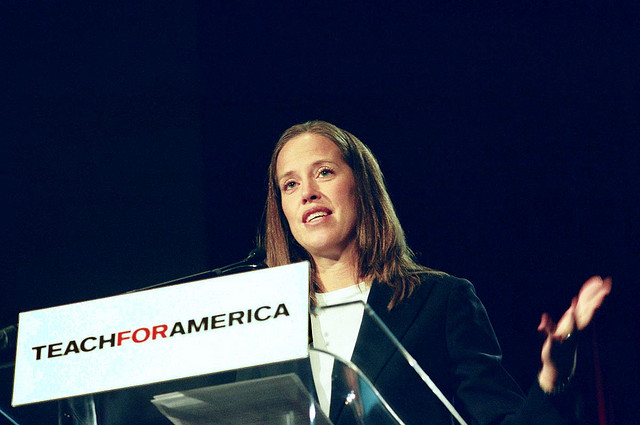 Teach for America, long associated with recruiting elite college students to teach in low-income communities, is facing mounting opposition from students at the very universities from which it recruits.
On September 26, members of Harvard's Students Labor Action Movement (SLAM) delivered a letter to the school's president, Drew Gilpin Faust, demanding that Harvard discontinue its relationship with TFA unless the organization makes major reforms.
Thursday, Oct 9, 2014, 1:30 pm · By Joe Berry and Helena Worthen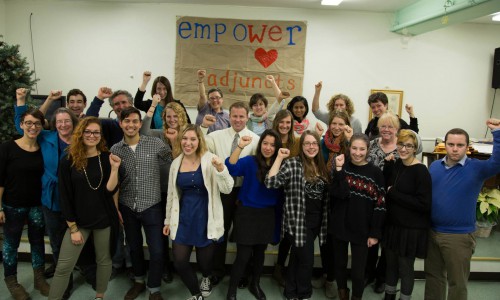 A wave of organizing is sweeping contingent faculty. Below, a list of current campaigns in 22 states and D.C. shows how far and wide this wave has spread.
The new thing is the Metro Strategy, where multiple institutions are targeted at once so a whole regional workforce becomes unionized. This takes advantage of how contingent (also known as adjunct) faculty members typically commute among various campuses, facing equally bad working conditions everywhere they go.
Wednesday, Oct 8, 2014, 2:04 pm · By Kevin Solari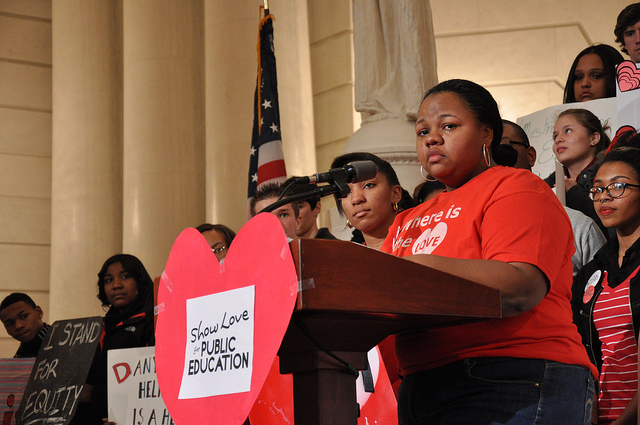 Public school teachers around the country have long insisted their profession is under attack, but rarely has that attack included a total scrapping of a teachers' union contract. But that's exactly what the Philadelphia School Reform Commission (SRC) did on Monday morning, canceling its contract with Philadelphia Federation of Teachers (PFT).
Wednesday, Oct 8, 2014, 10:30 am · By Amien Essif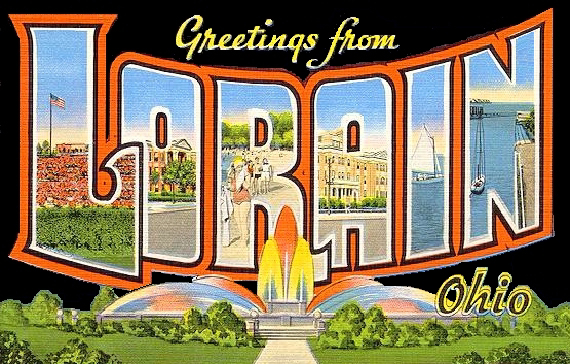 The relationship between the American labor movement and the Democratic Party has long been fairly predictable. For the better part of a century, labor has depended on the Democrats for favorable policy, and the Democrats have depended on labor for votes. Few from either side of the bargain anticipate an immediate future where that arrangement will be upset.
So when rumblings started coming out of Ohio late last year about breaking with the Democrats, many in the labor movement were startled. Last November, in the small county of Lorain, Ohio, local labor leaders who were intimately wedded to the Democratic establishment broke rank and supported three independent pro-labor candidates in county elections, all of whom won.
Tuesday, Oct 7, 2014, 4:42 pm · By Bruce Vail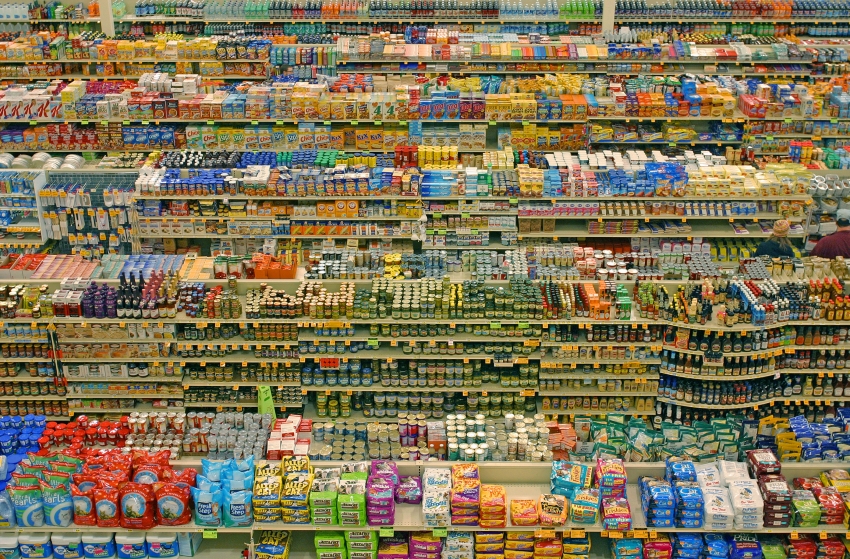 Leaders of the International Brotherhood of Teamsters are mobilizing their forces in the wake of an unexpected attack by a notoriously anti-union warehousing company looking to undermine workers with back-room tactics in federal bankruptcy court.
The Keene, New Hampshire-based C&S Wholesale Grocers's actions could prove to be an immediate threat to the livelihoods of about 1,100 Teamster members in the Mid-Atlantic region, the latest in a series of damaging anti-union maneuvers by the company. The action also highlights the growing market power of C&S, a low-profile company that has quietly grown into the nation's largest warehousing corporation.
Tuesday, Oct 7, 2014, 3:50 pm · By Kevin Solari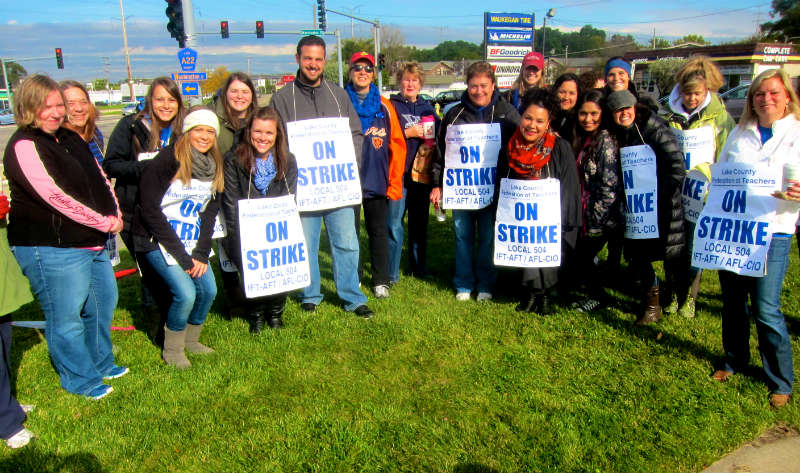 After a breakdown in negotiations with district administrators last week, District 60 teachers in Waukegan, Illinois, are on strike.
The issues under negotiation include professional development, length of school year and, perhaps principally, salary increases and healthcare benefits.
District 60 serves 17,000 students in the city near Chicago. On the district's website, the school board says teacher requests for increases in salary and healthcare benefits would threaten the solvency of the district, which has had financial troubles for much of the last decade.
Tuesday, Oct 7, 2014, 6:45 am · By Sarah Lahm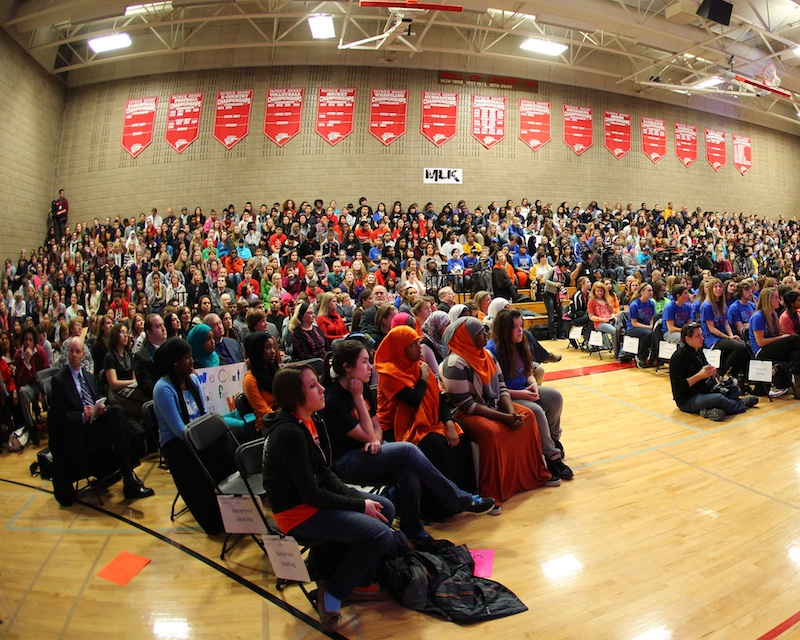 In the aftermath of a failed 2013 bid for mayor, former Minneapolis city council member Don Samuels is running for a spot on the school board. If he wins, he will undoubtedly be able to thank the extensive financing and canvassing support he's received from several well-heeled national organizations, such as the Washington, D.C.-based 50CAN, an offshoot of Education Reform Now called Students for Education Reform (SFER), and various people associated with Teach for America, which has been called a "political powerhouse" for its growing influence in policy and politics beyond the classroom.
Tuesday, Oct 7, 2014, 1:28 am · By Leo Gerard, United Steelworkers President
When Mary Grace Gainer anxiously told her master's and doctoral advisors that she'd noticed want ads for college professors diminishing, they assured her, "Good people get good jobs."
So she focused on being very, very good. She earned straight A's. She presented papers at academic conferences, including at Princeton. She sweated over her instructional duties, earning rave reviews from her students. She served as an officer for academic organizations and helped plan educational events.
Thursday, Oct 2, 2014, 1:40 pm · By Kevin Solari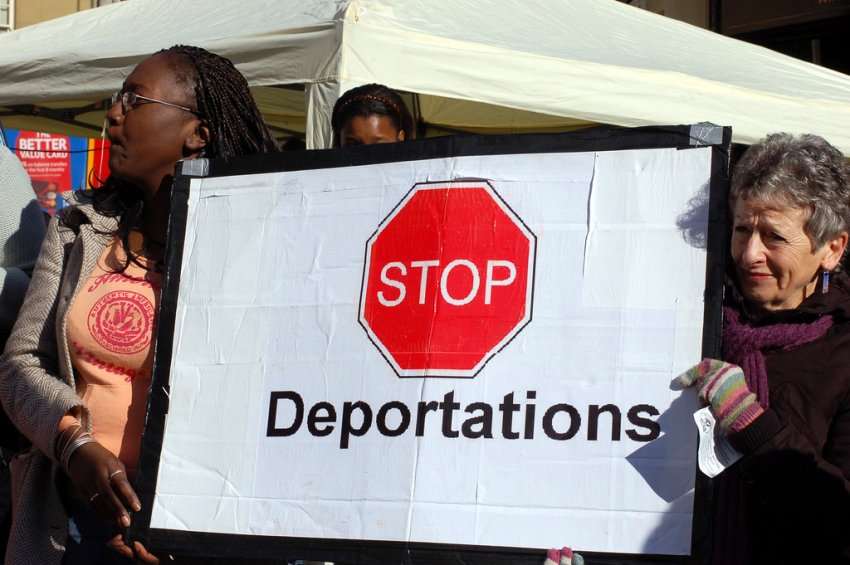 President Obama has punted fixing our immigration system until after the midterm elections, but families continue suffering under it. On September 30, Augustana Evangelical Lutheran Church of Portland, Oregon, hosted a service to show support for labor activist Francisco Aguirre. Aguirre has been residing in the church since September 19 after Immigration and Customs Enforcement (ICE) officials showed up at his door.
Tuesday, Sep 30, 2014, 3:44 pm · By Kevin Solari
The number of union members in New Orleans's tourism industry is set to double. The hospitality and gaming union Unite Here and Teamsters Local 270 are in contract negotiations with Harrah's Hotel and Casino after winning a card check election among 900 hotel and food workers.