Monday, Jul 20, 2015, 1:03 pm · By Doug Henwood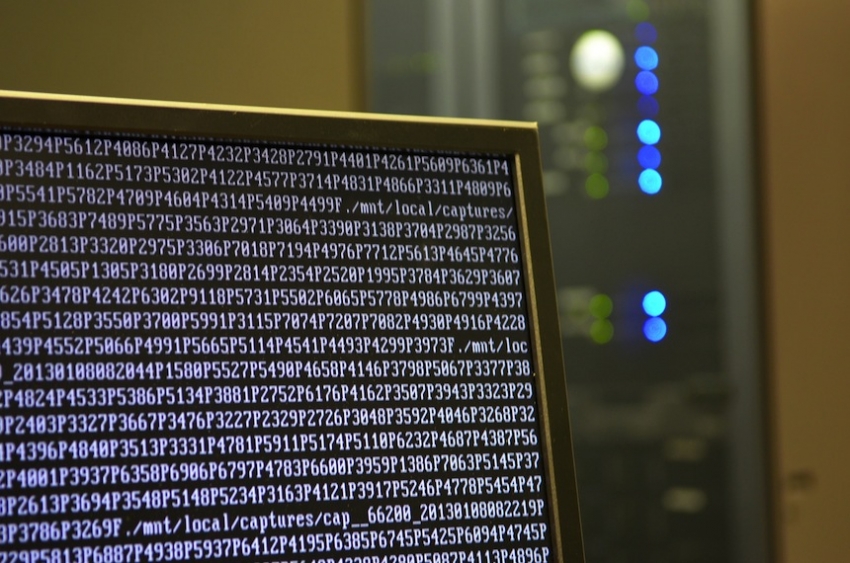 First posted at Left Business Observer.
Paul Mason has a breathless piece in The Guardian making grand New Economy claims that sound like recycled propaganda from the late-1990s—though he gives them a left spin: postmateriality is already liberating us. I wrote a book that was in large part about all that ideological froth, published in 2003, and so far I've been struck by the nonrevival of that discourse despite a new tech bubble. Uber and Snapchat don't excite the same Utopian passions that the initial massification of the web did.
I'll pass on refuting Mason's article, because I already did that twelve years ago. But I do want to comment on one point that Mason makes—one that's ubiquitous in a lot of economic commentary today: capitalists don't need workers anymore. As he puts it:
Postcapitalism is possible because of three major changes information technology has brought about in the past 25 years. First, it has reduced the need for work, blurred the edges between work and free time and loosened the relationship between work and wages. The coming wave of automation, currently stalled because our social infrastructure cannot bear the consequences, will hugely diminish the amount of work needed – not just to subsist but to provide a decent life for all.
Monday, Jul 20, 2015, 11:30 am · By Joseph Sorrentino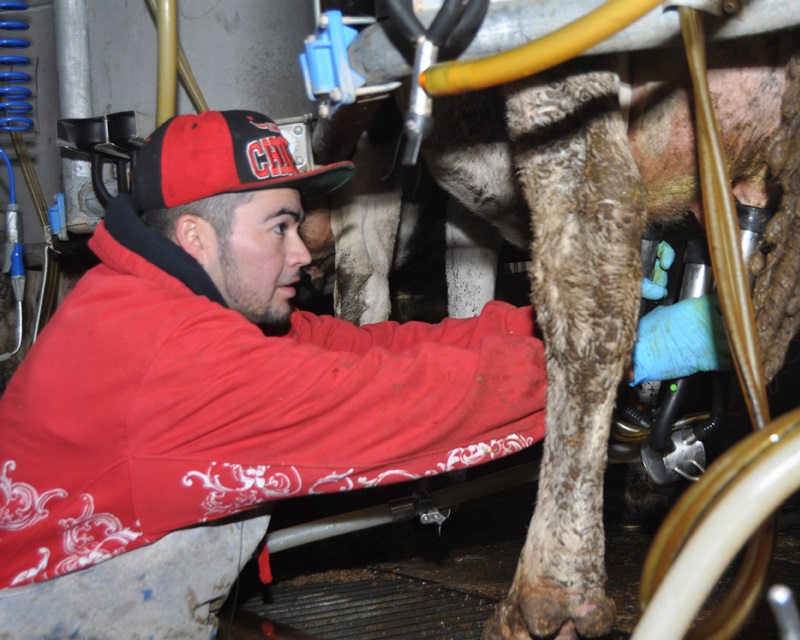 The New Mexico Court of Appeals ruled in June that excluding field and ranch workers from workers' comp protection is unconstitutional. It was the second victory for New Mexico's farmworkers in less than a year—and that's big news in a low-wage sector made up primarily of immigrant workers, where victories tend to be few and far between.
The first victory came last August when farmworkers finally started getting paid the correct minimum wage. Farmworkers were routinely, and incorrectly, paid the federal minimum when they were entitled to the New Mexican minimum wage, which is 25 cents per hour higher. It only amounts to $8 or $10 a week, but it is significant for these workers, who are among the poorest in the United States.
Thursday, Jul 16, 2015, 5:10 pm · By s.e.smith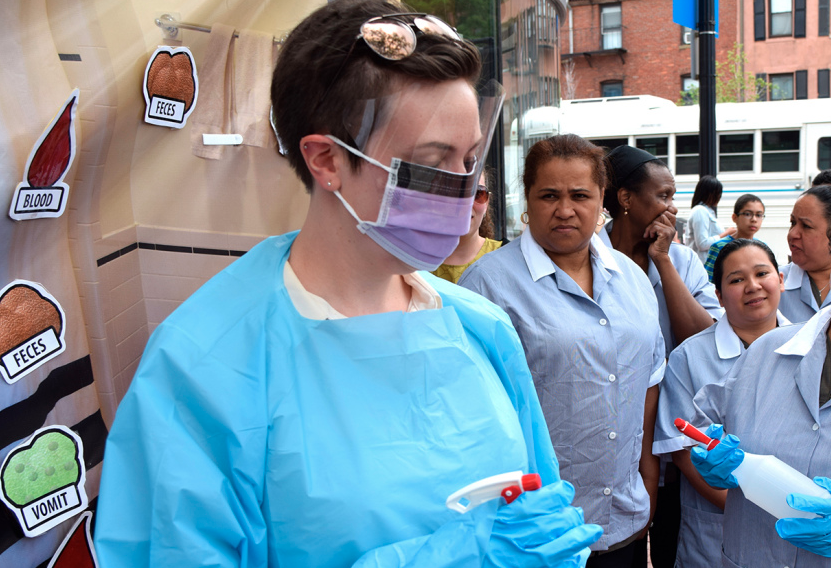 On June 25, workers at Boston's Wyndham Beacon Hill took to the streets to protest unsafe working conditions, the culmination of an escalating fight over biohazards at the hotel. They charge that they're routinely exposed to medical waste that endangers them, while the hotel insists this is not the case. The fight over working conditions at the Wyndham highlights the myriad dangers hotel workers say they face on the job—some of which could be seriously detrimental to their health.
The hotel is located in the city's West End district, a short walk from the historic city's downtown and in the heart of Boston's cluster of famous medical research and treatment facilities. That proximity is one of the hotel's advertising points, as it invites guests to stay while they or family members are seeking treatment and recovering from medical procedures, even offering them a discount. It's also the very thing that employees say may be endangering them. Workers filed an OSHA complaint in May alleging that the hotel exposes them to biohazards on a daily basis with inadequate protective equipment and an utter lack of protocols for handling such materials.
Workers report abysmal conditions that expose them to used sharps and other medical waste along with urine, vomit, blood and feces. The alleged ongoing problem and lack of response from hotel management led the non-union workers to begin organizing around the issue in 2014, reaching out to UNITE HERE Local 26, which represents hotel and other service workers, for assistance. While workers say they are considering unionization in the long term, their priority in the short term was getting safe working conditions and justice in the workplace.
Staffers at Local 26 were horrified by what workers told them. "In 30 years of dealing with the hotel industry," President Brian Lang of Local 26 told In These Times, "I have never heard of such atrocious conditions as have been described by the workers who work there."
Wednesday, Jul 15, 2015, 5:38 pm · By Sonia Singh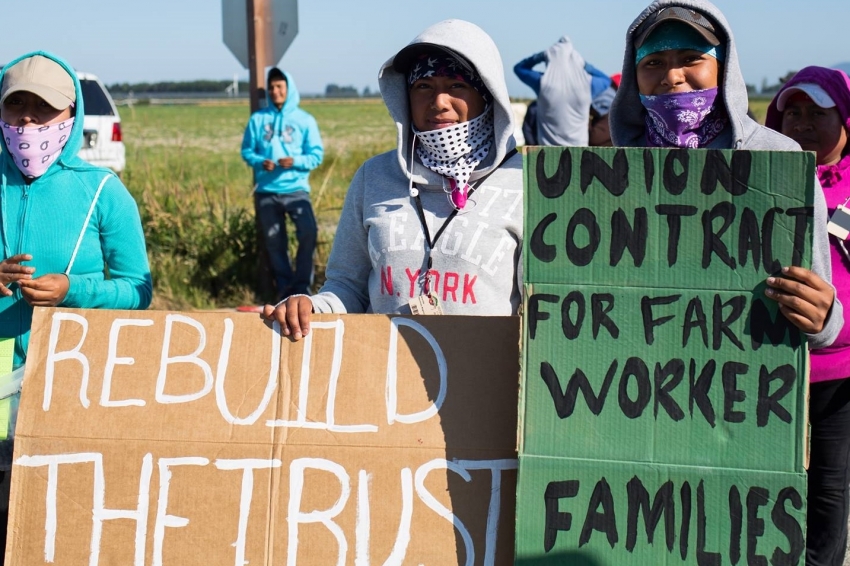 This post first appeared at Labor Notes.
It's been a whirlwind spring of precedent-setting wins for North America's migrant workers, who are making connections across borders.
After three months of strikes and protests, 30,000 berry pickers in Baja California, Mexico, won raises of up to $4 a day and rights to social security benefits and overtime pay.
These workers, mainly indigenous farmworkers from Oaxaca and Guerrero, allied with U.S. groups including the Farm Labor Organizing Committee and galvanized international support.
Wednesday, Jul 15, 2015, 3:45 pm · By David Moberg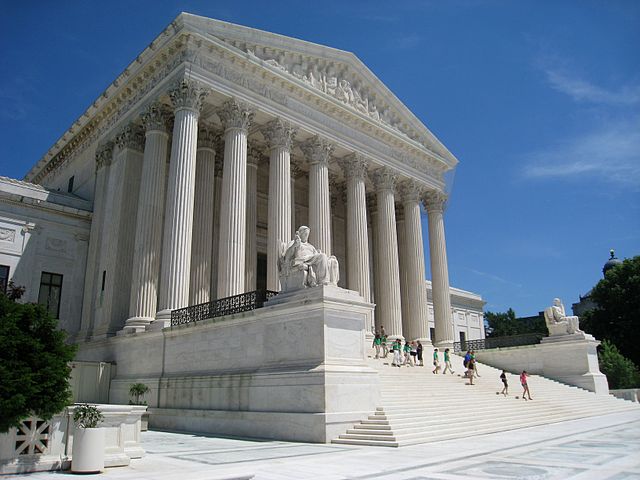 While most liberals were celebrating the Supreme Court's June rulings affirming both marriage equality and Obamacare, many labor leaders were already worrying about next year. They feared that the court might hear a case that many of them saw as potentially delivering a crippling blow to the union movement: Friedrichs v. California Teachers Association. And at the last minute, the court announced it would.
If a majority of the Supreme Court justices back the plaintiff in the Friedrichs case, promoted by a variety of right-wing, anti-union organizations, they will likely overturn the 1977 Abood v. Detroit Board of Education court decision. The Supreme Court ruled in Abood that when a public employee union provided benefits, such as collective bargaining or grievance processing, to both members and non-members alike, the non-members could be charged a "fair share" or "agency shop" fee to cover an appropriate share of union expenses. Critics of the Friedrichs petition say that if justices agreed with its complaint, the Supreme Court's action would have the effect of passing a national right-to-work law for all public employees (even though public employed collective bargaining rights are primarily matters of state law).
The two big teachers unions (American Federation of Teachers and the National Education Association) and the two biggest unions of other public employees (American Federation of State, County and Municipal Employees [AFSCME] and the Service Employees International Union [SEIU]), responded with alarm to the court's announcement:
Wednesday, Jul 15, 2015, 12:51 pm · By Simon Swartzman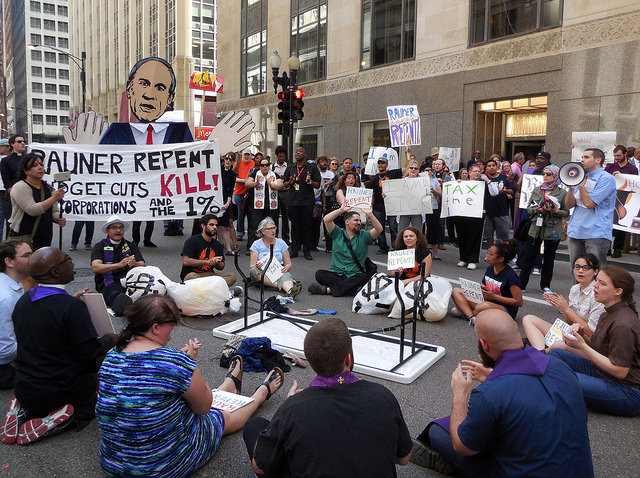 In the shadow of a potential state government shutdown, 125 leaders and policy wonks from 63 non-profit, community organizing and labor organizations came together on June 29 to deliberate over a series of proposals for revenue solutions to Illinois's budget shortfall. Their goal: to push past the austerity narrative that has long constricted progressive policymaking at all levels of government in the state.
"We're here to begin [a] conversation about progressive alternatives," said Amisha Patel, Executive Director of Grassroots Collaborative.
That conversation revolved around how to get corporations, wealthy individuals, and financial institutions to pay their "fair share."
Tuesday, Jul 14, 2015, 10:09 am · By Leo Gerard, United Steelworkers President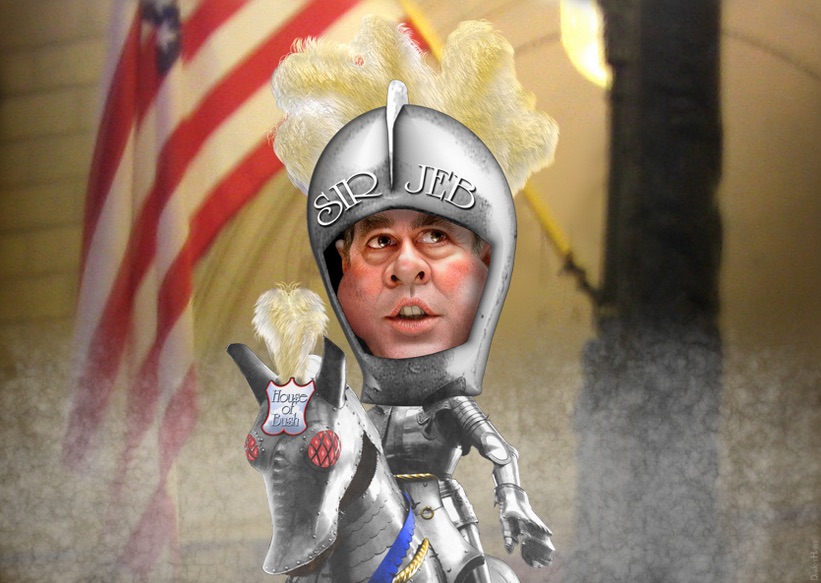 Jeb! Bush, a boy born to wealth and privilege, whose family owns not a home but a compound of dwellings in Kennebunkport, Maine, and whose wife plunked down $25,600 for one pair of earrings, lectured last week that Americans should work longer hours.
If Americans would just work harder, every one of them could own a $600,000 getaway cottage, like the one Jeb! is building on a $1.4 million site in exclusive Kennebunkport.
And it's not just longer hours. Jeb! believes Americans should work longer in life too. The rich boy wants to raise the retirement age to 70. But raising the federal minimum wage to help millions of struggling workers survive to age 70? No, Jeb! doesn't see any need for that. His advice: Let working poor great-grandmas eat ramen!
Monday, Jul 13, 2015, 2:15 pm · By Martin de Bourmont
"Scott Walker is a national disgrace," says Richard Trumka, president of the AFL-CIO, the United States' largest union alliance, in response to Governor Scott Walker's announcement of his presidential ambitions. His statement, composed of only six words, was released shortly before Walker's announcement.
Trumka's expression of disgust should come as no surprise to those familiar with Walker's union-busting policies. As governor of Wisconsin, Walker has consistently opposed unions in his state. He is perhaps best known for his attack on the collective bargaining rights of Wisconsin workers in 2011.
Monday, Jul 13, 2015, 11:05 am · By Lois Weiner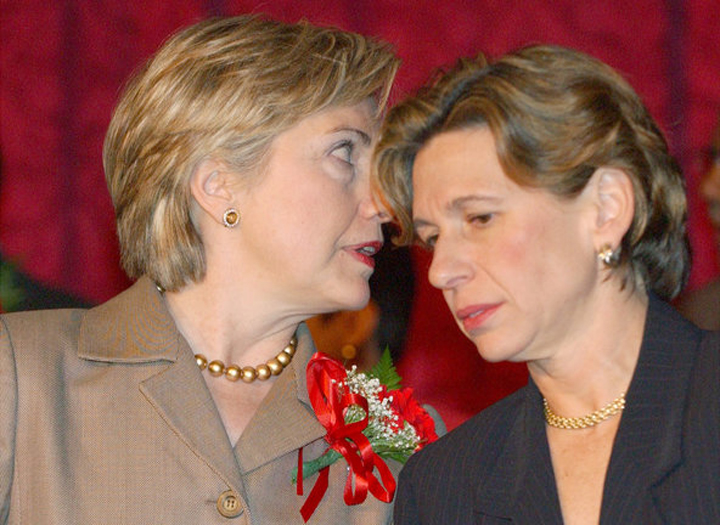 On Saturday, the American Federation of Teachers (AFT) announced that its executive council "overwhelmingly" endorsed Hillary Clinton for the Democratic nomination for president. It did so, the official announcement says, on the basis of interviews (not released to members) and the results of a poll.
The decision couldn't be more wrongheaded, and it's one that members should demand the union executive council rescind. We should propose instead a decision reached by a very different process: a referendum of members that follows and is informed by debate in union outlets.
Monday, Jul 13, 2015, 11:00 am · By Rachel Luban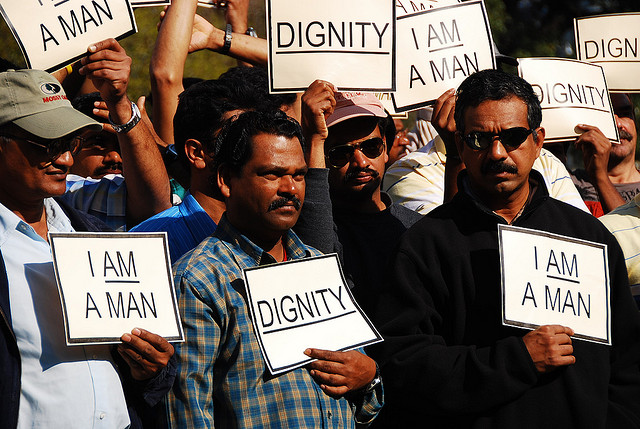 In June, In These Times reported that industry groups have filed a lawsuit against new government-issued worker protections for H-2B guestworkers. That's not their only strategy, however: new proposed riders on a Senate appropriations bill could block some of the new protections—and some old ones—no matter the outcome of the lawsuit.
Many employers were outraged when the Obama administration passed new rules regulating the H-2B visa program, which brings in foreign workers to do temporary, low-skill, nonagricultural jobs like landscaping and seafood processing when there are purported shortages of U.S. workers. Proposed riders to the Labor and Health and Human Services, Education and Related Agencies Senate appropriations bill seek to hobble the provisions most galling to H-2B employers.
Those industry bugbears include a guarantee that workers get paid for at least three-fourths of the hours in their job orders, requirements that U.S. workers doing the same jobs as H-2B workers receive the same wages and benefits and limits on the use of private wage surveys to determine H-2B wage levels. One of the riders also defunds audits of applications for the temporary labor certification required to obtain H-2B labor, which the Department of Labor uses to identify and punish employers fraudulently attempting to get workers.