Thursday, Mar 12, 2015, 8:00 am · By Alexandros Orphanides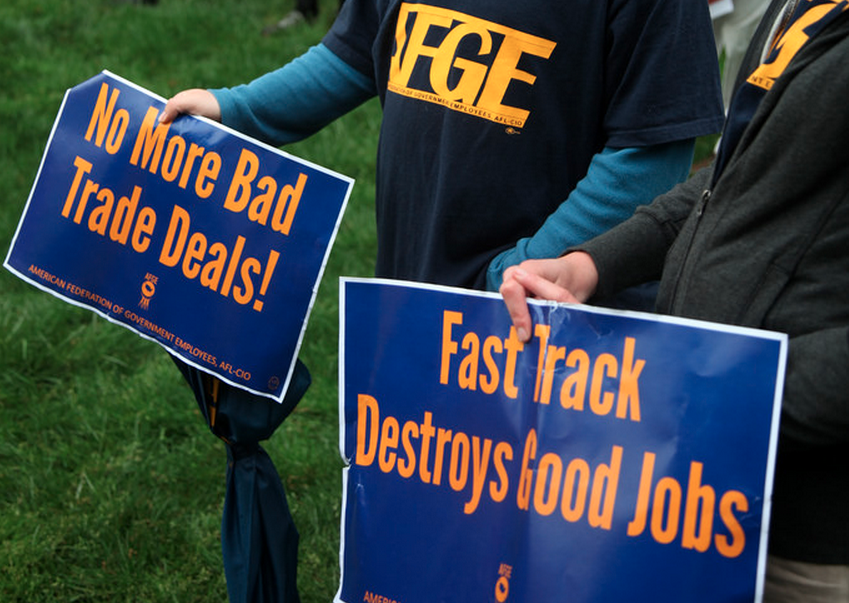 Trade agreements are about more than business—they're about who has final say in the way people around the world live, what they eat, how much they are paid, what medicines they can buy and whether they have jobs. Such agreements shape economic policies that impact billions of people. The discussions surrounding these agreements are far too important to done in secret. But that's precisely how the Obama administration is trying to pass the Trans Pacific Partnership (TPP).
Wednesday, Mar 11, 2015, 11:19 am · By Kevin Solari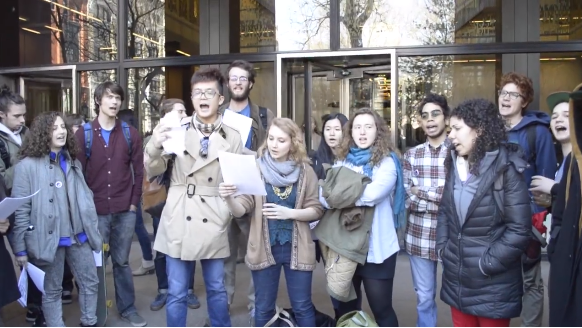 In the early morning hours yesterday, New York University (NYU) administration and graduate students, represented by the Graduating Student Organizing Committee-United Auto Workers (GSOC-UAW) Local 2110, reached a last-minute agreement to avert a strike by graduate student instructors. Negotiations had been ongoing for over a year and GSOC had been vocal about its willingness to strike if a fair contract could not be reached. March 10 had been set as the start for a "limited strike" that would last through Friday, coinciding with the university's midterm exams.
Tuesday, Mar 10, 2015, 4:58 pm · By Bruce Vail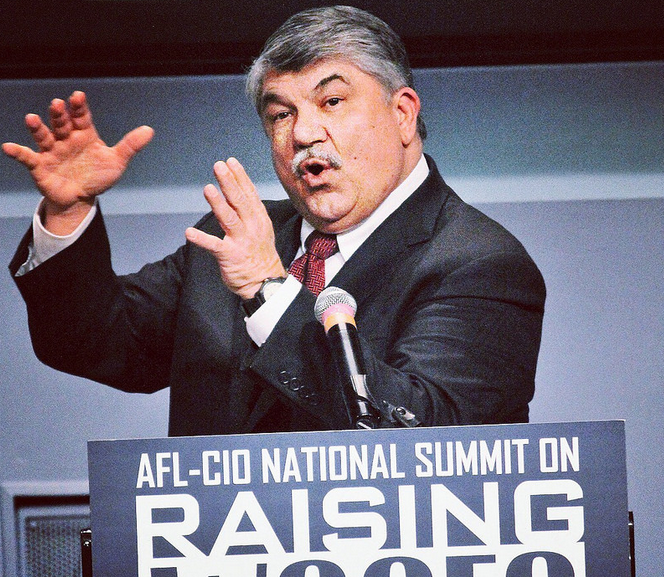 Citing "an ugly history of racism in our own movement," the leaders of the AFL-CIO voted in late February to create a new Labor Commission on Racial and Economic Justice to examine how issues of race can be better addressed by the confederation's member unions.
The move was prompted by the riots and related conflicts last year in Ferguson, Missouri, which highlighted the stark racial and class divide in the St. Louis suburb, says Carmen Berkley, Director of the AFL-CIO's office of Civil, Human and Women's Rights. The shooting death of African-American teenager Michael Brown by white police officer Darren Wilson inflamed racial schisms nationwide, including within the labor movement, she says. But "we have to have a relationship with the [African-American] community," that is an improvement over the status quo, Berkley tells In These Times.
Tuesday, Mar 10, 2015, 12:25 pm · By Pratap Chatterjee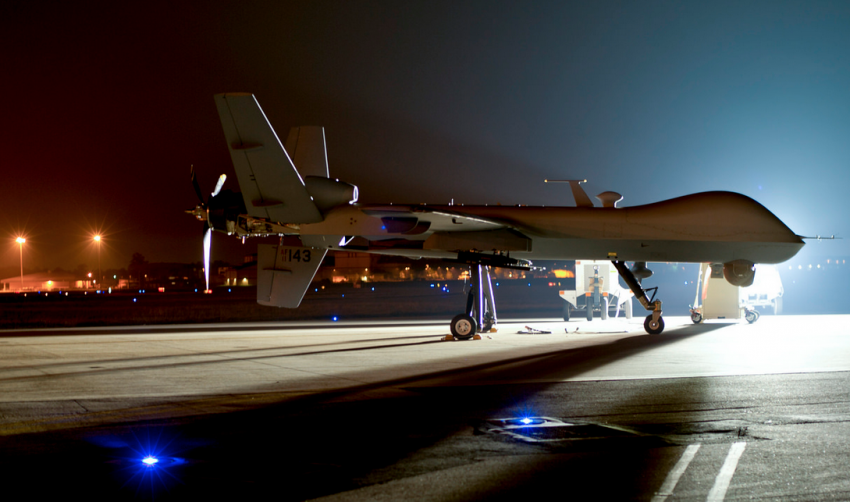 This post first appeared at TomDispatch.
The U.S. drone war across much of the Greater Middle East and parts of Africa is in crisis and not because civilians are dying or the target list for that war or the right to wage it just about anywhere on the planet are in question in Washington. Something far more basic is at stake: drone pilots are quitting in record numbers.
Tuesday, Mar 10, 2015, 12:01 pm · By Kevin Solari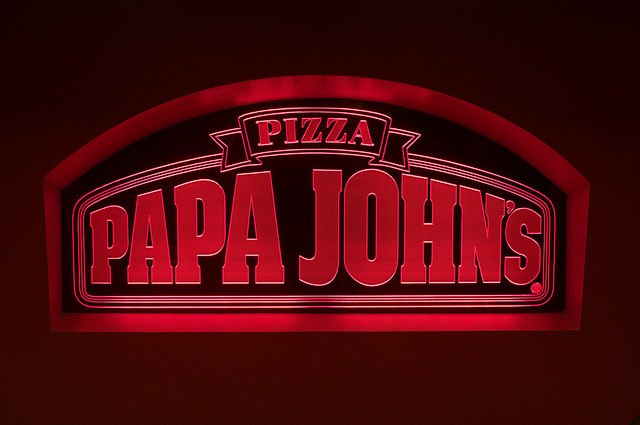 New York Attorney General Eric Schneiderman has been hitting wage thieves hard this year. In February, his office won a nearly $800,000 judgment for employees of Emstar, a Papa John's franchisee in Brooklyn and Queens. Last week, Schneiderman won another suit against a different Papa John's franchisee, New Majority Holdings LLC, this time for over $2 million. According to the New York Post, Schneiderman may now be setting his sights on Papa John's itself, testing the recent NLRB ruling that parent companies can be held responsible for the labor violations of franchises.
Monday, Mar 9, 2015, 6:26 pm · By David Moberg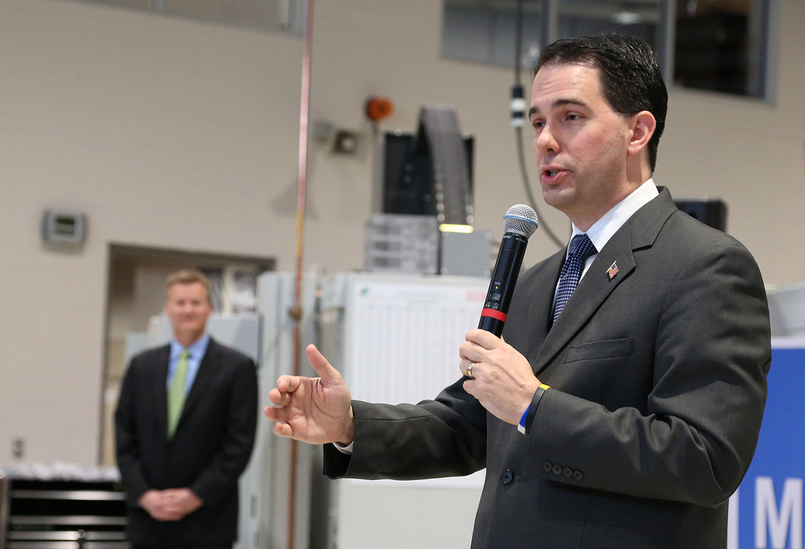 With his signature Monday on a bill passed almost purely on party-line votes, Republican Governor Scott Walker made Wisconsin the 25th state to adopt a "right-to-work" law, dividing the country in half between "anti-union" and "union-friendly" labor law regimes.
It is the first such law passed since Indiana and Michigan in 2012 made historic inroads into the northern industrial states, but it may be just the beginning of attacks on worker rights in many states this year, including roughly a dozen potential right-to-work initiatives (one of which prompted weekend protest rallies in Charlestown, West Virginia, of around 6,000 union members and supporters from around the state). Wisconsin Republicans, as well as conservatives in other states, are planning to push through other laws that would drive down construction workers' wages (such as eliminating state "prevailing wage" laws and project labor agreements, both of which guarantee quality and performance on public works and the prevailing, typically union-scale, pay for workers).
Monday, Mar 9, 2015, 12:30 pm · By Eleni Schirmer and Michael Billeaux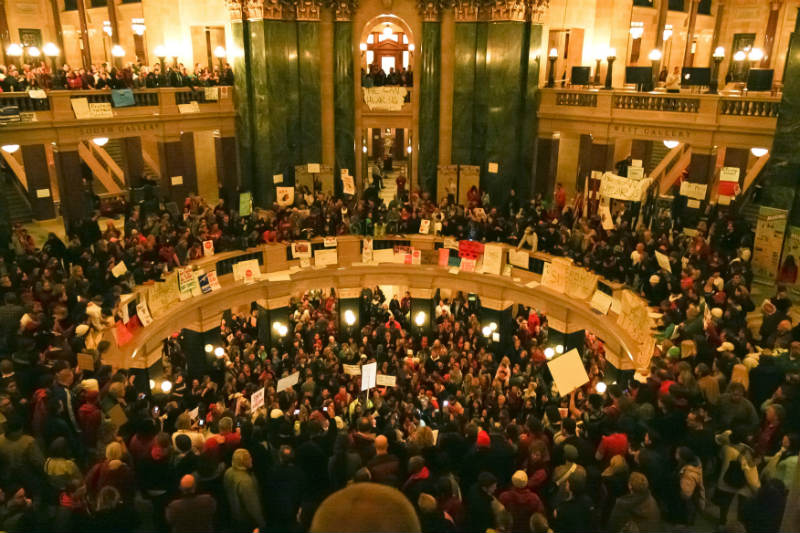 (Editors note: Gov. Scott Walker signed into law right-to-work legislation in Wisconsin this morning. This essay was written before the bill's passage. It first appeared at Jacobin.)
In 2011, Wisconsin Gov. Scott Walker introduced the innocuously named "Budget Repair Bill." The sweeping legislation contained both fiscal measures—reduced support for public education, state Medicaid programs, and regulatory agencies, as well as lower property and capital taxes—and a labor law amendment that all but outlawed collective bargaining for public sector employees and created new barriers to union organizing.
After decades of neoliberal advance and the emergence of the Tea Party, none of this—even in a state with a progressive history—was especially surprising. But this time it sparked dogged resistance: a two-and-a-half-week occupation of the State Capitol, demonstrations topping one hundred thousand people, and "sick out" work stoppages by teachers across the state.
When the capitol was cleared, however, the mobilization that began with the demand to "kill the bill" was funneled into the effort to electorally oust Walker. In the 2012 recall, in a replay of the 2010 gubernatorial election, Milwaukee Mayor Tom Barrett lost to Walker—by an even greater margin than before.
Thursday, Mar 5, 2015, 10:49 am · By Amisha Patel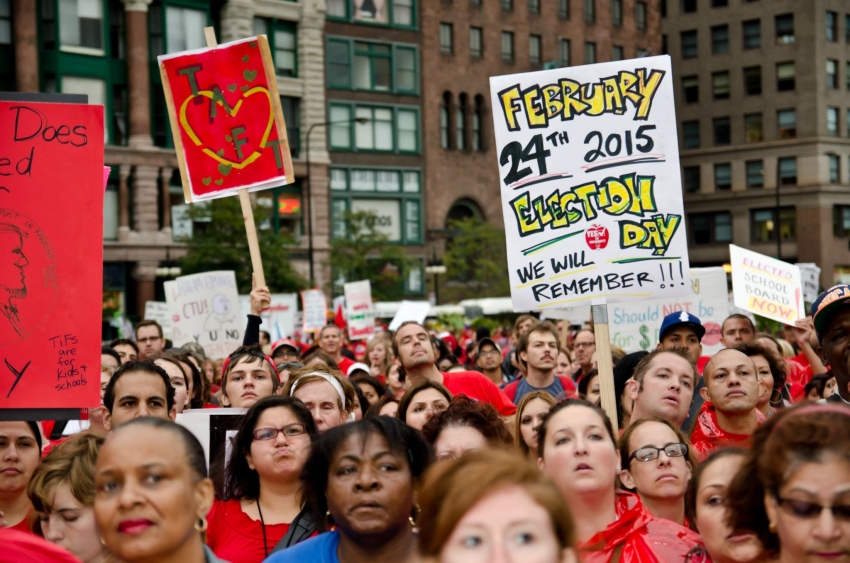 On Tuesday, February 24, Jesús "Chuy" García shook up Chicago, and the nation, by forcing a key pro-corporate Democratic Party figurehead and the mayor of the 1%, Rahm Emanuel, into a run-off election for mayor of Chicago. The win has unleashed incredible excitement in Chicago—and more than a few questions about how this runoff was achieved. Many observers' first instinct might be to ask, "What changed in Chicago?" But for those looking for lessons in the grassroots-powered victory, a more instructive question would be, "What was built—and how"?
Tuesday's success is bigger than any one organization. What Chicago's various social movements have built did not materialize over the course of one election cycle and cannot be understood as just a set of electoral strategies, clever tactics or shrewd messaging. For years, Chicago has been an epicenter of militant, grassroots organizing that has come to deeply resonate with working class families. A long-term transformative vision lies at the heart of this organizing, taking aim at oppressive systems and corporate interests that exploit and divide people along lines of class and race.
Wednesday, Mar 4, 2015, 3:07 pm · By Micah Uetricht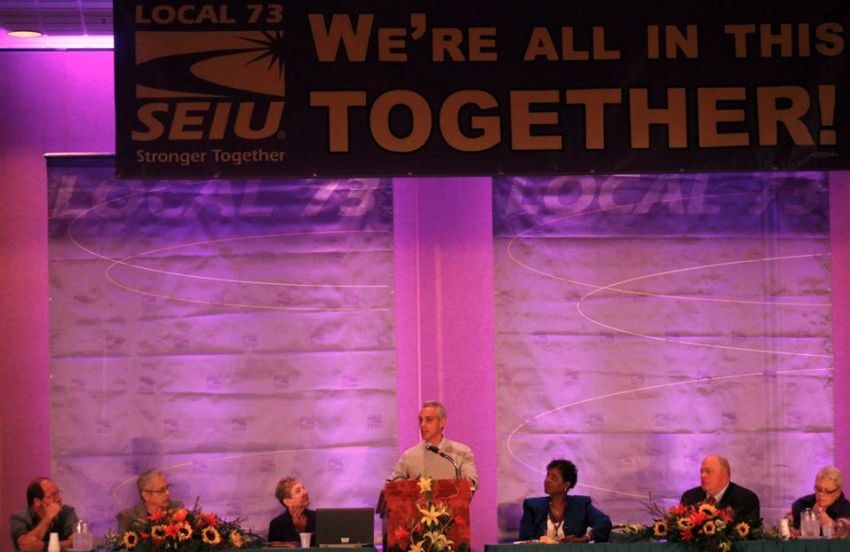 Much of Chicago was surprised to see Mayor Rahm Emanuel forced into a runoff election with Jesús "Chuy" García last week, and the city's labor movement was no exception.
The vast majority of Chicago labor—including parts of the movement's progressive wing like UNITE HERE Local 1—decided to continue backing the mayor, despite what many critics consider to be a strong anti-union and pro-corporate governing record. Of the city's major unions, only the Chicago Teachers Union and SEIU Health Care Illinois & Indiana (HCII) took a strong line against Emanuel, committing significant financial resources and members to García's campaign.
Wednesday, Mar 4, 2015, 11:26 am · By Leo Gerard, United Steelworkers President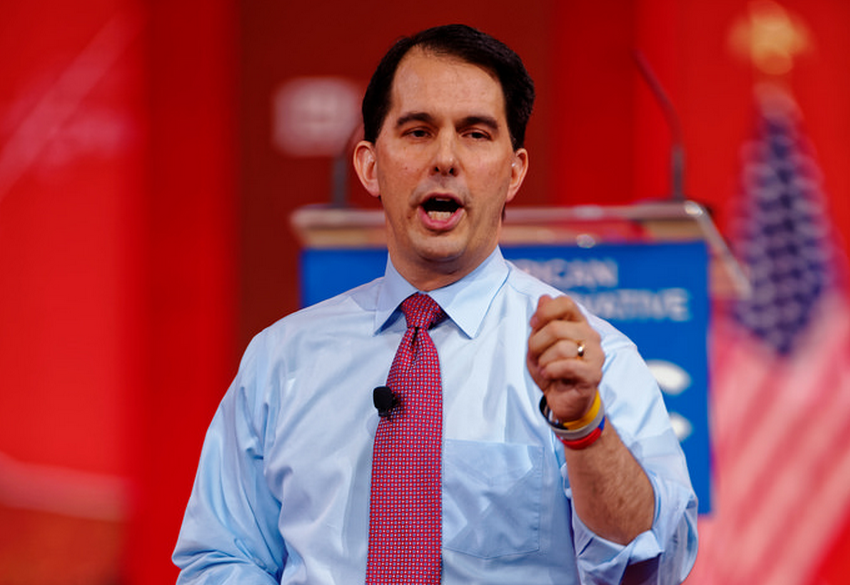 To Wisconsin Gov. Scott Walker, America's labor union members are the same as murderous, beheading, caged-prisoner-immolating ISIS terrorists. Exactly the same.
That's what he told the Conservative Political Action Conference (CPAC) last week. The governor said that because he destroyed public sector labor rights in Wisconsin after 100,000 union supporters protested in Madison he could defeat ISIS as President of the United States.