Friday, Oct 20, 2017, 11:16 am · By Morgan Spector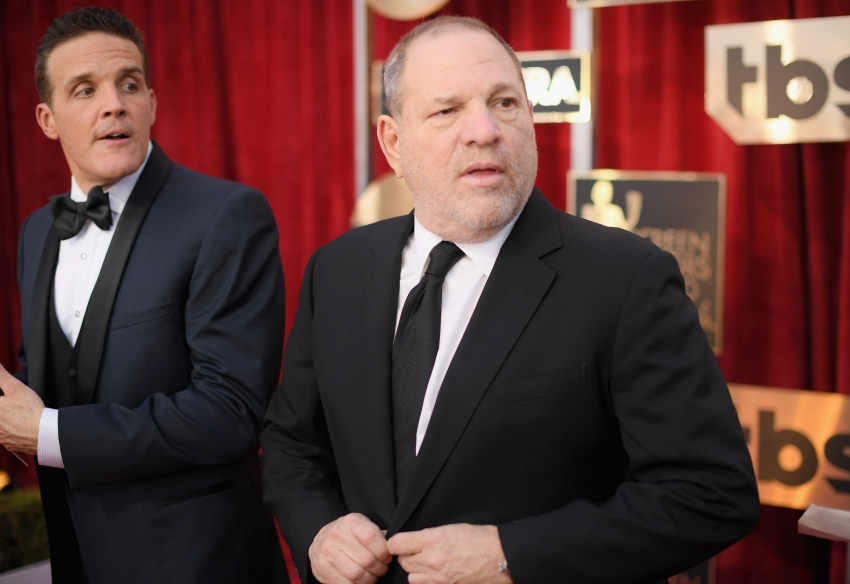 This post first appeared at Jacobin.
Now that the suppurating boil that was Harvey Weinstein's career has burst, and the open secret of his predatory behavior has spread across the world, recrimination and soul searching are the order of the day: who knew? Who could have stopped it? Who should reform the culture of pervasive abuse of power in Hollywood, in Washington, and in the American workplace in general?
A number of other high-profile accusations — Oliver Stone, Ben Affleck, Amazon's Roy Price — have followed the Weinstein revelations. More are sure to come, as the entire industry finally faces at least some of its ugliest demons.
Thursday, Oct 19, 2017, 5:06 pm · By Gerard DiTrolio and Doug Nesbitt
This post first appeared at Labor Notes.
As negotiators from Canada, the U.S., and Mexico carry out secretive talks aimed at fixing NAFTA, a strike at an Ontario auto plant shows how difficult it can be to challenge the power amassed by corporations thanks to the trade deal.
The 2,800 members of Unifor Local 88 walked off the job September 17 at the CAMI assembly plant in Ingersoll seeking contract language to secure their jobs.
They returned a month later without it. Their contract is similar to the one reached at all the other Big Three plants in Ontario in fall 2016.
CAMI still produces the popular Chevrolet Equinox SUV, but in July General Motors, the plant's owner, moved the Terrain SUV to Mexico, costing 600 jobs in Ingersoll. This was despite the fact that in 2015, GM invested $560 million at CAMI to build a new weld shop, a move workers thought would protect their jobs.
The Equinox is made in two plants in Mexico, too. Local 88 wanted contractual assurance that its plant would remain the vehicle's "lead producer."
Unifor National President Jerry Dias said of his decision to settle without job guarantees, "At the highest levels of General Motors corporate in Detroit, they coldly refused." With the strike costing the company $5 million a day, GM threatened to shift all Equinox production to Mexico.
There seemed little alternative to settling for Local 88 barring more radical tactics, which were never under discussion by Unifor leaders.
BUY-OUTS FOR LOST JOBS
The new pact includes more money for early retirement and for buyouts for younger workers, and increases by $100 million the severance and retirement costs GM would pay for a plant closing.
The four-year agreement will see a 4 percent wage increase plus $8,000 in lump sum payments and a $6,000 signing bonus.
Job security will no doubt still be an issue come 2021. The future of the auto industry in Canada remains up in the air.
Canadian employment at the Big Three automakers has been cut by more than half since NAFTA, from 52,000 in 1993 to just 23,000 last year. In the current renegotiation of NAFTA both Canada and Mexico have rejected U.S. demands on content requirements that Canadians say could sink the industry in Canada.
GM posted $9.4 billion in profits last year and the CAMI plant itself is hugely profitable, one of the most productive and efficient in North America with numerous awards for quality.
It was the first strike at GM in Canada since 1996 and first legal strike at CAMI since 1992, with wildcat strikes occurring in 1995, 1999, and 2014.
IN THE SHADOW OF NAFTA
It was not lost on CAMI workers, auto workers across Ontario, or the Ingersoll community how the timing of the strike lined up with the ongoing NAFTA talks.
"When you have a plant in Mexico that pays their workers $2 an hour and they can't even afford to buy the cars that they build, then you've got a real problem," Dias told Canada's BNN. "So, CAMI, this whole strike is the poster child for what's wrong with NAFTA."
Unifor has called for a better deal for workers in Mexico and the U.S., too. The union supported the Canadian government's demand that right-to-work laws in the U.S. be scrapped, and a Unifor delegation recently visited Mexico to meet with labor activists, calling for parity of Mexican wages and truly independent unions.
Auto workers in Mexico belong to a federation closely aligned with the ruling party. This federation, the CTM, is a company union, doing nothing to force up wages but acting ruthlessly against attempts to form independent unions. In fact, many workers don't even know whether their factory is unionized or not.
LOCAL SUPPORT
Retired Local 88 president Cathy Austin was on the CAMI picket line for five weeks in 1992. She says that strike "did not have support from the community like this one does; they have been overwhelmed by the support."
An October 5 rally outside of the plant drew more than 500 people. Even a contingent of United Auto Workers members from Rochester, New York, visited the lines.
And though the strike caused shutdowns of auto parts suppliers in the area, Local 88 Trustee Kim Crump said the closures and layoffs actually increased community support, even among non-union parts workers.
[Gerard Di Trolio is a writer living in Toronto who covers labor and politics. Doug Nesbitt is an editor at Rankandfile.ca and a former union organizer.]
Tuesday, Oct 17, 2017, 6:12 pm · By Kate Aronoff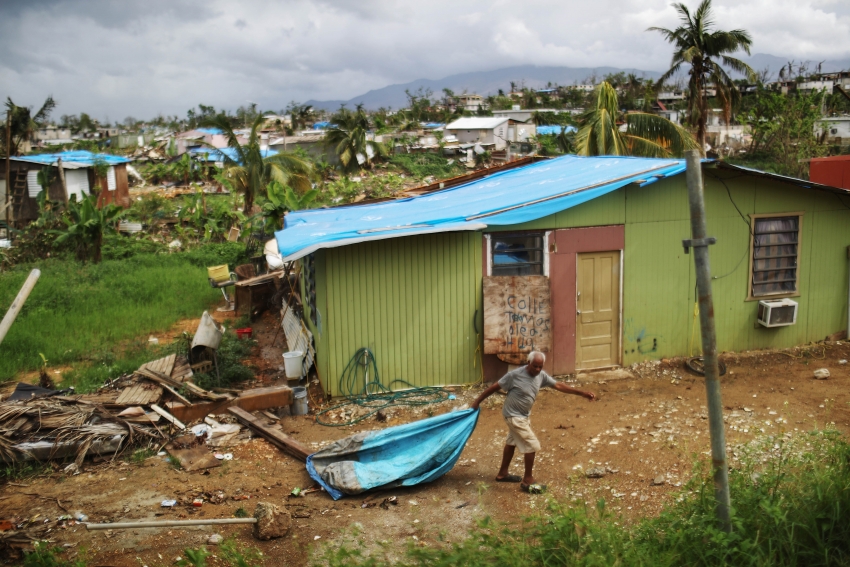 In the aftermath of the devastation wrought by Hurricane Maria on Puerto Rico, an obscure law governing maritime commerce has grabbed national headlines: The Merchant Marine Act of 1920, known colloquially as the Jones Act. After facing political pressure and at the request of Puerto Rico Gov. Ricardo Rosselló, on September 28, President Trump issued a 10-day waiver of the Act to ease shipping regulations on the island. That waiver expired last week.
Many in Puerto Rico, along with members of the Puerto Rican diaspora living on the U.S. mainland, argue that the statue is stifling aid by presenting an unnecessary barrier to the procurement of basic relief supplies. Maritime unions, meanwhile, contend that the measure is essential for protecting seafaring workers.
So what is the Jones Act? What does it do? And what other factors might be getting in the way of supplies reaching Puerto Ricans?
Tuesday, Oct 17, 2017, 5:13 pm · By Daniel Moattar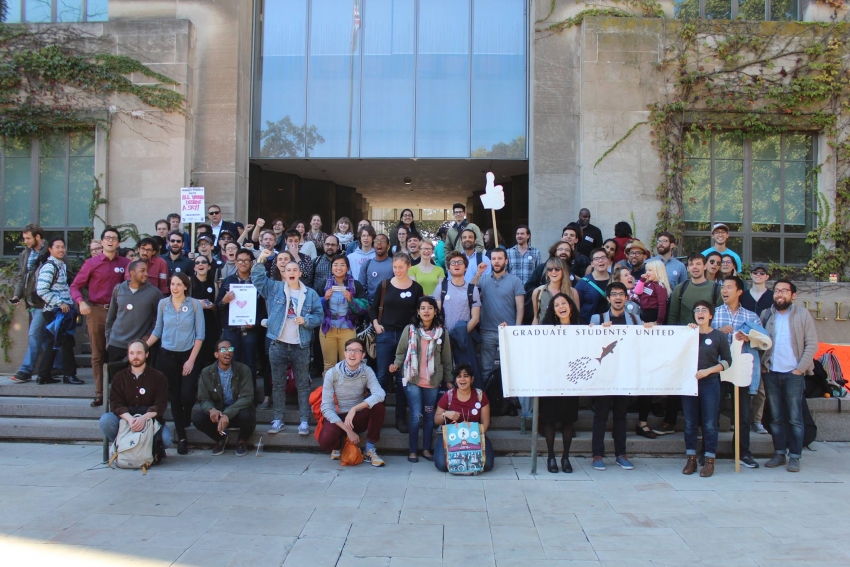 Update: The students voted to unionize 1,103 to 479 (with 149 votes challenged).
After months of legal battles, delays and high-dollar opposition from their administration, University of Chicago graduate students will vote in a union election on October 17 and 18. A win will make Graduate Students United (GSU)—affiliated with the AFT, IFT and AAUP—the official representation of UChicago's graduate students.
The election is being conducted against the backdrop of an ongoing court battle over grad student unionization that represents a double-edged sword for the university. A victory would decertify the union, and complicate grad student organizing at private institutions nationwide. But over the course of the case, the university's hardline anti-union statements both in and out of court may have helped the union's cause more than hurt it.
Friday, Oct 13, 2017, 6:47 pm · By Thor Benson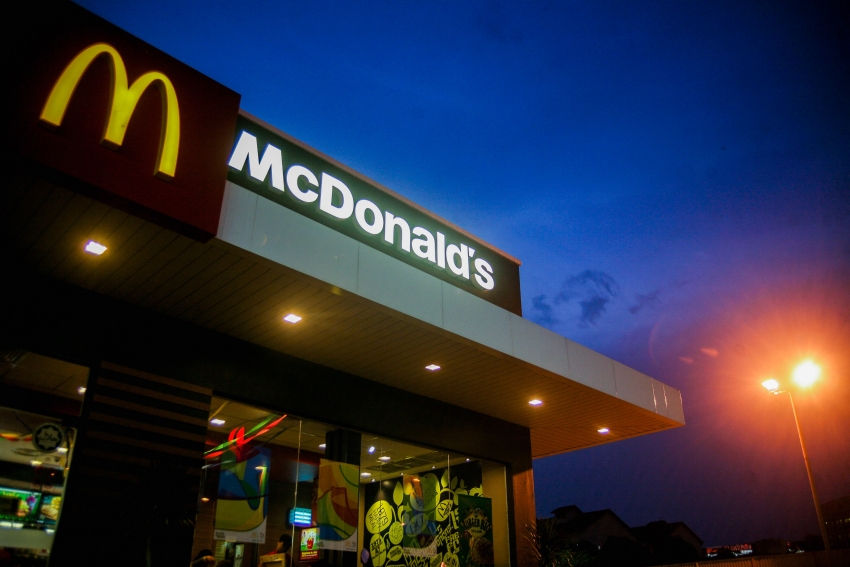 In what was hailed as a major victory for labor unions, the National Labor Relations Board (NLRB) in 2015 redefined what constitutes a "joint employer," ruling that any company that has "indirect" control over a business can be held responsible if that business violates labor law. In practice this has meant that a corporation such as McDonald's can be held liable if its franchises are illegally withholding pay to employees or otherwise breaking the law. Now, a new bill could reverse that decision and make it much harder to hold large corporations accountable.
On October 4, the Save Local Business Act (H.R. 3441), was advanced out of committee by the House Education and the Workforce Committee, and is set to go before the full House for a vote.
Thursday, Oct 12, 2017, 7:39 pm · By Suzanne Gordon and Ian Hoffmann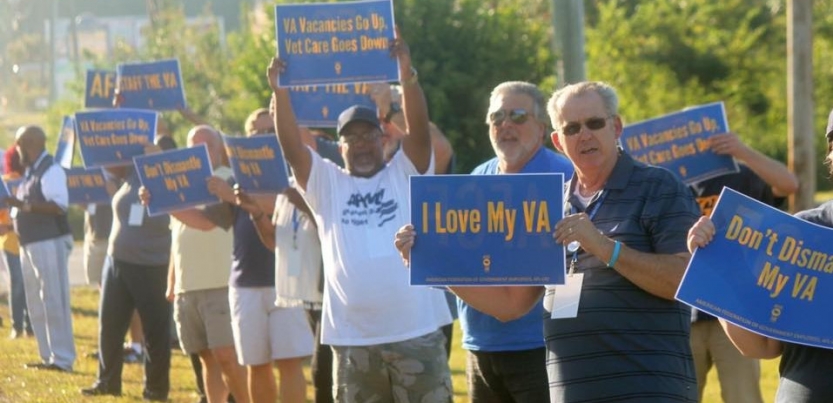 This post first appeared at Labor Notes.
In January President Trump delivered on his promise to shrink the federal government: he announced a hiring freeze, despite thousands of federal job vacancies.
As a candidate, Trump campaigned as a great friend of veterans. He pledged to make big improvements in the Veterans Health Administration (VHA), the arm of the Veterans Administration (VA) that operates the largest health care system in the country.
But Trump's hiring freeze deepened an already existing staffing crisis at VHA hospitals and clinics throughout the U.S., where there are 49,000 vacant positions.
Union activists believe the resulting understaffing is designed to generate patient complaints and negative publicity that will cause veterans and their families to lose faith in VA-provided care.
"Some in Congress want to underfund the VA so they can say that government doesn't work," says Dusten Retcher, a 29-year old Air Force veteran, who processes veterans' benefit claims in Minneapolis. "Then they want to turn it over to the private market."
Socialized Medicine
The VHA covers nine million veterans who qualify based on their low income or, like Retcher, have a service-related medical condition. Unlike Canada's single payer system or Medicare in the U.S., it does not function primarily as an insurer, simply reimbursing private hospitals, doctors, or pharmacies.
Instead, like Britain's National Health Service, the VHA provides direct care to veterans, via salaried personnel who are not paid on a fee-for-service basis. As the nation's largest publicly funded, fully integrated health care network, it's a model of socialized medicine more far-reaching than the single-payer plans proposed by Congressman John Conyers and Senator Bernie Sanders (who is also a leading defender of the VHA).
Overall, the VHA employs 300,000 people, a third of whom are veterans themselves. Because caregivers are salaried, they have little incentive to over-treat patients. And, as a large-scale public agency, the VHA can negotiate with pharmaceutical and medical equipment companies to secure prices lower than private hospital chains get.
This combination of "socialized medicine," negotiated prices, and a salaried workforce heavily represented by the American Federation of Government Employees (AFGE) is not popular in a Republican Congress or in the Trump White House.
Earlier this summer, both attacked the due process rights of AFGE members by passing the "VA Accountability Act." As the AFL-CIO notes, this draconian measure, backed by some Democrats, eliminates "any guarantee that employees will feel safe speaking out against mismanagement or to protect patient safety." According to the federation, it "destroys grievance procedures that have been successfully used throughout the federal government to provide protection against arbitrary treatment."
Such union-busting legislation—and more currently under consideration by Congress—has been a longtime objective of right-wing Republicans and the "Concerned Veterans of America." CVA is an astro-turf group, funded by the Koch brothers, which has gained policy-making influence within the VA since Trump's election. While CVA has few actual members, it has been quite successful in promoting negative coverage of the VHA in the media, including the New York Times and NPR.
Unlike traditional veterans organizations (American Legion, VFW, Disabled American Veterans), CVA hates the VHA and would like to see it totally privatized.
Campaign to save the VA
To resist this outsourcing threat, VHA union members and their allies have launched a multi-front campaign. They have held dozens of town hall meetings, local "Save the VA" rallies, and protests with labor and veterans organizations in California, Arkansas, Indiana, Illinois, New Mexico, Tennessee, Montana, Ohio, and Colorado. More protests are scheduled in October. Such activity, throughout the federal government, has helped AFGE sign up 5,000 new members since January.
Bay Area AFGE activists joined fellow VHA staffers, their patients, and other concerned veterans at a speak-out in San Francisco attended by House minority leader Nancy Pelosi. Michael Blecker, a leader of Swords to Plowshares who served in Vietnam, warned that local programs to reduce homelessness among veterans were at risk of being curtailed.
Pelosi argued that GOP critics care little about improving VHA services or reducing their cost. "The people who want to privatize the VA don't want to make it better," she said. "They want to make a buck."
In its critique of privatization, Fighting for Veterans Healthcare, a San Francisco–based advocacy group, notes that VHA hospital budgets are already stretched thin because of chronic underfunding. As the financial burden of paying for more costly private care increases, the group argues, in-house staff shortages will worsen, specialized research and treatment programs will be cut, demoralized employees will leave, and "the VA will become a shell of itself."
At the Denver VA medical center, where workers rallied against privatization August 23, AFGE Local 2241 President Bernard Humbles says employee frustration is mounting. "I've had some members that just say, 'I'm done,' and leave because of the overwhelming workload," he said. "We need to fill these positions."
Bernie Sanders, former chair of the Veterans Affairs Committee in the Senate and longtime defender of the VHA, has introduced legislation to reduce staff shortages by allocating $5 billion to new hiring. But Secretary for Veterans Affairs Dr. David Shulkin, who served in the Obama administration, is under White House and Congressional pressure to expand a program called "Choice" instead.
Created by Congress in 2014, Choice allows veterans who have to travel 40 miles or more to the nearest VHA facility, or who face appointment delays longer than 30 days, to use private providers instead. Federal reimbursement of these private hospitals and doctors has already drained billions from the VHA. A recent internal report revealed a pattern of over-payments to TriWest and Health Net, two private insurers hired to set up outside provider networks and process the Choice program's reimbursement claims.
Meanwhile, as a Rand Corporation study found in 2015, actual wait times at the VHA are shorter than in the private sector, and the quality of veterans' care is equal to or superior than that received by private hospital patients.
An outsourcing gold mine
Nevertheless, Republicans seek a wholesale expansion of VHA outsourcing, to create a gold mine for the health care industry. Their goal is to steer more veterans toward non-VHA providers, including for-profit firms that would fill prescriptions, handle routine visits, or provide out-patient services like audiology and optometry.
The fight to defend quality care for veterans is uniting caregivers on the VHA staff, their patients, other veterans, and concerned community members. The fight also helps expose the ever-widening gap between President Trump's pro-veteran rhetoric and the actual impact of his policies on working class people who have served in the military and, in some cases, voted for him last fall.
At a late September protest at the VA Medical Center in Minneapolis, AFGE picketers were joined by other unionists, including Navy veteran Tom Edwards, who carried a sign saying, "No Vet Should Wait in Line." A retired postal worker, Edwards told Workday Minnesota that he hears plenty of rhetoric about "supporting our troops." But when they come home and need access to skilled, specialized care like the VHA provides, it's another story. "What's happening in this country is a travesty," he declared.
Monday, Oct 9, 2017, 7:25 am · By Shaun Richman and Bill Fletcher, Jr.
Bill Fletcher, Jr. and Shaun Richman are contributing writers to In These Times, as well as veterans of the labor and socialist movements. Both have worked for several labor unions, with Fletcher having served as a senior staffer in the national AFL-CIO and Richman as a former organizing director for the American Federation of Teachers. Both came of age during different eras of left politics. In this conversation, the two writers and organizers examine what a revived socialist movement could mean for unions—and the broader push for workers' rights and dignity.
Shaun Richman: We're in a political moment when tens of thousands of Americans are declaring themselves to be socialists and joining and paying dues to socialist organizations. It's not just Democratic Socialists of America (DSA), although DSA is growing the largest and the fastest. The entire alphabet soup of the Left, basically any socialist group that isn't a weirdo cult, is experiencing an influx of new members and activity. In the context of the "Organize or Die!" union push of the last 30 years, this is new and potentially a game-changer. There are now organized socialist groups that exist in significant numbers and are trying to figure out what their labor program should be, how they relate to a labor movement, and how they can be helpful. And it's not obvious what they should do. Bill, what are the opportunities and pitfalls, and what does this growth mean for labor?
Wednesday, Oct 4, 2017, 5:12 pm · By Moshe Z. Marvit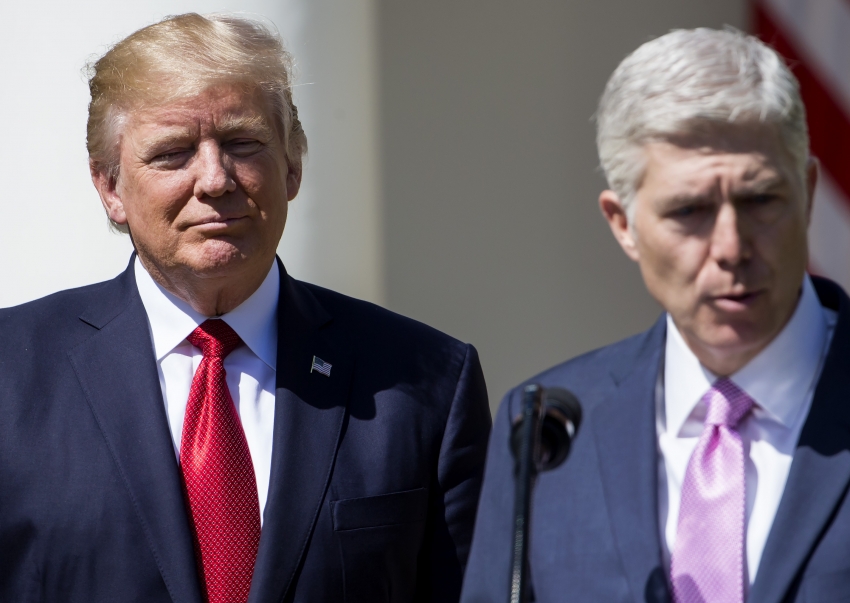 On Monday, the Supreme Court heard oral arguments in a trio of cases, captioned as NLRB v. Murphy Oil, that examined whether management commits an unfair labor practice when it requires employees to sign arbitration agreements that waive their right to wage class-action lawsuits. The question of whether an employee can give up her right to act in concert with other workers may seem technical, but it implicates the very core of collective action.
Wednesday, Oct 4, 2017, 11:49 am · By Jeff Schuhrke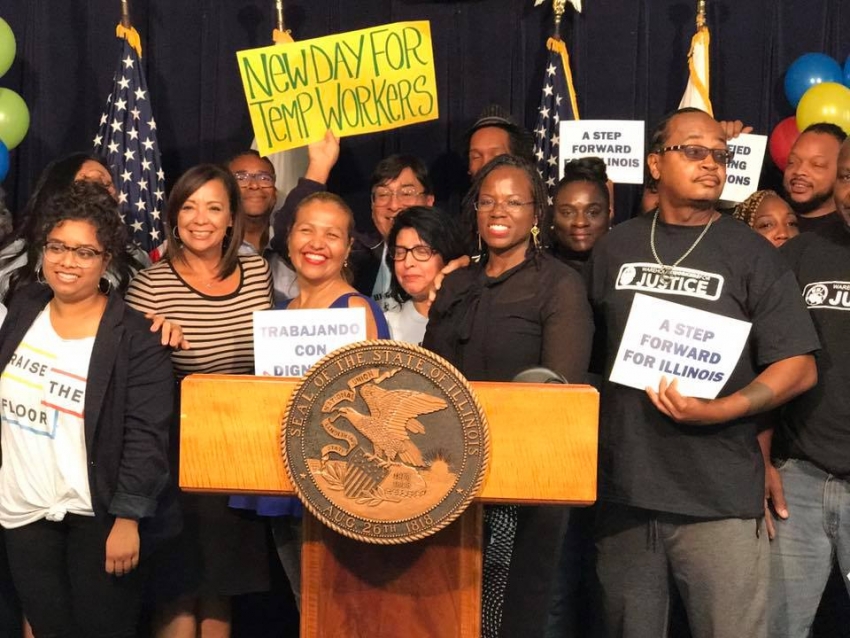 Beginning next summer, a sweeping new law will take effect in Illinois, ending many of the routine injustices suffered by the state's nearly 850,000 temp employees who often work under miserable conditions.
The Responsible Job Creation Act, or HB690, represents the most ambitious attempt to date by any state to regulate the growing temporary staffing industry. Introduced in January, the bill gained bipartisan support in the Illinois General Assembly and was signed into law by Republican Gov. Bruce Rauner in late September. The law will take effect June 1, 2018.
Tuesday, Oct 3, 2017, 5:00 am · By Ted Rohrlich, FairWarning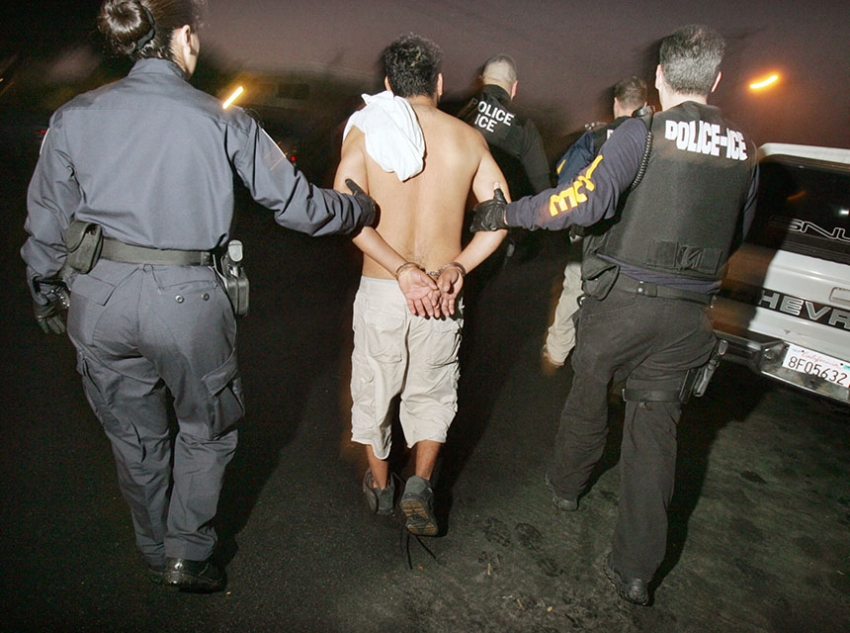 As an attorney representing California Central Valley farmers and labor contractors who rely heavily on undocumented workers, Anthony Raimondo has become widely known for performing a sort of magic trick. He can sometimes make legal complaints against his clients – and the people who file them – disappear.
In at least seven cases where workers accused his clients of mistreatment, Raimondo asked immigration authorities if they would like to arrest the complainants.
And, then, presto: At least three cases against his clients apparently were derailed, and two complainants—both, Raimondo says, with criminal records-- were deported.