Friday, Aug 15, 2014, 6:08 pm · By Jeff Abbott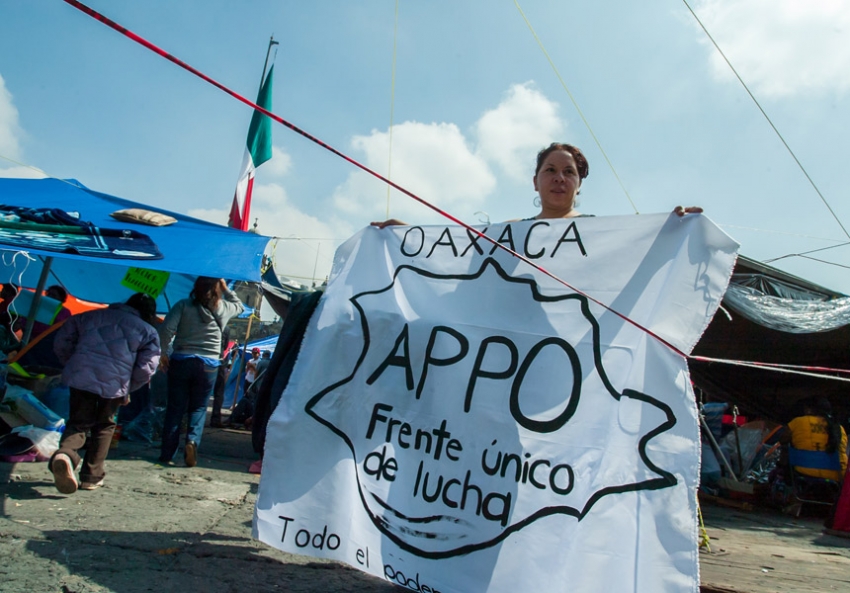 On the morning of July 31, the Oaxaca offices of Mexico's ruling party, the Institutionalized Party of the Revolution (PRI), were in chaos. Activists from Oaxaca's Section 22 of the Mexican Teachers Union stormed the premises, throwing computers and filing cabinets from the second floor to the ground as the public looked on. The teachers then set up camp in Oaxaca's main square, Zocalo, an occupation that has since lasted for weeks.
The action was the latest maneuver from Mexican teachers against the neoliberal education reforms implemented by President Enrique Peña Nieto over the last year. Beginning in early 2013, Peña Nieto began passing sweeping policies that—among other changes—reasserted government control over education, tied instructor pay to student evaluation results, and restricted the bargaining rights of teachers throughout Mexico.
On May 1, in recognition of International Workers' Day, Section 22 teachers led other dissident teachers unions of Mexico on a four-month occupation of the central square of Mexico City. Police evicted the teachers in August 2013; they then moved to the Monument of the Revolution, where a camp still remains. After Congress passed Peña Nieto's laws just a month later, Oaxaca teachers revolted again—and they've kept up the pressure ever since. The attack on PRI's offices is just another incident in the long line of unrest that has come with the party's 2012 return to power.
Wednesday, Aug 13, 2014, 7:37 pm · By Sara Matthiesen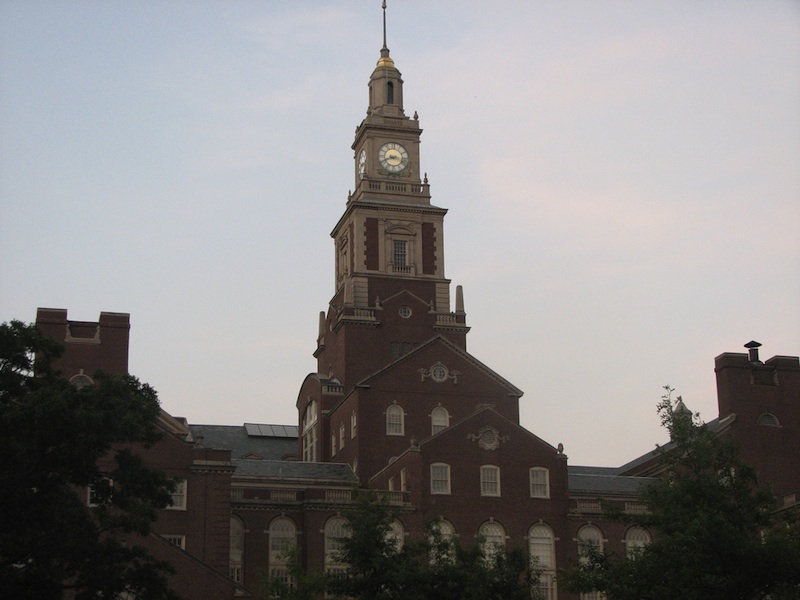 This piece first appeared on Jacobin. It has been reprinted with permission.
I am in a meeting with Brown University's Sexual Assault Advisory Board, a committee of deans and staff charged with reviewing the university's sexual misconduct policies. Lena Sclove's press conference detailing her assault at the hands of another undergraduate student and Brown's failure to deliver her justice had made national headlines just two days earlier. We are there to discuss how sexual misconduct policies can be improved for graduate students.
I explain, as I have countless times over the past two years, that our "professional student" status—in which we are not quite employees and not quite students—makes it especially difficult to address our experiences of sexual violence. When I look at one of the administrators, my jaw almost drops midsentence—she is asleep. Before leaving, she confidently states that some of these changes can be implemented because supporting graduate students is a university priority. I nearly burst out laughing.
Recent campus activism, at Brown and across the country, has made one thing clear: it is nearly impossible to get administrations to listen to or address student concerns without turning to the media or appealing to resources outside the university.
Wednesday, Aug 13, 2014, 6:30 pm · By Shane Burley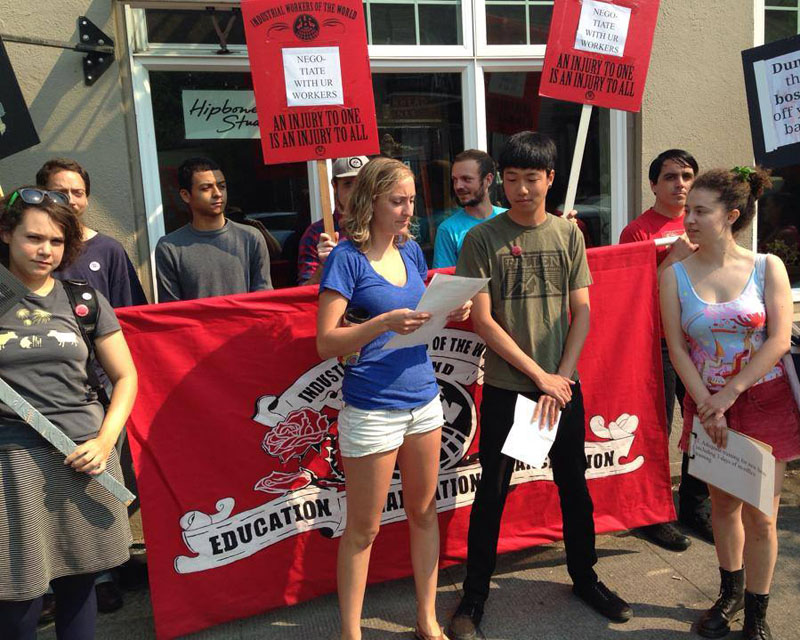 Outside of coffee shops and bookstores, crowded Whole Foods stores and worker-run co-ops nationwide, you're bound to find canvassers asking for donations or signatures in support of a host of causes. They're often young people shaking the can for high-profile nonprofits. But as we get deeper into the post-crash precarious economy, the image of canvassers as idealistic college students making a few extra bucks on summer break quickly disintegrates. People are turning to this occupation as their primary source of income, according to many active campaigners. They are hired by independently contracted companies to canvas for nonprofits. The quotas are demanding, making the work one of the most difficult low-wage jobs to hold on to.
In Portland, Oregon, one union local as formed precisely to take on this precarious world of street canvassing, and they are growing at a pace no one could have predicted.
Last week, the United Campaign Workers union, an affiliate of the Portland Industrial Workers of the World, announced its second organized workplace in its less than two months of existence. (The first was the Campaign for the Restoration and Regulation of Hemp.)
Wednesday, Aug 13, 2014, 2:50 pm · By Bruce Vail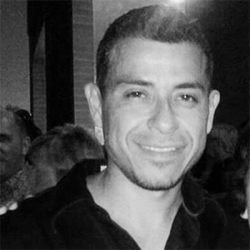 UPDATE: The Transportation Workers Union (TWU) has won an election to represent 828 flight attendants at Virgin America. A representative of the TWU who observed the count at the Washington, D.C. headquarters of the National Mediation Board reports that the final vote was 430 in favor of joining TWU, and 307 opposed. According to a victory statement released by the TWU, the first contract negotiations between management and workers will begin in the fall.
Despite previous setbacks, flight attendants at Virgin America are moving to establish the first labor union at the company.
More than 50 percent of Virgin's estimated 800 attendants have signed authorization cards with the Transport Workers Union (TWU); those cards were submitted last month to the federal government's National Mediation Board, says TWU Vice President Thom McDaniel. McDaniel expects the Mediation Board to establish a mail-in balloting schedule soon, which is expected to culminate in a final vote count in the second half of July.
If successful, TWU will become the first union at the Burlingame, California-based Virgin, which began operation in 2007 with a specific anti-union slant. The company currently employs about 2,700 pilots, flight attendants and other staff, but none have successfully organized; TWU is the first union to try to do so. Even so, the recent victory of the Air Line Pilots Association in a union election at non-union JetBlue Airways is creating renewed optimism among union organizers in the airline sector, McDaniel says.
Wednesday, Aug 13, 2014, 1:00 pm · By Alexandra Bradbury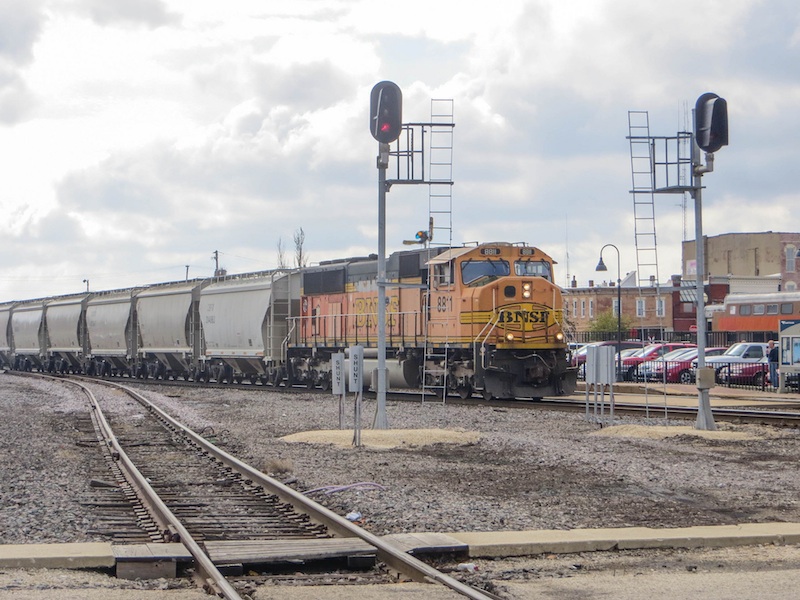 "There's a real rank-and-file rebellion going on right now," says Jen Wallis, a Seattle switchman-conductor for Burlington Northern Santa Fe (BNSF) Railway. "People who've never been involved in the union, never went to a union meeting, they are showing up and they're joining Railroad Workers United in droves.
"People are saying, 'We have to take action now to stop it. We can't let our union officers do this to us.'"
What's all the fuss? On July 16, thousands of railroaders abruptly learned their union officers had held secret negotiations with BNSF, one of the country's biggest freight carriers, and reached a deal to allow single-person train crews: a safety disaster.
Ballots on the tentative agreement went out in early August, and are due back in early September. If the vote goes up, huge freight trains could rumble through towns across the western U.S. with just an engineer onboard, no conductor.
Tuesday, Aug 12, 2014, 6:15 pm · By Moshe Z. Marvit
Two recent developments hint that the beleaguered American labor movement could find a way to expand by, counterintuitively, narrowing the size of its locals and bargaining units.
In July, after a close loss in a much-watched union election at the Volkswagen plant in Chattanooga, Tennessee, the United Auto Workers (UAW) did something labor in America rarely does: They established a "members-only" (or "minority") union. Unlike the typical American union, a minority union is not the exclusive bargaining representative of all workers at the plant WC. The VW Chattanooga members-only union—UAW Local 42—will represent only workers that voluntarily join.
Monday, Aug 11, 2014, 8:00 am · By Stephen Franklin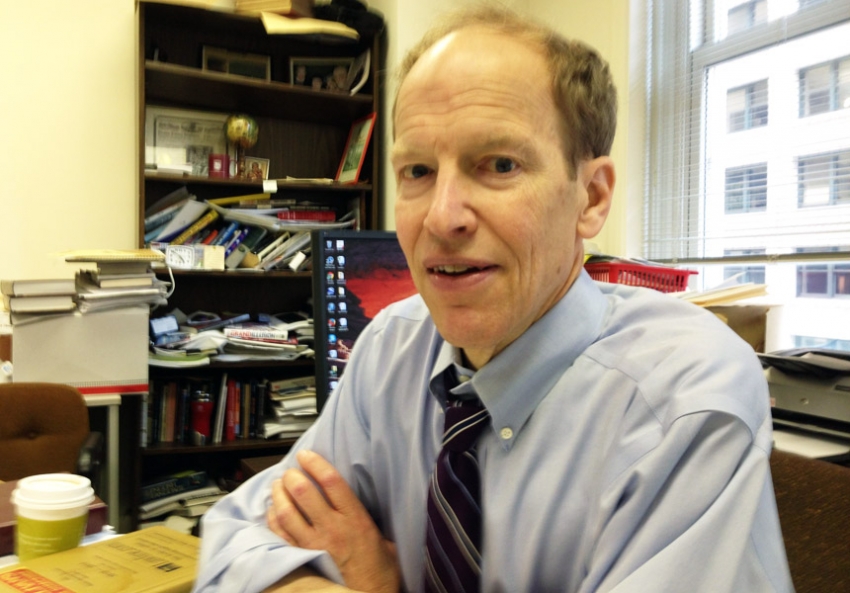 For three years in the early 1970s, journalist Studs Terkel gathered stories from a variety of American workers. He then compiled them into Working, an oral-history collection that went on to become a classic. Four decades after its publication, Working is more relevant than ever. Terkel, who regularly contributed to In These Times, once wrote, "I know the good fight—the fight for democracy, for civil rights, for the rights of workers has a future, for these values will live on in the pages of In These Times." In honor of that sentiment and of Working's 40th anniversary, ITT writers have invited a broad range of American workers to describe what they do, in their own words. More "Working at 40" stories can be found here.
Philip Da Vinci had worked as a lawyer for a large insurance firm when he decided he needed to do something that felt useful, he told Terkel in Working. He switched to a storefront law office serving the elderly, juveniles, prison inmates, people "dumped" from state mental hospitals, and other residents of his low-income Chicago neighborhood. But he struggled to hang onto his hope. "You can change a few things. But not much progress is being made," he told Terkel.
Tom Geoghegan is a Chicago lawyer who tells In These Times that he, too, wanted to shape the future of the country through his profession. In addition to spending much of his career representing workers and unions, he has also written a number of books. His book "Which Side Are You On?" (1991), which chronicled the downward slide of organized labor, was described by Terkel himself as reading "like an enthralling novel." This interview has been edited and abridged.
Friday, Aug 8, 2014, 4:30 pm · By Bruce Vail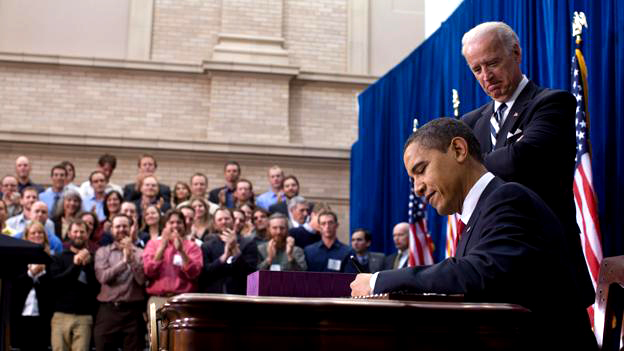 Drawing wide praise from union leaders, President Barack Obama last week signed an executive order designed to crack down on federal contractors guilty of breaking labor law or have compiled excessive workplace health and safety violations. The order was Obama's third directly related to labor issues in 2014 alone, and the latest in his "Phone and Pen " campaign to spark administrative changes that would be too difficult to achieve through the normal legislative process.
The July 31 order will establish an elaborate set of new procedures that could be used to punish labor scofflaws in the future by denying these companies new federal contracts. Alternatively, the order could also reward "good" companies with preferential treatment, according to a White House fact sheet. The immediate impact will be minor as the order will not go into effect until 2016, plus the time needed to establish the bureaucratic policies and practices in 14 separate government departments to fully implement the order.
"We feel like the president is doing all the right things," on labor issues, says Peter Colavito, director of government relations for the Service Employees International Union (SEIU). "The last six or seven months have been terrific," he says, referring to earlier executive orders raising the minimum wage for federal contract workers and banning workplace discrimination against federal LGBT employees and contract workers. In addition to these orders, a March 13 "Presidential Memorandum" set in motion a revision of Department of Labor overtime rules that is expected to benefit hundreds of thousands of workers by eliminating some of the existing exemptions and anomalies in current overtime regulations.
Friday, Aug 8, 2014, 4:20 pm · By Julia Wong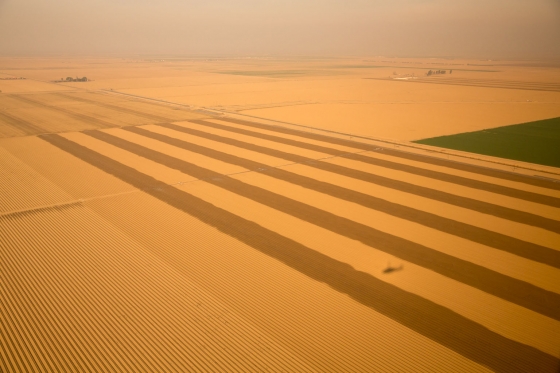 The crops being harvested in California this summer are smaller than usual thanks to the record-setting drought that has reached the most extreme levels in more than half of the state. While that may be good news to the consumers and chefs who enjoy the more concentrated flavor of smaller fruits and vegetables, it's another blow to California's hundreds of thousands of farmworkers, many of whom are undocumented immigrants, that are struggling to survive in this third-straight year of drought.
"When the growers use a lot of water, the oranges are bigger," says Antonio Cortes, an organizer for the United Farm Workers, a union representing farmworkers in California. "With less water, the oranges are smaller, and you have to work longer [to fill a bucket]." Most of the workers Cortes represents in the Central Valley are paid a piece rate for buckets of oranges, tomatoes, melons and other crops.
Dr. Ann López, the Executive Director of the Center for Farmworker Families in Felton, California, hears similar complaints from the strawberry pickers she works with in nearby Santa Cruz County. "The fruit is very small. It's not the same size it's been in the past, and there's not as much fruit," she says. "To fill baskets, it takes more work—but they're not getting paid more."
Thursday, Aug 7, 2014, 2:40 pm · By Crystal Stella Becceril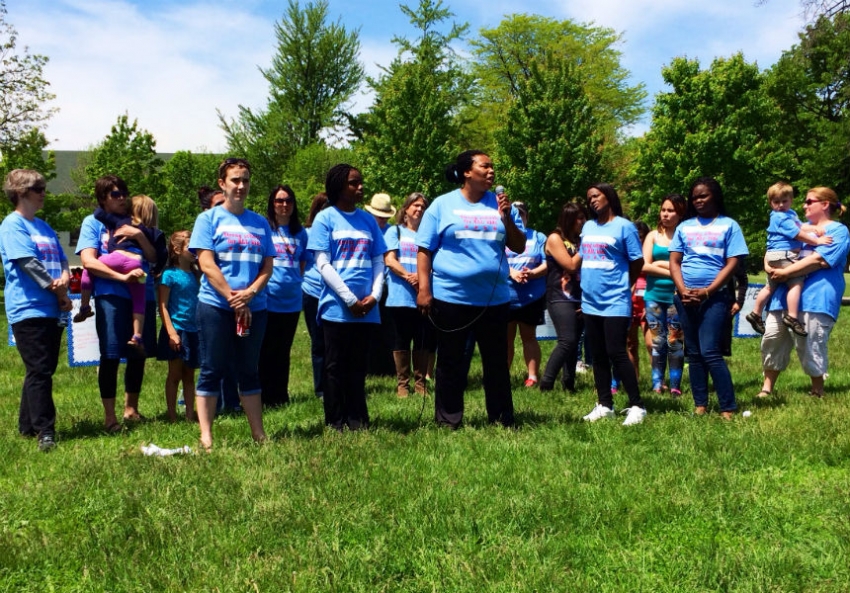 Last August, as the summer break came to an end, Chicago parent Rousemary Vega was devastated. Three months prior, the city had voted to close a record-high 50 public schools, including Lafayette Elementary in Humboldt Park, where her children had been students. Upon receiving the letter from Chicago Public Schools that their school would be shuttered at the end of the 2012-2013 school year, the Vega family began organizing to overturn that decision. However, despite their efforts—including their occupation of Lafayette on June 19, 2013—and the community's pleas, the Board moved forward with the closure, displacing 570 students in the process.
Vega says she'd never before contemplated the possibility that her kids' education could be put on the line.
"I was just a working mom with four kids, not worried about their school closing," she explains to In These Times as she wipes away tears. "I just never thought that could be possible because I thought education was sacred. ... So for them to close schools, to close our doors—it was unbelievable to me."
Shocked as she was, Vega refused to be defeated by Lafayette's shuttering. At the start of the 2013-2014 school year, she began reaching out to other mothers who were ready and willing to fight back against the Board of Education's decisions. Within a few months of Lafayette's closure, the advocacy group BAM—or "Bad Ass Moms" was formed.