Friday, Jan 8, 2010, 12:18 pm · By Roger Bybee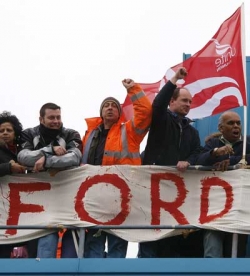 In sharp contrast to the brass-knuckled capitalism of the U.S., workers in Western Europe enjoy legal protections that corporations must follow before they close or relocate production.
Under the "WARN Act," which was a major leverage point for workers who occupied the Republic Windows and Doors factory in Chicago in December 2008., U.S. workers are merely owed 60 days advance notice of a factory closure. The lack of job protections has allowed employers to shift millions of jobs to the low-wage U.S. South, and increased corporate leverage to ratchet down union wages in the North.
DEPRIVED OF SHIELD—AND SWORD

Not only does U.S. law leave workers without a shield, it also deprives them of one of the most effective swords in stopping shutdowns: the occupation or sit-down strike. A vastly different situation prevails in Europe and elsewhere.