Ten years after the United Nations imposed an embargo on Iraq, a new U.N.-commissioned study has determined that the country has suffered "a humanitarian disaster comparable to the worst catastrophes of the past decades."
The report, written by Belgian law professor Marc Bossuyt, argues that the sanctions on Iraq are "ineffective" and "unequivocally illegal."
An August 6 protest marking the 10-year anniversary of U.N. sanctions brought more than 3,000 people to Washington, including Ralph Nader and Rep. Dennis Kucinich (D-Ohio).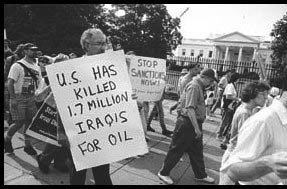 "The theory behind economic sanctions is that economic pressure on civilians will translate into pressure on the government for change," Bossuyt writes. "This theory is bankrupt both legally and practically."
Bossuyt's report is another indication that the Clinton administration is increasingly isolated on the international stage in its insistence that the sanctions continue, despite the devastating toll they are taking on ordinary Iraqis. In the London-based Al-Hayat newspaper, French Foreign Minister Hubert Vˇdrine called the sanctions "cruel, ineffective, and dangerous. They punish exclusively the Iraqi population and the weakest of them." Vˇdrine added that the sanctions "don't touch the regime" of Iraqi President Saddam Hussein.
Subscribe to get the whole story!