Ex Offender 6.8
Least convincing explanation of the month: It seems that John Paulk, a leader in the so-called "ex-gay" movement, has been put on probation by his employer, the right-wing Focus on the Family ministry, because he was recently spotted in, you guessed it, a gay bar. Paulk, who describes himself as an "ex-gay," had headed up Focus on the Family's Exodus International, an organization devoted to exorcising the homosexuality out of guilt-ridden gay and lesbian fundamentalists. But then came his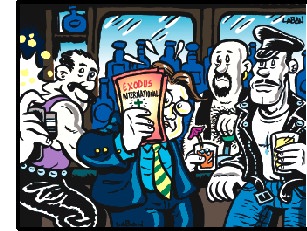 TERRRY LABAN

nighttime visit to a Washington nightclub called Mr. P's--where he was spotted and photographed by some fellow clubbers. After the photos hit the Internet, Paulk had some explaining to do. "When asked why he was in the bar," the Denver Post reports, "Paulk initially said he went there at random to use the bathroom, but then he changed his story and said he knew he was going to a gay bar and went there to see if the lifestyle had changed."

All Apologies 9.3

The United Self-Defense Forces of Colombia, an umbrella organization of right-wing militias, evidently felt a smidgen of remorse for kidnapping an injured guerrilla en route to a hospital in a Red Cross truck--and killing her. In retrospect, it wasn't so much the murder that bothered them--it was the fact that they had dragged the Red Cross into the whole sordid mess. So, The Associated Press reports, they decided to send along a little note to smooth things over. "We accept our responsibility for this lamentable incident that put at risk the good work of the International Red Cross in Colombia," the letter from the militias explained. They may be fascist thugs, but at least they're polite about it.

Scrooged 7.4

Don't give a penny when a ha' penny will do. Better yet, keep the ha' penny for yourself. According to London's Observer newspaper, the British government is launching a $360,000 ad campaign designed to discourage people from giving money to beggars. "There may be public good will toward these people," one government official explained, "but it isn't necessarily helpful to give them money." The ad campaign, naturally, will launch four weeks before Christmas.