The rally on the steps of Wall Street's Federal Hall was winding down. The last of the speakers was denouncing the $1.1 billion in subsidies the New York Stock Exchange is set to receive from state and city coffers. That was when Reverend Billy, his eyes blazing above his clerical collar, stepped up and grabbed the bullhorn.
Introducing himself as a representative of Billionaires for a Better Trading Floor, the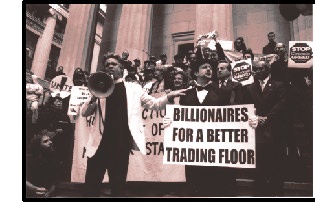 Reverend Billy offers some trading tips.
NEIL DEMAUSE

reverend shouted, "What do you poor-people lovers call yourselves, the Alliance for a Working Economy? Well, the economy is working! It's working for us--the billionaires!" Besides, he added, $1.1 billion "is not that much money--my wife spent that much on shoes last year!"

Reverend Billy was roundly booed--by those in the lunchtime crowd who weren't already laughing too hard--and eventually shooed off the steps by City Councilman Stephen DiBrienza.

This "counterprotest" by the Billionaires--a spin-off of Billionaires for Bush or Gore, the United for a Fair Economy (UFE) brainchild that now sports 55 local chapters--was set to coincide with the release of New York's top-10 worst corporate retention deals, as compiled by Good Jobs New York, a subsidy watchdog group. The NYSE deal, first announced by Mayor Rudolph Giuliani in late 1998, includes city and state subsidies and tax breaks for a new stock exchange headquarters to be constructed across the street from the present building.