At the trendy Ribjnak Club, which opens out onto one of Zagreb's forested parks, few of the young jet-set talk about politics, particularly not on a Friday night with Sting's latest single wafting across the terrace. But on this balmy evening, Vesna Kulas, a 27-year-old information analyst, reflects on the transformation underway in Croatia, nine months after Croats roundly ousted the ruling nationalist regime of the late President Franjo Tudjman.
"Even if you never voted for Tudjman and the HDZ [Croatian Democratic Union], we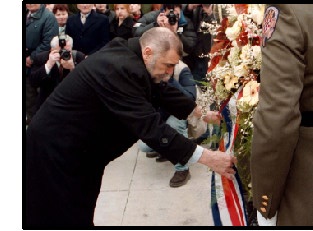 A day after his inauguration, Croatian Stipe Mesic p;laces flowers
on the grave of his predecessor, Franjo Tudjman
HRVOJE POLAN/REUTERS

all wanted an independent Croatia," she says, gesturing across the packed dance floor. "Tudjman stood for an independent Croatia, and we all went along with that. So now we're all responsible in a way for what he did in the name of Croatia that was bad as well. We have to think about that."

Almost daily revelations splashed across the front-pages have brought to light the daunting excesses of an autocratic regime steeped in corruption, covert operations, unabashed nepotism and cloak-and-dagger plots. The lion's share of compromising documents and transcripts are faxed straight to the media from the office of new President Stipe Mesic, in a transparent strategy to discredit the old regime--now the opposition--and buy time for still vaguely conceived reforms. But one upshot of the headlines is that they have only fueled the public's high expectations for change, a task the new reform-minded, center-left government is scrambling to address.

After 10 years in power, it was no secret that Tudjman's authoritarian style, support for Bosnian Croat hardliners, and refusal to cooperate with the war crimes tribunal in The Hague had badly tarnished Croatia's reputation. International organizations like the European Union, World Bank and International Monetary Fund had shunned Croatia for these very reasons. A scandal-ridden privatization program blatantly enriched the ruling elite and left the economy in a catastrophic position, with shrinking GDP, falling industrial output and more than 20 percent unemployment. The numbers grew worse from year to year.