On a recent sunny Sunday afternoon, a crowd of Teamsters from Local 705 took a brief break from their beer and tamales to cheer as Tom Leedham, the leading challenger to Teamsters President James Hoffa in next year's election, praised their union as "the best damn Teamsters local in the country." Indeed, with about 19,500 members working at UPS, freight companies and a wide range of other trucking-related firms, Local 705 has been one of the stalwarts of the Teamsters reform movement in a city that has otherwise remained a stronghold of the old guard.
In 1993 former Teamsters President Ron Carey put Local 705 in a trusteeship, which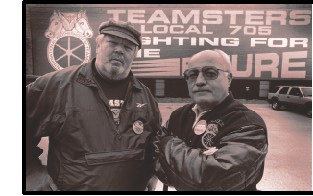 Jerry Zero and John McCormick
MARC POKEMPNER

cleaned up massive financial mismanagement and began building a democratic, progressive and militant local. When the trusteeship ended in 1995, the members narrowly elected as their new leaders the two trustees, both of whom had both been longtime advocates of reform--Jerry Zero, who held the principal officer position of secretary-treasurer, and John McCormick, the local's president (and No. 2 position).

Now Zero and McCormick are at each other's throats in a hotly contested local election that could have national repercussions. McCormick had been the No. 2 candidate on Leedham's slate when he ran a surprisingly strong race against Hoffa in 1998, and Leedham clearly needs support from Local 705's leaders next year. Such an internecine struggle certainly doesn't help the reformers, but it might force them to define more clearly what they're for, not just what they're against, argues Teamsters for a Democratic Union (TDU) leader Dan Campbell, a union representative at Local 705.