Myself When I Am Real: The Life and Music of Charles Mingus
By Gene Santoro
Oxford University Press
452 pages, $30
Jazz biography is a literary graveyard. This is only partly because jazz is an oral tradition, more about live performances than the intimate lives of the music's greats, which tend to be poorly documented or littered with ad hoc fabrications and mystifications.
Performers have always managed their images, but jazz figures have been especially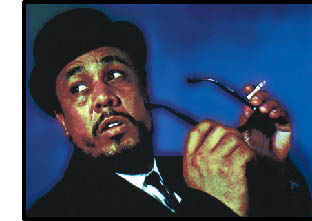 inscrutable since the postwar bebop movement that produced Charlie Parker and Miles Davis. Boppers often deliberately obscured their own thoughts and motivations, resorting to religious mumbo-jumbo in the case of saxophone legend John Coltrane, hepcat jibberish from Davis or sheer drug-induced incomprehensibility in Parker's brief life. Never wanting to be seen as ordinary, jazz musicians became so larger-than-life that mere biographies seemed unsuitable to capture their essence, only their detritus.

This is why historical writing about jazz is so poor. There are exceptions, of course. David Hajdu's biography of Billy Strayhorn sensitively portrayed Duke Ellington's alter ego and contained a lode of insights into the collaborative relationship between the two composers. Gary Giddins' 1987 essay on Parker's life, published in a fabulous pictorial study of the altoist known simply as "Bird," is too short to qualify as a biography but is informative, fair and disciplined. Davis' memoir, which could qualify as a biography because of the heavy load carried by co-writer Quincy Troupe, offers fascinating insights into Davis' narcissism, his brutal attitudes toward women, the importance of his upper-middle-class background, the source of his "cool" performance style and his Brando-esque habit of mumbling nonsense phrases. James Lincoln Collier's biographies of Louis Armstrong and Ellington, while criticized by fans of the musicians for giving insufficient credit to the output of their autumn years, set a standard for accuracy and use of documentary evidence no matter how scattered or fragmentary.

The common thread in the best jazz biographies is a sense of jazz as an aspect of American society, not a disconnected realm inhabited by pure genius. These books rely only sparingly on the often dubious recollections of friends and observers, carefully subjecting these accounts to scrutiny and factual triangulation.