Dr. Doogie Too 7.8
It was cute when Doogie Howser did it. It wasn't so cute when a real-life teen- doctor wannabe started prescribing medication and ordering medical procedures at an Alexandria, Virginia hospital. The teen-ager, who was 16 at the time, allegedly intercepted telephone pages meant for doctors--then called unsuspecting nurses with his "doctor's orders," the Washington Post reports.
The hospital insists that the procedures the nurses initiated as a result of the calls were medically "appropriate under the circumstances" and that no one was harmed. Though the nurses apparently didn't realize anything was wrong, the bogus calls were discovered after one doctor began to suspect someone else was answering his pages.
The boy's attorney categorically denies the charges, though he does admit that his client did speak with at least one nurse on the fateful night--and that he gave a fake name when she asked who he was. But the teen, who'd previously worked as a volunteer at the hospital, does seem eager to start up his medical career as soon as possible. When police searched the teen's home they found, among other items, a prescription pad, a lab coat and a list of patients.
Big Tobacco U. 8.1
Well, you can't say Big Tobacco doesn't have a sense of humor. British-American Tobacco, a company presently under investigation by the British government for allegedly smuggling cigarettes into various countries, has decided to help the University of Nottingham build a so-called International Center for Corporate Social Responsibility, the Chronicle of Higher Education reports.
The cash-strapped university has decided to accept the offer--though not without some "soul searching" first. According to a statement by the school administration, the gift will help the school focus more intently on "the social and environmental responsibilities of multinational companies to the communities in which they operate."
That's not quite enough for some critics, who've blasted the university for accepting "cash for ethics," in the words of Clive Bates, director of the anti- tobacco activist group Action on Smoking and Health. He told the Chronicle that British-American Tobacco "has one of the worst records imaginable on corporate social responsibility. The only thing more dispiriting than the offer is the university accepting it."
His Boys Can Swim 6.6
Call it the Great Sperm Escape of 1998. A reputed mobster currently serving time in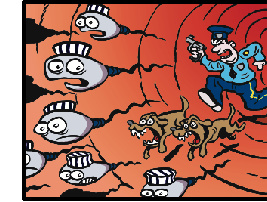 TERRY LABAN

federal prison for racketeering and loan-sharking has been accused of masterminding (along with his wife) a devious (and successful) plot to sneak his sperm out of the prison so his wife could use it to artificially inseminate herself--and, presumably, get started breeding the next generation of gangsters.

Antonio and Maria Parlavecchio, The Associated Press reports, have been indicted in federal court for engineering this most ingenious jailbreak; three former prison guards also have been charged. "Federal Prosecutor Wayne P. Samuelson says he does not know whether attempts at artificial insemination were successful," AP reports. "Parlavecchio ... was cited this week for conspiracy, bribery and three counts of illegally possessing sperm kits for artificial insemination. His wife was charged with three counts of providing the kits."