When President Bill Clinton visited Belfast in 1995--the first sitting president to visit Northern Ireland--he told a group of Protestant and Catholic factory workers that those who use violence for political purposes were part of the past, that their day was over. Ten weeks later, an Irish Republican Army bomb exploded in London, killing two and ending an 18-month IRA ceasefire.
Since then, although the Northern Irish peace process has made significant progress--the Good Friday agreement was signed in 1998 and overwhelmingly endorsed in a simultaneous referendum held in both Northern Ireland and the Irish Republic--it has been beset by periodic crises that have threatened to bring it down.
Clinton's third trip to Ireland in December--he has only been to Nebraska once during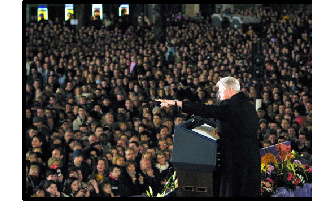 In December, Clinton spoke in Dundalk, Ireland,
known as a base for the Real IRA.
ADRIAN DENNIS/AFP

his presidency--was designed to move the peace process forward one more time, and to help solidify his foreign policy legacy. His choice of Dundalk as the venue for his major public appearance in the Irish Republic on December 12 was rich in symbolism: A few miles south of the Northern Irish border, Dundalk is a base for the "Real IRA," an IRA splinter group that opposes the peace process.

The following day Clinton moved on to Belfast, where he met with leaders of the pro-peace agreement parties in an attempt to break a dangerous impasse in the functioning of the political institutions established as part of the Good Friday agreement. At a public gathering in downtown Belfast, he proposed a possible way forward, beginning with dramatically reforming the Royal Ulster Constabulary (RUC), the country's Protestant police force, scaling down British military operations and decommissioning IRA weapons.

The current impasse was predictable. While the Good Friday agreement established a complex power-sharing structure--all major decisions take place through a process of "parallel consent" from each political community--the implementation of specific social and political reforms remains difficult.