The labels on the jeans piled high in this Nicaraguan sweatshop read "No Excuses," and you'd be hard pressed to find a convincing one for the way the workers here are treated. Sitting in rows on hard wooden benches, they toil away often for more than 12 hours a day. They don't talk; they don't smile. Toilet visits are timed, and some of the women have been forced to take pregnancy tests before getting a job. But the lawyer in charge of "labor rights" nonetheless keeps on repeating how happy they are. It doesn't look that way.
It's hot and stuffy, and a Best of Chicago album belts out over the sound system. It's maddening, but at least it masks the absence of human voices and the monotonous whining of the machines. We're not allowed to talk to the workers, and when I ask to take pictures, the Chanel-swaddled PR woman for Nicaragua's Free Trade Zone Corporation snaps, "I don't think so."
The Las Mercedes free trade zone, situated on the outskirts of Managua, is home to 50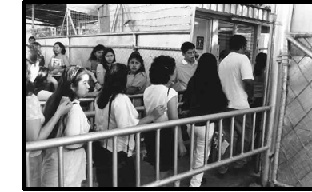 Chentex workers enter the free trade
zone at Las Mercedes.
NATIONAL LABOR COMMITTEE

companies, mainly American and Taiwanese. The more than 19,700 workers here make clothes for large retailers, including Wal-Mart, Kmart, Target, J.C. Penney and Kohl's. In theory, the workers--who are mostly women--put in a 48-hour week, but nearly all sign a waiver permitting them to work overtime. If they don't, they won't make much more than $72 a month, which is only about a third of what's needed to support an average family.

But workers aren't content with this kind of treatment from their employers, who rent factory space from the state-owned Free Trade Zone Corporation. The independent trade union for textile workers, the CST, has managed to gain some ground through collective bargaining. But last year many of its members were fired in a concerted attempt at union busting. Union members at the Taiwanese-owned Chentex factory called a one-hour strike over management's refusal to negotiate a pay increase, for which the workers had been waiting for nine months. The strike resulted in the firing of hundreds of workers, and criminal charges were brought against union leaders. "You should see the way they treat us," says Gladys Manzanares, general secretary of the Chentex CST union. "They refer to us as delinquents."

As a result of campaigns initiated by the New York-based National Labor Committee and other labor rights organizations, consumers have put substantial pressure on retailers that source their garments from suppliers in Las Mercedes--and they have had some success. U.S.-owned factory Mil Colores agreed to reinstate the union leaders it fired earlier last year. CST and Chentex reached a verbal agreement in early January to reinstate two union officers and 128 union members, drop legal actions against them and sign a labor protocol. However, that agreement was jeopardized by a management-backed protest on January 11, in which 800 workers called for an end to the negative publicity campaign by activists and union leaders against the factory, citing fears that it may close due to a drop-off in orders. Management is now saying it will rehire only seven union members. "This is just another strategy to undermine the cause of workers and weaken the verbal agreement," Manzanares says.