Just before dawn on February 12, two dozen people lined up at the main gate of Sikorsky Aircraft, a defense contractor based here, and blocked the main entrance to the plant. Across the street, 75 people held banners proclaiming "Sikorsky kills Colombians."
The action marked the first major display of civil disobedience at Sikorsky over the sale of Black Hawk helicopters to the Colombian military. The protest, called by Colombia Action Connecticut, included members of the Catholic Workers--a faith-based pacifist group--drug-law reformers and the Connecticut Global Action Network. At a previous protest in December, six people were arrested when they tried to deliver a letter to CEO Dean Borgman protesting Sikorsky's sale of the helicopters.
Concern over Colombia has grown since President Clinton signed a $1.3 billion aid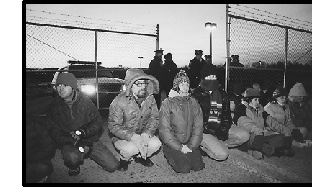 Protestors block the enterance to Sikorsky Aircraft.
HANK HOFFMAN

package last July. Defense contractors were the primary lobbyists for Plan Colombia, which includes 30 Sikorsky Black Hawk helicopters due to be delivered there by the end of this year.

The protesters tied up traffic for almost four miles. Many workers were visibly angry. "We're in favor of selling these Black Hawks," says Jeff Cederbaum, head of the Teamsters local that represents most Sikorsky employees. "We've actually been pushing our congressional delegation to make sure these go through. Our concern is making sure our members are working."

But at least a dozen passing motorists honked their horns in support. And after an hour and a half, protesters ended their blockade, without arrests. "We stopped business as usual," says Mark Colville, a resident of the New Haven Catholic Worker house. "I think we touched the consciences of people who work here. What they do with that is up to them."

The coalition plans to organize more blockades at Sikorsky. "I dread getting arrested and going to jail," adds Colville, who was arrested for the first time at the December action. "But I think it's necessary. There needs to be a dramatization of the fact that we're killing people daily in Colombia."
A version of this story originally appeared in the New Haven Advocate.