The deaths of eight female inmates within a seven-week period at a California women's prison have sparked a new round of inquiry into the controversy over adequate medical care in the state's prison system. Among the deceased was Pamela Coffey, 46, who died on December 2. Her cellmates say that correctional officers mocked her pleas for assistance a half-hour before her death.
Though no foul play is suspected in the deaths of the inmates at Central California Women's Facility (CCWF), the concentration of these deaths in November and December resulted in renewed insistence by several Bay Area prisoner advocacy groups that the California Department of Corrections (CDC) must reform its health care system.
Three of the deaths were considered sudden and unexpected, says CDC spokeswoman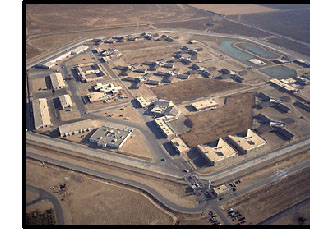 Central California Women's Facility in Chowchilla
CALIFORNIA DEPT. OF CORRECTIONS

Terry Thornton, while the remaining five women were terminally ill. Thornton also stresses that CCWF experiences higher annual death rates than other women's state prisons because inmates requiring more intensive medical attention are transferred there from other facilities.

But all of the eight recent deaths cry out for closer examination, according to Cynthia Chandler, an attorney and co-director of the Oakland-based Justice Network on Women, a nonprofit law center that provides women prisoners with legal services. Justice NOW represents many female inmates seeking compassionate release, which is an official recall of sentence recommended by the prison and granted by a judge for terminally ill prisoners.

Compassionate release became law in California in 1997. Prisoners, usually with the help of a lawyer, seek a compassionate release recommendation from a prison doctor. The prison warden takes the recommendation to the CDC director, who in turn must give it to a judge for final approval. The release can be turned down at any point in the process. Once the sentence is recalled, the prisoner is released to family or a medical facility.

Over the past several years, human rights groups have criticized both the CCWF and other California women's prisons for substandard medical care (see "Bad Medicine," January 8). A 1995 class action lawsuit, Shumate v. Wilson, accused prison administrators and medical staff at CCWF and Chino's California Institute for Women of cruel and unusual punishment and "deliberate indifference" to the health needs of inmates. In 1997, the state agreed to institute significant changes in the health care system and to submit to court-ordered monitoring. In August, the lawsuit was dismissed with the agreement of all parties involved.

Following the recent deaths, the CDC launched its own internal investigation in addition to hiring a team of University of California-Davis doctors to examine medical records. "There are several investigations looking at medical and custody issues in the events preceding the deaths," Thornton says. "We are just as anxious as everyone else to get answers. If there is any evidence of staff misconduct, those will be dealt with appropriately."

But activist groups--including Justice NOW and California Prison Focus--have demanded a completely independent investigation. State Sen. Richard G. Polanco (D-Los Angeles), chairman of the joint legislative committee on prison construction and operations, arranged a special hearing on January 17 in Sacramento. The hearing was dominated by prison officials' testimony, and family members of the deceased were allowed to comment for just over an hour.