Remember the last time the Republican Party put on a magic show? On December 12, conservative members of the Supreme Court made 69,000 ballots disappear in Florida. But that was amateur night compared to the wizardry of Commerce Secretary Don Evans. At a March press conference witnessed by dozens of reporters, Evans caused 3.3 million Americans to vanish without a trace.
How'd he do it? Evans refused to allow the Census Bureau to use the scientific process of sampling, which would have adjusted the population figures to correct for undercounts in minority and immigrant neighborhoods.
Big cities like Los Angeles desperately want to use sampled figures to plan public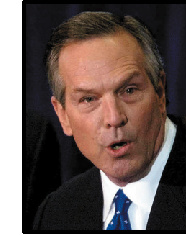 Commerce Secretary Don Evans was the Bush campaign's fundraising wizard.
REUTERS

services. A decade ago, the Census Bureau badly shortchanged L.A., missing nearly 5 percent of the city's residents. The school district used the inaccurate figures to decide how many new schools it needed. In the early '90s, a huge surge of 5-year-olds--far more than the Census had predicted--started registering for kindergarten. There weren't nearly enough classrooms to hold them all. Los Angeles also uses census figures to plan bus lines, site police stations, build sewers and distribute money for Head Start programs. "Everything we do in government is based on this," says Jessica Hines, an assistant city attorney. "If you don't have good data, it's very hard to allocate money for parks."

Evans' sleight-of-hand isn't meant to force kindergarteners into overcrowded classrooms. He's really trying to trick California's Democratic legislature, which could use sampled figures to draw new districts for the state's 53 congressional seats. That would increase representation in black and Hispanic areas, threatening the Republican majority in Congress. Nationwide, the undercount is equivalent to five congressional seats--enough to even the score between Democrats and the GOP in the House.

At a March 6 press conference, Evans explained that there wasn't time for the Census Bureau to determine whether sampling was more accurate than a head count. The bureau had to meet an April 1 deadline for delivering redistricting information to the states. Nonetheless, he assured the country that it was getting "the most accurate census ever."

Someone was watching the secretary's other hand, though. The very same day, Everett Erlich, a member of the bi-partisan U.S. Census Monitoring Board, shouted out Evans' secret. "We are concerned that, pressed for time, the Bureau did not do an adequate analysis of this question," Ehrlich wrote. He concluded that "there is a preponderance of evidence that shows that the sample-based adjustment was correct."

If the bureau sticks with its head count, Los Angeles alone stands to lose $37 million a year. "There is likely to be more of an undercount in areas like Los Angeles because we have so many immigrants," says Jeffrey Beckerman, a demographer in the city's planning department.

Evans has not yet decided whether the bureau will use sampled figures to divvy up federal funding. Those 3.3 million people need to stay behind the curtain at least until redistricting is finished. Then the secretary will decide whether to bring them back onstage. "The Census Bureau would have to come to me and say to me that the adjusted data is more accurate than the unadjusted data," Evans says.

Those studies will take months, maybe years. Los Angeles can't wait that long. Once better-counted communities see their share of federal aid, they're going to fight any attempt to change the numbers. So L.A. and several other big cities are suing to force the release of sampled figures. "We need to get the data out in the next few weeks," Hines says.

America's neediest citizens will lose the most as a result of Evans' magic show. While the Census Bureau estimates that national undercount rate was 1.1 percent, they missed 2.2 percent of blacks and 2.8 percent of Hispanics. Some college students and families with second homes were actually counted twice, errors that sampling would correct.

Read Juan Gonzalez's article, "A Shock to the Census."