Negativity Solutions 4.7
Although the odds of getting offed by a co-worker "gone postal" are far more remote than those of winning a lotto jackpot, a New York software company wants your boss to be on the safe side. Stroz Associates is in the final stages of developing software that will identify violence-prone employees so that they can "get help" before they reach for a gun.
The company's software will scan employees' e-mail for telltale signs of discontent. As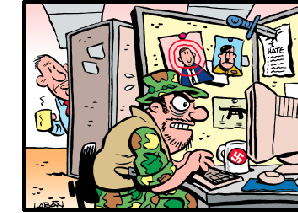 TERRY LABAN

Eric Shaw, a former CIA psychologist working for Stroz, explained to MSNBC: "For example, if the number of negatives--words like not, no, never--goes up quickly, that could be an indicator of increased hostility."

Nice to know they're thinking of you up in Human Resources.

Adventures in Marketing 5.4

Pedestrians in major cities probably took little notice of a guerrilla marketing campaign carried out last month by IBM until city officials and upscale merchants started belly-aching about it. Cryptic messages consisting of a peace sign, a heart and a grinning penguin were stenciled on sidewalks in San Francisco, New York, Chicago and elsewhere.

Appearing to all the world to be the work of a Phish fan with too much time on his hands, the message was in fact a logogram for "Peace, love, and Linux," an advertising slogan for a new IBM operating system. The symbols were supposed to be done in biodegradable chalk, which would wash away in the rain, but officials in several cities complained that they had to be removed by municipal crews. San Francisco and Chicago are charging IBM for the work.

According to a report by IDGNet, many pedestrians were befuddled as to what the ads were supposed to convey. Subsequent publicity has taken care of that, however. Together with its recent corporate report designed to look like the fashionable literary magazine McSweeney's, the campaign points to a new marketing imperative at Big Blue: Get hip with the thinking kids.

It's almost refreshing, then, to see the unvarnished workings of an R.J. Reynolds marketing campaign dubbed "Project SCUM." According to SF Weekly, recently discovered documents discuss the company's campaign to appeal to two kinds of Bay Area smokers: gays in the Castro district and the down-and-out of the Tenderloin.

The campaign, conducted during the '90s, was uncovered by researcher Anne Landman among documents released in a liability case. SCUM is an acronym for "subculture urban marketing," though in the final document Landman found "SCUM" was crossed out and replaced with "sourdough."