"Welcome to Hypocrisy University!" reads a banner hanging over Tent City, an encampment of 76 tents sprawled across Harvard's main campus, where students protested for 21 days to demand a living wage for more than 1,000 university workers.
On April 18, members and supporters of Harvard's Progressive Student Labor Movement stormed Massachusetts Hall, which houses the office of the university's president and several other top administrators. More than 30 students occupied the building, defying the entreaties of university officials. The sit-in ended on May 8 with a pledge by Harvard to further study the living wage, and set up a committee with union, student and faculty participation. The university also offered to reopen negotiations with campus unions and to impose a moratorium on outsourcing until December.
Harvard is the largest employer and landowner in Cambridge, with an endowment now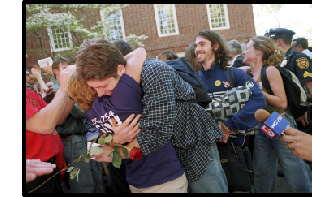 Harvard students leave the sit-in
at Massachusetts Hall.
DARREN MCCOLLESTER/
NEWSMAKERS

valued at more than $19 billion--more than the gross domestic product of Jordan. Yet university officials say that Harvard cannot afford to pay workers a "living wage," which campaigners say should be at least $10.25 an hour plus benefits. "Harvard paid one manager of its endowment as much as $16 million last year," says junior Benjamin L. McKean, who participated in the sit-in. "A living wage for all of Harvard's employees would cost less than half of that. Can that one guy get by on half of that?"

Indeed, the university has engaged in classic attacks on workers' wages and benefits, increasingly outsourcing and using temporary workers, while also pushing for concessionary contracts from the unions representing Harvard workers. Many take on additional jobs to make ends meet, commute long hours to work, and find themselves having to choose between paying the rent, feeding their children or paying the doctor's bills.

"I'm glad someone is exposing Harvard for what they really are," says one member of Harvard's Security, Parking, and Museum Guard Union, who was afraid to give his name for fear of reprisal from his supervisors. "A lot of people here are getting the raw end of the deal. They're working evenings, weekends, holidays. That's very tough." Members of his union haven't received a raise in seven years, while subcontracting has severely cut membership.

McKean and other members of the Progressive Student Labor Movement have spent the past three years working for a living wage at Harvard. By early 2001, activists had exhausted every available channel in the university's bureaucracy. "We tried very hard to initiate dialogue with the university on these issues," McKean says, but "they were closing the door. It was clear that we needed to escalate our efforts."

McKean believes that the sit-in took the administration by surprise. "I don't think they thought we'd last the weekend," he says. "They didn't realize the strength that this movement has. The campaign will continue. It's not the victory, but it's a big one."